When building a website, there's a lot to consider: SEO, CRO, display ads, affiliate marketing, eCommerce, social media integrations, blogs, landing pages, and so much more. The right website builder can be the difference between a steady stream of traffic and passive income and a lot of wasted time and money. To help you make the best choice, my team and I compiled this list of the best website builders.
Building websites can be a fun hobby or even a way to make extra money. You can even generate considerable passive income with affiliate marketing and display ads with Adsense or one of the many alternative ad networks.
Trust me. I've made over $1,000,000 in passive income with my portfolio of websites.
But I've been doing this since 2014, and one thing I've learned is you can't just build a website and hope to start making money.
There are over 1.1 billion websites in existence, and your website has to look good, function well, engage viewers, and offer fast speeds.
Over the years, I've tried most website builders, from GoDaddy website builder to SquareSpace to WordPress and much more. In that time, I've figured out which site builder works well and which ones you should avoid.
I've also discovered a select few that are stupendous.
But, trust me on one thing:
If you choose the best website builder now, you'll save yourself years of frustration (I'm proof!). So, let's take a look at the top 20 website builders out there.
What are the Best Website Builders?
Best Overall Website Builder (Starts at $14/Month).
Wix is undoubtedly one of the top website builders for beginners and pros. With it, you can design, manage, and develop a stunning web presence regardless of which industry you're in.
You can create a Wix-branded website on the free trial, and the drag-and-drop editor allows you to have your pages up in just minutes.
If you're looking for a dead-simple solution for building high-quality websites, this is the perfect option for you.
Key Features:
Wix ADI
The platform's artificial design intelligence builds you a custom website based on your answers to a few questions.
Advanced Features
Whether you want to build a blog, online store, or accept bookings online, you'll find the features such as pre-made website templates you need on Wix.
This also includes a vast app store to find all the widgets you'll need to make your website stand out.
Search Engine Optimization
The platform offers personalized SEO plans to help you get found by your target audience online.
This comes in handy, especially for developing a small business website trying to get its footing in the online world of marketing and advertising.
Wix Analytics
While some reviewers say that Wix does not have analytic tools, this is not true.
Wix comes with great marketing and SEO tools for generating actionable intelligence about your website based on its traffic, bounce rate, click-to-rate, and other statistics.
Better yet, you can easily integrate Google Analytics or other tools if you prefer.
Pros of Wix:
Professionally designed templates for websites
Wix editor for quickly designing and creating high-quality pages to make your online presence stand out
Built-in tools for building a personal website or growing your business online
All premium plans come with a free SSL certificate
Pricing:
Wix has a free tier, which I don't recommend as it has prominent Wix branding to show that the site was free.
This is an instant trust-breaker when visitors land on your site, so you're better off opting for one of the premium plans starting at $14 per month for a Wix website builder subscription.
---
Best for Website Design ($2.61/month With Special 10% Off Offer)
Hostinger is a no-code website builder that lets you create professional-looking eCommerce stores, websites, portfolios, and much more.
The platform prides itself on the fact that 90% of its users publish their websites in under an hour.
You can try it for free. No credit card is required. If it's a great fit for you, in that case, you can upgrade to one of the affordable premium plans to start growing your business with an attractive, fast-loading website that ranks high on search engines and helps you convert more of your website traffic into actual customers.
Key Features:
24/7 Support: All premium Hostinger plans come with live chat support from a dedicated and knowledgeable team.
Functionality for eCommerce Websites: You can set up an online store and start selling online in minutes, and there are no hidden fees.
SEO Features: The platform comes with integrated search optimization features to rank your content faster and higher on Google.
Pricing:
Hostinger offers one simple plan with a 30-day money-back guarantee that offers a free domain, email, e-commerce features, marketing integrations, the ability to host 100 websites, unlimited traffic visits, free SSL certificates, and their proprietary website builder for $2.79/mo with the first 3 months free.
---
Website builder with the best Functionality ($12/month)
Squarespace is another one of the top website builders designed to allow you to quickly build a website even with no prior experience or coding knowledge.
The platform is also a popular listed CMS (content management system) and comes with a ton of awesome-looking templates designed for the variety of niches you might be interested in.
Thanks to the drag-and-drop editor, onboarding is easy, and you can have a website up and running in just a few minutes.
Key Features:
Third-Party Extensions
This platform allows you to easily manage, optimize, and grow your site by syncing with third-party extensions.
Ecommerce Functionality Features
The best e-commerce website builder with everything you need from merchandising to checkout, you can get all the tools you need to build and grow your online store with excellent eCommerce functionality and customization options.
24/7 Support
You get personalized support by email, live chat, or joining a live webinar around the clock.
Pros of Squarespace:
Saves you time with an online scheduling feature.
You get to stay in touch with on-brand email communication
Create stunning, professional-looking social content with the Unfold app
Pricing:
Squarespace doesn't offer free plans, but you can sign up for a 14-day free trial to try out the website builder.
The paid plans start at $16 per month.
All the plans include unlimited storage and even the most expensive packages from most site builders usually limit your storage capacity.
Alternatively, take a look at my Squarespace vs. GoDaddy comparison to find out which site builder is better.
---
Best Website-Building Platform for eCommerce ($1 for a 3-month trial then $29/mo)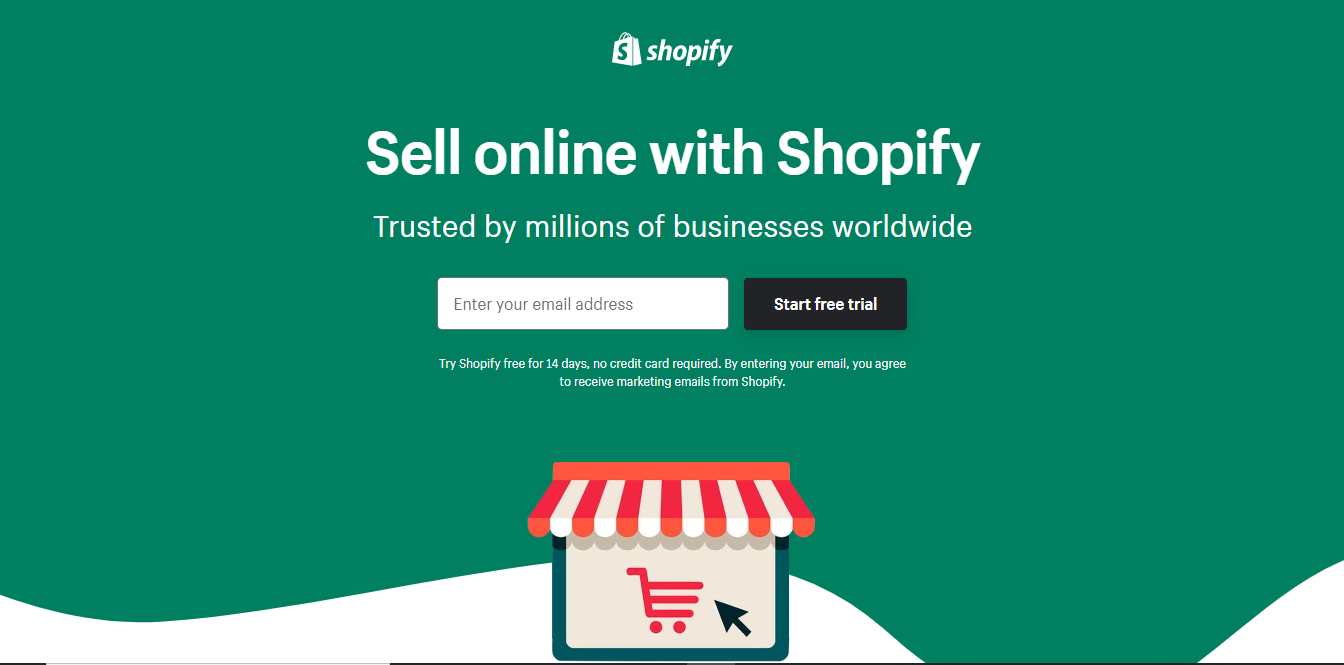 Shopify is mainly used for building online stores but adds additional transactional charges if you use PayPal, Square, or any other payment method other than Shopify payments.
The website designs are free to help you launch your eCommerce store easily and quickly, without necessarily having any graphics or coding knowledge.
It has a one-in-all feature that runs the entire marketing process, getting payments done, securing transactions, and shipping your products to your clients.
Join the platform to experience launching an e-commerce store with quick and easy setup and management.
Key Features:
Create and Customize Online Stores
Shopify allows customers to create a professional-looking online store and customize them with various themes and templates without coding knowledge.
Order Fulfillment
The Shopify platform allows users to print shipping labels, automate updates for tracking orders and has a dashboard for order management.
App Marketplace
Like WordPress, Shopify offers a variety of third-party apps to extend the functionality of the Shopify platform.
Pros of Shopify:
Mobile optimization of sites is built into the platforms
Scalability far beyond the starter plan to help the platform grow with you
The ability to quickly and easily manage customer information
---
The Best Website Builder For Beginners ($8/month)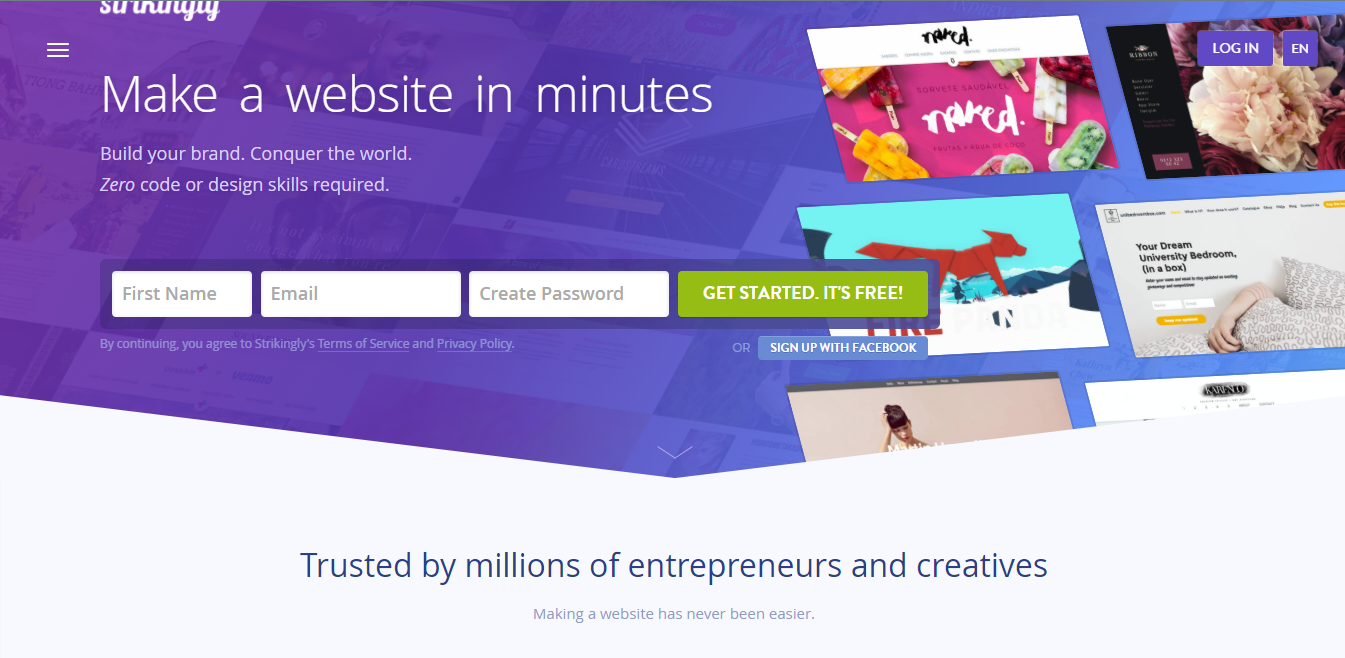 Strikingly is a good basic option for simple websites and one-pagers. It has simplified features that will have your eCommerce website or store up and running in no time. Basically, it's the best website builder for beginners.
In addition, it offers a free domain that can be upgraded to an in-built analytics section to keep you updated on how your website is working.
Features include galleries, video backdrops, media sliders, custom colors, and password protection. All of this is integrated into our slick, modern designs and our user-friendly editor.
There are sign-up and contact forms for new businesses that help you get feedback from your clients at all times.
Key Features:
24/7 Chat Support
One of the reasons why Strikingly is great for beginners is because they have the support that goes above and beyond most competitors. With 24-hour chat support, you can reach their team at any time to get the help you need.
eCommerce Features
While simple, Strikingly offers e-commerce abilities even to their lowest-cost plan. This is very nice for those that are just starting out and have a handful of products they want to test trying to sell online.
Fast and Simple Setup
One of the nice things about Strikingly is that it's a fast website builder. It takes about an hour to create a site of your own. Instead of waiting days for things to populate or weeks of designing, you can create a site very quickly and easily with their guided tutorial and user-friendly dashboard.
Pros of Strikingly:
Affordable LIMITED plan for beginners
Allows for immediate eCommerce functionality
Provides significant storage and bandwidth, even with the cheapest plan.
Pricing:
Strikingly has a LIMITED plan for $8 per month which is great for beginners. This plan includes adequate features like SSL, a domain, 1GB of storage, 50GB bandwidth, and the ability to sell products. The PRO and VIP plans offer all of these features and much more as shown in the screenshot above.
---
Best free website builder (Starts FREE)
Weebly is one of the best eCommerce website builders for creating standard websites and eCommerce online stores.
The platform allows you to build a website for free and grow it with the free plan.
It offers you all the essential features as your small business website grows with everything you need, including eCommerce functionality.
There are tons of customizable web page designs and pre-made website templates to choose from.
It also includes many valuable tools for discovering your site online to expand your customer base.
Although free, this is a powerful website builder software, with even more impressive features on the premium plans.
Key Features:
Intuitive Builder
Weebly website builder offers a powerful drag-and-drop editor that allows you to create perfect websites within minutes, with a few clicks of the mouse.
eCommerce Features
Weebly acts as a great eCommerce website builder software because it includes a complete eCommerce platform for growing your small business website online.
With some of the advanced plans, you even get various shopping cart tools to increase the functionality of your eCommerce site.
Mobile Apps
The mobile apps allow you to build, edit, and manage any aspect of your site from your mobile device.
Pros of Weebly:
Powerful design tools are at your fingertips
Third-party integrations for your website, blog, or online store
Effective SEO tools to make your site more discoverable
Pricing:
Weebly has a branded free plan. After that, paid plans start at $6 per month for advanced features.
---
The best website-building platform for versatility & customizability (Starts from $2.95/month)
WordPress powers 41% of the internet, up from 36% last year.
The WordPress website builder is growing in popularity because the software is highly flexible and easy to use.
Even complete beginners can quickly build and customize their websites with the software.
But, it also has a ton of exceptional features that makes it ideal for everyone, including bloggers, small businesses, Fortune 500 companies, and more.
While WordPress is the cheapest website builder because many of the options listed here have no limitations as to what it can grow into, you'll need a theme to begin, and I recommend Divi.
Key Features:
Simple Builder
Start any blog, website, or online store without coding or developing knowledge.
Professionally-Designed Themes
Launch a website that stands out with pre-designed themes for different sites.
Limitless Growth
Grow your plan as your website and audience grow with built-in tools, drag-and-drop functionality (similar to Webwave), blog features, and easy-to-install add-ons and plugins.
Pros of WordPress.com:
Quickly turn your website into an online store
Built-in marketing tools to find your audience online
Real-time notifications and analytics on mobile
Pricing:
You can start using WordPress.com with the free plan, but if you want to remove branding and unlock more sophisticated features, premium plans start from $4 per month.
The most expensive package is the eCommerce plan, but it's only $45 per month and completely worth the money.
One thing to note about WordPress is that there are two different website platforms. There is wordpress.org and the open-source but more limited wordpress.com.
To use the Thrive theme and access all the great tools, add-ons, widgets, and plugins that the current WordPress has to offer, make sure you're using wordpress.org.
---
The easiest way to create websites with no coding knowledge (Starts from Free)
Webnode is one of the best website builders designed to save you time and money.
Even if you're a complete beginner, you don't need any technical skills to start building beautiful websites in just minutes.
This simple website builder has a drag-and-drop interface that will get you started on building our website within minutes.
Even if you are not a web designer, you can even use your phone or tablet to build websites on the go, something that you can barely accomplish on most site builders.
The platform also has an accommodating and knowledgeable customer support team so that you can get help fast.
If you want a design that stands out without putting in hours of work to get it, this is the best website builder to consider.
Key Features:
Drag-and-Drop Website Builder
It uses building blocks to create stunning pages by simply dragging and dropping the elements you want.
Professional Designs
There are over 100 expertly-designed templates for you to customize with ease of use.
eCommerce Tools
Start selling online within minutes and a few clicks using one of the many online store templates.
Pros of Webnode:
Experienced local and friendly support
Includes domain mailboxes
Offers a free website
Pricing:
You can create a website for free, but if you want to unlock additional features, such as premium support, custom domain, email accounts, analytics, and more, you can sign up for the premium plans, which start at $3.90 per month.
---
Website builder with a great free hosting network (Starts from Free Plan)
Webflow is one of the best website builders that empowers designers to create custom, professional-looking websites using a completely visual canvas.
This means that there's no need to learn even a single line of code.
With drag-and-drop functionality, you can drop website images, text, and other elements onto a page to create the layout and design you want.
With this website builder software, even a beginner can create a production-ready experience in just a few minutes.
Key Features:
Simple Editor
Web design doesn't have to be complicated. With Webflow, you get a suite of user-friendly tools to design your website without any code.
Powerful Web Hosting Network
This web host helps you quickly launch your website and go live on a reliable, hassle-free hosting network.
Growth Focused Platform
The premium plans make it easy for you to grow and scale your business and even build multiple websites if desired.
Pros of Webflow:
Free to use forever
A massive community of users
100+ hours of tutorials
Pricing:
You can use Webflow for free for as long as you need to. There's no need to pay premium plans per month until you're ready to launch.
---
The easiest way to create a professional website (Starts from Free Plan)
GoDaddy is an ideal option to consider if you are looking for a reliable website-building platform to create your website or online stores for free.
I used one when I first started online. It is designed to make it easy for anyone to create a website without any coding knowledge, like professional web designers.
All you have to do is choose a template from dozens that cover every type of business imaginable.
Use the simple drag-and-drop editor to make your own by changing the colors, fonts, and layouts in just a few clicks.
There are also many integrated marketing tools, such as a logo maker designed to help you attract and keep customers.
Key Features:
Reliable Web Hosting
The platform website builder also offers fast, secure web hosting, so you have peace of mind knowing your website will always be online.
Professional Email
Build trust with your audience with branded email communication that matches your domain.
SSL Security
The GoDaddy website builders ensure that your site is secure so you can protect your customers and your data.
Pros of GoDaddy:
You can create a website and get online for free, forever
GoDaddy website builder offers a website design service
Mobile-friendly website editable on any device
Pricing:
You can get started with Go Daddy's free plan.
No credit card is required, but if you want to unlock more complex features, such as custom domain connection, online store features, email marketing, and more, you have to opt for one of the premium plans, which starts at $14.99 per month.
---
Best Website Builder with a Free 5-Page Site Offering
WebSelf is a simple drag-and-drop website builder that offers the creation of a website, blog, or online store. Made for beginners, they have a large number of templates to choose from, whether you are looking to create a website for a restaurant, business, or landing page, they have something to help. WebSelf also allows you to create a free 5-page website if you use the WebSelf domain name and allow ads. The hosting, HTTP protocol and SSL certificate are all included, which isn't a bad deal.
WebSelf also allows you to customize its templates to create your website. You can add pictures, texts, maps, forms, and videos easily by dragging and dropping the elements you want. They even have section templates to help you create specific sections of your site in just a few clicks (open hours, homepage, contact page, menu, etc.)

All of the templates that Webself offers are responsive. When you create a website, a mobile version is automatically created. You can always modify the mobile version if needed. You can also decide to create a multilingual website if needed when you choose one of the premium options.
Key Features:
Drag and drop system

Webself allows you to drag and drop the elements you want to add to your website. You can add a picture, title, text, form, map, etc.
Large number of templates

Whether you are looking to create a blog or an online store, WebSelf's greatest strength is its large number of templates. They currently have more than 100 professionally designed templates to help.
Possibility to create a free website

Probably one of the biggest reasons to try Webself is that they offer a completely free website option. While it is limited in functionality, it's a nice way to create something simple to start.
Pros of Webself:
An easy-to-use tool to use if you need to create a simple website
Premium plans are built for affordability
Allows you to create a completely free site
Pricing:
WebSelf has four pricing plans, which are as follows:
1. Free Plan
All basic features
5-page website
Comes with a free WebSelf subdomain name
Includes WebSelf advertising
2. Basic Plan ($11.45/mo)
Up to 10 web pages
Free customized domain name when you choose an annual subscription
2 Go of bandwidth and disk space
2 email addresses
One WebSelf ad in the footer
3. Pro Plan ($17.95/mo)
Up to 50 web pages
Free customized domain name when you choose an annual subscription
10 Go of disk space and 20 Go of bandwidth
2 email addresses
Multilingual feature
No WebSelf advertising
3. eCommerce plan ($24.45/mo)
Unlimited pages
Free customized domain name when you choose an annual subscription
20 Go of disk space and 50 Go of bandwidth
2 email addresses
Multilingual feature
eCommerce features
No WebSelf advertising
---
Best website builder for solopreneurs (Starts from Free)
Jimdo is the most popular website builder that allows you to create professional-looking websites without effort.
With this powerful free website building platform, you can design your site exactly how you want it and add all the up-to-date features that small businesses need even without hiring web designers.
The platform's website builder includes a free image library, flexible layouts, and a drag-and-drop editor for easy page customization.
The designs are optimized for mobile devices, and you get every single feature you need to start selling on your business website or online store and collecting payments online.
Key Features:
SEO Features
Jimdo website builder comes with up-to-date features for search engine optimization so your fans can find you online.
Social Marketing Features
You get tools, such as robust search engines, to help you stand out on social media and increase your reach and exposure to new audiences.
Personalized Support
With the premium plans per month subscription, you get personalized one-on-one support within four hours.
Pros of Jimdo:
The free plan comes with 2 GB of bandwidth
Includes a free domain with the Start Plan ($9 per month), but you must use the Jimdo subdomain if you opt for the Play, the free starter plan.
All sites come with HTTPS security.
Pricing:
You can create a free website with Jimdo, but the domain extension will be ".jimdosite.com", which looks unprofessional.
Luckily, premium plans start at just $9 per month for a domain, 10 GB bandwidth, 5 GB storage, and more.
---
Best for building a professional website fast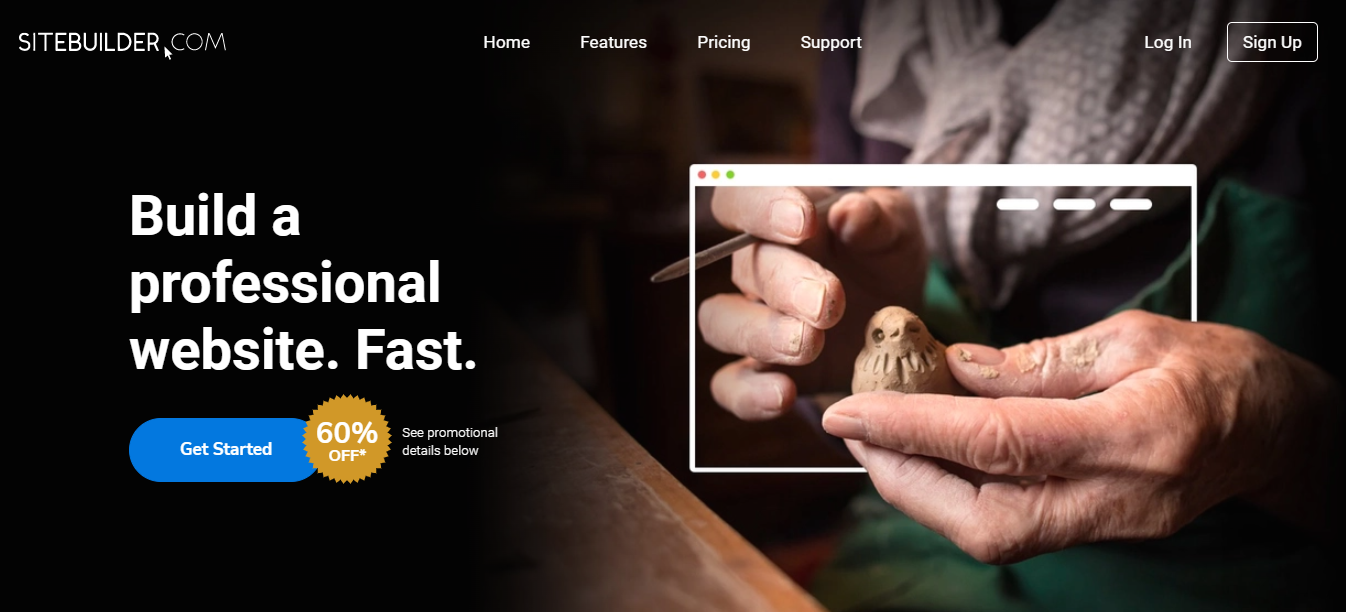 SiteBuilder is one of the best website-building platforms in the market today.
With as low as $7.18 per month, you can begin the website-building process and get your personalized website within minutes of answering questions about your blog, portfolio, or business.
The SiteBuilder website builder has a simple interface that gives you complete control and helps you create your site with innovative design techniques, photo galleries, and a free domain name to get you that polished website.
Sitebuilder offers a personalized support system through email or chat during the entire process.
You can also hire an expert to build your site for you, connect a domain, edit your site, set up an eCommerce online store, etc.
---
Best custom-made design templates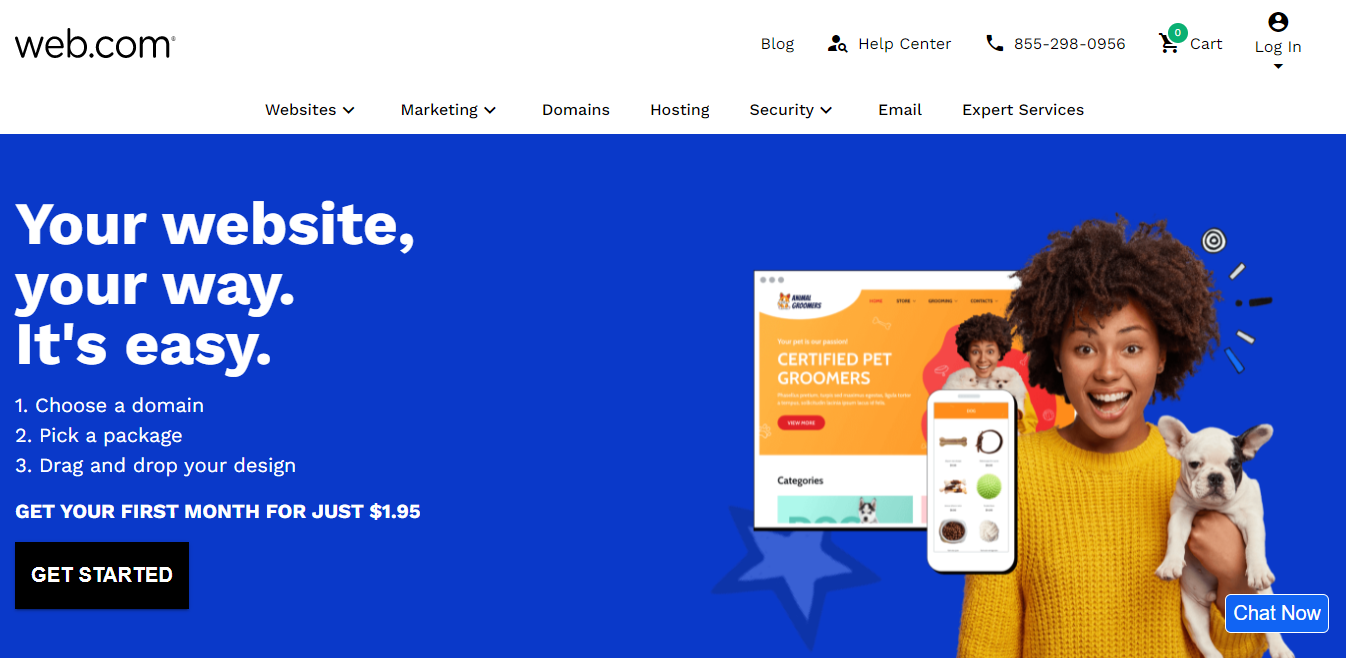 If you are working on a tight budget, Web.com is one of the best website-building platforms.
It is designed with simple and affordable plans for as low as $1.98 per month as a starting fee; then, you pay $10 per month to get you off your feet.
If you are interested in opening up an online store or looking forward to having a custom website, you can start with a fee of $ 3.95 per month then pay $ 20 per month after the first month for the online stores and a one-off payment of $ 1500 for the custom made website.
With that said, you get to enjoy their website design services, including custom-made designs produced by an in-house design team to help you create SEO- friendly content that will attract future clients to your website.
The platform's website builder also offers pay-per-click advertising that will help you rank higher on Google searches, and this, in turn, will get you traffic to your website.
---
Best website builder for web hosting scalability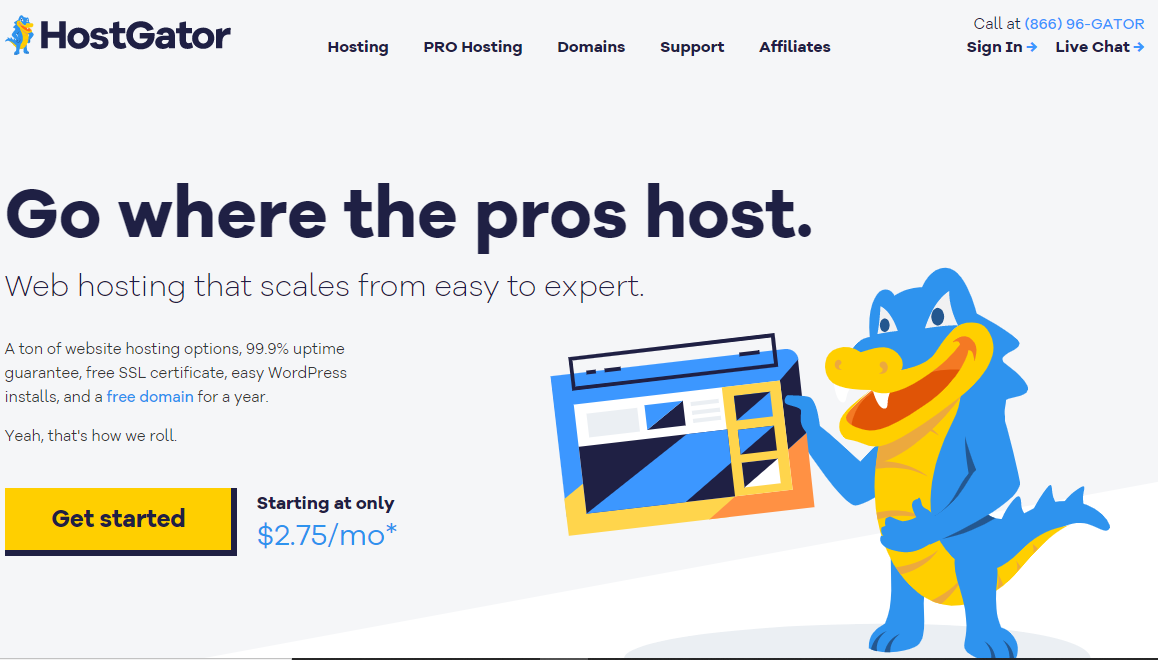 Gator is a popular website builder from HostGator, which offers various web hosting services.
Besides covering the cost of getting your own custom domain name in the first year, it also guarantees that your site will always be accessible.
It offers unmetered bandwidth, domain registration, an SSL Certificate, and one-click installs; the process of integrating your apps could not be simpler.
Get started for as low as $2.75 per month paid plans on this incredible tool.
---
Best website builder for coding your own site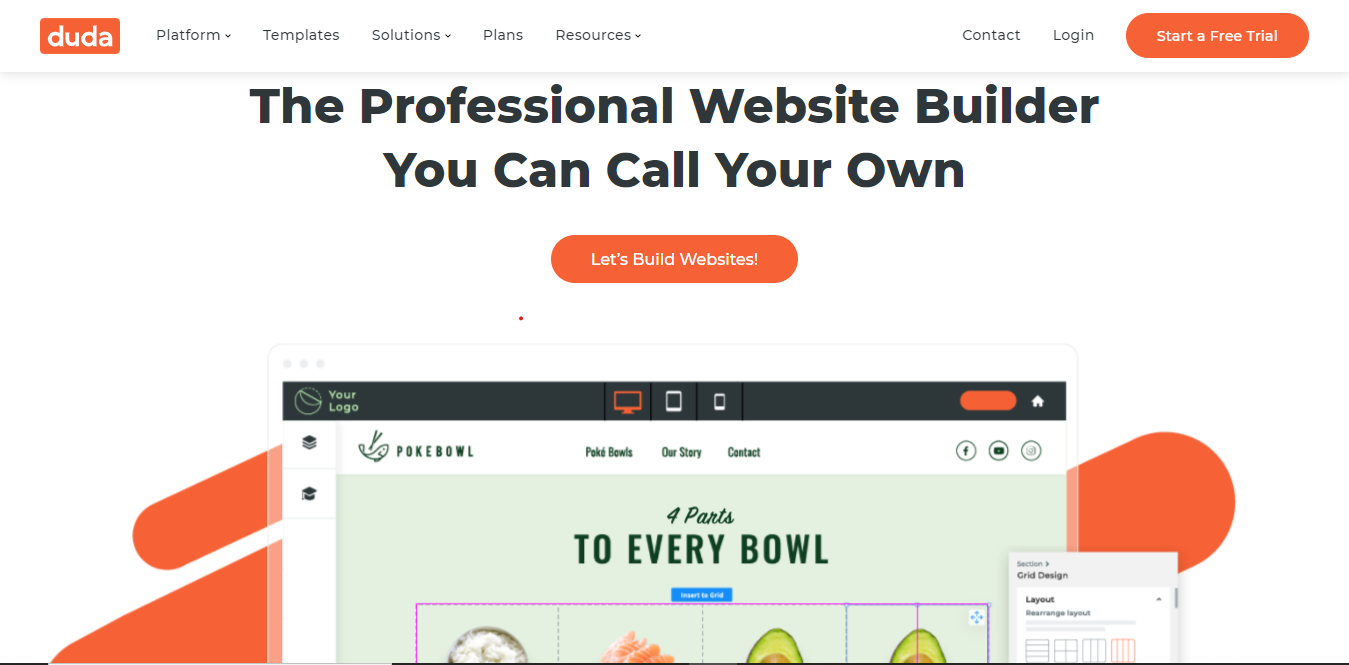 Duda is the language genius as far as website-building platforms go.
You can easily create visually appealing websites at breakneck speed without sacrificing your originality.
The website builder has templates and sections that are fully customizable, with full access to JavaScript, HTML, and CSS if you require it, and can help you create hundreds of websites based on existing customer information.
Duda websites are optimized for Google Core Web Vitals and other best practices in page speed, schema, and SEO.
Using your logo, colors, and style on our platform, you can keep your brand in front of your customers at all times.
With as low as $ 14 per month, you can get on this fantastic platform and get to enjoy what Duda website builder has to offer.
---
Most intuitive and user-friendly website builder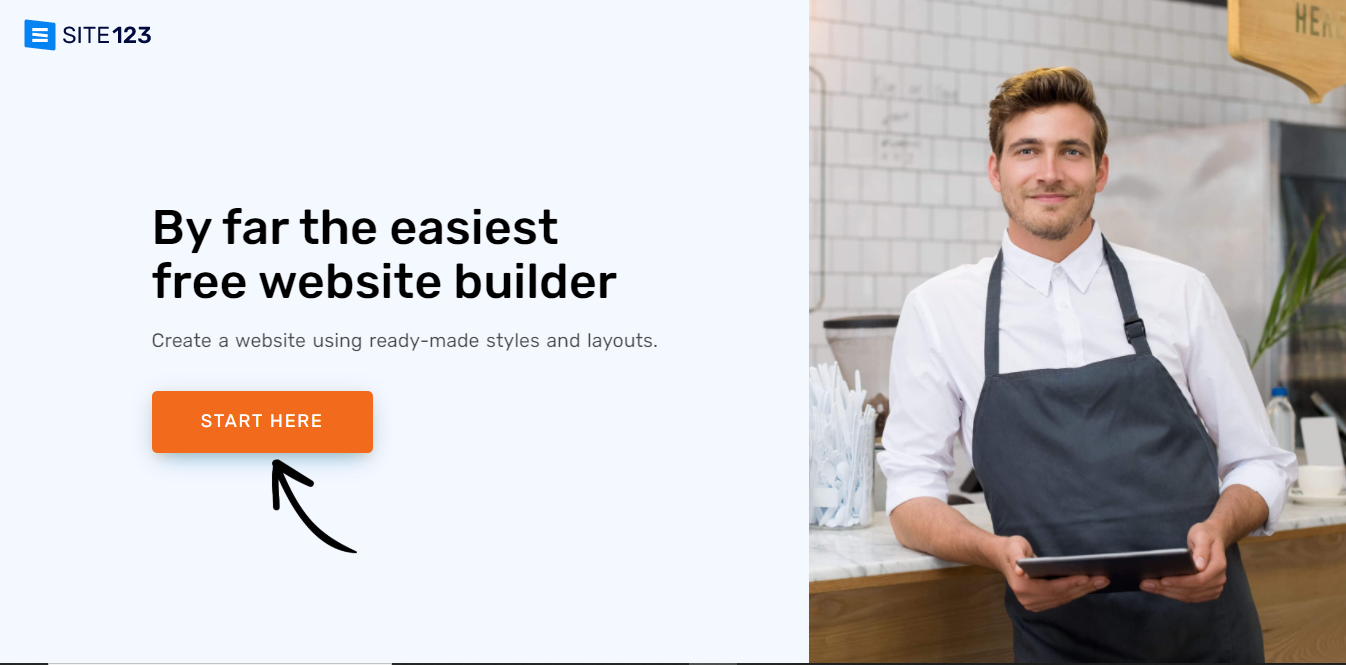 SITE123 is the most user-friendly and intuitive website builder ideal available on the market.
With the free plan, you can get your business website up and running in three easy steps.
From website structures to design, you can concentrate solely on your content with everything taken care of.
This platform website builder comes with unique features, such as an intuitive website builder, that you don't need any coding skills to use.
It also has a responsive web design and a mobile-friendly website, free domain registration, and a content management system to establish your online presence.
Get started today with the free plan, and as low as $5.80 per month for the premium plan.
---
Best multi-purpose design, hosting, and email marketing platform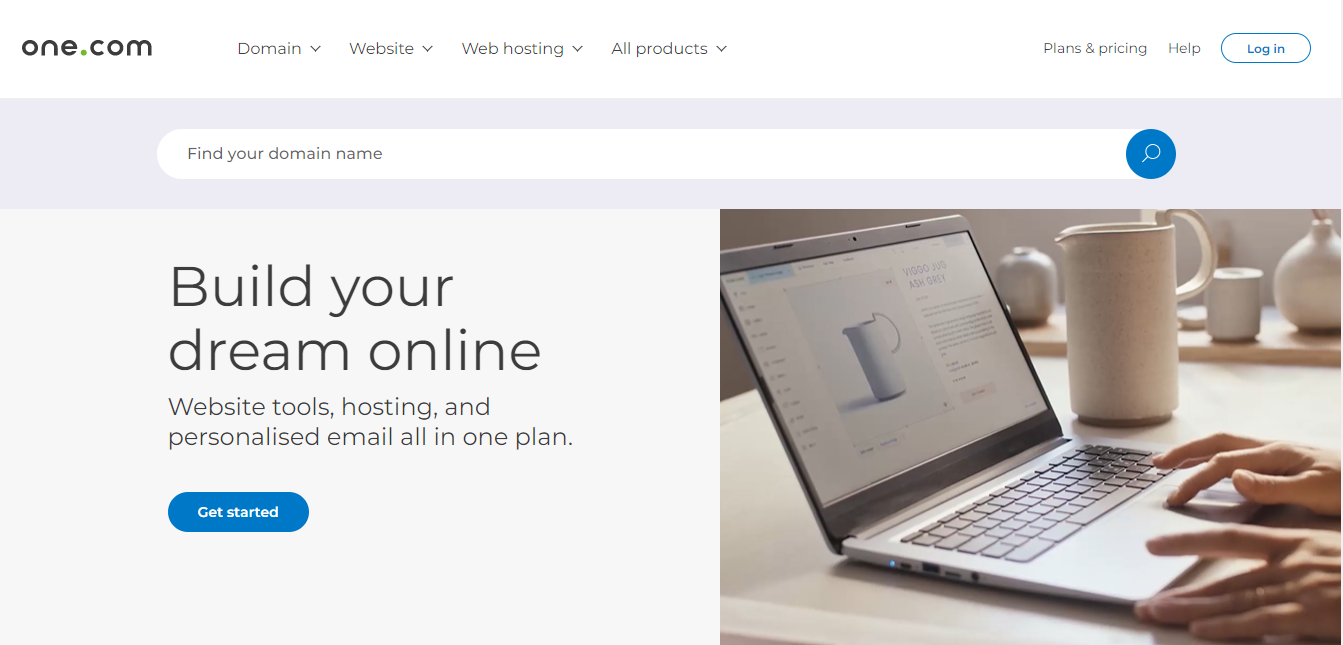 One.com is the perfect budget site builder for beginners.
Unlike most website builders, this platform offers these limited features such as a free domain for an entire year, free Google ads credit for a month, a free SSL certificate, and web stats for insights on how your visitors use your website.
You can build your website, app, or blog with the WordPress install feature and get your store up and running in no time.
It also offers 24/7 customer care, and you can start today with a 14-day free trial and then proceeds to per-month billing.
---
A simple and free alternative to Wix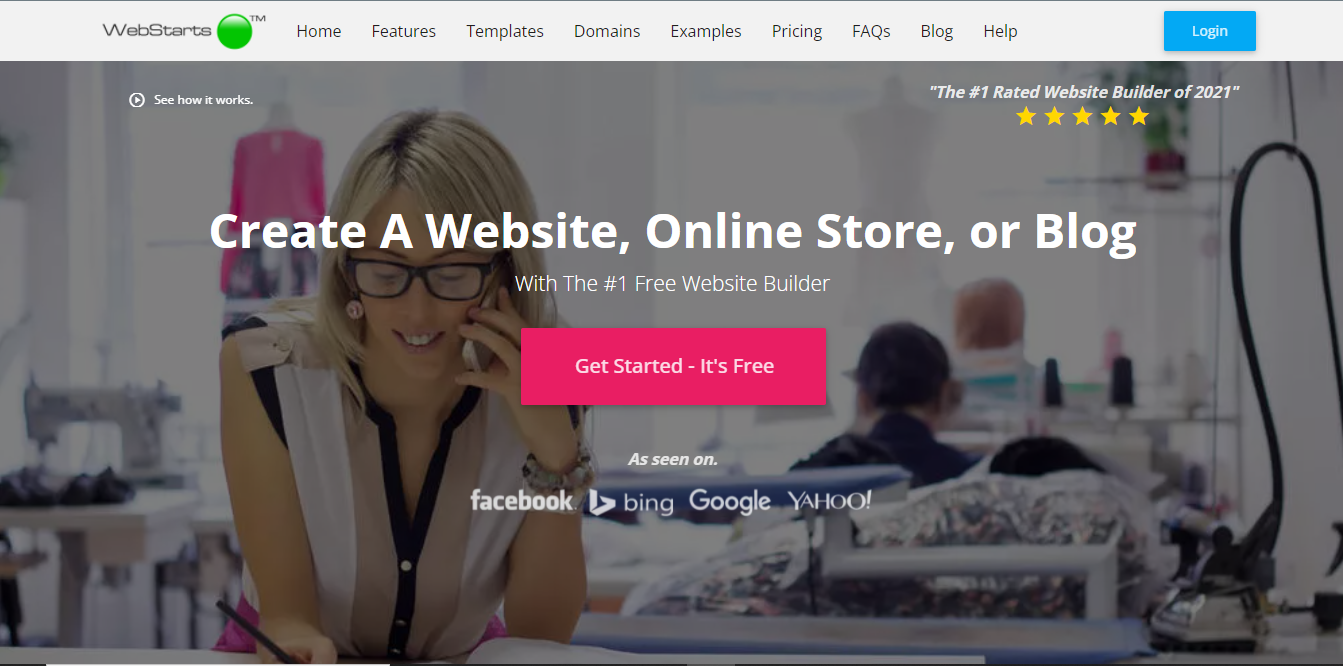 WebStarts is a simpler Wix alternative, and it's one of the best free website builders available.
To get started, you need to select a design from the hundreds of designs available, then customize it using the easy drag-and-drop editor.
Obtain a free custom domain name so that you can share your website with the rest of the world. It begins working within seconds.
Get to drive massive traffic and make your website more visible on Google. Sites are optimized for SEO features.
Get started on the free plan, or with as little as $ 14 per month for the Pro Plus plan.
---
Best website builder for large eCommerce sites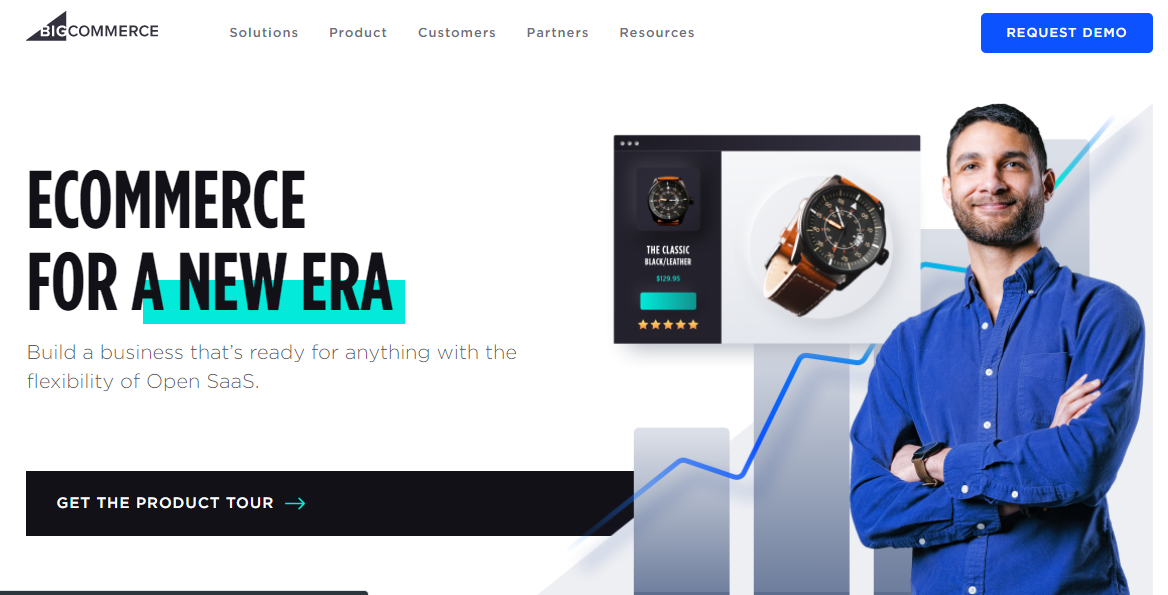 BigCommerce is a great eCommerce site builder for larger websites.
It provides industry-leading shipping and fulfillment rates, while a diverse portfolio of partners is available to address any nuance of your shipping and fulfillment requirements.
The BigCommerce control panel allows you to manage your entire product catalog, or you can push products from an external system using the Catalog API.
While the Analytics Dashboard helps you make a real-time business impact by providing critical metrics for orders, customer data, marketing, and other activities.
It allows your customers to request refunds or partial refunds directly from their customer account, automate your sales taxes with Avalara Avatax built-in, or use the custom tax tables to meet your specific requirements.
Using custom pricing, you can create definable customer segments and corresponding site experiences right out of the box that you will pay per month.
Get started by asking for a demo to know if your money will be worthwhile.
---
What Features to Look For in Website Builders
The good news is that choosing the best website builder doesn't have to be a complicated process. These days it's relatively risk-free. Most site builders will work for most businesses, but if you want to see website builder recommendations based on the business or use case, consider the other guides below.
But, here are a few things to keep in mind before making your choice.
Features
Depending on the type of website you want to build, your needs may differ from the next person, and searching for the best website builder for your needs will be a challenge.
However, common features to look for include a decent CMS, mobile-friendly designs, customizable SEO options, image galleries, and an easy-to-use drag-and-drop editor.
You might also consider choosing a builder that gives you the ability to have registered users and allows password-protected pages.
Support
Whether you are a beginner or an experienced website creator, you need a site builder that offers reliable support. However, even if you have the best website builder, you may encounter issues that need reliable help for your web builder, SEO Tools, and even drag-and-drop editor.
So, make sure you check the type of support offered by the platform before making your choice (that is, phone, chat, forums, knowledge base, etc.)
You will save yourself a lot of frustration down the line if you test the support before committing to a paid plan paying per month subscription.
Domain Name
Many website builders offer the ability to register a new domain with them directly.
However, you should also make sure that you can connect any previously purchased domain names using the best website builder you have selected to use.
Email Accounts
If you're building a website for business, then you will probably want to have an email address associated with your domain name from the many hosting offer of the website builders we discussed.
This helps to strengthen your branding and boost your professionalism.
Free Trial
As previously mentioned, choosing the best website builder is now a relatively risk-free process thanks to the availability of free trials and money-back guarantees, even with the free website builder or the paid website builders.
This means that you can sign up on the platform and test out all the features such as SEO, eCommerce features, drag-and-drop editor feature, and more before committing to a paid plan.
You don't have to invest any hard-earned money unless you know if it's a good fit for your business website.
Pricing
Last but certainly not least, you should consider the pricing of your chosen website builder.
If you are building a business online, you can choose the best eCommerce website builder for your business needs.
You will also likely need hosting services for years to come, which is why it's crucial to choose a service provider that offers real value for money.
How Can Website Builders Help Your Business?
A website builder comes with a variety of advantages. Listed below are just a few ways they can help you as an online business owner.
No Coding Skills Required
There are two ways to create a website. First, you can code the site using CSS and each page using HTML.
However, for those who aren't coders (like myself), you need a website builder that doesn't require any coding and an easy-to-use drag-and-drop editor.
Quick and Easy Editing
Since every website builder is online-based, the files are hosted on the service provider's servers, which means that you can edit your website from any device, even by using the drag-and-drop editor feature with the help of site search site elements.
Choose the best website builder to help you build simple websites to complex websites, or even an internal online course platform with easy-to-use editing features.
All you have to do is log into your website builder account and make changes. Then, click publish or save, and you're done.
The top website builders even come with features you need for your websites. Such as marketing tools, social media marketing tools, inventory management tools, free hosting, drag and drop builder feature, eCommerce functionality, and more!
Pre-designed Templates
A site builder takes away the need for design talent.
This means that anyone can make a high-quality website and professional-looking by simply using a pre-created template and drag-and-drop interface for the particular type of website they want to build.
The top website builders come with a wide range of templates to fit everyone's needs and style.
Affordable Site Builder
Website builders have made it possible for anyone to build websites, whether individuals, small businesses, or large businesses.
A few decades ago, websites were out of reach for most freelancers and small business owners, and companies had to pay tens of thousands of dollars to build websites. Now it can be done for just a few dollars with the help of an eCommerce website builder that we explored earlier.
Easy Maintenance
Regular maintenance is important for your website to be successful. When using a website builder, it's straightforward to maintain your site.
The drag-and-drop editor and website builders make it easy to make changes and update your web pages whenever necessary.
Built-In Web Hosting
Website builders help you quickly build a website, but they don't all include built-in web hosting.
When choosing a website builder, finding one that allows you to create a domain name and host the site without using another platform makes things go a lot easier and decreases the learning curve greatly.
WordPress, for example, has three hosting plans to choose from.
Website Builders FAQ
How Does a Website Builder Work? 
A website builder is simply a program or tool designed to help you build a website. There are two types of website builders: online website builders that are web-based and run on a provider's service, and offline website builders that come as a software program that you can download and install on your computer. 
What is the Best Website Builder for Small Business Owners?
Squarespace is undoubtedly one the best website builder for small businesses. It's suitable for both beginners and experts. It enables you to create, manage, and develop a visually appealing web presence, regardless of the industry in which you operate. Plus, if you're a Mac user, it works with that operating system as well.
What Does it Cost to Build My Own Website?
To build a website, you should expect to spend an upfront cost of roughly $100 and an ongoing cost of around $50 per month to keep it updated and running well. If you employ a designer or developer, plan to pay an upfront fee of approximately $6,000, as well as an ongoing fee of roughly $1,000 each year for their services. That's why site builders are so helpful for cash-strapped businesses.
Is it Possible to Run an Online Store Without a Website?
There are three primary methods by which retailers can sell online without building their own websites. These include selling things on online marketplaces such as Amazon and eBay, selling products on social media platforms such as Facebook, becoming a wholesaler, and selling products to retailers that already have an online store.
Should I Use a Website Builder or Hire a Website Designer?
If you require a website quickly, a website builder is simple to use and offers more than a hundred different templates to choose from. You can quickly and easily create a website using a template you find online and customize it to your specifications. If you have more time and budget, you can rely on professionals to create a custom website that meets all your needs.
What is a Domain Name, and Why Do I Need It?
A domain name is the URL of your website. Think of it as the address for your customers to find your website online. A branded, keyword-rich domain name, like OneHourProfessor.com, is a great way to give your business website a more professional presence online, build credibility, increase brand awareness and improve your search engine rankings.
Is it Necessary for Your Websites to be Mobile-Friendly?
While this wasn't the years ago, mobile traffic typically makes up 70% of traffic to a site, so having a mobile design that caters to this audience is necessary. Making your site mobile-friendly, improving the way it appears on devices with large and small screens, and increasing the time visitors spend on your site are benefits of making your site mobile-friendly.
What Kind of Web Hosting Service Do I Need?
Everything is dependent on the requirements of your site. Shared hosting is most likely the best option for beginners and smaller sites. VPS or dedicated hosting is likely a better choice for those who require greater control over their website or if they have a popular podcast that people will stream directly on the website.
Website builders come with their own hosting, but you can use Bluehost to host your website if you choose to use WordPress.
What is the Best Platform to Build a Website?
While there is no definite answer to what the best website platform is, Wix, Hostinger, and Squarespace are often considered among the best and most popular.
It's wrong to assume that there can only be one site builder that can be considered the best website platform because each offers specific features, tools, different prices & pricing models, and other characteristics (different website platforms such as the case with wordpress.com and wordpress.org) that may be ideal for you but not someone else. This is why it's important to compare them and pick the best one for your needs.
Website Builders Summary and Top Picks
We've come to the end of this review on the best website builders. I hope by now you have a good idea of which website builder is ideal for you.
When selecting a website builder, there are several things you'll want to consider including its web design capabilities, integration with other marketing and sales platforms, eCommerce functionality, affordability, hosting options, drag-and-drop functionality, coding accessibility, and much more.
In short, there's a lot to consider when selecting a website builder.
Here Are My Most Recommended Website Builders:
But, depending on your specific needs, these may not be the best option for your brand or business. NO worries, there are many other options on this list — each of which I can personally vouch for.
And the best part is that you can sign up for a free trial on as many of these platforms as you like.
Take your time to test out the features and see which one has what you need to help you build the type of website you want.