The art world has evolved in recent years. No longer do art buyers need to go to art galleries to find beautiful works to decorate the home. They can simply get on the internet and buy a piece of art straight from the artist's website.
In fact, in a December 2020 survey of art buyers, 82% said they bought an artist's painting from an online website.
To sell your works as an artist in the 21st century requires you to have a website where you can present your art to potential buyers, create an ecommerce platform, blog about your work as an artist, and connect all your social media and email channels together.
Finding the best website builder, however, can be difficult. A quick Google search can yield hundreds of options, but very few will actually do the job.
That's why I've taken the time to create my guide of the best artist website builders. All of them are simple to use, and most don't require you to code anything. This means you can spend more time focusing on your art and less time building a website.
What are the Best Website Builders For Artists?
Best website builder for artists with drag-and-drop functionality ($14/month).
This is one of the most flexible and powerful website builders for artists today. Most creative artist professionals love this tool because of its massive features and so many attractive template designs for users.
You can also access limitless customization features in the drop-and-drag editor. If you're an average user of Wix, you'll access over 500 unique templates to use for your art.
Wix also allows you to have complete freedom over the customization of your site. You can drag specific widgets onto the preview section of your website so you can see how your site will look prior to launching it.
Key Features:
Intuitive Website Builder: Wix is highly compatible with artists and ranks among the best website builders out there.
Optimized Mobile View: Most of your potential clients will view your work through their mobile devices, and Wix allows optimization of all mobile features to ensure that the site is user-friendly on all devices.
Free Fonts and Text Editor: These are incredible features that will help in making your artwork even more attractive.
Pros of Wix:
You have access to a wide range of templates
Wix ADI for artificial intelligence-powered websites
The drag and drop editor features are easy to use
You'll access a variety of apps and widgets
Tutorials available to increase your web design know how
Wix bookings allows you to better sell services online compared to other premium website builders
Pricing:
What Are People Saying?
"I think it is amazing for beginners and those who are looking to make a quick portfolio. But personally I would like to see more serious tech features than fun store-builder game. But that's just my preference." Morgan L.
"Wix is a great website builder, it didn't take long to learn everything and i'm happy how my website turned out. There were 2 things I did notice though, 1 thing was that you have to have the premium feature to attach pictures to forms, the other thing I noticed is that on weebly you can get one free domain, on wix you do not, otherwise I'm happy." Brody S.
"After building a website with Wix, I found that is a very complete tool for developing websites. You should have some knowledge before using it before using it, but it is not necessary, the website will help you if you have any trouble, but there are also many functions that require some experience. You can also have access to many amazing tools for organizing stuff like links, images, videos, etc. You can also upgrade to more functions by using the Pro mode. But in general, it is a very good option if you want to make your own website.." Amelia L.
---
Best overall website builder for artists seeking to showcase their work ($16/month).
Squarespace supports visual-centric templates that are highly appealing for any type of artwork. It is also easy to set up, making it a good choice for you if you're a beginner.
The intuitive platform offers a wide range of choices for templates and features from the time you start building your website. This makes it easy for you to get a sleek site up and running within no time.
Key Features:
Customizable Templates: Squarespace templates are carefully designed by a world-class design team to ensure it meets your brand.
Diverse Content Types: A diverse range of products are supported on Squarespace, including photos, texts, videos, and galleries, just to mention but a few.
Powerful Design Panel: The design panel has numerous customizable settings like colors, fonts, and paddings at your disposal. In other words, the quality of the artwork you're able to create will be limited to your creativity!
Pros of Squarespace:
Excellent uptime
Numerous features
Colorful and attractive template themes
Special focus on creativity
Excellent eCommerce features
Personal, business, and ecommerce plans prefect for artist small businesses
Pricing:
What Are People Saying?
"The speed at which I can create a website without involving any complex domain, email, or analytics setups is impressive. I highly recommend this to photographers and people that have highly visual products. I was able to setup a website with beautiful images and content in less than a day (including domain setup)." Matthew B.
"I love that as a designer, I can use Squarespace to fully customize a website to my clients' brand and use, no matter the client. THEN I can hand it off to them and they can have the confidence to continue to update and maintain their website with their slick user interface and controls! Many times, clients are intimidated about using something new and techy but once I sit down with them and show them the basics of Squarespace, they have a renewed confidence and are able to manage their own websites without the stress or confusion that usually comes along with such a task." Britani W.
"We have used Squarespace for our own websites for a number of years. We have recommended it to clients. We have helped clients create, edit, and manage Squarespace pages. I believe it is way easier than WordPress. Squarespace auto updates but WordPress does not. Squarespace is really easy to use, so we usually recommend it to our clients." Andy Ryan.
---
Website builder the best uptime, at 99. 98% (Starts from Free).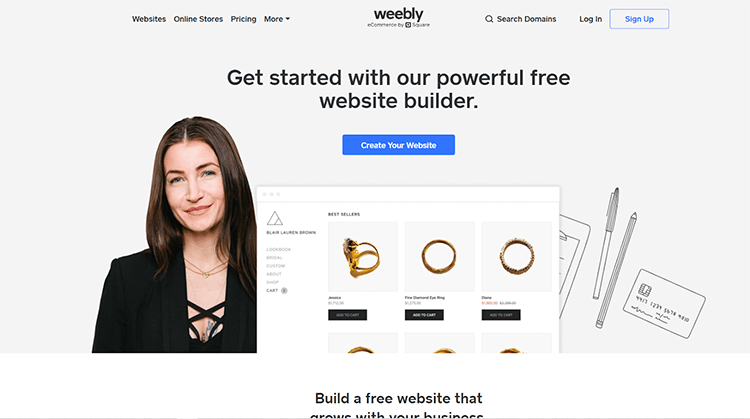 Weebly is always on the search results of the best website builders for artists – and with good reason.
Unlike many other website builders out there, Weebly will remain up and running most of the time. This means you'll rarely experience hiccups or downtime in the course of operation, which is great if you want to build a dedicated fanbase and retain users.
Additionally, Weebly is one of a few free website builders that can be easily upgraded. Several premium plans are available for personal, business, and ecommerce needs. As you grow as an artist, you can use Weebly to help you along the way.
Key Features:
Access to a Wide Variety of Features: Weebly meets your diverse needs through its limitless features to suit all your needs and wants as an artist.
Excellent Uptime: 99.98% of uptime is incredibly good for brand building as an artist. By this, I mean you don't have to be unpredictable on and off because of the heavy downtime of your site.
Apps Availability: Weebly supports more than 350 different apps that you can use with your site creation tool.
Pros of Weebly:
Excellent uptime
Extremely easy to use
Supports modernity in designs
It has over 350 different apps to meet your needs
Free plan as well as paid plans for business and ecommerce functionality
Pricing:
What Are People Saying?
"Other artist friends told me they also used it and found it to be user friendly." Elizabeth.
"Very intuitive site, I was able to put together my site in an afternoon." Laura.
"Weebly was my first attempt that actually worked for creating a blog. It's easy for non-techs to understand, and the results look nice." C.A.
---
Best website builder for artists with amazing functionality ($2.90/month)
With Zyro, you'll get all features that you can get from a high-end website builder.
One thing certain about this website builder is that it is not dedicated purely to artists.
Nevertheless, it has incredible features that you'll find helpful in design and functionality as an artist.
Zyro is also optimized with some of the best SEO tools, so you know that your access by potential customers will be easy on Google and other search engines.
Key Features:
Powerful Site Creation Tools: Zyro supports powerful site creation tools that save you a lot of time as the process of making a website is super-quick and efficient.
Optimized with SEO Tools: As an artist, building your name matters the most. If you choose Zyro, you'll enjoy a good ranking on Google because it supports some of the greatest SEO tools out there.
Attractive Templates with Incredible Functionality: Many artists have chosen Zyro from the incredible design of its templates that enables them to make presentable and competitive work. Its functionality is also unbeatable.
Pros of Zyro:
Great pricing
Supports drag and drop features for easy website tweaks
It has a live customer support
Page loading speeds are excellent
Heatmap and AI-Writer features
Free SSL certificate
Unlimited storage and bandwidth beginning at only $3.90/month
Pricing:
What Are People Saying?
"Powerful and great web site design tool, hosting is included. It does not require any kind of coding skills, and is hassle-free. It is affordable. It's very easy to create and publish web pages/sites." Ali Rıza Yoltas.
"Easy to use, great value. Fast response to support questions. Highly recommended." Neil J Todd.
"The best customer service experience ever! They should be teaching this to other companies. Having a real person present any time I run into a roadblock creates a lot of trust and security. Love it! 1000% positive!" Suzanna Smith.
---
Best site builder for customization and creative designs ($19/month billed annually).
WordPress is helpful for any design-minded artist. It's free and open-source software with a powerful CMS (content management system).
But, you have to get your own theme, which is where Thrive Themes comes in.
Thrive Themes is a suite of advanced yet easy-to-use website tools that are designed to work with WordPress sites. However, it comes with an added focus on boosting conversions.
Key Features:
Simplicity: I'm sure you don't want to subscribe to a platform that will give you trouble building your content and publishing to the audience. WordPress eliminates this hustle through simplistic design features on its website builder.
Publishing tools: WordPress and Thrive Themes together will ease your content management when it comes to publication such that save drafts and schedule what you'll be publishing.
Flexibility: WordPress' flexibility can enable you as an artist to create a website specific to your niche.
Pros of WordPress and Thrive Themes:
The WordPress editor supports extreme customization features
A good community forum and knowledge base
Thrive Themes offers affordable prices
Industry leading plugins available on WordPress including Google Analytics
Select from a diverse range of web hosting servers
Pricing:
What Are People Saying?
"WordPress.com works really well with Google for a great SEO ranking. I can also embed YouTube videos, Google Maps, and other content easily and without any coding ability." Quintin Lake
"I looked into what other bloggers whom I admired were using, and the Cadillac of platforms is WordPress.com, hands down. The themes are breathtaking — even the free ones! — and all of the supporting infrastructure and information is top shelf." Alexis Kanda-Olmstead
"WordPress.com is the standout choice if you want to start your own blog, with all the features you could need to run a successful blogging site. These features come at a reasonable price, and with a more user-friendly editor than WordPress.org. All in all, WordPress.com is perfect for beginner and professional bloggers alike." Lucy Carney
Get Started With Thrive Themes
---
Online Gallery offers a great option to you as an artist: you can create your own personal website via your existing Online Gallery account.
Doing this is very simple and fast. Claim a domain/url, upload a logo, choose one of three themes font and colors, and within 60 seconds you will have created your personal website. When you change or maintain your artist profile on Online Gallery, the personal website is adapted automatically.
Online Gallery is 100% for artists, photographers and designers. The nice thing about this platform is right after you build your website, your product will be listed within Online Gallery as well.
Key Features:
Plug and play: At this moment Online Gallery offers 3 templates and you don't need to do any website building. Aside from images and text, they handle all of the tech issues.
Optimized with SEO: Online Gallery has implemented the best SEO practices to help get your Online Gallery account exposure.
Optimized Mobile view: The website designs are user-friendly on all devices.
Pros of Online Gallery:
Extremely easy to use
Your work is listed on a fast growing online gallery
Created for Artists
Great pricing and personal support
Page loading speeds are excellent
Free SSL certificate
2 emails included ([email protected] & [email protected])
Possible to add PayPal account for online shopping
Pricing:
Pricing depends on what country you're in, similar to how Netflix works. They have a Standard, Premium, Website, and Art Lover plan. To have access to the website option, you'll need to choose Standard, Premium, or Website.
What Are People Saying?
Fabolous website, speedy delivery in excellent packaging. Incredible service.
I sold a piece of art posted on the Online Gallery website and was perfectly informed what to do and what to expect. Good communication with Online Gallery and the buyer.
This platform works very well and fast. I have set up my profile and uploaded my artworks in less then 5 minutes . It is amazing to have so much possibilities in one platform for less then €10,- per month
Get Started With Online Gallery
---
Best website builder for showcasing your best work ($10/month billed annually)
As an artist, you definitely need a website that supports high-resolution images. The format is photographic-centered with a wide range of designer templates.
So, it doesn't matter your niche as an artist because this website builder will prove useful for you.
Key Features:
Templates and galleries: Access the selection of a wide template that caters for up to six artistic specialties and five different gallery displays.
Mobile User-friendly: Format is fully mobile user design-optimized to ensure that you're only building a single version to your website.
Seamless Editing: The editing template is so simple that switching across templates is seamless.
Pros of Format:
It is seamless for creating professional portfolios
The idea for a quick and a simple photo upload
Supports extremely simple and supportive blogging capabilities
Less complicated than many competitors but remains effective in offering your work online for sale
Pricing:
What Are People Saying?
"If you're looking to create the best websites for artists, and are content with creating a portfolio, then Format can surely be one of the better choices!" Maureen
"If you're looking for an artist website builder, this is actually a pretty good option, in and of itself." Laura J.
"Naturally, a builder like that is going to be limited in its functionality – there are quite a few things that it won't be able to allow you to do with your website. That being said, you'd already know all of that before going to try the website creation tool out!" Michael W.
---
Best website builder for artists on affordability (Starts from Free).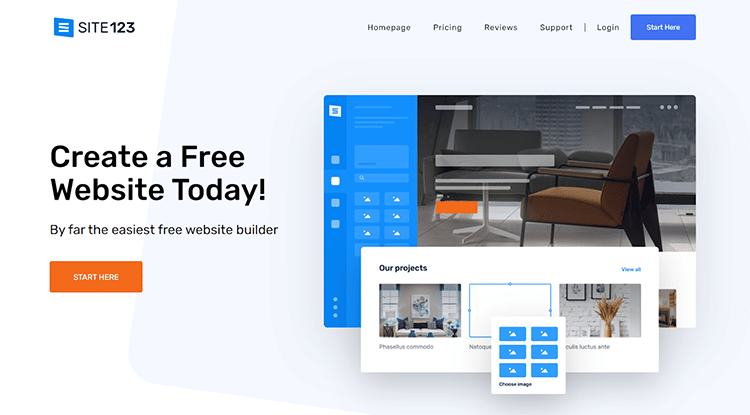 This is an incredible option for artists even though it might not appear among the best sites when you search on Google.
But if you're starting on website building as an artist and don't have a lot of money, it is the way to go.
Key Features:
Good Uptime: Avoid so much downtime on your website through this web builder and improve the loading speed on your site. This assures you that your website will be accessible most of the time for visitors.
User Simplicity: Since most artists do not have technical skills in coding to build websites, Site123 got them covered through its extreme user simplicity.
Website Editor: The website builder supports an intuitive website editor with zero coding requirements.
SEO Tools: Artists access a perfectly optimized site for their products because Site123 is SEO optimized
Pros of Site123:
Site123 offers mobile-friendly website templates
Offers free hosting safely and securely
Free domain registration is another supported benefit
Artists can establish an online store and start selling globally
Free basic plan and premium business plan available
Pricing: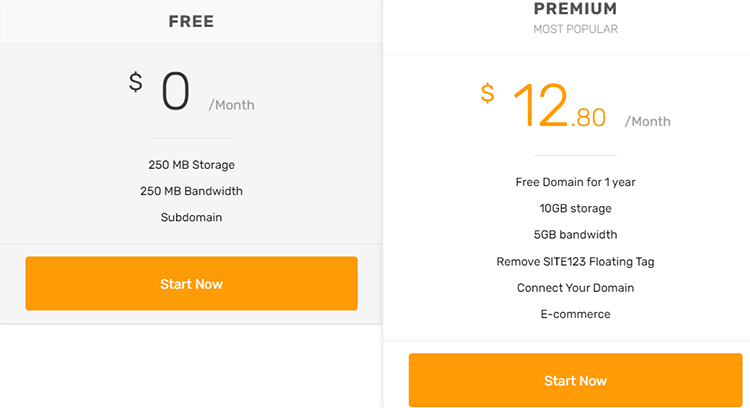 What Are People Saying?
"If you are a beginner and want the easiest, most professional, web-building site – then this is the one. I cannot recommend this company highly enough. The customer support is brilliant. I am in the UK but they replied to my query on a Sunday. A wide selection of templates that are very adaptable plus new features regularly being added. Very cost-effective hosting. Simply the best. Peter Murray, CEO, Goldfella ltd." Peter Murray.
"This is BY FAR, the easiest and most user-friendly website designer that I have dealt with. The technicians on the help chat are above professional and make it so easy to create an awesome website. Once I found SITE123, I quit looking!" Christi Prettyman.
"I would highly recommend hosting a website with this company. I had issues with transferring my information from another hosting site to here, and SITE123 helped me step by step. I chose SITE123 instead of a couple of others based on the very quick response and help within minutes. Do not hesitate with SITE123!" Jessica Coronado.
---
Best website builder for the smaller websites ($3.90/month).
As an artist, you don't want to waste time on complex web builders when solutions like Webnode allow you to create an amazing website for your product in minutes.
The platform prides itself in providing services to over 40 million users today who have expressed satisfaction with the supported capabilities.
Key Features:
User-friendliness: You can add different types of content with a single click and save a lot of time with predesigned pages.
Fast and simplified editing: You don't have to install or download anything to use this website builder as everything has been done for you.
Speed and security: Enjoy fast and reliable hosting on safe and secure servers.
Pros of Webnode:
Speedy and smooth loading speeds
Free domain names support for a year
Simple and speedy editing that you'll do directly on your website
Professional email accounts
Pricing:
What Are People Saying?
"The customer service and fast response are superb! Thank you for making this process fun and seamless." Maisha Dyson.
"I've started using Webnode with zero knowledge on website creation, and I managed to create my very first website within my first day, what an amazing feeling that was!" Cooksey S.
"In addition to the fact that Webnode is easy to use, it also provides you with a lot of great features. I was as happy as a little child in the middle of all his toys!" Kevin D. Sterling.
---
What Features to Look For in a Website Builder For Artists
Artists are unique professionals who require tailored solutions for their work. And not every website builder will be suitable for the artists.
A superior and arts-oriented website builder will save artists a lot of time and effort while supporting them to create the best quality products for their audience.
As an artist, the following factors should guide you in selecting the best website builder for your career.
1. Image display: Look for a website builder that supports high-quality image display bearing in mind that you deal with visual works as an artist. This will be especially needed if you're focusing on creating an artist portfolio website.
2. SEO Optimized: Find a website builder with the features to make your site easy to find by people out there. You should also establish direct links to your social media profiles for your fans.
3. Ease of use: As an artist, you always have a tight schedule and not time to learn the technical details of building and enhancing your website. We encourage you to choose a simple-to-use website that doesn't require you to have so much technical knowledge.
4. Available features: Choose a website builder that supports a wide variety of features and templates to be sure you won't be limited with your work.
5. Mobile user-friendly: Choose a website builder that integrates well with mobile devices because this is where the majority of users are likely to search and view your work.
How Can a Website Builder Help You as an Artist?
Artists who use site builders monetize their work and get incredible returns from their efforts. A website builder can help you to create a sense of professionalism in your work.
It's also a great idea to save contacts and create a portfolio of the artists' work. If you've been selling your products through a middleman, a website builder gives you the chance to showcase and sell your products out there to anyone across the globe and keep all the profits.
Website builders will also offer you the chance to meet and interact with a wider client base that can help you to continue growing through diverse ideas. Therefore, don't limit your potential any further when website builders are here to change your story and the tube of your career.
Website Builder For Artists FAQ
What Pages Are a Requirement for an Artist?
The compulsory pages that every artist should have are as follows:
The home page
Artist's statement
Gallery of images
CV and biography
Contact
News
Site Index
Privacy policy
What is the best site builder for an artist selling their work?
Wix eCommerce is the best for selling and showcasing your arts. It supports social media integration, allowing customers to view your items from platforms like Pinterest and Facebook. You can easily monetize your artwork with this website builder option as an artist by connecting to a wide audience.
What site builders allow you to showcase and sell your work?
If you're interested in showcasing your arts, Squarespace website builder is the best option for you. The website has visual-centric and stunning templates that are effortless to set up.
But it doesn't do well like Wix when it comes to combining selling and showcasing, although it beats Wix on showcasing. So we still recommend you to go for Wix website builder to showcase and sell your work.
What other services can my website offer as an artist?
Other than selling and showcasing your work and giving you art an online presence, your website can offer other services like art lessons and commissioned arts. You'll also access services like storage, professional organizations, and support to create a personal portfolio. You can also monetize your website with affiliate commissions, display ads, and much more.
Are there other website builders I can use to create my artist site?
Yes, there are many other artist website builders currently available including Shopify, SmugMug, Adobe Portfolio. GoDaddy and many others. However, many of these other websites have a steep learning curve and require more extensive HTML or CSS coding skills than what you might possess.
Summary
From my research, I've concluded that Wix is the most superior website builder for artists. Whether you're building a simple website or something more complex, Wix has a combo of industry-leading features and pricing packages, which exceeds that offerings of most other website builders.
The site builder offers ease of use in addition to many high-quality templates that meet the needs of an artist.
Wix Art Store is uniquely provided to allow the selling of the artwork directly from your site. With Wix, you'll get high-quality images, mobile-friendly viewing, ecommerce tools, customization options, and an excellent platform to showcase your work. Creating an artist portfolio and ecommerce website has never been easier.
Nevertheless, we have seen other options on this list of the top site builders on the market. Each of them is an excellent option for any artist or graphic designer.
Go through each of our suggested options keenly and select the possibility that you'll find to be most suitable for your career.