Landing pages are one of the most important elements of your website. With a single focus on conversion, they draw site visitors from social media, email, Google, and more. But ensuring that each landing page is optimized for conversions can be difficult, if not impossible without the right tools. That's why my team and I put together this list of the best landing page builders to make things a little bit easier on you and your wallet.
Building a website is easy. Within a few hours, you can have a site with visually appealing images that capture leads and generate traffic.
But just because you have built a website does not necessarily mean you have correctly monetized that site.
If you want to make the most money possible on your websites, you need to ensure that you have many stunning landing pages.
According to a study by Hubspot, companies with 30 or more landing pages get 600% more leads than companies with ten or more.
Of course, you don't want to start throwing random pages up on your website. That can create clutter and lead to people bouncing off the site as soon as they land there.
It would be best to build landing pages that are high quality and load quickly. It will allow site visitors to make purchases without any hassle.
Creating beautiful landing pages also affects your site SEO and serves as search engine marketing that you can use as an email marketing tool in your campaigns.
However, creating optimized landing pages that can help with lead generation is an integral part; having website builder tools on your own is a challenging, tedious, and very exhausting process.
To get the most out of your landing pages to reach your target audience without driving yourself to burnout, look at my guide on the best landing page builders around and find exactly what you need to start increasing your opt-ins and making more money from your blog or website.
What are the Best Landing Page Builders?
Best Overall Landing Page Builder (Free Trial then $79/month)
The Unbounce landing page builder software tools have some of the best features of any good landing page builder currently available. It offers beginner-level customization options, as well as highly advanced ones.
The software is perfect for creating custom landing pages with diverse page elements.
With this landing page tool, you can run high-quality A/B tests on your landing pages with this tool. DTR (dynamic text replacement) also has a time-saving feature, which allows you to replace the keywords on your landing page depending on the user search query. Now that's huge!
The Unbounce is a great landing page builder and best for anyone who wants to save time and money by creating just one landing page that will automatically adjust for dozens of different keywords, creating multiple landing pages.
Unbounce landing pages offer a powerful tool with a reasonable price tag and sophisticated landing page builder features.
Key Features:
Comprehensive Tools: Unbounce has a complete set of features, including pop-ups, sticky bars, drag, and drop builder, etc.
Seamless WordPress Integration: The software fits seamlessly with WordPress allowing you to publish and have your own landing pages in minutes.
A/B Testing Feature: Unbounce's landing page tool incorporates a practical A/B testing feature to help you optimize your marketing campaigns for lead generation and conversion.
Pros of Unbounce:
Fantastic flexibility in setting up your landing page using the drag and drop builder
DTR for cost-effective PPC campaigns (PPC Management software will help you track this)
Integration with leading website builders like WordPress, Google analytics, and other tools like Zapier, MailChimp, and many other helpful parts of a tech stack.
Automated A/B testing platform
200+ professional-looking templates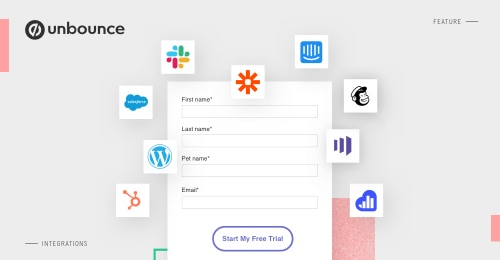 Pricing:
Unbounce pricing starts from $79/month.
There is also a plan for $149/month, which lets you create sub-accounts for clients and an enterprise plan for $399/month that includes a template migration service.
---
Best Landing Page Builder for Entrepreneurs (Free Trial Then $25/month)
The Leadpages landing page builder has almost unparalleled features compared to most other landing page builders in its class.
The software is priced deceptively low but offers more than enough features to allow marketers to build high-converting and responsive landing pages with great landing page designs to achieve their marketing objectives.
This tool has built-in payment systems, including a sales funnel designed to help you run your web store efficiently.
It also has themes that look great and are mobile and tablet-optimized. Other features include A/B testing, unlimited integrations, and drag-and-drop functionality for those who want ease of use.
The Leadpages is best for businesses and entrepreneurs who are just getting started in paid marketing and want a simple yet powerful tool to create simple landing pages to stunning multiple landing pages.
Key Features:
Easy Payments: This feature makes it easy for businesses to add payment and booking modules.
Premium Integrations: Leadpages offers almost unlimited page builder integrations to third-party CRMs and other marketing tools for more significant lead generation.
WordPress Plugin: You can quickly and easily integrate Leadpages with your WordPress CMS.
Pros of Leadpages:
Countdown timer and progress bar widgets
You can create popups on any of your pages (not just landing pages)
Affordable starting price
Simple drag and drop functionality
Quality A/B testing feature
Pricing:
Leadpages' standard plan starts at just $25/month.
There is also a Pro plan for $48/month and an advanced plan for $199/month, which comes with advanced integration with Mailchimp, Hubspot, and more.
---
Best Way to Outsource Landing Page Creation ($49/month)
The Wishpond is a page builder software that offers two options: a do-it-yourself and a done-for-you version. This approach is very different from other landing page builders that assume you want to create unlimited landing pages yourself.
Suppose you choose the DFY page smart builder plan. In that case, you get a fully-outsourced model when you hire web designers, copywriters, marketers, and project managers at your beck and call with landing page templates and landing pages free trial.
This means that you'll have an entire team of highly experienced professionals who build landing pages and test them to ensure you get the highest conversions possible.
If you choose the DIY option, you get a powerful website builder page editor and creator with a range of exciting features that will allow you to launch beautiful swipe pages, and mobile-responsive pages within minutes with landing page templates and marketing features
The Wishpond is best for entrepreneurs and businesses of all sizes that value speed and time savings. Whether you choose the DIY or DFY option, you'll have stunning, conversion-focused landing pages in a short amount of time.
Key Features:
Includes Marketing Executive: When you purchase this landing page builder software, you get a dedicated marketing executive to help you throughout the whole process.
Online Advertising: Convenient integrations allow you to get more leads through channels like Instagram, Facebook, and Google ads.
Lead Management: The software allows you to target your best leads using advanced lead management.
Pros of Wishpond:
Over 100 mobile-friendly landing page templates
Pop-ups, contests, sweepstakes, and email marketing tools
Simple one-click A/B testing feature
Integrates with over 300 other tools
Offers handy marketing automation
Pricing:
Wishpond's 'Starting Out' plan is $49/month. They also have an 'Everything You Need plan for $99/month and a 'Rapid Growth' plan for $199/month.
---
Best Landing Page Builder for Digital Marketers ($40/month)
The HubSpot landing page software offers a diverse range of products, including this landing page creator, email marketing, and CRM services.
Over 60,000 brands are using Hubspot software, making it one of the leading all-in-one marketing solutions for businesses.
Using their landing page creation tool, you create landing pages that offer innovative lead management and come with various sales enablement tools.
The software differs from a traditional website builder because it makes it easy to automate various aspects of your marketing. You also get A/B testing features and in-depth reporting and analysis to help guide your marketing decisions.
Hubspot is the best landing page builder for digital marketers who want a suite of marketing tools to help funnel leads onto the site and generate more conversions.
The tool is significantly less expensive yet offers more features than most competitors. As a result, it's ideally suited for companies that want to scale from startup to mid-size.
Key Features:
Onboarding Videos: There are helpful onboarding videos to help you get started in just minutes.
Well-Reviewed Support: HubSpot's customer support is well-reviewed online, and the vast majority of users are happy with the platform.
Fully Customizable Templates: The platform offers a wide range of unique and fully customizable templates to match your brand.
Pros of Hubspot:
Drag and drop editor
Newsletter email capabilities
A/B testing tools
CRM to manage your sales funnel
Social media and ads management tools
Pricing:
Hubspot's landing page builder starts at $40/month, billed yearly. If you want to do more than capture and convert leads, you can sign up for the Professional plan at $800/month.
---
Most Affordable Premium Landing Page Builder (Starts from FREE)
A free marketing tool that lets you build beautiful landing pages from scratch, with a template library and even coding support.
EngageBay has templates that are pre-tested to convert. It's quick and easy to create an advanced landing page using these templates. You don't need any design skills or experience!
It has one of the most complete support systems out there for helping your build landing pages successfully. Whether it's for AdWords, Facebook Ads, eCommerce, Leadgen, or any other promotional platform, EngageBay is the one-stop solution.
EngageBay has a unique click and conversion tracking system built right in, which allows you to track your conversions for all of your ads on all platforms. No more exporting data or writing scripts – just use this intuitive system, and there's no payment required!
It's also mobile-responsive.
Key Features:
Lead Generation: EngageBay's lead capture form builder tool helps you build high converting forms for any promotion like e-commerce sales, social media promotions, etc.
Unlimited Landing Pages: The software gives you the power to create an unlimited number of landing pages for marketing campaigns without paying any additional fees.
Landing Page Builder: EngageBay's landing page tool offers a drag-and-drop landing page builder to create personalized pages in seconds without any coding.
Click & Conversion Tracking: You can integrate your lead generation campaigns with Google Analytics using the click & conversion tracking system built into the software.
Pros of EngageBay:
Setting up new landing pages for your campaigns is quick and simple
A/B split tests and multivariate tests are supported
You can create unlimited pages that can be used for different adverts to promote the same e-commerce store
Real-time tracking of conversions from all platforms, including Facebook and Google
The free plan can be used forever
Pricing:
EngageBay has a free plan that can be used by signing up with your email id or G Suite. It has no limited duration.
The Basic plan costs $12.99 for a monthly subscription and offers a Google tag manager, while the Growth plan costs $34.99 and adds A/B testing and coding support for great dedicated landing pages. Finally, the Pro plan offers everything from website analytics to full-fledged marketing automation and costs $69.99 a month.
Or Check out my In-Depth EngageBay Review
---
Best Landing Page Builder for Ease of Use ($149/month)
The Instapage is one of the best landing page builders with an intuitive and easy-to-use platform for creating highly conversion-focused and personalized landing pages.
It comes with an entire suite of valuable features, including entirely editable templates, lead capture forms, A/B testing, integrated google analytics, other marketing tools, and premium integrations with various other tools.
This software is arguably the easiest to set up compared to most landing page builders in its category.
The drag-and-drop editor makes it easy for beginners to create custom landing pages up and running in a very short space of time.
The landing page templates look amazing on any device, and you can easily match the fonts, colors, and various design elements of your website that can be found on any website builder.
The Instapage landing page software is best for entrepreneurs, digital marketers, businesses, and agencies that desire powerful landing page software with advanced features at an affordable price.
Key Features:
Library of Free Images: Instapage offers a massive library with free photographs.
Performance Analysis Reports: You can get data to help inform your marketing decisions and improve conversions.
Responsive Design: Includes parallax, video backgrounds, and AMP (accelerated mobile pages) features.
Pros of Instapage:
It has a drag-and-drop editor that is easy to use
Dynamic keyword insertion
Direct WordPress integration
Unlimited A/B testing
Robust conversion analytics tools
Pricing:
The core plan from Instapage costs $149/month. This takes care of most businesses' landing page needs and includes branded lead notifications, up to 15 client sub-accounts, and much more.
---
Best Landing Page Builder for Non-Programmers ($29/month)
The Landingi is one of the best landing page builders that allows you to create landing pages that are high-quality and professional-looking quickly.
With this software, you get unlimited landing pages and landing page templates, custom domains, visitors, leads, and users on all accounts. This is undoubtedly one of the best and most affordable options for powering your landing pages.
This landing page creation tool will streamline the entire landing page process by automating some of the more tedious and time-consuming tasks.
Many companies recommend this landing page builder, including Sony Music and PayPal and some well-known internet marketing entrepreneurs like Neil Patel.
The Landingi is best for businesses and digital marketers who want various features for top-level marketing in a tool that is designed to be simple, quick, and easy to use, even for novices.
Key Features:
Drag and Drop Editor: The drag and drop features of the smart builder allow you to change quickly, customize, or add anything to your page – no coding required.
Over 200 Templates: Choose from a vast selection of easily customizable templates to help you get started with your dedicated landing page.
Image and Icon Library: Unique Design pages with free, fully customizable images and icons from a vast library.
Pros of Landingi:
А/В split testing
In-built Google analytics and reporting
Track your visitors and conversion rates
Оrgаnіс rаnk oрtіmіzаtіоn feature
Third-party integrations with HubSpot, MailChimp, etc.
Pricing:
Landingi offers a 14-day free trial, and plans start at $29/month for the Core plan, $45/month for Create, and $59/month for Automate.
---
Great Landing Page Builder for New Sites (Free to start)
Launchrock is an easy-to-use online landing page tool designed to help new businesses and individuals launch products and capture email addresses.
It is a landing page builder focused on helping users go viral. This platform allows you to build a website for early customer acquisition before introducing your product to the market.
There are three sets of tools offered within this platform, each of which is designed to help you Build, Promote, and Analyze.
With these easy-to-implement tools, you'll be able to create 100% responsive websites that will increase the chances of your product launch success.
Launchrock is best for digital marketers, startups, and small businesses that want to boost exposure and acquire customers in the fastest way possible and those launching a new product in the market.
This tool is not ideal for enterprise businesses.
Key Features:
Beautiful Pages: The modern block-based builder allows you to fully customize templates for stunning, launch-ready sites.
Capture Early Customers: This platform allows you to engage customers directly using simple surveys, email capture, social sharing, etc.
Marketing Automation: Launchrock offers a comprehensive set of marketing tools to help increase the chances of your landing page going viral.
Pros of Launchrock:
It's free to use for beginners
Super-fast dedicated landing page builder
Includes robust social promotion features
In-depth analytics and reporting
Leverage an existing Launchrock audience
Pricing:
Launchrock is free to use for as long as you like. But, if you want unlimited features, you can upgrade to their highly affordable $5/month plan.
---
Best Landing Page Builder for Mid- to Large-Sized Businesses (Starts at $79)
Ontrapages is a landing page builder and tool designed by the creators of Ontraport. It allows marketers and entrepreneurs to implement beautiful, responsive custom landing pages that convert well and quickly.
Ontrapages software is straightforward to use, and it is ideal for beginners and advanced marketers.
To get started, you must choose any of the countless ready-to-use design templates and customize them to meet your needs.
There are additional features, such as countdown pages, email capture pages, and thank you pages, to choose from. After customizing your page, simply publish it either on your custom domains or let Ontrapages host it for you.
The Ontrapages is best for medium to large businesses that want an effective landing page builder that is part of an all-in-one solution for their marketing needs.
Key Features:
Flexible Page Layouts: You can add blocks and remove any you don't need.
Comprehensive Design Elements: Choose from banners, buttons, CTAs, client logos, countdown timers, coupon offers, etc.
Done-for-You Hosting: Ontrapage can take care of your page after it's live. All you have to do is add the content.
Pros of ONTRApages:
It offers excellent value for getting started
Built-in split testing tools
SEO settings to help you optimize pages
Includes Ontraforms for responsive order forms
Easily integrates with CRMs and email marketing tools
Pricing:
You can try out Ontrapage with a 14-day free trial. After that, plans start at $79/month for the Basic option. The Plus package is $147/month, and the Pro goes for $297/month.
---
Best Landing Page Builder for Product Launches ($19/month)
The KickoffLabs is a platform designed for marketers who need great landing pages.
This software helps you launch viral marketing contests that will get your product noticed and allow you to generate tons of new customers.
With it, you can set up your campaign with a viral loop, including leaderboards, coupons, bonus referrals, waitlists, and much more.
Once you've created a viral campaign, you can run it as a landing page, slide-in bar, pop-ups, or custom HTML.
If you're launching or promoting a new product, this is a great tool to generate awareness and interest. In addition to landing pages, you can also run contests and give awards to customers who refer others.
The KickoffLabs is best for businesses of all sizes to generate leads and manage them in one convenient platform with many additional features like A/B testing and fraud protection (prevents fake entries and referrals).
Key Features:
Drag and Drop Editor: This lets you quickly create stunning landing page layouts without technical expertise.
Analytics and Reporting: Get data and insights on how well your campaigns are performing and how to improve conversions.
Responsive Designs: All templates are fully responsive and look great on mobile and tablets.
Pros of KickoffLabs:
Choose from 45 customizable templates
Layouts are specially designed for viral contests
Offers widgets not found in other software tools
Unlimited landing pages, referrals, pop-ups contests, etc.
A/B testing included in all packages
Pricing:
KickoffLabs costs $19/month for the Hobby plan. The Premium plan costs $49/month, and Business is $99/month. You can try out the platform with a free 30-day trial.
---
Fastest Tool for Creating Free Landing Pages ($16/month)
The LanderApp is a landing page builder with a template for everyone, including businesses with products or services to sell, eCommerce stores, and individuals who want to share portfolios.
No matter what you need a landing page for, this software can help you create one quickly and easily.
In addition to having a lot of features to cater to the different needs of marketers everywhere, this tool is among some of the most affordable options you'll find on the market right now.
But don't be fooled by the cheap price tag because this tool has everything you need to create stunning and high-converting landing pages in the shortest time possible.
The LanderApp is best for smaller businesses and entrepreneurs seeking an affordable yet effective landing page solution.
Key Features:
Auto-Fill Forms: This great feature has been proven to increase conversion rates.
Third-Party Integrations: Connect your email and CRM tools to streamline your marketing efforts.
Custom Pages: Use custom confirmation or thank you pages for product upsells to get more value from your customers.
Pros of LanderApp:
Free to start, with affordable plans
A/B testing included with all packages
Features unique Facebook landing pages
Options for custom code editing
Integrates Google Maps for in-person events
Pricing:
Lander pricing starts at $16/month for the basic plan, ideal for small businesses and digital marketers.
The Professional plan designed for in-house marketers costs $83/month. You can try LanderApp for free via their 14-day trial.
---
Best Landing Page Builder with Custom-Built Plans ($25/month)
Pagewiz is more than just a landing page builder. It's a powerful tool that makes it easy to create beautiful, professional-looking landing pages quickly.
It offers third-party integrations with various other marketing and automation tools.
With this landing page software, you will be able to reduce the overhead of landing page maintenance as the platform monitors your landing pages 24/7 to ensure that everything is running smoothly.
If you're looking for a tool to help you launch your next marketing campaign faster and more cost-efficiently, then Pagewiz is an excellent option to consider.
The Pagewiz landing page software is best for businesses of all sizes seeking an affordable solution landing page builder and launching online marketing campaigns, i.e., Google Ads and encourage users to swipe pages from your own website.
Key Features:
A/B Testing: This platform lets you test several versions of your page to find the best-performing one.
Unlimited Landing Pages: Create as many landing pages as you like, and you can also test as many of them as you want.
Real-Time Statistics: Get up-to-the-minute stats and landing page conversion rates.
Pros of Pagewiz:
Mobile-optimized landing pages
WYSIWYG landing page builder
Premium integrations
Over 100 unique templates
Manage multiple client accounts
Pricing:
The Pagewiz landing page software has a Basic plan for $29/month. The Standard plan is $42/month, and the Plus plan costs $84/month. In addition, you can try Pagewiz free for 30 days with no credit card required.
---
Best Landing Page Builder for WordPress ($97/year)
OptimizePress is among the first and the best landing page builders explicitly created for WordPress. It is a tool marketed primarily to internet marketers, but it has many other uses.
With this software, you can build landing pages, blog sites, and membership portals using a WordPress plugin.
It's important to note that the new OptimizePress 3 is entirely different from its predecessor and most landing page builders. It was rebuilt from scratch and had many new and advanced features compared to the old version.
New features include motion effects, sliders, a ton of eye-catching templates, and a dynamic text replacement, all of which are expertly designed to help you get more conversions from your web traffic.
The OptimizePress is best for businesses of all sizes – thanks to its affordable pricing and the wealth of new and improved features.
This web-based landing page builder is particularly well suited for influencer blogs, high-converting sales funnels, etc.
Key Features:
Drag and Drop Builder: The drag and drop editor easily create pages and opt-in landing page forms to capture leads without the need for advanced technical skills.
Premium Integrations: Send subscribers to any leading CRM systems and email marketing tools to save subscriber data.
Complete Design Customization: OptimizePress lets you customize copy, colors, images, etc., to match your brand.
Pros of OptimizePress:
Easily send subscribers to third-party integrations
Includes conversion-tested templates for quick setup
It comes with beautiful membership templates – just add content
Simple plugins to secure your content in just a few steps
Flexible designs to fit specific marketing needs
Pricing:
This famous landing page builder does not offer a free plan or a 14-day free trial; however, there are a variety of pricing plans available. For example, OptimizePress plans start at $97, paid yearly.
Depending on your business needs, you can upgrade to the Business plan for $149/year or the Suite plan, which costs $199/year.
---
Cost-Effective Alternative to Hubspot ($15/month)
The GetResponse landing page software lets you build a beautiful, high-converting, mobile responsive landing page. The software is diversified and also offers email marketing and webinar capabilities.
This means that you can conduct an entire marketing campaign from one place, with all your leading landing page builders tools in one easy-to-use dashboard.
This landing page builde features with integrations with almost all of the top tools you're likely already using, including WordPress, Shopify, and Salesforce.
This landing page software has a straightforward interface to navigate, making this a perfect tool for beginners.
The GetResponse is best for small to medium-sized businesses that want a landing page builder with excellent email marketing capabilities.
Key Features:
webinars: Integrating webinars allow you to promote your online events and attract crowds to your landing pages.
Countdown Timers: This is an excellent element for landing pages that lets prospects know that the time is ticking on your offer.
Facebook Ads: GetResponse lets you drive quality targeted traffic to your landing page from Facebook or Instagram.
Pros of Getresponse:
Simple WYSIWYG editor
Triggered email campaigns
A/B testing capabilities
Extensive library of stock photos and templates
Analytics suite
Pricing:
GetResponse pricing starts at just $15/month for the Basic plan, which includes unlimited landing pages and up to 1,000 subscribers on your list.
---
Best Landing Page Builder for Customer Discounts (Price available on request)
The Magnify360 is designed to help businesses and marketers create landing pages with pricing variations or discounts. It allows you to automatically serve the best price to customers on your landing page.
With this software tools, unlike with other landing page builders, you can target different aspects, such as traffic sources, devices, seasonality, or profile data, and ensure that your user gets the ultimate user experience.
This feature is rare in landing page builders, making this one an excellent option for anyone who wants to dynamically adjust the price of their product to increase overall revenue.
This tool allows you to take advantage of shopper behavior to increase your sales and revenue from existing traffic by serving many different prices concurrently.
The Magnify360 is best for membership or subscription businesses and eCommerce sites. It's perfect for landing page creators and any business that wants to avoid cutting into their profits by simply lowering prices for all their customers.
Key Features:
Real-Time Configuration: Patented learning algorithms continually adjust and rebalance traffic every hour.
Simple Configuration: Easy to install, only requires you to paste two lines of javascript on your site.
Advanced Analytics: Shows you the effectiveness of different prices across geographies, devices, and customer segments.
Pros of Magnify360:
World-class customer support
All the features, like mobile responsive templates, are made to deliver special prices for mobile users.
The reporting dashboard is easy to navigate.
Simple to install and easy to use drag and drop feature
The rapid iterations feature allows quick price changes
Pricing:
Contact Magnify360 to get a custom quote for your website and create stunning landing pages for other major marketing platforms with marketing features, editing landing page content, and analytics tools for optimizing landing page user interface or using landing page templates.
---
Best for Integrating Landing Pages Into Marketing Funnels ($97/month)
ClickFunnels is undoubtedly one of the most popular landing page builders out there. However, there's also a good reason why it's first on our list.
While most other options allow users to create single pages, this tool lets you build a series and multiple pages to move visitors and the target audience toward a specific goal.
It's a website and marketing flow – all in one convenient package. It can help you build a good landing page and aid you in creating sales funnels of any kind (including swipe pages) and those containing sales pages, email campaigns, lead capture forms, order forms, etc.
You don't even have to think about what page comes next when creating your own landing page with this builder tool, as it takes you through the entire setup with a minimal learning curve for basic features to create good landing pages for your own domain
The ClickFunnels is best for entrepreneurs and businesses that want to sell high-ticket products or services. Also, it's easy enough for beginners to create and publish landing pages quickly.
Key Features:
24/7 Customer Support: This is particularly helpful for those new to landing page creation.
Drag and Drop Landing Page Editor: Ideal to get your pages set up quickly without the need for coding skills.
Automated Marketing Campaigns: Run automated promotions and campaigns on your products/services.
Pros of ClickFunnels:
Allows you to build entire marketing funnels, not just individual pages
Directly supports Backpack CRM, Clickbank, and InfusionSoft
Customizable, eye-popping landing pages
Easy to use, great for beginners
The platform includes A/B testing
Pricing:
ClickFunnels has a basic plan priced at $97/month. A $297/month plan includes additional mailing and affiliate management features. Unfortunately, there is no free version, but ClickFunnels does offer a free 14-day free trial.
---
What is a Landing Page?
A landing page refers to a standalone web page that is built with the specific purpose of receiving and converting traffic from an online advertising or marketing campaign. It's simply where a visitor 'lands' after clicking on a link anywhere.
A landing page is optimized for conversions. Its entire design is meant to guide the customer to one specific action, whether to buy a product or service, watch a video/webinar, swipe pages, leave their contact details, etc. In general, landing pages are shorter than standard web pages, highlighting an obvious call to action.
Landing Page Examples
Why This Landing Page Works:
The headshot on the landing page adds a more personal connection with the person who invited you to join the service.
The call to action contrasts nicely with the background.
The linked information at the bottom provides trust value for those who might hesitate to sign up.
Why This Landing Page Works:
This landing page has a unique scrolling method.
Also, the lead capture form is visible even as the prospects scroll through the other information.
There's only one form field to fill, making visitors more likely to convert.
Why This Landing Page Works:
The bold formatting in the headline highlights the critical information.
The color contrast around the form makes it more eye-catching.
The red call to action button stands out clearly.
Why This Landing Page Works:
This landing page uses social proof in the subheadline.
It uses a simple form that is easy to fill and doesn't ask for too much information (which can turn off prospects and reduce conversions).
It uses a natural person to connect with the audience on a more personal level.
Why This Landing Page Works:
This landing page has a simple design that gives it a professional look.
The headline is meant to convey some sense of urgency.
The 'learn more' text sends people further down the page to find more information about the offer.
How to Drive Traffic to Your Landing Page
Use Compelling CTAs
Whenever you create web pages, you must include calls to action, whether the homepage, blog posts, or other popular pages.
If you have any pages already ranking well or shared on social media, leverage their popularity to get your landing page in front of those readers.
Just make sure that you only include the link in relevant places. Otherwise, when readers click on the link, they will be confused to find themselves on an unrelated page to what they were reading.
Optimize for SEO
This can be tricky because landing pages aren't filled with text traditionally.
Well-designed and optimized landing pages need to get the message across quickly and get readers to take action. So, how can you optimize a landing page with very little text on it?
Include the keywords that users are likely to search for if they want to buy. For instance, a landing page created on a personal finance blog that markets personal finance software might have the following keywords:
Personal finance software
Accounting software
Budgeting software
People who search for these keywords are likely in the buying stage, and Google knows that.
In addition to such conversion-focused keywords and phrases, you might want to add keywords that describe how the solution you offer works and more specific keywords like 'how to save money' or 'how to budget, etc.
Landing pages affect SEO, but there are many different types of SEO software available to help you with this process, and I can confidently say that I wouldn't be where I am without them.
Email Marketing
Use email marketing to reach people that you already know. If you have a list of contacts, the chances are that quite a lot of them will be interested in your landing page offer.
Create a new segment and send them an email with a link to your landing page. In your email, you can offer an incentive, such as:
A discount code for your product/service
Beta access to new software features
A free content download
Anything of value that you can offer your prospects will help make your email marketing campaign a success, and it can also help encourage your contacts to do even more outreach on your behalf.
Social Media Sharing
This is undoubtedly one of the most effective ways to send traffic to your landing page. Social media comes with a wide range of benefits:
It's free
It's everywhere
It's easy to sign up
It's simple to use
You instantly get access to a massive audience
The list goes on! To take advantage of this channel, simply share your offer by sending a link to your landing page.
Include a targeted message for all your connections, and if your offer is a good one, you will likely get lots of shares from your audience while they swipe pages, further increasing your reach.
If you want to focus on social media, getting a social media management tool is essential as it'll save you an enormous amount of time.
Guest Blogging
Do guest posts on other blogs that have the same target customers that you do. Of course, you don't want to make the entire post about your new offer, but you can use cleverly placed calls to action to send a flow of leads your way.
Those blog readers are people that might otherwise not have discovered your website or landing page, and this strategy can lead to a consistent flow of traffic and sales, provided you're targeting your audience well.
Feature Free Stuff
Another way to drive traffic to your landing pages is to feature giveaways, discounts, and free stuff that users can receive for subscribing, following, liking, utilizing swipe pages, or making a small purchase like many landing page builders.
When hosting giveaways or similar events, you need to make sure that you not only tell people but reinforce the message.
Simply put, people love free stuff. So if they see a link for a free trial for landing page builder or a virtual giveaway, you're likely to capture their attention and garner a click.
But just because they see it once doesn't mean they'll click. Instead, they may scroll past and enter the consideration stage. So it would help if you keep reinforcing the message in your emails, social network posts, and even on the landing pages themselves.
Use free stuff to build leads, and then use your landing pages to seal the deal and generate converts.
How to Write Landing Page Copy
1. Headline and Subheads
When it comes to writing landing page copy that converts, you need to focus on crafting compelling headlines and subheadings that will draw the attention of your visitors.
If you don't pique their interest, they won't click through and read the rest of your copy. This is possibly the most important element of a landing page.
You want a landing page that:
It gets to the point quickly
It is relevant to the user's purpose of searching
Highlights your visitor's problem
You can then use the subhead as a follow-up message to support the headline and provide more information. But, again, make sure that it drives home why the reader should engage with your business.
2. List the Features and Benefits
Clearly explain what your reader has to gain by engaging with you. This is important if you hope to keep their attention.
Whether you focus on features or benefits is entirely up to you, but it's also possible to include them simultaneously.
You can explain what your product or service does and how your customers will benefit from using it. Here's a great example from Evernote:
3. Use Customer Testimonials
Customer testimonials are among the most powerful techniques when creating a conversion-focused landing page. It's all about getting happy and satisfied customers to write the copy for you.
Testimonials have the power to increase your conversions because they are compelling, and they show the reader what they, too, can experience if they buy your products or services.
4. Keep Your Writing Simple
The best landing page conversion copy is simple. There's no need to use big words or industry jargon when crafting your copy.
No matter how complex the product or service is, simplicity in your copy is the way to sell it. The simpler your copy, the more effective it is to convert visitors into customers.
Listed below are a few tips to keep in mind when writing landing page copy:
Keep your sentences short
Use simple sentence structure
Use straightforward, easy-to-understand words
Be as clear and direct as possible
Following these simple tips, you will write excellent conversion copy for your landing page.
Killer Call-to-Action (CTA)
If you don't ask for conversions, you're not likely to get them. Don't just assume that readers know what to do after reading your landing page copy or watching the video. Ask them to take the desired direction, and make sure you do so in clear terms.
The whole point is to create beautiful landing pages to get the reader to take action, and all your copy needs to build up to the part where you ask the reader to take action.
But how you ask is also essential.
Make sure your CTA is compelling and uses words that invoke emotions to make readers want to take action. The call to action text and button must be clear and positioned optimally. It's best if it's in contrast to the rest of the page to be easily visible.
Analyze User Activity on Landing Pages
The best way to know what you need to do to optimize your page design for converts is to analyze user activity to see what's working and not working using landing pages templates to help you create high converting landing pages templates or mobile landing pages with all the features like dynamic keyword insertion, making features for mobile traffic.
A/B testing is a great way to determine what features garner clicks and generate conversions.
Another tactic is using heatmaps to see where your users are spending the most time and what's capturing their attention (especially on swipe pages). Then you can replicate these features throughout the landing page and on other pages throughout the site.
Numerous tools for analytics and rank trackers can help you see how your landing page is ranking on Google and what sort of things you might want to add or remove.
Landing Page Builder FAQ
What is a Video Landing Page?
A video landing page is simply a landing page that allows you to embed a video instead of or in addition to text on the page. A video is embedded on the page to help explain or illustrate the value being offered.

The video can be of anything you choose, such as an explanation of the benefits or features of your product, or it can be a testimonial from a happy customer.  

Video landing pages have the benefit of making even complex products more accessible. They also entertain people and make it likely that your prospects will convert since people respond more positively to emotional cues. 


(Source)
What is the Difference Between a Website and a Landing Page?
A website is an excellent tool for getting people to learn more about your business and introduce them to your products or services.

However, it lacks some of the features and functionality of a landing page that allow you to optimize your conversion process. 

For instance, when visitors land on one of your website pages, they could go in many directions. They could click on the menu tabs, banner ads (if you have any), and links in the content. 

However, with a landing page, the focus is on one thing only, and there aren't any other links to distract the visitor, making it more likely that you will get a conversion for that particular action. 

In short, create landing pages that move your visitors through your sales funnel down the most direct conversion path. First, however, think of a landing page design that will fit in with the rest of your website.

An excellent landing page is one that not only stands out but also blends in with the themes used elsewhere on the site.

Many website builders like Wix, WordPress, and others can help you make a great site to create the best website.

But for landing page design specifically, a landing page builder is the way to go. However, using both leading landing page builders and website builder providers is a no-brainer.
What's the Best Landing Page Builder For WordPress?
On our list of the best landing page builders, you will find a few options that are ideally suited for WordPress users. Today different page builders allow you to create appealing WordPress landing templates.

However, if I had to choose one as the best landing page builder for WordPress with integration to WordPress theme, it would have to be Leadpages. 

This landing page builder software allows you to quickly and easily create professional-looking and mobile responsive landing pages using simple drag-and-drop landing tools.

You don't need any technical know-how, and there are tons of beautifully designed mobile-responsive templates to choose from.

It integrates with a wide range of third-party tools and services, including top email marketing services and comprehensive marketing software.
What's the Best Free Landing Page Builder?
Launchrock is the best free landing page builder out there. It comes with a wide range of impressive features, including smooth builder performance, making it super easy for you to create beautiful pages quickly. 

It also has tons of unique templates for you to choose from, and it integrates easily with other tools.

The Launchrock landing page builder tool gives you design freedom thanks to the customization features. However, even this tool's landing page free version is enough for most businesses. 

However, if your business needs more features, you can easily lift the tool's limitations by upgrading to the premium plan. 
How Much Does Custom Landing Pages Cost?
A custom landing page can cost anywhere from a few hundred dollars to tens of thousands.

It all depends on whether you get a freelancer, agency, or landing page builder to do it. Building a high-converting good landing page takes time, and if you hire someone, you can generally expect to pay between $50 and $400 an hour for about 8-16 hours of work. 

However, with page builder software tools listed above, there's no longer any need to worry about hiring a coding or graphic design expert. Anyone can now create optimized landing pages with just a few clicks of the mouse. 
Best Landing Page Builders — Summary and Top Picks
Each of these landing page builders is great for different purposes. For example, some are great for those on a budget, while other packages are great for enterprise businesses that need to quickly create hundreds of landing pages across their existing site using their favorite landing page builder to create landing pages with a minimal learning curve like most landing pages builder in the market today
When selecting a landing page builder for your business website, there are a few things to consider: whether its a budget, mid-range, or high-priced option; how easy it is to generate single and multiple landing pages, availability of integrations to other digital marketing channels, SEO and CRO functionality, swipe pages, whether it's a code-based or no-code option and the variety of customization features for your brand.
Here Are My Top Picks of The Best Landing Page Builders:
Which of these landing page builders appeals to you the most? Let me know in the comments below!