In the past, realtors could rely on word-of-mouth, a few "For Sale" signs, and a home tour to sell a house. Not anymore.
While traditional sales tactics are still useful, buyers of residential and commercial properties aren't driving around looking for their next home or business location. No, they're performing Google searches and checking out realtor websites to find the best buy for their needs.
If you're a realtor and you don't have your own website, your competitive advantage over other realtors plummets. But you can't just throw together a couple of landing pages and blog and call it a day.
Today's best realtor websites are integrated with features that allow virtual tours, customizable map searches, lists of properties for sales, slideshows with interior and exterior photos, buyer testimonials, and much more.
If you are a realtor looking to build a lead-generating website even during a housing slump, then you've come to the right place. Below you'll find my guide to the best website builders for realtors that can help you design a terrific site even if you don't know how to code.
What is the Best Website Builder For Realtors?
The list below is divided into two categories. First, we'll look at website builders that are designed specifically for realtors, with all the necessary features for lead generation, capture, nurturing, marketing automation, etc.
We'll also look at general-purpose website builders that come with built-in tools or easy integration for crucial real estate features.
Either way, the options listed below each have a lot to offer. These are the best real estate website builders on the market and can help individual realtors as well as real estate agencies. will help realtors of all experience levels get their listings sold faster than ever before. Many of these have basic and premium plans, so you can pick a plan that fits your needs and your budget with ease.
The most direct way to create beautiful websites equipped with MLS search ($16/month).
Squarespace is yet another website builder that is often seen in lists of the best site builders available right now.
Although not real estate-specific, it's perfect for realtors who want attractive, intuitive design and a massive range of templates to choose from. You'll find real estate-focused templates on offer, all of which are fully customizable to match your brand.
Another strong point of the platform is its features that are perfect for helping real estate professionals to capture and nurture leads, as well as the pain-free MLS integration.
Of course, Squarespace doesn't have as many of the real estate tools that you will find on platforms like Placester and IDX Broker, but all in all, it's a great platform that is affordable and offers easy integration with all other real estate products, such as email marketing systems, CRMs, etc.
Key Features:
Squarespace IDX Capability: The platform allows for powerful IDX capabilities just like all the other real estate-specific site builders on this list.
Effective Lead Capture: Lead capture tools are a bit generic, but still extremely effective and include lead capture forms, pop-ups, an announcement bar, etc.
Easy Integrations: Squarespace provides easy migrations and built-in integrations with email marketing tools, standalone CRMs, etc.
Pros of Squarespace:
Ready-to-go real estate website templates
Modern, image-focused, fully customizable designs
Easily integrate IDX using code
Built-in, ready-to-use marketing features
Booking and calendar scheduling features
Personal, commerce, and business plans available
Pricing:
What Are People Saying?
"No tech skill necessary. Build quickly using nice predictable templates! The speed at which I can create a website without involving any complex domain, email, or analytics setups is impressive. I highly recommend this to photographers and people that have highly visual products. I was able to set up a website with beautiful images and content in less than a day (including domain setup)." Matthew B.
---
Best real estate website building platform for ease of use ($14/month).
If you've been searching for the best website builders for real estate, you'll notice that Wix shows up quite frequently. There is a very good reason for that.
The platform has expertly designed, image-centric templates that are well-suited for nearly all types of business websites, including real estate businesses.
There are tons of realtor-focused features and plenty of integrations to make it easier for you to attract, capture, and nurture your leads from inquiry to purchase.
Furthermore, the platform has strong SEO features to help you get found by buyers searching in your area.
Although Wix is a general-purpose website builder, it's versatile, easy to use, and gives you all the extra functionality you need on your website thanks to the Wix App Market.
Here's an example of a real estate website built using Wix:
Key Features:
Property Selling Tools: Wix simplifies the process of getting prospective clients thanks to contact forms, online booking forms, notifications sign-up forms, and other lead capture tools.
Marketing Automation: Wix allows you to send automated emails, such as reminders for upcoming property showings, follow-up emails, etc.
Personalized SEO Recommendations: Wix SEO offers personalized recommendations for your website according to the type of search traffic you want to capture.
Pros of Wix:
High level of customization freedom
Designed for extreme ease-of-use
Budget-friendly site builder
Tons of powerful marketing integrations
Built-in CRM and lead generation tools
Pricing:
What Are People Saying?
"Website development wasn't as simple as Wix ever before. I like the modular and segmented approach that Wix provides me with when I work on the website. As I am a beginner with little to no knowledge about website development the simple and modular UI of Wix helps me to create a website efficiently without having to worry about the technicalities. The templatization of niche websites is something that is a major help." Muzaffar S. – Marketing Manager.
---
An extremely affordable platform for basic real estate websites (Starts from Free).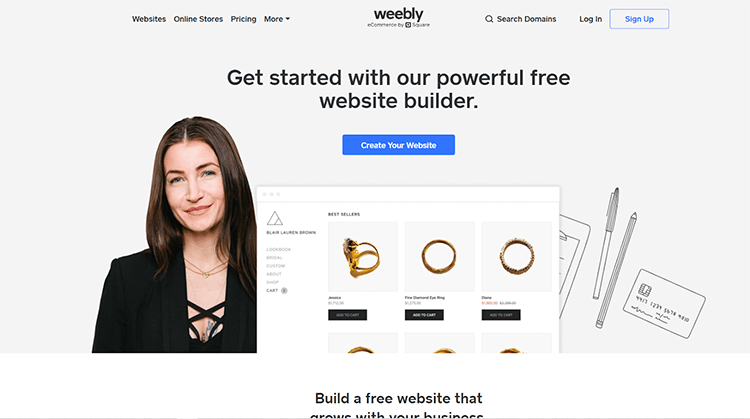 Weebly is among the cheapest website builders you'll find out there, and it also offers a free plan.
It's perfect for realtors who are just starting out and will allow you to build a simple but beautiful website that you can use to capture and nurture leads.
The platform has no themes or templates that are specific to real estate websites, but it is possible to create a stunning site using one of the many image-centric templates, such as the one in the example below.
Key Features:
SEO-Focused Platform: This is one of Weebly's strong suits and the platform will give your website a better chance of ranking high for realtors in your area.
Lead Capture: Although Weebly is not in the same league as most other site builders on this list in terms of features, it still has a few effective lead capture elements.
Ease-of-Use: This is Weebly's main selling point. However, much of this ease is achieved through sacrificing a lot of important features and functionality.
Pros of Weebly:
Nice selection of image-centric designs
Lots of apps to customize your website
Easy to set up and edit your site
SEO functionality for higher rankings
Free plan available
Pricing:
What Are People Saying?
"Easy to use for beginners! It is easy to set up a page. I started with a basic free site 5 years ago. Now I have upgraded to having a membership site. My clients can now access special pages with a password. You can easily customize what you want to include." Maile I. – Certified Strength and Conditioning Specialist.
---
A DIY website builder with powerful customization options ($2.90/month).
Zyro is a website builder with an excellent user interface and tons of powerful tools that allow you full control over your online presence.
You can use this platform to build a stunning real estate website with plenty of the tools you need to attract and capture leads.
You can also add third-party integrations for all the other marketing and automation tools and apps that you require.
The best part about this platform is that if you don't want to create your website from scratch yourself, you can simply use the platform's powerful AI tools to build attractive and functional pages for your real estate website in minutes.
Key Features:
AI-Driven Tools: The platform has a copy generator, logo creator, AI branding, and other tools that use artificial intelligence to reduce the hassle of building your realtor website.
Drag-And-Drop Customization: Zyro has an user friendly, drag-and-drop interface that is perfect for beginners and experts alike.
Impressive Speed: Each template on the platform is designed to be lightweight and perform super fast for a high-ranking site.
Pros of Zyro:
Templates are responsive on all devices
The platform has excellent uptime
Free SSL certificate
AI-powered tools
Basic, Unleashed (for business), and Ecommerce packages at incredible prices
Useful photo repository
Pricing:
What Are People Saying?
"We love the sheer ease of creating an excellent, complete, and effective website. Every unit is customizable and, most importantly, intuitive. We went in with zero knowledge or expertise that may have led to our failure elsewhere. No one is ever truly 'done' creating a website, but we were satisfied with our result. Zyro has a full host of tools that enable us to develop our vision with half the effort the competition may promise." Henry W. – Small Business Owner.
---
A great option for individual agents who want a custom-made website ($80/month).
Placester is a real estate-specific builder with powerful lead generation tools. The platform was built by a team of people who know what's important to realtors, and therefore placed those features front and center so you don't have to search high and low or use third-party integration tools to get the functionality you need from your website.
Placester is also affiliated with the National Association of Realtors (NAR), which means that it is a well-established and trustworthy service provider for those in the real estate industry.
The platform is already being used by thousands of new and experienced agents and real estate brokers who appreciate it for its simplicity and effective tools that cater to the needs of just about every real estate broker, realtor, agent, or team.
Key Features:
Built Specifically for Real Estate: All the templates and tools on the platform are created for building high-quality real estate sites.
SEO-Friendly: There are guidelines and SEO toolkits to help you rank high in the SERPs (search engine results pages).
Open House Mobile App: This app is one of the platform's best features and allows you to easily showcase any listing while on the go.
Pros of Placester:
Stunning selection of real estate templates
Pre-populated content library for automated blogs
Free basic site builder for NAR members
CRM system integrated
Fully equipped with the realtor tools and plugins
Pricing:
What Are People Saying?
"The Codeless website editor offers flexible features that allow us to place things exactly where we want them to be, apply our brokerage colors throughout, and so much more. The ability to customize with Placester is absolutely essential for us." Shayla Body – Creative Director, Atoka Properties.
---
Build a custom WordPress website with powerful search features ($50/month).
IDX Broker is a popular website builder that is perfect for realtors who want advanced tools for helping prospects to navigate their home search.
The platform gives you total control over your site's visitor experience and comes loaded with all the must-have features you would expect in a top real estate website builder, such as IDX integration, advanced traffic analysis, etc.
It also has a few unique functionalities, like customized lead capture strategies, advanced CRM capabilities, and market reports that you can analyze and provide to your clients and leads.
Site visitors can create accounts through social media logins and even have the ability to customize the user interface so they can choose how they want to experience your website.
Key Features:
Customized Lead Capture: IDX Broker lets you choose exactly how aggressive to make your lead capture strategy at any given time.
Easy CRM Integration: The platform makes it easy for real estate agents to integrate their website with another CRM.
Limitless Customizability: There are tons of real estate templates all of which you can fully customize to suit your preferences.
Pros of IDX Broker:
Includes Google Workplace set up
Free demo account and video tour
In-depth IDX and MLS tools are available
Advanced traffic analytics
Extensive SEO resources and tools
Pricing:
What Are People Saying?
"Originally, I was just using IDX Broker for the bare minimum. However, as my site began to grow, I needed more functionality. I thought I was going to have to look elsewhere, but Matt showed me otherwise. He opened up a whole new window of possibilities and I found out that IDX Broker is constantly trying to provide more functionality to assist its customers. I definitely recommend them for any agent." Markshimere Jones.
---
Best and most affordable real estate website and CRM combo ($349/month).
Propertybase is a reliable, full-service platform for building real estate websites. A powerful CRM is an important tool for a real estate website, and Propertybase offers a great CRM and website combo for realtors.
In addition to that, the platform allows you to build a customizable website with tons of amazing lead generation and lead capture options, as well as various other ways to supercharge your lead funnels and convert more prospects.
This real estate software solution makes life a lot easier for brokers, teams, and franchises. The tools and templates provided by this website builder will help you automate much of your lead generation and nurturing so you can focus more of your time on closing more deals.
Key Features:
Full-Service Real Estate Platform: Propertybase equips you with all the tools and support you need for data management, marketing, communication, and reporting.
CRM + Website Combo: You get clean, customizable websites together with the industry's most powerful CRM.
Zillow-Like Property Search: The platform has a glossy, real-time IDX search experience to help you turn browsing into buying.
Pros of Propertybase:
Trusted end-to-end solution for realtors
Advanced customization features
Exceptional layouts perfect for real estate landing pages
Built-in tools and widgets for lead capture, generation, scoring
App store with tons of third-party integrations
Pricing:
Property Base GO costs $349/month (paid yearly).
What Are People Saying?
"It's not 'Hey let's get a set up in 24 hours, and here are all your logins'. It's a very timelined process. They're preparing our entire staff in the support system first in a way that I know will be successful long-term." Sara Raley – COO and Relocation Director, Moreland Properties.
---
A powerful platform ideal for agents or brokers managing a team ($1,000/month).
If you are managing a team, this platform could be the ideal option for you.
Larger organizations need a different approach compared to individual agents. They require features like team tracking, lead distribution, pipeline management, etc. Boomtown can offer all of this and more.
The builder takes the entire website creation process out of the hands of the individual and makes it an office solution. Agents can create subdomains to help them effectively collect leads from their individual web pages.
All websites on the platform are connected and IDX-ready. They get updates for listing data every hour and you can add search filters such as price history, property maps, and more.
Better yet, visitors have the ability to save their search so they can get notifications for similar properties.
Key Features:
Powerful CRM: With Boomtown's CRM, you can track lead activity and automate lead distribution using the Round-Robin system.
Team Management Features: The platform also has pipeline management for each agent and you can set up training modules for new agents.
Ads Management: Use the Google PPC and Facebook Ads management feature to get instant leads online.
Pros of BoomTown:
Support for real estate advertising tools
Includes team management features
Websites come connected and IDX ready
Powerful built-in CRM
Marketing automation for emails and texts
Pricing:
What Are People Saying?
"Boomtown is the BEST Town. I love that it's an all-in-one system. This exact platform has helped our team go from 50 transactions per year to 1500 transactions in one year. I can route leads to different teams in different cities across the state, my leadership has admin accounts so they can monitor agent activities. I love that I can parse just about any type of lead into the system." Lindsey D. Team Leader.
---
Website builder with mortgage calculator and social media integration ($39.95/month).
InCom is a great option for budget-conscious real estate agents who want affordable off-site marketing and advertising solutions.
This website builder has a ton of features, including a makeshift CRM, integration with top social media platforms, real estate-specific landing pages, and various other tools that make lead generation easier for realtors.
The platform provides a place for visitors to conduct searches for listed properties. There is also a customizable contact form so prospects can get in touch with you quickly from anywhere on your site.
Every aspect of the site is designed to help you convert incoming lead traffic more effectively than a generic landing page would. InCom is a powerful platform with all the tools real estate agents need and is well worth the investment.
Key Features:
Lead Magnets: The platform comes with home valuation tools, mortgage calculators, price alert sign-ups, and various other lead magnets.
Robust Marketing Features: You can easily create and manage Google and Facebook ads directly from the platform.
Lead Capture Tools: There are dozens of customizable sign-up forms that can be displayed to visitors whenever certain conditions are triggered on your site.
Pros of InCom:
Built-in CRM
IDX-ready websites
Integrated marketing tools
Integration for offsite marketing solutions
Excellent overall value for creating an agent website for teams with multiple agents
Pricing:
InCom pricing starts at $39.95/month for the annual plan, and there's a $250 one-time setup fee.
What Are People Saying?
"First of all, I would like to thank InCom for your great customer service. The transition from my previous service provider was done quickly and efficiently. At any point in time when I need assistance with the website, your staff has always been willing to help. The website allows for great flexibility when editing. Your team has definitely exceeded my expectations." Haro Shivratan – Broker of Record, Sky Reality.
---
A platform that is ideal for larger real estate websites ($228/year).
WordPress is the biggest name in website building, but not because it's a website builder. Rather it's a powerful and customizable CMS (content management system) that is free to download and use.
Thrive Themes is a suite of advanced yet easy-to-use website tools that are designed to work with WordPress, with a focus on boosting conversions.
Together, these two tools will allow you to create a high-performing real estate website that you can customize any way you wish to help you collect more leads and make more sales.
Key Features of Thrive Themes:
Conversion-Focused: Thrive Themes is one of the best WordPress Themes because it has a wide range of tools designed to help you convert more visitors into leads on your website.
Fast-Loading Pages: Thrive prides itself on having the fastest loading websites around which is great for anyone who wants to build a high-ranking real estate website.
Value for Money: It's really hard to beat the value you get from Thrive's suite of tools, which include a theme builder, quiz builder, scarcity marketing tools, email tools, etc.
Pros of Thrive Themes:
Premium real estate-centric templates and designs
WordPress and Thrive together offer powerful SEO features
Thrive integrates seamlessly with all other marketing tools
You get unlimited updates of Thrive Suite
Unlimited customer support for all users
Pricing:
What Are People Saying?
"I was looking for a better tool for making email signup forms on my website. This makes it so easy to get exactly the signup form I want, place it on exactly the pages I need, and automate A/B split-testing. Oh, and it's super simple to make different but related forms for desktop and mobile visitors. I love love love the Thrive Suite set of tools." Randy Ingermanson.
Get Started With Thrive Themes
---
Additional Options:
RealGeeks: Built-in advertising solution with managed marketing options.
Duda: A website builder with powerful IDX integration.
Intagent: A feature-rich platform with done-for-you website design options.
RealtorMint: A great CRM software with a website builder as a secondary offering.
Webflow: Maximum customization options with zero coding requirements.
AgentFire: A website builder for realtors that offers outstanding support.
Realtyna: A builder designed specifically for WordPress websites.
GoDaddy: An easy and affordable way to create a branded real estate website.
Ylopo: A powerful website builder with an impressive suite of digital marketing tools.
Agent Image: An intuitive platform built for real estate, properties, and listings.
Mailchimp: A great email marketing tools to help follow up with leads and clients.
What Features to Look For in a Website Builder For Realtors
Listed below are some of the most important criteria to look out for when choosing the best website builder for realtors.
1. IDX Listings and MLS Access: For anyone in the real estate industry, you need to have access to the IDX. You also need MLS so you can close more deals. These are important features that you absolutely cannot do without, so make sure the website builder you choose either has these built-in or allows easy integration with third-party tools.
2. Tools for Capturing and Nurturing Leads: If your site visitors are interested in one of your properties they should be able to get in touch with you quickly and easily so you can arrange a viewing. Choose a website builder with customizable booking/contact forms to make it easier to arrange viewing and guide viewers on the next step.
3. Email Marketing Functionality: When visitors come to your website and look through your properties, even if they don't find something appealing right then, it's great if you can get their information in order to send tailored email campaigns with more options to suit their tastes.
4. Search Engine Optimization (SEO): You want a website builder with powerful SEO features that allow you to rank on the first page for "real estate agent" in your local area so people can find you online even if they haven't heard of your business before.
5. Real Estate-Focused Templates: Your site builder should have templates designed specifically for real estate websites so you don't have to start from scratch. Make sure they are image and video-centric so you can easily showcase images of your properties and give stunning video tours.
6. Help and Support: There is no point opting for a website builder with fancy features if you won't be able to find anyone to help you make use of them. That's why it's important to choose the builder that offers robust support through various channels, such as email, phone, live chat, documentation, YouTube videos, etc.
7. Allows Custom Domains: Many website builders put the name of their company in the domain name. Some allow you to use your own custom domain name, which makes a much better first impression to your future buyers.
8. Built for Multiple Devices: Leads and clients will visit your website on desktop and mobile devices. You need to make sure your website builder generates an engaging user experience for all devices.
How Can a Website Builder Help You as a Realtor?
Most people who buy homes and properties don't just wake up and decide to make a purchase. They search online first and methodically browse listings on different websites.
That's why it's important to have a high-quality real estate website if you want to succeed.
A website builder can help you by cutting down on the learning curve for building a website. You can create a beautiful real estate website without having to learn how to code and be able to integrate third-party marketing and sales tools at the touch of a button.
The right website builder also makes it possible for you to edit, update content, or manage your site on the go. This way, you have more time to focus on closing more sales.
Website Builder For Realtors FAQ
Why does a Realtor Need a Website?
A realtor needs a website to provide a place to showcase listings, capture leads, and keep in touch with current and prospective buyers. It's a great tool for realtors selling to both commercial and home buyers. A website is also an effective and extremely affordable way for realtors to build brand authority and strengthen their presence online so they can compete more effectively with other real estate agents and sell more properties.
Are All Website Builders IDX Ready?
Not all website builders are IDX ready, but we are seeing more and more platforms now including the ability to pull listings from the IDX. The real estate-specific tools on our list are all IDX ready, and the general-purpose website builders offer easy IDX integration.
Do I Need a CRM with my Website?
As a general rule, real estate websites require CRM so you can have a way to manage all your leads in one convenient place. Most website builders offer built-in customer relationship management systems or easy integration with standalone CRMs.
Summary
My number one recommendation is Placester. It's a powerful, real estate-specific site builder with advanced lead generation tools.
If you are looking for a simple site builder with beautiful templates and affordable pricing, you won't go wrong with Squarespace. Although the builder is not focused specifically on building websites for realtors, it has all the tools and apps you need to build a successful and high-performing real estate website.