While there are many great films out there, not all of them make it to the big screen. One of the biggest reasons filmmakers don't make it is because they aren't getting their work out to a wide enough audience. And the best place to start: a stunning website. To help filmmakers get their films in front of more eyes, my team and I compiled this list of the best website builders for filmmakers on the market:
Most website builders these days allow you to display video content on your website. However, that doesn't mean that every website builder is perfect for filmmakers.
There are a ton of other features to consider when creating a site to showcase your video portfolio. But, with so many site builders available these days, how can you make sure that you choose the best website builder for filmmakers?
To help you answer that question, I've researched and reviewed some of the most popular solutions available right now.
Read on to discover what the best website builders for filmmakers are, and the features they have to help you effectively showcase your showreels and the individual projects you've done.
What is the Best Website Builder For Filmmakers?
Best Overall Website Builder for Filmmakers ($14/month)
Wix is a great option to choose if you are looking for a powerful website builder for your filmmaking portfolio. It comes with a wide variety of free video player apps to choose from, as well as over 40 templates that are specifically designed for showcasing video content.
There are also a lot of cool animation effects to make your content stand out. These tools help to make a filmmaker's work a lot easier when it comes to managing your website.
The platform has a simple drag-and-drop editor that you can use to customize every element of your website, including text, images, colors, fonts, layouts, etc. so you end up with a website that is truly unique and helps you stand out from the rest in today's over-flooded entertainment industry.
Key Features:
High-Resolution Video Uploads: With Wix, you can upload videos directly from YouTube and other video-hosting sites up to a maximum of 1 GB.
Built-In Video Player Apps: The platform also has dedicated video portfolio templates, all of which can be fully customized to match your brand.
Advanced Features: Wix will let you build a blog, membership site, or online store where you can sell services, merch, etc. to your audience.
Pros of Wix:
FlipFolio feature lets you add 3D animations
Excellent customer service
Modern, stylish website templates
Includes blogging functionalities
Advanced SEO and marketing features
Pricing:
Wix costs $14/month, but you can sign up for a free plan and start building your website immediately.
The platform also offers VIP, Pro, and Unlimited plans which come with even more features, including custom domains, free SSL certificate, additional storage space, and more video hours.
---
Best Website Builder for Filmmakers for Simple Professional Looking Design ($2.79/month)
Hostinger is an excellent website builder for filmmakers thanks to its beautiful templates and responsive layouts.
According to the website's official note, it takes under one hour to build and launch a website on the platform. You can easily customize any of the templates using the simple drag-and-drop editor so you never need to learn any coding in order to make configurations to your site.
There are a ton of built-in tools including AI-powered content creation and branding tools, as well as eCommerce, email, and marketing features. There are also dozens of powerful integrations with other helpful marketing tools and apps to give you even more flexibility in managing your website.
Key Features:
Ready-Made Templates for Filmmakers: The platform has a wide range of clean and logical templates for filmmakers who want to stand out.
Slideshow Feature: The slideshow feature is helpful to highlight and showcase some of your more special videos and images.
Affordable Pricing: Hostinger provides you with all the tools you need to make your business flourish at an extremely affordable price.
Pros of Hostinger:
Simple, easy-to-use page editor
24/7 live customer support
Powerful sales and marketing features
Impressive page loading speed
Commission-free eCommerce websites
Pricing:
Hostinger offers one simple plan with a 30-day money-back guarantee that offers a free domain, email, e-commerce features, marketing integrations, the ability to host 100 websites, unlimited traffic visits, free SSL certificates, and their proprietary website builder for $2.79/mo with the first 3 months free.
---
Best Selection of Website Templates for Filmmakers ($12/month)
Squarespace has website templates that simply beg to be used by filmmakers. They are clean, modern, and elegant. With them, even someone with zero designing experience can create a stunning website to showcase their videos.
You can easily add the page elements you need to make your video stand out, including video blocks, banners, gallery pages, etc.
In addition to the platform's impressive collection of professionally designed templates, there is also an online store feature for filmmakers who want to sell digital downloads, physical products, or merchandise online.
The interface is intuitive and easy to follow, and the editor is designed for ease of use so even complete beginners can design, create and launch their filmmaker website in minutes.
Key Features:
Video Gallery: This is one of the best features for videographers and will make your special videos stand out.
SEO Features: As a filmmaker, you want to be able to secure a top spot on Google's first page in order for you to get found by the right people.
Filmmaker-Focused Templates: Templates like the Wexley filmmaker website template open your videos in a lightbox to remove distracting backgrounds when people are watching them.
Pros of Squarespace:
Affordable plans with tons of storage space
Mobile optimized templates
Built-in SEO and email marketing tools
Easy social media integration
Unfold app for professional-looking social content
Pricing:
Unlike the other website builders on our list, Squarespace doesn't offer a free plan. However, you can sign up for a free 14-day trial on the website to check out all the different features on the platform.
Premium plans start at $12/month for the Personal plan, and you can upgrade to the Business, Commerce, and Advanced Commerce plans ($18, $26, $40/month respectively) as your website grows.
---
Best Website Builder For Beginners ($8/month)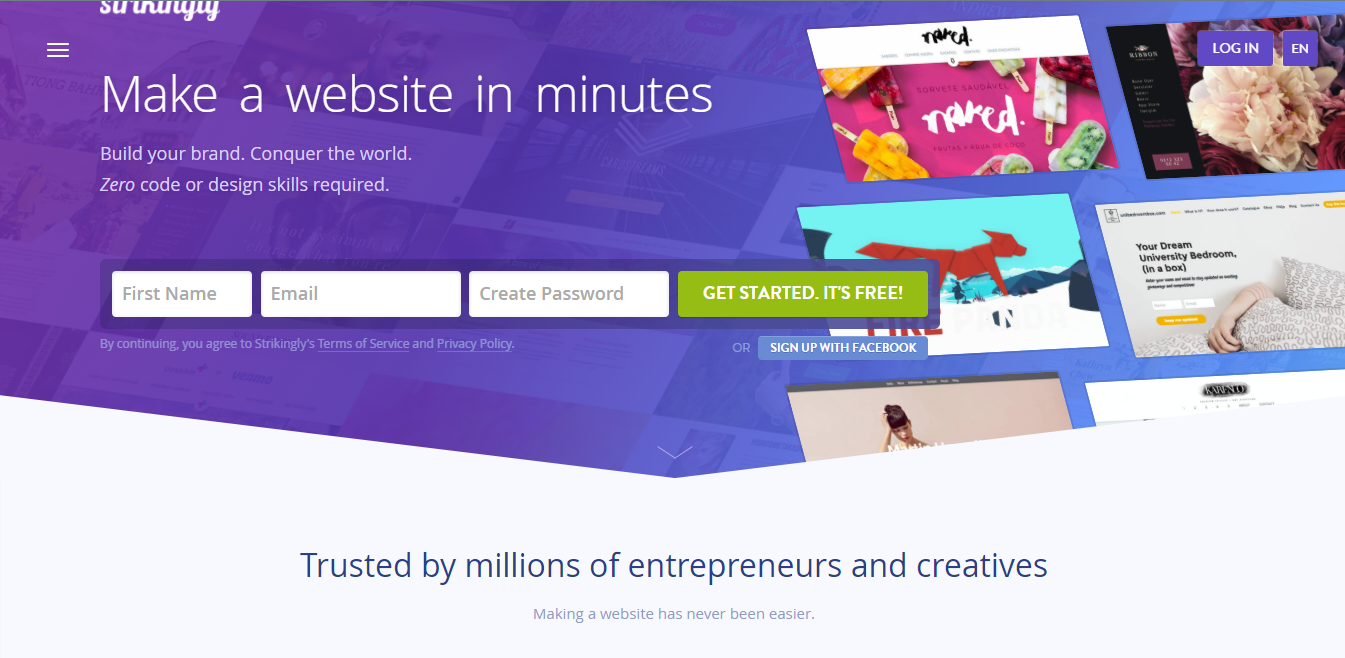 Strikingly is a good basic option for those looking to build a film website that's easy to use and simple to understand.
What I really like about Strikingly is that they give a free domain with their platform along with in-depth analytics, so you can understand what areas of your site people are visiting.
Features include galleries, video backdrops, media sliders, custom colors, and password protection. All of this is integrated into our slick, modern designs and our user-friendly editor.
By default, the platform also comes with sign-up forms and buttons that users can plug right in to make things easy.
Key Features:
24/7 Chat Support: One of the reasons why Strikingly is great is because they offer 24 hr chat support. While it isn't phone support, chat support is especially nice for filmmakers when struggling to work through the design.
eCommerce Features: Strikingly offers e-commerce abilities even to their lowest-cost plan. This is great if you'd like to sell your movies on your site directly.
Fast and Simple Setup: I really like how fast and easy it is to create a site on Strikingly. While making a site can be intimidating for anyone, in my opinion, they've done a good job of making it easily digestible and possible.
Pros of Strikingly:
Affordable limited plan for beginners
Allows for eCommerce functionality out of the box
Provides significant storage and bandwidth, even with the cheapest plan.
Pricing:
Strikingly has a LIMITED plan for $8 per month which is great for beginners. This plan includes adequate features like SSL, a domain, 1GB of storage, 50GB bandwidth, and the ability to sell products. The PRO and VIP plans offer all of these features and much more as shown in the screenshot above.
or Read my Strikingly Review Here
---
Best Website Builder for Filmmakers Looking to Sell Movies (Starts from FREE)
Weebly is a great website builder for filmmakers because it offers powerful features for displaying your videos.
For instance, you can embed video content from YouTube, Vimeo, and other video-sharing sites, or you can host your videos via direct uploads.
There is a wide range of apps and integrations on the platform to help you extend your website's functionality. Apps include gallery plugins, marketing tools, eCommerce, etc.
The Pro plan offers a lot of noteworthy features, but most importantly, when you upgrade you get unlimited storage on your site, something that is essential for filmmakers who intend to upload lots of videos.
Key Features:
Customizable Portfolio Templates: The platform has a wide selection of portfolio themes that are easily modifiable to make them your own.
Powerful Marketing Tools: Weebly has marketing and SEO tools, including email apps and Google Ads integration, that will help you get found by your target audience.
Mobile App: You can upload videos, add images, and make any other changes to your website on the go thanks to Weebly's mobile app.
Pros of Weebly:
Fast-guided setup for beginners
Wide range of integrations
Unlimited eCommerce option
Built-in SEO features for faster ranking
Free plan available
Pricing:
Weebly has a plan that is free to use forever. But, to unlock advanced features and functionality, you need to upgrade to one of the premium plans, which range from $9 – $29/month.
---
Best For Creating Beautiful Websites (Free Trial then $6/month).
If you're a filmmaker or creator looking for an easy-to-use professional website builder, Pixpa would be a perfect fit for you. Pixpa's all-in-one platform enables creators to build and manage stunning, professional websites without coding knowledge easily. With a built-in eCommerce store, blogging, client galleries, and much more, Pixpa empowers creative professionals to showcase, share, sell and deliver their work online easily – all in one place.
Building a website on Pixpa is super easy. You can customize your site design using a simple & powerful visual style editor. Adding pages to your website is a breeze with Pixpa's drag-and-drop page builder.
With a host of built-in tools such as an Online Store, Blog, SEO Manager, Marketing Pop-Ups, Announcement Bar, and much more, Pixpa offers you all the tools you need to start growing your business online.
Key Features of Pixpa:
Easy to Use: Beginner-friendly, no-code website builder platform with an easy-to-use visual editor and drag-and-drop page builder. It also allows for the use of custom CSS and HTML code for more advanced users.
Stand out with modern, responsive templates: Pixpa offers 150+ beautiful templates that are modern and feature minimalist-in-design aesthetics as one of its core USPs. All templates are mobile-friendly and can be fully customized.
Extensive and integrated SEO and marketing features: With a host of built-in tools such as SEO Manager, Marketing Pop-Ups, Announcement Bar, and much more, you don't need any extra plugins to start growing your traffic and converting more leads.
Pros of Pixpa:
Incredibly easy to use
Supports 50+ integrations
More than 150 beautiful templates (mobile-friendly too)
Powerful SEO tools and marketing features
Fairly affordable
Pricing:
Pixpa's all-inclusive pricing plans range from $5 to $25 monthly. Discounted annual and 2-yearly options are also available. All plans offer generous resources, unlimited bandwidth, SSL certificates, and 24/7 support.
---
Best Website Builder for Marketing Films ($228/year)
WordPress is the most popular website-building tool for non-developers. Anyone can download and use it for free, and it comes with a wide range of features and optimization options.
Thrive Themes is a suite of blazingly fast plugins and templates designed to work with WordPress. Thrive themes helps you personalize your website more than any other website builder mentioned here, and as a filmmaker, personalization is crucial if you want to stand out in such a crowded space.
When used together, WordPress and Thrive can help you build exceptional, conversion-focused websites that will showcase your films in the best way possible so you can impress fellow entertainment professionals and fans.
Key Features of Thrive Themes:
Video-Specific Portfolio Templates: Thrive offers a lot of templates with video backgrounds and built-in portfolio modules.
Responsive and Fast: All of Thrive's templates are fully responsive and load extremely fast for a great-performing filmmaker website.
Advanced Video SEO Tools: When using Thrive with WordPress, you get advanced tools, such as the Yoast Video SEO for WordPress plugin to rank your videos higher in Google.
Pros of Thrive Themes:
Dozens of templates created for video portfolios
Multiple video player options
Marketing-friendly features
Fast website loading speeds
Free training from Thrive University
Pricing:
The set of Thrive Themes tools includes a quiz builder, email marketing tools, theme builder, and much more. You can get all the tools, as well as unlimited support, unlimited updates, and access to Thrive University for just $228, paid yearly.
---
Fastest Website Builder for Filmmakers ($11/month)
Fabrik is a website builder that is loved by filmmakers and studios across the globe. According to the website, the platform's evolution is guided by input from countless directors, editors, cinematographers, camera operators, and colorists.
These are people who know exactly how filmmaker websites need to look, and the features they need to make them the most effective.
There's a simple yet powerful drag-and-drop editor that makes it easy to build beautiful pages for your website even if you're a total beginner.
Simply choose a filmmaker website template, and upload your best content and the rest will happen automatically thanks to the clever AI technology that powers the website builder.
Key Features:
Fastest Build Time: Fabrik offers near-instant imports from YouTube, Vimeo, etc. to help you get launch-ready in minutes.
Intelligent Themes: You can instantly switch layouts as often as you want without affecting any of your media or content.
"Stacked" Feature: This feature allows you to integrate a variety of media in your projects, use video and imagery together, or varying aspect ratios if you want a feed view.
Pros of Fabrik:
Easy Google Analytics integration
Fully responsive on all devices
Free trial with no credit card required
Robust 24/7 customer support
Super-fast media delivery network
Pricing:
Fabrik doesn't have a free plan, but you can sign up for a free trial on the platform to test out the software. Paid plans start at $11/month or $9.17 billed yearly.
The "Unlimited" plan comes with unlimited projects, portfolios, blog posts, and media storage, as well as advanced support and SSL site security.
---
Best Website Builder for Hosting Third-Party Videos (Starts from FREE)
SITE123 is a website-building platform that is designed for simplicity. It's one of the quickest and easiest ways to get your video portfolio online, which is why it's preferred by so many in the filmmaking industry who want to build professional-looking filmmaker websites with minimum hassle.
Although this platform's templates aren't as varied as the ones offered by other website builders on this list, they work great for filmmakers seeking to build simple yet modern websites to showcase their video portfolios.
Everything on the platform is designed to make your life easier and help you build and launch a website without having to invest a lot of time.
Key Features:
Excellent Video Portfolios: Site123 has straightforward templates that you can use to get online quickly and easily.
Design Flexibility: With this platform, you'll be able to build a simple, elegant, and professional filmmaker website.
Video Embeds: You can embed videos from any video-sharing sites, including YouTube, Vimeo, Animoto, etc. – although you are restricted to 100 MB per video.
Pros of Site123:
Beginner-friendly website builder
Clean, simple templates for filmmakers
Easy-to-use contact forms
Helpful live chat support
Build a high-quality website for free
Pricing:
With Site123, you can create your website for free. The platform has a plan that you can use without paying a cent, for as long as you want to.
But, to remove the Site123 floating tag, unlock advanced features, and get more storage and bandwidth, you'll need to upgrade to the premium plan which costs $12.80/month.
---
Additional Options:
FASO Portfolio Website Builder: Offers hundreds of modern design templates.
FolioLink: Great features for video integration and SEO friendliness.
Duda: Super-stylish video portfolio designs for an ultra-sleek site.
Jimdo: Best for hobby portfolios looking to stay small.
GoDaddy: A good platform for creating basic and functional video portfolios.
What Features to Look For in a Website Builder For Filmmakers?
You now know which are the best website builders for filmmakers currently available on the market. But, how do you know which one is ideal for your specific needs?
Below I've listed some of the features you should look for when choosing the right website builder for your video portfolio.
1. Ease-Of-Use: When building your filmmaker website, particularly if you are a beginner, you should choose a website-building platform that makes it easy for you to create your pages and posts so you can launch your website quickly. In addition, consider a Mac-friendly website builder if you primarily use that OS.
2. Storage Space: Yet another important feature to look out for is the amount of storage space provided by your website builder. As a filmmaker, you'll be uploading a lot of video content so make sure you choose a platform that offers you a lot of space without breaking your budget.
3. Reliable Video Playback: You need a builder with a reliable video player. A slow video player can decrease your page loading speeds and your videos may not load properly, which could result in higher bounce rates from frustrated visitors.
4. Stunning Portfolio Templates: Your website builder should come with a wide range of attractive portfolio templates for you to choose from. Make sure they are designed to highlight your videos specifically and draw attention to your content.
5. SEO Features: As a filmmaker, you need to get found by your ideal audience online. That's why you need a website builder platform with powerful SEO capabilities to make sure your pages rank high in the search engines.
Depending on the type of filmmaker website you want to build, you may also consider other things, such as social media integration, custom form builder, email marketing, and personal blogging tools.
How Can a Website Builder Help You as a Filmmaker?
A website builder helps filmmakers create beautiful online portfolios to showcase their video reels and other projects.
In addition to showcasing your work, you can build a website that helps you develop a personal brand, build an audience, and give people an easy way to view your work online.
With the right website builder, you can do all of this without having to learn how to code.
You can also add an online store to your website and start offering your creations, merch, graphic design services, etc. online.
Website Builder For Filmmakers FAQ
Why Does a Filmmaker Need a Website?
A website is an essential tool for filmmakers to publicize their films and provide basic information on their latest projects. 

Websites also help when reaching out to potential crewmembers, supporters, and funders. They are a great tool to start building your mailing list and give an audience a place to come together and enjoy all your work.
Can I Sell my Films on my Website?
You can sell films on your website without having to rely on a distributor. All you have to do is choose a website builder with online store functionality or easy third-party integration so you can start selling your films and securely accept payments online.
Can I Embed my Films on my Website?
Most website builders allow you to embed videos from popular video hosting sites like Animoto, Vimeo, and YouTube. All you need is to copy the video embed code or URL from the hosting platform and paste it into your website builder's visual editor and the content will be automatically embedded on your site.
Can I Host Films on my Website?
It's possible to host films on your site, but you need to make sure your server can handle it, especially if a lot of people will be streaming your content at the same time. 

An alternative to self-hosting is to first upload your video file to YouTube, Wistia, or any other third-party video hosting service. You can then copy the URL of the video and paste it into the visual editor to stream the video from your host's servers.
What Pages Are a Requirement for a Filmmaker?
Your filmmaker website doesn't have to be complicated. Even big-budget Hollywood film websites tend to keep it short and simple with regard to content pages and information on their websites. 

Here are some of the standard pages to include: home page, "about" page, news and updates, downloadable materials, contact page, and of course, a kick-ass trailer of your latest project.
What Other Services Can My Website Offer as a Filmmaker?
Other services you can offer on your filmmaker website include consulting, editing, directing, and scriptwriting services. You can also offer graphic design services and tutorials for shooting commercials, training videos, etc.
Best Website Builders for Filmmakers — Summary and Top Picks
This is the end of this review on the best website builders for filmmakers. I hope by now you have all the information you need to make the right choice for you.
When choosing a website builder, filmmakers should make sure to consider the overall price of the platform, the ease of hosting video from third-party platforms like YouTube, the amount of storage space available for self-hosted content, blog functionality, third-party email and social media integrations, and the availability of other digital marketing tools that will help you get your films out to a larger audience.
My Top Picks for the Best Website Builders for Authors are: