If you want to build a modern sports website, but lack the coding and web design skills required, then you need a site builder that will do all the heavy lifting for you. The right website builder will streamline the creation process and narrow required actions to simply everything from editing your domain name and choosing a template, to using intuitive and user-friendly tools to edit the content so you can customize your website to match your brand.
In this guide, I've researched and reviewed some of the best website builders for sports teams with essential features so you can handle strategic issues even if you don't have any technical experience. Any of these tools will allow you to build a sports website or league web resource for your team within minutes. And so without further ado, let's dive right in.
What Features to Look For in a Sports Team Website Builder
In conducting this comprehensive comparison of the best website builders for sports teams, I noticed a few features common to all the best solutions out there.
Below, I've listed some of the features to look for before making your decision to ensure that the platform you choose meets all your needs.
1. Ease of Use: This is one of the most important factors to consider when choosing software. Fortunately, most website builders these days are designed to be easy to use and come with a very short learning curve. This is the case with all the options listed in this guide. Each of them has a beginner-friendly and intuitive interface that anyone can use regardless of their level of technical skill.
2. Pre-made Templates: When building a website for a sports team, you want to spend as little time as possible on the technical aspects and more time promoting your team and engaging with your audience. For this reason, you want a website builder that provides you with pre-built templates with various sports-centric features.
3. Built-in Marketing Features: Choose a website builder that comes with marketing features to make it easy for you to get your website out there. For example, most sports team website builders come with social media sharing buttons to encourage your website visitors to share the content. This may differ from a website builder for therapists, for example, as they're more interested in the ability to schedule clients along with producing content.
4. Additional Features: You want a site builder with a range of basic and advanced features, such as event calendars, fundraising features, fan forums, and multimedia integration. These will make it even easier for you to manage your sports team's website and community.
5. Pricing: Look for a website builder that offers all the features you need at an affordable price. For your convenience, I've made it a point to include only the best and most affordable sports website builders on this list.
What Are the Best Website Builders for Sports Teams?
Best Overall Website Builder for Sports Teams ($16/month)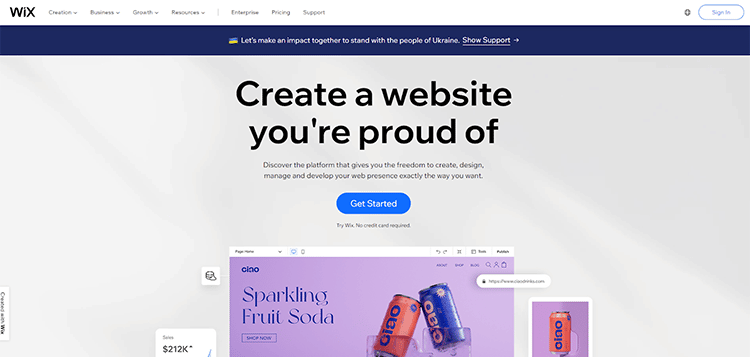 Wix is a popular website builder with a ton of amazing features. There are almost 40 sports and fitness templates that you can use to build your website, and once a template is chosen, the rest of the process for building your sporting website is intuitive and fast.
Like most other website builders on this list, Wix has a drag-and-drop page editor that lets you build a website with no coding knowledge required.
The platform also has apps for every function. You'll find these on the Wix App Market, and you can use them to add all types of functionalities to your website including events calendars for match schedules, integrated social media feeds, and more.
Key Features:
eCommerce Functionality: With the Wix premium plans, you can accept donations and sell team merchandise on your website.
Mobile-Friendly Templates: Since most of your visitors will be accessing your team website on mobile, this is an important feature to ensure your website looks great.
Wix ADI: The platform's unofficial design intelligence serves as a smart assistant to build your website for you. All you have to do is answer a few questions pertaining to your needs.
Pricing: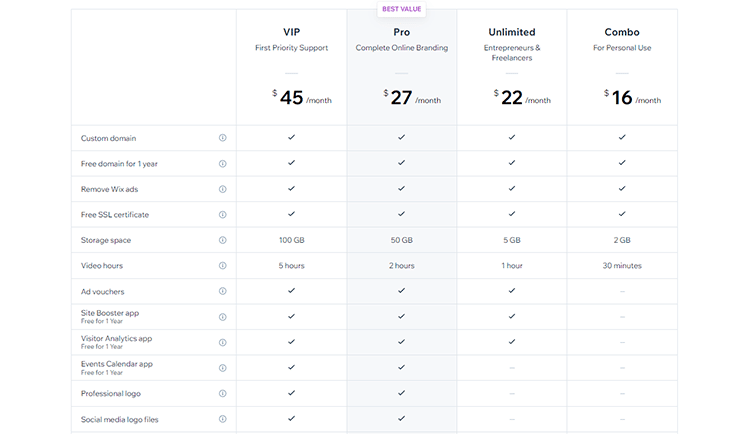 Wix doesn't have a free plan, but the premium plans are affordably priced. For $16/month, you get the Combo plan which is perfect for building a basic sports team website. However, to unlock more advanced features and storage space, you can upgrade to any of the higher-tier plans according to your needs.
---
Best Website Building Tool for Unlimited Creative Control ( $2.79/month)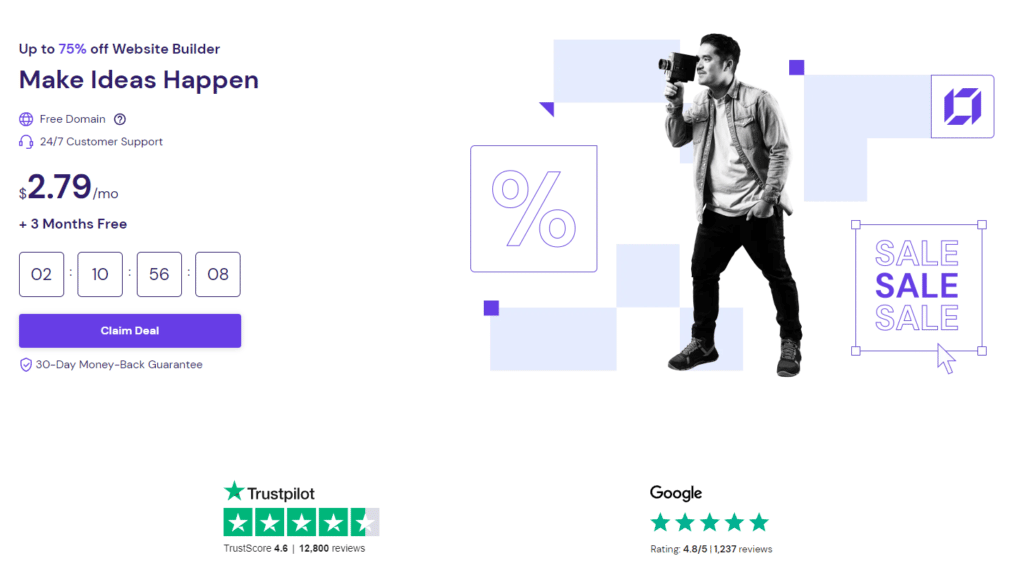 Hostinger is undoubtedly the best sports website builder out there. The platform offers ease-of-use and premium features at remarkably low prices.
But don't let its affordability fool you, this website builder comes with a wide range of features, including responsive templates – many of which are created for sports websites specifically, and the rest of which can be easily customized to suit your sports team's brand.
The platform has a simple but powerful drag-and-drop builder which can be used by anyone, even those with zero technical experience. The entire software is built to simplify your sports project creation – whether you're creating a website for a sports club or fan club.
Key Features:
No-Fuss Editor: The platform's drag-and-drop editor allows you to move elements like text, images, and videos onto a page to create a website that looks how you want.
Built-in Marketing and SEO Tools: Make your site more visible online with powerful SEO and marketing features, including Google Analytics, heat maps, and other AI tools.
Affordable Pricing: With plans starting from just $2.79/month, Hostinger is arguably the most affordable website builder out there.
Pricing:

Hostinger offers one simple plan with a 30-day money-back guarantee that offers a free domain, email, e-commerce features, marketing integrations, the ability to host 100 websites, unlimited traffic visits, free SSL certificates, and their proprietary website builder for $2.79/mo with the first 3 months free.
---
Best for Visually Appealing Sports Team Website Templates (Free Trial, then $16/month)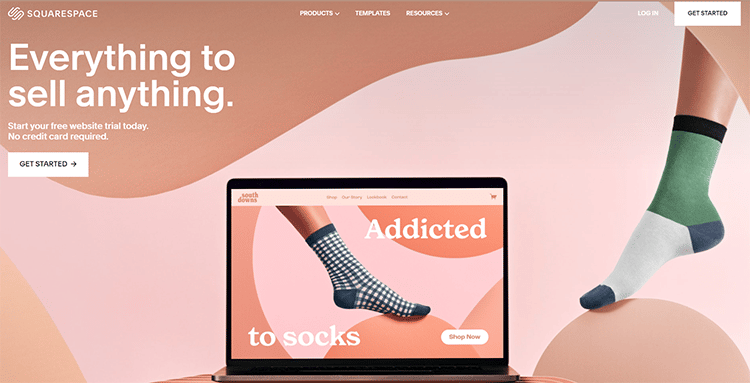 Squarespace has some of the best sports website design templates that you can use to build an aesthetically pleasing sporting team website.
Many of the templates are sports-focused, but you can use the drag-and-drop editor to customize different elements and change layouts to make the pages look the way you want.
Whether you start from scratch or use a pre-designed template, Squarespace will help you give your team the credibility it deserves.
There are also powerful features to help you manage your website successfully, including live preview, built-in marketing features, and donation options. In short, this platform will help you build a website that looks and functions better than that of your rival teams.
Key Features:
Built-In Donation Options: Make it easy for your supporters to give fundraising contributions through PayPal and Stripe.
14-Day Free Trial: Although Squarespace doesn't have a free plan, you can test out any of the premium plans by signing up for a free 14-day trial.
Mobile-Responsive Templates: All the platform's pre-designed templates are mobile responsive out of the box.
Pricing: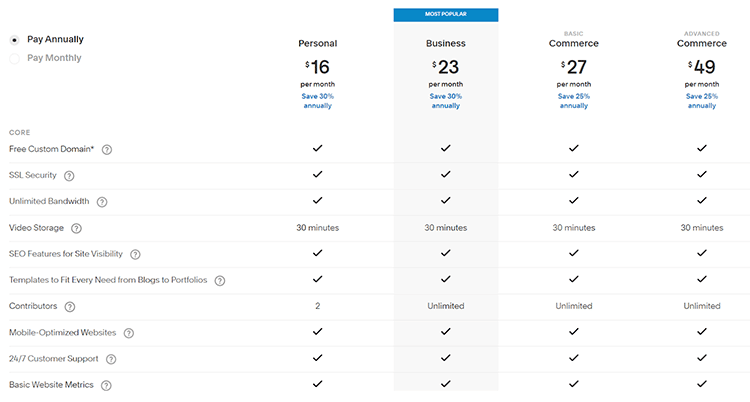 Squarespace offers a free two-week trial, after which you can upgrade to one of the paid plans, starting from $16/month for the "Personal" plan.
Or, check out my comparison of Squarespace and GoDaddy to see how Squarespace compares against other site builders that are good for sports teams.
---
Best for Building Beautiful One-Page Team Websites (Free Plan, then $8/month)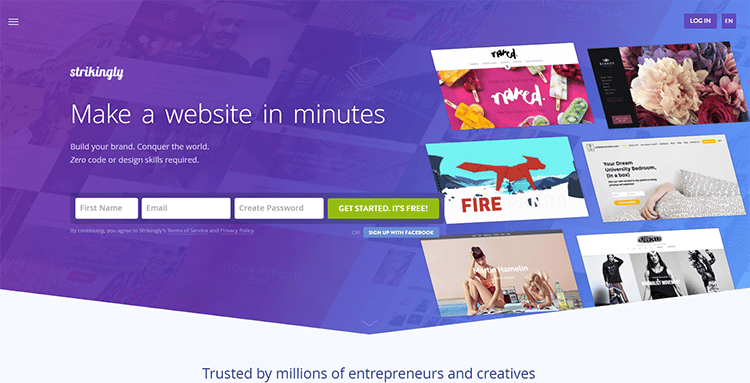 If you want a simple tool for building stunning websites, then Strikingly is a great option to consider. It's a beginner-friendly website builder without any confusing bells and whistles. With it, even complete beginners can create outstanding landing pages and other single-page websites.
The platform has an intuitive drag-and-drop page editor and an attractive (although somewhat limited) selection of some of the best sports website design templates that will allow you to get your site up and running in just a few hours.
This is the perfect solution for anyone who wants a single-page layout or a very small website. Best of all, you can start for free which allows you to determine whether or not Strikingly caters to all your needs before committing to a paid subscription.
Key Features:
Fast Website Creation: With Strikingly's intuitive editor, you can build a sports team website in just minutes.
Simple, Attractive Templates: Choose from a variety of modern, stylish, and optimized templates designed by experts.
Basic eCommerce Features: All plans come with basic eCommerce features to allow you to start selling your product or service online instantly.
Pricing:
Strikingly has three growth-focused plans, starting from $8/month. Whether you're just starting your website, or if you want features to launch and grow, you'll find what you need by signing up for one of the premium subscriptions.
---
Best for Running Fundraising Campaigns for Your Team (Free, then $6/month)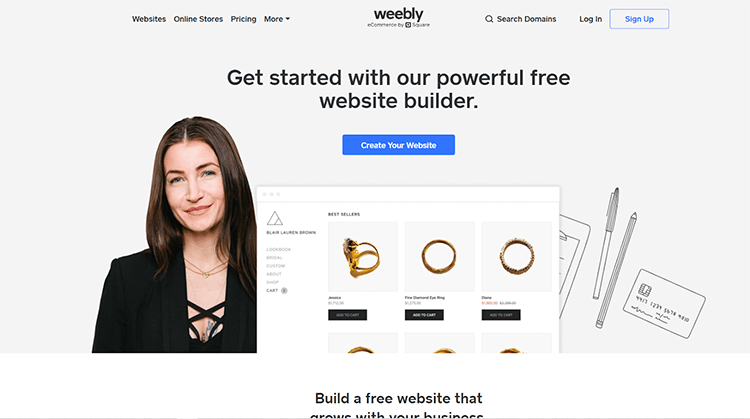 Weebly is a great option to choose if you want to collect donations for your team. The platform integrates seamlessly with popular fundraising platforms, such as DonorBox, making it perfect for fundraising for your next away game or to get new equipment for your team.
You can use the free plan to build a professional-looking sports website. There is an intuitive page editor that requires zero technical skills. Simply drag-and-drop content elements onto a page and customize each of them to match your brand colors and style.
Key Features:
Embed YouTube Videos: Weebly allows you to use the "embed" code to share YouTube videos and display match day highlights.
Weebly App Center: There are over 370 apps you can choose from to extend your website's functionality, including live social media feed integration, event calendars, and more.
eCommerce Fundraising Features: All Weebly plans come with shopping cart integration, secure payment verification, and inventory management so you can collect donations or sell merch.
Pricing: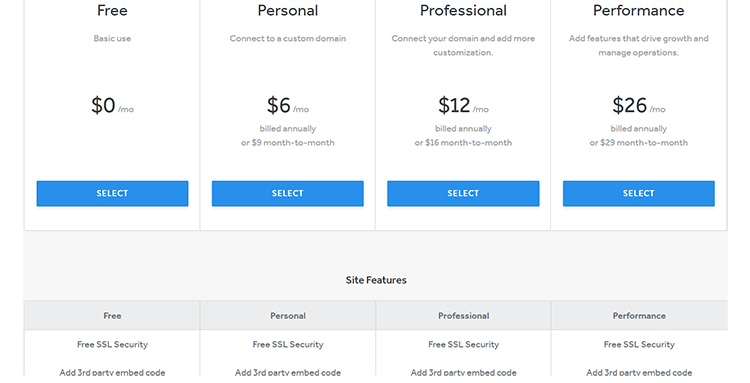 Weebly has a free plan that you can use to set up a basic website. However, if you want a professional sports team website, then you must upgrade to one of the premium plans starting from $6/month billed annually, or $9 month-to-month.
---
Best for Building An Online Community Around Your Team (Free Plan, then $69/month)
Whether you are a new and small club looking to attract athletes and develop programs, or an established club with a growing number of fans, you can use this platform for free.
You'll get features like online registration, payments and invoicing, team apparel stores, and sponsorship finder tools.
For larger organizations, you can upgrade to the premium plan to get the platform's complete offerings of helpful tools for coaches and administrators.
Key Features:
Expertly Created Designs: SportsEngine is a dedicated sports website builder with dozens of stunning sports-themed templates.
Easy Customization: The drag-and-drop nature of the site builder makes it easy for anyone to make customizations to content even with no technical knowledge.
Build Multiple Team Pages: If you manage more than one team, you can do so from one convenient place by creating different team pages on your site.
Pricing:
You can use SportsEngine for free. Simply sign up on the website using your email, and you can start building your sport team's website right away. To unlock additional features for coaches and administrators, you can upgrade to the Premium plan which costs $69/month.
---
Best Sports-Focused Website Builder with Custom Designs (29/month)
If you want to save time when building your sports website, then you might consider a site builder like Jersey Watch.
This platform allows you to create a modern, mobile-friendly website in just minutes. It comes with dozens of webpage templates designed specifically for sporting websites so you won't have to do any heavy lifting. JerseyWatch is the best website builder for sports enthusiasts that want to make their designs pop.
No tech skills are required, and you can add pages and menus at the click of a button. Drag-and-drop different content elements like text, images, logos, videos, slideshows, etc. to create a unique page, and customize your colors to match your team preferences.
Key Features:
Custom-Designed Files: Jersey Watch allows you to upload your team logo to get custom design files for a clean brand look.
Powerful Promotional Tools: Promote your organization and increase your following with email marketing and social media management tools, as well as custom profiles for teams, staff, and sponsors.
Mobile-Friendly Tools: Make updates and send messages on the go with features built to work on all types of devices.
Pricing:
JerseyWatch offers a free trial, and premium plans start from $29/month for custom website design, marketing features, and a free domain.
---
Best for Building Unique, Functional League Websites for Sports Teams ($49/month)
Sports Plus is yet another dedicated website builder for creating functional, mobile-friendly league websites for sports teams. You can go live instantly with schedules, registrations, and custom content. If you want to create a custom sports league or base it on an existing one, this sports team website builder is ideal.
This is an easy sports team website builder that works for you. It requires no technical skills, and your website will be mobile-optimized to look great on all devices. You also get a custom domain and SSL integration so you can provide a safe browsing experience to your visitors.
To get started, simply sign up for a free 14-day trial on the website and set up your organization's account. You can then auto-generate your league schedules or upload them from a file. Finally, publish to your website, mobile app, and calendars for all your participating league teams.
In short, this is one of the best website builders to create a site that will allow you to successfully run multiple leagues and tournaments.
Key Features:
Unique Sports Website Designs: Choose from a range of beautiful ready-made templates to create an outstanding sporting website.
Free Trial Available: You can sign up for a free trial to test out the software for 14 days to see whether or not it's a great fit for your organization.
Sports-Focused Features: From online registration and scheduling to payments, billings, and invoicing, you can build and manage a successful sports website using SportsPlus.
Pricing:
The platform offers 3 different plans to suit organizations of all sizes. The Bronze plan costs $49/month and includes all the core features for up to 50 teams and 750 athletes.
---
Best for Building Fully Integrated Team Websites ($9.99/month)
This platform comes with powerful features to build a fully integrated, professional website that is mobile-optimized. You'll be able to change your game and elevate your reputation with easy-to-use tools and handy integrations.
For example, you can integrate your website with Team Snap to allow your participants to easily register, view the schedule, and more.
The platform also provides helpful sport organization resources, including blog posts, videos, and a large community of users, designers, and developers.
Key Features:
Mobile-Optimized Websites: Your website will look beautiful on any size device thanks to the flexible design templates.
SEO Optimized: All websites come with built-in SEO functionalities so you can boost your visibility online.
Business Growth Features: Grow your brand easily with member management, registration, integrations, and mobile app features.
Pricing:
TeamSnap has 3 plans ranging from the Basic plan for small teams that want to track availability and use reminders, all the way to the Ultra plan which is perfect for larger teams looking to receive premium support and monetize sponsorships. Plans start from $9.99/month and include availability, reminders, and roster features for 30 members.
---
Best Sports Team Website Builder with Advanced Features (Free Plan, then $19/month)
PlayPass is an increasingly popular sports website builder that you can use to create a unique sports website for free.
To get started, just sign up on the website with no credit card required. In minutes, you'll have a mobile-friendly sports website that will delight your players and supporters.
Creating custom pages is easy and you can upload files and showcase everything from schedules, registration activities, and waivers – all with your branding always front and center.
Key Features:
Free Plan Available: PlayPass allows you to create your sports club website for free. Only upgrade when you need to unlock additional features and resources.
Focus on Branding: Keep your team's brand front and center with a variety of design options, including logos, icons, etc.
Collaboration Features: Add your staff members so they can help you update and manage your sports website.
Pricing:
You can use PlayPass for free forever. But, to receive unlimited schedules and website pages, then you need to upgrade to the premium plan for $19/month. Registered nonprofits get a 50% discount, and large organizations get reduced online payment fees.
---
Best Website Builder for Building and Hosting Sports Websites ($2.95/month)
Bluehost has features to help you build an exceptional sports team website. You can create and host your website in one place, making website management a lot easier for you.
There are over 300 design templates to choose from, many of which are designed specifically for sporting websites. You'll also find blog post management features that allow you to easily add content to your website and manage your posts either from traditional WordPress or within the Bluehost website builder.
The platform also has additional features to help increase the visibility of your website, including marketing features, SEO tools, and email integration. All in all, this is one of the best and most flexible website builders for sports teams that you can use to bring your vision to life.
Key Features:
Unique Website Designs: Choose from dozens of expertly designed templates for websites and then use the drag-and-drop editor to customize them to meet your needs.
Brand Awareness Features: Boost brand awareness and traffic with direct access to tools like website analytics, email marketing tools, and contact forms.
Start Selling Instantly: Bluehost allows you to create a unique and engaging web store using WooCommerce and other plugins.
Pricing:
Bluehost's website builder is perfect for creating sports team websites of all sizes. Depending on your needs, you can sign up for one of the four premium plans, starting from just $2.95/month.
---
Best WordPress Plugin for Adding Sports-Centric Features to Your Site ($99/year)
WordPress is a great platform for building sports websites or blogs. The software is free to download and use, and once it's hosted on your website, you can install the SportsPress plugin to add desired features that will appeal to your devoted sports fans.
For example, you can use SportsPress to add automated standings, league tables, and event schedules. You can also publish results and scores, match lineups, and different layouts to streamline the presentation of your sports team or league information.
SportsPress works with all WordPress themes, and you can also use the plugin to customize your website's overall design to ensure that it matches your team's brand.
Key Features:
WordPress Plugin for Sports Teams: This plugin is designed specifically to make management easy for serious teams and athletes.
Beautifully Automated Standings: Get fully automated standings and the peace of mind of knowing that your league tables will always be up to date.
Add Custom Features: Schedule events, publish scores, and more. From fixtures to results, you can add the required features to your site using the SportsPress plugin.
Pricing:
You can get SportsPress Pro for $99/year for a single site. If you want to use the plugin on unlimited websites, then you must upgrade to get the League License. All plans come with 1 year of free updates, and you get a 30-day money-back guarantee.
---
How to Build a Sports Website
If you've never done so before and are wondering how to build a sports website, the process is quite simple but it does require plenty of time and focus to finalize. The first step in building a blog or a website is deciding the best website builder and hosting for your needs.
After making a decision, you'll have to come up with a domain name for your sports team website and then purchase that domain name and hosting. Choose and install a website theme, create the essential pages (About Us, Contact, etc.) & create a logo, and start writing content for your website.
Bear in mind that this is an extremely simplified look at the process of building a sports website. There's plenty to learn about this process so definitely take a look at some of my other guides to learn the basics of building a website.
Best Website Builders for Sports Teams Summary & Top Picks
When building a website for your sports team, you want a website builder that gives you full control over how content is displayed on your site.
All the solutions mentioned on this list offer a wide range of features and tools to make it possible for you to build a beautiful and fully functional sports website.
If you're still not sure which platform is right for you, here's a quick look at my five favorite options.