Actors are making more per film than ever before in history. Just last year, Will Smith earned $40 million for his role in King Richard. That's $40 million for just one film!
Now, the truth is that most actors won't ever earn this much, but imagine earning just 5% of that in a year. You'd still be making more than most people working other jobs.
And while this is possible, it's hard to get noticed as an actor. While actors are being paid much more than in years past, there is much more competition.
With the internet, casting directors can find new talent quickly and easily. A great headshot, natural talent, and a portfolio of film or television credits often aren't enough anymore.
Today, actors need to have their own personal website where they can showcase their headshots, highlight their portfolio, post clips of their performances, blog about their latest roles, and much more.
But with all the website builders currently on the market, how does an actor or actress decide which one to use? The answer is simple: peruse this guide I spent 10-12 hours creating and find out what website builders for actors are actually worth using to build your audience and get cast in the next blockbuster.
What is the Best Website Builder For Actors?
There are many different website builders out there. Some of them are general site builders, like Wix, Squarespace, and Weebly. However, others, like ActorGear are actor-focused with features specifically designed for actors.
Both types of website builders will help you create a stunning, professional-quality website or a landing page for career-related topics.
You can choose one or the other based on your needs, but each will serve you equally well when building your own website.
Read on to discover everything you need to help you choose the best actor website builder to create a fantastic actor website – even if you are technologically challenged.
Wix offers complete control over your website's look and feel with a simple drag-and drop website builder ($14/month).
Wix offers you two options for building your website. First, you can choose from over 900 templates to showcase your acting skills. Many of them are in the creative arts category and are therefore perfect for building a website.
You can then customize these templates using the simple visual editor on the platform that allows you to drag and drop different elements like text, images, and videos onto a page.
Alternatively, you can build your websites by using Wix ADI (artificial design intelligence). This tool generates a design for your website based on your answers to a few questions.
You can then proceed to customize the site to your liking by changing things like colors, fonts, images, etc.
Key Features:
Share Media Content: One of the most notable features of Wix is that it allows you to easily upload, embed, and live stream videos directly on your site and share podcasts, clips of your best performs, introductory video, head and full-body shots, and much more.
Email Campaigns: Email marketing and automation tools will help you encourage sign-ups from loyal fans and other entertainment professionals so you can send them emails with updates, film teasers, etc.
Website Stats: Wix lets you know how you're doing with website and video stats on the Wix dashboard and Wix Video app.
Pros of Wix:
In-depth, step-by-step tutorials and comprehensive support
Add a news section to your website
Embed videos from Vimeo and YouTube
Send periodic branded email newsletters to subscribers
In addition to paid subscriptions, Wix offers a free plan
Pricing:
You can get started building your actor website using the free plan on the platform. However, if you want to get rid of Wix ads and branding, you must upgrade to a paid plan, which will also unlock additional features. Paid plans start at $14/month for the "Combo".
What Are People Saying?
"Excellent web design service. Wix is the easiest website builder I've ever used. As a designer, I like the open canvas it gives me to fully display what I visualize for the website. It really makes building the website you imagine easy because it doesn't box you in with pixel counts, coding, or the limits of a grid-based drag and drop system." Andrew L.
---
Offers a wide range of superstar-quality mobile-responsive templates ($12/month).
Squarespace is the preferred option of many actors thanks to its ease-of-use and actor-focused templates.
You can choose from a wide range of sophisticated and modern templates that will let you customize your website without being overwhelmed by too many options.
The platform also has features that make it extremely easy to upload video and audio clips to your site and present the content in a stunning and visually appealing way. You can also post about any career updates, as well as upcoming appearances thanks to the platform's powerful blogging features.
Although Squarespace doesn't offer as much design freedom as Wix or ActorGear, it does allow you to move elements around to create optimal website design on a predefined grid. This means you don't hav eto be a professional web developer to design a professional looking website.
Key Features:
Customizable Image Galleries: Use gallery blocks to highlight your greatest moments using a fun carousel, stacked layout, grid, or a standard slideshow format.
Stylish and Modern Templates: Squarespace has a ton of clean, modern templates for you to choose from, all of which are fast and mobile responsive.
Video Background: You can use moving background images to add some flair and visual appeal to your actor's website.
Pros of Squarespace:
Beautiful templates for stunning actor websites
Huge selection of built-in integrations
Free trial with no credit card required
Register a unique domain name on premium plans
Extremely easy to use drag-and-drop editor
Pricing:
Squarespace doesn't offer a free plan, but there is a 14-day free trial that you can sign up for on the website.
You can upgrade to the premium plan for $12/month. This plan allows you to register your own unique name that suits your professional image as an actor.
What Are People Saying?
"Squarespace for web design. I love the ease of use, it is essentially a lot of drag-and-drop options and the templates are really beautiful. It cuts down the time it would take to create layouts from scratch in other software." Thea S. – ARSNK Entertainment.
---
A powerful platform with excellent multimedia integrations (Starts from Free).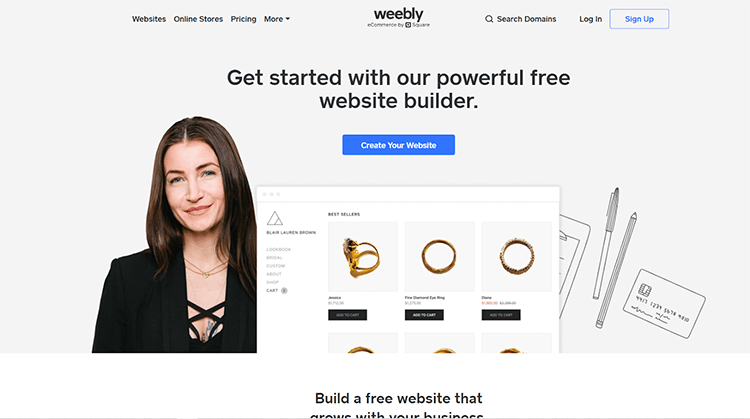 Weebly is more eCommerce-focused than the other options on this list. The website builder was recently acquired by Square, a payment processing giant. However, the platform still offers quite a lot of nice features and unique templates that creative professionals will love.
There's a drag-and-drop editor that is designed for extreme ease of use so anyone can create an exceptional website even with zero coding knowledge.
This is a simple yet powerful platform, and with it, you will have your actor website up and running in time for the final curtain call.
Key Features:
Weebly App Center: Choose from a wide range of third-party apps to amplify your online presence, including live chat functions, social plugins, etc.
Embed Visual Media: You can easily upload and embed images, audio clips, and demo reels from YouTube, Facebook, Vimeo, and other video hosting sites.
RSVP Forms: As an actor, you may require a headcount for your next show's tickets, and customizable forms allow visitors to RSVP so you know exactly who is coming.
Pros of Weebly:
Third-party integrations for your blog, website, or online store
Built-in SEO tools for more visibility online
Live chat feature for visitor engagement and interaction
Amazing acting-specific templates to choose from
Free forever plan for basic use
Pricing:
Weebly has a free plan that you can use for as long as you want to. However, to connect to a custom domain, which has a more professional look, you need to upgrade to the premium plans which start at $6/month billed annually or $9 month-to-month.
What Are People Saying?
"This Weebly platform differs in its simplicity compared to the competition and is designed for people who do not want to spend time designing a website or simply have no knowledge to design a page from scratch. The entire platform has a large functional unit that focuses on drag-and-drop elements to place them where you want. This is an advantage over WordPress.org or Wix that while intuitive, are not designed to offer a 100% friendly experience." Betty V. – Sr. IT Project / Program Manager.
---
A simple, no-code site builder for your actor website and portfolio ($2.90/month).
Zyro is an increasingly popular website building platform with a lot of stylish, modern templates to make even the most discerning actors happy.
Although this platform does not offer as many features as other website builders mentioned here, such as ActorGear, Wix, and Squarespace, it's priced significantly lower than the rest, which makes it ideal for actors who are low on finances yet require a professional-looking website.
The no-code editor lets you drag-and-drop images, text, and videos onto a page to create your website exactly the way you want it to look. All the templates are mobile-responsive and very easy to edit, even for someone without any technical skills.
Key Features:
Robust eCommerce Plans: Zyro has commission-free plans that let you sell services or merchandise on your platform and keep all the profits (after processing fees).
Free Marketing Tools: The platform has a free logo maker, AI branding tool, and an AI writer that will help you create website content in minutes.
Image Slideshow Feature: This feature will help you showcase your images in the best way to elicit reactions from fans and casting directors.
Pros of Zyro:
24/7 live chat support
Simple drag-and-drop functionality
Extremely affordable plans
Stunning templates ideal for actors
Built-in SEO, sales, and marketing features
Pricing:
Zyro's plans are among the most affordable in the industry. For just $2.90/month, you can set up and launch a personal website. You also get free email blogging tools, SSL security, and you can connect your own custom domain, among other features.
What Are People Saying?
"The builder basically tells you everything you need to do without actually having to know it. It offers way more than I expected." Erin Champ and Josh Hallmar – Surf-happy.com.
---
Perfect for serious actors who value flexibility and ease of use ($228/year)
WordPress is a popular content management system that powers over 40% of the internet. It's the number one option if you want a free and flexible website builder. But, you have to get your own hosting and theme in order to use this open-source software.
Thrive Themes is a set of plugins and themes designed specifically for building WordPress websites. The builder comes with a range of powerful features to help you build a stunning website to boost your presence online.
Using these two tools together will allow you to get the best of both worlds and create an actor website that showcases your skills prominently.
You'll also be able to display all your important information including links to IMDb, Backstage, Actor Access profiles, etc. to ensure casting directors and fans have access to the information they need.
Key Features of Thrive Themes:
Powerful Suite of Tools: Thrive comes with all the tools you need to build a successful actor website, market yourself effectively, sell services online, build an email list, etc.
Thrive Apprentice: This feature lets you create courses and sell them directly from your WordPress website, so you can easily share your acting knowledge with the world.
Great Templates for Actors: Thrive has a wide range of professionally designed, conversion-focused templates that actors will love.
Pros of Thrive Themes:
All templates are 100% responsive
Free training from Thrive University
Simple, easy to use drag-and-drop page editor
Choose from dozens of pre-built actor website templates
Extend website functionality with third-party integrations
Pricing:
Thrive's suite of tools includes everything you need to create a website to attract fans and casting directors, including tools for building sales funnels, email lists, scarcity campaigns, online courses, quizzes, and much more. You get all this for $90/quarterly or $228/yearly.
What Are People Saying?
"We started using Thrive a few months ago and are beyond impressed. As the owner of a digital agency I've noticed an increase in conversions since we switched and I continue to be impressed with pretty much every aspect!" Philip Shaw – CleverClicks.
Get Started With Thrive Themes
---
A beginner-friendly solution for building single-page websites ($8/month).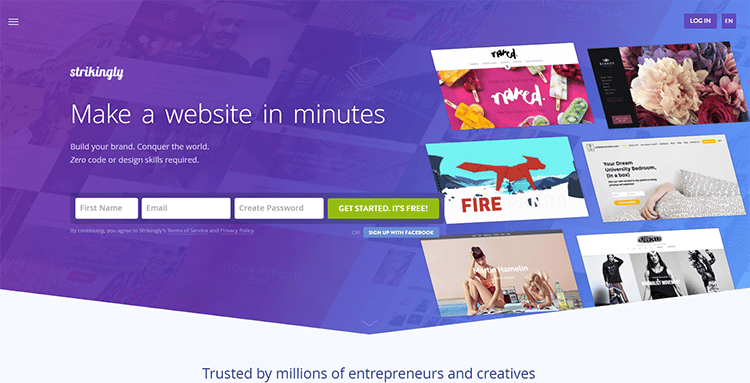 Strikingly is a great website builder for actors who want to get a site online but have zero technical knowledge.
It comes with several actor-focused website templates to choose from, and all you need to do is add your content to the templates, hit publish, and you're good to go.
The templates are also fully customizable so you can change fonts, colors, images, etc. to make your website more unique and aligned to your personality and brand.
The editor is extremely easy to use, and it's available in 10 languages – a feature that is great for actors who want to create multilingual websites.
Key Features:
Beginner-Friendly Interface: There are no coding skills required thanks to the editor's simple drag-and-drop functionality.
Best-in-Class Support: Strikingly prides itself on its fast, friendly, and efficient customer support team.
Single-Page Focus: This website builder is ideal for actors who want to create a unique, professional single-page website to showcase their talents.
Pros of Strikingly:
Multilingual feature
Cheap for multiple websites
The support team goes the extra mile
Stylish templates for single page websites
Unlimited free sites
Pricing:
You can use Strikingly for free, but in order to connect a custom domain and get access to features such as 24/7 chat support, eCommerce tools, etc., you need to upgrade to one of the paid plans, starting at $8/month billed yearly.
What Are People Saying?
"Within an hour, we had probably our best landing page yet and for a fraction of the price. It's amazing. Since then, I've built about 15 sites on Strikingly – it's currently my favorite startup tech tool." Ben Keene – Founder, Tribewanted.
---
Create a stunning actor website in an affordable and trouble-free way ($15/month).
ActorGear is a platform designed to help you create and launch an actor website faster than other platforms. That's because the website builder is focused specifically on helping actors create stunning websites to attract the attention of casting agents and avid fans alike.
A recent test that compares Google Page Speed and responsive design shows that websites built with ActorGear load a lot faster compared to most others, which is an important feature to have if you hope to rank high on Google.
This site builder also has starting themes or demo sites that are flexible and easy to customize. They give you structure and proper design with just a few clicks, which is perfect for actors who want to build and launch their website as soon as possible.
Key Features:
Visual Builder: ActorGear has a visual builder that is extremely easy for beginners to use, yet it's powerful enough for pros.
No-Failure Rule: There is a team on the platform whose job is to personally review your new site so you can make the best first impression with your actor website.
Starting Themes: There are flexible, structured themes that will help you input your content and get your website live quickly.
Pros of ActorGear:
Pre-designed themes and templates for actor websites
30-minute consultation from real design pros
One-button import feature to help you get live faster
Innovative, no-code page-building tools
Affordable custom express pricing
Pricing:
ActorGear has one plan which is priced at $15/month. This plan comes with 24/7 help from the support team on the platform to help you make tweaks to your actor website until you are happy with your final results.
What Are People Saying?
"ActorGear has been so amazingly beneficial to me! I cannot imagine my career without it. It's quick, straight to the point, and provides all the information anyone in the industry needs from you. Never had a single problem with ActorGear! Besides I can't deny the quality and benefits of ActorGear especially when I got a straight booking from my website for an off-Broadway show." Christina Helena – Actress.
---
Easy to use platform with a wide range of useful apps (Starts from Free).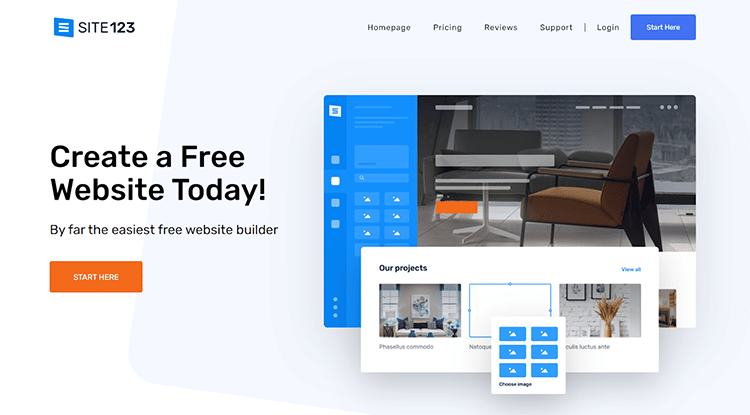 SITE123 has an intuitive Design Wizard that helps users build beautiful websites in just minutes. There's also a ton of helpful video tutorials for just about every conceivable question you might have.
The website builder is designed with ease-of-use in mind and to get started on the platform, all you have to do is choose a site template and then start dragging content blocks onto the template to fill out your actor website's basic structure.
To make things even easier for you, the platform offers a wide selection of pre-formatted content blocks that you can quickly customize with your own text, images, and videos.
Key Features:
Timeline Pages: This is one of the best features of this website builder and it allows you to share a history of your acting career and achievements.
Custom Form Builder: This lets you give managers, agents, fellow actors, and fans a quick and easy way to get in touch with you.
Powerful SEO Tools: You can create customized meta-tags to help your website rank well on Google and other search engines so casting directors can find you online.
Pros of Site123:
Beginner-friendly editing tools
Reliable 24/7 support via live chat
Offers multilingual websites
Powerful eCommerce functionality
Free forever plan with 250 MB storage and bandwidth
Pricing: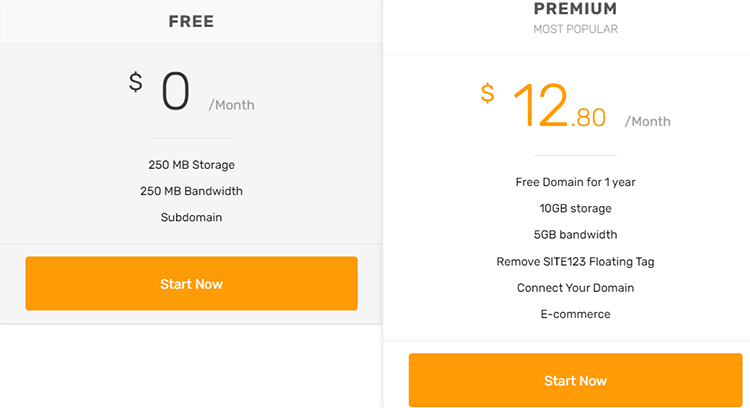 You can use Site123 for as long as you want without ever having to pay a cent. But, free websites come with a floating Site123 tag, which will not look very professional on your actor website.
To remove the ad, access more features, and increase your storage and bandwidth, you can upgrade to the premium plan which costs $12.80/month.
What Are People Saying?
"This is BY FAR, the easiest and most user-friendly website designer that I have dealt with. The technicians on the help chat are above professional and make it so easy to create an awesome website. Once I found SITE123, I quit looking!" Christi Prettyman.
---
Additional Options
SimpleSite: A great starting point for technically challenged newbies.
GoDaddy: The fastest way to build an actor's website.
One.com: The budget website builder ideal for actors who are just starting out.
Webstarts: A basic, no-frill website builder for actors.
Duda: Ideal website building platform for actors who want multiple sites.
Webnode: The cheapest website building platform (when using your own domain).
Webflow: Free version available with plenty of modern templates.
Jimdo: An AI-powered platform to help you get your website online quickly.
What Features to Look For in a Website Builder For Actors
Some website builders can prove to be complicated and time-consuming, yet provide you with unique and exceptional results, while others are extremely user-friendly and intuitive – great for simple websites, but not ideal for actors looking to build a strong brand online.
With some, you can upload unlimited video and audio clips, while others charge a premium for storage space.
Depending on your needs, it's important to know what to look for in a site builder so you can pick the right one to satisfy your needs.
With that in mind, here are the features to look for when choosing the best website builder for actors.
1. Ease-Of-Use: This is one of the most important features, particularly if you are new to building websites. Choose a platform that has a simple visual editor to make it as easy as possible for you to build your website pages.
2. Professionally Designed Templates: Actors need visually appealing websites that will attract the attention of agents and fans alike. Choose a platform with plenty of professional-quality templates for actors. Also, your website has to look good on all devices so make sure the templates are mobile-friendly.
3. Full Customization Features: You should be able to fully customize the templates on your portfolio website so you can show off your work, personality, and talents in the most effective way that is aligned with your brand.
4. Growth-Focused Plans: The website builder you choose should offer plans that give you room to grow. As your acting career progresses, you will require additional bandwidth and storage space for video streams, images, and interactive features.
5. Customizable Galleries: The main reason for your portfolio website is to showcase your acting skills to the world. So you need a platform with a gallery feature that is easily customizable and draws the visitors' focus to your work. The gallery should also be easy to navigate and browse, otherwise, visitors won't stick around looking at poorly rendered images.
How Can a Website Builder Help You as an Actor?
Having a unique and professional website will help you secure work as an actor and strengthen your online presence so more producers and directors can learn about you.
A website builder makes it easy for you to build a beautiful and functional website that will showcase your acting skills and personality in the best way possible. You can do all this without ever having to learn a single line of code.
A website builder also makes it easy to integrate third-party tools so you can do more with your website. This includes eCommerce tools, email marketing tools, marketing automation, and much more.
Furthermore, a website builder makes it a lot easier for you to manage your website from wherever you are. All you have to do is log in and you'll be able to make real-time edits to your website.
Website Builder For Actors FAQ
Why does an Actor Need a Website?
An actor needs a website to help demonstrate their professionalism and showcase their talent. The portfolio serves as a way to define their unique brand or identity which is helpful for cutting through the noise in the acting industry.
What Menus Should an Actor Have on Their Website?
Some of the must-have menu items for an actor website include a simple headshot, your screen name, a page about you, contact form, a full-body shot, acting reel, in-action photos, and testimonials.
What Pages Are a Requirement for an Actor on Their Website?
Some of the essential pages you need on your actor website include a homepage, "about me" page, testimonials page, contact page, latest news page, and a page for video clips or reels.
You can have fewer or more pages depending on the information you want to include, but make sure your website has the following essential information: Links to social media, easy to browse galleries for your work, including your best headshots, and your resume and bio.
What Should I Include in my Portfolio as an Actor?
There is no right or wrong way to organize your portfolio website. But, some of the most important information to have in your portfolio includes professional headshots, resume(s), bio, updates, contact information, and social media links.
What Other Services Can My Website Offer as an Actor?
As an actor, you can also offer other services on your website, including acting lessons, voiceover artist, script reader, and even social media marketing services. When starting out, actors often have to do their own marketing and publicity, and any digital marketing skills you have amassed can be monetized on your website with the right strategy.
Summary
Depending on your needs and skill level, you'll find that some website builders work a lot better for you compared to others.
But, since there isn't one that's necessarily "better" than the other, use the information in this article to help you determine which one will work best for you.
My number one recommendation is ActorGear. It's a great website builder for actors with a ton of professionally designed and fully customizable templates for actors.
If you want a builder that is even easier to use, you can choose the Wix website builder which has a lot to offer with regard to high-quality designs and apps that are easy to implement.
For complete beginners who want the quickest and easiest way to get online, choose Site123. It has a free plan and a simple website building process so you can have your site online in minutes.