Gaining a following or getting a record label requires a lot more than just creating great music. In today's digital age, fans and producers are looking online for the next greatest hit.
Between 2008 and 2020, digital music revenue increased from about 2.64 billion dollars to over 10 billion dollars.
If you want to be competitive as a musician, you need a professional online profile for your music and your brand. While putting your singles and albums on Spotify, YouTube, SoundCloud, and Apple Music is a must, building a website is by far the best route to go.
With a professional musician's website, not only can you create a single place where people can link to your music on all of the most popular platforms, you can also post videos of you or your band performing, create a blog to document your tours and album creation process, sell your music directly, get in touch with fans, and much more.
Now if you're a musician, you probably think you don't have time to build a website. Well, I've got news for you: creating your website is actually quite easy, affordable, and quick if you use the right tools.
Take a look at my guide of the best website builders for musicians and spend less building a website and more time creating this year's greatest hit.
What is the Best Website Builder For Musicians?
Popular website builder to create a music website you're proud of ($14/month).
Wix is a platform that gives you the freedom to design, create, and manage your own website the way you want.
As a musician, it can be confusing knowing which website builder is ideal for your industry. Luckily, this platform has all the tools you need to create a professional-looking musician website, store, and/or blog.
The drag-and-drop editor makes it easy to put together layouts, text, images, and other elements on the page to create the exact look you want.
There is also an extensive app collection, which is a great tool for anyone who wants to extend their website's functionality.
Key Features:
Professionally-Designed Templates: Wix has over 500 customizable website templates that you can choose from.
Wix Editor: Bring your website to life with the easy-to-use drag-and-drop website builder which allows you to add images, text, videos, etc. in one click.
Wix ADI: By answering a few simple questions, you can get Wix ADI (artificial design intelligence) to instantly build a personalized website just for you.
Pros of Wix:
Open development platform to build professional web applications
Built-in marketing tools to grow your business online
Add an online store in two clicks and start selling immediately
Online scheduling software allows clients to book services online
Get a custom domain that matches your music brand
Pricing:
You can get started with Wix for free, but your musician website will have Wix ads on it. To remove that branding, you must upgrade to a paid plan.
The Combo, which is designed for personal use, is $14/month and comes with a custom domain, free SSL certificate, 3 GB of storage space, 30 minutes video hours, and much more.
What Are People Saying?
Everything… almost everything…it's easy to use..drag and drop feature is the best.. the functionalities and everything is up to mark.. I would say that this is the best eCommerce website builder out there with the most easy to use features." Anees Ahamed K. – Small business owner.
---
World-class website builder for musicians and bands ($12/month).
Squarespace is a platform designed to help make your big ideas stand out online.
It's the best-in-class website builder with a wide range of templates, including some stunning music templates that you can easily customize to fit your needs.
With Squarespace, you have all the tools you need to build a beautiful website that is flexible, relevant, and mobile optimized.
You can also add a store in just a few clicks and start selling your music online immediately.
Key Features:
All-in-One Platform: The platform has all the tools you need to build and manage a unique music website and online store.
Endless Design Options: The platform comes with curated designer layouts, font packs, and color pallets for you to choose from.
Powerful Controls: The site offers flexibility to change your entire content layout with the click of a button.
Pros of Squarespace:
Mobile-optimized templates on all devices
Customize each project using text, galleries, and design elements
Award-winning customer support and resources
Unlimited hosting and enterprise-grade infrastructure
Wide range of extensions to boost your website's functionality
Unlimited storage and bandwidth
Pricing:
You can start using Squarespace for free, but if you want to remove the Squarespace branding then you need to upgrade to one of the paid plans, which start at $16/month.
What Are People Saying?
"You don't have to fit a certain mold. Create your own. That's what I did." Danny Bowien
– Chef and restaurant owner.
---
All-in-one platform to build a beautiful website for your music business (FREE or $6/month).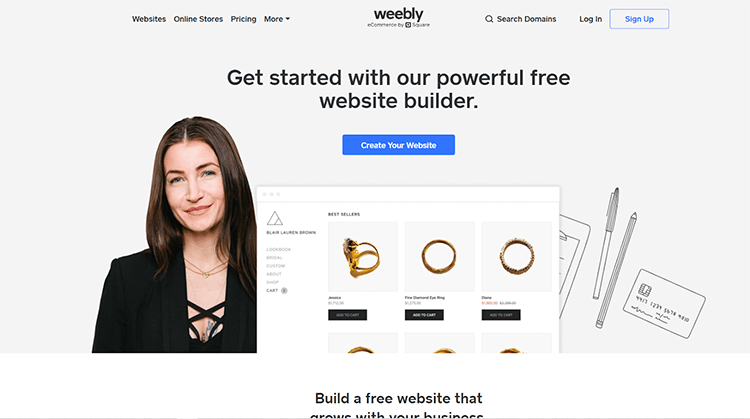 Weebly is a popular website builder that you can use to create a website for free.
As your business grows, you can sign up for one of the premium plans to get access to additional features, including an online store, email marketing tools, and mobile apps so you can build, edit, and manage your site on the go.
You'll find a wide range of professional and small-business templates to choose from, many of which are perfect for a musician website.
You can then customize the templates to help you stand out and get your music heard in today's ultra digital world.
Key Features:
Email Marketing: Weebly has amazing email marketing capabilities so you can build and grow a list of engaged subscribers.
Mobile App: With Weebly's mobile app, you can build, edit, and manage your website from anywhere.
Online Slideshow: Easily market your music with the platform's photo gallery and online slideshow maker designed to set you apart.
Pros of Weebly:
Third-party integrations for your website, store, or blog
Custom domain names to brand your musician website
Powerful SEO tools so search engines can find you
Flexible drag-and-drop builder ideal for beginners
Dedicated web hosting and fast-loading website
Pricing:
You can use Weebly's Basic plan for free forever.
However, to unlock additional features such as connecting to a custom domain, email marketing features, and integrated eCommerce tools, you need to upgrade to the paid plans, starting at $6/month.
What Are People Saying?
"It is easy to set up a page. I started with a basic free site 5 years ago. Now I have upgraded to having a membership site. My clients can now access special pages with a password. You can easily customize what you want to include." Maile L. – Strength and Conditioning Specialist.
---
By far the easiest free website builder for musicians (starts from free).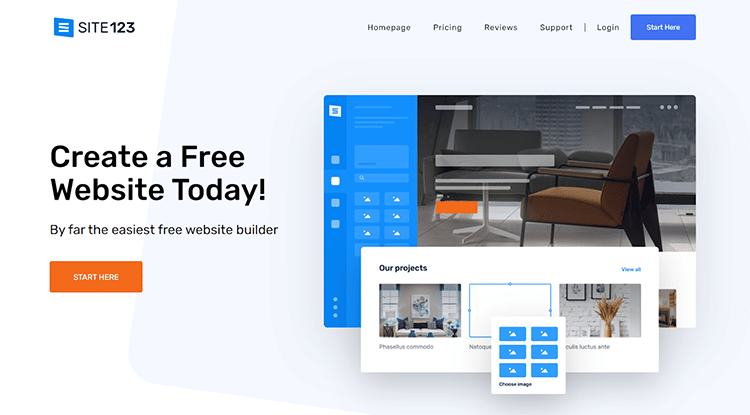 Site123 is one of the most intuitive site builders on the market. If you are a complete beginner, this is a great tool to use to build your music website.
The platform handles everything from website structure to design, which means that you only have to focus on your content.
This is a lot more efficient than most other traditional drag-and-drop website builders. You can create a free website and immediately establish your online presence using the platform's content management system.
Your website will be indexed immediately to show up on Google and you can instantly share it on social media to start building your audience.
Key Features:
24/7 Live Support: Not many website builders offer round-the-clock live support via chat, which makes Site123 unique.
Beautiful Templates: When you create a musician website on Site123, you can pick from a wide range of beautiful website templates.
Free Hosting: Build and maintain a safe and secure website with the platform's free hosting feature.
Pros of Site123:
Intuitive website editor that requires no coding knowledge
Mobile-friendly websites and responsive web design
Quickly and easily add an online store and sell globally
SEO tools for a perfectly optimized music website
Free custom domain registration for establishing your brand
Pricing: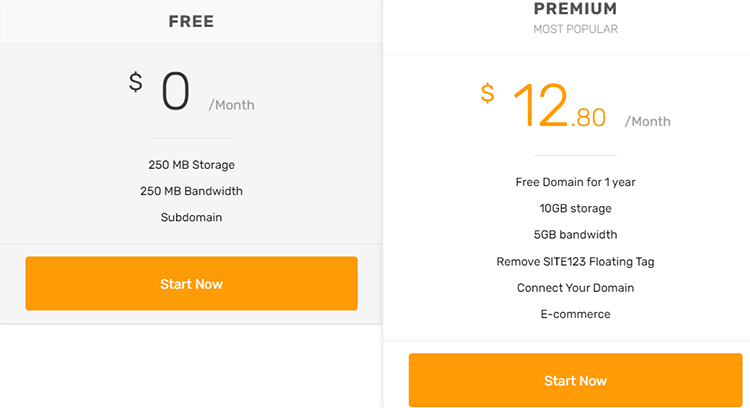 Site123 is free to use forever. The free plan comes with 250 MB of storage, 250 MB bandwidth, and a subdomain.
However, this doesn't look very professional, due to the Site123 branding, and if you want to upgrade to a custom domain and unlock more storage and bandwidth, as well as eCommerce functionality, then you can sign up for the Premium plan at $12.80/month.
What Are People Saying?
"I would highly recommend hosting a website with this company. I had issues with transferring my information from another hosting site to here, and SITE123 helped me step by step. I chose SITE123 instead of a couple of others based on the very quick response and help within minutes." Jessica Coronado – Review Country Flag
Get Started With Site123
---
Best platform for pro band websites with industry features ($9.95/month).
BandVista is a killer artist marketing platform that is powerful, sleek, and easy to use.
With this website builder, you can quickly create an industry-worthy band or musician website that you will be proud of.
It has all the features for designing, creating, editing, and managing a website. All you have to do is simply point, drag, and click to add elements like text, images, videos, etc. to a page.
Click publish, and your website will be live in minutes.
You can quickly set up an online store to start selling your music and merchandise directly to your fans so you can keep 100% of all the proceeds.
Key Features:
Easy-to-Use: Get started designing and creating your own musician website in just minutes, even with zero coding knowledge.
Mobile-Friendly Designs: Choose from tons of high-quality designs that look great on any device.
Photo Gallery: Easily upload and organize all of your photos into galleries so your fans can find them online.
Pros of BandVista:
Music player lets visitors listen to music while browsing your site
Online store to sell your merch and music globally
Built-in blog feature to keep your fans up to date
Pricing:
Band Vista offers a free 30-day trial with each of its three premium plans.
The Silver plan costs $9.95/month and comes with 5 email accounts, 50 music tracks, 500 images, and 1,000 newsletter fans.
The Gold plan costs $10.85/month, and the Platinum plan costs $15.85/month.
What Are People Saying?
"BandVista has been great. It is easy to use and has very powerful features. Thanks, guys." J. Luke Cochran.
Get Started With BandVista
---
The professional website builder is ideal for beginners ($14/month).
Duda is a professional website builder that is trusted by over 15,000 SaaS platforms and agencies. With it, you can build amazing websites faster and easier, regardless of your skill level.
The tools on the platform are designed to help you get your site up and running in the quickest way possible without compromising your creativity.
The platform is white-label-ready, which means you can keep your music brand front and center by applying your logo, style, and colors to the platform.
There are a variety of flexible tools, templates, and sections with full access to HTML, CSS, and JavaScript if you require it for a design that scales.
Key Features:
SEO Features: With Duda, websites are optimized for page speed, which means that you get great performance and SEO results
Simple Client Collaboration: Built-in features and integrated analytics help you retain clients by showing your value and results.
Streamlined Workflow and Automation: You get intuitive site management and great SEO tools to build a robust online presence – all in one place.
Pros of Duda:
You can create dozens of websites automatically
Integrate with hundreds of APIs to boost website functionality
Sync with dynamic data for better customer relations
Get white label marketing resources to help you scale your business
Built-in upsells and eCommerce extensions to expand your revenue
Pricing:
Duda has a basic plan that includes one website hosted on AWS. You also get email support and the package costs $14/month.
For $22/month, you get expanded access for a team, and for $22/month, you can get the Agency plan which comes with a wide range of additional features, such as webinar hosting, priority phone support, and more.
What Are People Saying?
"Duda is superior in every way. I can't imagine how our company would be able to manage building as many sites as we do daily with another platform." Paul Altobelli – Hibu.
Get Started With Duda
---
Powerful all-in-one platform designed to sell music, tickets, and merch ($4.99/month).
Music Glue is a leading global music industry D2C eCommerce and ticketing platform.
It's a great option for solo artists and bands who want to sell their merchandise data in music directly to their fans.
The platform also offers solutions for managers, record labels, merch companies, and promoters who want to market products online.
With this platform, you will be able to quickly build a beautiful and powerful artist eCommerce website, even if you have zero coding knowledge.
The software is trusted by some of the biggest names in music to run multicenter artist marketplaces.
Regardless of what your needs are, you are sure to find the features that are tailored to your business.
Key Features:
Branded Marketplace: Create an awesome online experience for your fans with your own branded marketplace.
Direct-to-Fan Ticketing: 100% independent ticketing solution where the artists keep all the data.
Advanced Features and Add-Ons: On the platform, you also get many great add-ons including smart data capture, conversion tracking, and retargeting features built-in.
Pros of Music Glue:
Ticket bundles to help you maximize music and merch sales
Easy set-up with a dedicated account manager
Create a bespoke fan club to reward your biggest fans
One account for all your online stores with real-time updates
Mobile-friendly eCommerce websites with 23 languages make multi-lingual optimization simple
Pricing:
Music Glue is priced at $4.99/month +2% gross revenue.
You can sign up for a free 14-day trial to test out the software before committing to a paid subscription.
The platform also offers bespoke pricing for managers, record labels, and promoters.
What Are People Saying?
"Music Glue consistently allows me to provide new experiences for my fans which I could not do anywhere else." – Jack Savoretti.
Get Started With Music Glue
---
A platform for musicians to build a stunning website in just minutes ($8.29/month).
Bandzoogle is a platform for building a stunning website and store with just a few clicks of the mouse.
You can get started for free, with no credit card required. All you have to do is pick a template, customize it to suit your tastes and preferences, and hit publish.
Your musician website will be online in just minutes and you can start publishing content, selling music, or marketing your merch, downloads, and tickets – all of it commission-free because the platform doesn't have any commissions on the sales you make.
Key Features:
Mobile-Friendly Themes: Choose from a variety of beautiful band website themes with customizable fonts, colors, and layouts.
Fan Mailing List Tools: Easily add signup forms to any page on your website to grow your email subscriber list.
Free Domain Name: When you sign up on the platform, you can choose your own custom .com domain name.
Pros of Bandzoogle:
Quickly connect with third-party services you already use
Get help from musician-friendly web experts on call 24/7
Built-in tools to empower you to build the most effective site for your music
Free 30-day trial to test out the software before committing
Add a store in two clicks to start selling your music online
Pricing:
Pricing for Bandzoogle starts at $8.29/month for the Lite plan.
This plan has all the basics a band or musician needs when starting out, including 10 website pages, 10 tracks, 100 photos, and fan data.
To unlock more features, you can upgrade to either the Standard or the Pro plans which cost $12.46 and $16.63/month respectively.
What Are People Saying?
"Bandzoogle has made website management so easy. I can update my tour dates and blog from the road, and manage everything from newsletters to store purchases." Kaia Kater.
Get Started With Bandzoogle
---
Other Great Website Builders and Tools for Musicians
In addition to the website builders listed above, there are many other website builders and tools that are great for musicians.
WordPress: Another great website builders with many different templates, themes, integrations, and plugins
Strikingly: A general use website builder specializing in building electronic press kits
Bandcamp: A great tool for musicians that allows users to easily buy merch, download songs, and pre-order albums
SoundCloud: A great platform for uploading all sorts of musical content and more
Bandsintown: A great tool to promote your tours and upcoming concerts
Spotify: One of the most popular streaming services for musicians
Apple Music: Another great streaming and music download service for iOS devices
YouTube: A video sharing and streaming site with many features for musicians
Unfold App: A great tool that allows your fan base to easily buy merch, pre-order albums, download music, and find your next gig
What Features to Look For in a Website Builder For Musicians
There are tons of website builders to choose from these days. As a musician, you want to ensure that you pick the right tool for the job so you can build an exceptional website that your audience will love.
Listed below are the features to look for in the best website builder for musicians.
1. Ease-Of-Use: This factor is particularly important if you are new to building websites. You want to choose a musician website builder with a drag-and-drop interface so you don't have to go through a long learning curve just to build your first website page.
Luckily, all the options on our list offer simple drag-and-drop editors to make it easy for you to add text, images, and other elements to any page.
2. Template Designs: The second factor to look out for are template designs. You should choose a website builder that comes with a wide range of high-quality templates that are customizable so you don't have to start from scratch building a unique website that is aligned with your brand.
3. Third-Party Integrations: Choose a musician website builder with specific feature integrations so that you can connect it to all your other marketing and sales tools that you are currently using.
For instance, as a musician, you may consider email marketing features and other automation tools to help you build and grow your subscriber list.
4. Music-Related Widgets: For musicians, some of the most important features to consider in a website builder are music-related widgets and features, such as audio players and social media links to your musician profiles.
Integration with eCommerce features, audio streaming, and media services is an absolute must, so make sure you choose a website builder that makes it easy for you to build a website and connect it to all the widgets and tools you use in your business.
5. Pricing: The website builder you choose should be affordably priced with all the features you need to build and grow your musician's website. Remember, you're in it for the long haul, so make sure that you are getting real value for your money before committing to a paid plan.
Luckily, all the website builders on this list offer free trials, which means you can test out the software before deciding whether or not it's a good fit.
6. Technical Support: Whether you are new to building websites or you are an experienced user, you need to choose a website builder with good customer support. You should be able to get your questions answered in a timely and professional way.
Look online for reviews from other users to see how reliable the platform is so you know whether or not you are likely to get help when you need it.
How Can a Website Builder Help You as a Musician?
In order to be successful as a musician in today's digital landscape, you definitely need to have a website.
And, if you don't want to spend countless hours learning how to code webpages, then you need a reliable website builder with customizable templates designed specifically for musician websites.
With the right website builder for musicians, you will be able to quickly and easily create a high-quality, unique website that your fans will love.
Also, website builders take away the need to hire expensive developers, which means you can have your website up and running in a few minutes for just a few dollars.
Website Builder For Musicians FAQ
Why does a Musician Need a Website?
As a musician, you need a dedicated website because your own site helps to present you as a pro. It gives you a platform to connect with your fans and shows your audience that you take your music career seriously.
Can I Sell Merch/Tickets on my Website?
The website builders outlined above come with tools to help you sell merchandise and tickets directly on your website. You can set it up so that fans can shop items, add them to their shopping cart (similar to Thrivecart or Samcart), and pay for it – all without leaving your website.
What Pages Are a Requirement for a Musician?
The list of essential pages required for a musician website includes a homepage, contact form, about/bio, and a music page where fans can find your music, lyrics, opening info, etc. You can also include a shows/calendar page, as well as a store where fans can download your music and buy all their favorite merch from t-shirts to hoodies and everything in between.
Can I Embed my Music on my Website?
You can embed music on your website and share entire songs, albums, or playlists. All you need to do is to copy the "embed code" and paste it wherever you want your embedded music to appear in your HTML editor.
Can I Sell MP3's From My Website?
You have the ability to sell any type of digital download on your website. All you need to do is add an online store and list your downloadable products, including MP3 audio files, and you will be able to start selling your music to fans directly from your website.
Summary
There you have it. 8 best website builders for musicians and bands.
All of the options outlined above have industry-level features that will work to help you create and maintain a powerful online presence as a musician in a competitive landscape.
The platforms are also extremely easy to use, which means people of all skill levels can now create their own professional musician websites.
My number one recommendation for a website builder for musicians is Squarespace, a revolutionary tool designed specifically for bands and musicians.
If you are a total beginner, you might be better off starting with a free platform like Weebly so you can get the hang of the user interface, as well as the process of designing, editing, and creating websites. Of course, you can find a full list of other website builders here.
For someone looking for a more powerful website building solution with advanced features, BandVista is a great option for you to consider.