Video is arguably the most powerful tool in content marketing. Consumers love it for many reasons. In addition to being easily digestible, video is also highly engaging. You can use it to boost the effectiveness of virtually every aspect of digital marketing, including landing pages, websites, blog posts, social media platforms, eCommerce stores, email marketing, and much more.
If your line of work involves creating videos, then you need to have the right platform to showcase your work. Whether you're a freelancer creating marketing videos for businesses or a professional videographer involved in media production, you need to create an outstanding online portfolio that will have clients clamoring to hire you. To that end, I have written this guide to help you choose the best website builder for videographers.
What Are the Best Website Builders for Videographers?
Best Overall Website Builder for Videographers (Starts from Free, then $16/month)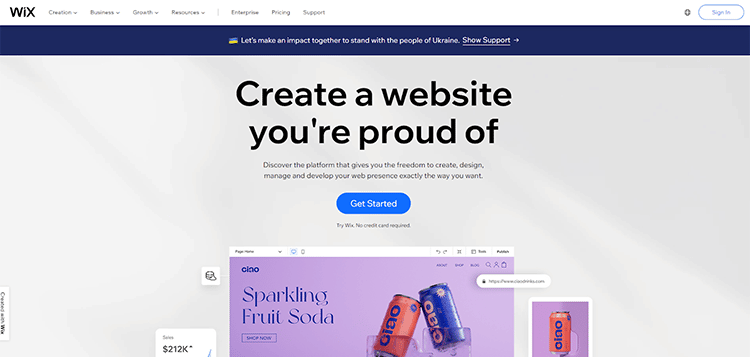 With Wix, you can build a professional website that looks appealing to all your potential customers. The platform has powerful tools, including 800+ designer-made templates, 40 of which are specifically made to showcase video content. This will make it easier for you to build trust in your brand and your expertise as a videographer.
This is undoubtedly one of the best all-around site builders for videographers you'll find out there. You can upload videos directly to your website using the platform's Single Video Player.
There is no maximum on the number of videos you can embed, which means you're not limited with regard to the amount of content you can create. Simply throw your videos on YouTube, copy the embed code, and paste it on your website – and that's it.
Key Features:
Free Video Player Apps: The platform comes with a variety of video player apps to choose from, which takes away the need to integrate third-party apps and tools.
Video Portfolio Templates: Wix has over 40 templates that are specifically designed for creating unique video portfolio websites.
Cool Animation Effects: Use this feature to create a video portfolio with a better chance of standing out in an over-flooded industry.
Pricing: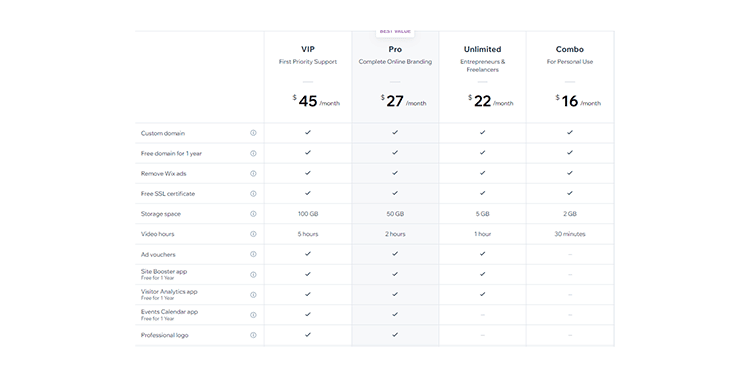 You can get started with Wix for free, but the free plan is severely limited in storage space and other features. Unlock more features and space by upgrading to one of the paid plans starting from $16/month.
---
Best Website Builder for Exceptional Design Options ($2.79/month)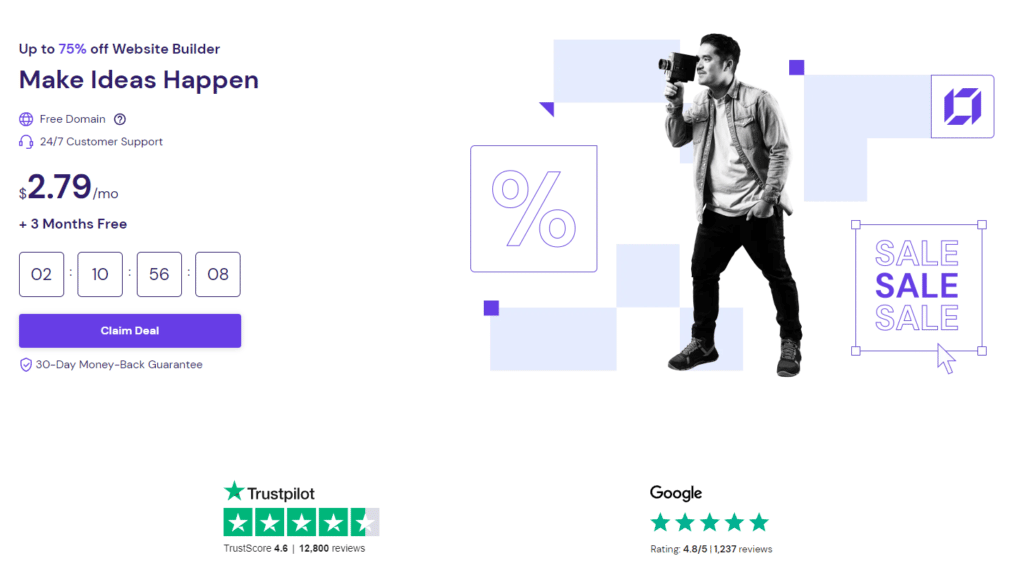 Hostinger is a great website builder for showcasing videos. With this platform, you'll be able to easily put together an exceptional video portfolio to help you start landing clients right away.
Whether you want to create a digital video portfolio to showcase all your work, use your videos in your marketing, or make it easy to share with clients, this platform will help you achieve your goals.
The software pairs modern responsive templates with a simplistic yet functional drag-and-drop editor. This combination makes for a super-fast website building process that results in a clean and attractive videographer website.
You can create a website yourself or use Hostinger's AI tool to build it for you. Moreover, the platform offers plenty of features to boost your website's visibility, including SEO tools and over 130 fully customizable templates.
Key Features:
Beautiful Video Gallery Layouts: Hostinger has dozens of custom-designed video-themed templates to choose from.
Powerful Integrations: The platform has a host of helpful third party integrations with marketing, SEO, and analytics apps.
Affordable Pricing: Hostinger's prices start from just $2.79/month, making this one of the most affordable website builders for videographers.
Pricing:

Hostinger offers one simple plan with a 30-day money-back guarantee that offers a free domain, email, e-commerce features, marketing integrations, the ability to host 100 websites, unlimited traffic visits, free SSL certificates, and their proprietary website builder for $2.79/mo with the first 3 months free.
---
Best Website Builder for Videographers for Ease of Use and Powerful Web Design Features ($16/month)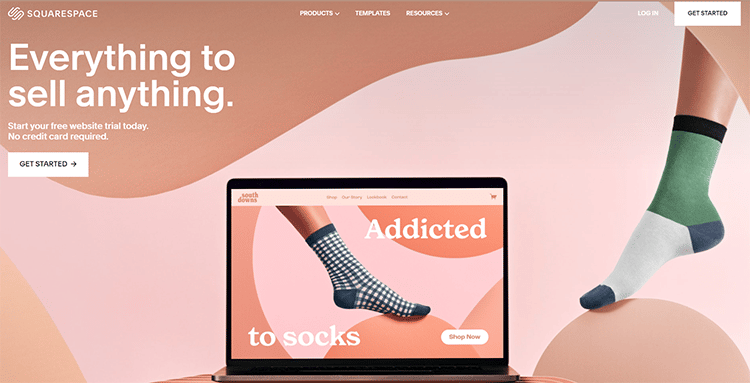 Squarespace comes fully loaded with a ton of amazing features that will make your video portfolio stand out.
Not only does the site building software have some of the best templates around, it also comes with all the tools you need to build and launch a website integrated directly into its editor so you don't have to search for them elsewhere.
You can upload and embed video content to standard frames. You also have the ability to create a gallery block so you can showcase your business videos in a variety of ways, including slideshows, carousels, or grids.
Best of all, Squarespace has powerful search engine optimization features that will help you gain new customers through organic traffic.
Key Features:
Unique, Modern Templates: One of the best features of the platform is that it has a wide selection of beautiful templates that will make your videos stand out.
Tons of Storage: When you sign up for one of the paid plans, you get lots of storage and unlimited bandwidth.
Video Gallery Feature: Present your portfolio in the most effective way with the platform's video gallery. This tool can also be added to any template that wasn't built as a video portfolio.
Pricing: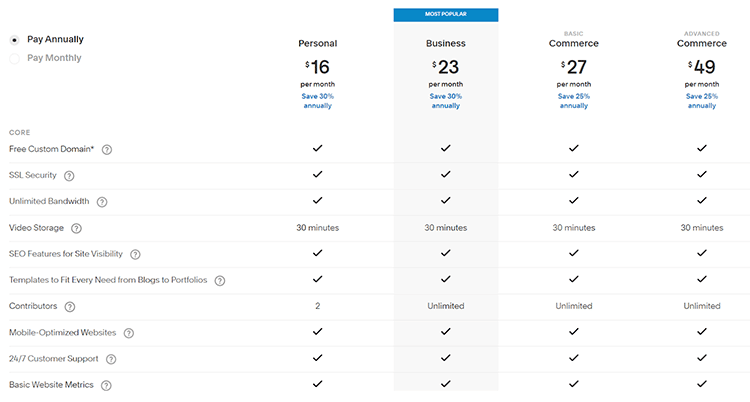 Squarespace pricing plans start from $16/month for the personal plan. You can take advantage of the annual plan to save up to 30% on your subscription.
---
Best Website Builder for Videographers for Single Page Layouts (Starts from Free, then $8/month)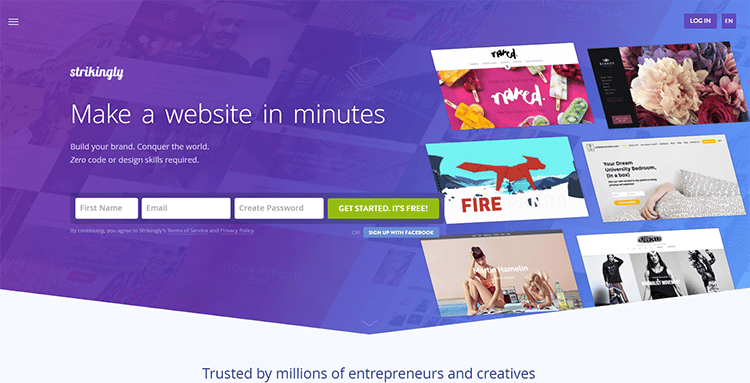 Strikingly is the best website builder for creating one-page videographer websites. It's perfect for marketers and small businesses who want to build portfolios, product landing pages, or share events.
You'll be able to show all the information on a single good-looking page, and you also have the option of adding a blog and an online store with up to 500 products.
Strikingly's designs look very modern and are optimized fully, which means your pages will look perfect on all devices, including smartphones and tablets. You can enhance the mobile experience further by adding mobile actions like easy access "call", or "send email" buttons.
Key Features:
Ease of Use: Strikingly is one of the least complicated website builders you'll find out there. The drag-and-drop editor is designed to be beginner friendly and zero coding skills are required.
Single Page Focus: This is a great editor to choose if you want to create a beautiful-looking single-page layout.
Cheap for Multiple Websites: You don't have to pay more for additional websites, simply sign up for the Pro plan which includes three websites for just $16/month.
Pricing:
Strikingly's entry plan is free forever and will allow you to create a basic videographer website so you can test the platform's main features. But, if you want to build a more professional website, then you will need to upgrade to one of the paid plans starting from just $8/month.
---
Best for Affordability and Value for Money (Starts from Free, then $6/month)
Characterized as the best website builder for videographers in terms of affordability and value, Weebly has a massive range of beautiful designs that are sleek and flexible. 
The platform has an interface that perfectly merges structure and customizability so you can present your video content out-of-the-box.
Play around with different, videography-themed templates and add multiple features to your site through the app center.
This means that your site will have the exact functionality you want – and all without having to hire expensive developers. There are also powerful eCommerce features so you can start selling your services online instantly.
Key Features:
Easy to Use: Weebly has a range of beautiful, fully customizable templates that simplify the entire website building process.
Handy Apps: The platform has an unparalleled app center to help you expand the functionality of your videography website.
Free Plan: You can start building your site and take as long as you need to make it perfect before signing up for the paid subscription.
Pricing: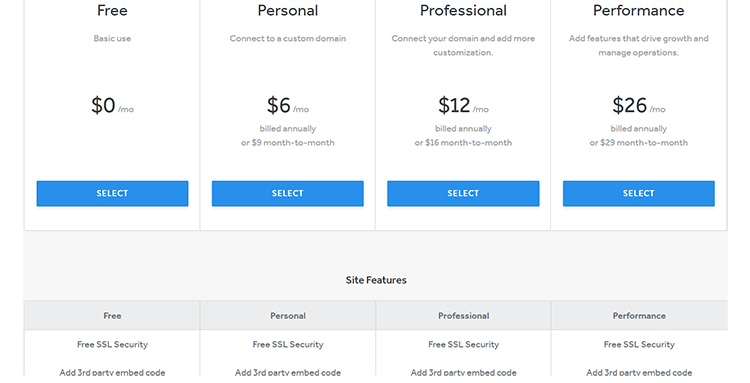 Weebly has a free plan that you can use with no time limits. However, it is limited in features and functionality. You can use this plan to test out the software, and if you decide that it's a great fit for you, simply upgrade to one of the paid plans starting from $6/month.
---
Best for Stunning Pre-Made Website Templates (Free Plan, then $3.90/month)
Webnode is a popular site builder that allows you to create your own videography website for free. In just minutes, you'll have a stunning site to showcase your best video content and start attracting your target clients.
You can get started using the platform for free with no credit card required. Simply sign up with an email, and start building your website right away. The best part is that you can create and update your site on the go thanks to the platform's app.
There's a super helpful support team to help you through the website creation process. But, chances are, you won't need them because the website's editor is extremely easy to use.
All you have to do to build your site is simply choose from hundreds of carefully prepared templates. Click and drag different types of elements, such as text, images, and videos onto a page. You can then customize colors, fonts, etc. to make your design stand out.
Key Features:
Fully Customizable Templates: On Webnode, you'll find tons of customizable video page templates to create a stunning videographer website.
eCommerce Features: Add an online store to your website in just a few clicks or open a brand-new store using one of the many templates on the platform.
Free Email: Communicate with your clients like a pro using the mailbox which is automatically created on your domain to help you strengthen and unify your brand.
Pricing:
Webnode allows you to build and run a website for free. You'll get free hosting, professional customer care, and unlimited website pages. However, if you want additional storage and bandwidth, as well as the ability to use your own domain, then you must upgrade to one of the paid plans starting from just $3.90/month.
---
Best for a Scalable Videographer Website (Starts from Free, then $4/month Billed Yearly).
WordPress.com is a popular blogging CMS (content management system) that allows you to personalize your videographer website using professionally designed templates.
The platform provides a user-friendly, streamlined editor to create exceptional websites, and you will be inspired toward a perfect web design regardless of your skill level.
Get full control over all the elements of your site, including text, images, and videos so you can customize each of them and create a website that truly matches your brand. With this platform, you'll be able to launch a stunning online video portfolio to meet your needs.
Key Features:
Video-Specific Templates: WordPress.com comes with out-of-the-box themes that are ideally suited to video portfolios, and you'll find plenty more on marketplaces like ThemeForest.
Multiple Video Player Options: WordPress provides dozens of free and paid plugins to simplify the process of embedding and hosting videos.
Advanced Video SEO: The platform comes with a set of robust SEO tools, including the Yoast Video SEO plugin that helps your videos rank higher on Google's video carousel.
Pricing:
WordPress.com allows you to get started for free. But, to make use of all the third-party themes, plugins, and other features, you need to upgrade to one of the premium plans, starting from just $4/month billed annually.
---
Best for Videography-Themed Templates (Starts from Free, then $4.50/month)
Despite being a new kid on the block, Boxmode has proven itself to be a reliable website builder that is perfect for photography and videography websites. It has a range of optimal tools to suit any type of project, both small and large.
You can enhance your online presence using the platform's outstanding scalability, which includes comprehensive business website promotional landing pages, online stores, marketing tools, and much more.
Key Features:
Beautiful Designs: Boxmode has dozens of unique, ready-made templates to fit almost any niche you can think of.
Easy to Use: The platform provides building blocks with widgets. Simply place these on a visual canvas using drag-and-drop tools to create a full-featured website in minutes.
Powerful SEO Features: As a videographer, you can use the platform's SEO features to ensure your video content ranks high in search.
Pricing:
Built with artists in mind, this freemium video portfolio platform is a cost-effective way to showcase your videos. There is a free Starter plan available and premium plans start from just $4.50/month.
---
Best Website Builder for Videographers and Photographers (Free Trial, then $9.17/month)
Fabrik is a website builder created by directors, editors, and cinematographers who understand the needs of the modern videographer. These are people who have in-depth knowledge and understanding of how video creators' websites need to look and function.
Although all the website builders on this list will get the job done, Fabrik will help you achieve so much more. The platform has a simple but powerful drag-and-drop builder designed to make it easy for anyone to create outstanding pages regardless of their skill level.
This is a great site builder for you to use if you want to create a strong brand away from your YouTube channel.
It has easy Google Analytics integration and, like many responsive website builders, is fully responsive on all devices. You can sign up for a free trial with no credit card required and you get a superfast media delivery network and robust 24/7 customer support.
Key Features:
Intelligent Themes: Instantly switch layouts without affecting any of your content or media.
Fastest Build Time: The platform offers near-instant imports from video-sharing sites like YouTube, Vimeo, etc. which means you can be launch-ready in minutes.
"Stacked" Feature: This handy feature lets you integrate different media in your projects if you want a feed view.
Pricing:
Fabrik doesn't have a free plan. However, you can get a free trial of the software by signing up on the platform. Paid plans start at $11/month paid month-to-month, or $9.17/month billed yearly.
The "Unlimited" plan costs $21.67/month and comes with unlimited portfolios, blog posts, media storage, and projects, as well as SSL site security and advanced support.
---
Best for Robust Email Marketing Features ($9.99/month)
GoDaddy is a user-friendly website builder that allows you to upload videos to your site or import them from YouTube, Vimeo, and other video-sharing sites using a URL.
You get unlimited storage on all premium plans, but there is a limitation on the amount of media you can upload. If you want additional storage space, then you have to pay extra. For instance, you can upload 5 GB or three videos directly into the media library. But, if you want to upload more content, then you'll have to upgrade to a premium Vimeo account.
One of the best features of this platform is the powerful email marketing tools. You'll be able to use stunning, mobile-friendly email templates, create automatic email campaigns, and send up to 25,000 emails each month, depending on which plan you choose. This is a great feature to have if you create videos for marketing purposes.
Key Features:
Appointment Booking Feature: Allow your visitors to easily schedule one-time or recurring appointments on your site.
WhatsApp Chat Button: This feature allows visitors on your website to send messages directly to your phone.
External Review Integration: GoDaddy makes it extremely easy to display reviews from websites like Facebook, Yelp, Google My Business, Yotpo, etc.
Pricing:
Go Daddy has four growth-focused plans starting from $9.99/month. Each plan comes with a website builder, custom domain connection, and website security.
---
Best Specialized Online Video Portfolio Builder (Free Trial, then $3.50/month)
Format is a specialized site builder for videographers looking to build a stunning online portfolio. Naturally, the platform offers a great choice of portfolio-specific tools.
Choose from 73 templates, many of which are specifically designed for videographer websites. Customize your site with a wide variety of design and styling elements. You also have the option to include a basic eCommerce interface as part of your video portfolio, which means you can potentially start selling your work to clients right away.
The plans only offer between 15 minutes and 120 minutes of hosted video, but you're unlimited in the number of videos you can upload elsewhere and embed on your website.
Key Features:
Superior Video Portfolio Templates: Format is a specialized site builder for videographers which means it comes with specifically designed video templates.
Specialized Portfolio Tools: On the platform, you'll find a range of portfolio tools that will help make your video content stand out.
Robust Customer Service: Each of the premium plans comes with 24/7 customer service to provide you with help whenever you need it.
Pricing:
Format offers extremely affordable plans, starting from just $3.50/month billed annually. You can sign up for a free trial with no credit card required in order to test out the platform before committing to any of the paid plans.
---
Best for Simplicity and Ease of Use (Free Plan, then $12.80/month)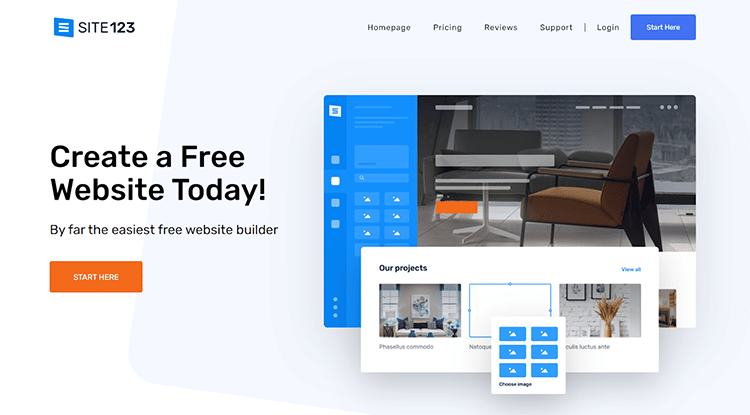 Site123 is a beginner-friendly website builder with beautiful, clean, and modern templates. It's one of the easiest ways to get your videography website online fast and comes with a straightforward page editor that requires no technical knowledge.
This is a great free website builder that's perfect for showcasing videos on your site. You will be able to do the job and get an awesome finished product to rave about.
The platform offers tons of storage space off the bat, which is an important feature for videographers since you'll be uploading lots of video content to your site.
Key Features:
Beginner-Friendly Site Builder: Site123 is extremely easy to use. It's perfect for students or videographers who are just getting started and want to have a website online in under an hour.
Simple, Unique Templates: Choose a videography-themed template, add a few basic tweaks using the drag-and-drop builder, and you'll have it set up for videos in no time.
Customizable Contact Forms: Use the 123 Contact Form Plugin to create professional, customized forms that will help you boost your brand and build trust with your clients.
Pricing: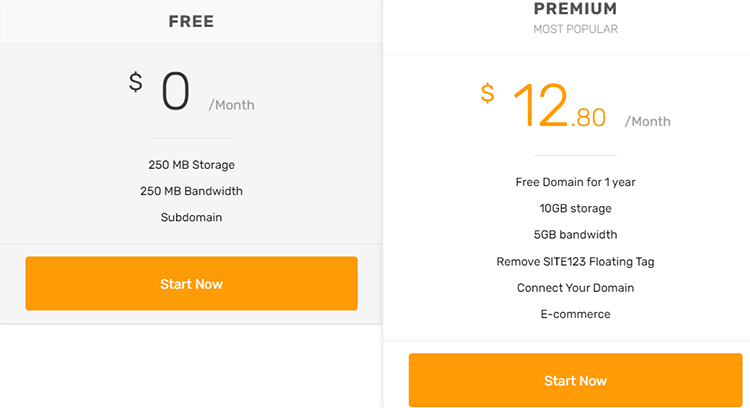 Site123 offers a free plan that you can use to get your site started. However, it has limited storage and bandwidth, and your website will be published on a subdomain. To create a more professional videographer website, upgrade to the premium plan for $12.80/month and you'll get a free domain, 10 GB storage, and 5 GB bandwidth.
---
Best for Beautiful Portfolio Websites (Starts from Free, then $1.88/month)
Pixpa is an all-in-one website builder designed to empower videographers, creative professionals, and businesses to create professional websites without having to learn code. You'll also be able to choose the best videographer website template based on your needs.
It's the simplest way to build your portfolio website and sell your work online. Using this platform, the process of adding videos is simple. Whether you are uploading videos directly to your website or embedding them from YouTube, you'll be able to do so in just a few clicks.
Key Features:
Extensive SEO Features: Pixpa has an SEO manager that comes with powerful tools for managing your site's alt tags, search engine-friendly URLs, automatic sitemaps, etc.
Affordable Pricing: Pixpa provides you with a robust suite of tools for creating an outstanding online portfolio website at an affordable price.
Built-In Blogging Tools: Create a video blog for your videography website using customizable layouts that you can fully personalize to match your brand.
Pricing:
You can try Pixpa completely free by signing up for a 15-day trial. Premium plans start from just $1.88/month, discounted from $5/month. You get mobile-optimized websites, beautiful customizable themes, website gallery images, and a free SSL certificate on all plans.
---
Best for Professional, Mobile-Friendly Website Design ($3.84/month)
HostGator is a web hosting giant with its very own website builder called Gator. Although it's not aimed at building a videographer website specifically, it does come with a range of customizable templates and general storage and bandwidth limits.
It also has a flexible, easy-to-use editor and various other features that make it a great option for videographers. Its intuitive AI website builder is perfect for anyone without much design experience.
Simply answer a few questions about the type of website you want and this innovative technology will create a personalized website design that you can then customize as required. You also get a choice of professional portfolio templates to choose from if you'd rather go that route.
Key Features:
Powerful SEO Features: Get your videographer website in front of your target audience quickly using the built-in SEO features and advice from SEO experts on the platform.
Full-Service Web Design: If you'd rather not build your website yourself, the platform has a team of experts that you can hire to build a professional videographer website for you.
Affordable Pricing: Starting at just $3.84/month, this is one of the most cost-effective website builders on the market.
Pricing:
HostGator is currently offering 50% off of all the premium plans. You can get the Express Start plan for just $3.84/month. This plan comes with an intelligent website builder, a free domain, a free SSL certificate, and three email campaigns per month.
You can upgrade to unlock more functionality and features, including eCommerce features, appointment booking, and priority support.
---
Best for Free, Reliable Hosting for Videographer Websites (Free Plan, then $12/month)
Webflow is a great website builder for videographers who want to have their site up and running in the shortest time possible, without having to learn a single line of code.
Use the platform's drag-and-drop editor to build a website that presents your online video portfolio in the most attractive way possible.
The website builder provides you with the essentials to launch a simple site and you can start to add other features like a blog, marketing features, eCommerce functionality, and sales tools as your website grows.
You also have the ability to increase your storage and bandwidth so you can handle more monthly visits without paying through the nose.
Key Features:
Visual Site Builder: Webflow has a no-code website builder that you can use to create, collaborate, and scale your websites.
Full Creative Power: The platform allows you to go way beyond templates to build a pixel-perfect website for your videography business.
Content-Driven Designs: Create your website around any type of content you want, including video.
Pricing:
Webflow allows you to start building your website for free. You can add to the side as you go live and unlock additional features as necessary. Mix and match Webflow plans according to your needs, starting with the Basic plan for just $12/month billed annually.
---
Additional Options:
Webself: Best website builder with a free 5-page site offering
FolioLink: Great features for video integration and SEO friendliness
FASO Portfolio Website Builder: Offers hundreds of modern design templates
Duda: Super-stylish video portfolio designs for an ultra-sleek site
Jimdo: Best for hobby portfolios looking to stay small
One.com: Beginner-friendly editor and helpful support resources
uCraft: A good platform for creating basic and functional video portfolios
SiteBuilder: Best for building a professional website fast
Web.com: Best custom-made design templates for videographer websites
WebStarts: A simple and free alternative to Wix, Squarespace, and Hostinger
What Features to Look For in a Videographer Website Builder
Creating a great videography website isn't just about throwing everything at your site to see what sticks.
You need to be strategic in choosing the right tools so you can showcase your work in the best way possible.
Listed below are some of the features to look out for during your research so you can choose the best videographer website builder to suit your needs.
1. Ease-Of-Use: The website builder you choose should be easy to use, especially if you're a complete beginner. You must be able to upload content to your website quickly and easily or embed videos from video-sharing websites like YouTube without any complications.
2. Attractive Templates: Choose a site builder that comes with a wide range of beautiful portfolio templates to choose from. Make sure these are built to highlight video content specifically so you can build your site using templates with the right features to draw attention to your video content first and foremost.
3. Maximum Storage Space: A lot of website builders don't offer enough storage space. You only get a few minutes of high-quality video storage, which is nowhere near enough for videographers. Make sure you choose a platform that offers tons of storage, as well as embedding options so you can publish and share as much content as you want on your site.
4. Reliable Video Playback: Having a reliable video player is an important consideration when building a videographer's website. A slow player decreases page loading speed, which means your videos may not be loaded properly. Visitors will be frustrated and ultimately click away to a competitor's website.
5. Optimized Website Speed: You need to choose a site builder that ensures a healthy site speed so you can keep Google happy and provide smooth viewing for your visitors. This can be through the use of built-in data compression tools or by converting to HTML 5-supported formats. Some site builders may even have integrated features to defer loading videos until page loading is complete.
6. Video SEO Features: As a videographer, you need to optimize each of your videos for search. Make sure the platform you choose has the right tools to make this process easy for you. For instance, you should be able to quickly insert video transcripts and optimize your video titles, descriptions, etc. using relevant keywords.
7. Additional Tools: Depending on your needs, you may want to choose a website builder that comes with additional tools, such as a built-in video player, marketing tools, eCommerce tools, third-party integrations, etc.
Videographers Website Builders Summary & Top Picks
Most website builders allow you to display videos on your website. But, that does not automatically make them great choices for video portfolios. You need a site builder that will present your video content in the best light so you can show potential clients what you are all about.
Any of the best website builders for videographers mentioned in this guide will help you create an outstanding video portfolio designed to make it easy for you to showcase, promote, and share your best work. If you are just getting started, a drag-and-drop site builder like Wix is more than enough. If you want more customization options, then a site builder like WordPress.com will serve you well.
Here are my five favorite website builders for videographers: