There are many reasons why kids may want to build a website, such as creating a personal blog, doing school projects, writing an online journal, or simply learning how to develop websites. Whatever the reason, it's important that they have a website builder that makes it easy for them to learn and use the technology without having to write any code.
Fortunately, there are some website builders that are designed specifically with children in mind. Read the rest of this review, where we look at the best website builders for kids. We'll look at important factors, such as features, plugins, widgets, and apps specifically designed for kids.
What are the Best Website Builders for Kids?
Best Overall Website Builder for Kids (Starts from Free, then $16/month)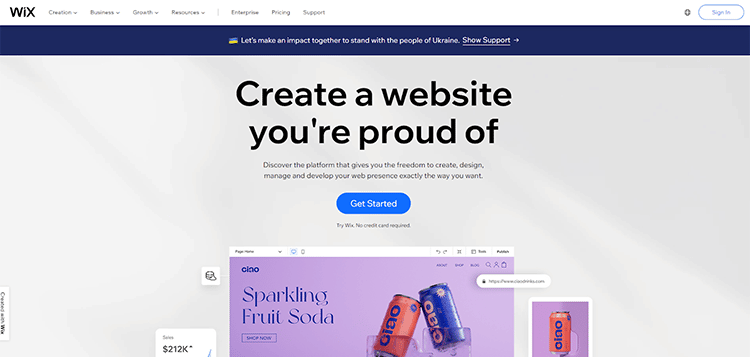 Wix has a wide range of fun, colorful templates that kids will love. You'll find a lot to choose from in the education category, which is particularly useful for school projects as it's also often used by teachers as well.
But, regardless of the reason for building a site, there's no doubt you'll be able to find something you like from the dozens of options available.
Simply pick a template, and then work customizing it and making it your own by adding text, images, or changing colors, layouts, and fonts. The platform has a powerful yet fun-to-use page editor that anyone can use regardless of age or experience.
There's also Wix ADI (Artificial Design Intelligence), an intuitive wizard that will create a website for you by asking you a few simple questions.
Like most other website builders, Wix comes with a free plan which means kids can use it for as long as they want. However, the free site is published under a Wix subdomain, which means instead of "YourWebsites.com," your site will be "YourWebsite.wixsite.com.
If you want to remove Wix branding and publish your site on your domain, you can opt for the Basic paid plans, which are affordable.
Key Features:
Wix Gallery: Kids love to share photos and videos with friends and family, and this platform makes it extremely easy to add digital content to the website and share it without needing basic coding knowledge
Free Plan Available: You can use Wix for as long as you want for free, which makes it perfect for kids just getting started learning how to build a website with free online store.
Kid-Friendly Templates: You'll find dozens of templates in different categories, including the education category and various others.
Pricing: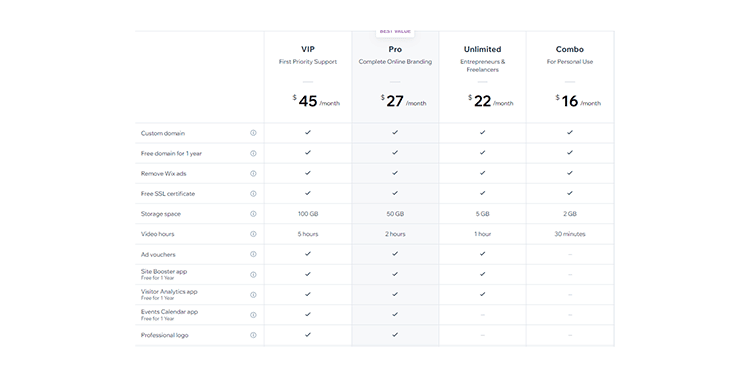 Wix has a free plan with hundreds of templates, unlimited website pages, and free top-grade hosting. You can upgrade to one of the paid plans to unlock more features and functionality. There are four types of premium plans to choose from. You can choose the Combo plan for just $16/month for personal use.
---
Best Value for Money and Ease of Use (30-day money-back guarantee, then $2.79/month)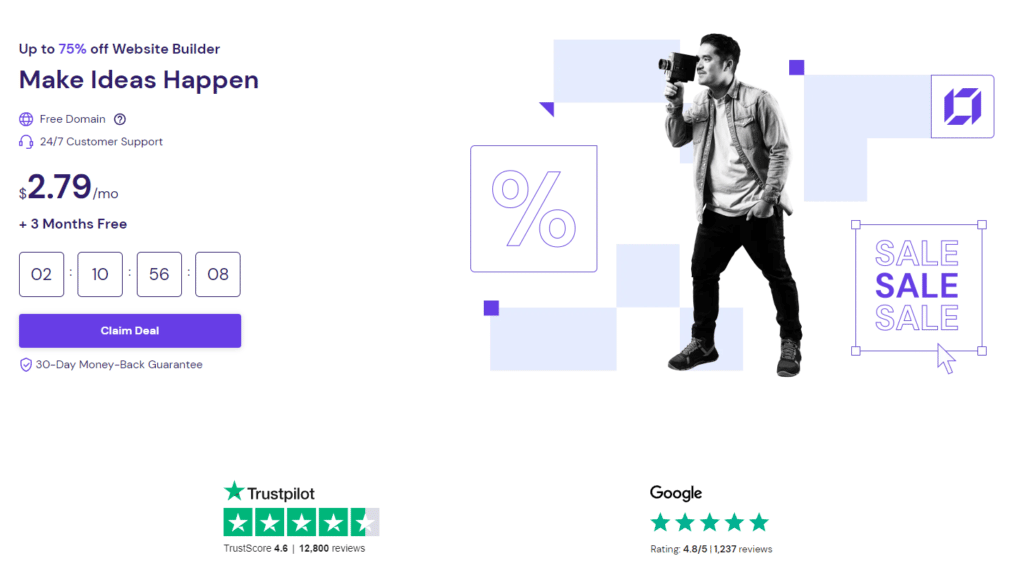 Hostinger has a simple drag-and-drop editor that makes it an easy-to-use kids' website builder.
You can add elements to your website page with a few clicks, including videos, slideshows, image galleries, and social media links.
The platform also has smart AI (artificial intelligence) tools that teach kids of all ages, and with which they'll have tons of fun. These include tools for creating a business name, slogan, logo, etc., content-generating tools, and more.
The best part about this platform is that it comes with over 100 awesome designs for different categories, including eCommerce, events, photography, etc.
All the templates are mobile responsive, which means they'll look good on any device. Furthermore, the platform has a huge stock image library with over 1 million photos that you can use for free.
Additionally, video options allow you to embed videos from YouTube, Vimeo, and any other streaming service.
With this best website builder, this platform has the best range of features to help kids build stunning websites.
Key Features:
Easy Editing: Hostinger offers a wide range of flawless, kid-friendly templates that can be edited with zero coding knowledge.
Start From Free: Besides having budget-friendly plans, the platform allows kids to get started for free on website creation.
Downloadable Content: Hostinger best website builder allows you to add downloadable content to your own website, which is an excellent way for kids to share fun pictures and videos with friends and family.
Pricing:

Hostinger offers one simple plan with a 30-day money-back guarantee that offers a free domain, email, e-commerce features, marketing integrations, the ability to host 100 websites, unlimited traffic visits, free SSL certificates, and their proprietary website builder for $2.79/mo with the first 3 months free.
---
Best Website Builder for Kids for Engaging Widgets and Apps ($16/month)
Squarespace offers a simple and intuitive editor that helps kids have fun while learning web design. The platform has many colorful and fun templates, ranging from single-page websites to personal blogs, portfolios, and more.
There's also a great block editor that allows you to add different sections to your own website using a grid, meaning that whatever type of content you add, the site will maintain a consistent design.
In addition to the block editor, you can use the site styles editor that allows you to decide the broader aspects of your own website, such as color and font choice.
Kids can play around and experiment with these and other settings without experiencing frustration.
This is one of the best platforms for kids to learn the basics of web design in a fun environment.
Even a six-year-old can construct a basic website on this platform with no instruction whatsoever – that makes this platform one of the best website builders for kids.
Key Features:
Visually Rich Templates: Squarespace has excellent support for images, videos, slideshows, custom backgrounds, and various other media items that kids will find interesting.
Widgets and Apps: There's also a wide range of widgets and apps to make your website more interactive and connect easily with family and friends.
Straightforward Block Editor: Squarespace has a simple yet powerful visual editor that simplifies the entire website building process for kids.
Pricing:
Although Squarespace doesn't offer a completely free plan, its premium plans do come with a lot of features to rival many of the other options on this list.
For instance, the personal plan costs $16/month and comes with a free custom domain, SSL security, unlimited bandwidth, and 30 minutes of video storage.
There are also SEO features to boost website visibility, website performance, mobile-optimized templates, and 24/7 customer support, to mention but a few of the many features to a complete website with just a few minutes of builder tools and customization options.
---
Best for Stunning Video Backgrounds (Starts from Free, then $8/month)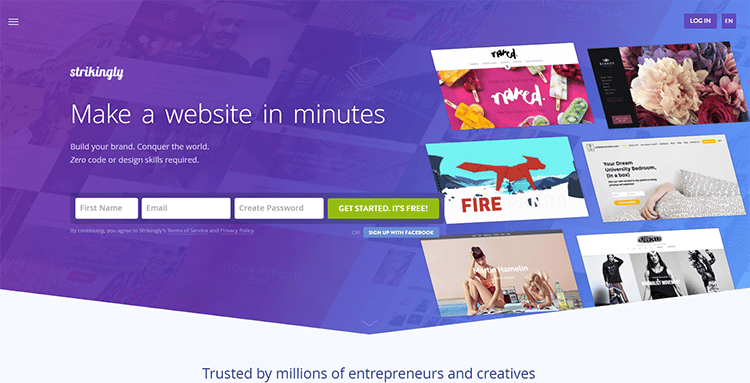 Strikingly gives kids the features they need to build a website in minutes. Zero coding or design skills are required, and you can get started for free (which makes Strikingly a free website builder for kids that are just starting out).
The site is trusted by millions of website creators thanks to its ease of use and exceptional range of features, including an easy website editor where you simply click on any element or page to change layouts, colors, styles, etc.
There are tons of templates to choose from, and you can publish your website instantly. You'll also find built-in eCommerce features, including integrations of PayPal and Stripe, so you can start making sales and get paid immediately if you are building a business website.
For everyone else, powerful tools will help you turn website visitors into super fans. This includes sign-ups, live chats, newsletters, and many other features that will bring your own website to life.
The platform also has galleries, video backgrounds, and password protection. Best of all, there's a social feed widget that shows your Instagram, Facebook, and Twitter feeds directly on your website.
Key Features:
Free to Start: Strikingly lets you get started for free by signing up on the website with no credit card required.
Modern Designs: The platform has sleek designs that can be further customized using the intuitive editor.
Video Backgrounds: This is a feature that kids will find intriguing for creating an engaging, one-of-a-kind website.
Pricing:
This platform has everything you need to build an outstanding kids' website for free. All you need is to sign up on the website, and you can get started creating a website right away.
You get unlimited free sites with up to five pages per website. You'll also get 5 GB monthly bandwidth and 500 MB total storage per website, and you can even add an online store and sell one product per website on the free forever plan. Premium plans start from $8/month.
---
Best for Beautiful Pre-Built Templates (Starts from Free, then $6/month)
Weebly lets you build a free website that grows as your needs grow. It's the perfect platform for kids who want to create their first website without having to undergo a long learning curve.
With the platform's flexible drag-and-drop editor, kids can easily put together exceptional website pages – even with little or no tech knowledge.
There is a range of pre-designed templates, many of which are kid-friendly and optimized for high performance online. This way, kids don't have to worry about anything other than building awesome pages.
For kids looking to create an online store, collect donations, or sell services online, this is a great builder to consider, thanks to its powerful eCommerce functionality that simplifies payments, shipping, order management, etc.
There are built-in marketing tools like Facebook Ads integration and automated email tools to help you grow your small business.
Key Features:
Step-by-Step Guidance: Weebly offers guidance at every step of the way, so kids avoid overwhelm and frustration while building their websites.
Free Website Builder for Kids: Kids can create any type of website and have it easily discoverable online, even with no prior experience.
Pre-Built Templates: There's no need to start from scratch thanks to the range of expertly designed templates, most of which are kid-friendly.
Pricing:
You can get started with Weebly for free. The basic-use plan is hosted on the Weebly subdomain and comes with free SSL security and the ability to add third-party code. You also get eCommerce features, marketing features, and 24/7 support. For additional features and to remove ads, you can upgrade to one of the premium plans, which start from $6/month.
---
Best for Powerful Website Integrations (Starts from Free, then $12/month)
Kids of all ages will love Webflow. The platform has a simple editor that allows you to create a beautiful website without the challenge.
You can get started for free. Simply sign up on the website and choose the template from the options available. Then, create websites by starting customizing your template by dragging and dropping different elements such as images, text, etc. You can then customize colors and fonts and experiment with different layouts to create a beautiful website that is truly unique to you.
No coding is necessary, and you'll have a site ready to go in minutes. You can add an online store with the click of a button or create a members-only space where you can monetize your content.
Either way, you can add dozens of tools and apps to make your website pop, such as creating immersive experiences with animations and interactions.
Key Features:
Robust Integrations: Webflow allows you to connect to various other tools and apps to boost your website's functionality.
Free Site Building Lessons: On the website, you'll find a library of over 400 free lessons that cover every aspect of web development in an easy-to-understand manner.
Free until Launch: Webflow allows you to play around as much as you want and experiment with different sites with user-friendly tools like online stores, creating a draft of your own domain name, and using the site builder and layouts until you are ready for the world.
Pricing:
Webflow has a Starter plan that kids can use for free. It comes with unlimited websites on a webflow.io subdomain. There's also a CMS with up to 50 items (e.g., 50 images in your portfolio) and 1 GB bandwidth.
To unlock additional features, you can upgrade to one of the premium plans, which start at $12/month. These come with a custom domain, unlimited CMS items, and 50 GB bandwidth.
---
Best for Enhanced Visibility Online (Starts from Free, then $5/month)
WordPress is the most popular website builder out there. This is because it's simple to use and offers high performance.
The accessible platform allows beginners to create stylish websites using the drag-and-drop editor, and kids can use a wide range of mobile-friendly templates to create a website in minutes.
With WordPress, the opportunities are endless, and you can use it in conjunction with other tools and apps to expand the functionality of your website.
For example, you can create newsletters for friends and family. You can also syndicate your content to social media channels and content platforms from your dashboard.
In addition to sharing your work easily, WordPress also makes it simple to monetize your content by providing you with the tools to turn website visitors into paying customers, including tools for accepting payments, donations, and even tips.
Key Features:
Beautiful Modern Themes: WordPress has an impressive range of mobile-friendly themes to fit any project.
Drag-And-Drop Editor: Easily add text, photos, videos, and forms to your website, drag and drop them to move them around the page until it's perfect.
Enhanced Visibility Online: Google loves WordPress websites because they load fast and come with everything required for SEO optimization straight out of the box.
Pricing:
You can start using WordPress for free to build websites on a .wordpress.com subdomain. WordPress comes with a free custom domain, 6 GB storage, Google Analytics integration, and tools to accept payments, donations, and subscriptions – all for just $5/month for the Starter plan.
The Pro plan for this Kids best website builders costs $15/month and comes with additional features that include WordPress plugins, premium themes, and WooCommerce integration.
---
Best for Safe and Secure Browsing (Starts from Free, then $3.90/month)
One feature that makes Webnode stand out from all other kids' website builders is that it not only allows fast and simple editing directly in your browser but allows you to see changes in real time.
Each plan of this kids website builder comes with reliable hosting and backup features to keep your website content safe. In addition, you can restore previous versions of your site at any time.
All websites are optimized to load fast and smoothly, which means ranking high in search engines will be less of a challenge for a kids website creator.
You get a professional email account on your own domain, which is great for kids who want to build a business online and look professional.
Furthermore, Webnode lets you internationalize your website with 24 localizations so you can build your website in any language you feel comfortable with.
Key Features:
Unlimited Pages: You can create as many projects and pages as you want with no limits for your own websites.
Safe Browsing: All Webnode websites come with SSL certificates, which enables secure HTTPS browsing.
Edit on the Go: Kids these days lead busy lives, too, and the platform makes it easy to edit and manage your website on any device, such as a smartphone.
Pricing:
Webnode allows you to create and launch a website for free. You get reliable hosting, professional customer care, and unlimited website pages. If you want additional websites or to unlock more features, you can sign up for the Basic plan for $3.90/month. It has 200 MB of storage, 1 GB bandwidth, and premium support.
---
Best for Easy Customization (Starts from Free, then $9.99/month)
GoDaddy is one of the easiest website builders to use. You have to pick a template to start your website for free, unlike the other best website builders for kids. Then, add your content to make your website yours, and hit publish.
You'll find tons of built-in marketing tools that you can use to let people know your site is ready for visitors. Manage everything from an intuitive dashboard, whether on a PC or Mac device.
When you're ready to start selling, you can upgrade from the free plan to an online store to get full eCommerce functionality. Everything they'll need, including social media and email marketing, PayPal payments, SSL certificates for site security, and 24/7 customer support.
When you're ready for additional features, such as custom domain, SEO optimization, etc., you can upgrade to one of the premium plans.
Key Features:
Expertly Designed Templates: Make waves with your new website using one of the many prebuilt templates on GoDaddy.
Easy Customization: You'll be able to create beautiful content and easily customize it, thanks to the powerful website builder on the platform.
Growth-Focused Plans: GoDaddy allows you to get started for free and then unlock more features as your own website or business grows.
Pricing:
Like most other website builders here, GoDaddy allows you to get started for free. You get a mobile-friendly website with built-in features for marketing and sales for your own websites. When you're ready to upgrade, you'll find a plan for every plan, starting from $9.99/month for the Basic or personal user website.
If you're interested in starting an ecommerce store, you may want to check this comparison of Shopify vs GoDaddy.
---
Best for In-Depth Insights and Analytics ($4.95/month)
Powered by Web.com, SiteBuilder is a platform for building professional websites, fast. Even kids can have a fully functional website in just minutes. That's how easy it is to use this platform.
Simply answer a few questions about your website on one of the best website builders for kids, blogs, businesses, or portfolios, and the AI builder will get to work creating a website based on the answers you gave.
Absolutely no coding is required, and you'll have a website that looks and feels exactly the way you want.
The simple interface automatically creates your website using smart design best practices and techniques, so you end up with a polished and professional result.
You can customize different aspects of each page, including the layout, colors, and fonts. You'll also get over 1 million free images that are web-ready and copyright-free.
All in all, this is a great website builder for kids that want to build a solid presence online.
Key Features:
Free Domain: When you sign up for any of the qualifying website plans, you also get free domain registration.
Stellar Support: If you need assistance at any time during the website creation process, simply email, call, or start a chat with the platform's support team.
Insights and Analytics: This feature lets you know who landed on your website, how they used it, and various other engagement metrics in real-time.
Pricing:
Get all the website essentials you need for just $4.95/month. With the website-only plan, kids can save up to 60% and start building their website right away. As your website or business grows, you can upgrade to the higher tier plans, which include marketing tools, eCommerce tools, and more.
---
What is a Website Builder for Kids?
A website builder is a platform that comes with intuitive, easy-to-use tools designed to make it easier for kids to design, build, launch, and maintain websites.
It comes with kid-friendly templates for different types of websites, such as personal blogs, online journals, portfolios for creative work, school projects, online businesses, etc.
It also has a variety of integrations for things like social media, video backgrounds, interactive content, etc. that kids will find interesting and helpful in creating their website.
The websites outlined in this article are all great options for kids and offer free plans or free trials so kids can try them out before choosing the one they like best.
How to Make a Website for Kids?
If you want to know how to make a website for kids, you'll be happy to know that it's rather simple. You can build your own website for kids by deciding the site's niche & primary topics, finding a hosting provider (most website builders for kids already include hosting in their plans), choosing a colorful and playful website theme, building the site (ideally using the drag-and-drop method which most builders offer), and populating it with content.
In essence, website building for kids doesn't differ much from any other form of website building, but be mindful that kids love interacting with things so a website for kids might need more interactive content & features than others.
Types of Website Builders for Kids
There are different types of website builders for kids. Some are geared at helping kids learn web development in a fun environment, while others are aimed at making the site-building process as simple as possible without the need to learn code. For example:
AI Website Builder: Wix offers an Artificial Design Intelligence (ADI) wizard that asks a few guiding questions and the AI will build a website according to the user's needs.
Block Editor: This allows you to add various sections to your site using a grid so that each page maintains a consistent design.
Site Styles Editor: Website builders like Squarespace offer a "site styles" editor that lets you choose the broader aspects of your site, including fonts and color choices, so you can create truly unique pages.
Some website builders for kids come with basic coding fields that help kids learn simple HTML and CSS in a fun, yet challenging way.
What Features to Look For in Website Builders for Kids
Here are the features to consider when choosing the best website builder for kids.
1. Ease of Use: This is a big one because kids get frustrated quite easily. That's why it's important to choose a website builder that is simple to learn and use. It should have an intuitive editor and simple tools that kids can figure out quickly.
2. Kid-Friendly Templates: Kids love to have choices, so the website builder must come with dozens of different templates that kids can choose from. Fortunately, all the website builders on this list have amazing selections of fun, colorful templates for kids' websites.
3. Customization Options: Some kids enjoy the challenge of trying out different designs and would love a website builder with robust design and customization capabilities, even using the free version of the site and not yet having a custom domain name.
4. Interactive Features: The last thing a kid wants is to build a boring, static website with no fun features. So make sure the website builder you choose has either built-in tools or integrations with apps to make the website come alive. Think modules that allow for educational material, games, math problems, puzzles, quizzes, science projects, crafts, jokes, fun facts, etc.
5. Free Plans and Affordable Pricing: Almost all the website builders on our list come with free plans or free trials so kids can try out the software before deciding which one they prefer. Also, the website builder you choose should have affordable pricing that kids can easily cover with their weekly allowance.
Website Builders for Kids Summary & Top Picks
There you have it. The top websites that provide a quality environment for kids.
With these tools from all the builders we discussed, kids can create beautiful, functional websites regardless of their purpose with their own theme and how-to guides for them– whether it's for school projects, personal blogs, online businesses, etc. And each of these tools is designed to allow for growth, which means the site will grow as the kid's business websites or interests grow.