If you're thinking about building a website, you need an SEO-friendly site builder with the right features to get you real results in the SERPs (search engine results pages). This is important because over half of all traffic comes from natural search, and your ability to rank your website and generate targeted organic traffic will play a huge role in your success online.
Fortunately for you, I've done all the research to bring you 10 of the best website builders for SEO. Read the rest of this review to discover what each of them offers so you can choose the right one to suit your needs.
What are the Best Website Builders for SEO?
Best for Overall Website Builder for SEO ($16/month)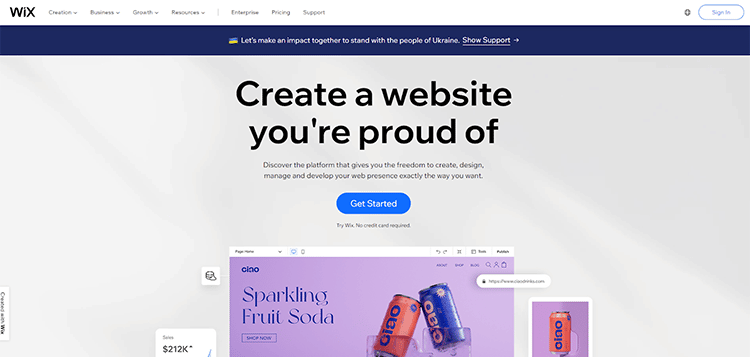 Regardless of your skill level, you'll be able to use Wix to create a website you, your audience, and Google will love. It's one of the best website builders for SEO out there.
The platform has a powerful yet easy-to-use master website builder that gives you the freedom to create, design, and manage your web presence however you want with a content management system and SEO checklist using the Wix website builder for SEO.
You can get started with a free plan, no credit card is required, and you get to use all the platform's tools, including powerful search engine optimization tools that will allow your website to be found easily online.
Wix has an AI-powered tool that helps you optimize your site just by answering a few questions about the website, location, and keywords. You'll then receive an SEO plan personalized according to your requirements.
There is also a range of advanced features that allow you to start your own blog or add an online store, accept bookings online, and much more.
Key Features:
SEO-Friendly Website Templates: With Wix, you can choose from over 500 customizable website, blog, or online store templates, all of which are optimized for SEO.
Wix Editor: Once you've selected your templates, you can fully customize them using the drag-and-drop website builder to bring your website to life with elements such as scroll effects, animation, video backgrounds, and more.
Wix ADI: This tool allows you to easily get your website online with an SEO wizard, even if you've never built the site. Simply answer a few questions in the artificial design intelligence will create a custom website for you in just minutes.
Pricing: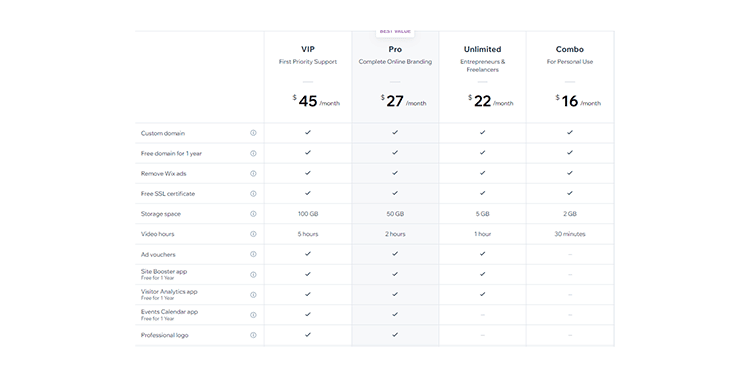 Wix has a straightforward pricing structure. You can get the Combo plan for $16/month which comes with a free custom domain for a year and a free SSL certificate after the free version.
You also get 2 GB of storage space and 30 minutes of video hours.
To unlock additional bandwidth and features, you can upgrade to the higher tier plans, which include the Unlimited, Pro, and VIP plans with first priority support.
---
Best for Flexibility and Reliability ($2.79/month)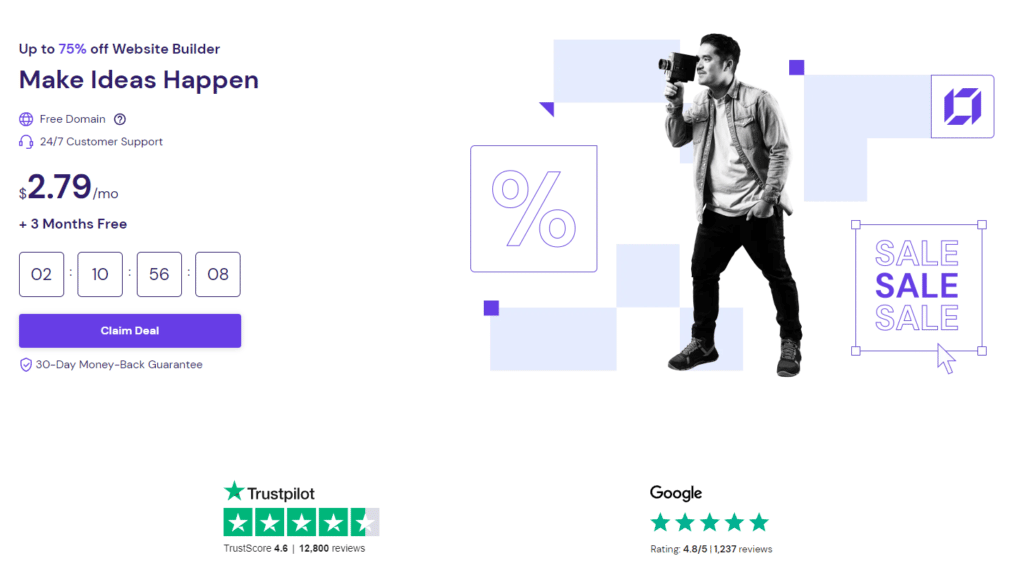 Hostinger is designed to be extremely easy to use. With flawless templates, easy editing, and zero coding required, this platform is perfect for beginners with no web design experience.
You can build a website in minutes using the simple drag-and-drop editor on the platform. Simply choose your website plan to get started and sign up for a free trial.
You'll be able to test the platform's features without incurring any risk.
Enjoy 24/7 customer support, and sell online with no hidden fees. Set up in minutes and sell everywhere.
This is an online seller's dream website builder that will help you drive targeted traffic online thanks to its powerful SEO settings and AI tools designed to help you build a strong brand online.
Key Features:
SEO Optimized by Default: Hostinger website builder is search engine optimized out of the box, but you can get more control over your pages by changing meta titles and descriptions.
Lightning Fast Speed: One of the reasons this is such a great website builder for SEO is that it has superfast page speeds that ensure your website or online store always performs perfectly.
Free SEO Tools: Even without tech knowledge, you'll be able to navigate the platform's simple yet powerful SEO tools.
Pricing:

Hostinger offers one simple plan with a 30-day money-back guarantee that offers a free domain, email, e-commerce features, marketing integrations, the ability to host 100 websites, unlimited traffic visits, free SSL certificates, and their proprietary website builder for $2.79/mo with the first 3 months free.
---
Best for eCommerce ($16/month)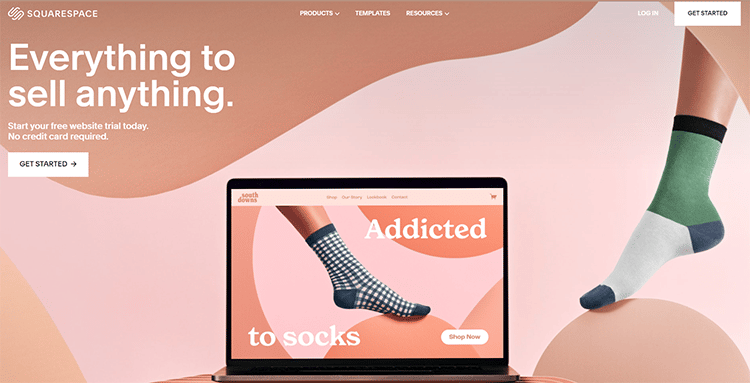 The main focus of this website builder is to help you build a professional website to grow your business online.
The site focuses on providing you with all the marketing tools you need, including advanced SEO tools you can leverage to optimize your website for search and visitors.
Every website you create on Squarespace comes with integrated features and helpful guides to help you maximize your visibility among search results.
You get an SEO best practices checklist that takes the mystery out of SEO and helps you learn how your website can be optimized for search.
You can easily give your site a strong foundation for ranking well in search results.
Key Features:
Google Search Console: Squarespace website builder can integrate directly with GSC so you can verify your website and see the keywords being used by your visitors and customers to find your site.
Advanced SEO Page Settings: You can hide pages, change SEO page titles and descriptions, and control your social image – all from your dashboard.
eCommerce SEO: The platform automatically generates SEO-optimized pages with static URLs for each product category.
Pricing:
Squarespace allows you to set up your website and pick a plan later. Once you get started, you can choose from four simple plans with simple prices, which means you only pay for what you need. Plans start from $16/month, and you can change or cancel your plan anytime.
---
Best for Enhanced Website Security ($8/month)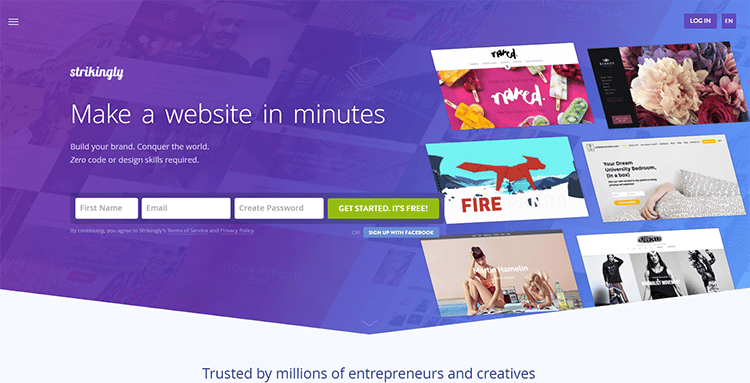 Strikingly is a great website builder if you're looking for a quick and easy way to build your brand online.
With it, you can create a website in just minutes with zero web coding a design skills required. Like most other website builders on our list, you can get started with Strikingly for free.
Simply sign up on the website, and you'll be able to start using the platform's powerful page editor to build your website.
The software is trusted by millions of creators and entrepreneurs thanks to its SEO features designed for non-technical users.
Now, you can cultivate your audience online and get your website in front of your target readers by clicking a few buttons on the platform.
There are
built-in eCommerce and blog features, contact forms, analytics (like Google Analytics) for search engine rankings, HTTPS, and more.
Key Features:
Built-In HTTPS: If you're focused on building the best SEO website for search engines, then you'll love the built-in HTTPS feature that you get for free to boost your SEO and security efforts and gain visitor trust.
Sleek, Modern Designs: The platform has beautiful, mobile-friendly templates that simplify building a website.
Powerful Blogging Features: Blogging and SEO are two powerful ways to bring an ever-growing traffic flow to your website, and this platform provides you with both.
Pricing:
You can get started on Strikingly for free by signing up for a 14-day risk-free trial. After that, plans start at $8/month for two restricted sites, unlimited free sites, 1 GB storage per site, and 50 GB bandwidth.
To unlock more features and functionality, you can upgrade to the Pro plan for $16/month or the VIP plan for $49/month.
---
Best for Creating Free Websites (Starts from Free)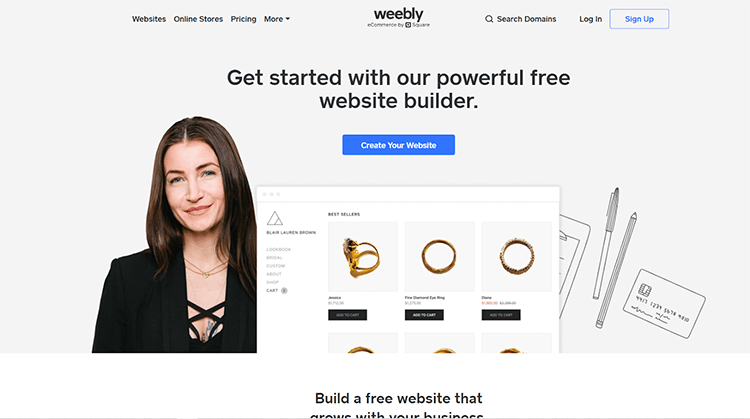 One of the best things about using Weebly is that it allows you to create a free website that will grow as your business grows.
This best free website builder for SEO offers no risk on your part in using this platform and discovering all its features.
Get access to customizable webpage designs and useful tools for growing your online business, including powerful SEO settings that will help you get discovered online.
Whether you want to build a blog, eCommerce site, or business website, Weebly will provide you with everything you need to get your website online and find new customers, thanks to integrated marketing and SEO tools.
Key Features:
Free Plan: With Weebly, you can build a free SEO-ready website to start growing your customer base and style.
Flexible Website Builder for SEO: You can build and launch your website in just minutes thanks to the flexible site builder that lets you create any type of website you want.
Robust Support: The platform support team is always on hand to guide you through all the typical hurdles new website builders go through.
Pricing: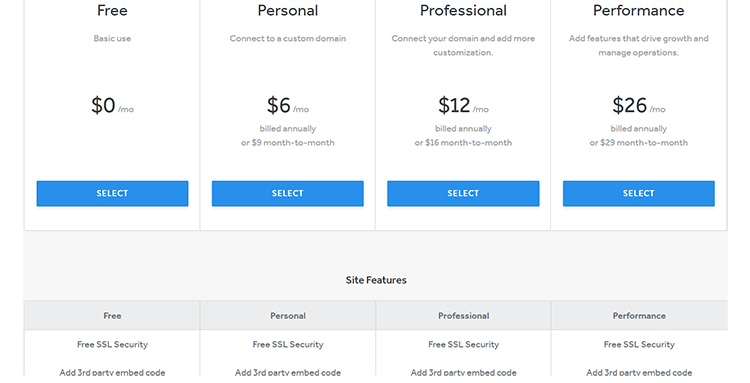 Weebly has a free forever plan for basic use. It comes with SSL security, and you can add third-party embed code. To get more functionality on your website, you can upgrade to any paid plans that allow you to connect to a custom domain and add a lot more customization.
---
Best for Free Web Hosting (Starts from Free)
If you want a website with a simple design and a professional look, then this site builder is a great option to consider as one of the cheapest website builders.
With it, you can have your website up and running in just three easy steps. Once you sign up, choose your design template, add your text and images, and publish your website online. Building a site has never been easier.
The best part is that it comes SEO optimized straight out the gate. So you don't have to worry about SEO settings because you automatically get a fast, secure, and optimized website or online store.
None of it requires technical knowledge, and the intuitive platform will guide you through the entire process.
Key Features:
SEO Friendly: WebSelf websites are Google-friendly and come with all the essential search engine optimization tools.
SSL Security: Your website and data a safe and secure thanks to the platform's HTTPS protocol.
Free Web Hosting: Your website is hosted free courtesy of WeSelf's reliable cloud infrastructure. There's nothing to install or update.
Pricing:
WebSelf website builder for SEO has a free plan that you can use without any time limits. Simply sign up on the website to start, and you get all the essential features to build a 5-page website on a webself subdomain.
To remove the "Powered by WebSelf" branding and unlock more features and website pages, you can upgrade to one of the paid plans, which starts from $8.95/month.
---
Best for Free Hosting Network (Starts from Free)
Webflow is a robust platform that transforms your business website into a marketing asset and not a web development challenge.
Millions of individuals and teams use it to create, launch, and scale beautiful websites in an entirely visual canvas. In addition, there's no coding needed for SEO efforts, which means you'll have the exact website you want without the dev time.
Great for designers, marketers, and developers alike, this website builder comes with robust SEO settings that save you time to focus on what you do best – growing your business.
There's a range of beautiful templates that will bring out your creative power. If you're technically inclined, the platform provides access to HTML, CSS, and Javascript so you can unleash the full power of this flexible website builder.
Key Features:
Content-Driven Designs: Webflow website builder for SEO lets you create your new site around any type of content it needs so you can leverage SEO to bring in more traffic.
Optimize SEO: Fine-tune your SEO to rank higher in search and generate targeted leads for your website with SEO strategy using basic SEO plugins, basic SEO titles, and other advanced SEO options.
Connect to Other Tools: With the platform's robust integrations, you can connect to other sales, marketing, SEO, or web analytics tools (like connecting Google Analytics) for better results.
Pricing:
Webflow lets you start building your business or personal website as the best free website builder. The Starter plan comes with a .webflow.io subdomain, 50 CMS items, and 1 GB bandwidth for building websites. To unlock more functionality, you must upgrade to one of the premium plans, starting at $12/month.
---
Best for Effortless Website SEO ($5/month)
WordPress is the world's most popular site builder used by millions of bloggers, entrepreneurs, small businesses, and Fortune 500 companies worldwide and is a solid website builder.
Among the best SEO website builders, it is an accessible tool that allows you to create a professional website with drag-and-drop simplicity.
Your WordPress site is automatically mobile-friendly and SEO-optimized straight out of the box as the best website builder with meta descriptions and tools for SEO. You can also install Yoast SEO plugins like other site builders.
To get started creating a WordPress website, sign up on the website, and start building your website on the drag-and-drop SEO website builder using the dozens of building block options and styles to create any functionality you want.
As the best website builder with basic SEO features, with WP website builder, you can customize every aspect of your website and monetize it any way you want for site building with a free domain, effective page title, and XML sitemap with such a good SEO website builder.
Securely accept payments on your site using the WordPress.com Payments Block, and share your work online to grow your audience with the platform's powerful SEO and blogging tools, including page titles, meta description, on-page SEO basics, and more.
Syndicate to social channels and content platforms, create a podcast, build a community around your work, and much more. With a WordPress website, the sky is the limit using SEO features on-site, building, optimizing blog post, or use custom code for your site with this solid and one of the cheapest website builder.
Key Features:
Effortless SEO: WordPress provides you with SEO tools and SSL certificates—these come standard with every plan to build a website on the platform.
Modern Themes: You also get beautiful, clean, modern themes to build an SEO-friendly website that loads extremely fast.
Jet-Powered XML Site Maps: This feature will allow you to keep all your pages organized and auto-update them easily for Google search console and other search engines using advanced technical tools, SEO wizard, meta descriptions, mobile optimization, and more SEO features to help you even with less SEO knowledge.
Pricing:
You can get started with WordPress Starter for just $5/month. This plan comes with a custom domain name, 6 GB of storage, and Google Analytics integration.
Alternatively, you can upgrade to WordPress Pro to unlock the full power of the platform with custom themes, plugins, and much more for just $15/month.
---
Best for No-Code Website Creation ($3.90/month)
Webnode is a great website builder if you want to create your own website easily and for free. Then, in just minutes, you will have a site ready to publish online without paying a single cent – or having to learn a line of code.
No credit card is required to sign up, and you'll be able to build, manage, and update your site on the go using a tablet or phone and optimized for search engines using the best website builders with SEO features.
Thanks to the hundreds of templates on offer, you don't need to be a developer to build a stunning website that is SEO friendly for search engines and mobile-optimized (like Google analytics).
Simply pick a carefully prepared template, and use the platform's easy drag-and-drop editor to customize it to match your brand and preferences using basic SEO tools.
You can also boost your position with the perfect domain that you can choose from a broad selection of local and special domains on the platform and easily connect your own Webnode project.
Key Features:
Save Time and Money: This is one of the best free website builders for SEO that will allow you to create a site for free with a free version/free plan or even a free domain in just a few minutes.
Sell Online Easily: Choose from the many online store templates, or add an eCommerce store to your existing Webnode website in just a few clicks using online stores, mobile optimization, meta tags, meta titles, and more to help your personal websites and business grow!
Free Email Feature: Now, you can communicate with your customers like a pro thanks to the mailbox that is created on your domain to help you boost and unify your brand.
Pricing:
Webnode prices start from just $3.90/month. On this plan, you get 200 MB storage, and 1 GB bandwidth, and you can use your own domain. There's also a form builder and you get 30 days worth of website statistics.
To get unlimited functionality, you can upgrade to the other plans on offer, including the Mini, Standard, and Profi plans
---
Best for Built-In SEO Optimization (Starts from Free)
If you're ready to build a website without effort, then Jimdo is the right website builder for you.
This website builder for SEO is built for small businesses, this platform allows you to create a professional website or eCommerce store in just minutes using the impressive range of tools on the platform.
Make changes any time and add your own text and images. There are a free image library and robust photo editing tools to ensure that you build a totally unique website.
All pages are mobile-optimized to look great on any screen, and you can use the platform's logo creator to create a logo that will make your business more memorable using the best website builder.
Like most other website builders on this list, the very best thing about Jimdo is that it comes SEO-ready straight out of the box.
Key Features:
Built-In SEO Optimization: You don't need to be an SEO pro to build a Google-friendly website with this platform as all the optimization is built-in using this website builder for SEO with basic SEO features like meta descriptions, on-page SEO using advanced SEO tools or SEO plugins
Free Logo Creator: You can use the platform's free logo creator to design and download all the logo files you need, whether for digital or print.
eCommerce Made Simple: In addition to providing you with robust SEO tools, this website builder for SEO also makes selling simple with tools for booking appointments, taking payments, selling on Facebook, etc.
Pricing:
Jimdo website builder for SEO offers a free plan that provides you with all base features on a .jimdosite.com subdomain.
If you want an ad-free experience of a website builder for SEO with a domain included, as well as all core features, you can upgrade to the Start plan for $9/month. This is perfect for a personal website, or alternatively, you can opt for the Grow plan, which is great for business websites, for $14/month.
---
Additional Options for Search Engine Optimization Tools:
GoDaddy: Godaddy website builder is the easiest way to create a professional website with Godaddy's SEO features
Site Builder: Best for building a professional website fast.
Web.com: Best custom-made design templates.
Shopify: Best website builder for eCommerce.
Duda: Best website builder for coding your own site.
Site 123: Most intuitive and user-friendly website builder.
One.com: Best multi-purpose design, hosting, and email marketing platform.
WebStarts: A simple and free alternative to Wix SEO wiz
BigCommerce: Best website builder for large eCommerce sites.
Gator: Best website builder for web hosting scalability.
LeadPages: Best website builder for generating conversions.
Unbounce: Build great landing pages with the Unbounce Conversion Intelligence Platform.
What Features to Look For in SEO Website Builders
There are a number of important factors to look for when choosing the best SEO website builder. It's not only about price but also about the types of features you get and the ability to scale as your business grows.
Before making a choice, let's take a quick look at some of the most important factors.
1. Ease-Of-Use: The last thing you want is to choose a website builder with a long learning curve. You'll end up wasting countless hours trying to figure out the features and never get your website online.
So make sure you sign up for a free trial and test out the platform's interface to determine how easy it is to navigate and learn.
2. SEO Functionality: There's so much competition out there, and the best website builder for SEO must have tools that allow you to outpace the competition to achieve high search rankings for your website.
Fortunately, all the site builders showcased in this article have excellent SEO tools to ensure you get the results you want, even without SEO expertise or experience.
Many of the best website builders here offer actionable suggestions, keyword prompts, or SEO checklists – all of which are particularly helpful for those new to SEO.
You'll be able to easily perform all your SEO-related tasks directly within your dashboard or page editor, so there's no need to integrate any additional tools for search engine optimization.
3. Relevant Features: Make sure your website builder provides features tailored to your particular business or industry. There's no point in getting a website builder with advanced features that you don't need or use, as you'll still have to pay for these every month.
For example, if you only want to build a blog, you don't need to pay for advanced eCommerce functionality, and vice versa. That said if you're using Mac consider this list of builders.
4. Advanced Features: Speaking of advanced features, most website builders on this list are designed for ease of use. Some also offer advanced functionality for experienced web designers and coders who want to "get into the weeds," like the Yoast SEO plugin. If this is a feature you need, then make sure you choose your website builder accordingly.
5. Pricing: Whether you are a beginner or well-practiced at creating websites online, you want a platform that offers you all the features you need at an affordable price.
So, while this isn't the only factor you should consider before making a choice, it's still an important one to think of.
Most, if not all of the website builder options here and on this page offer free trials of free versions of the software to allow you to test it out before deciding which one is best for your budget and needs selecting a good SEO website.
What is The Best Website Builder for SEO?
If you're wondering what the best website platform for SEO is, the answer is that there's not just one single best SEO website builder.
The SEO website builder you might like and utilize the most may not have the same efficiency for someone else. Each SEO website builder has unique tools and features that can be helpful in certain situations but not in others.
The best way to determine the best web builder for SEO based on your needs and requirements is to compare a couple of them. Fortunately, I've made this process easier for you by mentioning the very best ones in this guide.
How Can a Website Builder Help With SEO?
There are many ways the best website builders can positively impact SEO. For example, you can change title tags and page descriptions from your dashboard.
You can also perform a wide variety of other SEO-related tasks from the page editor, making it easy to keep your website pages optimized.
The best website builder for SEO also helps you build fast-loading and mobile-friendly sites – two additional factors that impact your website's overall SEO. 
The best website builder also comes with expertly designed templates to be Google-friendly regardless of the type of website you want to create.
Furthermore, as previously noted, some website builders also offer SEO checklists and keyword suggestions to help you optimize your site.
Website Builders for SEO Summary & Top Picks
I hope by now you understand how vital SEO is to your website. The bottom line is that if you are not investing in search engine optimization, you are missing out on a lot of organic, targeted traffic.
Fortunately for you, the website builders mentioned in this review article all come with powerful SEO features to help you optimize your new website or eCommerce store for search engines and visitors.

Here Are My Top Best Website Builders for SEO Picks: