If you're thinking about creating a site of your own, there's never been a better time than now to get started. Not only are there endless opportunities for creating revenue online but it's also easier than ever to build a professional website even with no prior technical knowledge.
All you need is a reliable and affordable tool to build and manage your website.
WebSelf is one such tool.
Keep reading this WebSelf review to find out more about the website builder's features, functionality, pros and cons, pricing, integrations, and more.
Ron's Thoughts
WebSelf is a great website builder for beginners who want to build their first website easily and affordably. Users can choose the Free Plan which comes with free web hosting and free registration – no payment details required. You'll also be able to use their intuitive, lightweight drag-and-drop builder and a feature rarely seen in website builders – password-protected pages. All in all, you can't go wrong with WebSelf.
Biggest Pro:

Free Web Hosting

Biggest Con:

No Refunds After 14 Days

Annual Discount:

Yes - Up to 20% Off

Price:

Starts at $12.73/Month

Promotion:
Is WebSelf Website Builder Worth it?
WebSelf, a Canadian-based web provider founded in 2009, is a reliable web builder designed to rival many others in the hosting market.
The platform provides you with everything to create, modify, and publish your own free website on the internet.
Once you sign up on WebSelf, you'll have direct access to all the tools you need to develop your site in just minutes, including photo albums, Apple Maps, contact forms, and many others.
With WebSelf, your site will be polished, professional, Google-friendly, and Facebook-ready.
The best part is that WebSelf is free to use, allowing you to create a 5-page website on the free plan.
The platform has an intuitive and user-friendly dashboard that is easy to navigate so you can find all the prime features easily. Within minutes, you can start building an exceptional and unique website that you can enhance by adding pages and a multitude of features to build and manage your site, including HTML codes, SEO optimization, and smartphone optimization.
The WebSelf website is available in English and French and offers website builder plans with HTTPS secure connection, an image library, and Apple Maps. With the eCommerce and Pro plans, you'll get unlimited comments, personalized contact forms, and password-protected areas. You'll also get an email collector and inbox.
I think it's very clear by now that this platform is absolutely worth the investment. You can get started for free but even on the premium plans, you'll save tons of money each month on hosting, marketing and sales tools, etc. since everything you need to build and run your site is provided under one roof.
Who is WebSelf Website Builder Good For?
WebSelf Website Builder is a complete package for anyone who wants to build a website. The software can help different types of creators, including beginners, intermediate, and expert-level users.
Here are a few use cases to help you understand what this platform's features have to offer.
Bloggers: Create a free 5-page website and blog to start publishing content online with zero tech skills required.
Consultants: Use the platform to build a professional consulting website complete with Apple Maps integration so your clients can find you easily.
eCommerce Sellers: Create a visually appealing online store in just minutes, add products or services, and start making sales instantly.
Small Businesses: Use SEO-friendly templates to build a website and boost online visibility for your small business.
Freelancers: Create a portfolio site using one of the many pre-designed templates on the site.
As you can see, WebSelf has a lot to offer creators of all types. The platform makes web development accessible to everyone and allows website owners to create their sites in a convenient manner, without spending too much money on web design and development.
Below, we take a look at some of the platform's core functionality to give you a better idea of what this website-building software can help you achieve.
WebSelf Website Builder Functionality
1. Ease of Use
No programming skills are required to use this site builder. In just a few clicks, you can create a free website that reflects your personality and style.
If you've never built a website before, don't worry. The software is so easy to use that even a child already possesses the skills required. All you have to do is click, drag, and drop different elements to create or customize your website pages.
Everything, from adding and removing content like videos, text, forms, and even Apple Map is child's play. You can access and manage your account using the in-house web-based control panel offered by WebSelf.
Here's a quick look at how easy it is to get started with WebSelf:
First, sign up for an account on WebSelf's website:
Now you can build your site in just 3 easy steps:
Step #1: Choose Your Design
Choose an elegant and functional website template from the dozens of categories and then modify it as needed.
Categories include:
Health and Wellness
eCommerce Store
Services and Maintenance
Hotels and Travel
Restaurants and Food
Sport and Recreation
Community and Education
Technology
Fashion and Design
…and many others.
Once you've chosen an appropriate template, you'll be prompted to choose a title for your new website
You'll then be asked to wait a few seconds while the platform builds your new site. Once that's done, you can start customizing it according to your tastes and preferences.
Step #2: Add Your Images and Texts
Your next step is to add content to your page. As previously mentioned, this is extremely easy to do using the drag and drop editor.
If you've ever completed an online form or moved files around on your computer, then you have all the tech skills you need to create a website using WebSelf's site builder.
Add pages, sections, and text.
Change the background and styles.
You can even add slideshows, forms, videos, audio files, and various other media to your pages.
There's a vast library of images, videos, documents, and audio files to choose from.
Step #3: Publish Your Site on the Web.
Preview your work and switch to mobile view to ensure that everything looks good on all devices.
Once you're happy with your site, click "Publish" and your Google-friendly, Facebook-ready, tablet, and smartphone-compatible website will be available online instantly.
As you can see, WebSelf is one of the most user-friendly website builders on the market that provides you with all the necessary tools and features to create, modify, and publish your own website quickly, easily, and for FREE.
2. Customizable Templates
WebSelf has an impressive range of free customizable templates with modern sophisticated aesthetics. Instead of starting from scratch to build your site, simply choose from the hundreds of 100% customizable designer templates in different categories and customize them to suit your needs.
Regardless of what industry you're in, you'll find a suitable template for your business from categories and themes that cover architecture, restaurants, travel, sports activities, merchandise, and much more.
In just minutes, you'll have a functional website that is aesthetically pleasing, stylish, and unique.
All templates are mobile-optimized which means your site will look great on all devices, including smartphones and tablets.
3. Online Store
Selling online with WebSelf's online store requires zero technical knowledge. Create an online store in minutes following the process outlined above for building a website.
Add your products and/or services and payment methods. Next, configure your settings, including your currencies, shipping methods, etc., and then publish your online store.
It's that simple!
With a WebSelf eCommerce site, you'll be able to:
Manage your stocks
Classify your products in different categories
Sell ​​in different countries/currencies
Manage the delivery costs yourself
Customize the store design
Showcase your products
Manage the size/color of your products
4. SEO and Mobile-Friendly
WebSelf sites are Google-friendly. They include all the essential SEO tools to boost your visibility online. The sites are also mobile-optimized to provide users with a great user experience.
Optimized for Google: Increase your web exposure to find your target audience. Your website is designed for Google and all other search engines with precise configuration to better place your site in the search results. Easily customize the important parameters, such as page names, meta-descriptions, robots.txt, sitemap, etc.
Optimized for Mobile Devices: It is crucial that your site is accessible on the go, which is why WebSelf ensures that the websites you create there are fully mobile responsive. Regardless of what their screen size is, smartphone, tablet, or laptop, your site will maintain its perfect and professional display wherever it is viewed.
Facebook-Ready: You can quickly customize the text and images shown when your site is posted on Facebook.
5. Free Features
One of the best things about WebSelf is the sheer number of impressive features offered on the platform for free. These include:
Free Web Hosting: Web hosting is included with every WebSelf plan, including the free one. With the platform's reliable cloud infrastructure, you never have to worry about installing or updating anything.
Free SSL Security: All WebSelf sites use the HTTPS protocol, which means that your website and your data are 100% secure.
Free Domain Name: A personalized domain name gives you more credibility and makes you look more professional while making it easy for your visitors to find your website online.
6. Website Analytics
Use WebSelf builder analytics tools to track your traffic easily. The platform has an intuitive dashboard where essential information is displayed. For instance, you'll be able to see metrics such as:
Pageviews
Total visits
Unique users, etc.
You can also filter the data based on cities and countries. There's a rank checker tool for top-performing pages, and you'll be able to see a list of search terms that bring in the most visitors. You can use this information to optimize your content and boost your conversions.
7. Advanced Website Building Features
Here are some advanced features that you would get to use while building your website with WebSelf.
Photos: Add photos of your own or search the free library of photos.
Videos: Share a video on YouTube.
Apple Maps: Show visitors how to get to your business or event.
Statistics: Be updated with statistics for your site traffic.
Forms: Enable your guests to contact you, place an order, take a survey, etc.
HTML: Use HTML or Javascript codes to customize your page even further.
Comments: Let visitors leave comments on your site
Photo Library: Enhance the professional appearance of your site with high-quality, royalty-free photos.
Multilingual Site: Internationalize your website by adding as many languages as you like.
Password Protection: Restrict access (your entire site or specific pages) to visitors with a password.
WebSelf Website Builder Pros and Cons
Like all other pieces of software, WebSelf website builder comes with both pros and cons. And this WebSelf review wouldn't be complete without mentioning them.
Here's a quick look at some of the more prominent ones:
Pros:
Free Registration: Registering on WebSelf is free, with no need to enter payment details.
Free Web Hosting: In addition to free domain registration, you also get free hosting for all your websites.
Lightweight Drag-and-Drop Builder: The platform has an intuitive and easy-to-use page builder that lets you create stunning websites in just minutes.
Password-Protected Pages: This is a unique feature not found on a lot of website builders in the same category.
Cons:
No Chat Support: The website's chat feature is often offline or unavailable at the time of this writing. As of now, the only support available is through email.
Only 2 Email Accounts Per Domain: The platform offers two emails for each domain which isn't enough if you need to create emails for your team. That said, you can always purchase more accounts if needed.
No Refund Policy After 14-days: The platform does not offer any refunds outside of the 14-day window from when you made your payment. Some platforms offer 30-days instead.
WebSelf Website Builder Competitors
WebSelf is an up-and-coming website builder tool that offers an impressive range of features to help you create and manage successful websites.
But, it's far from the only reliable web builder out there. Among its many competitors are site-building tools like GoDaddy, Wix, and Squarespace.
Let's take a quick look at how they compare.
WebSelf vs GoDaddy
A comparison of these two website-building software tools shows that GoDaddy while being a more established player in the industry, does not offer the same level of ease and simplicity when building a website.
You can use the site builder regardless of your tech skill level but the interface isn't as intuitive as WebSelf.
The platform has many of the same tools you'll find on WebSelf, including a drag-and-drop editor, online booking tools, eCommerce store builder, and SEO management tools. However, there's no free version of the software on offer.
WebSelf vs Wix
Wix is one of the best free website building platforms with an impressive number of features.
Perfect for speedy site building, Wix offers many of the same features as WebSelf, including a powerful yet easy-to-use drag-and-drop page builder, custom templates for different industries, robust website analytics, and sales optimization tools to help you maximize your revenue.
However, Wix has significantly more advanced features compared to WebSelf, including gift card support, an advanced blogging tool, and Apple Pay support.
WebSelf vs Squarespace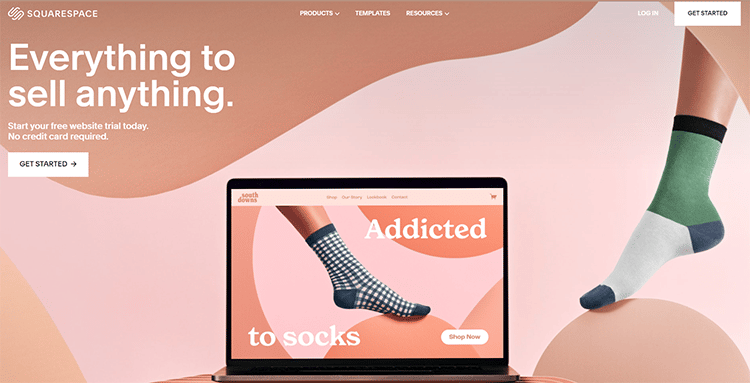 Squarespace is a delightfully simple and easy-to-use platform, even for complete beginners. Like WebSelf, it comes with a wide range of professionally designed templates so you don't have to build your site from scratch.
The drag-and-drop editor allows you to create a professional-looking and fully functional site without the need to learn code. One of the main differences between the two platforms is that Squarespace offers more robust live support. However, its plans are priced significantly higher than WebSelf, so while Webself may have fewer features, it also has less cost.
WebSelf Pricing
WebSelf has four growth-focused pricing plans:
Free Plan: $0/month

Create 5-page website
Domain connection
.webselfsite.net sub-domain
Powered by WebSelf

Basic Plan ($8.95/month)

10-page website
Free domain name for 1 year
2 GB disk space
2 GB bandwidth
2 email addresses

Pro Plan ($13.95/month)

All "Basic" features +
50 pages
10 GB disk space
20 GB bandwidth
Premium support
Multilingual support

eCommerce Plan ($18.45/month)

All "Pro" features +
Unlimited pages
20 GB disk space
50 GB bandwidth
Removal of WebSelf branding
Online shop
Product Support
WebSelf offers support in a variety of ways, including:
Live chat
Email
FAQ section
Help center
Phone support (only for the Pro and eCommerce plans)
Priority support (only for the eCommerce plan)
System Requirements
WebSelf is a SaaS (software as a service) website builder. This means it'll work on all devices whether they are Mac or PC.
Integrations
We've reached the final but still important segment of this WebSelf review – integrations.
You can use third-party integrations to connect WebSelf to marketing and sales tools to help you get better results from your efforts. For instance, you can integrate third-party trackers like Google Analytics, Facebook Pixel, Google Webmaster, and other tools to improve the accuracy of your customer behavior data.
Here's a list of tools that integrate with WebSelf:
Google Analytics: Gain deeper insights into your customers and their behavior on your site.
Twitter: Follow your interests, and listen to what your audience and prospects are saying. Make it easy to participate in conversations in your industry and around the world.
Facebook: Connect with people who share your interests, find new communities, and grow your business.
Common Ninja: Get a range of free, fully customizable apps for your site-building and eCommerce platforms.
FreeLogoDesign: This is an online logo maker that will allow you to create a professional-looking logo for your website in just minutes.
Is WebSelf Website Builder Legit?
WebSelf is a website creator that provides everything you need to create, modify, publish and manage your own website. All the different tools you need are available to you directly, including contact forms, photo albums, Apple Maps, and many others. With WebSelf, you'll be able to build a professional, polished, and Google-friendly site in just minutes.
The platform is easy to use and you can get started for free with a 5-page website. If you sign up for one of the premium plans, you'll also receive a free domain.
If you're ready to get started building your own website, blog, or eCommerce store, sign up for a free WebSelf account right now.
I hope my WebSelf review came in handy when it comes to learning more about this platform.