Have you ever felt like your SEO strategy is nothing more than a game of chance? A digital roulette wheel that spins on and on, rarely landing on success? We've all been there, and it's extremely frustrating. That's where this review of the best keyword rank-tracking software comes in. It's here to turn that random spin into a targeted trajectory, allowing you to properly track keyword rankings over time to see what revisions work, and what doesn't.
According to recent research, 67.6% of all clicks go to the top five organic search results in the Google SERPs (search engine results pages).
If your business relies on organic traffic and search engine rankings to attract leads and sales, then you can see why it's essential for you to rank high for the critical keywords in your industry.
You must also see what's working and what isn't to adjust your SEO optimization efforts accordingly. For that, you need a reliable and accurate way to monitor the rankings of your website pages for different target keywords.
That's where the best keyword rank tracking software comes in.
Rank tracker software collects data from Google and other search engines, allowing you to monitor the rankings of any of your domains, subdomains, or URLs for the keywords you want to track.
It helps you improve your rankings, track your keyword performance, and find ways to outrank your competitors. Ultimately, you'll be able to grow your business with better SEO insights.
Please read the rest of this review to discover more about the different types of rank checking tools available out there, as well as the key features they offer so that you can choose the best rank tracker for SEO.
What is the Best Rank Tracking Software?
Best Overall Rank-Tracking Software ($19/month)
If you're tired of complicated and overwhelming rank tracking tools, Serpple is the solution you've been waiting for. Serpple stands out from the competition by offering a user-friendly and visually appealing interface.
Unlike other trackers that bombard you with irrelevant data, Serpple focuses on providing the SEO insights that truly matter for improving your rankings.
By organizing your keyword rankings according to each page of your website, Serpple allows you to easily see how each page is performing in search results.
But Serpple doesn't stop there – it also offers an SEO content audit tool for underperforming pages, providing valuable feedback on how to boost their rankings.
Additionally, you can track your competitors and conduct keyword research, all within this comprehensive platform.
Key Features:
Keyword Rank Tracking: Rankings checked daily on all plans, at 99.8% accuracy. Rankings sorted by website page for easier readability.
SEO Competitive Research: Find out which keywords your competitors use in their organic campaigns.
SEO Content Audit: Get quick wins to increase your rankings in Google for each page.
Pricing:
Serpple offers a free trial before you have to commit to one of their paid plans which is standard for the industry.
You also get additional discounts from Serpple for paying annually.
Paid Serpple plans are as follows:
1. Side Hustler Plan: $19/month
100 tracked keywords
One website
Track 2 Competitors
Monitor 50 backlinks
Competitive and keyword research
White Label SEO reporting
On-page audit for 50 pages
2. Entrepreneur Plan: $29/month
500 tracked keywords
Unlimited websites
Track 30 Competitors
Monitor 1000 backlinks
Competitive and keyword research
White Label SEO reporting
On-page audit for 100 pages
3. Agency Plan: $99/month
3000 tracked keywords
Unlimited websites
Track 100 Competitors
Monitor 3000 backlinks
Competitive and keyword research
White Label SEO reporting
On-page audit for 500 pages
---
Best PPC Analytics and Research Tools ($18.60/month)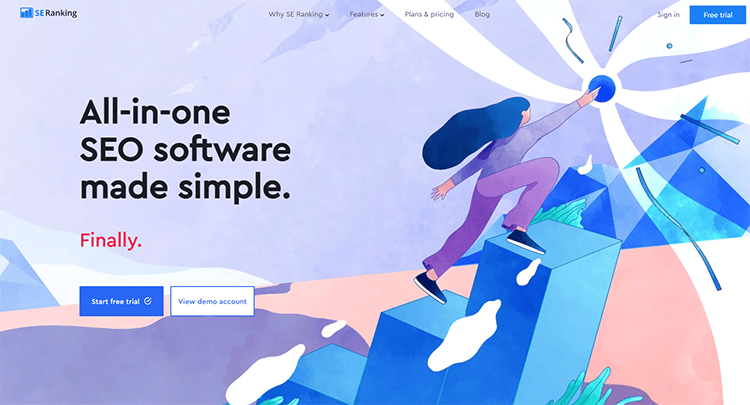 SE Ranking is an all-in-one SEO rank checking software designed to simplify the process of keyword rank monitoring.
The SE Ranking platform has all the SEO analysis and marketing tools you need in one place.
With SE Ranking, you'll get 100% accurate search engine keyword rankings and real-time data while tracking the keyword positions of your targets across all major search engines and in different countries, regions, or cities as frequently as you want.
Key Features:
All-in-One SEO Software: The SE Ranking platform has all the tools for marketing, SEO analysis, and keyword optimization for higher rankings.
PPC/SEO Competitive Research: Find out which keywords your competitors use in their organic and paid search campaigns.
In-Depth Website Audit: Get your website to the top 10 Google search results thanks to the Website Audit tool that suggests fixes for on- and off-page issues.
Pricing: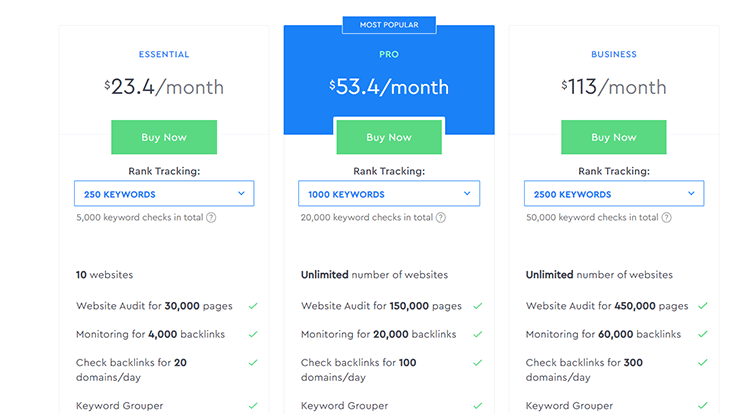 As with most other rank tracking tools, SE Ranking offers a free trial before you have to commit to a premium plan.
On the premium SE Ranking plans, you can choose whether to check your rankings daily, every three days (20% off), or weekly (40% off).
You also get additional discounts from SE Ranking for paying quarterly or annually and by adjusting keyword refresh rates.
Paid SE Ranking plans are as follows:
1. Essential Plan: $39/month
250 – 750 keywords
Ten websites
Website audit for 40,000 pages
Monitor 6,000 backlinks
Competitive and keyword research
Flexible SEO reporting
Social media management and analytics
Marketing plan
On-page audit for 150 pages
2. Pro Plan: $89/month
"Essential" features +
1,000 – 1750 keywords
Unlimited websites
Website audit for 250,000 pages
Monitor 30,000 backlinks
Check backlinks for 100 domains per day
Three users seats
Whitelabel features
3. Business Plan: $189/month
"Pro" features
2,500 – 20,000 keywords
Website audit for 700,000 pages
Monitor 90,000 backlinks
Check backlinks for standard domains/day
On-page audit for 750 pages
Ten users seats
Keyword database expansion: 25,000
API
---
Best rank tracking software for informative insights ($27/month)
According to the website, Wincher is the one SEO rank tracking tool you can't live without. With it, you'll be able to get quality organic search traffic and keep a close eye on your keywords' performance.
Although slightly less advanced than Accuranker, Wincher's platform is scalable and offers a solid standalone SEO rank tracking tool at a very affordable price.
This makes it perfect for small businesses or one-person teams. As your business grows, you will be able to add more advanced features on the higher tiers, and you can read my full Wincher review if you're interested in learning more.
Key Features:
Track Your Keywords: This platform gives you a bird's-eye view of your entire website and how you rank for different keywords.
Discover New Opportunities: Easily find and focus on brand new high search volume keywords for higher rankings and more traffic.
Get Ranking Reports: Get regular, automatic ranking reports, so you always stay in the loop. You can choose the frequency and time for sending the reports.
Pricing:
Note: You get a 20% discount for paying yearly on any plan.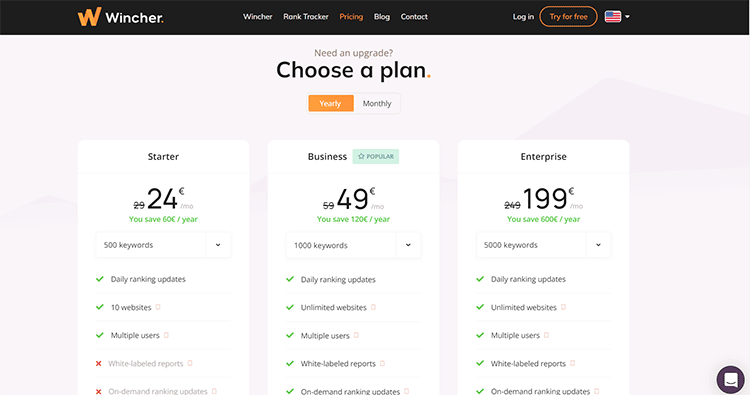 Wincher plans start at $29/month.
Here's what each of the three premium plans entails:
1. Starter: $29/month
500 – 1,000 keywords
Daily ranking updates
Multiple users
Ten websites
2. Business: $59/month
"Starter" features +
1,000 – 4,000 keywords
Unlimited websites
White-labeled reports
API access
On-demand ranking updates
3. Enterprise: $249/month
"Business" features +
5,000 – 10,000 keywords
External users
Project permissions
Priority support
If you need to track more than 10,000 keywords, you can get custom pricing from the website.
---
Best premium SEO and rank tracking software ($119.95/month)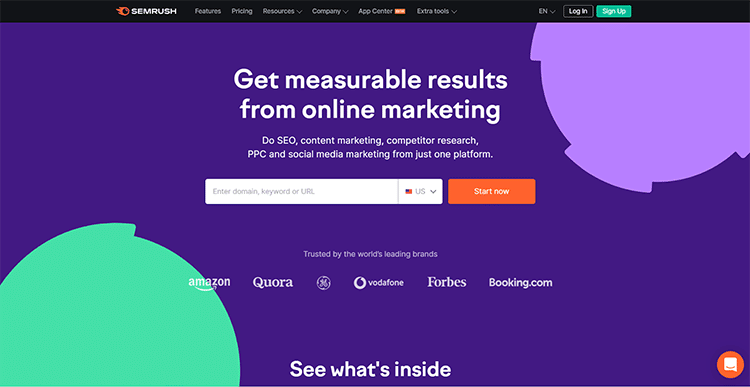 SEMRush is a robust platform that offers you the tools you need to do content marketing, SEO, competitor research, social media marketing, and PPC – all from one convenient place.
As many marketing experts will tell you, tracking keywords alone is a poor indicator of success. Instead, you need other tools to ensure your keywords bring in lots of relevant traffic and high conversions.
This platform gives you all the tools you need to combine keyword rank tracking with various other metrics, such as conversions, organic search traffic, SERP features, and more.
This way, you can create an easy SEO workflow to help you grow your business without the hassle of having to jump from one tool to the other.
Key Features:
All-in-One SEO Toolkit: In addition to ranking tool features, you also get tools for content marketing, market research, advertising, and much more.
Competitor Research Toolkit: This tool lets you discover keyword and backlink gaps in your competitors' strategies so you can leverage them for your own SEO success.
Instant SEO Recommendations: SEMRush has a massive database of keywords in all industries and offers instant recommendations for improving your SEO.
Pricing: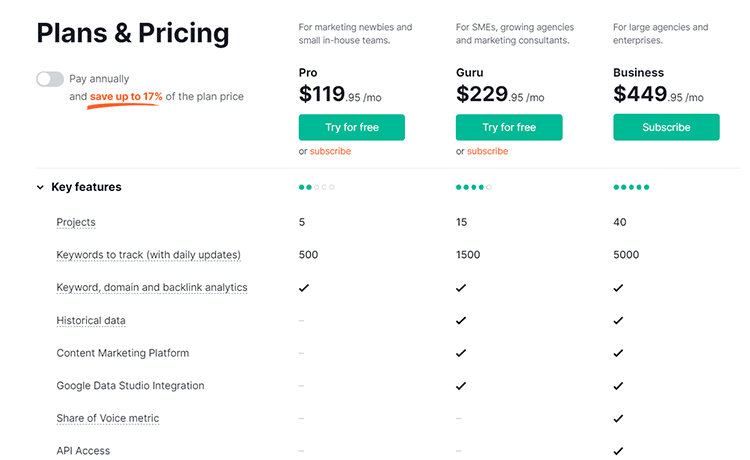 SEMRush offers a free trial, so you can test out the software to see if it's a good fit for your business.
Premium plans are priced as follows:
1. Pro Plan: $119.95/month
500 keywords
Keyword, domain, and backlink analytics
Five projects
2. Guru Plan: $229.95/month
"Pro" features +
1,500 keywords
15 projects
Historical data
Google Data Studio integration
Content marketing platform
3. Business plan: $449.95/month
"Guru" features +
5,000 keywords
40 projects
Share of Voice metric
API access
---
Best free rank tracking software (Starts from Free)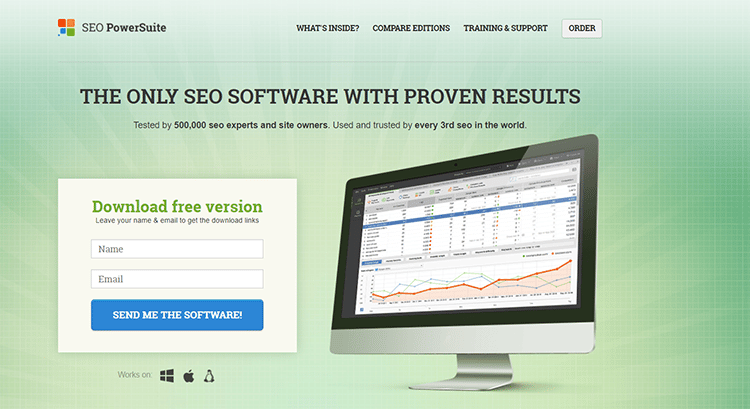 SEO Powersuite is one of the most popular keyword rank tracking software options thanks to its forever free version, which allows you to track unlimited websites and keywords and use all the SEO features, including rankings, backlinks, on-page, and social SEO.
The platform also has two premium plans perfect for individual website promoters, professional SEOs, and SEO agencies.
The software combines ease-of-use and power to give you a simple platform for newbies to use effectively yet powerful enough for expert SEO professionals to conduct accurate rank monitoring, in-depth link analysis, robust keyword research, and much more.
Key Features:
Accurate Rank Monitoring: This platform provides you with search volume, as well as specific rankings and graphs to show your keyword optimization progress.
Profound Link Analysis: SEO Powersuite also has the most extensive backlink index online and analyzes over 50 backlink factors to give you new link-building opportunities to identify and buy backlinks.
In-Depth Competition Analysis: With the software, you'll be able to reverse engineer the SEO strategies used by your competitors to rank your content higher.
Pricing: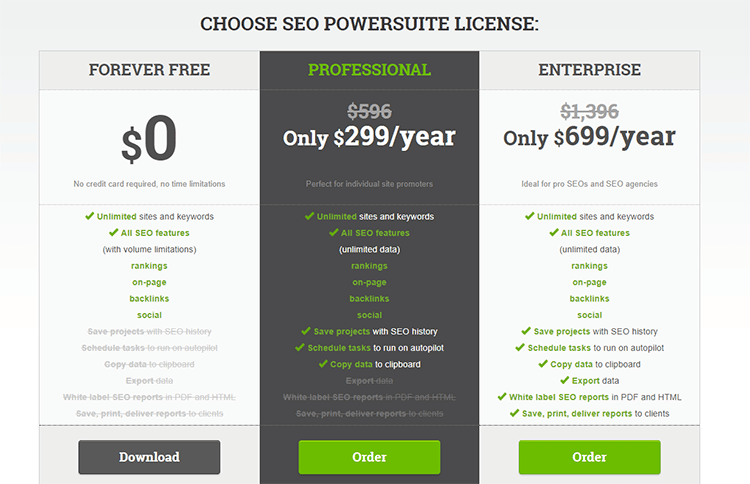 SEO Powersuite has a forever free plan which doesn't require a credit card to register.
There are no time limitations, which means that you can use it for as long as you want without ever having to pay a single cent.
However, if you want to unlock more robust functionality, such as tracking your rankings over time (which I recommend), then you can upgrade to one of the paid plans.
1. Forever Free Plan
Unlimited websites and keywords
Rankings
On-page SEO
Backlinks
Social media
*NOTE: All SEO features on this plan come with volume limitations.
2. Professional Plan $299/year
Unlimited websites and keywords
All SEO features with unlimited data
Save projects with SEO history
Schedule tasks to run on autopilot
Copy data to clipboard
3. Enterprise Plan $699/year
"Professional" features +
Export data feature
Whitelabel SEO reports in HTML and PDF
Save, print, and deliver reports to clients
---
Best rank tracking software for ease of use ($49.00/month)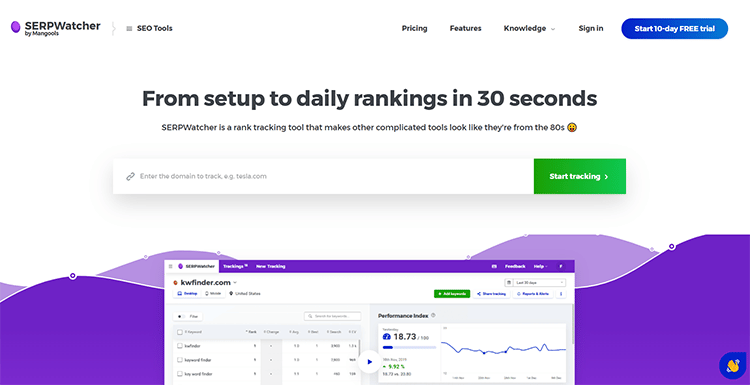 SERPWatcher prides itself on being one of the most straightforward yet most accurate SEO rank tracking tools out there.
The platform has powerful features to show you exactly how your website performs in the SERPs.
You'll know how much organic traffic potential your site has so you can take the appropriate actions to optimize your rankings.
With SERPWatcher, you get rank updates daily, and you'll also receive email alerts about any critical changes to your keyword ranks. In addition, the platform has a great mix of simple and advanced data that both new and experienced users can work with.
Key Features:
Device and Location-based Results: You can track rankings on any device and in any location, including city-level, states, countries, DMA regions, etc.
Easy Interactive Reports: You can quickly share reports with your clients or team members with a link or schedule regular reports.
Event-based Alerts: The platform offers event-based notifications so you can stay up-to-date on any critical changes to your rankings.
Pricing: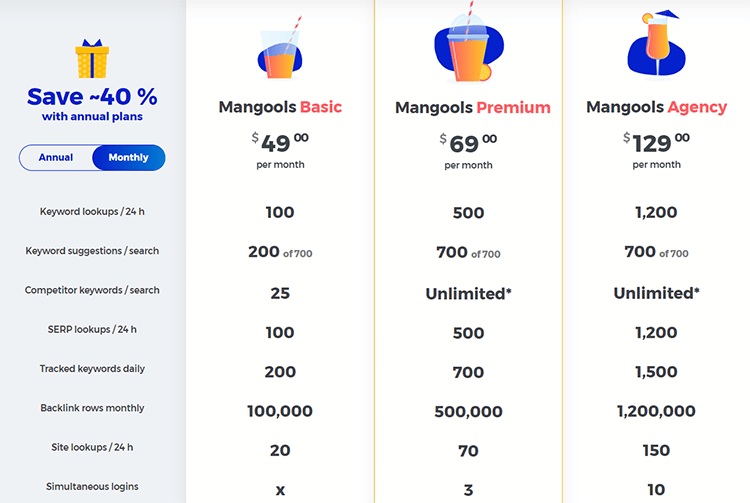 SERPWatcher offers a 10-day free trial and a full money-back guarantee on all premium plans, which are as follows:
1. Mangools Basic: $49/month ($29.94/month paid yearly)
100 keyword lookups/24 hours
200 keyword suggestions/search
25 competitor keywords/search
100 SERP lookups/24 hours
200 tracked keywords daily
100,000 backlink rows monthly
20 site lookups/24 hours
One user
2. Mangools Premium: $69/month ($39.90/month paid yearly)
500 keyword lookups/24 hours
700 keyword suggestions/search
Unlimited competitor keywords/search
500 SERP lookups/24 hours
700 tracked keywords daily
500,000 backlink rows monthly
70 site lookups/24 hours
Three simultaneous logins
3. Mangools Agency: $129/month ($79.90/month paid yearly)
1,200 keyword lookups/24 hours
700 keyword suggestions/search
Unlimited competitor keywords/search
1,200 SERP lookups/24 hours
1,500 tracked keywords daily
1,200,000 backlink rows monthly
150 site lookups/24 hours
Ten simultaneous logins
---
Best rank tracking software for beginners with no SEO knowledge ($29/month)
Sitechecker is a straightforward SEO rank tracking tool that quickly allows you to track changes in positions by keywords, degree of visibility, and various aspects of search engine indexing. In addition, Sitechecker provides recommendations for improvement.
Rank Tracker is part of the Sitechecker platform services, which includes tools for site audits, monitoring, backlink tracking, and an SEO Chrome plugin. The tool is recommended for business owners, marketers, and agencies focused on SEO.
Key Features:
Track your site rankings for keywords in any region, mobile or desktop, on any search engine.
Filter and sort the data in a convenient table. Then, customize the view to include the necessary parameters at your discretion.
Allows for commenting to better track insights and allow for bulk edits/adjustments.
Pricing:
Note: You get a 20% discount when you pay for the annual plan.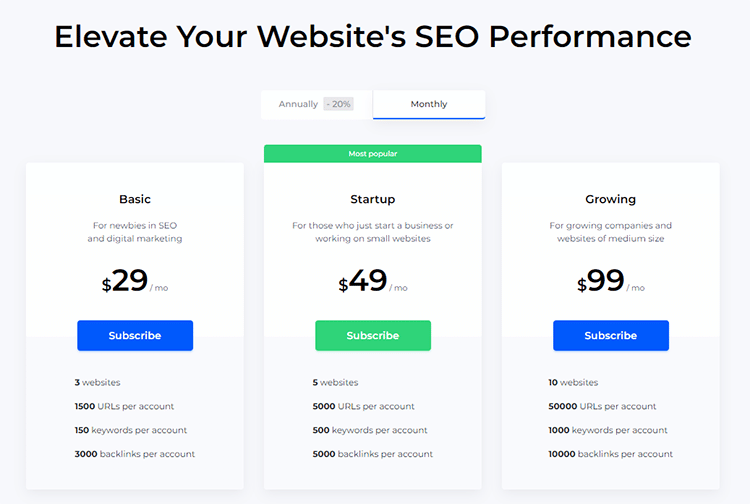 Here are the features provided for each of the plans:
1. Basic: $29 per month
Three sites
1500 pages
150 keywords
3000 backlinks
2. Startup: $49 per month
Five sites
5000 pages
500 keywords
5000 backlinks
3. Growing: $79 per month:
Ten sites
50,000 pages
1000 keywords
10000 backlinks
Contact the support team for an individual rate calculation if you are interested in tracking more than 10,000 words.
---
Best rank tracking software for SEO agencies & professionals ($109/month)
Accuranker's claim of being the fastest and best keyword rank tracker platform for SEO professionals and agencies is yet to be proven wrong.
Right now, this is one of the best tools you'll find for monitoring your target keywords. It comes with on-demand ranking updates, keyword refreshes every other hour, and data updates in seconds.
You also get easy custom template reporting to customize for your company logo. The platform also has in-depth analysis and a wide range of metrics that you can filter in countless ways.
Furthermore, you get outstanding customer service, including free one-on-one best practice sessions when you sign up for one of the premium plans.
I'd say that Accuranker is a very accurate rank tracker, and if you're interested, you can read my in-depth Accuranker review if you'd like.
Key Features:
Fast Keyword Tracking: Accuranker updates keywords every 24 hours. You can refresh every second hour and get on-demand ranking updates in just a few seconds.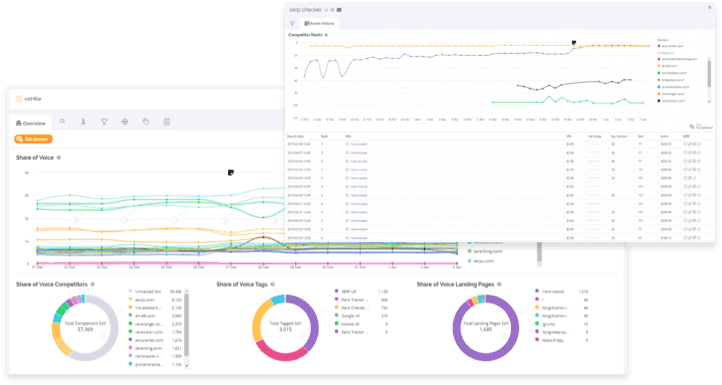 Affordable Enterprise Features: You can access data through an API, get insightful data and analysis, and get advanced metrics across multiple landing pages.
Third-party integrations: Track everything from one convenient place and any device thanks to robust integrations offered on the platform such as Google Analytics and Google Search Console.
SERP Features: Accuranker is unique in that it's one of the other rank tracker tools that allows you to see SERP features as well. This is for tracking things like featured snippets, image packs, etc.
Pricing: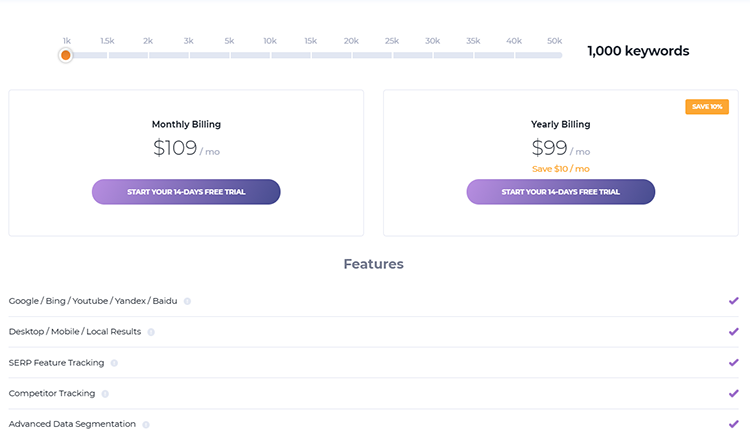 You can sign up for a 14-day trial to free test out the software features.
Afterward, you can upgrade to the premium plan to continue using the software.
Accuranker has a transparent and straightforward pricing structure to ensure that you always know what you're paying for. It's not cheap, but it's a premium solution to keyword tracking for those who can afford it.
1,000 keywords: $109/month (or $99/month paid yearly)
Google / Bing / Youtube / Yandex / Baidu
SERP Feature Tracking
Desktop / Mobile / Local Search Results
Competitor Tracking
SERP History
Advanced-Data Segmentation
Historical Data Importer
Unlimited Users
API
Unlimited Domains
The more keywords you need to track, the cheaper it becomes.
For instance, when tracking 1,000 keywords, you pay 10.9 cents. However, when tracking 10,000 keywords, you'll pay just 6.49 cents – and so on up to 50,000 keywords.
---
Best rank tracking software for quick keyword research ($99/month)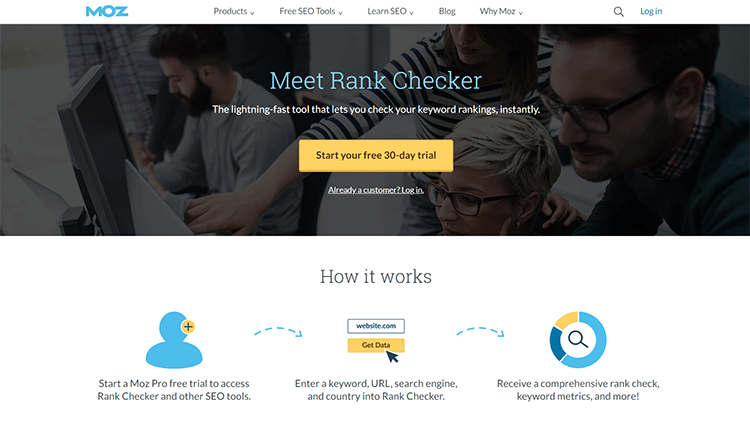 Moz Pro is the best rank tracker tool for quick keyword analysis, designed to help supercharge your SEO efforts so you can see measurable results in your rankings.
The platform is an all-in-one suite of SEO tools, including a rank tracker, keyword explorer, website audit features, content optimization tools, link explorer, and many other tools.
With this rank tracking software, you'll be able to know what's working at a glance, thanks to the easy-to-understand visual reports.
You can track your website and your competitors' movements on the search results pages to uncover keyword gaps that you can leverage in your strategy.
Key Features:
Trustworthy Data: Moz prides itself on industry-leading SEO metrics for a high-quality, comprehensive picture of your overall rankings over time.
Target Top Positions: The platform has tools to help you uncover competitive advantage so you can target and track keyword positions on Google search, Bing, Yahoo, Dogpile, etc.
All-in-One Software: In addition to rank tracking, you'll also be able to do on-demand crawl website crawls so you can fix any harmful issues before they drop your rankings.
Pricing:
Their pricing is straightforward.
1. Standard Plan: $99/month
Three campaigns
300 keywords
Mobile rankings
100,000 pages crawled/week
Five on-demand crawls/month
Unlimited scheduled reports
One user
2. Medium Plan $179/month
"Standard" features +
Ten campaigns
1,500 keywords
Unlimited branded reports
500,000 pages crawled/week
30 on-demand crawls/month
Two user seats included
3. Large Plan $249/month
"Medium" features +
25 campaigns
1,900 keywords
1,250,000 pages crawled/week
60 on-demand crawls/month
Unlimited report templates
Three user seats included
4. Premium Plan: $599/month
"Large" features +
50 campaigns
4,500 keyword rankings
2 million pages crawled per week
Speed Crawl feature
100 on-demand controls/month
Five users
All plans come with 24/7 support and an onboarding session so you can hit the ground running.
If you need more than what is offered, such as dedicated account support, more keywords or searches, etc., you can get in touch with the support team for a tailored quote.
---
Affordable, premium rank tracker for enterprise businesses ($69/month)
Serpstat is a powerful all-in-one SEO tool and rank tracker for improving your content marketing, PPC, domain and keyword analysis, and much more.
With it, you can track keyword rankings, do backlink analysis, keyword research, website audit, and competitor research – all under one roof.
It's perfect for digital marketers, small business owners, and SEO agencies and teams.
With the Serpstat plugin, you'll be able to find out everything you need about any domain with a single click, which makes this a must-have tool for busy marketers and SEO professionals.
Key Features:
Freemium Model: You can start using Serpstat for free to research your keywords, analyze competitors, and more.
Powerful Plugin: With the Serpstat plug-n, website analysis is always just a single click away, so you don't have to waste time looking for the specific reports you need.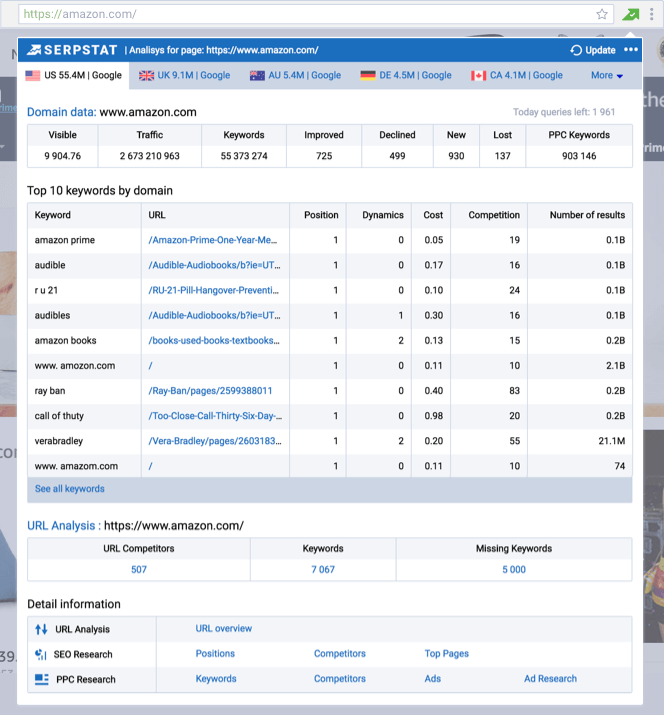 Clean Interface: The platform has a simple and intuitive interface that makes it easy to gain valuable insights from domain analysis, keyword research, backlinks overview, etc.
Pricing:
Serpstat has four premium plans which are as follows:
1. Lite: $69/month
Ideal for SEO individuals, freelancers, or SMB with a limited budget
4000 searches/day
Track 10 projects
15,000 ranking position checks per month
Daily updates
On-demand SERP crawling
Three scheduled reports
One user
2. Standard Plan: $149/month
"Lite" features (with increased volumes) +
Access to rank tracking API
Three users
Branded reports
3. Advanced Plan: $299/month
"Standard" features (with increased volumes) +
Five users
Phone support
4. Enterprise Plan: $499/month
"Advanced" features (with increased volumes) +
Seven users
Whitelabel reports
---
Best rank tracking software with daily updates ($49/month)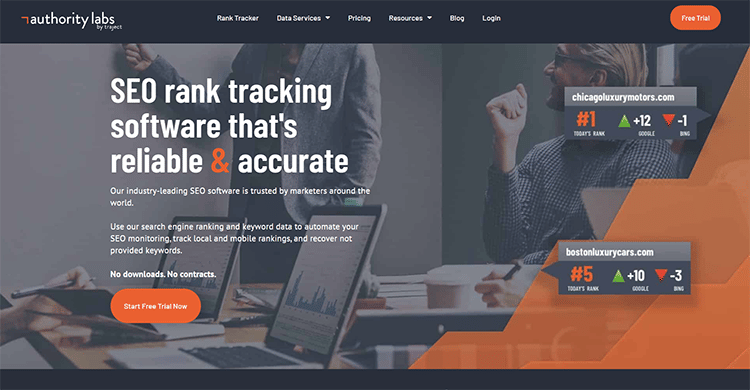 You can use the keyword and search engine ranking data from Authority Labs to monitor your SEO automatically. You can also track mobile and local keyword search volumes rankings and more.
The software is easy to use. There are no downloads and no contracts, and you can test it out by signing up for a free trial on the site.
As soon as you sign up, you have all the tools you need to optimize your keyword strategy, track competitors, and receive daily data on your progress.
Thanks to Authority Labs Data Services, you also have everything you need to fuel your data analytics using the most powerful SEO data API currently available. This makes it the best rank tracker for various SEO analytics.
Key Features:
Daily Data: Not all rank trackers give you daily data, and this daily rank checking feature will allow you always to know where you stand and react to changes as they happen.
Global Tracking: You can expand your reach by adding pages from any country or language supported by the major search engines.
Unlimited Users: You can provide anyone with their own login for reporting, including your team members, clients, boss, etc. – all at no additional cost.
Pricing: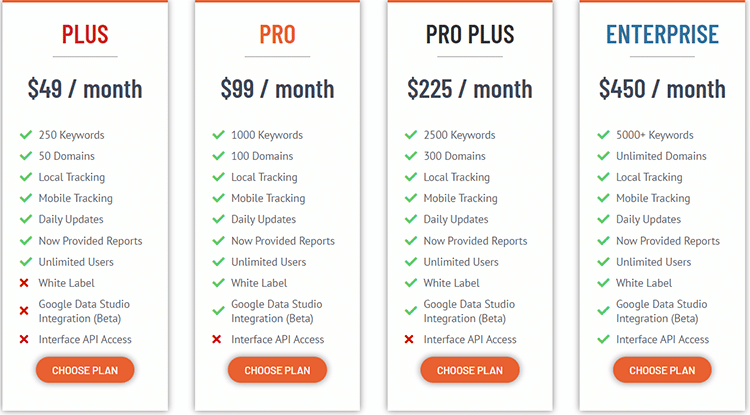 Authority Labs offers a 14-day free trial with no credit card required so you can test out the platform's full features.
You get access to the full features of the rank tracker, and if you want to continue using it after 14 days, you can upgrade to one of the following plans:
1. Plus Plan: $49/month
250 keywords
50 domains
Local and Mobile rank tracking
Daily updates
Unlimited users
Now Provided reports
2. Pro Plan: $99/month
"Plus" features +
1,000 keywords
100 domains
Whitelabel
Google Data Studio integration (beta)
3. Pro Plus Plan: $225/month
"Pro" features +
2,500 keywords
300 domains
4. Enterprise Plan: $450/month
"Pro Plus" features +
5,000+ keywords
Unlimited domains
Interface API access
---
Best white label reports of any rank tracking software ($49/month)
Advanced Web Ranking is a rank tracker that makes monitoring target keywords easy. You get fresh rankings on-demand, daily, or weekly, depending on your needs.
The rank checking tool offers rank tracking for desktop, local, and mobile devices to give you even deeper insights into the performance of your keyword strategy.
You can access Advanced web ranking software from any device, and each plan comes with unlimited ranking projects included.
Key Features:
Competitor Research: Keep a close eye on your competitive landscape so you can leverage new opportunities that arise.
Custom SEO Tools and Reporting: Quickly and easily generate engaging white-label SEO reports that can be shared with your team, boss, or clients in minutes and full integration with Google Analytics and Google Search Console.
Fast and Accurate Rankings: Get fresh, on-demand rankings gathered in under an hour across any search engine, language, or device, as well as information about SERP features that you rank for.
Pricing: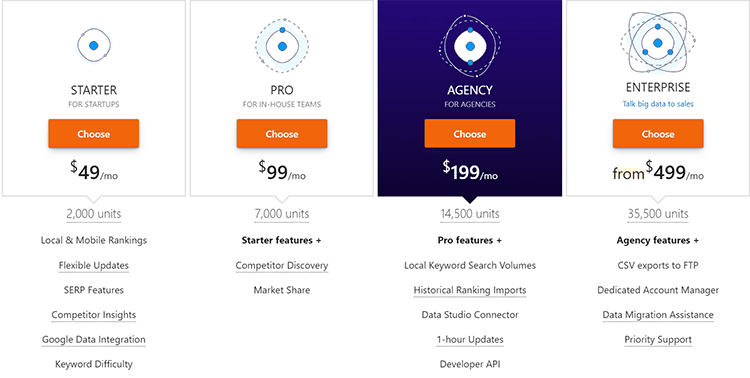 Advanced Web Ranking offers a fully-featured, free 30-day trial with no credit card required.
At the end of your Advanced web ranking trial, you can choose one of these four affordable keyword tracking plans:
1. Starter Plan: $49/month
Ideal for startups
2,000 keywords
Local and mobile rankings
SERP features
Flexible updates
Google Data integration
Competitor insights
Whitelabel report sharing
2. Pro Plan: $99/month
Ideal for in-house teams
7,000 keywords
"Starter" features +
Competitor discovery
Market share
3. Agency Plan: $199/month
Ideal for agencies
14,500 keywords
"Pro" features +
Local keyword search volume
Data Studio connector
Historical ranking imports
Developer API
One-hour updates
4. Enterprise Plan: $499/month
Ideal for businesses focused on big data
35,500 keywords
"Agency" features +
CSV exports to FTP
Data migration assistance
Dedicated account manager
Priority support
---
Additional Options:
Nightwatch: A feature-rich keyword tracker ideal for small businesses and agencies allows Google Analytics integration.
Labrika: A powerful rank tracking tool for keyword tracking and site auditing.
Whitespark: The best rank monitoring tool for local search.
Google Search Console: A powerful free tool to track keyword rank.
Types of Rank Tracking Software
There are many options for keyword rank tracker tools out there. Some are designed specifically for SERP tracking, while others are all-in-one software with all the tools you need to cover all your SEO needs – including the keyword rank tracking feature.
However, all the different rank tracker options can be classified into three distinct categories, each with its own benefits and drawbacks.
The categories for the types of rank tracking software are as follows:
1. Desktop Applications: These are standalone programs you install on your computer. They don't need a web browser to work and are capable of running large lists of keywords by emulating human behavior, which reduces the risk of getting blocked by Google.
2. Web Browser Apps: These are add-ons that extend your web browser's capability, allowing you to get accurate keyword rankings numbers quickly. However, web browser plugins commonly get blocked by search engines when running a high volume of keywords.
3. SaaS Applications: Software-as-a-Service solutions run on a web-based server. They offer a more stable option for users who want an easy way to get keyword track rankings on demand without having to worry about getting blocked or having to install software on their own computers.
What Features to Look For in Rank Tracking Software
When choosing the best keyword rank tracker for SEO, there are certain things to which you must pay attention.
I've listed some of the criteria to look out for below, and these will make the difference between whether or not you choose the perfect software for you.
1. Pricing Structure: Different tools have different pricing structures, which is essential to pay attention to.
You will likely use the tool you choose for a very long time, adding more websites and keywords as your business grows. That's why it's important to ensure that you choose one with a straightforward and affordable pricing structure.
2. Update Frequency: The majority of the SERP tracking tools mentioned in this article offer daily updates. Others provide updates every three days or every week.
You can also get tools with on-demand SERP checks/refreshes. But, again, choose what makes sense for your business and budget.
3. Reporting Functionality: If you are working with a team, this is a crucial feature to pay attention to. Different SEO tools have other SEO reporting functionalities.
Choose a tool that allows you to easily create graphs and other visuals with the metrics you want in an accessible format for everyone on your team to understand. You can check the keyword tracking tools that would be perfect for you with a 14 – 30 day free trial and help you boost your SEO performance.
4. Platforms Monitored: The majority of searches online took place on Google search console and analyzed with Google rankings, but depending on which countries you're working in, you may want to track the local market using various other search engines, including Yahoo, Bing, DuckDuckGo, Baidu, and Yandex with SERP tracking tool and keyword rank trackers.
5. Keyword Tracking by Device and Location: Most rank tracker software these days allows you to separate desktop, local, and mobile tracking. It can help you achieve the best keyword rank for your blog and sites with keyword tracking features to help you.
However, not all tools work the same concerning localized rank tracking and analyze them by ranking data of search queries to boost your SEO Performance.
6. SEO Integration Options: Does your keyword rank tracker allow you to integrate directly with Google Analytics and Google search console?
This can be very beneficial as it lets you understand a holistic view of your SEO efforts, so having this option is helpful.
For example:
Wincher lets you choose the country only (e.g., Google.com or Google.co.uk).
SEMRush allows you to track locally at the state, city, or country level.
Accuranker gets granular, letting you track right down to the specific street or ZIP Code.
How Can Rank Tracking Software Help Grow Your Business?
Whether you handle all your SEO on your own or if you're working with a team, rank-tracking software can help you supercharge your tracking and search results in the following ways:
Quickly identify what works with free trials of tracking tools
Monitor your competitors with backlink analysis and backlink monitoring
Find new opportunities to boost revenue with the best rank tracker tool
Troubleshoot traffic drops immediately and have a high SEO Performance
Find and fix click-through rate (CTR) issues with the best rank-tracking tool
With the best rank tracker tools, you can create easy-to-understand keyword tracking reports
Tools like the ones outlined in this article will help you track your keyword rankings so you can optimize your site for organic search.
Regardless of the type of rank checker tool you choose, you'll be able to enjoy at least some of the benefits outlined above.
Keyword Rank Tracking Q&A
What is Rank Tracking on Search Engines? 
Rank tracking is the process of monitoring the position of different URLs in search results on search engines for selected target keywords. The keywords and URLs are tracked over time to detect trends and get a clear picture of the impact of search engine optimization efforts.
How Do Keyword Rank Tracking Tools Work? 
Keyword rank tracker software works by visiting search engines to get keyword ranking data through APIs (Application Programming Interfaces) that allow them to get the information they need for free. However, the API requests are limited each day, which means most rank-tracking tools have to scrape search engine search results directly when dealing with a vast keyword search volume.
Why is it Important to Track Keyword Rankings for SEO?
Keywords are essential for SEO because they connect searchers with relevant content. They link the information users search for and the content you provide to fill that need. With the right keyword research tools and rank-checking tools, you'll be able to put your brand, products, and services in front of your target audience when they are actively searching for solutions like yours. Simply put, keyword research is crucial to your success and having a tool to track your successes and failures is almost as important.
Is Keyword Rank Tracking Important for SEO?
Keyword rank tracking is vital for SEO because it helps you identify which SEO techniques are working and which aren't. You will also get valuable context to diagnose any drops in ranking so you can take immediate action. That said, having a high-quality keyword tracking tool gives you a competitive edge concerning your overall SEO strategy.
Rank Tracking Software — Summary & Top Picks
We've come to the end of this guide on SEO's best rank tracker software. I hope by now you have a clear idea of the type of keyword research tools you need for your business.
To summarize, rank tracking software helps you track how well a specific web page is ranking on Google and other search engines. The best rank trackers offer daily updates, additional SEO marketing tools, recommendations for improvement, and in-house analytics tools that give you data about the historical performance of your content.
Here Are My Top Picks for the Best Ranking Tracking Software:
Though there are many different keyword rank tracking software options available, I hope this guide helps you better understand things to make a decision.