Responsive web design is essential to search engine optimization. If your site doesn't adjust perfectly to different devices, then you'll have problems with visitor retention, website user interest rates, and search placement. According to recent reports, 77% of adults in the US own a smartphone, and with more and more people choosing to browse the internet through their mobile devices, it's important for businesses to be aware of responsive web design so they can reap the many benefits that come with it.
But, building a mobile-friendly site is about a lot more than just making sure the website can show up on a smartphone. The site also has to be just as impressive and intuitive on a mobile device as it is on a desktop. With that in mind, here are the best responsive website builders for you to choose from.
What Are the Best Responsive Website Builders?
Best Overall Responsive Website Builder (Starts from Free, then $16/month)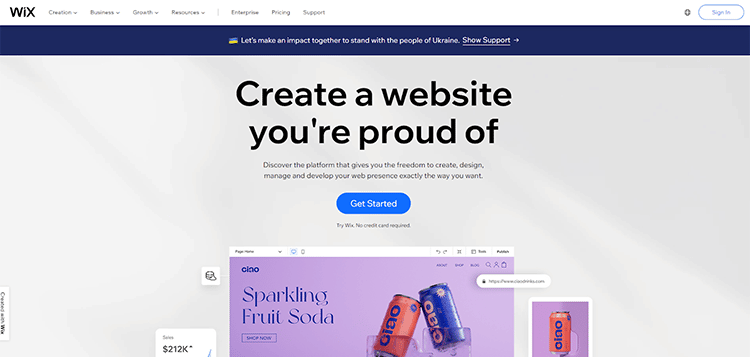 Wix offers a lot of impressive layouts that are explicitly designed for businesses in a variety of industries.
To get started, simply sift through the different categories, choose the appropriate template for your business, and get started customizing it to match your brand.
From online stores and restaurants to artists and entrepreneurs, you'll find perfectly designed and responsive templates to work with.
Also, you can extend the functionality of your website by integrating apps from the Wix App Market so you can better target, market, and sell to mobile users.
Key Features:
Intuitive Drag-And-Drop Builder: Wix has a highly intuitive, easy-to-use site editor that is perfect for beginners.
Hundreds of Responsive Templates: The platform has a massive selection of expertly designed, 100% customizable templates for any industry you can think of.
Wix App Market: There's an impressive range of easy-to-install plugins like photo galleries, eCommerce apps, etc. that you can use to add more functionality to your website
Pricing: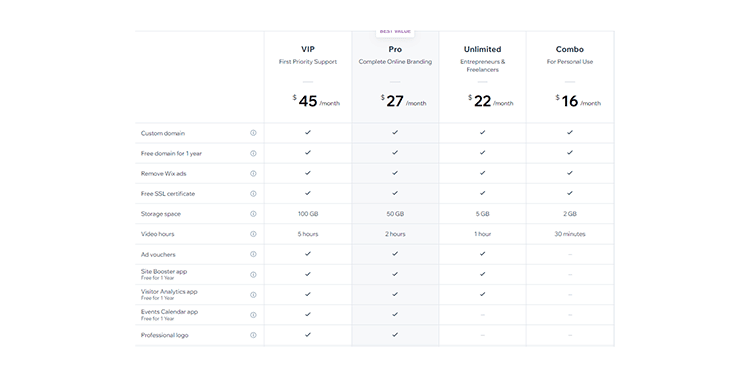 Wix has a free plan that allows you to publish a website on a subdomain. But, if you want a more professional website with a custom domain name, you will have to upgrade to one of the paid plans starting from $16/month.
---
Best Responsive Website Builder with AI Tools ($2.79/month)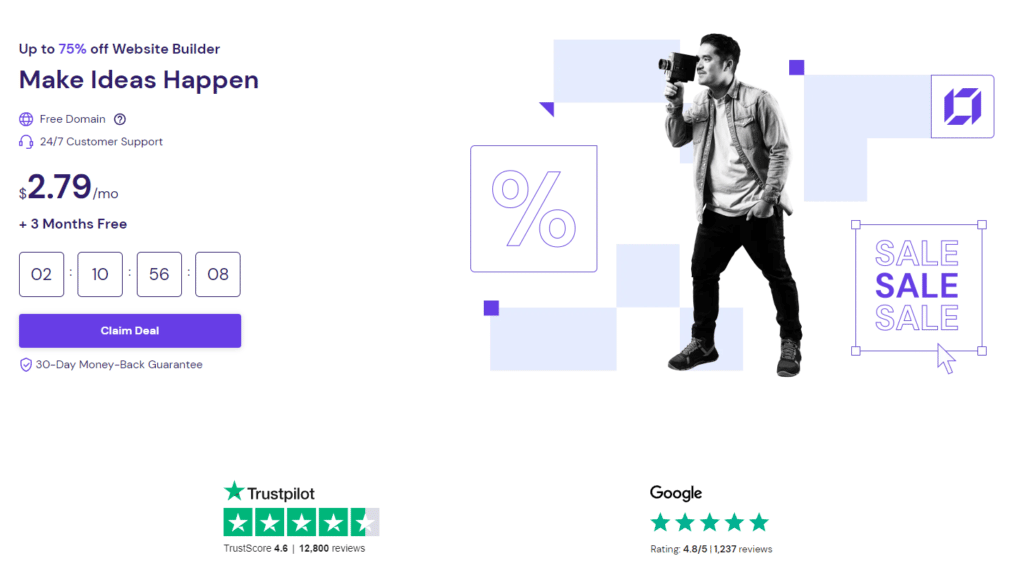 Hostinger is a powerful DIY website builder with a range of cool features, including AI-powered tools. The platform has an excellent interface, an easy-to-use drag-and-drop builder, and unlimited storage and bandwidth on all paid plans.
With it, you have a lot of control over your online presence and you'll be able to ensure that your website looks great on devices of any size.
This site builder is particularly great for setting up an online shop. You can choose from one of the many pre-made site designs and use AI tools to create website copy and even predict the way users navigate your website based on heat maps.
Key Features:
Responsive Web Design: Hostinger has a method of design that includes layouts that adapt perfectly to all screen sizes.
AI-Powered Tools: From content creators to logo makers, heat maps, and more, the platform provides AI-driven tools to power your online success.
Attractive Templates: Choose from dozens of pre-designed mobile-ready templates for websites and eCommerce stores.
Pricing:

Hostinger offers one simple plan with a 30-day money-back guarantee that offers a free domain, email, e-commerce features, marketing integrations, the ability to host 100 websites, unlimited traffic visits, free SSL certificates, and their proprietary website builder for $2.79/mo with the first 3 months free.
---
Best for Building Responsive eCommerce Stores ($16/month)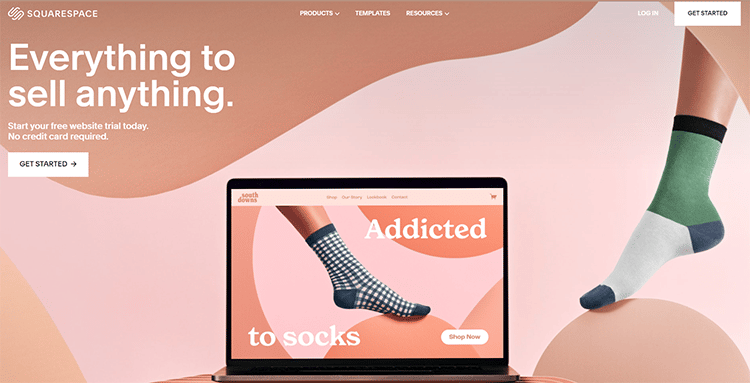 Over the years, Squarespace has gained notoriety as the best website builder with stunning templates.
If you are interested in building a highly visual website with large, high-resolution images, then this is likely the best responsive website builder for you.
Squarespace has successfully expanded into the eCommerce world and provides excellent shopping cart modules, payment processing, and various other tools to help you build a successful store online.
The platform is also great for launching multiple websites in a relatively short period of time. Best of all, the software is offered at a reasonable price and you get top-notch hosting and site-building features.
Key Features:
Free Trial Offered: You can sign up for a free trial to test out the software without the need for a credit card.
Manage Multiple Websites: Squarespace allows you to easily manage and run multiple websites for clients or your own network.
Fully Custom Responsive Sites: The platform's Developer Program allows you to build fully custom, mobile-ready sites using templates, integrations, custom coding, etc.
Pricing: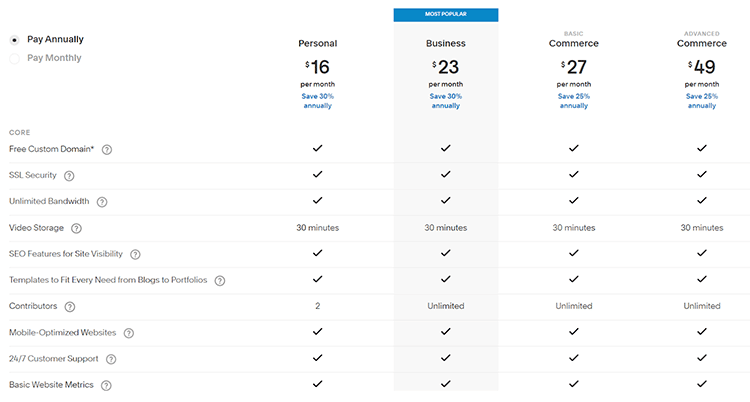 You can try out Squarespace for free by signing up for a free trial. Upgrade to one of the paid plans to unlock more features and functionality. The cheapest plan is $16/month and comes with a free custom domain, SSL security, and unlimited bandwidth.
---
Best for Creating Outstanding One-Page Websites (Starts from Free, then $8/month)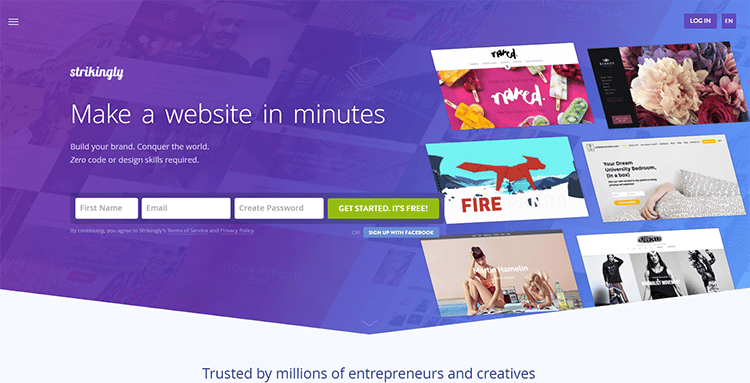 Strikingly allows you to create well-designed websites with extreme ease. The responsive website maker specializes in building one-page websites using attractive themes, all of which have responsive designs.
You get easy-to-use website building tools and you can switch templates without having to rebuild your entire website.
Having said that, Strikingly does have somewhat limited customization options compared to other website builders on this list. But, it is perfect for anyone who wants to showcase their product or service using a one-page site.
Key Features:
Responsive Pages: All of the platform's templates are fully responsive so your website is displayed perfectly on all device sizes.
Easy to Use: The platform has a simple drag-and-drop builder that requires no coding knowledge or web design experience.
Affordable Pricing: Starting at just $8/month, this site builder has one of the most affordable plans, making it perfect for beginners and small businesses.
Pricing:
Strikingly lets you get started building your website for free. However, the free plan is quite limited, and you'll have to upgrade to a paid plan to unlock more features. Premium plans start from $8/month and come with a custom domain, 2 sites, and up to 5 pages per site.
---
Best for Building Professional Responsive Websites and Value-for-Money(Starts from Free, then $6/month)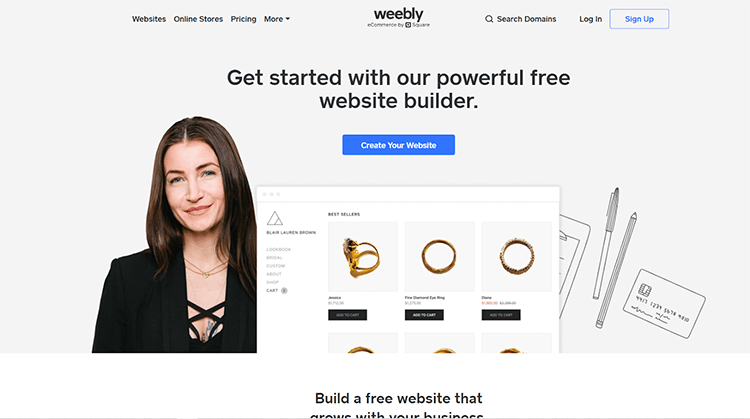 Weebly is a powerful responsive web builder for creating responsive websites. It's hands-down the easiest drag-and-drop site builder you'll find out there.
The software is perfect for anyone who is tech-challenged, but the ease of use comes at a cost. The platform doesn't have as many features as other site builders like Squarespace, Hostinger, or Wix.
This is done intentionally to keep the user interface as simple and minimalistic as possible for a shorter learning curve. But, that doesn't mean you can't create a great-looking, functional website, because you absolutely can.
Key Features:
Powerful Mobile Features: Weebly has beautiful, responsive mobile website themes and device previews so you can see what your site looks like on mobile before publishing.
Drag-And-Drop Mobile Design: Use the platform's powerful mobile website builder to fully optimize and customize your website.
Free Plan Available: You can use this free responsive website builder for for as long as you want. Only upgrade when you're ready to take your business to the next level.
Pricing: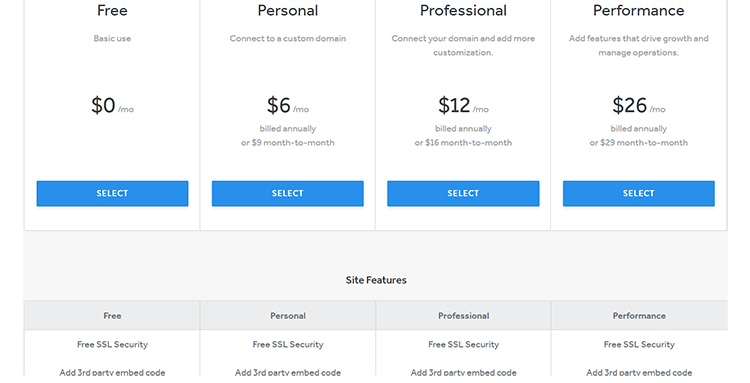 You can start using Weebly for free by signing up on the platform. Once you are ready to upgrade, you'll have access to a wider range of tools and support services. Premium plans start from $6/month.
---
Best for Simplicity and Ease-Of-Use (Starts from Free, then $12/month)
Like all other website builders covered in this guide, Webflow has a simple drag-and-drop editor that allows you to create, design, and publish a responsive website without having to touch a single line of code.
Not only is this platform perfect for beginners, but it's also ideal for experienced users, as well. The site builder is somewhere between a modern SaaS site builder and a traditional platform for web developers.
It's somewhat similar to WordPress, meaning that if you have programming knowledge, then you will enjoy high levels of freedom and customization. You'll get access to CSS and JS managers for granular control over the styles and animations of your website.
Key Features:
Mobile-Ready Templates: Once you sign up for the premium plan, you will have access to a wide range of responsive website templates for any type of website or online store.
Basic and Advanced Tools: Whether you're a complete beginner or an experienced web developer, you'll find the right tools on this platform.
Growth-Focused Plans: Choose the plan that has the features you need, ranging from the Basic plan to the CMS package, Business plan, and eCommerce plans.
Pricing:
Start using Webflow for free by signing up on the website. Once you're ready to upgrade, choose from one of four plans starting from $12/month billed yearly. This plan comes with a custom domain and 50 GB bandwidth.
---
Best for Extreme Customization Capabilities (Free + $299/year).
WordPress.org is the most popular website-building tool for non-developers. Anyone can download and use it for free, and it comes with a wide range of features and optimization options.
This content management system (CMS) offers design flexibility and comes with powerful tools to fine-tune your mobile website design.
Thrive Themes is a suite of super fast templates and plugins designed to work with WordPress. The software helps you personalize your website more than any other website builder mentioned here.
By using both tools, you are guaranteed a highly customized, responsive website that will help you stand out in any niche.
Key Features:
Expertly Designed Templates: Thrive offers a lot of templates built by experts to be mobile-ready and fully customizable.
Responsive and Fast: All of Thrive's templates load extremely fast and display perfectly on all devices.
Advanced SEO Tools: WordPress.org and Thrive Themes come with advanced tools, such as the Yoast SEO plugin to rank your content higher on Google.
Pricing:
WordPress CMS is free to download and use. Simply go to WordPress.org, download the software, and install it on your site.
Thrive Themes costs $99 quarterly or $299 paid yearly.
---
Best No-Code Responsive Website Builder ($149/year)
Mobirise is the perfect tool for anyone who wants to avoid building a website in their browser. This mobile-friendly website builder comes with an offline app for Mac and Windows.
The responsive web builder is designed to simplify the entire website-building process and has a relatively short learning curve – even for complete beginners.
No need to read code or learn about web development. If you can drag and drop blocks onto a page, you'll be able to create and customize any type of website you want.
The process of using this software is simple. First, download and install it, then pick a theme you like, drag-and-drop blocks to create the exact look you want, and then customize text, colors, images, etc. to create a totally unique website.
Key Features:
Responsive Website Themes: The platform has dozens of beautiful 100% responsive themes to choose from.
Mobirise Extensions: There are dozens of website apps, extensions, and widgets you can use to extend your website's functionality, including social media feeds, payment tools, form builders, and more.
Huge Savings: The platform is currently running a special where you can get all the blocks, premium themes, and extensions for just $149.
Pricing:
You can buy and download the entire suite of website-building tools for just $149/year. It comes with thousands of blocks, themes, extensions, and plugins.
---
Best Responsive Website Builder for Modern Mobile-Responsive Themes (Starts from Free, then $4.54/month)
This responsive web builder follows all modern web standards. The result is a solution that comes with a wide array of amazing features including custom domains, website security, reliable hosting, SEO and marketing features, AI tools, and much more.
With this platform, you'll have the power to build a responsive, fully functional website in a relatively short period of time. You can even modify and change the default settings so your website matches your brand precisely.
Key Features:
Ready to Use Responsive Templates: Whether you want an online store, portfolio, or personal website, you'll find dozens of ready-made templates to choose from.
Powerful Marketing Tools: Leverage analytics systems and pop-up windows that are shown on triggers, forms, and trigger action execution.
Built-In CRM: The platform comes with a fully functioning system for managing all your customer data.
Pricing:
Weblium has a free 14-day trial that gives you access to all the platform's features. If you decide that this is the right fit for you, then you can upgrade to either the Bundle or Pro plan which costs $4.54 and $8.25/month respectively.
---
Best Responsive Website Builder for Robust Analytics and Reporting ($9.99/month)
GoDaddy is one of the best responsive website builders with powerful analytics features. It has simple and straightforward design elements that make the website building process easier.
Unlike many other platforms on this list, GoDaddy doesn't come with a lot of bells and whistles. Instead, the responsive website maker focuses only on providing you with tools to design, build, and launch a website that is responsive and fully optimized for search.
To get started, simply answer a few questions about your business, such as your industry, category, etc. Based on your answers, the site builder will automatically generate a completely mobile-friendly website in under five minutes.
The site will have your business name and all the pages you need to get started. You can then proceed to update the information on each of your website pages so it accurately reflects your particular business, products, or services.
Key Features:
Simplicity and Ease-Of-Use: You don't have to know anything about coding or web development to build a professional, full-featured website on this platform.
Ultrafast Website Creation: With GoDaddy, you'll have a complete and fully-responsive website in five minutes or less with the help of AI-driven tools.
Effective Marketing Tools: Once you sign-up, you will have access to a powerful admin panel with a range of marketing tools to help you solidify and expand your online presence.
Pricing:
GoDaddy pricing starts from $9.99/month for the basic plan which comes with a drag-and-drop website builder, custom domain name connection, website security (SSL), support, and many other features.
---
Best for Managing Multiple Responsive Websites (Starts for Free, then $8/month)
IM Creator is a website builder designed by creators, for creators. It's free to get started and you can design, build, and publish a site risk-free.
The platform comes with easy editing features making website building a simple, fast, and intuitive process – even for those with zero experience.
This industry-leading editor requires no coding whatsoever and every website you create using the software is fully responsive by default. The content on each page will naturally adjust itself to any device, whether it's laptops, tablets, or smartphones. It will even look great on wearable tech, such as Oculus and smartwatches.
The free plan makes it easy for you to start small so you don't get stuck even if you're not sure how to build the exact site you want. You will be able to choose a template and launch a simple, single-section site in just minutes. Over time, you can then build complexity into your website to make it stand out.
Key Features:
Always Responsive: All the content you add to your pages will be responsive automatically, including text, images, videos, etc.
Simple Page Editor: Building a website with this software is as simple as mixing and matching pre-built sets and blocks that are fully customizable.
SEO Friendly: The platform comes with a comprehensive range of search engine optimization tools out of the box so you can boost your traffic, engagement, and conversions.
Pricing:
Students, artists, and nonprofits can use this platform completely free by applying for a free license. All other users can get the premium account for just $8/month and get unlimited hosting, custom domain, eCommerce features, and access to all mobile-responsive themes and templates.
---
Best Mobile Website Builder for eCommerce (Free Trial, then $29/month)
Despite what many people assume, Shopify isn't unjust for eCommerce websites. This easy-to-use Shopify site builder can be used to design any type of website you want, including personal and business websites, portfolios, membership sites, blogs, and more.
The platform has a drag-and-drop editor with hundreds of templates catering to dozens of different categories, including services, art and design, restaurants and food, eCommerce and retail, fashion and beauty, and much more.
Shopify also has an extensive range of apps and add-ons for you to add functionality to your website, including SEO, marketing, and sales tools.
You can make a beautiful responsive website without coding. But, if you want to dive into the back-end code, then you can explore the platform's Liquid coding language.
Key Features:
Massive Range of Features: Shopify's range of features is impressive and allows you to add any kind of functionality you want to your website.
Powerful eCommerce Capabilities: Mobile responsiveness is crucial to eCommerce and the platform's features provide you with the best of both worlds.
Channel Integration: Shopify allows you to access multiple channels from one platform, including Amazon, eBay, Instagram, Facebook, and more.
Pricing: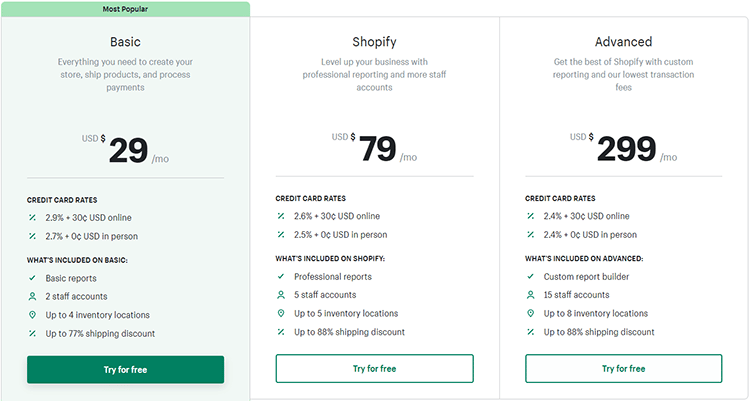 You can test out Shopify's features by signing up for a free trial on the site. Unlock more features and functionality by upgrading to one of the premium plans starting from $29/month. The cheapest plan comes with everything you need to build a responsive website or online store, process payments, ship products, and more.
---
What Features to Look For in a Responsive Website Builder
When choosing a website builder, you want to look for one that optimizes user experience (UX) and allows you to edit and view your content to make sure it renders well on all devices, from desktops to smartphones, and everything in between.
This way, you'll be able to build a site that runs smoothly, places higher in keyword rankings, and provides a positive UX to keep your visitors engaged, and lower bounce rates.
With that said, here are some important features to look for in the best responsive website builder:
1. Ease of Use: Choose a website builder that is easy to use so you don't need to learn coding skills in order to give your site responsive features.
2. Responsive Templates: Make sure the site builder you go for offers a set of mobile-optimized templates that perfectly adapt to different screen sizes making your website accessible even on the go.
3. Customization Options: Your site builder must have full customization features so you can ensure quality, brand consistency, and a smooth experience for your visitors.
4. Robust Support: In addition to being easy to use, your chosen platform should come with prompt and knowledgeable support so you can get assistance anytime you need it during the website creation process.
5. Affordable Pricing: Choose an affordable website builder with all the tools you need as well as the ability to scale sustainably as your website starts to grow. Even better, choose one that offers a free trial or free version of the software so you can test out the platform's core features before committing to a paid plan.
Still, it's a good idea to consider a couple of website builders and compare their features before settling on 'the one'. The good news is that even specialized website builders (such as Bandzoogle for musicians; check out my Wix vs. Bandzoogle comparison here) are always responsive.
Responsive Website Builders Summary & Top Picks
These days, it's no longer enough to use a website builder that simply delivers the best desktop experience. Customers spend more time on their phones than ever before, which means you need a website builder that comes with immersive tools to build the ultimate responsive web pages.
This review has outlined some of the best responsive website builders out there. You can now make your choice according to the features that you prioritize.

As a quick recap, here are five of my favorite tools for building mobile responsive websites: