It's become easier than ever for patrons to discover new restaurants and delivery services in their area.
All I have to do is tell Google to search local restaurants in my area and then scroll through the results. However, according to a study conducted in February 2021, most patrons prefer to use a restaurant's own website or app for delivery.
What this means is that restaurants can't rely on Google or DoorDash alone to bring in new customers. They need a personalized website that highlights everything the restaurant has to offer.
To maintain a competitive advantage, a great restaurant website needs to include a menu, lists of specials, contact information, geo-location services, delivery options, and even a blog to keep patrons up-to-date with the latest changes.
Now, I know what you're thinking: that sounds like a lot of work. But it doesn't have to be. The best website builders for restaurants can help you to create a high-quality site even if you aren't tech savvy. In fact, if you were to start today and spend a couple of hours on it, you'd be able to have a website by tomorrow.
This guide will help you understand what Restaurant site builder is best for you.
What is the Best Website Builder For Restaurants?
The list below contains both generic website builders and those created specifically for building restaurant websites.
As you read through the list, and before you make your choice, decide whether or not you want to accept online orders online, link to a POS system, deliver online orders, etc. In such a case you need an eCommerce restaurant builder.
However, if you simply want to build a website where customers can view your menus, find your contact information, and place reservations, you can opt for a simple website builder.
Luckily, most of the options on our list provide all the features you need to build an informational restaurant or an eCommerce restaurant, which means you're getting the best of both worlds.
Design, create and manage your web presence easily ($14/month).
Wix is a powerful website builder that is designed for general use. Although it's not tailored specifically to restaurant websites, it still has a lot of features to help restaurant owners build a strong presence online.
There are a ton of high-quality templates that you can choose from, many of which are perfect for restaurants.
And whether you're a beginner or an experienced user, there are powerful and intuitive marketing tools on the platform that you can use to attract customers, engage them with emails, promote your menus on social media, take online orders, and allow customers to book tables online.
Key Features:
Restaurant Template Collection: Wix has a collection of mobile-ready templates for all types of restaurants, including local cafes, steakhouses, bistros, and even food trucks.
Wix Restaurants App: This service makes it possible for your website visitors to make reservations, place online orders, specify the delivery, and pay securely online.
Personalized Emails: The built-in email feature makes it easy for you to notify your guests about menu updates, new dishes, special offers, and any other events.
Pros of Wix:
No-commission eCommerce functionality
Intuitive drag-and-drop editor
Choose from numerous restaurant website templates
Optimized for mobile devices
Robust online ordering system
Easily integrate customer interaction tools like Google Event Calendar
Pricing:
What Are People Saying?
"It is so user-friendly now, and the features/apps it comes packed with are amazing. My clients are now able to edit/update their own website because of how easy it is to use. Also, yesterday I challenged myself to see how fast I can create an entire 3-page website with SEO and a sleek look…. took me less than an hour. That means Wix gives me the ability to make over $500 per hour. I highly recommend Wix over any other web design platform." Seth C. – Startup Mentor + Brand Strategist.
---
Best restaurant website builder for beautiful pages and full functionality ($16/month).
Squarespace is yet another general-purpose website builder that you can use to build a beautiful restaurant website.
It has a wide range of fully customizable templates from world-class designers. Many of the templates are image-focused, which makes it easy to use them as a way to showcase your venue, as well as your restaurant menu items in a stunning way.
If you are new to creating websites, Squarespace is a great option for you because the platform provides instructions every step of the way to guide you in creating and launching a successful restaurant website.
You'll be able to learn how to leverage the tools on the platform so you can get the most out of all of them, including the platform's powerful email marketing tools that will help you reach and engage your restaurant clients.
Key Features:
Restaurant Templates: Squarespace has a selection of expertly designed and fully responsive restaurant templates for you to choose from.
ECommerce Functionality: The platform has a powerful integrated eCommerce engine that lets you sell online easily.
Image Customization: There is a selection of image customization tools to help you drive user attention. These include a logo maker, cover page builder, image editor, etc.
Pros of Squarespace:
Advanced visual editor
Highly responsive mobile templates
Provides CSS customization features
Robust analytics four monitoring site performance
Powerful SEO tools for quick rankings
Pricing:
What Are People Saying?
"My favorite feature of Squarespace is the templates. If you want something that is 90% built out, this is the way to go. You pick your design, input text, and a logo, then you're done! It really is that simple. But for those of us who want a bit more control, Squarespace also makes it easy to edit just about every detail of the page; everything from the design to picking your exact HEX colors." Luke S. – Software Tools Administrator.
---
Build a website, get discovered online, and grow your customer base (Starts from Free).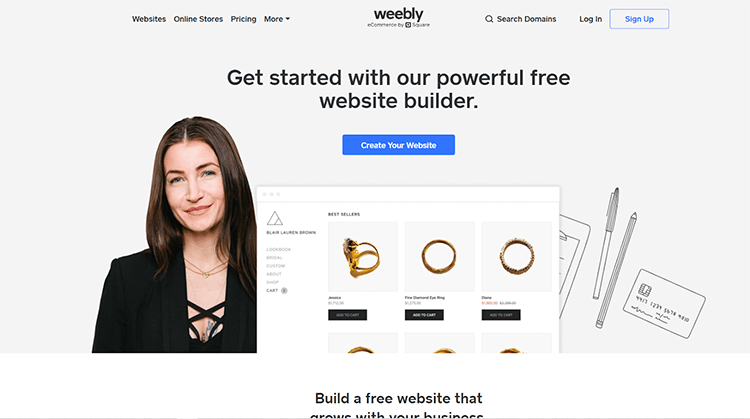 Weebly is one of the most popular website builders for beginners. It has a simple drag-and-drop editor that lets you get a website live in a quick and hassle-free way.
This platform's customization features aren't as powerful as many of the other options on this list. But, if you want to build a simple informational restaurant website, then Weebly is perfect for you.
If you want an eCommerce restaurant website, there are a number of apps available on Weebly's platform that will allow you to extend your website's functionality, including apps for accepting reservations, accepting food orders, displaying menus, and much more.
Key Features:
Drag-And-Drop Editing Tools: Weebly is a pretty straightforward platform that lets you drag elements like text, images, etc. to build your website pages.
Stylish Restaurant Website Templates: Although Weebly's range of templates is small, you'll still find food-focused designs that are exceptional.
Reliable Support: The platform offers support in a number of ways, including a community forum, help center, live chat, email, and phone support.
Pros of Weebly:
Simple but powerful site-building tools
Video backgrounds available
Site search feature
Tons of customized fonts to choose from
Free plan available as well as ecommerce and business plans
Pricing:
What Are People Saying?
"What I like most about Weebly is a large number of templates they have to modify according to their requirements. It is a simple and efficient platform, which is even very useful in its free version." Gabriel A. – Small Business Owner.
---
An AI-powered platform for building exceptional websites ($2.90/month).
Zyro has a suite of tools that make building a website for your restaurant easy and quick. With this platform, you get the technicalities of a modern, high-performing restaurant website – all at an extremely affordable price.
You can embed your restaurant reviews from Yelp, Google, Trip Advisor, etc. to help your audience learn more about your restaurant experience. Zyro is also fast loading, mobile-ready, and cross-browser compatible.
On the platform, you'll also find a few basic built-in SEO tools so you can rank your restaurant website quickly. In addition to that, Zyro has a suite of AI-driven tools designed to make your website creation and management tasks a lot easier.
Key Features:
Map Integration: This feature lets you add a map so you can pinpoint your restaurant's location and make it easier for clients to find you.
Restaurant Templates: There are a lot of modern, minimalist restaurant templates to choose from.
AI-Powered Tools: Zyro has AI tools for everything, including a business name and slogan generator, a copy generator, logo maker, and more.
Pros of Zyro:
Built-in website menu tool
Simple, easy to use page editor
Beginner-friendly AI tools
Stylish, expertly designed restaurant templates
Budget-friendly plans including unlimited bandwidth beginning at only $3.90 per month
Pricing:
What Are People Saying?
"Overall, so incredibly intuitive to use which makes it really beginner-friendly for people with little to no experience in web design. But, like many, I have experience with Canva so it was really nice to see how user-friendly the entire interface is." Anthony H. – Small Business Owner.
---
Best website building platform for flexible design and full customizability ($228/year).
WordPress is a popular CMS (content management system) used by 41% of websites on the internet. It's a free and open-source software (FOSS), and a great option to consider when building your restaurant website. You have to get your own hosting and theme for you to use this software, and that's where Thrive Themes comes in.
Thrive Themes is a powerful set of plugins, widgets, and themes designed for creating websites on WordPress. When you opt for this site builder, you also get all the tools at your disposal for building stunning, conversion-focused pages, as well as tools for email marketing, customer satisfaction surveys, reviews, comments, etc.
Key Features of Thrive Themes:
Stunning Restaurant-Specific Templates: Thrive has a range of high-quality, fully customizable templates designed specifically for restaurant websites.
Online Menu Plugins and Add-ons: The platform integrates with a wide range of tools that you can use to create and add a restaurant menu to your site.
Thrive University Training: When you sign up for Thrive's suite of tools, you also get free training to help you build the best restaurant website you can.
Pros of Thrive Themes:
Wide range of marketing and sales tools
100% responsive, conversion-focused theme
Intuitive drag-and-drop page editor
A ton of third-party integrations
Provides great value for money
Pricing:
What Are People Saying?
"I was looking for a better tool for making email signup forms on my website. This makes it so easy to get exactly the signup form I want, place it on exactly the pages I need, and automate A/B split-testing. Oh, and it's super simple to make different but related forms for desktop and mobile visitors. I love love love the Thrive Suite set of tools." Randy Ingermanson.
Get Started With Thrive Themes
---
A platform that makes it easy to take your restaurant website online (Starts from Free).
Square Online is a popular website builder that is restaurant-tailored and offers a free eCommerce website plan for businesses.
The platform has powerful search engine optimization features to help you boost your presence online from the first day your site goes live. You can connect to social media platforms and start selling there at once.
Inventory management is made easy thanks to built-in features, and there is an optimized online shopping cart (similar to ThriveCart or Samcart) designed to increase the value of your transactions. You can get all of these features for free, but, as your business grows, you can then select the right plan to suit your needs.
Key Features:
Online Selling Tools: Square Online makes it easy for you to start selling, ship orders, offer local delivery or curbside pickup, etc.
Get Started for Free: The platform lets you launch your restaurant website for no monthly fee, which is great for restaurants on a budget.
Fast and Easy Setup: The site builder is intuitive and simple to use, designed to help you create and publish your restaurant website in minutes.
Pros of Square Online:
Free eCommerce plan for restaurants
Sell on Facebook, Instagram, and other social sites
Professional eCommerce website templates
Accept membership fees or donations online
SEO features to boost search ranking
Pricing:
What Are People Saying?
"Square Online gives us a lifeline so cash flow doesn't halt completely during this time."
Vince Pizzinga – Co-Owner, Mark + Vinny's.
"Extending our retail business to online sales was quick and easy with Square Online."
Alvin Haruthunian – Operations Manager, Hi-Lo Liquor Market.
Get Started With Square Online
---
An easy website creation solution for new and established restaurants ($39/month).
Flavor Plate is a great site builder to consider for your restaurant website. It has all the features you need to run your business, whether you have an established restaurant or you're just starting out.
The platform is affordable and thoughtfully designed to make it easy even for complete beginners to build an attractive and professional-looking restaurant website. Absolutely no technical knowledge is required.
This means that even if you have no prior experience creating or managing a website, the intuitive drag-and-drop platform will help you access and use all the tools you need to create eye-catching menus, connect to social media channels, synchronize updates, set up the calendar tool, showcase your upcoming events to visitors, and much more.
Key Features:
Built-In Revenue Boosting Tools: Flavor Plate helps you generate more revenue with ready-to-use customization options like online ordering, gift card sales, etc.
Robust Customer Support: The platform has dedicated customer support so you can get help whenever you need it.
Award-Winning Design Team: You can (upon request) get help from a team of experts to assist you with the setup and management of your website.
Pros of Flavor Plate:
Mobile-optimized restaurant website templates
Unlimited photos and menus
SSL security included
Built-in contact forms
Custom domain name included
Free 14-day trial with no credit card required
Pricing:
What Are People Saying?
"They have an amazing product and their customer service is impeccable. One of the greatest assets of the platform is the admin. It is so easy to use and easy to train other managers so that website/menu edits do not just fall on one person. I can not speak highly enough about Flavor Plate." Sara Schu – Hyatt Hotels.
---
All the tools you need to create a unique restaurant website ($10/month).
Let's Eat is an innovative restaurant site builder designed to take the hard work, complexity, and expense out of creating a website for your restaurant business.
With it, you'll be able to save time on design thanks to the dozens of free, professionally designed restaurant website templates.
You won't have to start from scratch building your site pages, and you can easily customize the templates to match your restaurant's branding.
You can also implement free or paid services from Let's Eat! Marketplace to extend the functionality of your site. The image below outlines some of the apps you can integrate into your restaurant website:
Key Features:
Email Marketing: Built-in email marketing tools allow you to send timely user notifications pertaining to your services, updates, special features, etc.
Satisfaction Surveys: You can conduct and post satisfaction surveys on your site for other users to learn more about the experience of visiting your restaurant.
Online Ordering: Let's Eat partners with OpenDining service so visitors on your website can place orders online.
Pros of Let's Eat:
Integrate with top social media networks
Customize website logo, colors, and background
Responsive restaurant website templates
Choose from dozens of old-school and modern fonts
Simple pricing is ideal for all budgets
Pricing:
---
Additional Options:
Site123: Great restaurant templates with stunning design elements.
GoDaddy: A simple platform for basic restaurant websites.
uKit: An easy-to-use website builder for small businesses.
Duda: A quick and professional way to build a website for your restaurant business.
Webnode: Best for building a simple site on a very tight budget
Bluehost: Offers hosting and website building services for all types of businesses.
Shift4Shop: A website builder for restaurants with a free, unlimited plan.
Gloriafood: A provider of powerful restaurant online ordering software.
PageCloud: Easily create online menus, conduct pages, photo galleries, etc.
UpMenu: A website builder specifically designed for food delivery.
Shopify: Great website builder with straightforward eCommerce features.
What Features to Look For in a Website Builder For Restaurants
Now that you had a look at our list of the best website builders for restaurants, you might be wondering how to choose the one that's ideal for you.
Listed below are a few of the features you need to consider before making a decision.
1. Ease-Of-Use: The website builder you choose should be simple, cost-effective, and easy to use. You want one that will provide you with a smooth user experience so you don't spend hours trying to learn how to make different features on the platform work.
2. Restaurant Website Templates: You want a site builder with a lot of options for you to choose from so you don't have to start creating your website pages from scratch. Templates should be designed specifically for restaurants to make your work easier for branding and customization.
3. Full Customizability: You want to have full control over the way your website looks and feels, so look for a page builder with intuitive editing tools that will let you easily change all the different elements that make up your website, including layouts, images, fonts, colors, etc.
4. Easy Integrations: Your site builder should either have built-in tools or make it easy to integrate with third-party apps for online reservations, menus, interactive maps, etc. so you can get the functionality you need from your website.
5. Marketing Features: Choose a website builder with social media integration and various marketing features, including email marketing, SEO tools, and so on. This will make it easier for you to get found by your target audience online once your website goes live.
6. Customer Support: This is an important factor to consider when choosing the best website builder for restaurants. The last thing you want is to be stuck without help when you face a problem during the creation or management of your restaurant website.
So take a look at online reviews and choose a website builder with reliable customer support offered through the channels you prefer (email, live chat, phone, etc)
How Can a Website Builder Help You as a Restaurant Owner?
These days, having a website for your restaurant business isn't just a nice-to-have, it's a necessity.
And, for you to compete effectively in such a crowded space, it's important to be able to build an attractive and engaging website that highlights your location and menus and provides all the information your customers need.
For this, you can either hire a developer (which can be very expensive), or you can use a website builder to create the site yourself.
The right website builder takes away the need for having to learn how to code websites. It makes your job a lot faster and easier and allows you to connect to social media, third-party review sites, and a variety of other marketing apps and tools so you can manage your online presence from one convenient place.
In short, having a website builder will help you build a site that will strengthen your online presence and contribute toward making your restaurant business more profitable and viable.
Website Builder For Restaurants FAQ
Why does a Restaurant Need a Website?
A website is important for a restaurant because it's an affordable way to build a solid brand image and increase awareness of your restaurant.
A website also serves as a place to tell online visitors about your services, showcase your menus, location, and customer reviews, keep visitors up-to-date on upcoming events, and give people an easy way to reserve tables and order food online.
What Pages Are a Requirement for a Restaurant?
Depending on your type of restaurant, you might want to include some of the following pages on your website:
Home
About
Menu
Reservations
Online Orders
Shop
Contact
Special events
Testimonials
Regardless of the pages you choose, the important thing is to make sure your website is a source of up-to-date information about your restaurant.
What Tools Can Help Me Take Reservations Online?
You can easily integrate online reservation systems into your website so customers can make reservations online.
Here is a list of some of the most popular restaurant reservation software options available right now:
Eat App
Resy
Wisely
OpenTable
Yelp
Table Agent
Tock
Eveve
Can you Build a Restaurant Website Yourself?
Building a restaurant website is the same as creating any other type of business website. And, with the right website builder such as the ones outlined above, you can easily do this yourself – even without any prior technical knowledge or experience.
Summary
We've come to the end of this article on the best website builders for restaurants. By now, you should have a good idea of which of the options listed here would be a great fit for you. Here's a quick recap of what we discussed:
My number one recommendation is Square Online.
It's a powerful website builder with all the features you need to run a successful restaurant website, and the free plan comes with eCommerce functionality.
Just remember to consider your specific needs for a restaurant website before making your choice.
Luckily, all the options featured here offer either a free plan or a free trial so you can test out the platform's features before committing to a paid plan.