WYSIWYG stands for "What You See Is What You Get". A WYSIWYG website builder is one that's designed to help you create a website using pre-made, customizable, and responsive templates. It has a simple editor (usually drag-and-drop) that allows you to immediately preview the changes you make so you know exactly how your website will look before you hit publish. A WYSIWYG builder is the ultimate tool for building amazing websites with zero coding knowledge. Read on to discover some of the best WYSIWYG website builders available.
What Features to Look For in a WYSIWYG Website Builder
There are dozens of website builders with WYSIWYG to choose from, and to narrow down this list, I focused on the following user-friendly features:
1. Ease-Of-Use: This is one of the most important things to look for when choosing a website builder. The entire purpose of using a WYSIWYG platform is to make the website creation process more accessible. So, make sure you choose a solution with an intuitive interface, user-friendly features, easy navigation, and a simple editor.
2. Pre-made Templates: Look for a website builder with a wide range of well-designed templates to choose from so you don't have to start building your website from scratch. Templates should be mobile responsive, and you must make sure it's easy to switch from one template to another without losing the content you've created. Otherwise, if you change your mind, then you have to start again from scratch.
3. Customization Capabilities: Great templates do most of the heavy lifting for you. But, you still need to be able to customize the look to match your brand and make your website look unique. Fortunately, WYSIWYG builders give you lots of room to play around with colors, fonts, and layouts to make your website pages look exactly how you want. The entire customization process is easy to handle and requires no technical skill.
4. Reliable Customer Support: WYSIWYG editors are user-friendly by their very nature. However, in the event that you come across an obstacle in the road, you want to be able to get assistance as quickly as possible. That's why my list of the best website builders includes only those with timely, professional, and knowledgeable customer support.
What Are the Best Website Builders for WYSIWYG?
Best Overall Website Builder for WYSIWYG (Free Trial, Then $16/Month)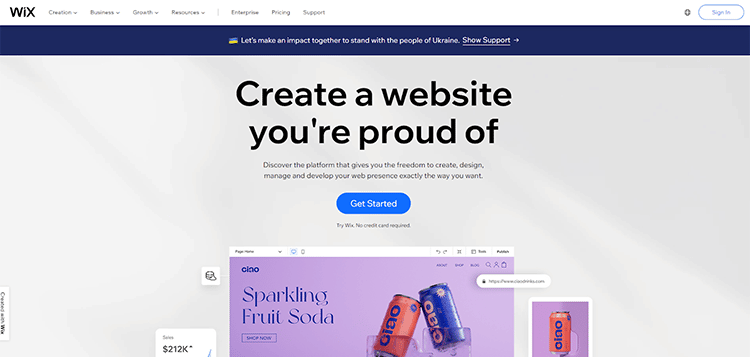 Wix is a popular website-building platform with an intuitive WYSIWYG editor. It's used by many businesses and individuals to build professional websites without the need to work with code.
You'll find dozens of templates in different categories. These are designed to make it easy for you to create a website without having to start from scratch. Easily adjust your template for mobile using the separate, and also WYSIWYG editor on the platform.
Customize the template's layouts, fonts, colors, etc. using a simple drag-and-drop editor that lets you position different elements anyway on the page while still providing you with alignment recommendations to ensure that your layouts will be aesthetically pleasing.
Key Features:
Wix ADI (Artificial Design Intelligence): Wix has an AI design tool that can build your website for you if you're short on time.
Pre-Installed Apps: Many of the templates come with pre-installed apps like galleries, sliders, online reservation apps, etc. to give you more functionality for your website.
Generous Free Plan: Wix lets you build a unique and fully functional website for free with no limit on the number of pages that you can add to your site.
Pricing: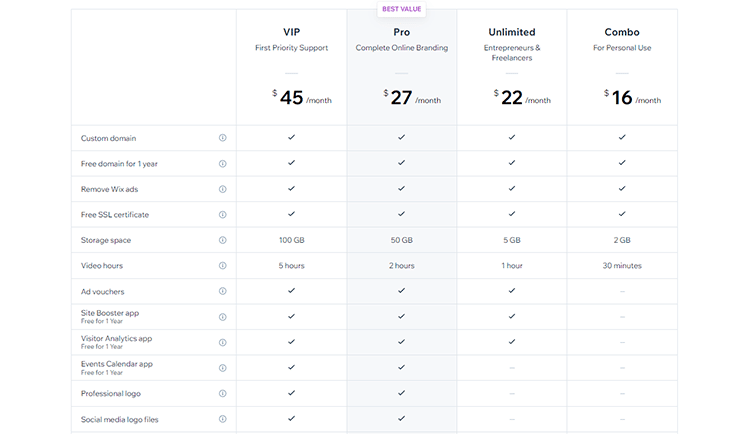 Wix offers a free plan that lets you build a visually attractive website and get access to most of the core features of the platform. Premium plans start from $16/month, and come with custom domain integration, removal of Wix ads, and a free SSL certificate among other features.
---
Best WYSIWYG Web Builder With Artificial Design Intelligence ($2.79/month)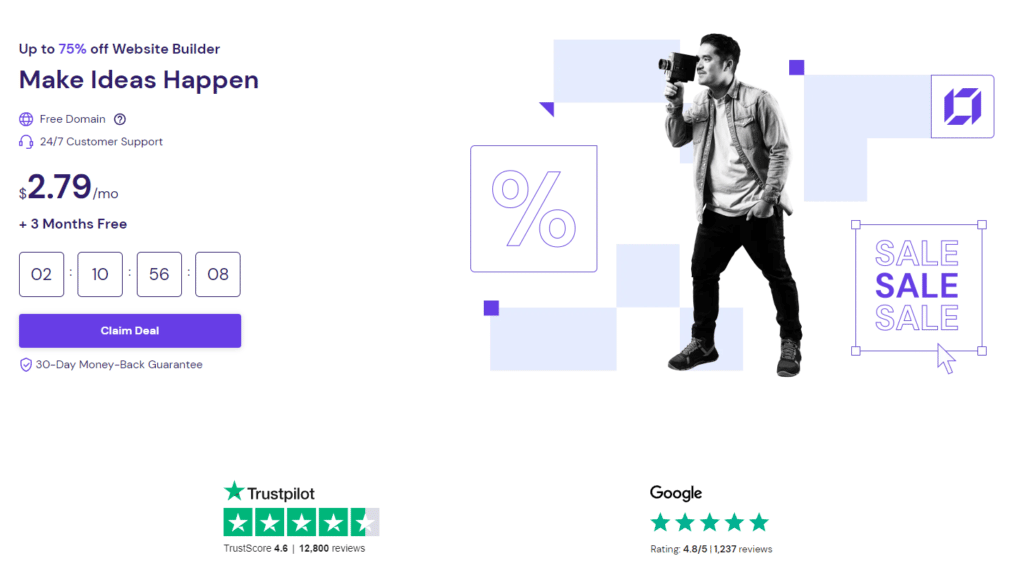 One of the most important factors when choosing a WYSIWYG web builder is customization. Hostinger offers you immense customization capabilities so you can take your site way beyond pre-made templates.
With competition the way it is online, this is an incredibly important feature that will help you build a unique and visually appealing website without having to hire expensive developers or go through an inordinately long learning curve.
You can also customize the user experience to ensure that your site visitors can easily find the information they are searching for on your website.
Key Features:
Intuitive WYSIWYG Editor: With Hostinger, what you see on your computer screen as you edit your website is exactly what your visitors will see once your site is published.
Customized Templates: You'll find dozens of customized templates in a variety of fields, including business, eCommerce, freelancing, etc.
SEO Features: The platform offers built-in features like search analytics, top keyword, mobile responsiveness, internal links, and backlinks.
Pricing:

Hostinger offers one simple plan with a 30-day money-back guarantee that offers a free domain, email, e-commerce features, marketing integrations, the ability to host 100 websites, unlimited traffic visits, free SSL certificates, and their proprietary website builder for $2.79/mo with the first 3 months free.
---
Best WYSIWYG Builder With Modern Templates (Free 14-Day Trial, Then $16/Month)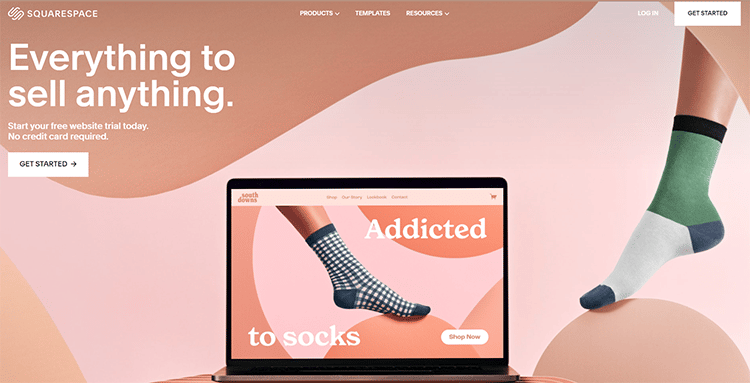 Squarespace is very popular for its modern, sleek templates for businesses in various industries. The templates do most of the hard work for you. They are mobile-responsive, and many come with pre-installed features such as contact forms, image galleries, social feeds, etc.
Of course, you can add your own features by simply clicking on the relevant section to edit your page.
The editor isn't entirely drag-and-drop, but it makes it easy for you to point-and-click to add and customize content blocks, and even complex elements such as appointment scheduling forms, eCommerce products, etc.
Key Features:
Professional Looking Templates: Squarespace templates are not only stylish and bold, but they are also highly customizable, with tons of personalization options.
Simple Blog Interface: The platform has easy blogging templates that allow you to write your posts directly on the page that's displayed in the editor.
Third-Party Integrations: Choose from a variety of tools and apps to extend your website's functionality, including Amazon affiliate tracking, G-Suite, MailChimp, and many other external services.
Pricing: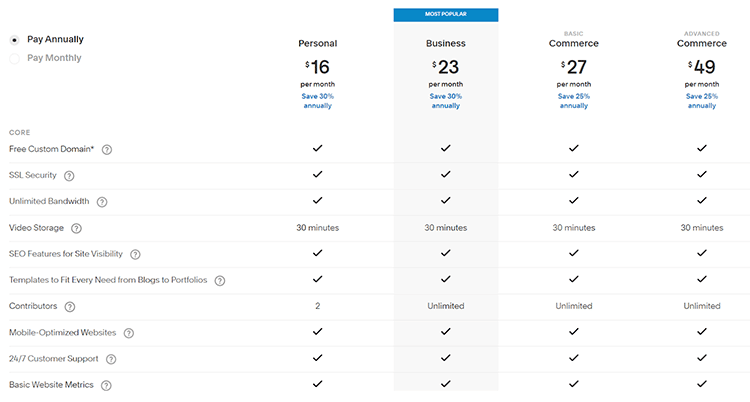 Squarespace doesn't offer a free plan, but you can sign up for a free two-week trial to see how the software performs. Premium plans start from $16/month and you can save 20% when you pay annually.
---
Best WYSIWYG Web Builder For Highly Professional Single-Page Websites (Free Trial, Then $8/Month)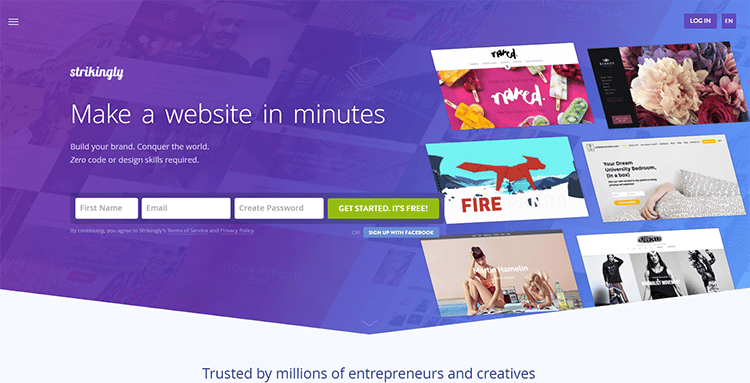 Strikingly has a simple-to-use WYSIWYG web builder that lets you explore different templates styles and layouts so you can create beautiful websites.
The platform's focus is on building single-page sites, but you can add additional pages if you want to build out your website.
Customize fonts and color schemes easily using the intuitive web page editor. Add or remove different elements, such as images, video backgrounds, contact forms, etc. to create the best experience for your visitors.
Zero coding skills are required, and the platform comes with built-in eCommerce and marketing tools. All designs are responsive and perform well on mobile.
Key Features:
High-Quality Designs: Strikingly has highly professional one-page website templates with built-in features like galleries, video backgrounds, contact forms, etc.
Intuitive Editor: The platform's editor is simple to use and allows you to build complex pages and blog posts with just a few clicks.
Free Plan Available: Strikingly also offers a free plan with multiple features to help you create a professional website. Only upgrade when you want to unlock more functionality.
Pricing:
Like most of the WYSIWYG website builders, strikingly has a free plan available. However, if you want to remove limitations and unlock advanced features such as custom domain connection, eCommerce functionality, website analytics, and more, then you have to upgrade to the paid plan for $8/month.
---
Best Free WYSIWYG Builder (Free Plan, Then $6/Month)
Weebly has two WYSIWYG editors designed for beginners and advanced users. One option is the classic editor which is very easy to use, and the other option is the newer WYSIWYG editor for eCommerce that Square powers.
The latter offers in-depth customization options so you can create a custom website with all the functionality you desire.
You can either choose a pre-made template or add different content elements to your page block by block. Customize colors, fonts, and styles using the simple editor, and add additional features via third-party integrations.
Key Features:
High-Quality Template Designs: Although Weebly doesn't have a large selection of templates, the options available are expertly designed and mobile responsive.
Value-Packed Free Plan: Weebly lets you access many advanced features on the free plan. Only upgrade if you want to unlock additional features.
Built-In Features: The platform has built-in marketing and search optimization features that work with both editors.
Pricing: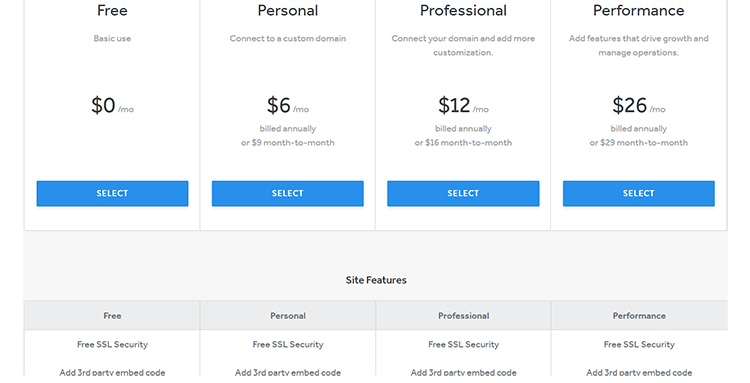 Weebly offers a free plan that gives you access to most of the platform's core features. However, you'll have to upgrade to a premium plan if you want to use a custom domain. Plans start from $6/month.
---
Best WYSIWYG Website Builder With An Intuitive Dashboard (Free Plan, Then $12.80/Month)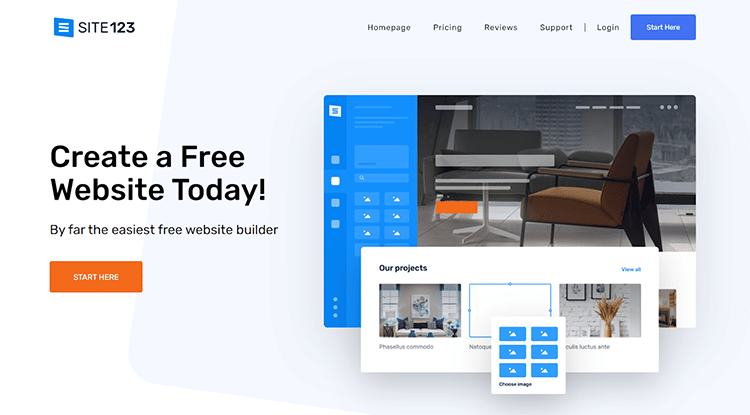 Site123 has a straightforward dashboard that is possibly the simplest in the industry. With it, even complete beginners will be able to build a professional website quickly and easily.
There are over 180 templates to choose from, and the WYSIWYG website editor lets you add or remove pages and content, and customize different aspects of each page, such as fonts, colors, etc.
You can add buttons and calls to action, and even integrate third-party tools and apps directly from the editing dashboard.
Key Features:
Ease-of-Use: Site123 has dozens of pre-made templates and a simple text editor that lets you customize your pages to match your brand.
Multilingual Websites: The platform has robust support for multilingual websites for those on the paid subscription.
Free Plan Available: Unlike most other WYSIWYG website builders on this list, Site123 offers a free (albeit limited) version of the software that you can use for as long as you want.
Pricing: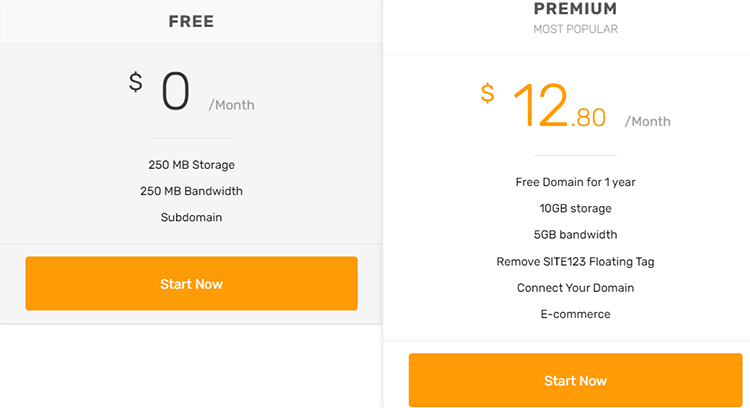 The platform only has two plans. There's a free plan that comes with 250 MB storage, 250 MB bandwidth, and a free website on a subdomain. There's also a premium plan for $12.80/month. This is the recommended plan as it comes with a variety of additional features, including multilingual customer support, added customization options, and website analytics.
---
Best WYSIWYG Website Builder With Free Hosting ($3.84/Month)
With this easy WYSIWYG website editor & builder, you can have your website up in just minutes. Simply sign up, browse through the different categories for the perfect template, and start customizing it using the easy drag-and-drop editor.
Alternatively, you can use the AI tool to build a website for you. Answer a few questions to provide the platform with some basic information about your website and then sit back and relax as the software creates your website for you. You can then add your logo, images, and content and you're ready to launch your site.
Key Features:
Smart AI Technology: HostGator is not your typical website builder. It comes with smart technology that automatically creates an optimized, industry-specific design for you.
Powerful eCommerce Features: Setting up shop is simple with this WYSIWYG builder. You also get management tools for shipping, inventory, taxes, and more.
Built-In Email Marketing: Get all the bells and whistles of automated email, including a CRM, landing pages, integrated lead capture forms, perfect for truck driving schools, trucking companies, and more.
Pricing:
HostGator provides you with a WYSIWYG website builder and everything else you need to get your website online ridiculously fast for just $3.84/month. The plan includes the intelligent site builder, free hosting, custom domain, and unmetered bandwidth.
---
Best WYSIWYG eCommerce Website Builder (Free Trial, Then $29/Month)
There's no doubt that Shopify is considered one of the best eCommerce website builders, and one of the reasons for that is the platform's WYSIWYG editor which makes it easy for you to see during the site creation process exactly what your online store will look like when accessed from the browser.
Just keep in mind that Shopify is an eCommerce tool first and foremost, which means the platform won't be as intuitive as other website builders listed here, such as Squarespace, Weebly, or Wix.
Key Features:
Simple Product Management: Shopify has an easy-to-use product management feature that helps you streamline your work.
Resources for New Businesses: In addition to providing you with pre-made store templates, the platform also offers helpful resources for new businesses.
Shopify Payments: This is a great feature for anyone who has a brick-and-mortar store as it helps you manage your payments from one place so you can save time and money.
Pricing: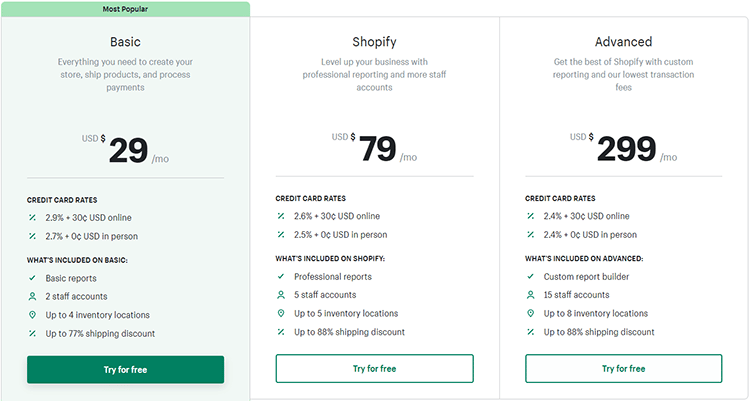 Shopify has a free trial that lets you start building your website without incurring any risk on your part. However, if you want to host your site on the platform long-term, then you will have to upgrade to a premium plan. The Basic plan costs $29/month and comes with all the tools to build and run a successful online store.
---
Best WYSIWYG Web Builder for Flexible Customization (Free Plan, Then $14/Month)
With Webflow, you can quickly mock up and create custom websites, blogs, eCommerce stores, etc. There are even templates for landing pages and online portfolios – all of which can be edited using the WYSIWYG website builder.
If you are a business, agency, marketer, or freelancer who needs to quickly spin up full websites without bringing on a developer, then this site builder is a great option for you to consider.
Experienced web developers also have the option to code designs visually. Simply drag and drop different HTML elements or adjust the CSS using the right side panel.
Key Features:
Intuitive Web Building Tool: Webflow has drag-and-drop page-building functionality and you can also access code for more customization.
Superb Range of Templates: There are over 50 website templates to choose from, and all of them are mobile responsive and search engine optimized.
Free Plan Available: If you're not ready to commit to a paid subscription, you can sign up for a lifetime free basic plan.
Pricing:
Webflow has a free starter plan that you can use to test out the platform's features. You can publish a free website to a subdomain and only upgrade to a premium plan when you're ready. Plans start from $14/month when paid annually, and come with custom domain integration and additional resources.
---
Best for Affordability and Ease of Use ($1 First Month, Then $5/Month).
This WYSIWYG web builder helps you create a professional-looking website in just minutes even if you don't have any coding knowledge.
The WYSIWYG website editor allows you to pick a template and customize it by adding text and images. Change layouts, colors, and fonts. As you proceed, you'll be able to see how your website will look with each change you make. Once you are happy with your site, hit "publish" and your website will be online in minutes.
Key Features:
Easy WYSIWYG Builder: IONOS makes it extremely easy to create a stunning website without any web development experience.
Professional Templates: Choose from dozens of expertly crafted templates with pre-made sections, layouts, and designs.
Responsive Design: You don't have to edit your mobile website separately since all templates are fully mobile responsive.
Pricing:
IONOS by 1&1 offers a huge discount for your first month. You can get started building your website for as little as $1, after which you'll pay the regular price of $5/month.
---
Best Website Builder for a Simplified Website Creation Process ($4.95/Month)
In partnership with Web.com, SiteBuilder allows you to build a professional website using a WYSIWYG platform with dozens of ready-made templates and a drag-and-drop editor.
You can customize your website your way. Pick the right colors, fonts, and layouts for your pages. The simple interface will help you put together the best site possible using smart design techniques.
The software comes with all the essential website-building tools to ensure that you get professional and polished results. You can also integrate additional tools for marketing, SEO, visitor insights and analytics, etc.
Key Features:
Free Stock Images: SiteBuilder provides you with a library of free images from Unsplash so you don't have to search for high-quality images that aren't copyrighted.
Robust Support: You can get in touch with support at any time via chat, phone, or email. They will walk you through the process of building and managing your website.
Custom Web Design: The platform also offers flexible and affordable website design services to support the needs of growing businesses.
Pricing:
SiteBuilder offers website creation plans that work for you. You can start your website for just $4.95/month – a 60% saving on the regular price of $9.99/month. If you want to integrate website marketing tools, eCommerce tools, etc., then you have to upgrade to one of the higher-tier plans.
---
Best WYSIWYG Website Builder for Bloggers (Free Trial, Then $4/Month)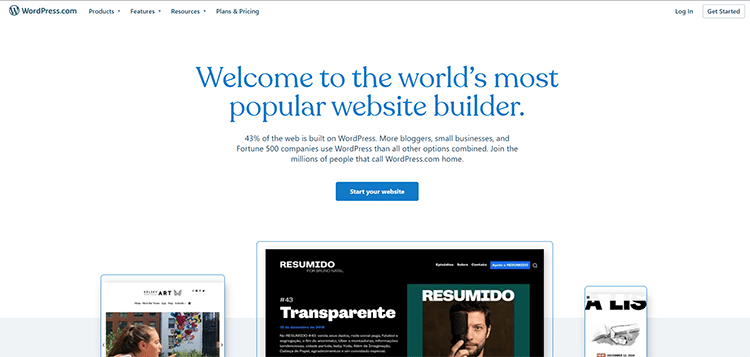 If you haven't heard about WordPress, then you must have been living under a rock. This is one of the most popular website-building platforms out there. But, on its own, WordPress isn't exactly a WYSIWYG builder. You can transform it into a drag-and-drop editor by using a plugin like Divi, Elementor, or Thrive Themes.
This is the best content editor and website builder for bloggers because it allows you to monetize your website content effectively.
Subscribers on the Personal plan and above can charge a subscription fee for visitors to access content on the website. If you are on the Premium plan, you can monetize your website content through ads.
Key Features:
Huge Selection of Themes: WordPress has hundreds of themes in 26 different categories, and you can also install themes from third parties like ThemeForest.
Optimized for SEO: WordPress comes with built-in search optimization tools, including Yoast for SEO, so you don't have to be an SEO expert to get your website ranked.
Point-And-Click Editor: Make all the changes you want to your website without having to touch a line of code.
Pricing: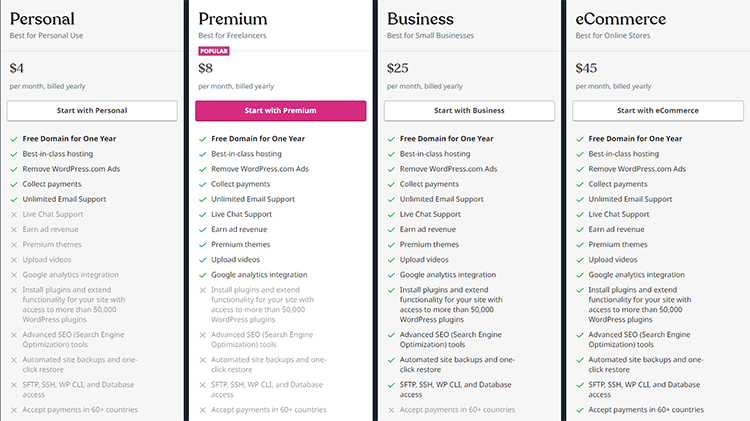 You can use WordPress for free. But, the free plan has limited features. If you want to unlock the full power of this platform, then you must upgrade to a paid plan. You can get the personal plan for just $4/month.
---
Best Free WYSIWYG Builder With Advanced Tools (Free Plan, Then $2.99/Month).
uCoz is a free site builder that comes with an impressive number of tools and features. The platform has a basic WYSIWYG site editor that makes it easy for complete beginners to bring their vision to life using a drag-and-drop interface.
It also comes with developer-friendly tools that let experienced users take full control of the code to build a pixel-perfect website.
Because of the level of flexibility, this software is ideal for all users including individuals, freelancers, marketers, small businesses, and agencies.
Key Features:
Intuitive Interface: uCoz has an innovative drag-and-drop website builder that shows you how your site will look as you build it.
Modern, Responsive Templates: You don't have to build your site from scratch thanks to dozens of pre-made templates in a variety of categories.
Free Version: You can build a personal website and landing pages. Only upgrade when your site requires more storage space and bandwidth.
Pricing:
Sign up for a free uCoz account using your email or social media account. This will allow you to test out the software's core features. If you decide that this is the right solution for you, you can upgrade to a premium plan, starting from just $2.99/month.
---
Best WYSIWYG Builder With Powerful Website Analytics ($2.95/Month)
Bluehost is a well-known hosting company that offers easy WordPress website creation. The site builder has a huge selection of templates to choose from, and you can add stock photography from the library to create unique and visually appealing layouts.
Customize your pages using a simple and intuitive WYSIWYG editor so you know how the changes are affecting your website. The entire platform is built for ease of use and simplifies the experience of learning WordPress CRM.
Key Features:
eCommerce Features: You can start selling online and add plugins to expand your shop's functionality.
Backups and Security: Bluehost makes it easier for you to manage your website with automatic backups and built-in security features.
Analytics and Reporting: Get in-depth reports and analytics for your website or store so you can make improvements accordingly.
Pricing:
Bluehost doesn't offer a free option, but the premium plans are extremely affordable. Currently, you can get the basic website creation plan for just $2.95/month. This plan comes with 10 GB of storage, custom WordPress themes, free CDN, and many other features.
---
Best HTML WYSIWYG Editor (Free Trial, Then $20.99/Month)
Not all WYSIWYG website builders are drag-and-drop. Some advanced users may appreciate an HTML editor that allows you to dive deep into the website's code.
Adobe Dreamweaver offers a straightforward and clutter-free dashboard that lets you easily find the tools you need to build your website. The WYSIWYG editor is ideal for photographers and other creators since it comes with features for editing and polishing images.
You can collaborate with your team with Git support, and the site software allows for an expanded workplace on different monitors. Moreover, Adobe Dreamweaver also comes with support for Chromium Embedded Framework which allows advanced users to create awesome HTML 5 websites.
Key Features:
HTML 5 Support: This website builder supports the latest website format, making it ideal for professional web developers.
Professional Image Editing: You can edit and polish your images, trim, crop, add filters, etc. all from your dashboard.
Git Support: If you work with a team, Adobe Dreamweaver makes it easy for you to collaborate effectively.
Pricing:
You can start your creative journey right away with a free seven-day trial of Adobe Dreamweaver. After that, you can upgrade to the premium plan for $20.99/month billed annually. The plan comes with 100 GB of cloud storage, step-by-step tutorials, Creative Cloud Libraries, and various other features.
---
Best WYSIWYG Website Builders Summary & Top Picks
The best WYSIWYG website builders listed here all offer simple, fast, and affordable ways to build a website without having to touch a single line of code. They take all the guesswork out of creating a website that looks the way you want.
Each solution offers unique perks, such as customization flexibility, built-in marketing tools, multiple language support, and more. Choose the best website builder for you according to your needs and preferences.
Ultimately, your decision will be unique to you, but here are my top five picks: