A few weeks ago, a good friend of mine said he was going to start going to therapy and asked if I knew of any good therapists in the area. Unfortunately, I didn't, so I told him to Google it.
Within a few minutes, he landed on a therapist's website and had scheduled his first appointment. As I watched how quickly and easily he did this, I couldn't help but wonder how therapists can compete in today's world without a professional website.
The simple fact is when people need to find something, they usually look online. The days of scouring through the Yellow Pages are long gone.
Considering that the need for behavioral therapy has grown an average of 2.3% per year between 2016-2021, you're going to need an online presence that's easy to find. If you're a therapist and haven't put together a website yet, don't worry, it's not hard as it might seem.
What Are the Best Website Builders for Therapists?
An easy, feature-rich platform perfect for small businesses ($14/month).
Wix is a popular website builder for therapists. It is the easiest platform to use, which makes it perfect for beginners.
It's also feature-rich, making it ideal for small businesses who want an affordable website builder.
With Wix, you can create stunning websites in minutes using the simple drag-and-drop page builder.
You can connect your business domain to Wix.com and then choose a theme for your website. After that, all you have to do is add your information for your therapist practice, click publish, and you officially have an online presence.
Key Features:
Easy Integrations: The platform syncs with Google my Business to make it easy for you to be found online.
Built-in Scheduler: This feature makes it easy for clients to book appointments on your website.
Custom Forms: Add contact forms, quizzes, surveys, polls, etc. to collect valuable visitor information on your website.
Pros of Wix:
Create and send invoices from one convenient place
Email marketing tools to build your subscriber list
Connect to Google Search Console to automatically index your website
Includes built-in tools for managing and developing your web presence
Add apps and features to grow your website as your business grows
Pricing:
You can get started with Wix for free. There are hundreds of customizable website templates to choose from, and you can get rid of Wix branding on your website by upgrading to one of the paid plans which start at $14/month.
What Are People Saying?
"Wix is great for those who want to have an easy interface and full design control over their site. It's fairly easy to work around and has a great number of different apps that you can add on." Michelle Z – Small business owner.
---
Easy-to-use DIY website builder for creating exceptional therapist sites ($12/month).
Squarespace is a platform that allows you to create a website for any type of business. It's an all-in-one solution with all the features you need to make your therapist business website stand out.
Thanks to its ease of use, you can launch a website in just minutes – and for free, using the simple drag-and-drop editor.
No credit card is required to get started, and you can instantly bring your business to life using one of the many professional website design templates that are fully customizable to match your brand.
Key Features:
Therapist Website Templates: Squarespace is one of the few website builders with therapist-focused templates.
Marketing Tools: The platform has all the tools you need to get your business discovered by your target market online.
Email Integration: With Squarespace, you get on-brand email campaigns that will help you stand out in your subscribers' inboxes and social feeds.
Pros of Squarespace:
Easily customizable templates to suit all professional needs
Comes with features for accepting payments globally
Built-in marketing, email, and automation tools
Free custom domain with the annual website plan
Free online tools for creating your website logo
Great podcasting features and ability to integrate with leading podcast platforms
Pricing:
You can get started with Squarespace for free – no credit card required.
All you have to do is sign up for a free trial, choose a template, and start building your therapist website.
If you want to unlock more features, paid plans start at $16/month.
What Are People Saying?
"My goal was to capture the humanity of the people and the town. I tried to show the heart and soul, and the true character of the place or person. Because when you do it right, it can reveal a lot." Winona Ryder.
---
Best free website builder with advanced features (FREE or $6/Month).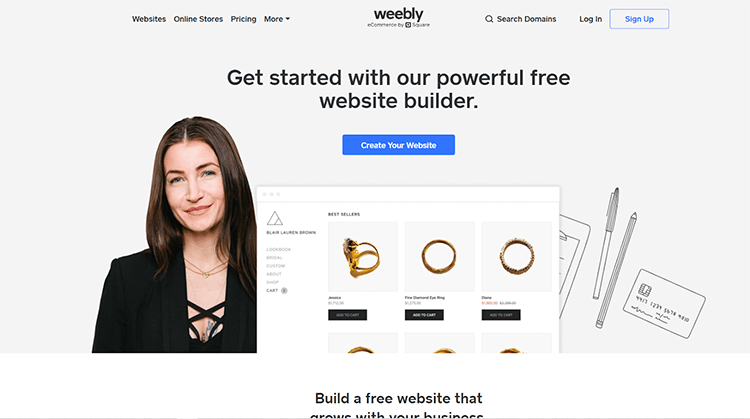 Weebly is a fast-growing website builder preferred by many users who lack technical expertise for creating web pages.
The platform has a lot of amazing features, including a drag-and-drop editor that allows you to easily add text, images, and other content to your pages.
It also comes with a mobile app for tracking your site's performance in real-time. Furthermore, Weebly offers email marketing tools so you can collect emails and send targeted messages to the people on your email list.
And the best part is that you can do all of this from one convenient dashboard.
Key Features:
Free Plan: Weebly offers a plan that you can use for free forever. All you have to do is sign up and you can build and publish your website in minutes. Keep in mind for advanced capabilities, you'll need the paid plan.
Growth Tools: The platform comes with tools designed to help you grow your business anytime anywhere.
Robust Customer Support: There is a team to help you whether you experience a huge tech hurdle or need help with small tasks along the way.
Pros of Weebly:
Extend the functionality of your site with Weebly's assortment of apps
The platform is built for simplicity and ease-of-use
Includes a ton of easily customizable, mobile responsive themes
Option to connect to a custom domain on paid plans
Online payments and other eCommerce features included
Pricing:
Weebly has a plan that you can use for free, but it comes with branding from Square (Weebly's parent company).
If you want to remove the branding, get more storage and bandwidth, as well as a lot of other features, you need to upgrade to one of the paid plans which start at just $6/month.
What Are People Saying?
"My daughter and I knew nothing about setting up a website. Someone suggested Weebly and it is now the primary website program for her organization." Sarah C. – Director of Logistics.
---
Build your therapist websites in minutes with zero coding knowledge ($8/month).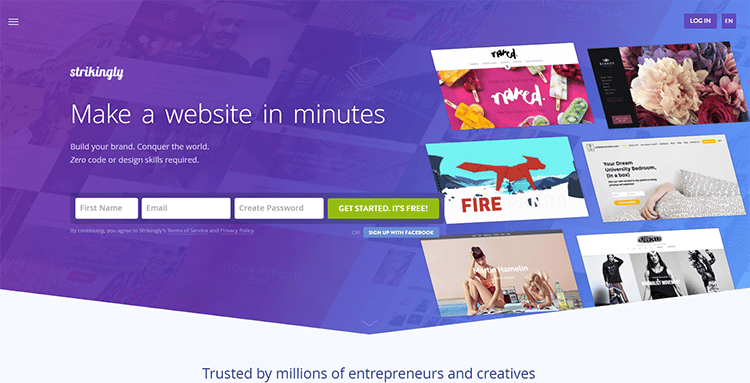 Strikingly is a surprisingly easy way to build your brand as a therapist. The platform requires no coding or design skills, and you can have your website up and running in just minutes.
Trusted by millions of creators and entrepreneurs, this platform is committed to making it as easy as possible for you to build a high-quality website, even with no technical expertise.
You also get powerful tools that will help you cultivate your audience and turn your visitors into avid fans of your practice. These include sign-up forms, live chat, newsletters, membership registrations, etc.
Key Features:
Drag-And-Drop Editor: Quickly and easily change text, images, and other elements on any page to create a unique website.
ECommerce Built-In: Simply add a store and connect to your PayPal or Stripe to start getting paid online immediately.
Robust Analytics: The website you create on Strikingly comes with analytics built-in and provides easy-to-read charts.
Pros of Strikingly:
Includes signup and contact forms on any page
You can show your social media feed directly on your website
All websites come with built-in HTTPS for enhanced security
A blog is included so you can keep your audience updated
Additional features include galleries, media sliders, video backgrounds, etc.
Pricing:
What Are People Saying?
"Within an hour, we had probably our best landing page yet and for a fraction of the price. It's amazing. Since then, I've built about 15 sites on Strikingly – it's currently my favorite startup tech tool." Ben Keene – Founder, Tribewanted.
---
The world's most popular content management system ($4/month).
WordPress was released in 2003 and has since become the most popular CMS in the world, hosting over a third of the websites on the internet.
The platform offers two options, a web host (WordPress.org) on which you can create your website, and a self-hosted option (WordPress.com), which is the website builder we're talking about here.
With WordPress.com, you'll be able to create a stunning, unique therapist website in just minutes.
While WordPress is the cheapest of the options listed here and has no limitations as to what it can grow into, you'll need a theme to begin and I recommend Thrive Themes. If you're interested in knowing more about this, I recommend you read my Thrive Themes review to better understand what the platform offers.
Key Features:
Ease-of-Use: This platform makes it easy for total beginners to get started building and maintaining a therapist website.
Professionally Designed Themes: WordPress website builder comes with tons of professionally created themes to choose from.
Accept Payments: You can easily showcase your therapist services and accept one-time and even recurring payments on your site.
Pros of WordPress:
Built-in SEO tools to help you find your clients online
Google Analytics integrations for easy reporting
Mobile apps so you can keep tabs on your site in real-time
Stellar support from a knowledgeable customer service team
Growth-focused plans for serious business owners
Pricing:
You can start building your WordPress website for free. To remove WordPress.com ads, you can sign up for the paid plans which start at $4/month for the "Personal" plan.
What Are People Saying?
"I love that with WordPress.com you are able to manage your blog and connect all your blogs under one dashboard. It's very easy to customize your website, install plugins, write blog posts or manage pages. You can also track stats and much more." Kharim T – Blogger.
Get Started With WordPress and Thrive Themes
---
Custom websites designed to make marketing simple ($59/month).
Brighter Vision is a great option to consider if you are looking for a therapist-focused website builder.
The platform is a custom website and marketing solution designed specifically for therapists.
With it, you can build high-quality websites with industry templates. You also get support along the way from Brighter Vision's team if you need help building a strong online presence.
The Social Genie feature makes branding and marketing easy thanks to automatic posting on your blog and social media.
In addition to that, you have access to a library filled with thousands of therapist-focused posts that you can share on Twitter, LinkedIn, and Facebook in a matter of minutes to help you build an audience for your counseling business.
Key Features:
Therapist-Focused Website: The website builder is designed specifically for therapist practices, which gives it an edge over generic website builders.
HIPAA-Compliant: This platform has partnered with Hushmail to ensure that your electronic communications are HIPAA-compliant.
Easy Online Payments: Your website comes with a built-in online payment portal for accepting global payments directly on your website.
Pros of Brighter Vision:
The "Insights" feature helps you rank high on Google
Easily monitor data and analytics on your dashboard
Free tools, blog, and resources for therapists
Wide range of templates designed specifically for counselors
Ongoing professional SEO from a dedicated support team
Pricing:
Unlike the other options on this list, Brighter Vision is designed for therapists and comes with a ton of prewritten therapist content, as well as a home page content generator.
Plans start from $59/month and you get a professional design team to build your website for you.
What Are People Saying?
"The responsive nature of the team at Brighter Vision has been impeccable. I'm new to the business end of the mental health field and have worked with a number of different businesses now. Brighter Vision and its employees have been responsive, helpful, informative, and professional." Matthew Vanlinden – Grand Rapids MI.
Get Started With Brighter Vision
---
The fastest way to get your therapy practice online (starts from free).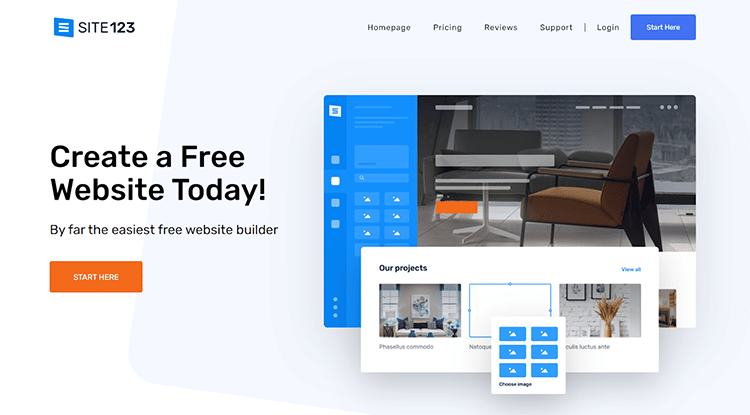 Site 123 has an impressive collection of templates, including the Regional Clinic template which works particularly well for a therapy practice.
With this template, most of the work is done for you, and you can use the easy-to-use drag-and-drop editor to swap out text, images, and other elements on the page to create a truly unique website that is more aligned with your brand.
There are tons of other templates for homepages, as well as other pages you need for your counseling website, including the about page, contact page, services, etc.
Each of them is mobile responsive and you can fully customize them by changing the colors, fonts, etc. so that the pages match your style.
Key Features:
Beautiful Templates: Although there aren't as many therapy-specific templates, there are tons of options for local businesses and professionals.
Fantastic Features: Site123 offers a website editor, mobile responsive design, free hosting, custom domains, and SEO tools.
Sell Online: With this platform, you can easily collect payments on a global scale directly from your therapy practice website.
Pros of Site123:
Intuitive, easy-to-use website builder
Enjoy a mobile responsive web design
Get safe and secure web hosting for free
Build a perfectly optimized website with built-in SEO tools
Establish your brand with a free domain registration
Pricing: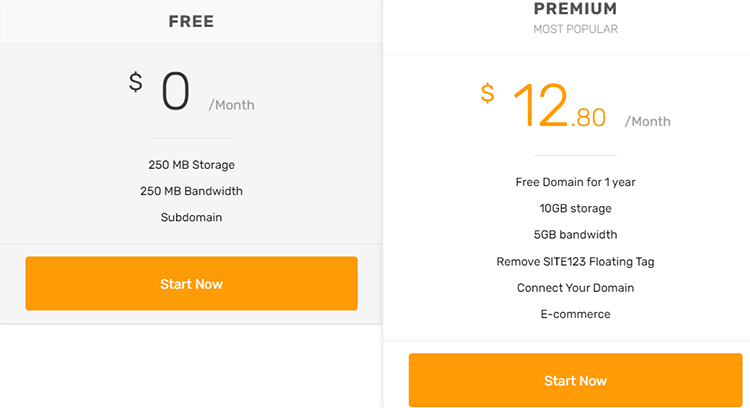 You can build a website and publish it for free. However, if you want to remove the Site123 floating tag, as well as get additional storage and bandwidth, then you need to upgrade to the Premium plan which costs $12.80/month.
What Are People Saying?
"This is BY FAR, the easiest and most user-friendly website designer that I have dealt with. The technicians on the help chat are above professional and make it so easy to create an awesome website. Once I found SITE123, I quit looking!" Christi Prettyman.
Get Started With Site123
---
Websites and marketing for therapists made simple ($59/month).
Therapy Sites is an all-in-one platform with everything you require to build a complete web presence.
This all-inclusive package is available for $59/month and comes with no contracts or hidden fees.
When you sign up, you also get six months free listing in the Psychology Today Therapy Directory.
This website builder has an edge over conventional alternatives because it also comes with a team that offers marketing expertise solely focused on therapy practices.
If you want a more comprehensive solution to building and managing your practice website, then this could be the ideal option for you.
Key Features:
Professional Website: Therapy Sites provides you with your own professional and effective therapy website with zero setup fees.
Quick Search Indexing: As soon as your website goes live, it will be indexed and start showing up on Google within minutes.
Payments Processing: You can process credit cards as PayPal and start collecting payments at no additional cost to you.
Pros of TherapySites:
HIPAA-Compliant technology
Tons of mental health resources and prewritten therapist content
Ready-to-use client forms and client management tools
Online appointment requests from one convenient dashboard
SEO, email marketing, and automation tools included
Pricing:
Therapy Sites doesn't offer a free plan, but you can sign up for a free trial before committing to the monthly subscription of $59/month.
No credit card is required, simply enter your first and last name, as well as your email, and you will be able to start building your website immediately.
What Are People Saying?
"Let me take a moment to let you know how much I appreciate your website services, and how many compliments I've received from my website!!!! People love the easy-to-use/navigate site that is full of relevant information. Thank you again for providing such a great marketing/info tool!!!" James V. – Indianapolis, IN.
Get Started With TherapySites
---
What Features to Look For in a Website Builder for Therapists
1. Ease of Use: The most important feature of your chosen website builder is ease of use. The last thing you want is to spend hours trying to figure out how to create the pages on your site.
So, make sure you choose a platform with drag-and-drop functionality which will allow you to easily move elements such as text, images, etc. on the page with the click of a mouse.
2. Customizable Templates: Templates offer a design and structure to provide you with an easy foundation for building your website so you don't have to do it from scratch.
Most website builders make it easy to make changes to the templates so you can better represent your brand. Look for lots of customizable, mobile-friendly templates, as well as a drag-and-drop builder
3. Appointment Setting: The website builder you choose should have customization options that will allow you to transform templates into unique pages. Ideally, you want a website builder with features for appointment setting since this is an important part of a therapist's business.
4. SEO Features: As a therapist, you need a website builder with features to help you get found by your target market. Consider a website builder with search engine optimization features so you can get a head start on optimizing your website pages to gain visibility in the search engines.
5. Pricing: Affordability is one of the most important factors to consider when building a website. The good news is, technology has advanced to a point where you never have to spend a ton of money to create high-quality, professional-looking websites.
Choose a website builder with a good plan for beginners, as well as options for growth as your therapist business grows.
6. Customer Support: If you are new to building websites, having good customer support is crucial. Whether you face issues during the creation of your website, or later on, you need to be able to get help in a timely and effective way.
So, for your peace of mind, choose a reliable, well-established website builder with 24/7 support.
7. Ability to Use Your Own Domain Name: Many free website builders put their company's name in the domain name. If you own your own website, you want to make sure you also use your own domain name. This makes the website appear more professional and gives you greater ownership over the site.
Whether you're creating a website for your private practice or a as part of a larger network of therapists, you need to make sure your name stands out in the domain, not the name of the website building company.
8. Tutorials and How-To Guides: To ensure that you're using all of the blogging features offered by a website builder effectively, you may want to look for a website builder with tutorials and how-to guides. These are especially helpful for beginners who have never built a website before.
How Can a Website Builder Help a Therapist?
Site builders make it extremely easy for therapists to create beautiful, functional websites without having to spend a lot of money.
The software is designed to be easy to use, which takes away the huge learning curve that comes with having to learn how to code websites yourself.
In short, the website builders listed here are the quickest path to creating an awesome counseling website that will help you stand out and attract lots of new clients.
Some, such as Wix, have therapy-specific templates and others offer tons of additional functionality through integrations with third-party apps.
Website Builders for Therapists FAQ
Why Does a Therapist Need a Website?
A website is essential for a therapist because it's a way for potential clients to find you when they search for you or your business online.
Prospective clients typically search for information about therapists before they sign up for the first appointment and a website is a great way to establish your online presence and keep clients informed and updated about your services.
Can I Sell Courses/Books on my Website?
A website is a great place for a therapist to sell courses, books, and other types of digital information products.
The great part about selling digital products directly from your website is that you're not reliant on other retailers and you get to keep 100% of the profits you make (after processing fees).
What Pages Are a Requirement for a Therapist?
The must-have pages for every therapist website include the homepage, "About" page, and blog. You should also consider including a page for your counseling services, as well as a page for each service in your practice.
Should I Hire Someone to Build my Website Instead?
Hiring someone to build your therapist website is an option. However, it's important to note that this can be expensive, and thanks to website builders like the ones outlined above, it will still be much cheaper to invest a little bit of time and create your own high-quality therapist website.
Summary
I hope, by now, you have an idea of the features that make up the best website builders for therapists.
Any of the 8 options outlined above will serve you well in creating an exceptional therapist website.
My number one recommendation is Squarespace. It's ideal for you if you are a total beginner, but it also has some advanced features that make it perfect for experienced website builders as well. Of course, you can find a full list of other website builders here.
If you want therapy-focused features, then a website builder like Therapy Sites is ideal for you. It offers an all-inclusive package with everything you need to get your therapy site up and running in no time.