Did you know that 75% of people judge the credibility of a business based on how its website looks? Knowing this, you can see why it's important to have good web design, which includes a visually appealing and easy-to-navigate site.
Unfortunately, there aren't a lot of specialized software tools for building websites for Mac – not great ones anyway. I've scoured the internet to bring you 15 of the best website builders for Mac with features that you will appreciate. Read the rest of this review to get a better idea of which Mac website builder will help you seamlessly create a visually appealing website with the least effort.
What Are the Best Website Builders for Mac?
Best Overall Website Builder for Mac ($16/month)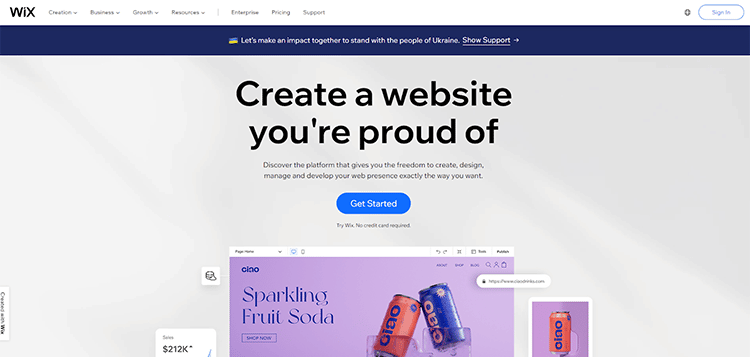 Of all the website builders on this list, Wix is one of the easiest to use. Mac web design software is optimized for usage on macOS so even beginner macOS users will find the platform intuitive and easy to navigate. 
All features are designed for simplicity and flexibility, and like Hostinger, Wix also has a sophisticated AI – Wix ADI (Artificial Design Intelligence) to help you create your website.
From simple blogs to complicated eCommerce sites, you can do it all directly from Wix. If you want a more hands-on approach, Wix Editor is available to use. This is a great tool that allows you to edit almost every aspect of the way your website looks and functions.
For the more adventurous among us, you can get into the coding side of things. The platform even lets you develop apps using Corvid from Wix.
Key Features:
Wix App Market: This is yet another crucial highlight of this website builder. There's a market where you can browse hundreds of widgets, extensions, and apps (both free and paid.
Business Promotion Tools: The platform also has a free all-in-one business solution that offers an abundance of tools to help you advertise your services, grow your business, and increase your customer base.
Robust Editing Options: You have the option to use the system's standard website editor or the mobile one to conduct edits that can be displayed either in desktop or mobile mode.
Pricing: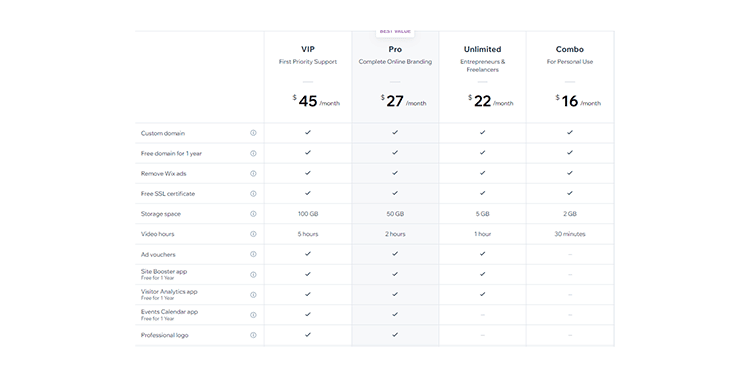 Wix offers a free plan to help you get started building your website. You can upgrade to one of the platform's cost-effective plans that come with a custom domain, removal of Wix ads, and a free SSL certificate that you can install in one click.
---
Best Intuitive macOS Site Builder for People Looking for Ease-of-Use ($2.79/month)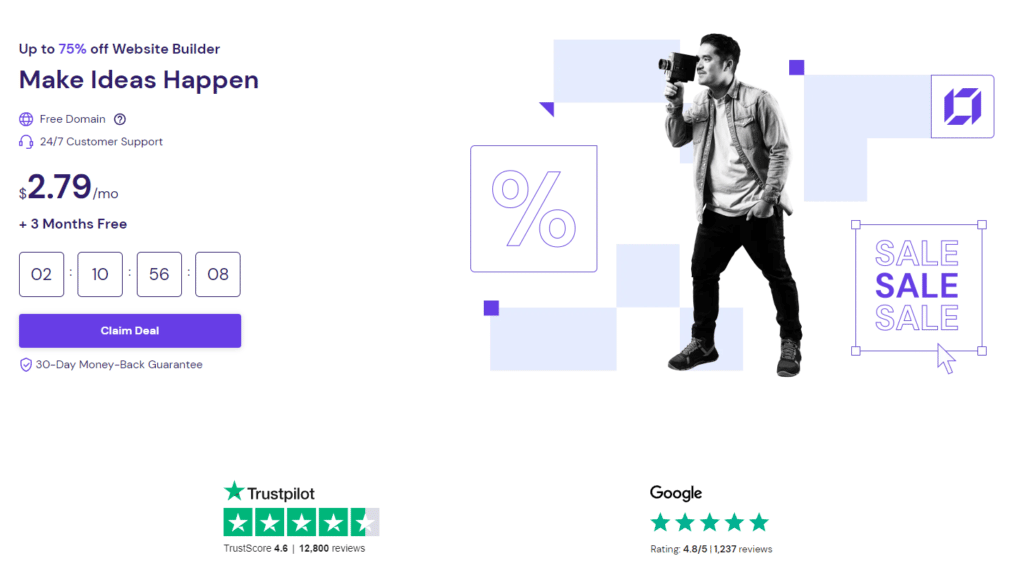 If you are looking for an AI-powered website builder for Mac, Hostinger is a great option for you to consider. Artificial intelligence technology is the highlight of the software, and it's the reason I've placed the platform first on this list.
This software belongs to a new generation of impressive web design platforms that make it possible to independently develop personal and commercial projects in a few easy steps, even with no prior coding knowledge.
The website builder has a simple and intuitive design process, all you have to do is provide it with website-related data then the system will build your project for you. You can then customize your website by adding relevant content and integrating any marketing and/or business management tools you require.
Key Features:
Free AI Tools: Hostinger offers a range of AI-powered tools, including a logo maker, business name, generator, slogan generator, content creator, and heat maps.
Google Maps Integration: You can embed Google Maps with just a few clicks, a handy feature if you need to indicate the exact physical location of your business.
Extensive Image/Video Integration Options: Regardless of the type of site you want to set up, Hostinger lets you enhance its design and functionality using the integration of video and image galleries to showcase your content in a visually appealing way.
Pricing:

Hostinger offers one simple plan with a 30-day money-back guarantee that offers a free domain, email, e-commerce features, marketing integrations, the ability to host 100 websites, unlimited traffic visits, free SSL certificates, and their proprietary website builder for $2.79/mo with the first 3 months free.
---
Best for New macOS Business Users with Zero Experience ($16/month)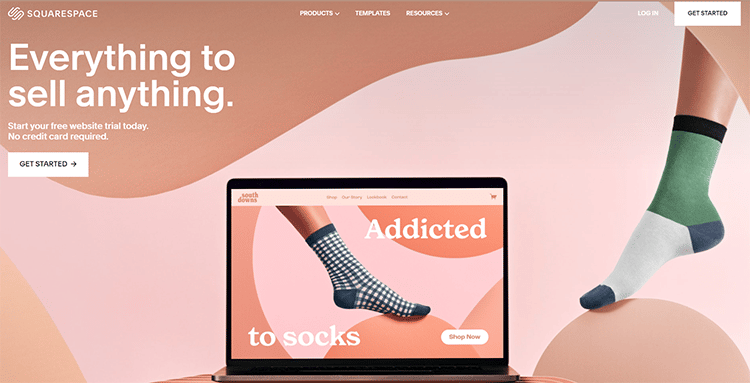 Squarespace is another regular entrant on lists for the best website builders. For macOS users, this platform provides a range of features that make your creative process much easier – and certainly a lot more enjoyable.
You get integrated email tools, appointment tools, logos, podcasting, and blogging features. No special coding abilities are required, and any website you create on the platform is optimized for performance and mobile responsive business out of the gate.
The all-in-one platform also lets you take care of your domain name and hosting from one place which gives you one less thing to worry about.
You'll get a wide range of professional layouts for building beautiful websites in minutes. All templates are fully editable so you can match your brand and style.
Key Features:
WYSIWYG Design Editing: Squarespace has a simple and intuitive builder that lets you control every step of the web development/customization process.
Blogging and eCommerce Functionality: The platform lets you set up, manage, and promote your blog or online store from one convenient place.
Unfold App: This feature allows you to promote your brand by creating stories across social media to notify users about your brand's news, updates, etc.
Pricing: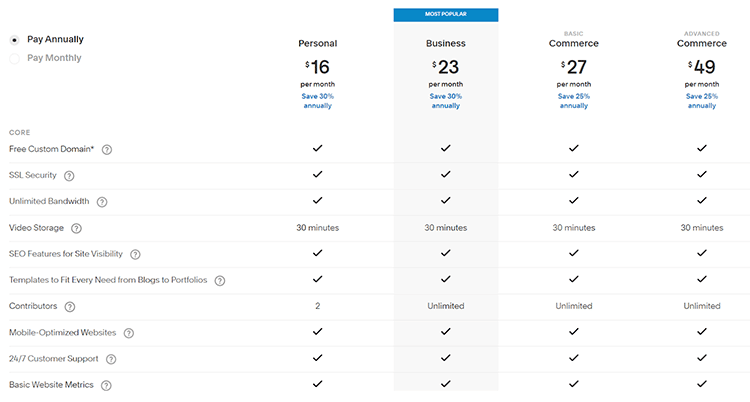 Squarespace has a range of growth-focused plans to choose from. The Personal plan for $16/month comes with a free custom domain, unlimited bandwidth, SSL security, and SEO features to make your website more visible. The higher-priced plans have advanced features, including website metrics, unlimited contributors, and more.
---
Best All-in-One Website Building Software for Freelancers and Entrepreneurs (Starts from Free, then $6/month)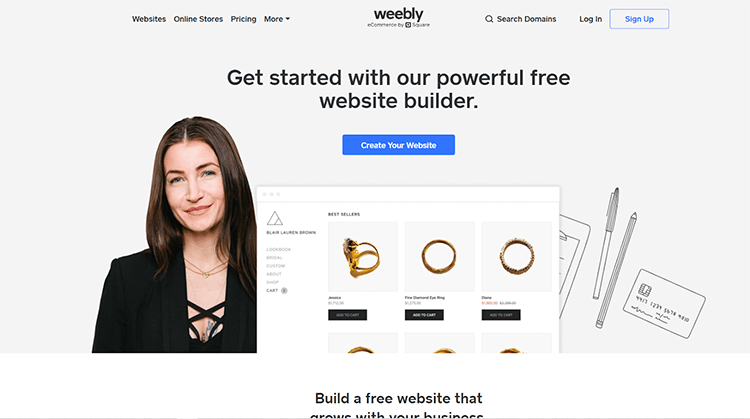 Weebly is a lot like Wix when it comes to its ability and functionality. However, there are some main differences to keep in mind.
For example, Weebly allows you to create your website, blog, or eCommerce store via your Mac in a step-by-step manner. You'll be guided through the entire process, which means you don't need any prior technical expertise.
Simply drag-and-drop images, videos, and various other elements to create your website pages. This platform is perfect for small to medium-sized businesses, but, unlike Wix, is not well suited to larger websites.
Also, migration to other CMS (content management system) platforms from Weebly can be tricky.
Having said that, this is still a great option for macOS users who want to build a professional website fast. The platform also offers a free version which makes it perfect for students, teachers, and users on a budget.
Key Features:
Easy to Use: One of the biggest selling points of using Weebly is that it's extremely easy to use, even for complete beginners who've never built a website before.
Customizable Templates: Choose from a wide range of templates to create any type of website you can imagine so you can have it published in just minutes.
All-In-One Solution: The platform provides everything you need to design, build, launch, and promote a successful website, including blogging features, marketing features, business management features, and more.
Pricing: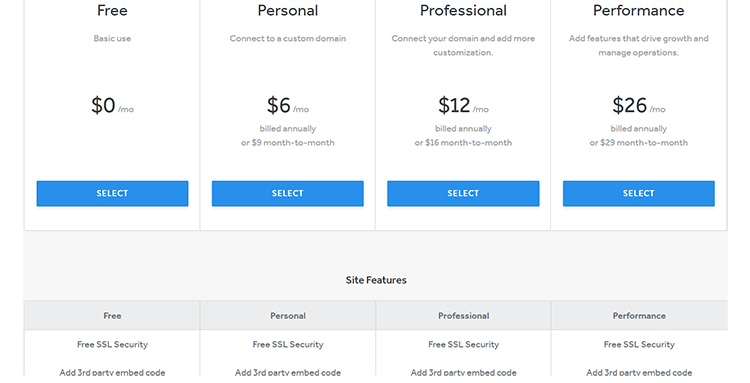 Like most other website builders on our list, Weebly allows you to get started for free. Simply sign up for the Basic Use plan on the website and get started building your website right away. To connect a custom domain, you can upgrade to one of the paid plans starting from $6/month billed annually.
---
Best Apple Website Design Software (Starts from Free, then $12/month Billed Annually)
Webflow is a powerful website builder that is considered by many to be one of the top web design tools for Mac. It has a wealth of features, including some awesome interaction/animation tools that you can use to create progress bars, parallax effects, and reveal animations.
If you want a pixel-perfect website, you can go into as much detail as you want. There's also a staging environment that allows you to first check your pages before making them live.
This makes it an ideal option for any macOS user looking to create a complex website. But, the software is also great for beginners and even offers a free Starter plan that allows you to start designing, learn Webflow, and publish your website to a subdomain.
Key Features:
Feature-Rich Web Builder: Webflow has powerful template editing tools and a wide range of integrations that allow you to have any type of functionality you want.
Dynamic Content Use: The platform makes it possible for you to create and upload any dynamic content (e.g., forms, video/image galleries, online forms, etc.) using structures provided in the field combinations.
Designer and Editor Modes: Webflow supports basic code-level customizations and lets you choose between two modes depending on your web design requirements.
Pricing:
You can get started using Webflow for free by signing up for the Starter plan which comes with a .webflow.io domain and 1 GB of bandwidth. To unlock more functionality, you can upgrade to one of the paid plans that start from $12/month billed yearly.
---
6. WordPress (with Thrive Themes)
Best Hosted CMS for macOSX Users (Free)
WordPress (often referred to as self-hosted WordPress or WordPress.org) is a free blogging platform and website builder.
It's the best hosted CMS & Mac web design software. Although the system was initially built with a focus on blogging, it has evolved into a full-featured tool with powerful functionality and flexibility, which means you can use it to launch and manage virtually any type of project. 
You can download and install the software in just a few clicks. This is not to be confused with WordPress.com, which is a platform for creating free blogs. When using this WordPress (.org), you must source your own WordPress hosting in order to use this software on the web.
This system becomes even more powerful when used with a page builder like Thrive Themes.
Key Features:
Free to Use: One of the biggest selling points of using WordPress to build a website is that it's free to download and use.
No Coding Required: WordPress is easy to use and requires no prior experience to customize your website designs.
Robust Integration Options: WordPress CMS has a ton of plugins and external templates that you can add to expand the functionality of your website.
Pricing:
To get started using WordPress, simply head over to the website and download the software for free. You'll then be able to install it in one click via the dashboard of your chosen hosting provider.
---
Best for Off-Line Website Creation ($79.99 for Single User License)
Mac users often find it difficult to adjust to a user experience that's different from the one offered by their own computers and laptops. Many would prefer not to use the web-based user interface dictated by online website builders.
If that's you, and you'd rather have an offline editor to create websites, then this is a great option for you.
You can purchase and download the software to your hard drive and install it on your Mac. No internet connection is required to start building your websites, and the advanced interface makes it easy for you to create your exact vision – even if you're not adept at HTML or CSS.
This platform will provide you with a limitless website building experience that allows you to be in control and create visually appealing, content-rich pages.
This is the best website builder for Mac if you prefer working offline.
Key Features:
Highly Customizable Themes: If you are a Mac addict who loves to express yourself, then you'll appreciate the dozens of amazing themes to pick from.
Intuitive Interface: The platform has an interface that's aligned and optimized to provide you with quick results regardless of your skill level.
Powerful Integrations: With RapidWeaver, you can integrate website resources like never before. Create any types of content elements you want by simply dragging and dropping resources into your RapidWeaver sidebar.
Pricing:
You can purchase the Personal plan, a single-user license for $79.99. The Studio license is a multi-Mac license that allows you to use the software on two Macs. Alternatively, you can opt for the Business plan that allows for use in up to five Mac computers for $129.99. All plans are billed annually and you can cancel at any time.
---
Best Free Mac Website Builder (Starts from Free, then $10/month, Billed Annually)
uCraft is a free website builder for Mac. It comes with a range of intuitive features, such as connecting your existing domain for free, a great collection of templates, and robust customization capabilities.
This website builder is great for creating eCommerce websites and comes with mobile responsive templates out-of-the-box. This means you don't have to worry about that aspect of ranking higher in search.
In addition to the built-in features, there are also powerful integrations to help you expand your website's functionality. From design and analytics to marketing, email, social media, and more, you can integrate any features you need to run your online business.
Key Features:
Free Plan Available: uCraft provides a basic free plan that lets you access most of the platform's core features so you can get started building your website, risk-free.
Built-In Security Features: One of the biggest selling points for this platform is its built-in security that ensures a safe browsing experience for users.
SEO and Marketing Tools: uCraft also provides add-on tools to help you promote your business and get your content in front of the right audience.
Pricing: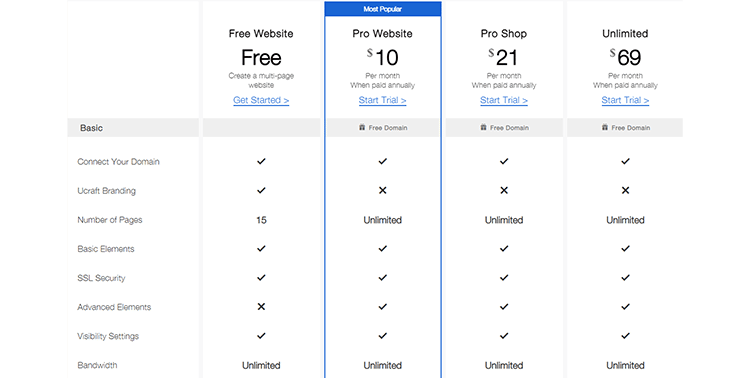 You can get started for free on uCraft. The software lets you build an SSL-secure website with multiple pages, connect your domain, and use all the basic elements on the platform. If you want to unlock more functionality and remove uCraft branding, then you can upgrade to one of the paid plans starting from $10/month when paid annually.
---
Best macOS Website Builder for Small Businesses ($9/month)
uKit has a massive 350 templates available for users to choose from. Simply search your niche or industry and you'll be able to preview all the different designs. Alternatively, you can start your website from scratch, if that's how you like to work.
As with most other products on this list, you don't need coding knowledge in order to create a professional website with this software. Moreover, there are powerful built-in marketing tools to help you drive traffic to your site once it's launched.
You get unlimited bandwidth, which means you can create websites with unlimited pages, videos, photos, and traffic. Each template comes with predefined grids and color palettes to ensure that your website branding remains consistent and coherent.
Key Features:
Drag and Drop Technology: If you don't have coding or web design skills, never fear. uKit allows you to drag-and-drop elements onto a page to create stunning websites.
Unlimited Bandwidth: This is a great feature that ensures that you don't experience additional or unforeseen costs as your website starts to grow.
Built-In Marketing Tools: Building an awesome website means nothing if no one will ever get to see it. You can use the platform's many marketing tools to get more visibility for you on your site.
Pricing:
uKit has four pricing plans, starting from $9/month for the Minimal plan. This allows you to create a website with all the necessary tools and features. You can upgrade to the Basic, eCommerce, or Pro plan for $11/month, $13/month, or $15/month respectively.
---
Best Free Website Builder for Mac with Advanced Animation Tools (Starts from Free, then $9/month)
A lot of low-tier website builders come with a slew of pitfalls, but Jimdo is not one of them. This website builder offers a range of basic tools to help you get started building a successful website, including marketing tools and SEO features.
Jimdo offers reasonable monthly prices for the ability to build professional-caliber websites. Although blog functionality is a little limited, this is a great budget solution that is perfect for small businesses that are just starting out.
You have all the tools you need to get your site live fast, even if you've never built a website before. However, if you're building an online store with more complex requirements, you may be better off with other solutions like Wix or Webflow.
Key Features:
Innovative Elements: If you want to build spicier webpages, you'll find the innovative elements on the platform helpful for adding guest books, flash content, star catalogs, and many other interesting elements.
Robust Support System: Jimdo has a wholesome support system complete with FAQs, video tutorials, detailed guides, and even a forum to provide answers if you get stuck.
Mobile-Optimized Websites: Although this is a feature you expect on any good website builder, Jimdo provides automatically mobile-optimized sites that are created as you work on your desktop website.
Pricing:
Jimdo lets you get started for free. Simply sign up for the "Play" plan which includes all base features. You can publish a website on a subdomain. To use a custom domain, remove ads, and unlock other features for building and growing your website, you can upgrade to one of the paid plans, starting from $9/month.
---
Best Mac Website Builder for Flexibility and Ease of Use ($79.99/user)
Sandvox is among the best offline website builders for Mac. It's smart and light software that allows you to create your first website in under 30 minutes. You'll be up and running in just three easy steps by following the intuitive website builder.
You can create a website with 5 to 7 pages easily. Simply choose a theme, populate it with up to seven pages of premade content, and then publish the website.
If you want to customize the content, you can do so using the platform's simple drag-and-drop editor. This means you never have to touch the line of code or use any advanced features (unless you choose to do so).
Integrate social media into your websites to get your content in front of even more people. You'll find customizable photo galleries, widget integration features, and ample flexibility for HTML/CSS/jQuery enthusiasts.
Key Features:
Easy to Use Drag-And-Drop Editor: If you're looking for an easy way to build a website format, then this platform is a winner all the way.
Extensive Support: Sandvox offers extensive support for anyone who wants to make the move to the platform, and you also get detailed guides to help you breeze past any sticky issues with building and managing your website.
HTML Content Elements: Don't worry, this doesn't require any coding knowledge. Simply use the raw HTML objects for widget integration by pasting the code where you want the widget to appear (e.g PayPal button, Google Maps, etc.)
Pricing:
You can purchase the Sandvox license for just $79.99 per user. This is a one-time fee for access to an excellent design tool that requires no HTML expertise to create stunning websites in minutes.
---
Best Feature-Rich Entry-Level macOS-Specific Website Builder ($89.95 One-time fee)
EverWeb is a powerful website builder that caters specifically to Mac users. It comes with a range of intuitive features that macOS web designers will love, including a great collection of themes and photos, high-security features, animation effects, and built-in SEO and marketing features.
There are also robust integrations with third-party tools and apps. You'll be able to create a fully responsive website with built-in blogging capability and no limitations.
The platform offers 24/7 customer support to ensure that you always have assistance whenever you need it during the website creation process.
Key Features:
Vast Collection of Themes: EverWeb has a massive selection of themes and templates to choose from, ensuring that you'll create the perfect website for any niche.
High-Security Features: Websites created using this builder come with free SSL certificates, regular updates, and other security features.
Intuitive Features for macOS: From blogging and eCommerce, to animation effects and photo galleries, you'll find an impressive range of features on this platform.
Pricing:
EverWeb has three pricing plans. EverWeb Standalone for $89.95, which allows you to download the website building software and host your site anywhere you like, or the Hosting Pro plan where you get both the software and hosting at once for $99.95/year.
---
Best Website Builder for Mac Using an Intuitive App ($6.33/month, billed yearly, or $129.99 one-time purchase)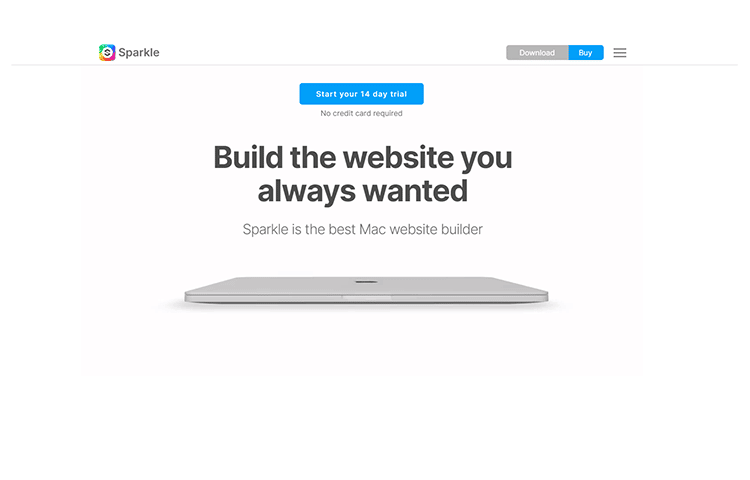 Sparkle is one of the best macOS website builders that allow you to create visually appealing websites with the least amount of hassle possible. The platform is great for designing, and it makes it extremely easy to get started.
The tool can be used offline by simply downloading it onto your Mac. It's designed to work seamlessly with the macOS, and you'll get built-in tools in powerful integrations for everything from SEO and marketing, to business & social media management..
Whether you want to use the platform to test marketing angles or create blogs, eCommerce websites, or business websites, you'll find everything you need on this modern Mac application. The software even has a free version that allows you to create a single website with up to three pages.
Key Features:
Free Plan Available: Sparkle is a great option if you want to try out ideas without committing to a paid plan.
Mac App: The convenient Mac app allows you to edit your website and update content from anywhere.
SEO Optimized: This app, which is designed specifically for macOS comes fully optimized for search engines thanks to built-in SEO features.
Pricing:
Sparkle has a free plan that lets you create a single 3-page website that sports "Made with Sparkle" branding. To remove branding and unlock additional features, you can upgrade to the premium plan for a $129 one-time purchase, or subscribe for just $6.33/month billed annually.
---
Best for Building Websites with Extensive Code Edits ($64.35/user/year)
Pinegrow is a macOS website builder that allows for extensive code edits. The software supports Windows and Linux, as well as macOS.
With it, you can create optimized websites and incorporate several smart components into your site designing and creation using CSS, LESS, SASS, etc.
The software supports multiple front-end frameworks such as Bootstrap, Foundation, and WordPress. It has great editing and technical features to create visually impressive websites. Real-time preview is supported
Key Features:
Smart Website Builder: Pinegrow supports multiple front-end frameworks, including WordPress, Bootstrap, and Foundation.
Great Editing and Technical Features: You can edit individual elements of your website using the platform's simple yet powerful drag-and-drop editor.
Supports Real-Time Preview: You can see exactly what your site looks like as you make edits for a visually impressive result.
Pricing:
You can buy a Pinegrow license for $64.35 for a single user. You get a visual website builder and you can add more features that allow you to build custom WooCommerce stores.
---
Best Mac Website Builder for Beginners ($99.99 One-time fee)
Blocs is an all exclusive website builder for macOS. It's an extremely easy tool to use and allows you to create visually appealing and responsive websites for your Mac device.
You can try the software for free. No coding is required. You get pre-defined sections, which make it easier to build websites – even for beginners. Like the name suggests, all you have to do to create a stunning website is to stack predefined "blocks" or sections to create the exact look and functionality you need.
Easily change the padding, styling, and content of your site. You can also add awesome animation tools that let you create parallax sections on your page that can zoom in and out as the user scrolls.
You'll be able to create mobile-friendly websites automatically, and there are built-in SEO tools to help you win the ranking game.
Key Features:
Block Structure: Blocs has a block and bricks structure that provides you with ready-made and fully customizable content blocks.
Template Development: The platform's themes are developed through the application of stock editor tools.
HTML-Based Website Structure: Instead of a cloud dashboard to edit content, Blocs offers a primary HTML-based website structure.
Pricing:
Blocs costs $99.99 for the Blocs 4 plan. It's a one-time fee for the software that lets you work offline and allows you to build unlimited websites. For an additional $49.99, you can get Blocs Plus, a package for expanding Blocs V4 with powerful advanced features, including SEO, eCommerce, and Image Editor.
---
Additional Options:
Webnode: Free website builder for Mac with tons of features.
Duda: Use Mac website builder with drag-and-drop options to create beautiful websites from scratch.
Site123: Simple Mac website builder software that's best for beginners.
Weblium: Basic features to help you create user-friendly websites on Mac.
Wondershare Mockitt: A must-try app for Mac users to create responsive websites.
Web.com: Mac website builder with hosting and automated backups.
Gator: A simple drag-and-drop Mac website builder with advanced hosting solutions.
Ionos: A well-established DIY web design platform perfect for Mac addicts.
Shopify: Full-featured eCommerce platform for outstanding web design.
IM Creator: Free, easy-to-use website builder perfect for Mac projects.
Mobirise: Popular website building software with Mac-centric features.
What Features to Look For in a Mac Website Builder
There are a lot of different site-building platforms you can use to create a website on your Mac. Depending on your needs, you might choose to work with an app like Squarespace or Sparkle, or you might choose an online web builder like Wix or Weebly. Alternatively, you may opt for an offline website builder like Sandvox.
Whatever your choices, you need to ensure that you choose the right website builder that'll meet all your requirements.
For instance, uCraft has very nice tools for new businesses, such as logo builders, and free hosting. On the other hand, Webflow offers advanced animation features. So, make sure you know exactly what your requirements are so you can make the right choice.
Listed below are some of the features you should look for when choosing the best website builder for Mac.
1. Ease-Of-Use: Choose the right website builder for you according to your level of skill or technical ability. Fortunately, the majority of website builders on this list offer free trials that allow you to test out the software before committing to a paid subscription.
2. Wide Range of Templates: Design is extremely important to Apple fans, which is why the first thing to look for is a broad range of well-designed templates. Fortunately for you, I only included website builders with the most visually appealing templates on this list.
3. Customization Capabilities: In addition to having a variety of great templates, you also need to have the ability to edit them. So, choose a website builder with great customization options that give you the flexibility to create a website that's truly aligned with your brand.
4. Affordable Plans: Another factor to consider is the pricing of Mac web design software, which can be quite pricey depending on the features it has. But, I did my best to include only reliable and affordable options on this list. Most of them offer higher-priced plans with advanced features which can be a great option if you feel that the premium features are worth the extra cost.
Mac Website Builders Summary & Top Picks
The majority of website builders listed here work just as well on PCs as they do on Mac. But, I've tried to separate the great site builders from the good by focusing on specific features that are relevant to Mac users.
Any of the tools listed here will help you build beautiful, visually appealing websites on macOS with the least challenge. The majority of the tools also work on other platforms along with macOS.
As a quick recap, here are my top five picks for the best website builders for Mac: