If you want to succeed online, you need a great-looking website for your business or organization. A well-designed website is also necessary for personal branding.
But, regardless of your reason for creating a website, you'll need a reliable website building platform to help you create a unique, professional-looking site without the need to learn how to code.
One such tool is Strikingly.
Read the rest of this Strikingly review to discover the platform's features, functions, pricing, and support, as well as its pros and cons, and everything else you need to know to determine whether or not this is the best website builder for your needs.
Ron's Thoughts
My website-designing experience with Strikingly has been positive in virtually all aspects. Strikingly is a popular web builder that lets you create beautiful mobile-optimized websites in just a few minutes. You also don't need any coding or backend experience since Strikingly makes the process easy for all users. If you run into trouble regardless of the platform's ease of use, their excellent customer support team will help out and solve your issues quickly.
Biggest Pro:

Growth-Focused Plans

Biggest Con:

Limited Free Plan

Annual Discount:

Yes - Up to 33% Off

Price:

Starts at $12/Month

Promotion:
Is Strikingly Worth it?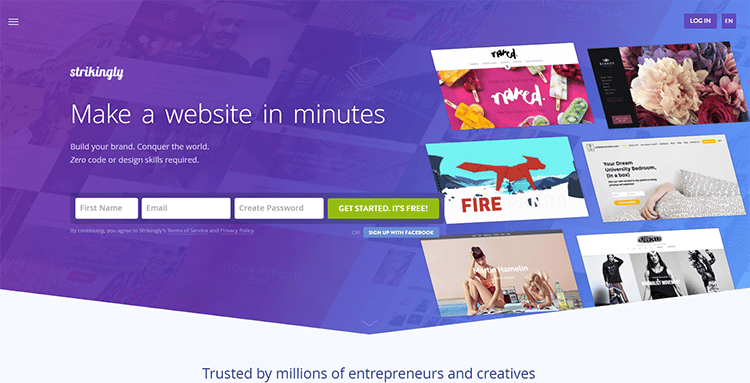 With the right web builder, you can turn your passion into an empire, and that's exactly what Strikingly offers you.
Founded in 2012, Strikingly has all the tools you need to establish your online legitimacy in today's mobile age. It's a simple and effective way to build a fully functional website in minutes.
The platform has tools that simplify and reduce the cost of building websites. Whether you have the technical prowess or not, you'll find Strikingly a ridiculously simple tool for creating stunning websites without any web development or web design skills.
You'll never again have to turn to costly alternatives of hiring graphic designers or web building teams. Now everything can be done by simply dragging and dropping the elements you need onto a page using the intuitive drag-and-drop page editor.
The platform also has integrations with a variety of marketing tools as well as social media platforms, which helps to streamline all your work.
All in all, this is a powerful tool that will help you build a robust presence online so you can connect with your target customers and grow your business.
Who is Strikingly Good For?
Strikingly is ideal for a wide range of users, including:
Individuals: If you want a platform to help you build a strong personal brand, this is a great one to consider.
Small Businesses: Create an incredible, professional website that will showcase your content, products, or services in the most appealing way.
Casual Bloggers: If you need an easy way to build a blog, you'll be hard-pressed to find a simpler interface with all the features you need to build a successful blog.
eCommerce Store Owners: If you want to sell some physical items through your own landing page, then this is a solution to meet your needs.
Beginners: This is a great platform for anyone who is just getting started learning how to build a website with little to no development experience.
Strikingly Functionality
It's time to get into the specifics and details of this Strikingly review, and we'll start with the platform's functionality.
When choosing the best website builder, it's important to look closely at the platform's functionality so you can determine whether or not it meets your needs. The good news is that Strikingly is continually improving every aspect of the platform.
Here's the latest on the web builder's features.
1. Ease of Use
Whether you want a website, blog, online store, or community, Strikingly website builder allows you to develop an outstanding digital experience that your customers will love.
The site-building solution has an easy-to-navigate user interface, as well as a powerful yet simple to use drag-and-drop builder that simplifies the website building process, even for those with zero technical skill.
This tool is ridiculously easy to use, particularly for anyone who has never built a website before. Even experienced users will appreciate how quick and easy it is to get a website online with Strikingly.
2. One-Page Websites
As you've seen from the point above, Strikingly is not your average site builder. The software emphasizes the simplicity of creating single-page sites that you can easily customize through sections.
These types of sites allow your visitors to easily scroll through your entire website, as opposed to clicking from page to page. However, you still have the option of creating multiple pages if you need to.
When you start building a site, you will have one page that has multiple sections for showcasing your crucial business information.
The paid service allows you to add up to 10 pages if you require more space.
Domain Buying Options:
The free version of the software allows you to create a custom Strikingly.com URL. This free subdomain is perfect for new users who want to get a feel for the platform.
But, if you want to build a professional-looking website, then you need a custom domain so that your site will be: "MyAwesomeSite.com", as opposed to "MyAwesomeSite.MyStrikingly.com". Note, if you sign up for a yearly or multiple-year plan, you'll get a free domain for the first year.
In addition to getting a custom domain, it is also a good idea to opt for one of the paid plans so you can remove the Strikingly branding from your pages.
Note that with the Pro version of the app, you'll not only have access to a personalized domain of your choice, but you'll also get free website hosting as part of your subscription.
3. Ready to Use Themes and Templates
The platform offers a wide range of ready-to-use themes and page templates that you can customize to meet your needs.
You can choose from various categories, such as "Portfolio", "Fun", etc.
This is a great starting point for anyone who is new to web, graphic, or digital design and will allow you to create a website by simply dragging and dropping different elements to move them around a page.
All the templates are designed with ease of use in mind, and whether you want a template for business, startup, blog, personal, or products pages, you're likely to find something that meets your needs in the vast selection on the platform.
Design Flexibility
Once you've chosen a template you like, you can easily customize things such as colors, fonts, layouts, and overall design so you can end up with a unique site that is truly your own.
One of the best features of Strikingly is that it allows you to change a template at any stage of your web building process, unlike other web builders whose final result is heavily dependent on the initial template you choose.
This type of design flexibility is one of the reasons why Strikingly is considered by so many to be the best website builder for beginners.
If you change your mind down the line, you don't have to lose all the work you've done up to that point. Since everything revolves around "sections", it means that you can change a lot of elements and end up with something that looks totally different without having to start from scratch.
You can also access the header and footer code to make further customizations to your pages. If you are creating a portfolio website, you have the ability to integrate your social platforms, a feature that is particularly useful when creating professional portfolios.
4. Blog Builder
The platform has powerful blog-building capabilities that are ideal for all types of businesses. From startups to eCommerce and every business in between, having a blog can help you market your products and services more effectively so you can drive targeted visitors to your site.
Strikingly makes it easy to create a blog and update it regularly with fresh new content. Add as many pages as you want to your blog.
There's also an SEO optimization feature that will help you boost the chances of your content ranking online.
5. eCommerce Features
The next characteristic we'll look at in this Strikingly review is the eCommerce features that the platform offers.
Strikingly offers eCommerce features to help you run a successful online business. You can create a simple online store for free and sell a single item without having to make any monetary investment.
Your online store can be added quickly and easily as a section on your one-page website.
Here are a few other things you can do with Strikingly eCommerce integration:
Arrange products into categories
Manage shipping
Calculate taxes
Accept global payments
Start a subscription business
Although larger retailers with hundreds of products to sell may find the eCommerce functionality on Strikingly a bit limited, it's ideal for anyone who wants to sell just a few physical or digital products on their own landing pages.
Another great eCommerce feature is that when selling digital downloads, the platform automatically creates download links for your customers.
6. Mobile Site Optimization
With Strikingly, you get management via iOS devices. The platform has a focus on mobile website optimization and you can quickly review your new site on a tablet, smartphone, or desktop without actually having to load your domain onto different devices.
Simply click the preview icon and your editor will display the result.
Whenever you build a website with Strikingly, you are guaranteed a fully mobile-optimized website with fonts, images, and text that is well-rendered and looks perfect on devices of all sizes.
Search Engine Optimization
In addition to mobile-optimization features, you also get basic SEO (search engine optimization) features to help you rank your content faster.
Add social imagery and favicons, change titles and descriptions, etc. You can also add alt descriptions on images, which is one of the most important factors in image optimization.
This is an entirely new arena for most people, but Strikingly keeps it very simple, even going so far as to give you an SEO checklist to follow:
7. Built-In Analytics
The platform's built-in analytics features allow you to see exactly what is happening with your website.
You can check visitors, see the countries where your traffic is coming from, when people visited your site, if they came from desktop or mobile, etc.
You can visit your stats in any time frame (e.g last 24hrs, last 30 days, last 90 days, etc.) to get meaningful insights from easy-to-read charts.
Strikingly's analytics dashboard is perfect for beginners and anyone who runs a small website. However, if you require a more detailed and comprehensive website analysis, you can integrate Google Analytics to get an even clearer view of your website's traffic.
Strikingly Pros and Cons
Strikingly has a set of pros and cons, just like any other website building software. Here are some of the main ones to keep in mind when deciding whether or not this platform is right for you.
Pros:
Excellent Customer Support: One of the things that set Strikingly apart from its competitors is its customer service system which is touted as being one of the best in the industry.
Easy to Use Backend: Beginners will absolutely love this platform which has a convenient backend that is intuitive and extremely easy for anyone to use. Absolutely no coding skills are necessary.
Growth Focused Plans: Strikingly has a wide range of pricing options to choose from which makes it perfect for all types of users.
Laser Focus: Many of the platform's competitors try to be all things to all users, and ultimately end up disappointing a lot of people. Strikingly focuses on doing one thing – one-page websites – exceptionally well.
Cons:
Limited Free Plan: Strikingly's free plan is quite limited, which means you'll have to commit to a paid subscription if you want to get the platform's best features.
Pricing: If you want to remove Strikingly branding, you'll have to sign up for a plan that costs more than other options in the same category.
Strikingly Competitors
While you may love Strikingly for all the features it offers for building a strong online presence, it's important to note that there are other website builders that offer many of the same features, and, in some cases, additional features that you may not find on Strikingly.
Here's a quick look at some of the platform's top competitors and how they compare:
1. Strikingly vs Wix
Wix is a powerful web development tool that enables complete beginners to build a strong online presence. The simple, cloud-based platform comes with a range of site-building, website management, and eCommerce features that you can use to run your entire online business.
Like Strikingly, Wix offers a lot of positives. The platform doesn't require any coding skills to get started and has a simple backend that is perfect for beginners. You'll also find an amazing selection of customization options that allow you to create a website that matches your brand.
But, Strikingly's option for creating a website that doesn't come with ads is quite pricey compared to website builders like Wix. Additionally, you may find some essential features lacking in the paid plans, such as SEO services.
Check out my Strikingly vs. Wix comparison for a comprehensive analysis of both site builders.
2. Strikingly vs ClickFunnels
ClickFunnels is a popular website builder designed to help you create highly optimized sales and marketing funnels.
With this platform, you can build everything from lead generation systems to membership websites, and much more. Create launch pages, squeeze pages, landing pages, and complex eCommerce systems – all with the platform's easy-to-use drag-and-drop editor.
There's no denying that this is a wonderfully robust tool, but when compared to Strikingly, ClickFunnels has a much steeper learning curve, whereas Strikingly offers easy editing thanks to its simple and focused web builder.
3. Strikingly vs Webflow
Webflow is a freemium tool for building production-ready experiences, even with zero coding knowledge. Simply drag and drop different elements onto a page to create the exact look and feel you want for your website.
However, for those who want to dive into the weeds, the platform allows you access to HTML5, JavaScript, and CSS so you can customize your website or online store even further.
In contrast, Strikingly is more focused on beginners with no web development skills. Every feature on the platform is designed to be intuitive and easy for beginners to use when creating awesome, mobile-friendly websites.
Here are some additional comparisons for you:
Strikingly Pricing
Strikingly has simple plans that offer serious value. All plans come with a free 14-day trial so you can test out the platform's features without incurring any risk.
Here's what the different Strikingly pricing plans entail:
1. Limited Plan: $8/month
2 limited sites
Connect custom domain
Free domain for a year
Free SSL for custom domain
1 GB storage, 50 GB bandwidth per site
Sell up to 5 products, a 5% transaction fee
24/7 chat support
2. Pro Plan: $16/month
Everything in the "Limited" plan +
3 Pro sites
20 GB storage per site
Unlimited bandwidth
Sell up to 300 products
2% transaction fee
Site membership and paid subscriptions
Customized checkout
3. VIP Plan: $49/month
Everything in the "Pro" plan +
5 VIP sites
100 GB storage per site
2,000 active contacts
Sell unlimited products
Multilanguage and auto-translation
Dedicated account manager
Phone support
Product Support
Strikingly offers 24/7 chat support for all users. Those on the VIP plan also get priority customer service, a live chat widget, and phone support.
Anyone can message the support team at any time via email to get timely answers to your questions.
The "Live Chat" function within the website builder also gives you access to video tutorials based on a wide range of different topics. Furthermore, you can get in touch with Strikingly Help Center to get extra support while working on your website.
System Requirements
Strikingly is a SaaS (software as a service) platform, which means there are no system requirements as you access the tool via your browser. It'll work on both PC and Mac devices flawlessly.
Integrations
This is a simple piece of software. However, it comes with a handful of integrations to help you build on your site and streamline your work so you can accomplish more with the platform.
Here are some of the helpful integrations and apps offered by Strikingly:
Social media embeds (LinkedIn, Facebook, Google +, Twitter)
Facebook Pixel tracking
HTML for third-party code
Hello Bar email collection
MailChimp email marketing software
PayPal and Stripe payments
ECWID eCommerce product management
To add a new integration to your site, simply navigate to your editor and click the "Add New Section" button.
You'll then be able to choose from the different apps and integrations offered. Keep in mind that some of these third-party tools may require paid subscriptions whereas others are free.
Is Strikingly Legit?
So, is Strikingly worth buying? In my opinion, it's definitely worth the investment for anyone who needs a full-featured yet easy-to-use website builder to create stunning websites in just minutes.
The platform is trusted by millions of creatives and entrepreneurs across the globe, and you can leverage its many features to build, run, and grow your online business with no coding skills necessary.
In addition to having one of the easiest website editors around, Strikingly also has eCommerce capabilities for building optimized pages to start selling your products immediately.
Other features include a blog, custom domains, social feed integration, sign-up forms, contact forms, and robust analytics functions with easy-to-read charts.
With all these features in hand, it's easy to see why Strikingly is the only tool you'll need to build a successful presence online.
The best part is that you can create a free account on the platform to see what this web-building software is capable of before committing to a paid plan.
Here's what one user had to say about the platform:
If you're ready to test out this powerful web builder for yourself, sign up for free to get started building your website today.
That wraps up this Strikingly review.