Like most people I know, I began to monetize my first website with Google AdSense. For a while, it seemed to be working pretty well. I was generating a liveable wage through passive income which seemed to be growing each month. Then one day, Google Adsense stated I was driving "invalid clicks", which wasn't true, and in the following three months, they clawed back over $30,000 from me and even though I tried, I couldn't get any help from Google.
I hope you're not here due to similar circumstances.  But assuming you aren't, that means you're considering finding a better alternative to Adsense and I want to urge you to switch away from Google Adsense as quickly as you can for a few reasons, with the three main ones being claiming invalid clicks, terrible customer support, and lack of display ad revenue optimization. This means you're not making as much revenue as you should be.
My list of the best Adsense alternatives below will help you choose the right display network to better optimize your ad revenue.
Best Google Adsense Alternatives
In 2020, Google's ad revenue was $147 billion U.S. dollars and of that, over 80% came from display ads. Needless to say, Google Ads and Adsense are the core revenue-generating component of Google, but they're more interested in their own best interests and not yours.
The Google AdSense alternatives in this list are your best advocates to help you earn more money with display ads through testing things like:
Header bidding
Auction-style bidding for page placements
Ad placement positioning & more
Below we'll review the pros, cons, pricing, and payment terms for each network.
Best Overall AdSense Alternative
Newor Media is a relatively new but fast-growing platform that prides itself on delivering maximum revenue potential while improving website performance. Unlike other competitors, they use header bidding to drive competition and raise CPM rates for publishers.
In addition to their partnerships, they give publishers access to Google's AdX— which is nearly impossible for the average publisher to join. Google AdX runs more premium campaigns (with better rates!), and Newor Media effectively has them compete with over 30+ partnerships for ad space.
The platform is full-service and considered a solution because it works with publishers to optimize back-end elements. For example, they work with publishers to optimize ad layout and placement, improve website speed, and balance user experience. Additionally, they offer publishers greater control over ad space, revenue-generating solutions, and higher-yielding ad types.
Newor Media is an excellent platform for any publisher hitting 30,000 unique impressions per month looking to scale their earnings. Integration is beginner-friendly, and each publisher is given a dedicated account representative. They offer a free earnings calculator to give publishers an idea of what their website should be making.
Key Features:
Optimizing tools: ad layout & design and website speed-enhancing tools
Extra ad fraud protection and a consent management platform (for data and privacy laws)
There are a wide variety of ad types and ad solutions (ad refresh, Adblock revenue recovery, etc.)
Pros:
Solid reporting dashboard
Is 'non-exclusive' – can be used with AdSense or other networks
Supports header bidding and Google's premium AdX network
Payment guarantee – get paid whether advertisers pay or not
Cons:
Specific eligibility requirements
They require managing at least two ad units on your website
Traffic requirement of 60,000 unique impressions
Pricing:
No service charge or hidden charges – free to use
Payout Threshold: $250 for wire transfers, no minimum for other options
Pay schedule: NET30
Payout Options: Paypal, Payoneer, Wire Transfers
Alternatively, you can read my Newor Media review to learn more about the platform.
---
Best Contextual Ad Network
Media.net is one of Google AdSense alternatives and a direct AdSense competitor that focuses on using contextual ads to revolutionize your advertising strategy. But the platform also handles standard ad formats such as native shopping ads and display ads while enabling you to enable and disable ad units quickly.
One of the best things about Media.net is that it provides several customization tools that allow you to change the overall color scheme and design to match your brand.
Media.net also has no minimum traffic requirement.
The advertising network offers PPC (pay per click) advertising operated by the Bing/Yahoo network. In addition, a compelling dashboard is designed to make it easy for you to keep track of your ad analytics.
Pros and Cons:
Pros:
The network pays monthly
Offers prompt customer support
Choose from a variety of flexible ad options
A massive pool of global advertisers
User-friendly analytics and management dashboard
Cons:
It only works with web traffic from the US, Canada, and U.K.
The platform doesn't update revenue in real-time
Visitors have to double-click ads
High payout threshold
Payment Details:
Minimum Payout Threshold: $1,000
Payment Schedule: Net30 payment schedule
Payout Options: Paypal, Wire Transfer
---
Best Google Adsense Alternative for Reaching a Global Audience
Adsterra is a fast-growing advertising platform that serves an impressively huge number of large brands. In addition, the platform offers innovative and aggressive ad formats that are enough to give Google AdSense a run for its money.
This is a well-respected brand in the online ad space. It provides excellent solutions for both advertisers and publishers looking for more effective and excellent AdSense alternatives.
The user-friendly platform makes it easy even for beginners to monetize their traffic, and publishers receive a 100% fill rate and the industry's highest CPM.
Furthermore, all ads go through Adsterra's proprietary fraud detection system to ensure that your website is protected from malware.
To use the platform, simply paste a piece of code on your website, and you'll be able to manage your campaigns on the user-friendly control panel. If you're interested in learning more, I wrote a full Adsterra Review.
Pros and Cons:
Pros:
Adsterra covers over 248 countries
The platform serves over 30 billion ad impressions each month
Publishers and advertisers get dedicated account managers
The platform has a wide variety of high-converting formats for your ads
Powerful in-house and 3rd-party fraud detection systems
Cons:
High payout threshold for wire transfers
No chat support
Payment Details:
Minimum Payout Threshold: $5 (Paxum, ePayments, Webmoney), $100 (Paypal, Bitcoin, Tether), or $1,000 (Wire Transfer)
Payment Schedule: Two payments every 15 days
Payout Options: Paypal, Webmoney, Bitcoin, Paxum, ePayments
Or, check out my Adsterra vs. Adsense comparison article for more info.
---
Best Google AdSense Alternative for Websites With 100k+ Monthly Visitors
AdThrive is one of the AdSense alternatives preferred by many bloggers because it works closely with both publishers and advertisers to optimize ads, see ad inventory and offer the best results.
With an incredible 75% payout to publishers, it's no wonder this is one of the best platforms for onsite advertisements on the market today.
However, although this network has one of the industry's highest payout percentages, it may not be the best AdSense alternative for newcomers due to its strict requirements.
For instance, you need to have a minimum of 100,000 monthly visitors, the majority of which are from the U.S., before you can be eligible to join.
Pros and Cons:
Pros:
Higher ad payout than AdSense (75% vs. 68%)
The highest display and video monetization incentivizes ad optimization
Advanced proprietary technology
Google Certified Publishing Partner (GCPP)
Get paid whether advertisers pay or not
White glove service and dedicated support
Cons:
Challenging criteria for eligibility
Payment Details:
Minimum Payout Threshold: $25
Payment Schedule: Net45
Payout Options: Paypal, Check, Direct Deposit, Wire Transfer
---
Best Ad Network with Highest Industry eCPM in Most Cases
You have everything to gain and nothing to lose by using AdMaven to boost your publisher revenue.
The platform's team is always working to improve its services and find the perfect balance between providing publishers with the most income while maintaining a great user experience.
Just by signing up, you can start to experience an increase in revenue and you have the opportunity to easily promote your offers. Compared to other ad networks, AdMaven offers some of the highest eCPM rates in the industry, which makes it worthwhile for publishers.
Best of all, this network can work alongside Google AdSense, giving you the opportunity to double your revenue.
Pros and Cons:
Pros:
Easy to Use Interface: AdMaven has an intuitive interface that is easy to use and provides all the information you need including analysis, revenue reports, and more.
Multiple Monetization Options: You can choose from a wide range of ad formats to optimize ad revenue on your website.
Live Assistance: You can get your questions and queries answered any time thanks to 24/7 live support from a dedicated account manager.
Cons:
Lack of Visual Reporting Analytics: AdMaven doesn't have graphs or other visual reporting features.
Payment Details:
Minimum Payout Threshold: $50
Payment Schedule: Net30
Payout Options: Paypal, Payoneer, Bitcoin, Wire Transfers
See my full AdMaven review here.
---
Best AdSense Alternative for Display Ad Optimization
Ezoic is one of the best AdSense alternatives and a Google-certified publishing partner. It is a global advertising platform that is a publisher-focused advertising network with a wide range of powerful tools designed to help you maximize your revenue potential.
For instance, the platform uses A.I. (artificial intelligence) to figure out the best ad placement. You also get an ad layouts tester, ad inventory, website speed calculator, and a feature-rich analytics tool that offers you a ton of insight into how well the ads on your website are performing.
The network is also easy to integrate with your website and works perfectly with everything from Cloudflare CDN to WordPress.
If you have an issue getting started, Ezoic has a fantastic customer support team on hand to answer your questions and help you get set up.
Pros and Cons:
Pros:
Great privacy and security features
Beginner-friendly user dashboard
Offers Google Amp converter for mobile websites
Works in tandem with Google Ads to increase revenue using Artificial Intelligence by testing ad layouts
Advanced management and analytics tools
Offers users a plethora of tools to increase success/revenue (NicheIQ for keyword research, Flickify for fast AI video creation, and Humix – which is their own video network)
Low minimum payout of $20
Cons:
Requires fine-tuning to reach total revenue potential
Payment Details:
Minimum Payout Threshold: $20
Payment Schedule: Net30
Payout Options: Paypal, Payoneer, Wire Transfers, Direct Bank Deposit, Check
Or read my in-depth Ezoic vs Adsense comparison
---
Best AdSense Alternative for Long-Form Content Bloggers
Mediavine is quite similar to AdThrive in that both networks offer a payout of 75%. However, joining requires fewer visitors to your website (min. 50,000 monthly). Thus, for sites that haven't hit 100,000 visitors a month, Mediavine is the better Google Adsense Alternative of the two.
This platform is particularly suited to long-form content blogs. Its ads are generally catered to those in the lifestyle niche.
The network also has a fantastic support team that is always available to provide prompt answers to your questions and solutions to any problems you may face.
The platform, founded by content creators for content creators, makes it easier for publishers by doing all the heavy lifting so you can focus on the most important thing: creating fantastic content.
Pros and Cons:
Pros:
Provides optimal user experience for maximum earnings
It has a 75% revenue share model as opposed to Google's 68%
Ideal for bloggers in all lifestyle niches from finance to fitness, etc.
Top 20 Comscore property reaches +125 million unique visitors monthly
Best-in-class technology for brand safety and traffic quality
Round the clock support every day of the week
Cons:
Requires 50,000 monthly sessions to apply
You have to grant the ad network exclusivity
You must commit to Mediavine for at least three months before quitting
Payment Details:
Minimum Payout Threshold: $25
Payment Schedule: Net65
Payout Options: Paypal, Domestic ACH, International ACH, Wire Transfer
---
Best AdSense Alternative for Publishers Desiring AI-Powered Monetization with a Premium Service.
Founded in 2012 by two former Google executives, Snigel stands out as an exceptional alternative to AdSense, specifically catering to publishers with high-quality content seeking a premium ad monetization solution.
Snigel offers publishers an exceptional opportunity to leverage an advanced AI-powered monetization solution combined with the expertise of a dedicated ad tech specialist. This specialist works closely with publishers to design, implement, and manage a fully customized ad setup and strategy tailored to their site. With a dedicated account manager, publishers can establish a close working relationship and enjoy streamlined communication, eliminating the need for impersonal ticketing and a cookie-cutter ad layout template.
What sets Snigel apart is their commitment to maximizing revenue through their AI-powered monetization solution while prioritizing fast page load times and delivering a positive user experience. This combination encourages repeat visits to publishers' sites, further enhancing their monetization potential. Snigel's unique proposition lies in their ability to deliver comprehensive ad services, personalized support, and advanced technology-driven optimization, making them an ideal choice for publishers looking to elevate their ad revenue while maintaining a user-friendly environment.
Unlike other ad networks, Snigel provides a unique, customized setup for each site, including advanced optimization with next-gen ad formats, automated floor prices, bidder optimization, and constant A/B testing. Each site benefits from regular updates to the Snigel ad stack to comply with SEO best practices and the expert customization by Snigel's ad ops team, many of whom previously worked in Google's ad operations teams.
Snigel primarily targets large publishers, setting a benchmark of 100k monthly pageviews for eligibility. This makes Snigel an ideal choice for publishers who have substantial site traffic and are looking to maximize their ad earnings. However, Snigel is also open to exceptions. Sites that don't have the required traffic but show significant growth potential or have high-quality content are also eligible for evaluation. So, if you're a publisher aiming for the highest possible bid for your ad space with the support of a dedicated ad tech expert, then Snigel could be your optimal choice.
Pros and Cons:
Pros:
Personalized Expertise: Snigel assigns a dedicated ad tech expert to your site. This specialist will maximize your revenue through customized monetization strategies and tactics. They will come to possess a deep understanding of your business goals and audience, allowing them to provide tailored recommendations and implement effective monetization techniques.
Advanced Technologies: Snigel uses proprietary AI-powered ad optimization technology, header bidding, AI floor price optimization, and continuous A/B testing to offer a unique blend of tools designed to maximize ad performance and revenue​.
Focus on Page Load Speed and Core Web Vitals: Snigel is focused on both ad performance and user experience, ensuring fast page load times and compliance with Core Web Vitals.
Actionable Insights: Real-time reports and granular insights from the Snigel dashboard and your dedicated ad management expert ensure you stay informed and can make data-driven decisions​.
Cons:
Traffic Requirements: Snigel requires a minimum of 100k monthly traffic, making it less accessible for smaller sites​
Self-service: Most ad setup settings will need to be adjusted by the Snigel account manager. Publishers that like to play around with their own adtech settings might want more control.
Payment Details:
Minimum Payout Threshold: $0
Payment Schedule: Net30
Payout Options: Wire Transfer, Transferwise
---
Best AdSense Alternative Built by Publishers for Publishers
Monumetric (formerly "the Blogger Network") is a blog-focused ad network. It is different from most other networks because it runs CPI (cost per impression) instead of CPC (cost per click).
This is ideal for popular blogs with audiences that don't convert as well as possible.
With Monumetric, you get four different monetization tiers based on monthly page views.
To be considered to join the network, you need to be getting at least 10,000 monthly visitors. If you receive less than 80,000 visitors each month, you have to pay a set-up fee of $99 to get started on the platform.
The payout is excellent, with a minimum of only $10, which you can receive via direct deposit or PayPal.
Pros and Cons:
Pros:
Very low payment threshold
Full-service ad revenue platform
Dedicated monetization and data teams
Data-driven ad strategies built for publishers
Custom dashboard displays to measure results and growth
Cons:
The platform pays on net60 terms (one month plus 60 days)
Revenue doesn't reflect on your dashboard until the next day
$99 set-up fee for websites with fewer than 80,000 monthly visitors
Payment Details:
Minimum Payout Threshold: $10
Payment Schedule: Net60
Payout Options: Paypal, Direct Deposit
---
Best Google Adsense Alternative for Conversion-Focused Campaigns of all Ad Networks
Propeller Ads is an ad network to grow revenue with performance-driven ads for marketers and affiliates. It's designed for conversion-focused campaigns and offers top-performing formats to supercharge your results, including high-quality ads like banner ads and text ads.
Some of the unique tools you get on the platform include fraud prevention technology and automated ad optimization that boosts productivity by cutting down on manual processes.
With Propeller Ads, you have a wide range of methods for monetizing your blog. You can choose from different types of ads, including popunder ads which have been proven to work particularly well.
One of the platform's unique features is that it can monetize your mobile websites and apps.
Joining the network isn't too challenging, but Propeller Ads does tend to prioritize websites that deal with digital media and technology.
Pros and Cons:
Pros:
Technology for bypassing AdBlock
Huge publisher community
It can be used together with an AdSense account
Immensely powerful platform
Offers interstitial ad formats and push notifications
Cons:
There's no header bidding on the platform
Propeller Ads offers lower CPM's compared to others in the industry
Lower revenue for non-English websites
Payment Details:
Minimum Payout Threshold: $50 (PayPal), $100 (Payoneer), $500 (Wire Transfer)
Payment Schedule: 30-day
Payout Options: PayPal, Payoneer, Wire Transfer
---
Best Customer Support Google AdSense Alternative
Setupad is an analytics-driven monetization platform designed for publishers to achieve their maximum ad revenue potential. It has one of the most advanced ad stacks on the market, its own ad server, best-performing ad formats, and insight-packed ad revenue calculator with Google Analytics integration to improve ad performance.
Setupad's solution guarantees ad revenue boost by at least 30% compared to Google AdSense, however, most clients see a greater increase. In addition, the platform prides itself on the best customer service and a dedicated Account Executive for every website. This unmatched client support virtually eliminates the need for the publisher to have any experience with programmatic ads.
Setupad has two offerings–Header Bidding Wrapper and Header Bidding SaaS.
Header Bidding Wrapper is suitable for websites with at least 100K monthly visitors and ensures fast connection speed thanks to a light, fully compressed auto-template stored on a cloud ad server. In addition, you'll benefit from Setupad's server-to-server (S2S) integrations which provide additional demand and generate incremental revenue.
Header Bidding SaaS is designed for websites with a minimum of 50M monthly visitors with significant direct sales. The preconfigured technology can be directly plugged into the publisher's GAM account and offers impression-level optimization between programmatic and direct sales. Fully compressed and stored on the Setupad ad server, the template ensures effective targeting and the fastest bid response.
Pros and Cons:
Pros:
Dedicated Account Executive and technical support
Ad layout and ad setup optimization tips
Advanced ad formats like sticky, native, and video ads
Advanced header bidding technology with 23+ premium ad exchanges, including Google AdX
Ad blocker audience monetization
Smart ad refresh solution
Strongest anti-malvertising software and high-quality ads
Advanced analytics dashboard with Google Analytics integration and custom recommendation
Ad viewability rate for each ad unit and the total ad viewability for domain-level for selected time periods
Real-time reporting data, distribution by demand sources, geolocations, and more
Free Google Chrome extension to monitor the bidding process and daily results for each Setupad ad tag, as well functionality to report competitor ads
Cons:
Requires 100,000 monthly sessions to apply with the main traffic coming from GEOs like the USA, Singapore, UK, Canada, and Australia
Low-quality websites aren't accepted
Payment Details:
Minimum Payout Threshold: €100
Payment Schedule: Net60
Payout Options: Bank transfer, PayPal, Payoneer, Wise, Revolut, Paysera
---
Best AdSense Alternative for Driving Traffic with Native Ads
Adversal is a self-serve platform perfect for blogs and websites with decent traffic every month, whether from SEO, paid, or social media sources.
The platform offers a wide range of banner ad sizes and a few other marketing options that are a little more discrete.
Sign-up is quick and easy, and you can get started as long as you meet the minimum monthly requirement of 50,000 visitors.a
The platform does most of the work for you, and once you're set-up, you can leave it to do the hard work.
There's an intelligent interface where you can start, stop, and pause your campaigns at any time, and Adversal also has a terrific affiliate marketing program.
Pros and Cons:
Pros:
Easy to use self-serve platform
The super-quick sign-up process
Extremely low payout threshold
A true set-it-and-forget-it solution
No commitments and no contracts are required
Cons:
The platform only offers a few types of ads
Low-volume websites are not accepted
Requires you to have your domain name
Payment Details:
Minimum Payout Threshold: $20
Payment Schedule: 65-day payout schedule
Payout Options: PayPal, ACH, Wire Transfer
---
Best AdSense Alternative Using In-Line Text to Drive Ad Clicks
Infolinks is among the leading platforms for in-text advertising, working with over 200,000 publishers in 130 countries. In addition, the platform automatically indexes your website to find appropriate keywords for display ads making it an alternative to Google AdSense ideal for those focused on SEO.
The ad network also offers display ads for your sidebar and expandable advertisements that you can use within your content, and banner ads you can place in headers or footers. It's a great Google AdSense alternative because it's focused on hyperlinking text instead of simply showing ads.
As you can see, there are multiple ways Infolinks can help you make money from the unused spaces on your website or blog.
There's a helpful administrative tool on the platform that you can use to gain insights and analytics about your traffic and ad performance. This is also where you can manage all your monetization efforts and handle how ads impact your website.
Pros and Cons:
Pros:
Infolinks offers the ability to earn more than AdSense even if it is not your standard ad placement platform.
It can be used alongside AdSense.
The platform is simple to integrate into your website
It's easy to join the ad network
Great administrative tool
Cons:
It doesn't offer much ad format variety
In-text advertising can slow your site down
CPC is not great, so you need lots of traffic to make it worthwhile
Payment Details:
Minimum Payout Threshold: $50 (Bank Transfers), $100 (Western Union)
Payment Schedule: 45-day
Payout Options: PayPal, Payoneer, ACH, Western Union, eCheck
---
Best Display Ad Network for Driving Clicks to Amazon Affiliates
It may be surprising to see an Amazon ad program listed as an alternative to AdSense. But, Amazon Native Shopping Ads & CPM-based ads are an excellent choice for anyone looking to boost their online revenue.
Many bloggers and website owners use the Amazon associates program (otherwise known as the Amazon affiliate program) to generate income. Still, Amazon Native Shopping Ads can be just as lucrative.
Similar to ads from AdSense, Amazon Native Shopping Ads are contextual, which means that they display relevant products according to the content and keywords on a page.
If a user proceeds to make a purchase after clicking an ad on your website, you receive a commission from the sale, whether or not it was the item they clicked on. Amazon's conversion rate is exceptionally high, which means more revenue for you with less effort.
Pros and Cons:
Pros:
Trustworthy provider with a significant impact on visitors
The commission is based on the entire shopping cart
Contextual advertising enhances user experience
Ideal for those with U.S. and E.U. traffic
Large selection of categories to choose from
Cons:
No individual commission
Widget integration can be complicated
No PayPal option is available
Payment Details:
Minimum Payout Threshold: $10 (Deposit, Gift Card), $100 (Check)
Payment Schedule: Net60
Payout Options: Check, Amazon Gift Card, Direct Deposit
---
Best AdSense Alternative for Building Multi-Platform Affiliate Revenue
Sovrn Commerce formerly VigLink, is a product that offers in-text ads. It tracks buying behavior and converts regular product links into affiliate links, helping you to generate passive income from the clicks and the resulting sales.
Sovrn Commerce formerly VigLink has monetization tools to generate competition among advertisers for your website traffic which helps you get the absolute best price.
There are tools on the dashboard to show you in-depth analytics and insights into which products or advertisers bring in the most revenue to your business to optimize performance.
Rather than spend endless hours checking affiliate revenue, the entire process can be automated, leaving you free to focus on what you do best – creating great content for your site.
Alternatively, you can opt for Meridian, another product from Sovrn.com. This is a CPM ad network. CPM ad networks pay by impression, not by clicks. In other words, you will be paid whenever an ad is served, whether or not visitors click on it.
Pros and Cons:
Pros:
Innovative display ad network ideal for bloggers and affiliate marketers
Turn money-making words on your blog or website into affiliate links
It was incubated by Google themselves and is excellent for those worried about SEO
Multiple ad sizes to choose from
No minimum traffic requirements to use Sovrn Commerce
Real-time reporting dashboard
Cons:
Invite-only ad network and approval can take weeks
It supports only the CPM model, which results in reduced advertiser demand
Low eCPM for traffic from outside the U.S.
Payment Details:
Minimum Payment Threshold: $25
Payment Schedule: Net45
Payout Options: PayPal, ACH, Wire Transfer, Check, eCheck
---
Best AdSense Alternative for Publishers Who Want Fair, Daily Payouts
YlliX is another terrific tool for anyone looking for better pay rates than AdSense and the Google ad exchange. This advertising network offers multiple types of ads for desktop and mobile traffic.
This includes popunder ads, sliders, text ads, mobile redirects, layer ads, full-page ads, etc.
You get instant account approval, detailed reports, and 100% fill rates. Furthermore, this self-serve platform gives you complete control over all your campaigns, and you get precise campaign targeting tools for optimal results.
As a publisher, you don't pay anything to use the platform, but you are offered a generous referral program where you are paid up to $100 plus 2% of the lifetime earnings of every new active publisher you refer.
Pros and Cons:
Pros:
Different types of ads for mobile and desktop traffic
Fair payouts based on traffic quality
Convenient daily payments for publishers
Lucrative affiliate program for publishers and advertisers
Instant account approval so you can start making money right away
It supports CPM, CPC, and CPA ads
Cons:
The platform has a very low CPM
No advanced security for advertisers, which may bring malicious things
A click is only counted if a user clicks on the ad and purchases the product
Payment Details:
Minimum Payment Threshold: $1
Payment Schedule: Daily
Payout Options: Paypal, Payoneer, Bank Wire, Bitcoin
---
Best AdSense Alternative Specializing in Pop-Under Display Ads
PopAds specializes in delivering pop-under ads and claims to be the highest paying of all platforms for this type of ad.
The platform has advertisers from over 50 countries and offers a lucrative referral scheme for publishers and advertisers.
You'll find plenty of targeting options on the platform that allow you to get better results from your campaigns. It also gives advertisers complete control over what they want to pay for each popunder ads.
Humans review publisher websites to maintain a high level of quality. Webmasters can choose the minimum bid they are willing to accept from advertisers and set the ads' frequency to display to website visitors.
One of the best features of this platform is that you can request payment of your revenue anytime you want.
Pros and Cons:
Pros:
Extremely low payment threshold
Getting an account and website approval is easy
Great Google AdSense alternative for newcomers
Publishers can select minimum bids
Request payment at any time
Cons:
Only pop-under ad type available
No directly link provided
Pop-up/under-ads generally irritate visitors
Payment Details:
Minimum Payment Threshold: $10
Payment Schedule: Daily
Payout Options: PayPal, AlertPay, Wire Transfer
---
Best Display Ad Platform to Create Affiliate Product Links
Skimlinks is an affiliate marketing platform that focuses mainly on affiliate marketing. Whether you use Amazon or any other program, Skimlinks can help you get access to over 48,000 eCommerce merchants thanks to its partnership with over 50 ad networks.
All you have to do to get started is install a piece of JavaScript code onto your website, and all your existing links will be automatically transformed into affiliate links so you can start earning revenue while blogging.
Skimlinks typically pays less than joining the affiliate programs yourself, but it also does things at scale to make life easier.
Pros and Cons:
Pros:
A wide range of affiliate programs is available
Integrate seamlessly into your website
Powerful analytics tools
Low payment threshold
It offers an Editor Toolbar plugin for Google Chrome to display the average commission rate while browsing a merchant's site.
75% commission for whenever a visitor clicks through a Skimlinks affiliate link
Cons:
Limited customer support
It does not offer traditional display ads
It takes a 25% cut of your commissions
Payment Details:
Minimum Payment Threshold: $10
Payment Schedule: 30-day
Payout Options: PayPal, Direct Deposit, Check
---
Best AdSense Alternative for Connecting Advertisers with Engaged Audiences
RevContent uses the latest technology and direct partnerships with some of the world's premier digital publishers to connect advertisers with targeted ads and highly engaged audiences.
The platform also empowers publishers to generate meaningful revenue streams through mutually beneficial partnerships.
Webmasters can enjoy revenue without restrictions, guaranteed revenue uplift, and unique first-party demand.
The platform also boasts lighter, faster, and more compelling content recommendation technology and a smaller page footprint.
You are lucky enough to be accepted into RevContent, and you also get granular brand safety and powerful content quality controls.
Pros and Cons:
Pros:
Impressive customer support
User-friendly control panel
Customizable widgets on the platform
Several ad formats are available
High-paying advertisers mean publishers get higher rates
Cons:
The platform has strict acceptance guidelines
Low-traffic websites are not accepted
Extremely limited payout options
Payment Details:
Minimum Payment Threshold: $50
Payment Schedule: 30-day
Payout Options: PayPal
---
Best Alternative to AdSense with Content-Style Display Ads
Adblade has a strong reputation among publishers and advertisers as a powerful monetization solution.
The platform's technology provides effective sales controls and robust reporting that drive revenue and gross.
Adblade's network integrates seamlessly with any design to provide your audience with a high-quality user experience.
Webmasters can start earning industry-leading CPMs, and advertisers can start zeroing in on their target audience using the original content-style native ads.
Pros and Cons:
Pros:
Convenient self-serve platform
Great security features to protect your site
Powerful analytics and reporting tools
Simple display and native shopping ad units
Cons:
High payment threshold
Lower CPM and CPC
Poor customer support
Payment Details:
Minimum Payment Threshold: $100
Payment Schedule: Net30
Payout Options: PayPal, Check, Direct Deposit, Wire Transfer
---
Best AdSense Alternative for High-Profile Advertisers and Publishers
Here you'll find different ad formats and many tools, including powerful analytics features designed to help webmasters maximize monetization potential.
Publishers can monetize their websites instantly using the powerful demand stream and other publisher-built products.
Advertisers have the peace of mind of knowing that they are working with some of the world's most trusted brands, and they can find their target audience from Verizon's 900 million captivated consumers.
Pros and Cons:
Pros:
Multiple types of ads are available
Low payment threshold
Intuitive, easy to use dashboard
Powerful analytics features
Cons:
Difficult to get information before applying
The very lengthy approval process
Payment Details:
Minimum Payment Threshold: $25
Payment Schedule: 30-day
Payout Options: PayPal, Direct Deposit, Check
---
A Newer AdSense Alternative Offering Geo-Based and Contextual Display Ads
This platform is relatively new to the industry. However, the company has grown in popularity thanks to its innovative technology.
The ad network offers geo-based and contextual advertising. There is also a broad range of display-based ads, including widgets, buttons, pop-unders, etc.
You also get tools and support to help your website or blog reach its monetization potential. There are also many helpful educational resources on the site to help you understand traffic and ad analytics to make the necessary changes to maximize your profits with minimal effort.
Pros and Cons:
Pros:
Multiple ad types are available
Easy application requirements
Simple, easy to use dashboard
Does not charge payout fees
Displays most relevant ads to the audience
Cons:
Pays per action, and not impressions
It doesn't offer video ads
No real-time analytics updates
Payment Details:
Minimum Payment Threshold: $20 (PayPal, Payoneer), $500 Wire Transfers
Payment Schedule: Net30
Payout Options: PayPal, Payoneer, Wire Transfer
---
A Direct Advertising Network to Help you Diversify your Advertising Strategy
BuySellAds is a platform that connects you with advertisers who will pay premium prices for advertising space on your site.
You have complete control over what you charge for your ad space, although it's essential to make sure that you don't price yourself out of the market.
The platform uses advertising channels such as native performance, display, sponsored content, emails, etc. With such a varied range, it's easy to get a respectful, brand-safe ad placement instead of distracting, invasive, and intrusive ads.
Advertisers get the most out of each impression by serving ads to the platform's network of highly targeted and qualified audiences.
As a publisher, when you submit your website for approval, it is first reviewed for quality, and only a high-quality, English-language website with a minimum of 100,000 monthly page views will be accepted.
Pros and Cons:
Pros:
Easy set-up to get started on the platform
Automatic and manual features for approving ads
Ideal for new and smaller blogs with less traffic
Niche-related ads can be attracted
Flexible ad types are available
Supports RSS feed ads
Cons:
High commission of 25%
Cluttered publishing directory
Does not display automated or targeted ads
Payment Details:
Minimum Payment Threshold: $50
Payment Schedule: 30-day
Payout Options: PayPal, Wire Transfer, Direct Deposit
---
An Adsense Alternative Where Advertisers Bid on Ad Placement Auction-Style
Bidvertiser is an excellent option for anyone looking for a well-paying AdSense alternative. The platform pays you for clicks and conversions, allowing you to create multiple revenue streams.
Additionally, your Bidvertiser includes a referral program and several bonus opportunities for increasing revenue. Notably, premium advertisers bid on which sites (even news sites) they want to advertise on and for the ad placement on that site.
While this can mean a lot of extra money in your pocket, you have to receive many visitors to your site to succeed with Bidvertiser. Advertisers are less likely to be on your site or offer ad placement if it generates less traffic than other sites on the ad network.
A caveat to this bidding feature is that visitors will often get irrelevant ads, which may impact your overall user experience.
Pros and Cons:
Pros:
Advertisers bid for ad space, which means higher rates
The platform has robust customization features
Bidvertiser offers a lucrative referral program
You get powerful analytics tools
Pays for clicks and conversions
Cons:
It offers low rates compared to other networks
Ads aren't always relevant to the website or blog
The site must be established to benefit from bidding
Payment Details:
Minimum Payment Threshold: $10 (PayPal), $100 (Check)
Payment Schedule: Net30
Payout Options: PayPal, Check
---
Best Content Recommendation and Discovery Platform To Help You Scale and Grow.
AdStyle is a native advertising platform that provides targeted content to the right people at the right time. Each month, the platform serves 65 billion ad impressions to over 210 million unique visitors.
It's a great option to choose if you want to deliver interesting and engaging content to your audience that will help them discover and learn through relevant content recommendations (and help you boost your conversions, at the same time).
The platform uses cutting-edge technology, together with human touch to improve digital advertising and offer new opportunities to smaller publishers.
When you sign up, you'll get access to the tools you need to manage campaign budgets, implement conversion pixels, dynamic macros, retargeting, and more.
If you are ready to drive revenue with engaging content that your readers will adore, then this platform is for you.
Pros and Cons:
Pros:
Self-Service Dashboard: The platform has a self-serving dashboard that provides you with full control over your campaigns.
Account Manager: Get personal assistance from your dedicated account manager to help you grow awareness and increase your ROI.
Laser-Targeting Options: The AdStyle dashboard allows you to target by GEO and multiple devices.
Cons:
Advertisers may decide that your site isn't the right fit for their campaign.
No API: AdStyle does not provide API.
Payment Details:
Get paid via PayPal, Cheque, or Bank Transfer
CPC (Cost-Per-Click) Pricing Model
Net 30 Payment Schedule
---
Other Top AdSense Alternatives:
Above, I listed my favorite Google Adsense alternatives. However, there are several others such as:
Outbrain: One of the largest native ad platforms available in 55 countries.
Taboola: A native advertising platform great for meaningful engagement.
AdRecover: Great for those trying to combat ad blockers
SHE Media: The SHE Media Partner Network is a large ad network with a focus on targeting U.S. females
Carbon Ads: Owned by BuySellAds, Carbon Ads is an excellent tool for developers and web designers
AnyClip: The Luminous X video players give publishers access to great direct-sold video ads
Adversal: An easy-to-use platform for native ads and fighting ad blockers
Division-D: Offers a diverse suite of cross-platform ad units that require little maintenance
Primis: Great for both instream and outstream video ads
Connatix: Great online video players with an integrated ad exchange and ad server.
Features to Consider When Selecting a Google AdSense Alternative
When selecting an ad sense alternative, there are a few things that you'll want to take into consideration:
1. What Type of Ad Formats are Offered
You may want to use a particular ad format, so you need to make sure that your alternative to AdSense supports that format. Additionally, the larger the variety of formats supported, the more freedom you'll have to create the best advertising campaigns possible.
Some formats to pay attention to are our native ads, in-page push ads, pop-under ads, interstitial ads, browser push notifications, and ads developed for mobile apps. In addition, the best AdSense alternatives offer a diverse range of ad formats to choose from.
2. Supports Various Media and Ad Formats for Greater Ad Revenue
While making sure you have a wide choice of ad formats to choose from is essential, you also want to be able to use diverse media within your ads. For example, a good AdSense alternative allows you to share text ads and video ads.
Including video content in your ad campaigns is important because video content is often much more engaging than just text. However, not everyone has time to watch a video constantly, so using video content in some ads and simple text in others is a great way to ensure you create high-paying ads that get generate lots of monthly page views.
3. Ability to Manage Each Ad Unit and Ad Placement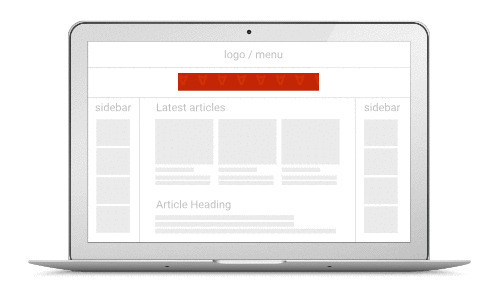 (Source)
Having a self-serve ad platform gives you the ability to self-manage your ads across all your advertising networks at one time, which is incredibly important. This is especially true if you're using ad server software or your ads are diversified across various pages on your site.
This means you need to select your ad unit and place ads wherever you want to best fit your marketing and sales goals. When choosing an AdSense alternative, double-check that you can manage your ad units and place your ads.
4. Look at Minimum Payouts on Ad Revenue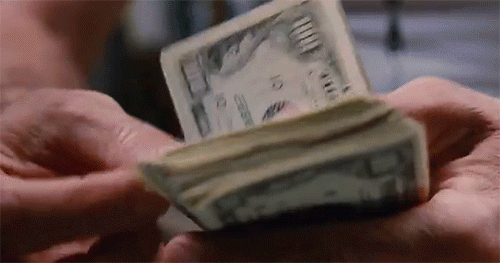 Displaying contextual ads is a great way to earn ad revenue and generate passive income. However, not all ad networks pay the same. When selecting an AdSense alternative, find out what the minimum payout of the platform offers and the payout per ad, and make sure it pays more than AdSense ads.
The minimum payout reflects the minimum amount of money you must make from your display ads before you can make a withdrawal. Payouts per ad reflect the percentage you'll earn from ad revenue on your site.
For example, a Google AdSense account will yield a 68% payout on all ads with a minimum payout threshold in the United States of $100 (this minimum payout threshold differs based on currency). On the other hand, Mediavine offers a 75% payout per ad, and their minimum payment threshold is typical $25 (unless you use ACH — International, in which case the minimum payout threshold becomes $200).
This means that Mediavine generates more revenue per ad than AdSense ads while allowing you to withdraw with a smaller minimum payout. Figuring out how the minimum payout and payout per ad compares to Google AdSense is one of the most critical steps to take before selecting your replacement.
Google AdSense Alternatives FAQ
What is the Best Alternative to Google Adsense?
Most bloggers would agree that the best alternative to Google Adsense is Ezoic. This is because Ezoic doesn't have any minimum traffic requirements, provides customer service that Google Adsense doesn't, has exclusive advertising agreements, and utilizes AI technology to test your ad placements to earn as much revenue as possible.
What are the Highest Paying Adsense Alternatives?
The highest-paying Google Adsense alternatives are Ezoic, Adthrive, and Mediavine. This is because all of these platforms have a staff of highly-trained experts to help you optimize your ad revenue as well as exclusive ad agreements with large brands.
Can I Use Other Ads With Google Adsense?
Yes, it is completely acceptable to host other ads and ad networks while you use Google Adsense on your website. These can be direct ads or other ad platforms like the native advertising options from Outbrain or Taboola.
Google AdSense Alternatives Summary & Top Picks
After enduring my own invalid click penalty from Google AdSense, I realized that I needed to find something better than Google ads.
Fortunately, that penalization turned out to be a blessing. I've discovered the best AdSense alternatives and found ones that make me more money than I could have ever dreamed of making with AdSense.
Even if you're currently happy with your AdSense results, you should consider this list of the best Google AdSense alternatives, so you can start boosting your passive income and avoid being penalized like I was.
Here are my Top Picks for the Best AdSense alternatives: