Every day, over 250,000 new websites are created worldwide. A good portion of these are educational websites. Schools, colleges, private tutors, and educators need well-designed websites to help them reach students, connect with parents and staff, and create better learning experiences. With the right tools, any instructor can easily create a professional website, even with little to no coding experience.
That's where website builders come in, specifically those designed for teachers and schools. A good website builder has the necessary tools to design, create, launch, and promote your educational website. That's why I've written this guide to help you find the perfect solution for building an educational portal. Read on to discover the best website builders for teachers and schools.
What is the Best Website Builder for Teachers?
Before we dive into the best website builders for teachers and schools you can choose from, it's important to note that some of them are general site builders while others are school-themed website builders.
The one you choose will depend on your specific needs. For instance, you might want to choose a dedicated website builder for schools if you want a quick and convenient way to get your school website online.
However, it's important to note that while many of these site builders are marketed as the ideal solution for teachers and schools, not all of them offer the right features.
You may find that some of the universal website builders on this list will provide you with better tools and more creative freedom to build a unique and full-featured website, complete with the ability to scale in the future.
Best Overall Website Builder for Teachers ($16/month)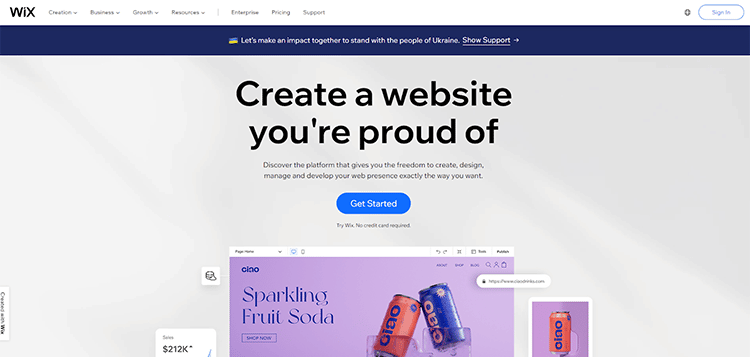 Wix is a versatile website builder that simplifies the entire process of creating a school website. Although it's designed for a variety of uses in different sectors, this powerful website builder works exceptionally well to help teachers and schools develop a strong presence online.
It offers several features that help with the school web design process, including editable templates, video lesson uploads, chat forum integration, and more.
From novices to experienced web designers, everyone will find tools that are suited to their skill level on this platform. For beginners, there's a simple drag-and-drop editor, as well as Wix ADI, the platform's artificial design intelligence that can create your school website for you. All you have to do is answer a few simple questions, and the innovative technology will do all the work for you.
More advanced users can take a different approach to web design using Wix Code. Either way, you are assured of a modern, clean, and fully customized website for your school.
Key Features:
Share Online Courses: Use the Wix Video feature to share online courses and upload lessons within a single, well-organized library.
Education-Focused Templates: There are plenty of templates on Wix that are tailored to teachers and schools, including kindergarten classes, private schools, music schools, and more.
Affordable Plans: Schools often have limited budgets for digital marketing, and Wix recognizes this, which is why the platform offers several low-cost options for schools and teachers.
Pricing: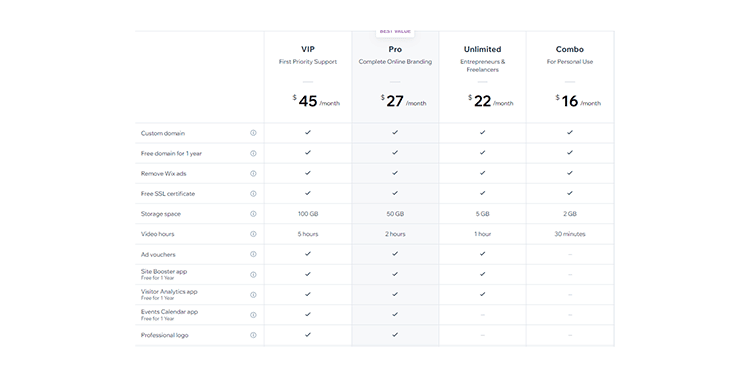 Wix pricing starts from $16/month for the website plan. This is great for showcasing a professional school website and comes with 2 GB storage space, 30 minutes of video, and a free domain for one year.
---
Best for Stunning Templates for Education-Related Websites ($2.79/month)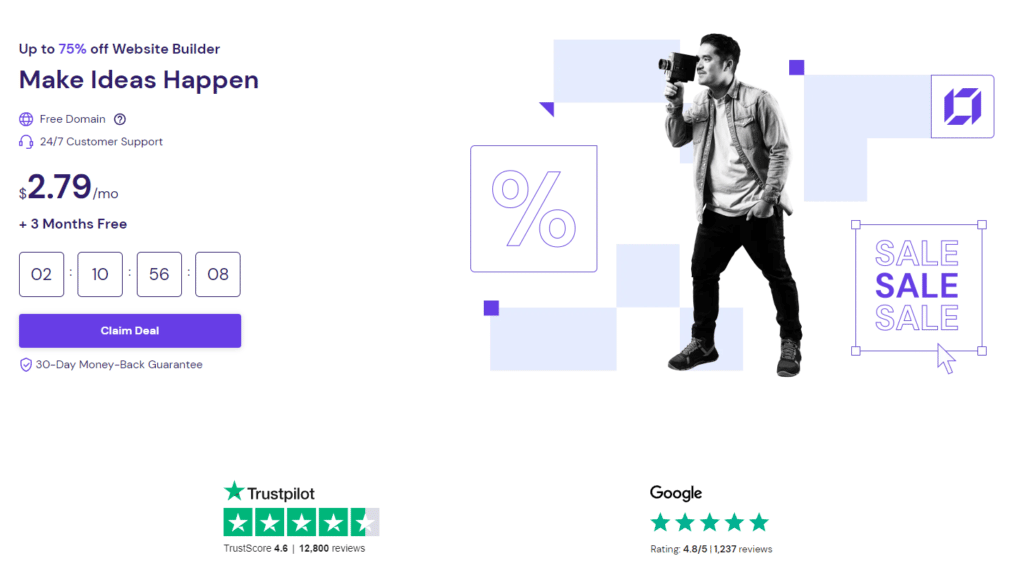 Hostinger is a popular website builder that caters to users in a variety of industries. It has some education-oriented designs that you'll find in the template gallery under the Service category. You also have the ability to customize any of the dozens of templates to fit your needs.
Alternatively, you can start building your website from scratch if you want a truly unique site that looks and functions exactly the way you want.
Editing your website is simple, even if you're a total newbie. Just drag and drop different elements like text, images, videos, etc. onto a page, and the element will snap into a pre-determined grid ensuring that your content always looks well aligned on the page.
Add slideshows, image galleries, video backgrounds, and more. There are also pre-made "About", and "Meet the Team" pages to make it easier for you to showcase your school and your mission.
You'll also find contact forms, newsletter sign-up forms, and various other types of forms to help you stay in touch with your website's visitors.
Key Features:
AI-Driven Website Builder: Hostinger has an AI-assisted website building process that makes it possible to create a full school website in just a few minutes.
Multilingual Site: Display your school website in several different languages, including English, French, Russian, Italian, Spanish, German, Portuguese, and Vietnamese.
Blogging Tools: Hostinger offers essential blogging features that make it easy for you to add a blog for lesson plans, news, assignments, and events.
Pricing:

Hostinger offers one simple plan with a 30-day money-back guarantee that offers a free domain, email, e-commerce features, marketing integrations, the ability to host 100 websites, unlimited traffic visits, free SSL certificates, and their proprietary website builder for $2.79/mo with the first 3 months free.
---
Best Website Builder for Schools for Clean, Professionally Designed School Website Templates ($16/month)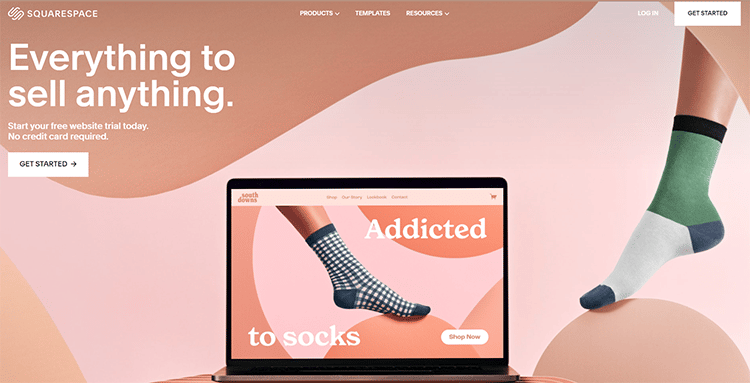 Like Wix, Squarespace is built for many different sectors. It's a versatile, easy-to-use educational website builder with a ton of features that school administrators and teachers will love.
For instance, there's a healthy collection of expertly designed templates and an intuitive drag-and-drop editor to make website creation easy – even for non-tech-minded people. You'll be able to create a professional-looking education website to match your school's brand thanks to the full customization capabilities of the platform.
Of course, the abundance of editing features on Squarespace presents a small learning curve, but once you master the platform, you'll see that it offers virtually every tool you need to build an effective, fully functional website for your school or class – from blogging tools to eCourse capabilities, and more.
You can also update your school website on the go using the platform's mobile editing functionality.
Key Features:
Post Scheduling Feature: Teachers often plan their lessons ahead, and Squarespace makes it easy for you to schedule publication dates for each one on your website.
Social Media Integration: Connect with your current students and reach prospective learners by linking social icons to publish new website content to your social platforms.
Appointment Scheduling: Squarespace has Acuity scheduling integration which allows your students to see your availability and schedule appointments with you easily.
Pricing: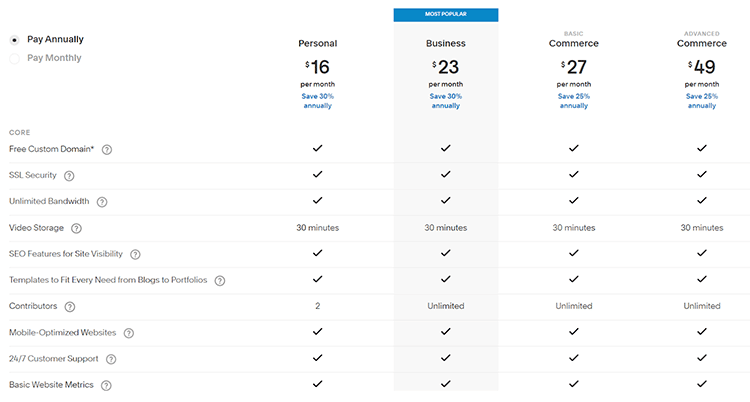 Squarespace pricing starts from $16/month and you can save 20% by paying annually. The cheapest plan comes with a free custom domain, SSL security for a safer browsing experience, and unlimited bandwidth so your school website's growth isn't limited.
---
Best for Creating Education Portals Quickly and Easily (Starts from Free, then $8/month)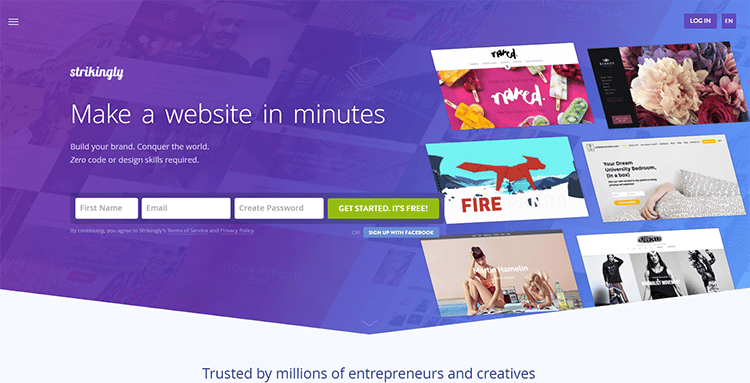 No matter the size of your school, Strikingly can help you build a well-designed school website to cater to all your learners.
Whether you have coding and design skills or not, the platform guarantees that you'll be able to have a fully-functional website up and running in under half an hour. Simply follow the prompts on the website, and you will be guided step-by-step toward picking the right template for your school website. There are many education-centric website templates available to choose from.
Next, you can tweak the template depending on your school's objectives and customize it to match your brand. Easily add all the essential features you need, such as blogging tools, video embeds, sign-up forms, contact forms, live chat, email newsletters, membership registrations, and more.
This vibrant website builder has everything you need to create a framework that will enable you to provide an exceptional learning experience to all your students.
Key Features:
Easy to Use: This website builder is one of the easiest editors you'll find. Just click anything to edit and publish instantly – no coding or web design experience is necessary.
School-Themed Templates: Choose from dozens of education-focused templates on Strikingly, and customize every aspect to match your school's branding.
Attract New Students: Strikingly has a feature that allows you to turn your website visitors into super fans, which makes it easier for you to attract new learners.
Pricing:
Strikingly lets you get started for free with a limited version of the website building software. To unlock more features and remove limitations, you can upgrade to one of the premium plans starting from $8/month.
---
Best Website Builder for Schools for Building a Secure Learning Environment (Free Plan, then $6/month)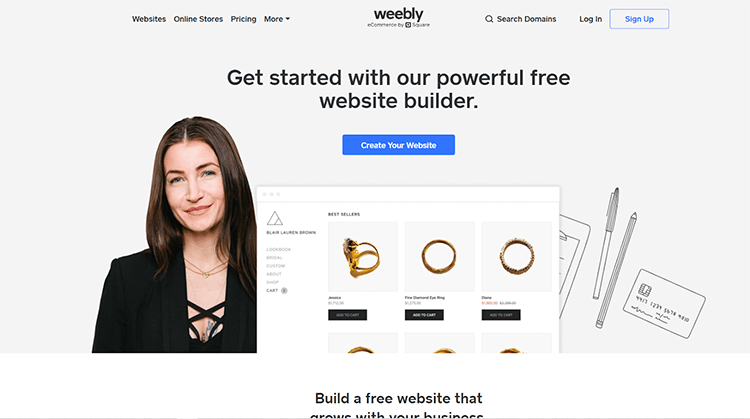 This is an intuitive platform designed to help you build a modern and visually appealing website. You'll find many school-themed templates to choose from, and teachers and administrators can have complete control over how they manage students from one convenient dashboard.
Weebly's user interface is extremely easy to navigate, making it simple for both teachers and students to find the information they need on the website.
With this platform, you'll be able to create a secure learning environment using a simple drag-and-drop editor that allows you to add all kinds of elements to your school website pages, including text, images, videos, forms, maps, and more.
Best of all, you can easily arrange these elements to create an engaging school website design without having to learn a single line of code.
Key Features:
Secure Learner Experience: Weebly lets you build a safe learning environment by providing you with the ability to password-protect all website pages.
Drag-And-Drop Editing: There's absolutely no coding knowledge required to build or manage an exceptional school website, which means teachers can focus on more important tasks.
Flexible Blogging Capabilities: Quickly post updates, homework assignments, news for parents, and more directly on your school website.
Pricing: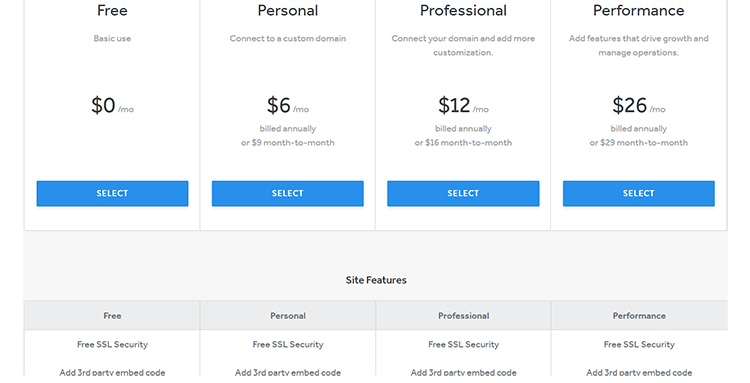 You can use this free website builder for teachers for free, forever, by signing up on the website. You'll be able to set up a free website on a .weebly subdomain. If you want to connect a custom domain and unlock more functionality and customization for your school website, then you can upgrade to one of the paid plans, starting from just $6/month.
---
Best Free Blogging Platform for Schools and Teachers (Free).
When it comes to designing and creating education websites, Edublogs is on top of its game. Powered by WordPress, this educational website builder provides a seamless experience for users of all levels.
The platform prides itself on maintaining high quality and performance. It provides a range of student management tools that you can use to organize every piece of data you store in your institution.
Students can create an account, allowing you to manage their input safely and efficiently. There are also other school-centric features like global projects, activity reports, and various other engaging tools for use in your Academy.
All in all, Edublogs is teacher-friendly, student-safe, and learning-centered. The best part about using this software for your school website is that you can kickstart your new project using the free package.
Create your website at no cost and use basic blogging functions to share content with your learners. You can upgrade to premium at any time if you want to expand the size and functionality of your educational blog.
Key Features:
Stunning Premium Themes: Create an exceptional educational website with unlimited posts and pages using one of the dozens of pre-designed, customizable themes.
Visitor Statistics: This powerful feature lets you know which types of posts attract the most attention from learners, parents, and other visitors to your site.
My Class Feature: Create a custom blog on which students can publish their own content, but you get to control the privacy settings and moderate comments and posts so that no inappropriate content appears on your educational website.
Pricing:
Edublogs offers a free plan for schools and teachers. Build an education website with this free school website builder and use it for as long as you want. No ads, no gotchas. When you're ready to upgrade, you can do so for $39/year.
---
Best Site Builder for Personalized Education Websites (Free Plan, then $9/month)
uKit is a flexible website builder for teachers and schools that require a personalized website. It has an intuitive, user-friendly interface and comes pre-loaded with over 350 templates divided into relevant categories, including education.
In addition to the wide range of choices for beautiful web design, you also get full customization capabilities which means you can create a school website that looks and functions exactly the way you want.
This software is fully responsive and cross-browser compatible which means students, teachers, parents, and prospective learners can visit the school website at any time, and from anywhere.
Minimal web development time is required so you can focus on the things that matter most: connecting with your students and creating a positive learning environment.
All in all, this is a great education-focused website builder with a lot of features to offer to educators.
Key Features:
Easy Website Customization: Use the simple drag-and-drop editor to completely customize your website's color schemes, fonts, and page elements.
Document Additions: Add files onto the website for students to easily download, including academic calendars, homework assignments, relevant updates, etc.
Powerful Third-Party Integrations: uKit integrates with third-party tools and apps, including SlideShare, MailChimp, and LiveChat for a more communicative learning environment.
Pricing:
This software is among the most affordable systems you'll find for building school websites. The website builder comes with a free version which allows you to explore the integrated features available on the platform. You can upgrade any time to one of the paid plans starting from $9/month.
---
Best for Creating Collaborative Learning Environments (Starts from Free, then $25/month).
Ning is a web-based platform that helps schools and teachers create customized education websites and interactive online communities.
This intuitive tool allows schools of all sizes to connect with students and enhance the learning process using a variety of tools, including online course sharing, networking capabilities, and membership portals.
Whether you're an individual tutor or a school with thousands of students, you'll be able to create a website that suits your needs perfectly. With SSL certificates included automatically for each site, you can have your learning academy on the map while confident of providing your students with a safe and secure browsing experience.
Share your knowledge with students using the abundance of educational tools on the platform, including forums, live chats, and more. You can even choose to monetize your online courses by charging a membership fee or collecting donations right on your school website.
Key Features:
Share Online Courses: With Ning, you can share your knowledge with students using tools like videos, articles, forums, live chat, and more.
Detailed Customization: You can choose an education-based theme to customize using a simple drag-and-drop editor or you can design your own theme using CSS.
Networking Capabilities: Create custom social networks for your learners according to their age, major, and other member groups defined by you.
Pricing:
Ning lets you get started for free. Simply sign up on the platform and you can start creating your school website. Premium plans start from $25/month and come with additional members, storage, support, and other features.
---
Best for Nonprofit and School Use ($99/month)
Morweb is designed specifically for use by nonprofits and schools. It offers all the features educators need to build attractive websites and provide a great learning experience for all students.
Some of the top features include a simple and fast design experience using a drag-and-drop website builder. You'll also find a content management system (CMS) that makes it easy to manage your school website, even with no coding or web development knowledge.
This sector-specific school website builder comes equipped with a variety of other tools relevant to education-based organizations and all security maintenance is handled for you so you never have to waste time updating your plugins and system.
Key Features:
Easy Updating: With Morweb, you can update your pages in real-time on the front end of your website.
Multimedia Capabilities: Create visually appealing webpages using videos, images, sliders, and other elements.
Accessibility Tools: Cater to students with visual or hearing impairments and ensure that they can interact with your content using the built-in web accessibility tools.
Pricing:
Unfortunately, Morweb doesn't offer a free plan, but you can request a demo to see if the software will be a great fit for your school website. Premium plans start from $99/month and you get full access to all the platform's core features.
---
Best Website Builder for Teaching Web Design (Free Plan, then $12/month)
This is a full-featured, no-code site builder that's perfect for teaching web design. It's built with the goal of empowering users who don't have any coding skills.
This intuitive tool has basic features like drag-and-drop editing, as well as advanced CSS editing tools. This means that it's suitable for users of all skill levels, from beginners to expert web developers.
You get a free plan to test out the website builder, and a loaded editor that allows teachers and schools to expand their horizons and build the perfect learning environment without any hassle.
With over 500 beautifully designed, 100% customizable templates to choose from, you'll be able to create a fully-functional and responsive website in just minutes.
Key Features:
Tiered Pricing: There's a range of growth-focused options to choose from, starting with the free plan all the way to the Enterprise plan.
Elegant School-Themed Templates: Choose from over 500 expertly designed and fully responsive templates to create an exceptional online education portal.
Advanced Features: In addition to standard features and tools, this website builder also has CSS editing, interactions, animations, custom fonts, and many other features.
Pricing:
Webflow allows you to mix-and-match plans according to your needs. If you're building a simple site, there's no need to pay as much as someone who wants to create a complex site for thousands of students.
Choose a site plan that lets you add to a website as you go live and unlock additional features like teammates, collaboration tools, etc. There's even a free plan to get you started risk-free.
---
Best for Stunning Education-Focused Templates (14-day Free Trial, then $15/month)
These days, every teacher, school, or university needs a website. Whether the purpose is to attract new students, connect with existing ones, or create a positive online learning environment, you need the best tools to help you build a solid website that you can expand as your school grows.
My School Design understands this, which is why the platform provides a range of features to make this goal a reality.
This website builder is designed for ease-of-use and is so simple that anyone can use it to create a fully functional website in minutes. Absolutely no coding knowledge is required, and you can test out the software for free by signing up for a 14-day trial.
My School Design also offers a free website design course to help you understand how to create a unique and full-featured site to match the needs of the teacher or school. You'll learn everything from preparation and design to creating and publishing a new school website, and promoting it to attract new students.
Key Features:
Easy Drag-And-Drop Builder: Build your school website in just minutes using the platform's simple drag-and-drop website builder.
Done for You Solution: If you lack the time or bandwidth to build the site yourself, you have the option of having your school website designed by the platform's experts.
Free Web Design Course: This website builder is extremely easy to use, but for those who may still find it daunting, there's a free school website design course to assist you.
Pricing:
My School Design offers a free 14-day trial so you can test out the software's features. If it's a great fit for you, then you can upgrade to one of the paid plans, starting with the Primary plan for $15/month. This plan comes with professional templates, a simple yet powerful drag-and-drop builder, and free technical support.
---
Best AI-Powered Website Builder for Teachers ($11.99/month)
If you are looking to get your website online fast, then this is a great solution for you to consider. This AI-driven website builder can make your vision come true quickly and easily.
Simply use the AiDA feature and the artificial intelligence design assistant will establish your desired webpage in under two minutes.
Alternatively, you can use the webpage editor to create your own site from scratch or choose one of the dozens of fully customizable education-themed templates to make your work even easier.
You'll find robust customization features that allow you to satisfy all your branding needs. Change colors, fonts, and styles to create the exact aesthetic you want for a pixel-perfect website.
Key Features:
No Design Skills Necessary: Bookmark doesn't require any design or coding skills, simply drag and drop different elements onto a page.
Artificial Design Intelligence: You can use the platform's built-in AI tools to create your dream website in 2 minutes with zero coding needed.
Language Translations: Translate your website language in seconds so your audience can view your school website in any language of their choice.
Pricing:
You can sign up for a free 14-day trial with no credit card required. If, at the end of your free trial, you decide that this is the right website building software for you, you can upgrade to one of the paid plans, starting from $11.99/month for the Professional Plan.
---
Best for Building Professional-Grade School Websites (Free Trial, then $5/month)
Zoho Sites is a professional-grade site builder that prioritizes quality web design for all schools – from pre-schools to universities. The platform offers everything educators need to design, create, and launch an attractive learning portal.
There's a simple yet powerful visual composer that simplifies the entire design process and lets you test different variations of your site with minimal effort.
You can create the exact look and feel you want for your school website without dealing with complicated code – although the option for HTML and CSS editing is available for those with more coding knowledge and experience. Either way, you can take full creative control of your school website.
Key Features:
Search Engine Optimization Tools: Zoho Sites provides you with dedicated SEO tools and best practices to help you get your school's website in front of prospective students.
Pre-Designed Layouts: Choose from dozens of pre-made templates with a variety of responsive elements to help your content stand out and boost student interaction.
Page Versions: Each version of your school website page is saved and you can restore it with a few clicks so you don't worry about accidentally losing your work.
Pricing:
You can get started building your education website the way you want with a 14-day free trial on Zoho Sites. Once your trial is over, you can upgrade to one of two plans, starting with the "Starter" plan for $5/site/month billed annually. This allows you to build a five-page website and comes with forms, photo galleries, and 100 GB bandwidth/month.
---
Additional Options:
Webself: A great platform for both US and French businesses.
Webnode: Build an education website that makes learning easy.
Weblium Education Website Builder: Create outstanding education websites easily.
WordPress: Best education website builder with beautiful templates and an easy editor.
Skookii: Create a modern school website in just minutes using drag and drop editing.
Duda: A platform for complete beginners to create top-notch education portals.
Jimdo: Best website builder with stunning templates and easy personalization.
GoDaddy: Design, build, and launch an education website with powerful analytics.
uCraft: Website builder enhanced with AI technology and fun templates.
WebsiteBuilder: Expand each student's learning capabilities using this site builder.
Elementor: Create awesome school websites with the world's leading WordPress page builder.
What is a Website Builder for Teachers?
A website builder for teachers is a tool designed specifically for teachers and schools to create positive learning environments for students. It's a sector-specific platform with all the necessary features to cater to the needs of education-based organizations. You can use them in any specialized niche, including something as obscure as acting schools or even to build a site for a truck driving school.
In today's tech-centric world, teachers can no longer rely only on old-school lesson plans. They can't expect students to get through projects and submit their work on time without reminders or supervision. That's where having a school website comes in handy.
Teachers can use their websites to deploy additional content, such as recorded lectures and other resources to serve as an extension of their classroom lectures, particularly if they work with strict schedules.
But, building a website for school isn't the same as building a personal or business website.
Schools require specific features, such as those for:
Monitoring students' homework submissions
Sharing highly engaging assignments with students
Offering a wider range of references
Sharing links to viable online resources
Creating an online space for students to connect with each other
Building a hub where students can submit their work
Allowing students to collaborate on complex projects
Scheduling meetings between teachers and students/parents
Messaging platforms like Zoom, WhatsApp, Messenger, etc.
…and many others.
And since teachers and schools aren't likely to have expert coders on hand to assist with web development, that's why it's crucial to have website builders like the ones mentioned in this guide.
Types of Website Builders for Teachers
There are different types of website builders for teachers available. You can choose the right one for building your school website according to your level of skill, how much time you have, and the type of features required.
Drag-And-Drop Website Builder: This type of site builder is simple to use and requires zero technical expertise. It involves dragging and dropping different elements like text, images, and videos onto a page. You can click on each element to customize its by changing colors, fonts, images, etc.
HTML/CSS Editors: These types of site builders are perfect for tech-savvy users with in-depth knowledge of web development. They give you full creative control so you can create a truly unique school website.
AI-Driven Site Builders: Artificial intelligence technology allows you to simply share a few details about the type of website you want, and the software will create your school website for you in just a few minutes.
What Features to Look For in Website Builders for Teachers
Before you choose a website builder, make sure that it has the necessary features and functionality to meet all your requirements.
Here are some of the features to look for before making your decision.
1. Ease-Of-Use: As an educator, your time is valuable, so choose a website builder that has a straightforward process and user-friendly interface. It should also make updating your website as easy as possible to save you time.
2. Education-Focused Templates: Choose a website builder with professionally-designed templates made for teachers and schools. Templates should be fully customizable so you can match your brand.
3. Relevant Features: Different schools have different activities and needs. Make sure your site builder has features like newsletters, forums, blogs, SEO tools, multimedia capabilities, accessibility tools, and any other features relevant to you.
4. Pricing: Choose a site builder with all the features you need at an affordable price. Use the free trial or free version of the software to test out the platform's core features before making your choice.
Website Builders for Teachers Summary & Top Picks
There you have it. 13 of the best website builders for teachers and schools to create outstanding online learning environments.
Any of the tools in this guide will serve you well in building a high-quality, attractive, and full-featured school website.

As a quick recap, here are my top five picks: