As a baker, you know that food is an extremely visual medium, which means your website creation needs will differ significantly from other sites. For that reason, it's important to choose the right website builder with features to help you showcase your creations more effectively.
With the right site builder, you'll be able to add closeups of your favorite food images to entice users as they scroll through your site pages. You can also make it easy for them to visit your bakery's eShop to place orders online – all the while keeping to your branding and style. Having said that, here are the best website builders for bakeries.
What Features to Look For in a Bakery Website Builder
Not all website builders are created equal, especially if you want to give yourself the best foundation for building a successful bakery website. Listed below are some of the essential features to consider when selecting which is the best website builder for bakeries for your needs.
1. Ease of Use: This is arguably the most important feature to consider when choosing the best website builder for bakeries. You want a site builder that's easy to use regardless of how many bells and whistles it has. After all, it won't matter that your site builder has all the newest and best features if you can never figure out how to use them.
2. Visually Appealing Templates: You want a website builder that offers beautiful templates with colors that are bright but not overwhelming. Featured images must be crisp and detailed, and your entire site must be easy to navigate. This way, you'll be able to create a full-on collage of all your culinary delights.
3. Responsive Design: Most of your customers will likely access your website via their mobile devices. That's why you must ensure that your website builder provides you with responsive templates so your site looks great on every device size. Failure to do this will result in you alienating a huge number of your customers and therefore leaving a lot of money on the table.
4. Additional Features: Choose a bakery website builder that offers additional features such as growth-focused plans, unlimited storage, SSL security, and other tools to make your website management even easier. Fortunately, all the site builders listed here consider every detail so you can build a beautiful and full-featured bakery website.
5. Price: Price is another important factor when choosing your website builder. If you want to create a small website or blog, then there's no reason to pay for advanced eCommerce features. So, choose a website builder that provides you with the features you need at an affordable price.
What Are the Best Website Builders for Bakeries?
Best Overall Website Builder for Bakeries (Free Trial, Then $16/Month)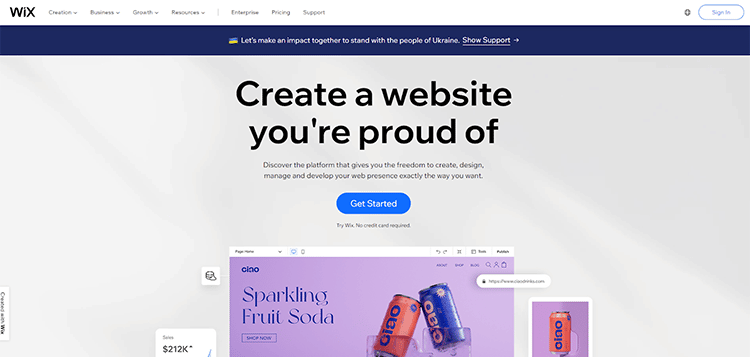 Show everyone what makes your treats unique by using Wix's amazing range of cafe and bakery website templates to build a website that pops. The platform has a selection of pre-designed templates that will leave your customers salivating. You'll be able to prioritize your baked goods to entice more customers to place an order.
Most food-themed templates on the site are modern and minimalistic. They make use of whitespace to create maximum visual impact.
Add any features you want. From animations triggered by scrolling to interesting hover effects on your navigation menu and more, you can sprinkle in lots of different effects – subtle or otherwise.
Key Features:
Beautiful, Modern Templates: Wix consistently makes it to the "best website builders" lists thanks to its stunning range of 100% customizable templates.
Analytics and Reports: Get in-depth insights to help you keep track of the growth of your bakery business.
Free Plan Available: You can use the platform to create your bakery website for free. However, the best features are only available on premium plans.
Pricing: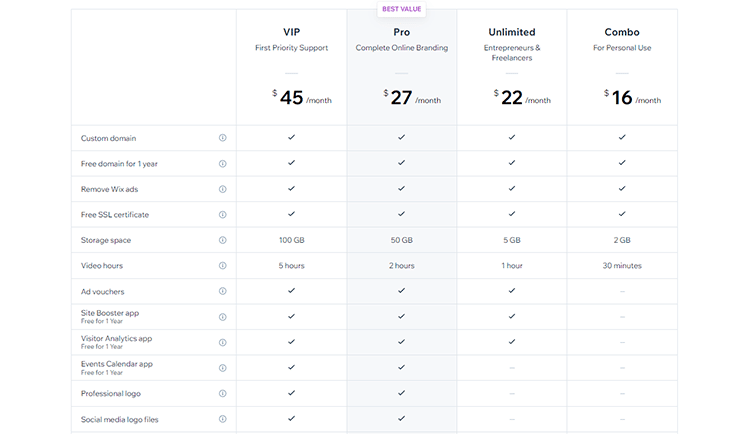 Wix offers a free plan with basic features. However, if you really want to experience the full power of the platform, you must sign up to one of the premium plans. Prices range from $16/month to $45/month depending on the types of features you need, such as eCommerce features, visitor analytics, additional video hours, etc.
---
Best Website Builder for Smaller Bakeries (30-day money-back guarantee, then $2.79/month)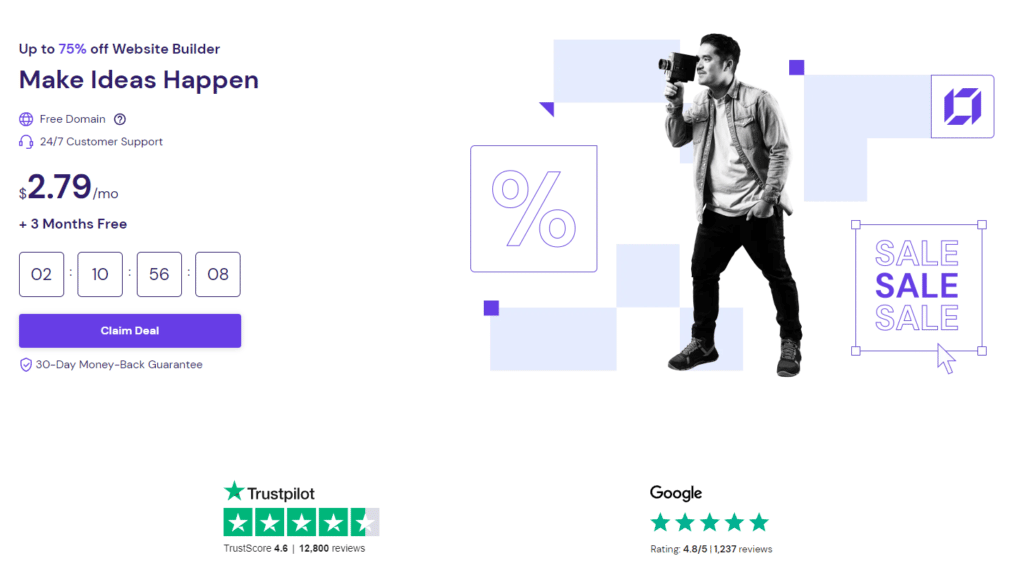 Hostinger will help you build a delectable website for your bakery. The platform has beautiful templates and an easy drag and drop editor that you can use to build a clean, modern website.
Each template boasts a pleasing color palette that lets you go beyond simply featuring bright food images on your site. You can feature a prominent image slideshow on your homepage, which is a great way to attract the attention of your customers and keep their eyes and taste buds engaged.
All in all, Hostinger is one of the best ways to build a mind blowing website for your bakery business without enlisting the help of a web designer or being skilled in web design yourself..
Key Features:
Designer-Crafted Templates: Hostinger allows you to start with a pre-built template to make your site building process that much easier.
Unlimited Bandwidth: You can drive as much traffic as you want to your bakery website without having to worry about resource limitations.
Affordable Plans: Starting from just $2.79/month, Hostinger has the most affordable pricing you'll find out there, making it the perfect site builder for your bakery business.
Pricing:

Hostinger offers one simple plan with a 30-day money-back guarantee that offers a free domain, email, e-commerce features, marketing integrations, the ability to host 100 websites, unlimited traffic visits, free SSL certificates, and their proprietary website builder for $2.79/mo with the first 3 months free.
---
Best for Showcasing Mouthwatering Product Images (Free Trial, Then $16/Month)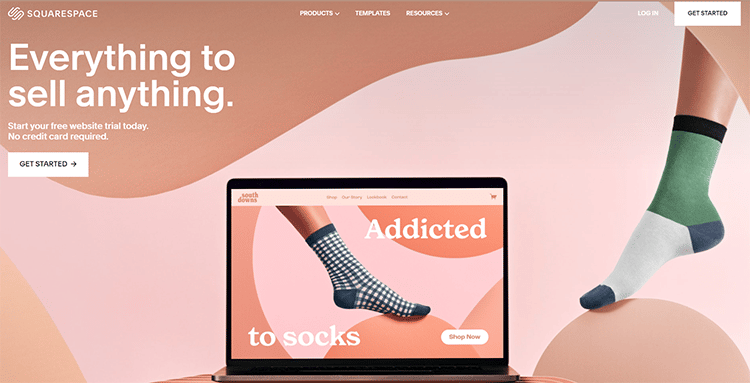 Squarespace powers modern websites and allows you to customize your online presence using pre-built themes and templates.
You can choose from dozens of mouth-watering designs to help you get your customers through the door.
Personalize your template to make it more consistent with your brand. You can also use the gallery feature to flood your visitors' eyes with images of your bakery's sweet and savory treats.
Key Features:
Beautiful Food Templates: Display your baked treats exactly how you want using one of the website's fully customizable and mobile-optimized templates.
Unique Gallery Layouts: Squarespace boasts some of the most well-designed gallery layouts to give you full control over how you display your images.
Advanced Features: Add features such as a menu page, reservations page, customizable booking form, and even a map to display the location of your bakery.
Pricing: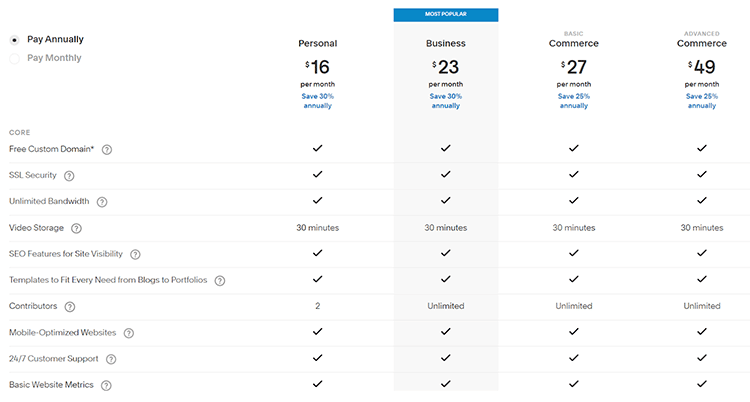 You can try Squarespace for free to get access to all its amazing features. If you decide that this is a great fit for your bakery business, you can upgrade to the paid plan for $16/month.
---
Best for Single-Page Bakery Website Designs (Free Trial, Then $8/Month)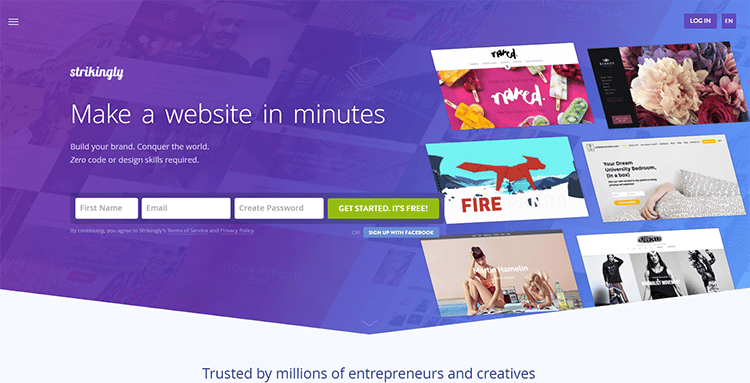 Strikingly will help you build a simple but elegant bakery website to show off your creations and your brand's story in the best way possible.
The best bakery websites don't always require fancy gimmicks to sell stuff, and Strikingly knows this. That's why the platform focuses on helping you create a single-page, minimalist bakery website design that showcases your confections effectively.
One of the reasons to use a single-page website is so you can offer visitors a unique scrolling experience.
You can pack everything visitors are looking for in a single place, and add fun animations to keep them engaged. Simple websites also reduce the number of websites between your customer's first visit and an order.
Key Features:
Beautiful One-Page Sites: Showcase your baked goods effortlessly using any of Strikingly's pre-designed food-themed templates.
Easy Editing: The platform's editor is designed for ease of use. All you have to do is drag and drop different elements onto your page and click to customize.
Built-In SEO Tools: Grow traffic to your bakery website using the platform's built-in search engine optimization features.
Pricing:
Strikingly offers a free trial, after which you can upgrade to one of the paid plans. The Limited plan costs $8/month and it's perfect for someone who's just starting a bakery website with a custom domain name.
---
Best for Building Beautiful Bakery Websites (Free Plan, Then $6/Month)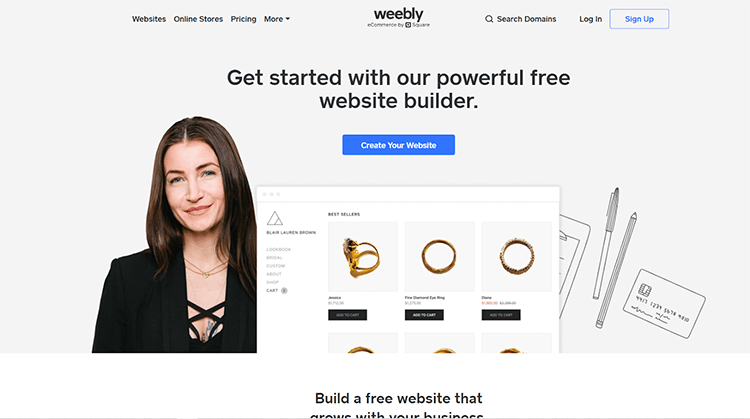 Weebly has a range of pre-designed templates that you can use to build a stunning website for your bakery business. You'll be able to use aesthetically pleasing templates to make your visitors feel comfortable while showcasing your trademark creations.
Whether you want customers to explore your menu, catering options, online store, or backstory, you can achieve it all easily in just a few minutes. This is undoubtedly the best option to choose if you want to create your bakery website quickly and for free.
You'll get eye-catching food-themed templates to choose from. And although none of them are bakery-specific, they are all fully customizable to create a pixel-perfect website to showcase your baked goods.
Key Features:
Built-In SEO Tools: Weebly comes with a range of search engine optimization features to make it easier for customers to find your website when they search for it.
Attractive Photo Galleries: You can add your images to a slideshow so visitors can scroll through them easily. You can even add captions and effects to make images pop.
eCommerce Integrations: Weebly's App Center has a ton of integrations to enhance your Bakery's online store. For example, you can integrate Facebook and Instagram to sell your products on those channels.
Pricing: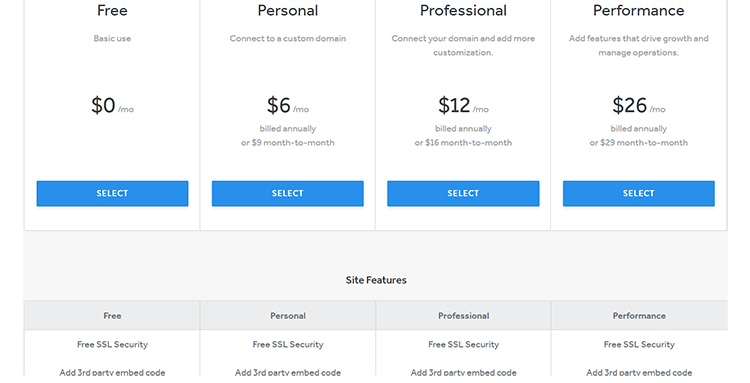 Weebly offers a free plan that you can use for as long as you want. However, if you want additional space and advanced features like custom domain connection, password protection, etc., then you must upgrade to one of the paid plans which start from $6/month.
---
Best for Beautiful Pre-Made Bakery Website Templates (Free Trial, Then $39/Month)
Rocketspark is a growing platform that offers a bakery website builder. This software brings something unique to the table. In addition to having a range of awesome templates for creating beautiful bakery websites, the platform also offers subtle but effective animations in attractive colors.
Together, these features allow you to build a site with a unique energy that you won't find on competing bakery websites.
With the intuitive drag and drop editor, you can quickly build a website to display all your delicious treats and take a different approach to every generic bakery website design commonly seen out there.
Use appetizing closeups of your creations, as well as features like hover animations and textures to create a perfectly cohesive site design.
Key Features:
Built-In eCommerce Functionality: Take orders online easily and convert more customers with seamless cart pages.
Expertly Designed Themes: Create a beautiful bakery website that you can be proud of by choosing from one of dozens of premade templates.
Scheduled Ordering: This feature allows you to offer convenient delivery and pickup from your bakery website.
Pricing:
You can try Rocketspark for free by signing up on the website. If you decide that this is the right solution for your needs, then you can upgrade to one of the paid plans starting from $39/month.
---
Best for Full Customization Flexibility (Free Trial, Then $4/Month)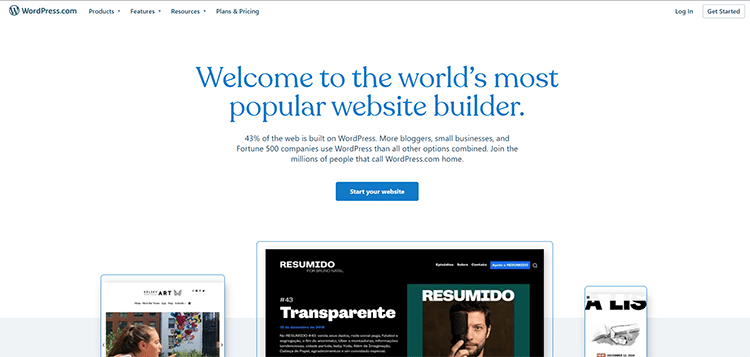 WordPress is a highly customizable website builder with a ton of powerful built-in features to build your bakery website. You can also integrate features like parallax scrolling on your website homepage to entice visitors to order your creations.
Add text sections interspersed with high-quality, detailed food images that users can scroll through easily. You can also add an online store to your site to start selling your baked goods instantly.
Integrate email marketing tools so you can keep in touch with your fans. Whatever type of design you have in mind, this great platform will allow you to build a world-class bakery website that will put you head and shoulders above your competition.
Key Features:
Full Customization Capabilities: WordPress is endlessly flexible when it comes to building a unique website that looks and functions exactly how you want it.
Powerful CMS: When you opt for this website builder, you also get a powerful content management system to make your website management easier.
Unlimited Storage: WordPress offers unlimited storage for users, which means that you won't have to pick and choose which images to include on your bakery website.
Pricing: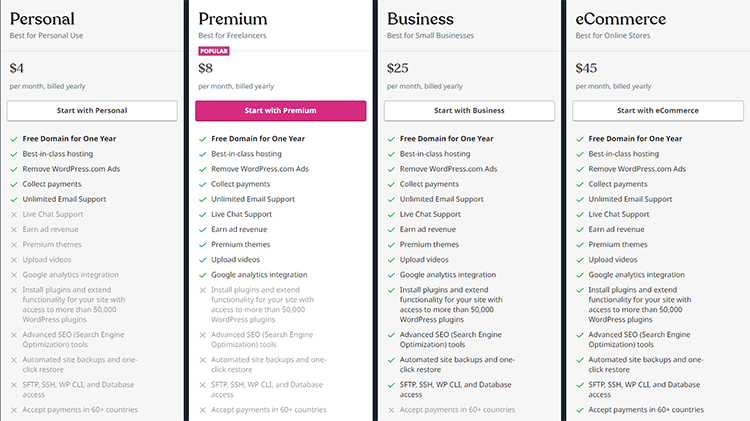 You can use WordPress for free by signing up on the website. However, to unlock advanced features, email support, and eCommerce functionality, you'll need to upgrade to one of the premium plans, starting from $4/month.
---
Best for In-Depth Visitor Reporting and Analytics (Free Trial, Then $9.99/Month)
If you want beauty and simplicity, then this is a great website builder for you to consider. It comes with a range of pre-made templates, all of which are fully responsive and optimized for speed and SEO.
Whether you want to include a store, deliveries, or subscriptions, this website builder allows you to add any features you want to your new site.
If you love splashes of color, you'll adore the food-themed templates on this platform. All of them are soaked in enchanting colors and vibrant imagery allowing you to showcase everything from sweet freshly-baked goods to frozen treats and more.
Customers are sure to appreciate the experience browsing through your site using the hero slideshows, seamless order pages, and various other features offered on the platform.
Key Features:
Intuitive Drag and Drop Builder: GoDaddy has a simple and intuitive website builder that requires no technical experience whatsoever.
Beautiful Bakery Template Designs: Over the years, the platform has been making consistent improvements to its offerings and now has an impressive range of templates to choose from.
SEO and Blogging Tools: Get your bakery website in front of your customers' eyes easily using the built-in blogging and search optimization features.
Pricing: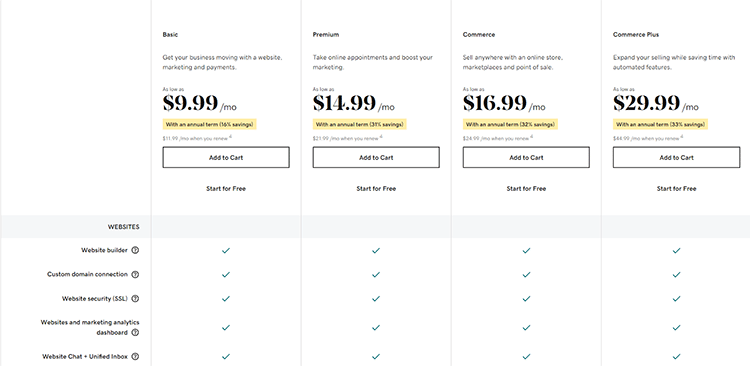 Whether you want to build a simple bakery website to showcase your products or add an online store where you can list your products, you can do so with one of GoDaddy's premium plans which start from $9.99/month.
---
Best Free Website Builder for Bakeries (Free Plan, Then $12.80/Month)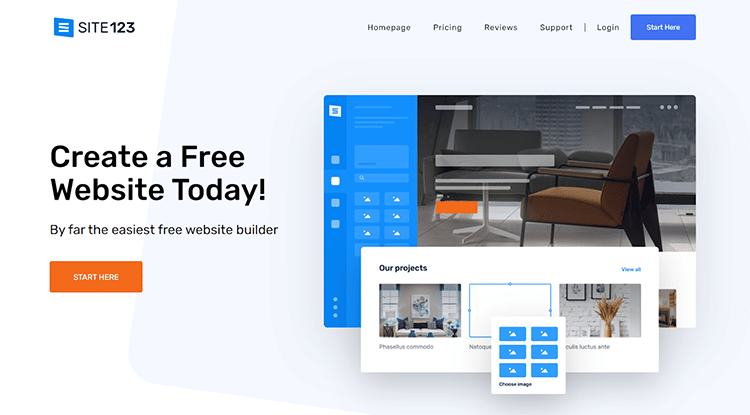 Site123 lets you tap into your customers' primal need for sugary treats by merging high-quality images with slider effects and animated text boxes to get visitors salivating.
This site builder's templates help you to channel the visitors' attention to where you want it by putting the spotlight firmly on your creations. The templates make your site look so good visitors can almost taste the images. Combine images with informative copy to entice more customers.
In short, you'll be able to give your visitors a welcome break from the norm but maintain a sense of familiarity that they will appreciate.
You can add a fullscreen video on your homepage to welcome your customers aboard. You can even make the video animated, which is a great way for you to add character to your site. Whatever you choose, you'll have the ability to make your high-quality confectionery photography look its best on your site.
Key Features:
Awesome Restaurant Features: Site123 allows you to put your bakery menu online with both prices and pictures. You can also add a map, reservation tool, and additional information.
Simplified Blogging Tools: The platform makes it easy to create and update a blog with new products, recipes, etc. You can also allow visitors to comment on your posts.
Online Ordering: Streamline your services using the eCommerce features on the premium plan and allow customers to place orders online.
Pricing: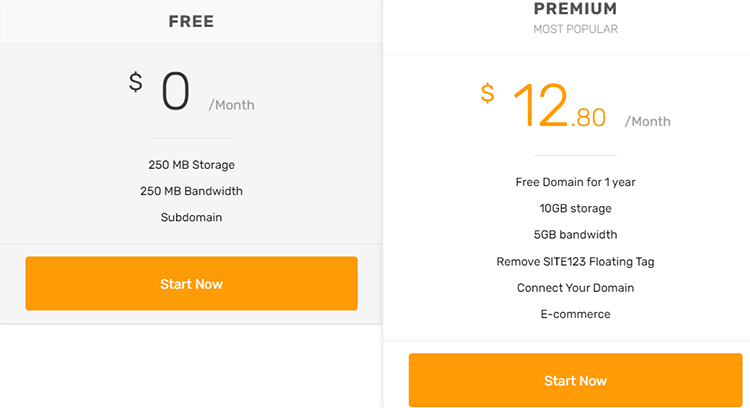 Site123 has a plan that you can use for free forever. However, it's quite limited in features, storage, and bandwidth. Also, the free version comes with a Site123 floating tag. To remove this, connect your own domain, and access eCommerce features, you can upgrade to the premium plan for $12.80.
---
Best Website Builder With Powerful eCommerce Features (Free Trial, Then $29/Month)
If you want a more contemporary take on your bakery website, then this is a great site builder to consider. Shopify has a range of dynamic and responsive "Foodie" templates that will take your bakery's online presence to the next level.
When your customers first land on your homepage, they will be met with detailed closeups of your sweet treats. You can add a classy card carousel with your bakery's signature offerings and even include the story behind each of them. With such features, you'll be able to stand out and leave a lasting impression on your visitors.
The website builder also offers beautiful color palettes that allow you to build pages that invite your customers in with charm and showcase your treats in an irresistible manner.
If you want to build something unique, this is a great solution for you to consider. With it, you'll be able to build a visually coherent and appealing website unlike anything else currently out there.
Key Features:
Beautiful Food Templates: Showcase your best creations in an animated slider that allows users to easily add products to their basket and make a purchase.
Interactive Menu Capabilities: This is a standout feature of Shopify which allows you to embed your bakery menu so users can click individual menu items to go to the product page.
Powerful eCommerce Features: Shopify is well known for its affordable store features that make selling online easy.
Pricing: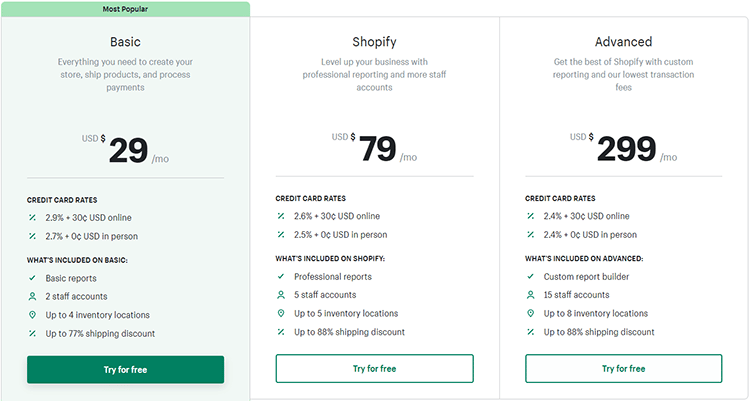 Sign up for a free Shopify trial, after which you can upgrade to one of the premium plans starting from $29/month.
---
Best for Building Professional Bakery Websites (Free Trial, Then $14/Month)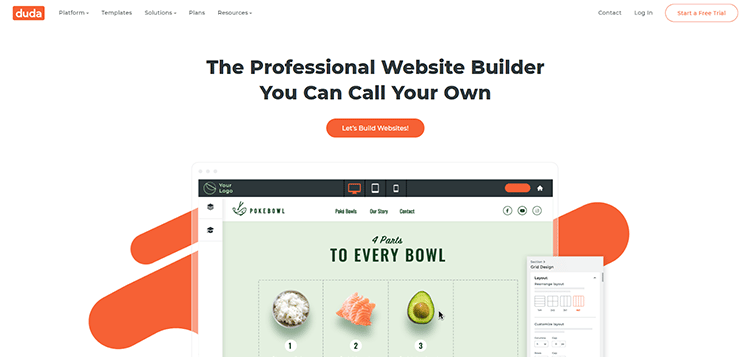 With Duda, you can build an inclusive website to show off your delicious snacks. Build product pages that are a delight to browse so you can keep your visitors engaged and eager to order on your website. With Duda, you can make your website look as professional as any of the best bakery websites.
Add stunning galleries that are easy to scroll through. You can even give your bakery website a homey atmosphere and then balance things out with lots of whitespace for a more modern feel.
Whether you want to add a homepage slider or use traditional scroll navigation, you can achieve this with one of the dozens of food-themed templates on the platform.
Key Features:
Fast Website Creation: Duda's biggest selling point is its ability to help you create a website at breakneck speed.
Templates and Sections: There are categorized templates and sections to choose from, all of which are fully customizable to match your brand.
Team Collaboration Features: If you want help managing your bakery website, Duda makes it easy to bring on team members for frictionless collaboration on your project.
Pricing: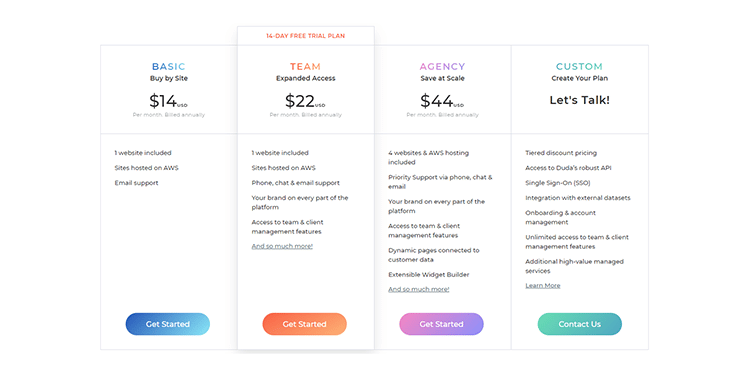 Duda offers a free trial on all premium plans. This way, you can experience the platform's core features before deciding whether or not it's the right fit for your bakery business.
---
Best for Home-Based Bakery Website Design (Free + 10% Transaction Fee/Sale)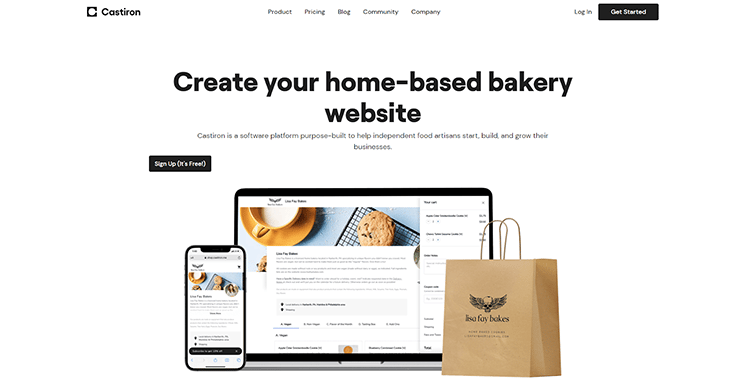 Invite users in with warm, friendly colors and persuade them to convert with vibrant image galleries showcasing your delectable treats.
You'll be able to keep things consistent while capturing the essence of what your business represents thanks to the modern pre-made bakery templates on the site.
In addition to using prominent imagery, you can also add parallax effects to make your content pop even more.
Key Features:
Digital Storefront Builder: Castiron offers professional food business website and store templates with custom branding, payment processing, and photo galleries.
Business Management Tools: The platform has everything you need to run your bakery business, including order form management, inventory tracking, and even tax paperwork.
Built-In Marketing Features: There are marketing campaign templates, social media templates, and automated marketing emails.
Pricing:
Castiron is a free website builder with no limitations. You'll never have to pay for any of its features. There are no listing fees and no subscription fees. However, the platform takes 10% of all your sales. This means they only make money when you make money.
---
Best Website Builders for Bakeries Summary & Top Picks
Whether you want to build a traditional-looking bakery website with a homier vibe, or you want to give customers a break from the traditional norm with a website that has a chic aesthetic, any of the site builders listed here have features to help you achieve your goal and this guide will help you choose a food-related name.
Many website builders also come with a range of features like animations and effects to help you add a charming touch to your new site, making it even easier for you to stand out.
If you're still not sure which website builder to choose, here's a quick look at my five best website builders for bakeries: