Building a website for a personal trainer is all about presentation. You need to introduce yourself as an expert and create a showroom to highlight your training services and facilities. You also need to add customer reviews that will make your website look trustworthy and professional.
For these reasons, it's important for you to pick a website builder that has all the essential fitness website features to help you build a stunning website that will stand out from your competitors. To make your work easier, I've researched and reviewed some of the best website builders for personal trainers. In this guide, you'll discover each platform's unique features and pricing to make it easier for you to compare different software. So, here are the best website builders for personal trainers!
What Features to Look For in a Personal Trainer Website Builder
Listed below are some of the features to look for in the best website builder for personal trainers. After all, the last thing you want to do is choose a website builder that doesn't have what you need and end up wasting time and money when you have to rebuild your website later.
So, take a look at the features listed below to determine the best one for building personal trainer websites.
1. Ease of Use: The first thing you should consider is the platform's ease of use. You want to choose a user-friendly website builder with an intuitive editor so you can create beautiful pages without the need to learn code. Most of the solutions listed here are drag-and-drop, meaning if you can point and click, you can build, customize, and manage your website.
2. Expertly Designed Templates: Next, you want to choose a site builder that has a large selection of pre-made templates. Some platforms may not have templates designed specifically for personal trainers, but make sure they are sports-themed and easy to customize to make your work simpler. Additionally, the templates must allow for easy media integration since personal trainer websites need to have plenty of content. Fortunately, most sports templates come with built-in image galleries, video upload features, and more.
3. Marketing Tools: Almost all the website builders listed here feature built-in marketing tools to help you reach more people online. These include email newsletters, SEO (search engine optimization) features, social media integration, analytics and reporting, and more.
4. Additional Features: All website builders claim to be the best, but few of them are ideal for building a personal training website. Some are expensive or too complicated to use, while others simply don't have all the features you require to build a successful website for your business and may be better suited for something like a massage therapist. Any of the website builders on this list can get the job done well, but some come with additional features at an extra cost. Decide what makes sense for you and make your choice accordingly.
5. Pricing: It goes without saying that you should pick the best website builder that provides you with the features you need at an affordable price. Fortunately for you, I made sure to choose only reliable and affordable website builders for this list.
What Are the Best Website Builders for Personal Trainers?
Best Overall Website Builder for Personal Trainers (Free Trial, Then $16/Month)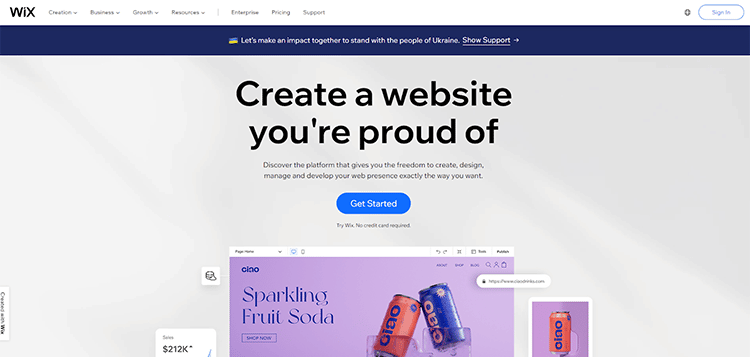 Wix is extremely easy to use, even for someone who's never created a website before. In fact, the platform's ADI (artificial design intelligence) can automatically generate complete personal trainer websites, taking just a few minutes for each one. 
All you have to do is answer a few questions. The platform will then create your website, and you can customize the style and start adding your own content.
Wix also has a media integration feature that allows you to create image galleries, upload videos, showcase your previous results, and even host online classes.
In addition to well-designed templates, the platform also comes with a selection of visually appealing graphics which you can access for free from the library. This means you don't have to go searching elsewhere for professional images to use on your new website.
Key Features:
Wix ADI: This site builder makes creating a website as easy as possible by leveraging the power of artificial intelligence.
+900 Templates Available: Choose from hundreds of templates, many of which are designed for personal trainers specifically.
Powerful Integrations: Wix has an App Market with over 300 free and paid apps to add interesting features to your website.
Pricing: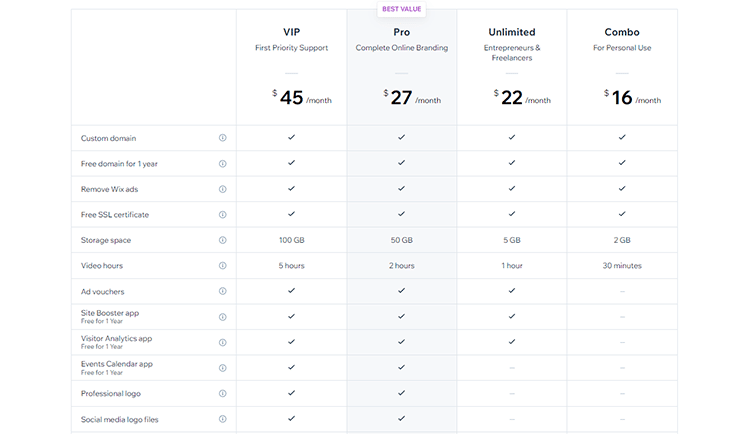 Wix offers a free version that allows you to publish a website on the subdomain. You can also sign up for a free trial of the premium plans to test out the software and see whether or not it has the features you need. If you decide that is the right fit for you, then you can upgrade to one of the paid plans starting from $16/month.
---
Best Personal Trainer Website Builder With Built-In Marketing Tools ($2.79/month)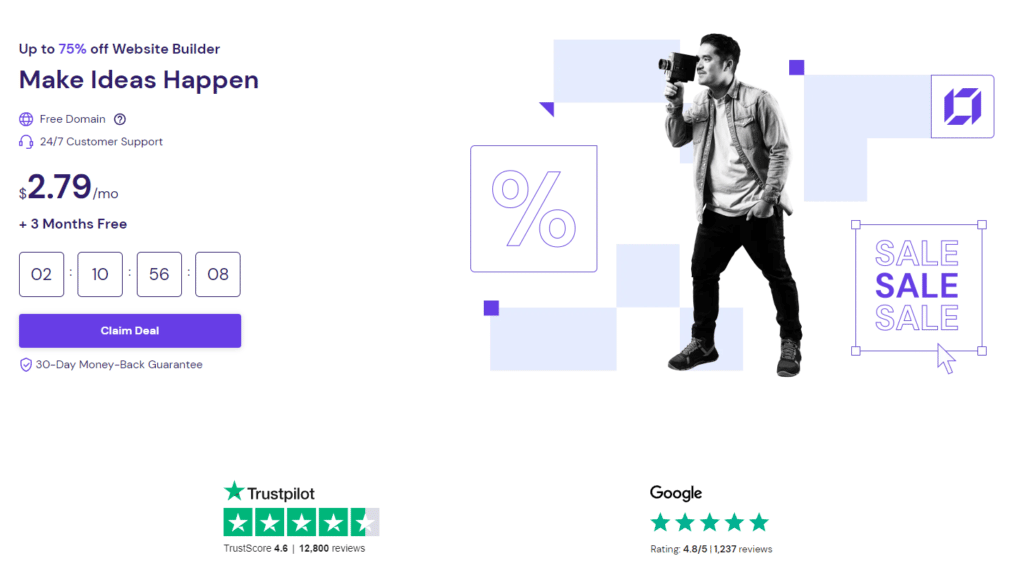 Hostinger is a popular site builder with beautiful, 100% customizable templates for personal trainers websites. Most templates come with built-in media elements, and you'll be able to add image galleries to showcase the results you achieved for your past clients.
The platform also has built-in marketing and SEO tools that are helpful for growing your future client base.
You can integrate multiple third-party tools and apps, such as online course platforms, membership platforms, and more. This is a great feature if you intend to upload exclusive exercise guides and workout videos.
Key Features:
Stunning Templates: Build a unique personal trainer website with one of the dozens of templates in the services category. Easily customize it to align with your brand.
Content Tools: Hostinger has AI-powered tools designed to help you create updated fitness content so you can get better Google rankings for your site.
Free eCommerce Features: You can start selling your services online with no hidden fees. Get paid instantly in over 40 countries using Google Pay, Apple Pay, and more.
Pricing:

Hostinger offers one simple plan with a 30-day money-back guarantee that offers a free domain, email, e-commerce features, marketing integrations, the ability to host 100 websites, unlimited traffic visits, free SSL certificates, and their proprietary website builder for $2.79/mo with the first 3 months free.
---
Best Website Builder for Personal Trainers With Modern Personal Training Templates (Free 14-Day Trial, Then $16/Month)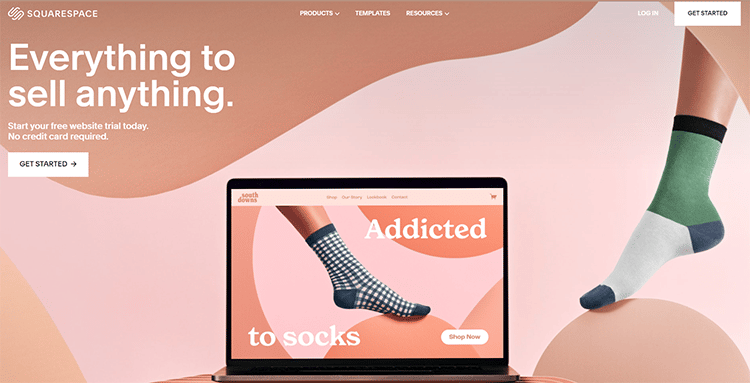 Squarespace has the best-looking templates you'll find out there. Many of them are designed specifically for the sporting niche and come with features that personal trainers will appreciate, such as galleries, booking and scheduling tools, etc.
Most of these tools are integrated directly into the editor, which saves you the time of having to look for them elsewhere. However, you can still add your own custom integrations to expand the functionality of your website.
The platform also has a range of tools for marketing and promoting your new Squarespace personal trainer website so you can get more people interested in your offer. You'll be able to drive targeted traffic easily thanks to built-in SEO tools that help you gain visibility online.
Key Features:
Large Selection of Templates: Squarespace has a huge selection of beautiful, modern templates, some of which are designed specifically for personal trainers.
Built-In Marketing Tools: This platform's marketing tools are arguably the best you'll find on any site builder, and include SEO, email, eCommerce, and social media tools.
Quote Blocks: This feature makes it easy to showcase testimonials from your clients to show your website visitors that you can get them the results they want.
Pricing: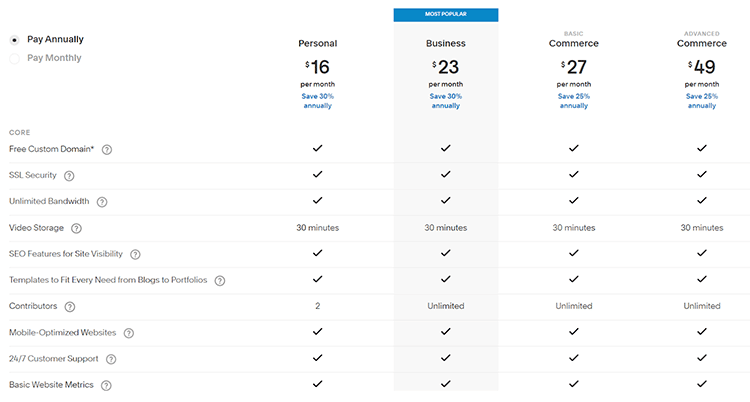 With Squarespace, you get a huge discount on annual plans, helping you save on your subscription. If you sign-up for the personal plan, you get a free custom domain, SSL security, and unlimited bandwidth for just $16/month.
---
Best for Building One-Page Portfolio Websites (Free Trial, Then $8/Month)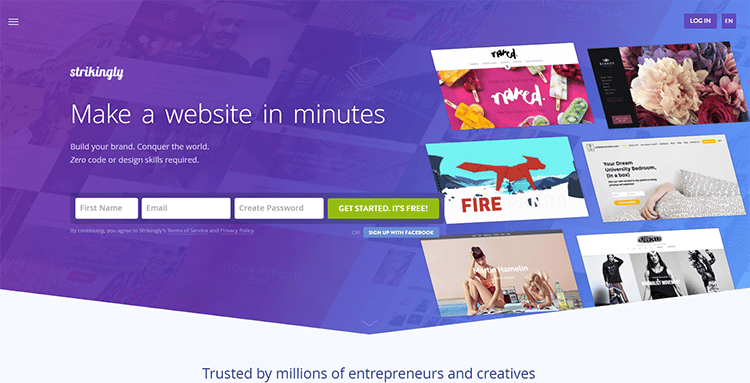 Strikingly is one of the best free website builders for creating single-page personal trainer websites. It has an interface that is easy to use. Simply pick a personal trainer website template, click any of the elements to edit, and you can publish your website instantly. 
No design experience or coding knowledge is required. The platform keeps it simple and you can get through the entire website-building process in under 30 minutes.
You'll find built-in eCommerce features that allow you to add a simple store to your website with just a few clicks. This makes it easy for your clients to book your services and pay you online. You can even add membership logins if you want to create premium content for your members.
Key Features:
Beautiful One-Page Templates: You can include catchy photos, coaching videos, customer reviews, and your trainer's bio all on one convenient page.
Built-In SEO: Strikingly helps you use the best SEO practices even if you don't have much knowledge or experience in ranking your website.
External Integrations: Expand your website's functionality with various project integrations, such as Google Analytics, Twitter Feed, Facebook Reviews, etc.
Pricing:
Strikingly offers a free plan that lets you test-drive the software for two weeks. However, to unlock the full functionality of this website builder, you'll have to upgrade to a paid plan, starting from $8/month.
---
Best Personal Trainer Website Builder with Step-By-Step Guides (Free Plan, Then $6/Month)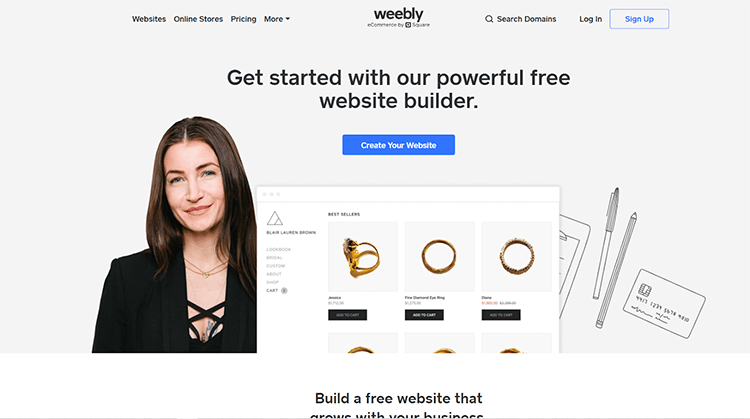 Weebly has dozens of customizable themes, a lot of which are great for personal trainers. Once you choose a theme, you can proceed to customize every aspect of it from colors and fonts to layouts, images, and more.
During this process, there's an interactive guide that shows you how to set up everything step-by-step. You can check items off as you build your new site.
Weebly also has video embedding features that make it easy for you to embed YouTube or Vimeo videos on your website, allowing your clients to catch up on missed workout sessions.
Key Features:
Handy Step-By-Step Guides: Weebly offers helpful and detailed guides on how to build your personal trainer website which is great if you're a complete beginner.
Intuitive Dashboard: The platform has a dashboard that is intuitive and easy to navigate. All the tools are right there for you to click on and use.
Mobile App: Edit and manage your site on the go. Reply to comments quickly and easily. With the mobile app, you can stay connected to your site visitors at all times.
Pricing: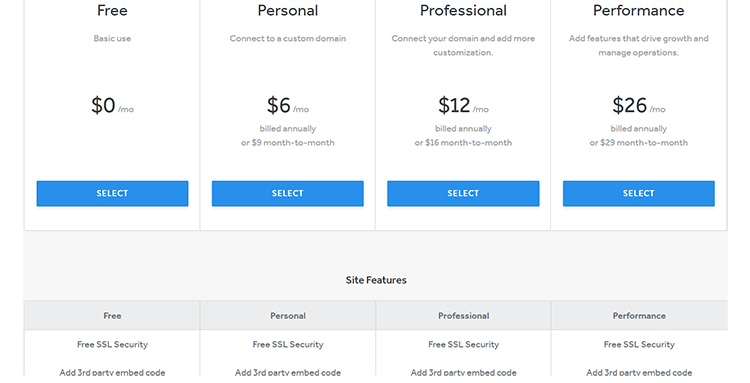 Weebly has a free plan that you can use to test out the software. However, it's quite limited, and to build a full-featured personal trainer website, you need to upgrade to one of the premium plans, starting from $6/month.
---
Best Website Builder for Personal Trainers for Creating Professional Websites (Free Trial, Then $14/Month).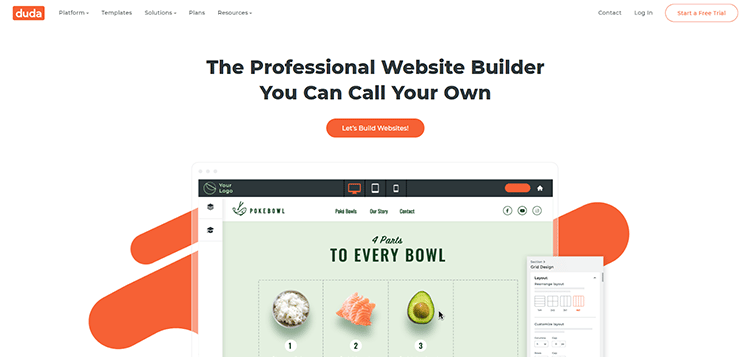 Duda is a great website builder that lets you pick from dozens of templates that allow you to showcase catchy photos, training videos, customer reviews, and more.
You can even set up a page for your trainer's bio so you can introduce yourself to potential customers and share your story in a separate section.
This is a simple yet powerful software that lets you go into growth mode by supporting higher productivity. Whether you're working alone or with a team, you'll be able to build a top-performing website to attract more clients to your personal training business.
Key Features:
Streamlined Website Management: In addition to cutting build times in half, this website builder offers automated workflows and dynamic page creation.
Built for Conversions: Drive more conversions and make more sales with a top-ranking website backed by speed and SEO.
Infinite Design Capabilities: Duda gives you full editing capabilities. You can create your site instantly with beautiful templates and a powerful drag-and-drop editor.
Pricing: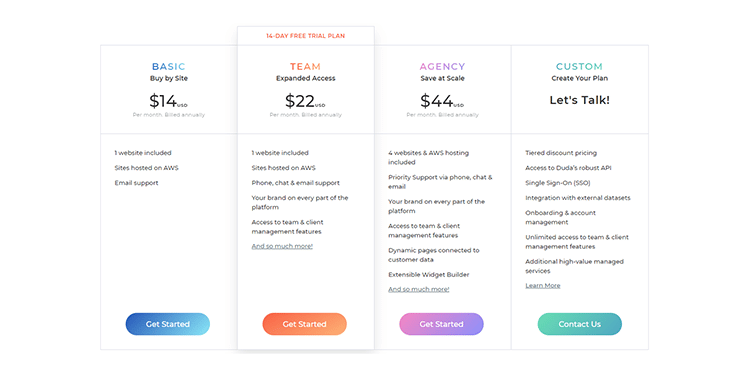 Duda has a basic plan for $14/month which comes with one website, free hosting, and email support. The platform offers a 14-day free trial on the Expanded Access plan. If you decide that it's a great fit for you, then you can upgrade to the paid subscription for $22/month paid annually.
---
Best and Fastest Way to Build Your Personal Trainer's Website (Free Plan, Then $12.80)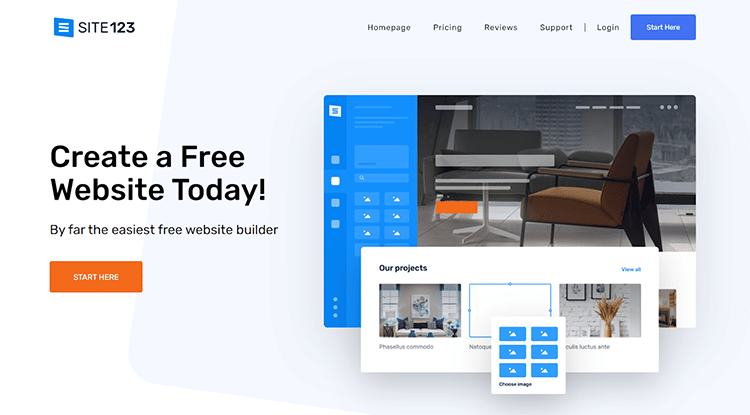 Site123 has a block-based editor that simplifies the process of building a website. Choose from different templates specifically made for personal trainers, and then customize colors, fonts, and layouts to match your brand. Add your own images or use any of the breathtaking images and icons from the library. 
Although the platform is somewhat limited in its customization capabilities when compared to other website builders like Wix and Squarespace, it more than makes up for this by being extremely easy to use.
All of the personal trainer website templates are mobile responsive so they look great on any device. They are also optimized for search to ensure that your target audience will find your website online.
Key Features:
Built-In SEO Tools: Site123 comes with basic built-in features to ensure that you can get your website ranked high even if you're not an SEO expert.
Blogging Platform: As a personal trainer, you can add a blog to your website and share helpful tips on health and fitness to show your expertise on the subject.
Chat Apps: The platform integrates with Zendesk Chat to make it easier for your current and potential clients to reach out to you.
Pricing: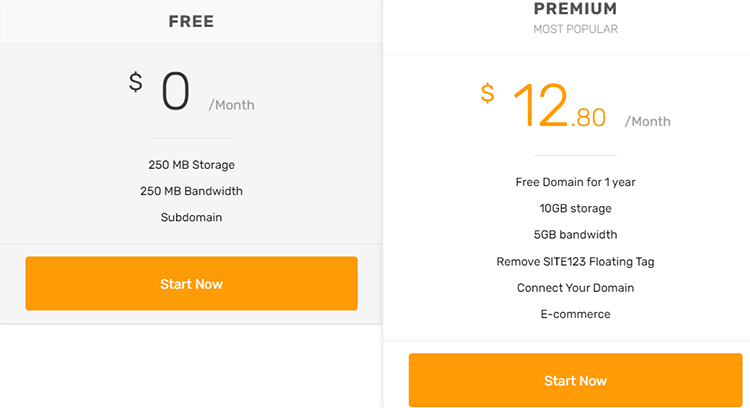 Site123 has very simple pricing and packages. You can sign up for free to get a sense of how the platform works and publish a free site on a subdomain. But, to build a professional personal trainer website, you'll need to upgrade to the premium plan for $12.80/month. This plan comes with additional storage and bandwidth, the ability to add a store, and custom domain integration.
---
Best for Creating a Visually Appealing Website (Free Trial, Then $19/Month)
This website builder gives you the freedom to create your personal training website exactly the way you want. From registering a domain to building out your website pages, creating a content plan, and implementing best practices for SEO – all the features you need are available on the platform.
You'll even be able to promote your website and track your website metrics from one convenient dashboard. All of this is possible using a simple yet intuitive drag-and-drop editor, which means you don't need any experience to build a stunning, professional website for your business.
Key Features:
Creative Showroom: This platform allows you to create a showroom so you can highlight your fitness service and facilities.
Reviews and Testimonials: Add a testimonials section to depict the level of your services and increase your credibility.
Powerful CTAs: Inspire visitors to sign up for your services with impactful calls to action on new website pages.
Pricing:
Showit lets you start building your website for free. However, if you want to unlock the full functionality of this powerful software, then you must upgrade to a premium plan, starting from $19/month billed annually.
---
Best Personal Trainer Website Builder for Beginners and Non-Developers ($9/Month)
This is a great website builder to choose for your fitness business project. It comes with a simple system for web design, which makes it a great option for anyone who is not a professional web developer.
Whether you're just starting out or have an established fitness business, you'll be able to build standout personal trainer websites with this software. 
There are dozens of beautiful templates to choose from, all of which help you create a convenient browsing experience for your visitors. You can add any of the features you need, including online calculators, calendars, scheduling tools, galleries, slideshows, etc.
Key Features:
Customizable Templates: uKit has dozens of easy-to-navigate and fully customizable templates to create a professional personal trainer's website.
CRM Tools: As a personal trainer, you'll be able to track the activities, exercise plans, and workouts of your clients.
Analytics Features: The platform keeps you updated with new data, traffic, and sales growth metrics so you can make improvements to your business accordingly.
Pricing:
uKit offers a range of affordable, growth-focused plans to suit all users. Plans start from $9 when paid month to month, or you can opt for the annual or multi-year subscription for huge savings. On the two-year plan, you'll only pay $4.50/month for the premium plan.
---
Best for Niche-Specific Website Designs (Free Plan, Then $8/Month)
This is a great website builder for health coaches who want to distinguish themselves from all the rest. It comes with powerful integrated functionality that allows you to add all the tools you need, including event schedule lists, SoundCloud audio player, PDF viewer, and Facebook comments.
There's even multilingual support so you can offer your fitness website in different languages on the international market. Integrate your social media profiles to promote your project online. You can add social sharing buttons in just a couple of clicks.
All in all, this is an extremely simple and reasonably priced site builder with responsive, niche-specific designs.
Key Features:
Marketing Tools: There are built-in and integrated tools that will help you run successful marketing, ad, and email campaigns.
Full Mobile Responsiveness: The platform's templates are responsive to all devices, an important feature to have since most users these days prefer their smartphones.
Social Media Integration: Use different social media tools to easily integrate your coaching and training website and increase your content views.
Pricing:
You can use IM Creator for free to create a non-commercial project. However, you'll have to upgrade to a premium plan for $8/month if you want to build a professional personal trainer website with all the relevant features and tools.
---
Best for Full Customization Options (Free Trial, Then $4/Month)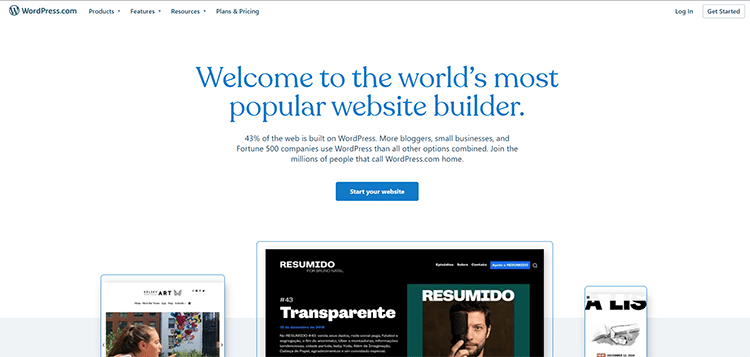 WordPress is a great platform for building world-class personal trainer websites or sports blogs. Although it's slightly more complex compared to other platforms listed here, it also provides you with significantly more customization capabilities. If you take the time to master this platform, you'll have granular control over how your website looks and functions. 
There are over 250 free themes to choose from in the WordPress theme library, and although none of them are designed specifically for personal trainers, they are all easily customizable to meet your needs. Alternatively, you can install a dedicated theme from a third-party vendor such as ThemeForest or StudioPress.
The WordPress platform comes with basic search engine optimization tools, and you can also install plugins like Yoast SEO to help you with your SEO strategy. This makes it easy for you to create and manage a blog with workout and training information so you can get your content in front of relevant searchers.
Key Features:
eCommerce Essentials: WordPress provides you with reliable eCommerce features to manage bookings, accept online payments, and more.
Social Sharing Features: There are built-in social sharing buttons that you can add to any of your posts on media to make it easier for followers to share your content.
SEO Tools: One of the reasons WordPress is so popular is because it has powerful search optimization tools for subscribers on the business plan and higher.
Pricing: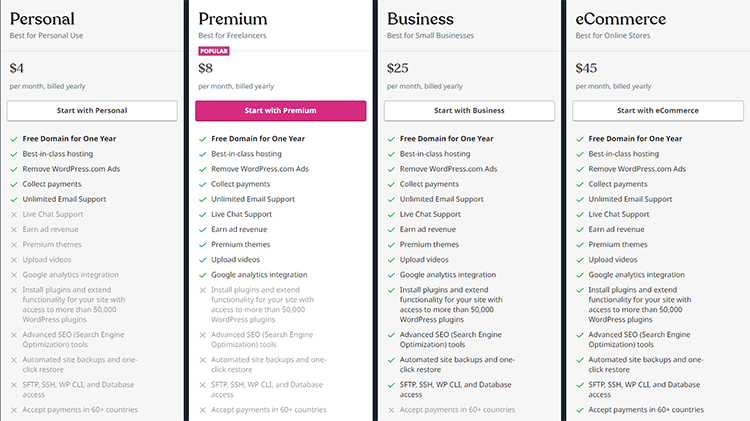 WordPress offers a free 14-day trial, after which you can upgrade to one of the premium plans starting from $4/month. Each plan comes with a free domain for one year, built-in cloud hosting, and eCommerce features.
---
Best Website Builder for Personal Trainers for Service-Based Businesses (7-Day Trial, Then $99/Year)
This is one of the best website builders for reservation-based businesses. It comes with a powerful focus on business and eCommerce features, which means you'll be able to create and manage a quality project with extensive features for booking, scheduling, appointments, payments, and online interactions.
You'll find dozens of sports-themed and responsive templates to choose from. There's also an intuitive CMS (content management system) to easily manage your web pages, customer data, and marketing campaigns.
Key Features:
Booking and Scheduling Tools: VEVS comes with advanced options for scheduling, booking, and appointments.
Testimonial Displays: Add this feature to your website to show off reviews and stories of happy and satisfied clients that strengthen your credibility.
Powerful Website Editor: In addition to getting templates made specifically for personal trainers, you also get a convenient website editor to customize your pages.
Pricing:
VEVS has flexible prices depending on the type of project you want to work on. For personal trainers, you can build your business website for $99 per year. Sign up for a free one-week trial to explore all the core features of the platform before upgrading to the premium plan.
---
Best Website Builders for Personal Trainers Summary & Top Picks
Each one of the best website builders for personal trainers mentioned here can help you build a professional personal trainer website quickly and easily. They come with tools to promote your website, showcase your expertise, and motivate potential clients to sign up.
Whether you want to offer online training courses, in-person classes, or merchandise, you'll be able to do so easily by using the right website builder.
Here's a quick look at my five favorite website builders for personal trainers: