Imagine making over $9,204 of passive income from a single website.
Sounds pretty good right?
Well, that's exactly what I did in August of 2021 of 2021 with OneHourProfessor.com.
My secret: affiliate marketing.
For those who don't know, affiliate marketing is the act of referring products to people via your website and if they buy something, you get a commission. It's sort of like a commission a realtor makes — except you don't have to sell houses. All you have to do is create great content, find affiliate programs, link to the products and maximize your website traffic.
Affiliate marketing is one of the ways that bloggers rake in the big bucks while focusing on more important things.
But before you begin, you need a website. There are many great website builders available but not all are optimized for affiliate marketing.
To help you get started, I have created my guide to the best website builders for affiliate marketing. Take a look below and start building your affiliate marketing website today so that you can start making more passive income.
What are the Best Website Builders For Affiliate Marketing?
The best option for affiliate marketers who want full customization freedom ($14/month).
Whether you are a beginner or an experienced user, Wix is a great platform to use for your affiliate marketing website.
It's easy to use and comes with an intuitive page builder that lets you drag and drop different elements, such as images and text into place to create unique layouts and a stunning website.
The best part about Wix is that if you don't feel like creating the website yourself, you can simply answer a few questions about the type of site you want, and Wix ADI (Artificial Design Intelligence) will create a brand new unique website for you.
Key Features:
Massive Range of Templates: The platform has a huge selection of templates that are perfect for affiliate marketers to choose from.
Personalized SEO Plan: When using this platform, you don't have to start from scratch with your SEO efforts to get your content ranked online.
Huge App Market: There's an enormous number of add-on features to increase your site's functionality accessible through the Wix App Market.
Pros of Wix:
Quick setup and a simple, yet powerful drag-and-drop editor
Built-in SEO and marketing tools to boost your visibility online
Additional freedom for coders to build dynamic pages with Wix Velo
Web-Stat app to gather insightful data about site visitors
Price Table lets you show side-by-side pricing for various products or services
Pricing:
You can get started with Wix for free. To remove Wix branding from your site, get a free domain, and unlock advanced features, you'll need to upgrade to one of the paid plans which start at $14/month.
What Are People Saying?
"Wix makes everything simple when it comes to creating practical web applications for our organization. Its interface is pleasant and straightforward; it also contains excellent functions to help us manage our code in a correct, agile, and, above all, straightforward way." Dominik R. – Senior Project Manager.
---
An all-in-one platform for professional, mobile-responsive templates ($12/month).
Squarespace is a website builder with a ton of professionally designed templates to choose from. It also has exceptional features to help affiliate marketers increase their conversions.
From content creation, marketing, and SEO, you'll find all the tools you need to help you create and promote your affiliate marketing site.
With a Squarespace blog, you can also push content to each of your social media pages with the touch of a button. Furthermore, you can enable comments to let your users leave questions and reviews of their own on your site.
Key Features:
Easy Sitewide Changes: Once you activate a template, you can easily make changes to specific elements used on multiple pages, such as text or image size.
Mobile Responsive Templates: The platform offers mobile-friendly templates which means your website will adjust automatically to any device size.
Advanced Image Formatting: This is a feature that many affiliate marketers will appreciate as it will allow you to create high-quality, optimized product images.
Pros of Squarespace:
Drag-and-drop editor ideal for beginners
Easily customize templates within the designated layout
Live chat support for instant help
Mobile apps available for iOS and Android
Squarespace editors support 6 interface languages
Pricing:
You can use Squarespace for free, but the free version is limited and comes with Squarespace branding. To unlock all the features and remove ads, you can upgrade to a premium plan for $16/month.
What Are People Saying?
"I liked how they gave an array of different templates, but they can all be customized to best fit whatever site you're looking to have. I like that Squarespace has capabilities to integrate with several other systems." A.M. – Administrator in Marketing and Advertising.
---
A drag-and-drop website builder perfect for new affiliate marketers ($6/month).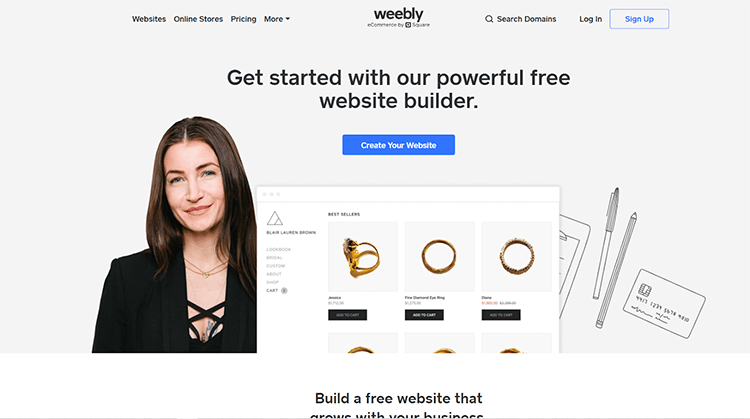 Weebly, also known as Square eCommerce, is a drag-and-drop website builder that prides itself on its ease of use.
The website builder, which has been around since 2006, currently powers over 50 million websites worldwide – a strong testament to the effectiveness of the platform.
One of the main reasons Weebly is so favored among users is that it offers a simple user experience and a relatively short learning curve compared to a lot of other website builders.
This makes it perfect for affiliate marketers who are just getting started and want to get their site up and running as soon as possible.
Key Features:
Drag-And-Drop Functionality: With Weebly, you can quickly and easily build your site by dragging images, text, videos, and other elements onto your page.
Mobile Apps: You can create, edit, and manage your website directly from your mobile device and stay connected with your audience on the go.
Great SEO Options: Weebly lets you easily optimize your website pages for SEO thanks to the platform's helpful SEO Checklist.
Pros of Weebly:
Highly intuitive and powerful drag-and-drop editor
Weebly offers amazing customer support
Ideal platform for smaller affiliate marketing sites
Wide range of professionally designed, customizable templates
RSS, social sharing, and community tools for your blog
Pricing:
Weebly has a basic-use plan that you can use for free forever. But, if you want to build a successful affiliate marketing website, it's advisable to opt for one of the premium plans which start at $6/month (billed annually).
What Are People Saying?
"Weebly has a platform to build very modern websites. What I like most about Weebly are the large number of templates they have to modify according to their requirements. It is a simple and efficient platform, which is even very useful in its free version." Gabriel A. – Small Business Owner.
---
An all-in-one platform for faster websites at better prices ($2.90/month).
Zyro is a website builder designed to help affiliate marketers bring their ideas to life fast. The platform has everything you need to build a professional website, rank higher on search engines, and convert more of your traffic into actual paying customers.
If you get stuck while building or managing your website, Zyro has a live support team to help you regardless of the time of day or night.
In addition to supercharging your SEO and providing you with magnificent marketing tools, the platform also has extensions for analytics, including Google Tag Manager and Analytics, as well as Facebook Pixel, and more.
Key Features:
Pixel-Perfect Templates: Choose from dozens of designer templates, each of which is fully customizable to match your affiliate marketing website
Integrated Search Optimization: The platform has tools to help you rank higher and faster on Google so you can get found by your target audience.
Branding Tools: Free logo maker, business name generator, slogan generator, and various other tools to help you meet your business's potential.
Pros of Zyro:
Simple platform with no design or coding skills required
Mobile-optimized templates look great on every device
Heat Map helps you optimize your site for conversions
Messenger Live Chat extension to make marketing easy
Competitive pricing for professional website building platform
Pricing:
You can get started using Zyro for just $2.90/month. This hosting plan comes with 3 GB bandwidth, 1 GB storage, custom domain, and free email. It also has a ton of blogging, branding, and marketing tools that will help you set your affiliate marketing business apart from the rest.
What Are People Saying?
"The builder basically tells you everything you need to do without actually having to know it. It offers way more than I expected." Erin Champ and Josh Hallmar – Surf-Happy.com.
---
The best website builder with content management features for affiliate marketing.
WordPress is one of the oldest and most reliable website builders. Since its launch in 2003, the free CMS (content management system) has been growing in popularity and now powers over 41% of the Internet.
While WordPress is the cheapest of the options listed here and has no limitations as to what it can grow into, you'll need a theme to begin and I recommend Thrive Themes. If you're interested in knowing more about this, I recommend you read my Thrive Themes review to better understand what the platform offers.
It's a perfect tool for affiliate marketers who want to create unique website pages and effective sales funnels.
Using these two platforms together will let you seamlessly build outstanding, mobile-responsive websites with optimized page speeds (something that Thrive Themes is particularly known for).
Key Features of Thrive Themes:
Extensive Theme Libraries: Thrive Themes has a huge collection of themes to rival most of the website builders on the market.
Effective Marketing Widgets: You can use quiz-building tools, scarcity marketing tactics, and lead generation forms to build an audience and boost conversions.
Superfast Website Speed: Thrive Themes focuses on providing you with optimized, fast-loading website themes.
Pros of Thrive Themes
Fully rounded ecosystem for building stunning websites
Works perfectly with WordPress
Tons of plugin options for you to choose from
Great quality templates for affiliate marketers
Fully responsive, fast loading pages
Pricing:
For $90 (billed quarterly) or $228 (billed yearly), you can get all of the tools in the Thrive Suite, including the following:
Thrive Architect: A popular page builder that allows drag-and-drop designs
Thrive Themes: WordPress templates designed with conversions in mind
Thrive Leads: A plugin designed for easy lead generation
Ultimatum: A scarcity-generating tool to create countdown campaigns
Thrive Quiz Builder: A product to build engaging quizzes
Ovation: For generating and displaying testimonials and social proof
Optimize: For A/B testing landing pages
Comments: To create engagement with your blog visitors
Apprentice: A plugin to create professional online courses
Clever Widgets: A tool to show widgets under specific criteria
What Are People Saying?
"It's at the price point where it's affordable for anybody, somebody just getting started, but it's at the level of quality where it can scale with you and you can build a million-dollar business off of it." Jeff Sauer – Founder of Jeffalytics.
Get Started With Thrive Themes
---
All-in-one platform with tools to make affiliate marketing easy ($99/month).
Kartra is a platform that is awesome for pros as well as the everyday Joe. It's equally geared for both novices and seasoned users, which is one of the platform's main strengths.
With Kartra, you get one solution that grows as your business grows. There is no need to download any other software – from building and customizing mobile-responsive pages to A/B testing, heat maps, email marketing, automation, checkouts, calendars, etc.
Everything you need to take your affiliate marketing business to the next level is in one convenient place.
But, considering the price, this may be a better solution for experienced affiliate marketers who require all their tools in one account.
Key Features:
Dynamic Design Elements: The platform has a multitude of dynamic and interactive design elements like embedding Facebook comments, countdown timers, etc.
All-in-One Solution: There is no need for you to download any other software with third-party applications to run your website.
All-Inclusive Cloud Software: As long as you have an internet connection, you can use the platform via a web browser.
Pros of Kartra:
All-in-one account means no more duct-taping solutions together
Seamless integration of all marketing and automation tools
Ideal for building affiliate marketing campaigns
Wide range of customizable templates to choose from
Advanced A/B split testing features
Wide range of pop-ups to increase conversions
Pricing:
What Are People Saying?
"There are a lot of things to like about Kartra, specifically the absolute all-in-one platform they have. It goes far beyond just designing a website/landing page or sending an email. They cover all the bases – from websites, landing pages, email marketing/automation with sequences and tagging, funnels, simple e-commerce, digital downloads, membership sites, help desk, scheduling, forms, affiliates, and now an agency solution. If you'd like to consolidate the many platforms you use, Kartra can handle 95% of everything you throw at it." Dana R. Small-Business
---
The best option for building an international audience for your affiliate marketing site (Starts from Free).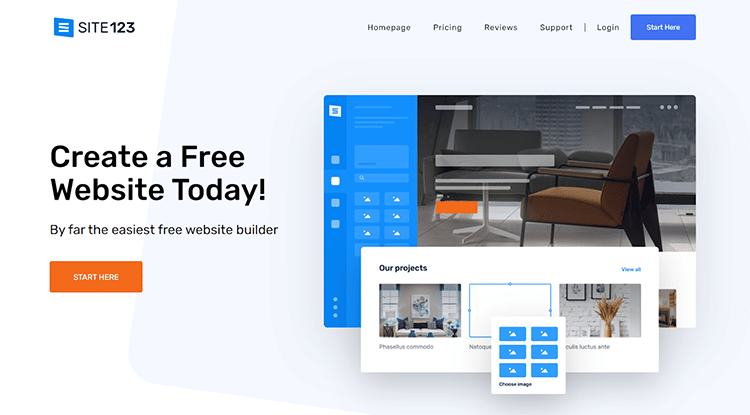 SITE123 is aptly named because it lets you launch an affiliate website in just three easy steps. All you have to do is choose your design, add your content, and you can go live with your site.
The website builder comes with all the SEO basics needed to improve your affiliate website's ranking and has unique features designed to get you more traffic and sales.
You can use SITE123 for free, but the paid plans come with a Language Manager, a tool that allows you to manage a multilingual site using either manual or machine translations, which means you can reach a global audience.
The platform also has a fantastic, easy to reach customer support team and you can get help 24/7 via live chat.
Key Features:
Apps and Plugins: One of Site123's great features is the App Market which provides a ton of helpful tools to extend the functionality of your website.
Social Media Integrations: The platform lets you choose from over 25 social apps to add to your affiliate marketing site.
Built-In Email Marketing: Use the website's built-in email marketing tools to connect and share your message with subscribers.
Pros of SITE123:
Easily customizable templates
The platform is painless to navigate, ideal for beginners
SEO basics for ranking your website quickly
Free plan with subdomain available
Built-in marketing and automation tools
Pricing: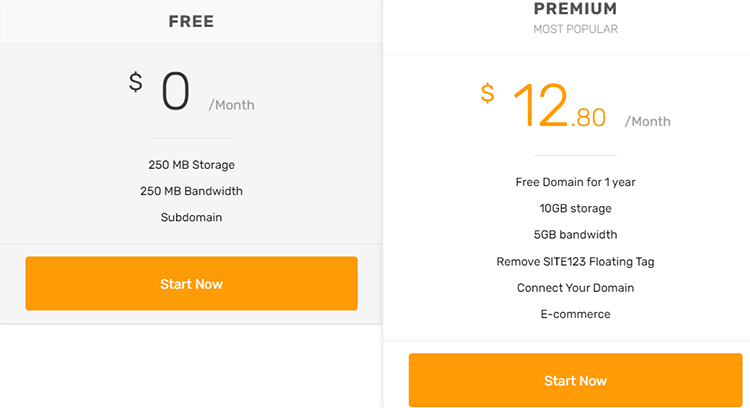 What Are People Saying?
"I would highly recommend hosting a website with this company. I had issues with transferring my information from another hosting site to here, and SITE123 helped me step by step. I chose SITE123 instead of a couple of others based on the very quick response and help within minutes." Jessica Coronado.
---
A platform that offers faster websites and great customer support ($29.90).
Builderall is a website builder that is easy to navigate and use. It lets you create all the pages you need for your affiliate marketing website, including landing pages, sales pages, and webpages.
In addition to letting you create unlimited pages, the platform also provides you with access to a wide range of tools including email marketing, analytics, social proof, chatbots software, and much more.
When you consider all the tools that you're getting on this one platform, the pricing is extremely competitive and could be well worth it for anyone who is serious about building a successful affiliate marketing business.
Key Features:
Free-Forever Plan: Builderall isn't a fan of restrictive free trials, so you can use the software for as long as you want without paying a cent.
Cheetah Software: The platform's new feature, Cheetah Software, loads lightning-fast pages.
Affiliate Marketing Program: Builderall also offers a highly lucrative affiliate marketing program with healthy commissions for marketers.
Pros of Builderall:
Access everything you need for running your website
Automate marketing, sales, and audience engagement
The platform includes a CRM and automation system
Huge knowledge base and hundreds of video tutorials
24/7 chat and ticket support
Pricing:
What Are People Saying?
"As a specialist in website strategy, BuilderAll has given me the ability to create jaw-dropping designs and increased credibility with their Smart Website Platform. Thank you Builderall for providing me the tools to take my business to the next and highest levels." Mike Caldwel.
Get Started With Builderall
---
Additional Site Builder Options:
Leadpages: A website creation tool with conversion-focused templates.
Simvoly: Provides an affordable solution to satisfy all digital marketers' needs.
Web.com: The best solution for building unique websites.
ClickFunnels: All-in-one platform to build websites that convert.
Ucraft: Best multi-functional website builder with marketing and automation tools.
Godaddy: Internet domain registrar that you also offers a website builder
Shopify: A website builder that specializes in ecommerce
What Features to Look For in a Website Builder For Affiliate Marketing
Not all website builders are created the same. Some may be better options for you than others depending on your needs, budget, experience, etc.
Listed below are the different factors to consider when choosing the best affiliate website builder for affiliate marketing.
1. Ease of Use: You don't want to spend countless hours trying to figure out how to build and run your affiliate marketing website, so make sure you choose an intuitive platform with a streamlined user interface. The easier the editor is to use, the better.
2. Web Design Options: You need customizable, user-friendly themes and templates that look good and are easy to navigate on both desktop and mobile devices. Additionally, you want to be able to use a large range of customization options to optimize the appearance of your website and increase user experience.
3. Marketing and SEO Tools: Your site builder should have built-in marketing and SEO features to give you a jumpstart on your efforts to get found in search engines, increase website traffic, and grow your audience. At the very least, there should be SEO, email marketing, automation, and analytics tools.
4. Scalability: You need to think strongly about scalability if you intend to grow your website in the future. For instance, if, at some point, you decide to host your website yourself, your website builder must make this process as easy as possible for you. Or, if you decide to create custom features for your affiliate marketing website, you need to be able to write your own code.
5. Support: Choose a website builder that offers different ways to get in touch with their support team, including email, phone, live chat, etc. There should also be in-depth documentation, an FAQ page, blog posts, YouTube video tutorials, etc. to help you get the most out of the platform.
6. Price: This is an important factor to consider because if you are just getting started, you may need to sustain your website for a while before you start making anything from your efforts. So, choose a website builder within a reasonable budget.
7. Domain Name: Whatever website builder you choose, you want to make sure you'll be able to import your own domain name without the website builder's name in there. This adds a sense of ownership to your site and makes you immediately appear more trustworthy to visitors. Many free website builders do not offer this feature.
8. Ecommerce Functionality: Affiliate marketing is just one method of monetizing a website. Additionally, you can build an online store to sell virtual and real-life services and products, but only if the affiliate website builder has built-in ecommerce functionality or the ability to easily integrate with third-party ecommerce sites and social networks like Amazon, eBay, Facebook, Instagram, or Etsy.
9. Hosting Services: Some website builders also have their own web hosting services or easily integrate with leading third-party services. When picking a website builder, make sure to investigate what options you'll have for hosting and how much storage the host will provide you.
How Can a Website Builder Help You as an Affiliate Marketer?
Site builders help affiliate marketers quickly and easily create engaging content that showcases their products in the best light possible.
Although many of the best website builders in the market are marketed for general use, a lot of them, including Wix, Thrive Themes, and Kartra actually have niche features that are specifically designed for building affiliate marketing websites.
In short, a website builder will help you as an affiliate marketer by cutting the learning curve and providing you with the tools to easily create fantastic, customized content and promote your website to your ideal audience.
Website Builder For Affiliate Marketing FAQ
What Pages Are a Requirement for an Affiliate Marketer?
An affiliate marketing website needs to have an About page that is personalized and focused on the reader. You also need an easy-to-navigate Contact page, as well as a Blog page. You can also add a Resource or "Learning" page where you can teach readers how to get the most out of the products or services you promote, as in the example below from Smart Passive Income:
Does Wix allow affiliate marketing on their platform?
Of course! And even better using Wix for affiliate marketing is very easy. If you are new to affiliate marketing or building websites, then this is a great platform for you to use. It's extremely intuitive and easy to get started. Even with no prior experience, you can create a blog-based affiliate site and have it online with just a few clicks of the mouse.
Does Squarespace allow affiliate marketing on their platform?
Yes, Squarespace also allows affiliate marketing on its platform. If the website builder is on the list, then it allows affiliate marketing. I've dug through all the most popular website builders and double-checked to make sure of this.
Should I use WordPress.org or WordPress.com?
There are two WordPress websites. You want to make sure you use WordPress.org. For all intents and purposes, it's the real WordPress. It's open-source and allows you to have full control of your website while offering a diverse and wide range of plug-ins that you won't find on the imposter site.
Can I Use a Business Website for Affiliate Marketing?
All websites can be optimized with affiliate marketing. If you are using a business website to build passive income with affiliate marketing, remember that transparency and honesty are things customers love to see in a business. So make sure to put up an announcement somewhere that you might make a commission from purchases made through the links on your site.
What Other Services Can My Website Offer as an Affiliate Marketer?
There are a ton of other services your website can offer as an affiliate marketer. These include things such as creating and selling your own ebooks, online courses, and other information products.
You can also run paid memberships or use ad placement on your website. Furthermore, when you find a hungry audience, you can offer freelancing services, coaching services, consultation services, and so on.
In short, you can become an entrepreneur and host an online business from home with a single website!
Summary
We've come to the end of this article on the 8+ best website builders for affiliate marketing. I hope this article has helped you determine which platform is the best fit for your affiliate marketing business.
My number one recommendation is Squarespace, as it is the most affordable solution with a lot of features and templates focused on helping affiliate marketers build a successful business.
But, if that doesn't meet your needs, you can choose from a list of other website builders here. Many of these are not the best for affiliate marketing but can help build personal, professional, and personal websites that are optimized for other purposes.
I chose each of them for their great features, affordable pricing, and exceptional support – and any one of them will serve you well depending on your needs.