Recently, I moved from Illinois to Nevada. One of the hardest parts of the move was leaving my church community back in Chicago. Fortunately, there are many churches in Las Vegas.
But figuring which church was best for me was a predicament. So, I did what most people would do: I went to Google and began looking up churches.
After a couple hours of research, I had found several churches that appeared to reflect my personal values and way of worship. Today, I've found a new church and couldn't be happier.
Sadly, there may have been many other churches out there that I just didn't know about because of a lack of online presence. Without a website, it's incredibly difficult for churches to be discovered. And that really pulls at my heartstrings as most churches out there want to make a positive impact in the community.
So I decided to make this guide to help churches find the best website builders. Many of these are designed specifically for churches and allow you to create pages for all church ministries. They allow you to upload sermons, create platforms for tithing, blog about the latest activities at your church, and much more.
So without further ado: here's the best website builders for churches:
What are the Best Church Website Builders?
Before we dive into the church website builders that will help you spread God's word in 2021, you must note that there are two different types of site builders that I will be introducing today.
Some are general website builders with church templates and others are church-specific website builders that are focused only on building and creating content for church websites.
Wix for Churches is the best website builder for overall ease of use ($14/month).
Wix is the first of our website builder options that is not church-specific. However, don't let that put you off. It's the best all-in-one website builder and it comes with amazing-looking templates to help you build a functional website for your church.
You can use add-on features to get the functionality you want from your website. For instance, you can use Wix Music to create a page where sermons can be streamed and downloaded.
There are also features you can add for online donations, streaming, events, and calendars, among many others.
Key Features:
Well-Established Platform: Wix website builder has a proven history and the company continues to provide excellent service to its users.
Professional Church Templates: The platform has a wide range of pre-programmed church website templates that you can choose from so you don't have to build from scratch.
ECommerce Features: If your church already has a gift shop, Wix's online store feature, Wix Stores is a great way to make your shop digital.
Pros of Wix:
Built-in calendar for important church dates
Ability to accept donations securely
Stream or download sermons from your website
Newsletter option keeps congregation up to date
Prebuilt contact form so visitors can get in touch
Pricing:
Wix has a free plan, but it comes with Wix Branding and ads. If you want to remove them, you can sign up for a premium plan at $14/per month.
What Are People Saying?
"I had a problem with payments from Wix through Paypal. Paypal was of no help whatsoever and simply told me the problem was with Wix. I contacted Wix and they could not have been more helpful. Looked into the problem, determined it was an issue on Paypal end, and then took the time and trouble to talk me through what I needed to do to my paypal account to solve the problem. Wish I could contact Wix customer service to tell them David is 5 stars." Peter Baker – TrustPilot Reviewer.
---
Best website building platform for professional church designs ($12/month).
Squarespace is an all-in-one website builder that can be a great fit for churches that want an easy way to design, create, launch, and manage their website.
This is one of the most recommended platforms in the industry and it will allow you to build a functional, modern-looking church website in just minutes.
Choose from one of the many attractive and sophisticated website templates and you can drag and drop elements to customize it to your preferences.
Squarespace already comes with a ton of amazing church-focused features, including mission pages, donation pages, volunteering pages, etc. All you need to do is fill those pages in with your personalized content and hit publish to take your church website live.
Key Features:
Ideal for Blogging: If you intend to run a church blog, Squarespace is the perfect platform for it.
Beautiful, Responsive Templates: You can find a ton of templates that are customizable for church websites and will look great on any device.
Donation Feature: The platform has a responsive Donation Block that you can add to any website page so visitors can donate easily with PayPal or Stripe.
Pros of Squarespace:
Great uptime of 99.99%
Wide range of add-on features to choose from
Professionally designed templates for church websites
Easy social media integration
Great mobile functionality
Pricing:
What Are People Saying?
"It takes a little getting used to, but once you've got the basics, it's very user-friendly and you can do so much with it. Even my interns find that they can get up to speed pretty quickly. And there are so many options with formatting and branding. I think it gives you enough choice and control to feel like you can do many things, but not so many that you mess up your branding and cohesive formatting. I've used Squarespace for almost four years, and have recommended it many times." Kristi P. – Chief Do-Gooder.
---
Customizable designs to build your ideal church website (Starts from Free).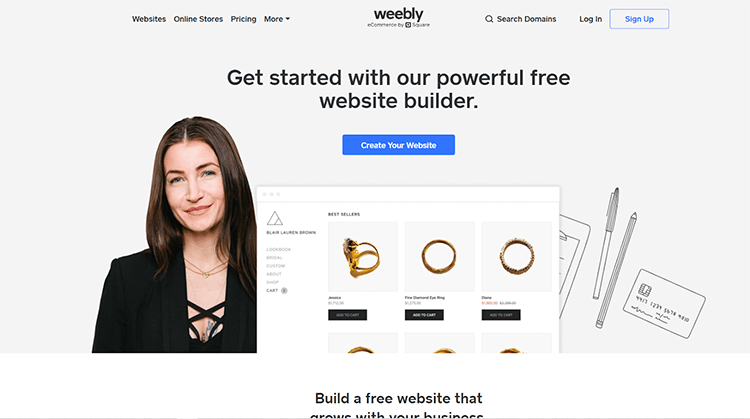 Weebly is among the best website builders for churches when it comes to functionality. Although the template offering isn't as impressive as the other site builders, they are all 100% customizable, which means you can still create a unique website that is aligned with your church brand.
Key Features:
Easy to Use: One thing that makes Weebly stand out from the rest is its simplicity and ease-of-use thanks to its powerful drag-and-drop builder.
Collaborative Features: If there are multiple developers on your team, the platform makes it easy for different users to edit your church site at once.
Video Hosting: This website building platform is also great for hosting videos, both live and prerecorded.
Pros of Weebly:
Customizable forms for collecting church RSVPs
Built-in live chat for visitor interaction
Site Booster app from Weebly to get found on Google
Modern and sleek church website templates to choose from
Personal plan comes with 500 GB of storage space while professional plans have unlimited storage
Pricing:
Weebly is definitely the best free website builder for churches. But, the Professional plan, which costs $12/month, is a better option for churches as it is designed specifically with features for groups and organizations.
What Are People Saying?
"Amazing, easy to use & powerful tool. Weebly is a very friendly, easy to use, powerful website development tool. I needed to get a square online store up and running quickly and Weebly allowed me to do so. The free version is amazing and the add-ons are reasonable for those businesses that require them. No programming knowledge is required, I urge you to take a look at it!!!" Jim Nelson – Trustpilot Reviewer.
---
A website builder to help you launch your church website fast ($2.90/month).
Zyro is one of the newest additions to the website building industry. Owned by Hostinger, this platform is a powerful and affordable tool for building amazing church websites.
It's a relatively simple website builder that focuses on ease-of-use. All you have to do is register an account, buy a subscription, and then choose the church website template.
Alternatively, you can let the AI generate one for you and then start customizing it to suit your tastes.
Key Features:
Free Logo Maker: Zyro comes with a free logo maker that you can use to create a logo for your church website.
AI Writer: This feature can help you populate your website text within just minutes. Simply pick a topic, enter a few keywords, and the system will write your content for you.
Heat Map Tool: The platform has advanced algorithms for analyzing your site so you know where visitors spend most of their time.
Pros of Zyro:
Full eCommerce functionality
Image slideshow feature
Drag-and-drop functionality
Great page loading speed
24/7 live customer support
Pricing:
Zyro offers 4 different plans, starting from $2.90/month for the basic plan up to $14.90/month for the eCommerce Plus plan.
Depending on your bandwidth, storage, and eCommerce needs, you can choose any of those plans to start building your church website.
What Are People Saying?
"Ok, I was very hesitant to use a new service, but they were running a killer hosting deal. I am so GLAD I went with them!!!! I LOVE THIS PLATFORM. I went from a total newb to feeling super comfortable in roughly a week. Their team is always there to help via chat, so no waiting around for days on end for a reply to a question. If you are a small business or organization you owe it to yourself and your company to try Zyro!" Con O'ree Browning.
---
Best for church-specific templates, themes, and content ($25/month).
ShareFaith has multiple faith-based resources that you can use to help you build a unique and attractive church website.
In addition to website building tools, you also get management tools and apps that will make your job a lot easier.
Features include tithe collection, presentation software, mobile apps, and much more.
This platform is a goliath with regard to website builders specifically focused on building church websites.
Key Features:
Easy Drag-And-Drop Editor: ShareFaith makes it easy to add blocks containing content, image, video, etc. to any page.
Podcast Feature: There is a cool podcast feature that you can regularly update with sermons to keep your congregation engaged.
Church-Specific Templates: All the templates on this website building platform are geared toward faith-based organizations.
Pros of ShareFaith:
Options for sharing video or audio sermons
Variety of additional apps and services for churches
Huge library of training videos and tutorials
Optional worship software and vacation Bible school
All website templates preloaded with church-specific features
Pricing:
You can create a demo website to try ShareFaith for free. If you decide it's a good fit for your church, you can upgrade to the premium plans which start at just $25/month.
What Are People Saying?
"Sharefaith has a variety of modules for charitable giving, website hosting and design, presentation media. We use the presentation content to build our weekly on screen presentations. I like the variety, quantity, and quality of the backgrounds. They have both still and animated backgrounds available." Andy W. – Lead Pastor.
---
Best help and support team for church-specific customer service ($57/month).
Ministry Designs is in a league of its own with regard to the support the company offers to its customers.
Instead of simply providing a DIY website builder, the team on the platform does everything possible to help you build a beautiful church website that will appeal to every member of your audience.
There are a ton of professionally designed website templates that you can choose from and the controls and customization features are easy to use.
With the simple drag-and-drop editor, you can build and customize a church website in just minutes and add additional features such as donation collection, long-term sermon storage, and so on.
Key Features:
Church-Specific Services: All the members of Ministry Designs have a background in the ministry, which means they know what works well and what doesn't.
Drag-And-Drop Customization: Simply pick a template, and then use the editor to drag text, images, and other elements onto your page.
Screen-Sharing Customer Support: You will be able to build your website and resolve issues a lot quicker and easier with experienced support staff on hand.
Pros of Ministry Designs:
Unrivaled 24/7 support through various channels
Free demo account to showcase features
Church-tailored service with preloaded themes
Secure online platform for collecting donations
Features to send newsletters to your congregation
Pricing:
Ministry Designs offers a free demo to show you what the platform has to offer. If you decide to upgrade, plans start at $57/month for the website builder.
What Are People Saying?
"I have used Ministry Designs for two websites over the past 6 years. They are continuously making improvements and updates to stay on the cutting edge of the industry. Their staff is competent, courteous, and prompt with any issues I've had. Their training is first-rate and made me confident in what I could do myself, but their chat feature (and prompt responses) is a life-saver. I'd strongly recommend Ministry Designs and their team! You won't regret it!!" Briana Bashlor.
Get Started With Ministry Designs
---
Best church-specific website builder for efficiency and easy management ($370/year).
Church123 prides itself on bringing efficiency and simplicity to the process of building a church website.
With this platform, you can create and launch a website in just three easy steps.
First, browse, click, and select one of the ready-made website themes that are optimized and compatible with all devices and browsers.
Next, use the easy drag-and-drop editor to play around with the selected theme and customize the colors, fonts, layout, etc. to your liking.
The last step is to customize the different pages, adding text, images, videos, etc. as needed. Once that's done, you're ready to launch your new church website.
Key Features:
Streamlined Site Builder: Church123 has an efficient website-building process that allows you to launch your site in just three steps.
Limitless Pages: This website builder allows you to create unlimited pages and upload as much content as you need to.
Additional Apps: There are a ton of apps and tools that you can add to your website to extend its functionality, including Sunday school, accepting online donations, etc.
Pros of Church123:
Streamlined site building process helps you save time
Easily customizable church website templates
Unlimited pages and posts
Ready-made contact forms for visitors
Highly experienced customer support team
Pricing:
Church123 offers a free trial, and you can upgrade to the paid plan at $95 paid quarterly,or $370 paid annually.
What Are People Saying?
"Church123 is a very easy and painless means of developing your church web site, what stands it apart from other companies is the level of support and time provided by the team to ensure any question, complex or simple, is handled with care, thought, and as much time as needed to provide the solution that's right for you. A very professional, dedicated team to support you through every aspect of web development. Brilliant!" Phil Crook – St Paul's Chippenham.
---
The all-in-one church site builder that does all the hard work ($19/month).
Tithe.ly is a powerful website builder that is specifically geared for church websites. This platform does all the hard work for you so you don't have to.
It's a complete online system that will help you build and run an effective church website. The powerful, yet simple drag-and-drop editor means you don't have to learn code to create your own custom church website and communicate your message.
This platform is currently being used by over 25,000 churches in more than 50 countries. You can use 8 currencies on Tithe.ly, which makes it ideal for churches with a global audience to receive donations and organize events online.
Key Features:
ChMS (Church Management Software): Build a strong and engaged community around your church with all-inclusive ChMS on the platform.
Unique Websites: Create stunning, custom church websites in just minutes including live streaming, sermon player, and other built-in features.
Giving Feature: This is a complete giving platform designed for churches and ministries to collect donations off-line and online.
Pros of Tithe.ly:
Powerful all-in-one church website builder
Responsive and beautiful church templates
Live streaming feature for online ministries
Embedded sermon media player
Built-in events calendar
Pricing:
Tithely comes with a ton of different apps to help you build an effective church website. These include giving, ChMS, messaging, events, and website building apps. To get access to all of them costs $59/month with a $149 set up cost. For just the website builder app, you'll pay $19/month and a $149 setup fee.
What Are People Saying?
"I highly recommend the entire Tithe.ly platform. It's an all in one affordable solution that equips our church with some amazing tools that include everything from online giving, church management software, service planning, as well as a beautiful custom church app! If I were allowed to, I'd rate it more than 5 stars!" Dan Murray, Assoc. Pastor – Oasis Baptist Church.
---
Church-specific website builder with powerful built-in tools ($99/month).
Nucleus is the last church-specific website builder on our list of the 10 best website builders for churches.
The platform is extremely beginner-friendly which means you don't need any prior experience to start building your church website. Simply click and drag to create pages and add content.
You can choose from the many predesigned layouts and simply swap in your own content rather than create a page from scratch.
All the website templates are clean and modern and have been proven to encourage website visitors to take action – from online giving to signing up for your newsletter, downloading sermons, etc.
Key Features:
Beginner-Friendly Platform: Nucleus' platform stands out for its ease-of-use, making it ideal for beginners.
Mobile-Friendly Templates: The templates on the platform transfer from desktop to mobile viewing easily, a feature that on-the-go members will appreciate.
Advanced Sermon Manager: There is a dedicated feature to upload and edit sermons in multiple formats.
Pros of Nucleus:
Prayer request page feature
30-day free trial with no credit card required
Platform offers "scholarships" for smaller churches
Helpful documentation on the website
24/7 live chat support available
Pricing:
You can get started with Nucleus for free by signing up for a 30-day trial on the website. You can upgrade to a premium plan for the website builder at a fee of $99/month.
What Are People Saying?
"Without a doubt, nucleus is the single most important and effective investment we have made as a church. It's not close. The results that I can directly trace to its implementation are overwhelming. 40% of our church growth in the past month is solely due to a nuclear site and we haven't even scratched the surface of his capabilities." Nicholas Hess – SHC.Church.
---
Best for serious flexibility and ease of use ($228/year).
WordPress is a behemoth in the website building world. It's a powerful CMS option that is open source and free to use.
Thrive Themes is an advanced yet simple to use suite of website tools that work with WordPress. If you don't like Thrive, there are also many good "Community & Non-Profits" templates that are great for churches.
By using these two together, you can create a true conversion-optimized church website that will give a real boost to your ministry's online community.
Although not inherently church-specific, Thrive Themes boasts thousands of customizable pages and templates which means that you will likely find parish-friendly themes to work with and build an appealing church website.
Key Features of Thrive Themes:
Marketing-Friendly Features: Everything about Thrive Themes is designed to help you build a church website that will encourage action from your visitors.
Wide Range of Tools: Thrive has a theme builder, quiz builder, email marketing tools, and various other products to help you manage your church website. You can also add other plugins and widgets as well.
Fast Page Loading: Thrive is known for its superfast website loading speeds which is great for anyone looking to build a website to meet all of your church's needs .
Pros of Thrive Themes:
Conversion-focused pages
Hundreds of page templates
Free training from Thrive University
Easy to use page editor
Fully responsive templates
Import your custom domain name from dozens of web hosting platforms
Pricing:
WordPress is completely free to download and use. Thrive Themes costs $90/quarter or $228/year for the entire suite of WordPress tools.
What Are People Saying?
"My biggest problem was getting the marketing tools I need for my website in one place. I had Leadpages, OptinMonster, AND a Quiz software. All together they really slowed my website down. I thought that if I wanted to capture leads, that was just the price I had to pay. Then I discovered Thrive Themes." Karen Kovy, Thrive Themes Customer.
Get Started With Thrive Themes
---
Additional Options:
Webflow: Free version available with plenty of modern templates.
Final Web: A platform to build stunning websites for churches.
Churchikon Church Website Builder: Have a church website up in 5 minutes.
Church Web Builder: Beautiful, unique, mobile-friendly church-filled themes.
Mission: A church website builder and powerful web design platform.
uKit: Choose from 100s of stunning and customizable church pages.
Jimdo: An AI-powered platform to help you get your website online quickly.
What Features to Look For in a Website Builder For Churches
What features should you look for in a great website builder for churches?
1. Ease of Use: If you are new to website design, it's better to choose a platform that offers ease-of-use through the use of a drag-and-drop editor so you can quickly customize your templates.
2. Functionality: Your website builder should come with apps and integrations to build a website that has all the functions you need it to perform.
3. Mobile Responsiveness: If your church website doesn't perform well on mobile devices, it will be penalized by Google. And since the majority of people search on their phones, you need a website builder that offers mobile-responsive themes and templates.
4. Giving Features: Choose a builder that either has features for online tithing and giving, or one that allows you to easily integrate third-party products for this.
5. Podcast/Sermon Capabilities: The platform you choose should make it easy for you to upload sermons, and for your attendees to download and view them in video and audio formats.
6. Custom Domain Names: Website builders often give you a free domain with their name in the url. To make your the url of your church website looks better, make sure that your website builder allows you to use your own domain name.
7. SEO Tools: SEO stands for "Search Engine Optimization," and its the process for getting your webpages ranked on Google. Church websites can use SEO to better help people looking for churches find yours.
8. Step-by-Step Guides and Tutorials: If you've never build a website before, guides and tutorials are certainly helpful for those who need to know how to build a powerful website. Luckily, many website builders offer these services for free.
9. Low Fees: When looking for a website builder, price does matter. Free plans are available on some premium website builders, but their functionality is often limited. Seek out premium plans with no upfront costs, low monthly fees, and an excess of features.
How Can a Website Builder Help You as a Church?
As a church, having a website builder will help you by cutting down on the time required to build and launch your church website.
These days, a church website is one of the most important factors in facilitating churchgoers participation at a church. That's why you need a website builder to help you create an appealing website that will entice more members to join your ministry.
With the right website building tool, you don't have to waste time learning how to code. You can simply create and launch a website in a few clicks and add all the features you need to help keep your current and future congregation members engaged.
A website doesn't just give your church another way to reach new congregants, it is also a great way to build your church. It allows you to create a platform for bookings, announcements, sharing sermons, blogging, and give your church members new ways to stay connected and build community.
Website Builder For Churches FAQ
What Pages Are a Requirement for Churches?
Your church's new website needs to have the following pages: a Homepage, "About" page, Life Events, Calendar, Donations page, Newsletter, Sermons, and a Contact Page. Of course, you may decide to add other pages depending on your community and its needs.
Are all of these website builders point and click?
Most website builders these days focus on making the site creation process as easy as possible. That's why all the options on our list offer a simple drag-and-drop builder. However, using point-and-click tools doesn't mean that your church website won't be every bit as stunning as one coded by a professional.
What are good website colors for churches?
Different colors invoke different thoughts and emotions, which means that color has a direct impact on how your church brand is viewed. So, if you are not matching your website colors to existing church colors, take time to research the colors that will be a direct representation of the message and personality of your church.
Do churches need permission to post pictures on their website?
If pictures were taken at a public event, permission is not necessary, unless it's of a guest speaker or a well-known person. You can add images from your ministry events onto your church website and publications, but the best practice is to refrain from identifying any of the individuals in the image.
Summary
My number one recommendation for the best website builder for churches is Zyro.
This platform has a church-specific template, theme, and content that will make building your church website a breeze. Beyond that, many of the other themes can be built for churches as well.
Of course, you can find a full list of other website builders here. But personally, I think Zyro would be best, especially for first-timers who need a simple point-and-click solution. It is a great way to give your church the online presence it deserves