Email marketing is essential for businesses looking to engage with customers and drive growth. In this comprehensive review, we analyze the popular platform Mailchimp across several key criteria to help you determine if it's the right fit.
We will examine features like account setup, campaign creation, contact management, analytics, integrations, compliance tools, security, support, pricing tiers, and overall value. Additionally, we highlight the pros and cons of Mailchimp, look at customer feedback, and compare it to top competitor platforms.
Our goal with this Mailchimp Review is to provide an objective, in-depth analysis to help aspiring entrepreneurs pick the ideal email service provider as they grow their business. By the end, you will have a clear understanding of Mailchimp's capabilities and limitations.
Ron's Thoughts
Mailchimp is an excellent email marketing platform with dozens of features that justify its popularity. You can expect to use many powerful tools, including a drag-and-drop email builder that's very easy to use, various automation features to enhance the effectiveness of your email campaigns, powerful reporting and analytics features, and a lot more.
Biggest Pro:

Powerful Automation Features

Biggest Con:

Lacks Social Media Management Tools

Annual Discount:

Yes - Up to 50% Off

Price:

$13/Month

Promotion:
Key Takeaways:
User-friendly drag-and-drop builder and templates
Email automation features for segmented email marketing campaigns
Robust analytics and reporting
Lacks more advanced features than competitors
Top Competitors: Constant Contact, Brevo, ConvertKit
1. Setup and User Interface
Dashboard and Navigation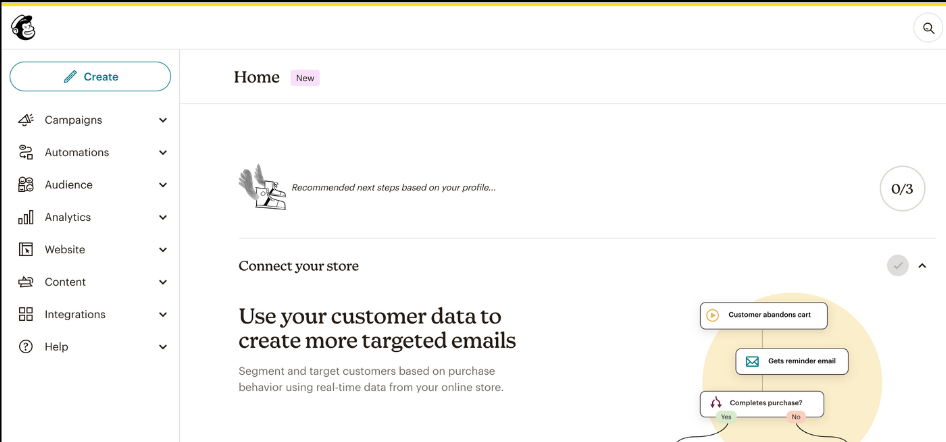 Mailchimp's dashboard gives you an organized central hub to manage your account. Key analytics and reports are displayed upfront, providing visibility into opens, clicks, and unsubscribes. The main navigation menu allows easy access to all features from one place.
The interface uses clean, minimalist design principles. Icons and menus have clear labeling so you can quickly find campaign tools, contact management, reports, and settings. Navigation is intuitive even for those new to email marketing. The logical workflow means beginners can get oriented quickly.
Overall, you won't have any issues using this email marketing platform.
Email Subscriber Migration
Importing your contact list into this email marketing tool is a straightforward process. The platform makes it simple to switch from another email provider. You can import subscribers from CSV files or connect directly to another service.
The import wizard walks you through each step, allowing you to map data fields and configure settings. This prevents errors during the transfer of contacts. You can import segment-by-segment or upload your entire list at once.
Advanced options like duplicate contact detection further simplify the process. Overall, the importer on this email marketing platform enables a smooth transition so you can easily migrate subscribers.
2. Email Campaign Creation
Templates and Design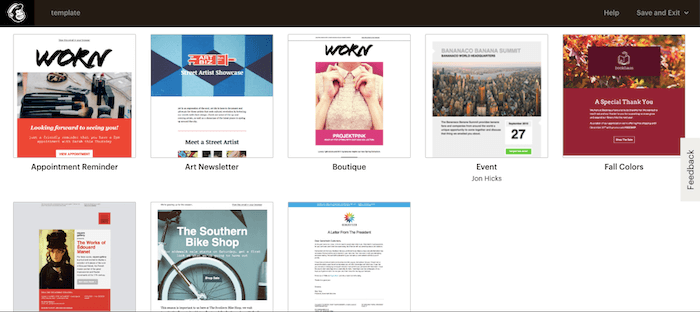 Mailchimp provides hundreds of professionally designed email templates to get your campaigns started quickly. You can browse by category and layout to find options that match your brand's style – whether it's bold colors, minimalist, or elegant.
The templates are fully customizable so you can tweak fonts, colors, images, and content to your needs. The intuitive drag-and-drop editor makes building and designing emails simple. You can quickly rearrange blocks of text, images, buttons, and dividers onto your canvas.
Adding custom content blocks gives you advanced design flexibility. You can craft bespoke layouts while still benefiting from Mailchimp's structured templates.
More skilled users can choose to code their own HTML email templates from scratch. Mailchimp also provides the raw HTML of any template for editing. With these robust design features, users of any skill level can create polished, professional emails that reinforce brand identity.
Personalization and Automation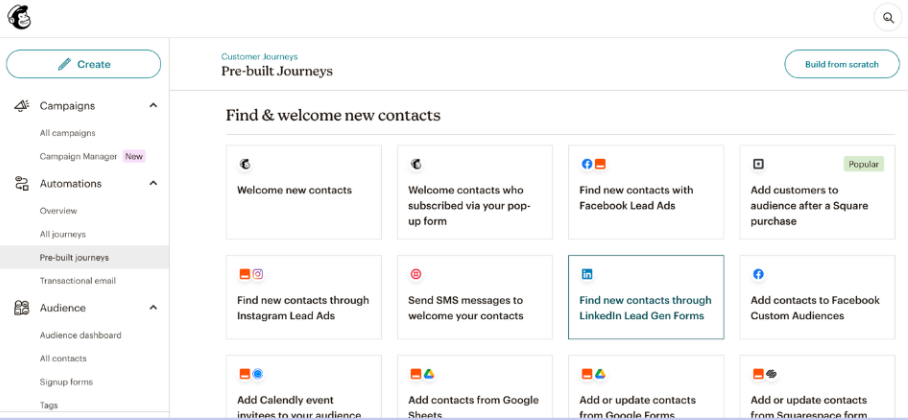 Mailchimp provides powerful features to personalize and automate your email campaigns. You can customize one-off messages or set up complex multistep workflows.
The platform pulls subscriber information like first name, last name, location, interests, and more to populate relevant content in each email dynamically. For example, using |FNAME| will automatically insert the recipient's first name. This level of personalization helps emails feel tailored and boosts engagement.
The visual automation builder allows you to create sequences triggered by user actions like opening an email, clicking a link, or having a certain data field value. Send welcome sequences, re-engage dormant subscribers, drive referrals, and more.
With Mailchimp's segmentation tools, you can get extremely targeted based on subscriber attributes and behaviors. Send the right message to the right user at the right time.
Overall, Mailchimp equips you with advanced personalization and automation capabilities to create consistent yet customized experiences. This enhances the relevancy of your messaging at scale.
3. Contact Management
Organizing Contacts
Mailchimp offers several effective ways to organize your subscriber list and groups. You can create named groups to bundle contacts for targeted messaging campaigns. For example, group customers by product interest, purchase history, location, or other attributes.
Manage contacts easily with features like tags which allow you to categorize subscribers with keywords like "VIP" or "Trial Offer Sent" to track status. Custom merge fields let you sort by custom data like engagement score or lifetime value.
When importing contacts, Mailchimp automatically checks for duplicate subscribers based on email address. This keeps your list clean from day one. You can easily view, merge, or delete any detected duplicates.
Cleaning up Email Lists
Mailchimp provides key tools to maintain email hygiene and list quality over time. The platform automatically handles hard bounces and removes invalid email addresses that return errors. This prevents you from continuing to send to defunct addresses.
You can dig into bounce reports to identify bad or inactive emails. List cleaning tools allow you to segment by metrics like email opens and remove subscribers who have not engaged recently in bulk.
Automated re-engagement campaigns for inactive subscribers, along with easy unsubscribe management, help prune your list and ensure you are only marketing to real, interested contacts.
Segmentation and Targeting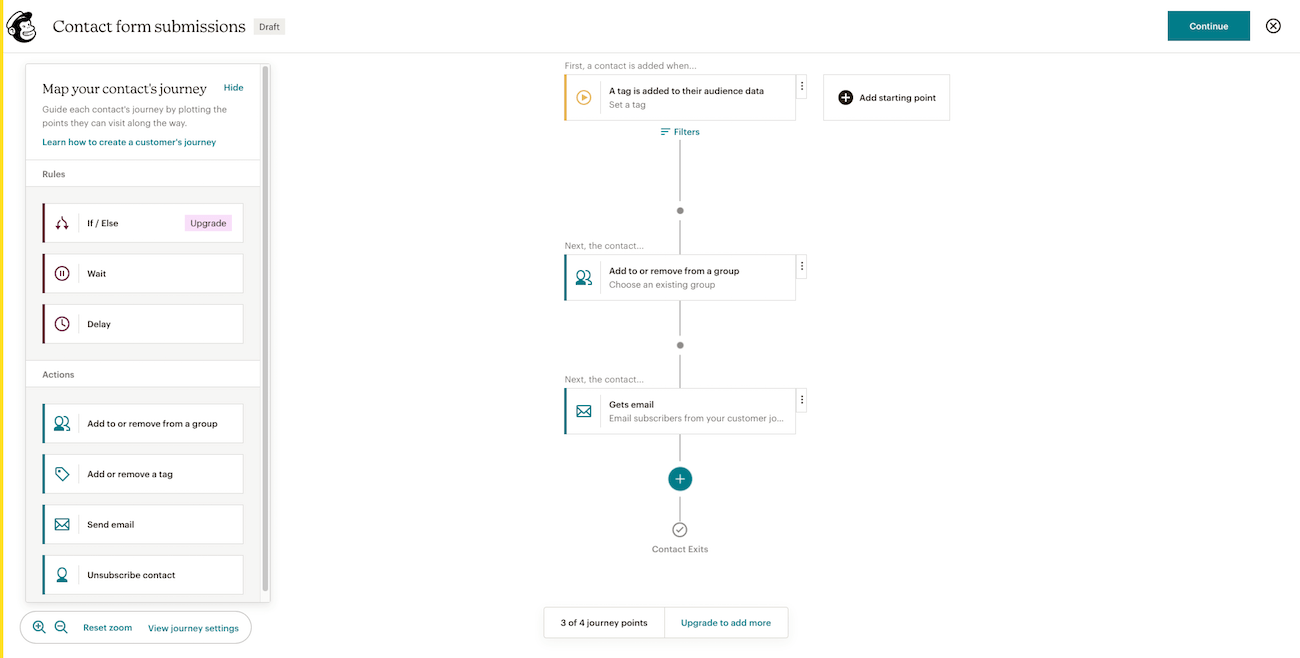 Mailchimp offers sophisticated filtering and segmentation to target specific groups from your list. You can create dynamic segments using combinations of email opens, clicks, purchase data, customer attributes, and more.
For example, target subscribers who opened your last email campaign but did not click – indicating interest. Or create segments to reach customers who purchased recently versus a long time ago.
These intelligent segments update automatically as subscribers meet or fail to meet defined conditions. Mailchimp's advanced segmentation empowers you to deliver hyper-relevant, timely content to the right users.
4. Email Deliverability
Mailchimp prioritizes deliverability through advanced tools and partnerships with major ISPs. The platform has an average inbox placement rate of over 99%, ensuring your emails reliably reach subscribers.
According to Mailchimp's 2021 deliverability report, the company delivered 99.9% of emails to the inboxes of most major providers including Gmail, Outlook, AOL, and Yahoo.
Mailchimp conducts rigorous ongoing testing and monitoring to maintain an excellent sender reputation. The company collaborates directly with top inbox providers like Gmail, Outlook, and Yahoo to optimize email authentication and delivery.
Features like pre-send inbox rendering tests, link analysis, blacklist monitoring, and spam filter analysis help maximize email deliverability. Mailchimp also allows access to dedicated IP addresses to further establish sender authority.
Granular reports detail spam test results blocked emails, and other metrics to optimize future campaign performance. Additionally, dedicated IP addresses are available to reputable high-volume senders for maximum deliverability.
According to Martech, Mailchimp maintains above-average inbox placement rates of 98-99% compared to industry competitors. The company's long-standing focus on optimizing deliverability gives it a clear edge.
With proven results backed by transparent reporting and advanced optimization technology, Mailchimp provides industry-leading email deliverability you can rely on. Proactive monitoring safeguards your sender's reputation with the major inbox providers.
5. Analytics and Reporting
Performance Metrics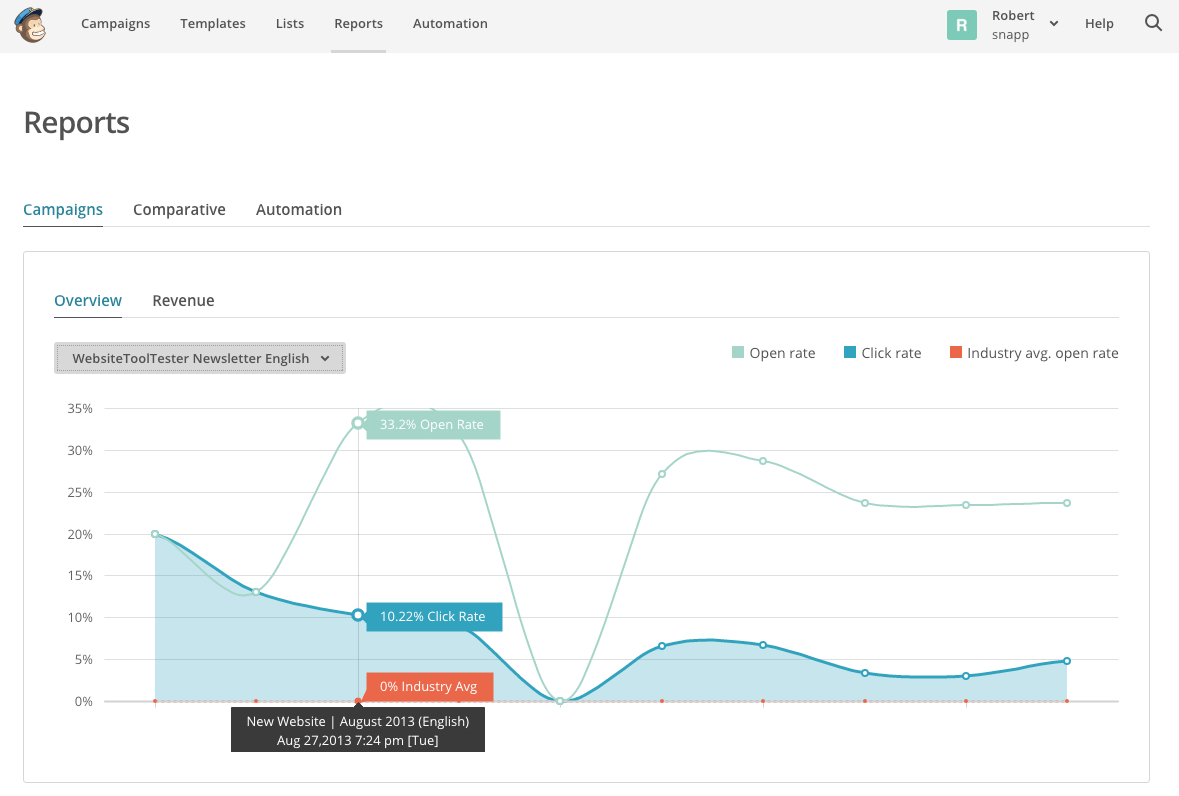 Mailchimp provides comprehensive email analytics to track and optimize your campaigns. You can view key metrics in real time or on scheduled reports over time.
Core metrics include open rate, click-through rate, unsubscribe rate, bounce rate, and more. Granular data like unique clicks and contact-level activity allow deep analysis. Geo-tracking shows open/clicks based on subscriber location.
Metrics are segmented so you can compare performance for different campaigns, groups, segments, and email types. This helps you identify high/low-performing content quickly.
Views of sent, delivered, and opened emails help assess list quality. You can even track if links were clicked on mobile vs desktop. This level of insight informs better design choices.
Visual Reports and Insights
Mailchimp's analytics come in both tabular and graphical formats for easy interpretation. Charts and graphs clearly visualize trends in opens, clicks, conversion rates, and engagement over time.
Comparison charts help you benchmark key metrics against industry averages in your business sector. Reports are easily shareable with team members or stakeholders in various file formats.
The platform surfaces recommendations based on your past campaign performance to optimize future efforts. You gain actionable insights to improve open rates, click-throughs, conversion, and overall email ROI.
Customizable dashboards allow you to focus on the KPIs most important to your strategy. With robust and intuitive reporting, Mailchimp enables data-driven decision-making.
6. Integrations
CRM Integrations
Integrating Mailchimp with popular CRM platforms like Salesforce, HubSpot, Zoho, and others enables seamless data syncing between the two systems.
Rather than manual exports, the two-way sync automatically pushes new contacts, campaign activity, and other key metrics into your CRM records in real-time. This provides greater visibility into subscriber engagement.
The bi-directional functionality ensures updates made in either Mailchimp or your CRM are instantly reflected across both platforms. Keeping data synchronized avoids inaccuracies regardless of which system customers interact with.
Shared segmentation rules take the integration further. You can configure CRM segments based on attributes like deal size, lifetime value, industry, etc., and seamlessly activate these segments to target relevant Mailchimp campaigns.
E-commerce Integrations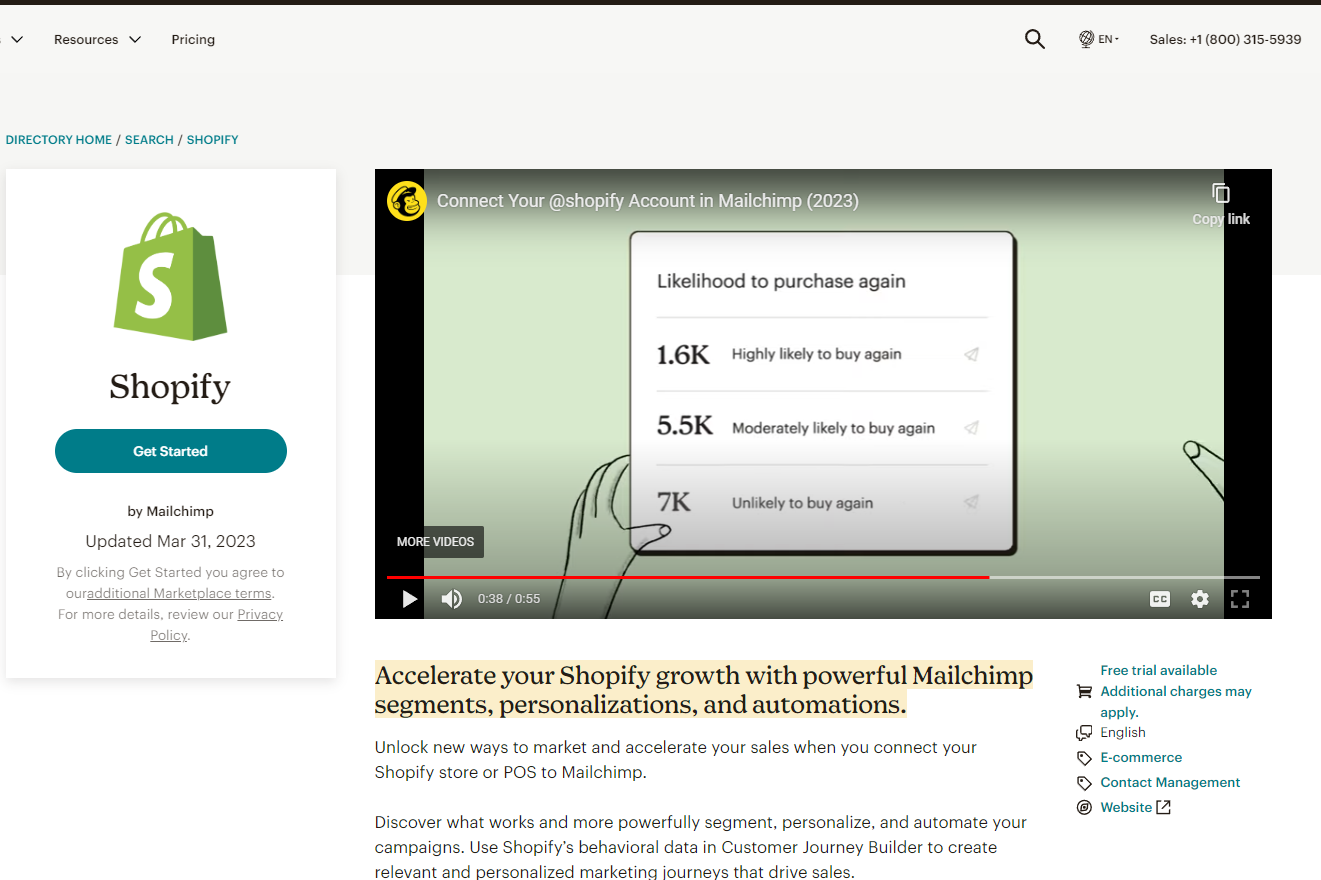 For e-commerce brands, Mailchimp tightly integrates with any website builder or e-commerce platform like Shopify, WooCommerce, Magento, eBay, and Amazon. This allows a unified view of customer data across marketing and sales channels.
Having store purchase data, browsing history, and product catalog information surface directly in Mailchimp enables extremely targeted email campaigns. You can personalize content based on order value, products purchased, shopping cart contents, and more.
Automated post-purchase review requests, order status updates, and cart abandonment flow improve customer experience while increasing sales. Syncing product inventory between your store and Mailchimp keeps email campaigns accurate.
7. Compliance and Security Features
GDPR and Other Compliance Measures
Mailchimp offers several features to support GDPR compliance for EU customers. Users can track opt-in consent directly in Mailchimp using customizable signup forms with required consent checkboxes.
Consent documentation helps users demonstrate compliance during audits. Mailchimp also provides EU-U.S Privacy Shield certification and EU data processing agreements.
For email content, Mailchimp supports granular subscriber consent options by category. Users can document GDPR consent status at the subscriber level.
Additionally, Mailchimp meets privacy requirements for CCPA, CASL, and other global regulations. Compliance certifications, audits, and data storage options provide flexible tools to support varying needs.
Data Security and Privacy
Mailchimp leverages robust encryption and security protections for customer data privacy. All data transmissions occur over SSL-encrypted channels. Sensitive data at rest is stored in encrypted formats using industry-standard algorithms.
Mailchimp complements encryption with comprehensive access controls, activity logging, and security certifications. Multi-factor authentication adds another layer of account protection.
Regular third-party audits validate that Mailchimp meets extensive ISO 27001, SOC 2, and SOC 3 security standards. Firewalls, vulnerability scans, and intrusion detection systems provide network-level safeguards.
For privacy, Mailchimp maintains a clear, GDPR-compliant privacy policy detailing its limited data processing solely for providing services. Customers retain ownership and control over their data.
8. Customer Support
Availability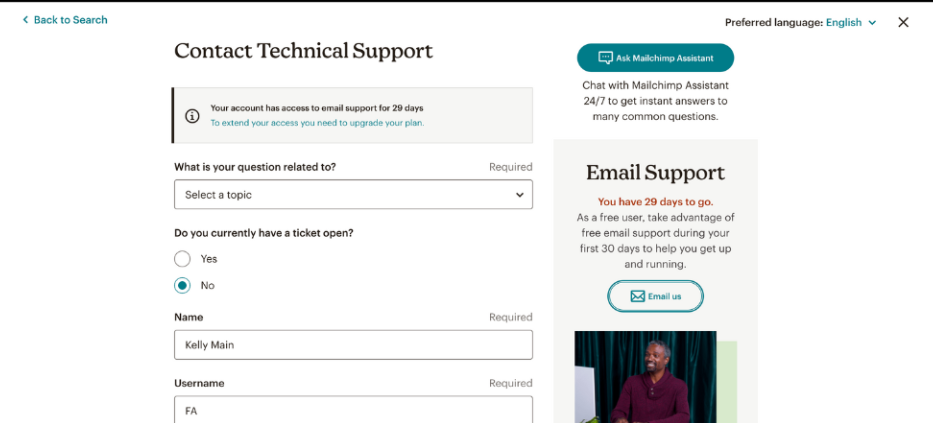 Mailchimp provides multi-channel customer support options tailored to each pricing tier:
Email support – Available 24/7 for all paid plans. Response times vary from a few hours to 1 business day depending on the plan level.
Live chat – Available 24 hours Monday through Friday. Chat response times average under 1 minute according to Mailchimp.
Phone support – Offered for standard business hours at higher pricing tiers like Standard and Premium plans.
Social media – Active support on Twitter and Facebook during regular business hours.
Responsiveness and Effectiveness
Mailchimp aims to respond to inquiries promptly with effective solutions. According to users on TrustRadius, support specialists demonstrate excellent knowledge of email marketing best practices and the Mailchimp platform.
Multiple reviews praise the friendly, patient, and detailed troubleshooting provided by agents to resolve issues quickly. Mailchimp's 93% support satisfaction rate reflects this responsive assistance.
Resources
Mailchimp offers extensive self-service resources including:
Knowledge Base – Searchable articles, how-tos, and FAQs covering everything from getting started to advanced features on their Support Site.
Video Tutorials – Hundreds of on-demand video guides on Mailchimp's YouTube channel.
Webinars – Free live and recorded webinars on using major functionality through their User Testing Program.
Courses – Self-paced email marketing certification courses at beginner to advanced levels on Mailchimp University.
Community Group– Active community of users sharing feedback and troubleshooting on the Mailchimp User Group.
9. Pricing
Pricing Tiers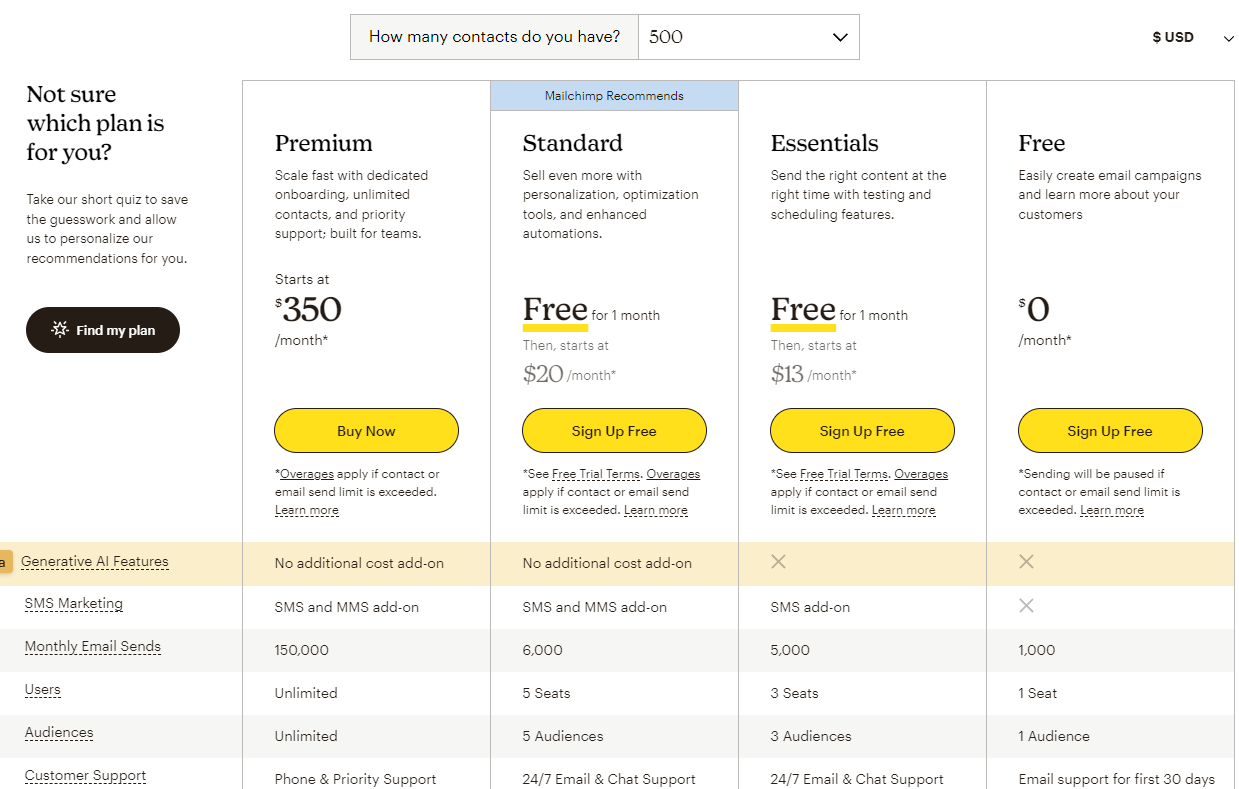 Mailchimp offers 4 paid pricing plans – Free, Essentials, Standard, and Premium. Higher tiers provide more features, contacts, and emails.
Plans are priced monthly with annual options. The free plan supports 1,000 emails per month. Paid plans start at $13/month for up to 500 contacts.
Volume discounts are available for sending over 100,000 emails. All plans have unlimited contact storage. Unlimited campaign creation and 24/7 support are also included.
Comparison with Competitors
Mailchimp's pricing is highly competitive for smaller lists, but less cost-effective at scale versus some competitors. For example, 1,000 contacts start at $13/month on Mailchimp versus $15.60/month for GetResponse.
Some Mailchimp alternatives like ActiveCampaign do not offer a free plan. For under 2,500 contacts, Mailchimp provides strong value. At higher volumes, other email marketing services often cost less, especially if you want features like behavioral targeting, customer journeys, and unlimited users.
Value for Money
Users consistently praise Mailchimp's free plan as providing excellent capabilities given the lack of cost. Paid tiers also deliver robust features and performance for the price.
While scaling pricing is higher than some competitors, the inclusion of unlimited contacts and 24/7 support on all plans keeps Mailchimp competitively priced for most use cases.
10. Pros and Cons
Advantages of Mailchimp
Intuitive drag-and-drop email builder with hundreds of customizable templates makes campaign creation easy even for beginners.
Automation features like segmented drip campaigns, abandoned cart flows, and RSS-triggered emails enable highly personalized messaging.
Excellent deliverability with above 99% inbox placement ensures your emails reach subscriber inboxes consistently.
Powerful analytics and real-time reports provide actionable insights to optimize campaigns and strategy.
Seamless CRM and e-commerce platform integrations give unified data and experiences across marketing, sales, and service.
A generous free plan with up to 2,000 contacts and 12,000 emails monthly provides substantial capabilities at no cost.
Responsive 24/7 customer support and an active user community enable quick answers to questions.
Limitations and Challenges
Advanced features like dynamic content are only included on Standard or Premium paid plans, limiting capabilities for free users.
The pricing model is not as cost-effective for larger lists of over 100,000+ subscribers compared to some competitor tools.
Workflows for segmentation and personalization are not as complex as higher-end solutions like Adobe Campaign.
Lacks built-in social media management, landing page builder, or more advanced lead gen capabilities.
Some users report slower performance in loading pages and assets on the web app interface.
Importing and syncing extremely large contact lists can involve lengthy processing times and potential timeouts.
11. Customer Testimonials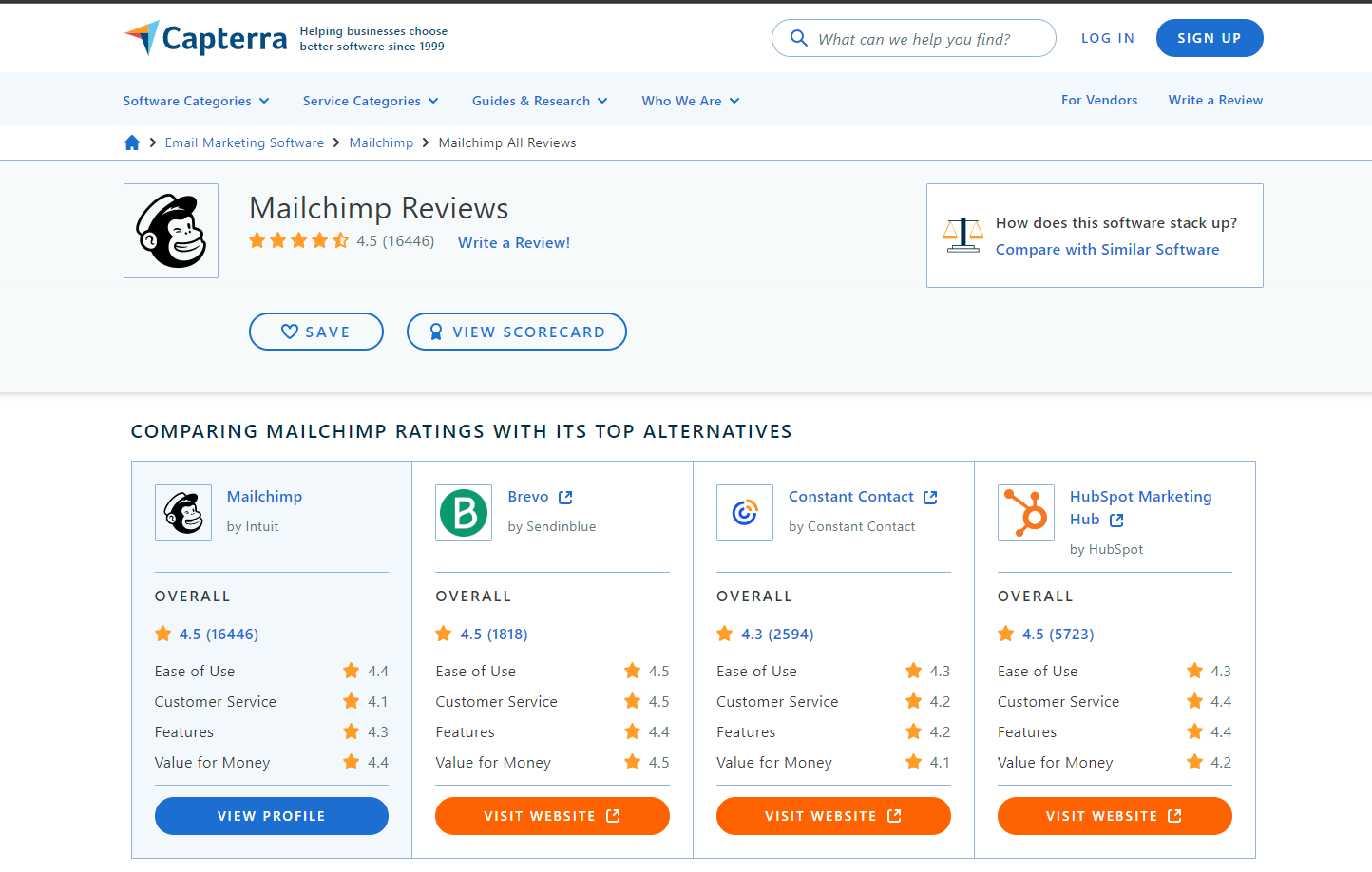 Mailchimp enjoys positive customer satisfaction based on user reviews and ratings:
On G2, Mailchimp is rated 4 out of 5 stars based on over 6,500 user reviews. It holds leader status in the Email Marketing Software category. Users on G2 highlight the easy-to-use interface, automation capabilities, and excellent customer support. G2 Mailchimp Reviews
The platform has a 4.5 out of 5-star overall rating on Capterra from over 9,500 ratings. Positive feedback covers the intuitive drag-and-drop builder, variety of templates, and good deliverability. Capterra Mailchimp Reviews
On TrustRadius, Mailchimp has an 8.0 out of 10 score from over 2,500 reviews. Users highlight robust segmentation features, CRM integrations, and quality analytics and reporting. Some noted steep pricing scaling. TrustRadius Mailchimp Reviews
These credible third-party sites show Mailchimp enjoys favorable feedback related to usability, features, deliverability, and customer support satisfaction. Users cite room for improvement around pricing.
12. Alternatives
Constant Contact – More affordable for smaller email lists but less advanced features compared to Mailchimp. A better option for basic email newsletters.
GetResponse – Competitively priced for mid-size contact lists with robust automation workflows. Can be more cost-effective at higher volumes.
Sendinblue – The basic plan is free but capped at 300 contacts. Excellent deliverability and real-time chat support. Light on sophisticated capabilities.
ConvertKit – Specialized for creators and online course businesses. Provides excellent landing pages and marketing automation.
Mailchimp's unique value proposition lies in its combination of easy-to-use design features, thoughtful automation, and integrated e-commerce capabilities offered at friendly price points for small-to-midsized contact lists.
The drag-and-drop builder, quality templates, and automation workflows make email creation accessible for beginners while still providing growth opportunities through advanced functions like dynamic content and e-commerce integrations.
For entrepreneurs and small businesses starting out, Mailchimp delivers capable but straightforward email marketing that can scale as needs mature.
You might also want to check out my in-depth Mailchimp comparison articles:
Final Thoughts
Mailchimp provides an intuitive, easy-to-use email marketing solution. The platform makes it simple to create professional campaigns with pre-designed templates and a drag-and-drop builder. Automation features allow you to send personalized, targeted emails based on subscriber behaviors.
Analytics empower you to optimize campaigns for engagement and conversions. Integrations with CRM, e-commerce, and sales platforms enable consolidated data. Competitive pricing plans make Mailchimp accessible to small businesses.
Overall, Mailchimp is an excellent choice for entrepreneurs, small businesses, bloggers, and creatives looking for an affordable but capable email marketing solution.
It's easy to get started with the drag-and-drop builder and automation provides room to advance capabilities as your business grows. The free plan allows new users to test Mailchimp's features at no cost. For larger corporations or companies needing advanced customization, more sophisticated solutions may be required. Mailchimp provides tremendous value for bootstrapped small businesses wanting to establish professional email marketing.