With email marketing being an essential part of any successful online business, choosing the right email marketing platform is critical. Mailchimp and TinyEmail are two popular services, but have key differences in features and capabilities.
This comprehensive Mailchimp vs TinyEmail comparison looks at the two platforms across important criteria to help business owners select the best solution for their needs.
We will evaluate Mailchimp and TinyEmail based on market position, ease of use, customization options, features and functionality, website performance, customer support, pricing, reviews, and reputation. By the end, you'll understand how the platforms stack up in different areas so you can choose the best platform for reaching your customers.
1. Understanding the Basics
Mailchimp was founded in 2001 by Ben Chestnut and Mark Armstrong. It has become one of the most popular email marketing platforms, used by over 14 million businesses worldwide. Mailchimp has captured over 50% of the email marketing market.
TinyEmail entered the industry in 2020. The Australia-based company was founded by Seamas Egan from Toronto to offer a simplified email marketing solution for smaller businesses. TinyEmail has a small but growing user base.
TinyEmail has a smaller market share compared to Mailchimp but focuses on simplicity and affordability.
Both platforms have active user communities:
These groups allow users to connect, ask questions, and share best practices for getting the most out of each platform. Joining the relevant community can provide valuable support.
2. Features and Functionality
Below, we're going to dive into each platform's core features such as blogging, e-commerce, analytics, speed, reliability, and integration with other tools to provide the insights you need to pick the right platform for your business.
With email marketing being such a vital component of success online, taking the time to research the strengths and weaknesses of these email marketing tools will ensure you run profitable email marketing campaigns every time.
Automation
Mailchimp provides a wide range of email marketing automation features including welcome emails, abandoned cart flows, RSS-to-email, birthday offers, re-engagement campaigns, segmented messaging, and post-purchase follow-ups.
These automations allow for targeted, personalized messaging based on subscriber attributes and behaviors. Mailchimp's advanced segmentation gives the flexibility to send targeted emails to the right subscribers at the right time.
You can optimize your marketing efforts with the drag-and-drop email editor designed to help you create high-converting emails, SMS messages, and sales funnel landing pages.
TinyEmail has more basic email marketing automation capabilities like welcome emails, abandoned cart reminders, RSS-to-email, and simple post-purchase follow-ups.
Like its counterpart, the email platform has a drag-and-drop email builder that helps you save time when creating your email campaign series or SMS campaigns. The email marketing software offers options that are simpler compared to Mailchimp, with less ability to segment and customize messaging based on subscriber data.
While Mailchimp has more robust automation features, TinyEmail has simpler automation that meets the needs of most of the market and they continually add more functionality on a regular basis.
Email Templates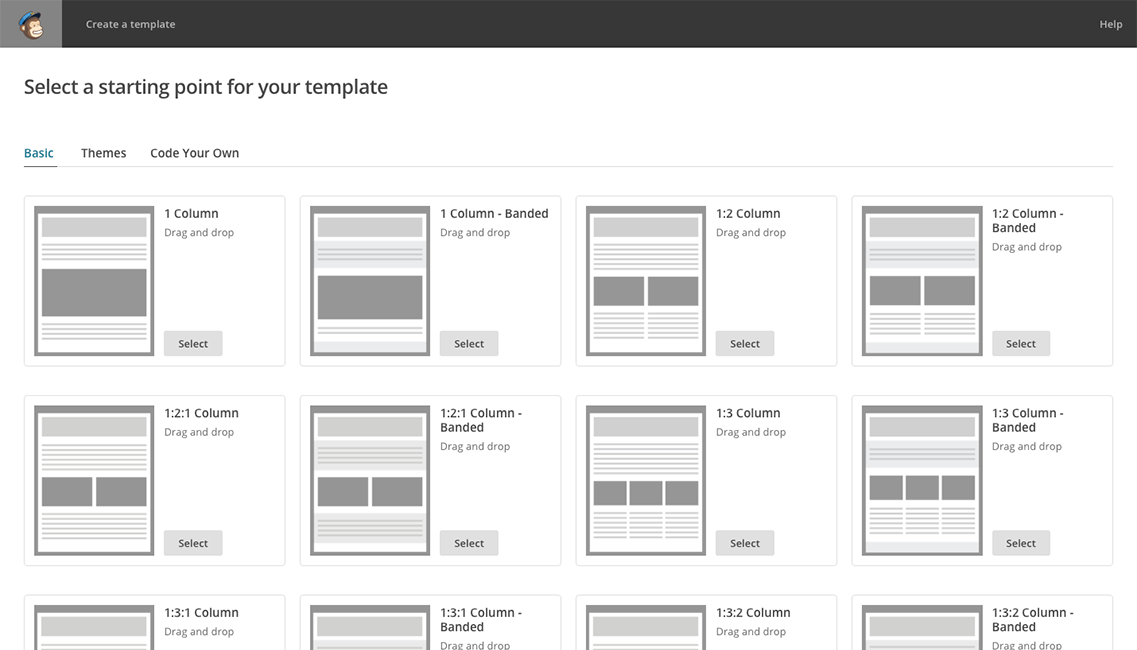 Mailchimp offers hundreds of pre-made email templates to choose from. Email templates are organized by category including welcome series, promotions, newsletters, and more.
Users can use the drag-and-drop builder to customize email templates by adding images, changing colors, adjusting layouts, and inserting content blocks. Mailchimp also allows the creation of custom HTML email templates from scratch for full creative control.
The email template editor makes it easy to build responsive emails optimized for any device. Built-in analytics show how templates perform. Overall, Mailchimp provides beautiful, customizable email templates to match a brand's style.
TinyEmail has a small collection of basic email templates. There are pre-designed options for welcome emails, newsletters, promotions, etc. Users can customize colors, add images, and insert text to make email templates unique.
However, the options for formatting the email templates are limited compared to Mailchimp. TinyEmail currently lacks support for creating custom HTML templates.
The template editor is simple but lacks robust styling and layout tools. Emails are responsive across devices. Template analytics are limited. The template selection fits basic needs but lacks the polish and customization of Mailchimp.
Mailchimp wins for its expansive template library with hundreds of professionally designed, customizable email templates. TinyEmail has a smaller selection of simpler, but equally good templates.
Segmentation
Mailchimp provides powerful segmentation options to target subscribers and loyal customers in your email marketing campaigns. Users can create segments based on subscriber data like demographics, purchase history, engagement, device type, and more. Complex segments can be built using filters and groups.
Segments can be used to trigger emails, customize content blocks, and route subscribers into automated workflows. Mailchimp makes it easy to analyze segments with built-in reports. Overall, Mailchimp offers robust, flexible segmentation to deliver personalized experiences.
TinyEmail has basic segmentation features. Subscribers can be grouped based on single data points like email type or purchase activity. TinyEmail segments can trigger emails or route subscribers into funnels. However, the segmentation capabilities are not as sophisticated as Mailchimp for advanced personalization. Segment analysis is also limited.
Mailchimp has more powerful segmentation tools, but again, I feel that for most users Tinyemail does a great job of giving you all the functionality that you need at a reduced cost. They offer all of the basic segmentation functions you need and allow you to tag your list to break them into smaller groups. From a value standpoint, I'm giving Tinyemail the win here.
Analytics
Mailchimp provides powerful analytics to track the performance of your email marketing campaigns. Users get real-time reports on opens, clicks, unsubscribes, bounce rates, and more. Data can be segmented and filtered for deeper analysis.
Key analytics features include:
Campaign reports – Monitor metrics for each campaign.
Email activity – Track opens, clicks, and unsubscribes.
Audience insights – Analyze subscriber segments and behavior.
Automation reports – Track the performance of automated workflows.
E-commerce reports – Sales, revenue, product performance.
Integration with Google Analytics – Connect email data with website analytics.
Overall, Mailchimp provides comprehensive analytics to optimize campaigns and gain subscriber insights.
TinyEmail has basic email analytics. Users can view opens, clicks, and unsubscribes for each campaign. Some segmentation is allowed to compare groups.
But TinyEmail lacks robust options for deeper analysis of subscriber behavior. There is limited ability to filter and customize reports. E-commerce tracking is also basic.
Overall, TinyEmail analytics provide a top-level overview but lack Mailchimp's deeper insights.
Mailchimp is the clear winner for its powerful, customizable analytics. TinyEmail offers simple campaign reporting but lacks Mailchimp's advanced features for segmenting data and analyzing subscriber behavior.
Mailchimp provides a comprehensive view to optimize email performance, making it the best email marketing software to run successful email marketing campaigns.
Mailchimp vs TinyEmail – Unique Features
Mailchimp provides additional capabilities beyond just email marketing. This includes a free CRM to import contacts and manage them easily.
The email marketing tool also a landing page builder to create customizable pages without coding, surveys to gather feedback, printed postcards that can be mailed to subscribers, and Facebook ad integration.
These extra tools complement email campaigns with more ways to engage customers. Whether you're sending transactional emails or newsletters, you can use these tools to boost your email marketing results.
TinyEmail focuses solely on core email marketing functions. At this time, it does not offer any special features like CRM, landing pages, postcards, etc.
The platform concentrates on simplicity in email marketing only. This provides an easy-to-use solution, but without the extended capabilities Mailchimp offers.
Mailchimp wins for its unique features beyond just email marketing. The CRM, landing pages, surveys, postcards, and Facebook integration give additional capabilities to engage subscribers. TinyEmail sticks to simple core email functions without any extras.
3. Ease of Use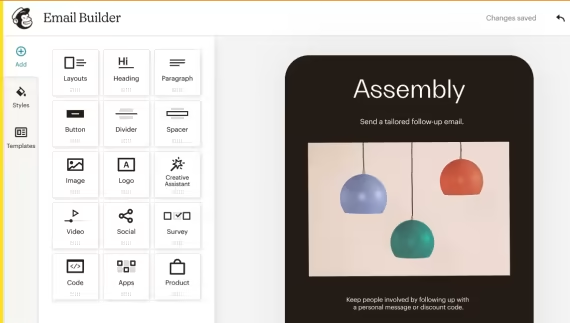 Mailchimp is an easy-to-use tool that provides a powerful yet user-friendly email builder with an intuitive drag-and-drop editor that makes building emails straightforward. The user interface is clean with key features easy to locate.
For beginners, the email marketing tool is relatively easy to learn with prompts guiding users. Mailchimp offers helpful popup tooltips explaining settings.
The experience is streamlined for quickly creating campaigns. Some more advanced features like automation take more learning to master. But overall, usability is a strength of Mailchimp.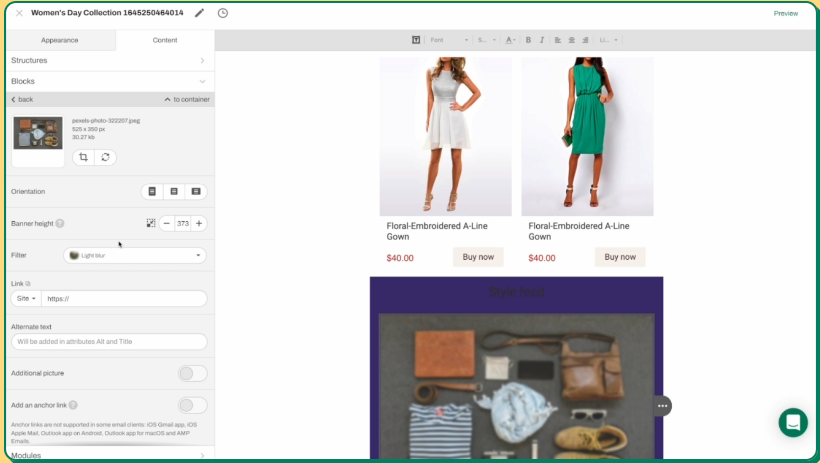 TinyEmail has a simple interface focused on ease of use. The editor and workflow for creating emails are basic and straightforward.
The platform is very beginner-friendly. New users can get started quickly with little ramp-up time. The tooltips and prompts help guide users.
The experience focuses on simplicity rather than robust features. However, the basic workflow can feel limiting for more advanced needs. More complex tasks take some learning.
I think TinyEmail is a clear winner from an ease-of-use perspective. While Mailchimp provides more advanced features, there is a lot to learn in order to grasp what Mailchimp is capable of fully.
TinyEmail, on the other hand, is extremely beginner-friendly thanks to its simplicity but lacks capabilities for higher-level users. Each email marketing tool aims to provide an intuitive user experience and simplifies the process of email marketing automation, even when using advanced automation features.
4. Email Deliverability
Mailchimp uses advanced deliverability features to optimize email delivery. The platform automatically checks subscriber email validity upon signup. Bounced and unengaged contacts are removed to maintain the sender's reputation.
Mailchimp sends from major ISPs using authenticated domains. Emails are scanned for spam triggers before sending. Dedicated IP addresses are available.
Comprehensive analytics track critical metrics like bounce rates, spam complaints, and engagement levels. Overall, Mailchimp focuses heavily on deliverability.
TinyEmail has basic deliverability capabilities. Emails are sent through major email providers. There are some tools to maintain list hygiene by removing hard bounces.
But TinyEmail lacks Mailchimp's robust options like dedicated IPs, in-depth analytics, and automated spam filter checks. There is less visibility into critical delivery metrics.
The deliverability capabilities are sufficient for small lists but less ideal for larger volumes. Advanced users may want more deliverability control.
Mailchimp wins for its focus on maximizing email deliverability through dedicated IPs, stringent pre-sending checks, in-depth analytics, and robust list maintenance. TinyEmail has basic capabilities but lacks Mailchimp's advanced features and visibility into deliverability metrics.
5. Customer Support and Community
Mailchimp offers 24/7 customer support via live chat, and phone. Email support is also available, and users can access an extensive knowledge base with articles, tutorials, and webinars.
An active online community provides peer support. The Mailchimp Users Group on Facebook has over 13K members.
Overall, Mailchimp provides exceptional customer service through various channels. Users have access to robust self-help resources and a large peer community.
TinyEmail provides email and chat support during business hours. Phone support is not available.
The knowledge base contains basic articles and tutorials. But it is not as expansive as Mailchimp's.
There is a TinyEmail Community Facebook page with a few thousand members for asking questions and sharing advice.
The customer service options are decent but not as robust as Mailchimp. The community is also much smaller.
Mailchimp wins for superior customer service with 24/7 live chat and phone support along with an extensive knowledge base. The large and active user community also provides outstanding peer support. TinyEmail has more basic options for customer service and community.
6. Integrations
Mailchimp integrates with hundreds of third-party apps and services. Key integrations include:
CRM: Salesforce, Zoho, HubSpot, and other top CRM platforms and sales tools.
E-commerce: Shopify, WooCommerce, Magento, PrestaShop. Syncs data from ecommerce websites and ecommerce platforms with email campaigns.
Webinars: GoToWebinar, Zoom. Captures webinar registrants automatically.
Forms: Typeform, Wufoo. Automatically create forms and connect form data with email lists.
Analytics: Google Analytics. Combines insights from email and website to get more data on user behavior.
Social media: Facebook, Instagram, Twitter, LinkedIn. Post social updates to subscribers.
The expansive options allow users to connect email campaigns with data from other systems.
TinyEmail has limited integrations compared to Mailchimp. The main options include:
Basic e-commerce platforms like Shopify and WooCommerce
Zapier integration tool
Basic connections to leading social platforms
The integration capabilities are decent but significantly fewer than what Mailchimp offers. This can limit combining email with other data sources.
Mailchimp is the clear winner for its vast library of over 800 integrations. TinyEmail has basic options for your online store, social, and Zapier which may suffice for some users' needs but does not match Mailchimp's extensive capabilities.
7. Pricing
Mailchimp offers a free forever plan for up to 1,000 monthly email sends and basic features. If you want unlimited subscribers, you'll have to upgrade to one of the paid plans.
Paid plans start at $13.99/month for up to 5,000 sends. The price scales upward based on the number of contacts and features.
Top-tier pricing comes with unlimited subscribers and advanced features like SMS marketing, subject lines, custom modules, contact management, and e-commerce. Discounts are available for annual plans.
Overall, Mailchimp's pricing plans are affordable for small businesses but can get costly at higher tiers as contacts grow into the thousands. But the features may justify the price compared to other email marketing tools like TinyEmail.
TinyEmail is free for sending automated emails to up to 500 contacts. Paid plans start at $15/month for unlimited contacts. The Pro plan is $65/month and comes with additional resources and advanced email automation features like pre-built segments, custom segments, and an AI subject line assistant.
Volume discounts are not available, so the per-contact price is higher with TinyEmail for larger lists compared to Mailchimp.
For small lists under 500, the TinyEmail free plan provides strong value. However, experienced marketers and businesses that outgrow those limits may find better long-term pricing with Mailchimp or one of the popular Mailchimp competitors.
Mailchimp provides better value for larger contact lists but TinyEmail is more affordable for smaller lists. That's because Mailchimp chargers per subscriber while TinyEmail prices are based on the number of emails sent. TinyEmail's free plan is a great Mailchimp alternative for an individual or small business that wants to test the waters before committing to any of the paid plans.
8. Reviews and Reputation
Mailchimp enjoys strong reviews and a reputation as a top email marketing platform. On G2 it earns a 4.3/5 star rating based on over 12K reviews.
Users praise the platform for its intuitive interface, automation features, great templates, DIY website builder, and excellent analytics. The platform has been compared to other popular email marketing services like Constant Contact. Some downsides mentioned include the learning curve for advanced features and high pricing at higher tiers.
Capterra gives Mailchimp a 4.5/5 rating. Positive feedback covers the segmentation capabilities, third-party integrations, and overall ease of use compared to many other Mailchimp competitors. Cons include some limitations for e-commerce needs.
Overall, Mailchimp has outstanding reviews and a strong reputation for its robust email marketing capabilities, though pricing is a drawback at scale.
TinyEmail earns high marks for simplicity and ease of use but more mixed reviews on features. On Trustpilot, it has a 4.2/5 rating. Users mention the platform is very beginner-friendly but lacks some more advanced capabilities.
Trustpilot gives TinyEmail a 4.8/5 rating. Reviews praise the affordability and clean interface. Drawbacks cover limited template selection and light automation features.
For basic email marketing needs TinyEmail satisfies many users. But others wanting more sophistication cite restrictions.
Mailchimp emerges as the winner for its stellar reviews and reputation for providing exceptional email marketing capabilities. TinyEmail earns praise for simplicity but gets mixed feedback on broader feature limitations. However, Mailchimp has been around much longer as a bigger player in the industry.
9. Email Marketing Tools FAQ's
What is the monthly contact limit for free accounts?

Mailchimp's free plan allows up to 1,000 contacts and basic features.
Is there a limit on emails I can send?

The monthly email send limit on your Mailchimp account depends on your plan. Free accounts get 12,000 emails per month. Paid plans start at 40,000 up to unlimited emails.
Does Mailchimp offer landing pages?

Yes, Mailchimp has a built-in landing page creator to design customizable landing pages without coding.
Can I integrate Mailchimp with my CRM?

Yes, Mailchimp offers integrations with all major CRM platforms including Salesforce, HubSpot, Zoho, and others.
Is there automation for sending welcome emails?

Mailchimp has a robust automation builder that makes it easy to set up welcome emails and workflows.
What's the maximum number of contacts for free accounts?

TinyEmail's free plan allows up to 500 contacts.
Are there pre-designed templates?

Yes, TinyEmail offers a small selection of basic pre-made templates to customize.
Is there automation for abandoned cart emails?

TinyEmail has basic automation capabilities including abandoned cart reminders.
Can I connect my Shopify store?

TinyEmail integrates with Shopify and other basic e-commerce platforms.
Is there Facebook ad integration?

No, TinyEmail does not currently offer Facebook ad integration like some competitors.
Final Thoughts – Which Email Marketing Platform is Better?
Mailchimp is the best choice for larger businesses wanting powerful and robust email marketing capabilities. With advanced features like segmentation, automation, and integrations, Mailchimp provides exceptional functionality to customize campaigns and workflows.
Extensive analytics help optimize performance. Though pricing is higher at scale, the capabilities justify the cost for more sophisticated email marketing needs.
You may also be interested in checking out some Mailchimp alternatives to help with the evaluation process.
TinyEmail is ideal for small businesses wanting an affordable and easy-to-use email marketing solution. With its simple interface and workflows plus lower pricing, TinyEmail makes it fast for beginners to create and send campaigns without complexities.
It's the best Mailchimp alternative for those who want to run basic campaigns. While it lacks some advanced features, it provides solid value for basic email marketing needs.
If you aren't sure if TinyEmail is right for you, consider reading my favorite TinyEmail Alternatives.
Choosing the right email marketing platform is critical for your business success. Be sure to consider your specific needs in order to select the best solution. Please ask any questions in the comments below if you need help making the right choice!