Selecting the right software is crucial for building an effective email marketing strategy and nurturing subscriber relationships. When it comes to email marketing platforms, ConvertKit and MailChimp are two of the most popular choices for small business owners and entrepreneurs.
In this ConvertKit vs Mailchimp comparison, we'll examine key criteria like market position, ease of use, customization options, features, website performance, customer support, pricing, and reviews.
Our goal is to provide an in-depth look at the strengths and weaknesses of each email marketing software to help you make the right choice between these two popular email service providers. Let's dive in!
1. Understanding the Basics
MailChimp was founded in 2001 by Ben Chestnut and Dan Kurzius. It's one of the most popular email marketing platforms, with over 14 million users sending more than a billion emails per day. MailChimp has captured about 54% of the email marketing market share.
ConvertKit was launched in 2013. Nathan Barry is the founder and CEO. It's growing in popularity with over 60,000 users. ConvertKit has about 5% of the email marketing market share currently.
MailChimp has an active Facebook community with over 300,000 likes.
ConvertKit also has a Facebook group with over 11,000 members.
Both email marketing services have become leaders in the email marketing space. MailChimp paved the way as one of the first solutions. ConvertKit entered as a newer competitor focused on serving bloggers, authors, and other creators. The two represent contrasting options—MailChimp as the well-established tool and ConvertKit as the rapidly growing alternative.
2. Features and Functionality
By evaluating factors like email marketing, blogging, e-commerce functionality, third-party integrations, analytics, speed, uptime, and more, you'll have the information you need to determine which solution is the best fit for your business goals and email marketing needs.
Automation
ConvertKit offers robust automation with sequences, tags, and segments. Sequences automatically move subscribers through pre-designed workflows like welcome series, post-purchase journeys, or content upgrades. Tags organize subscribers and trigger actions when applied. Segments group subscribers by behavior or attributes.
The visual automation builder lets users drag and drop emails, and wait steps, tags, and actions. Workflows can branch into multiple paths based on conditions like email opens, link clicks, or tag applications. Advanced marketers can leverage if/then logic, variables, and filters to create highly customized sequences.
ConvertKit's automation excels at complex multi-tiered funnels for creators selling digital products or online courses. The workflows support both pre-sale nurturing and post-purchase customer journeys, making the ideal email marketing tool for digital marketers.
MailChimp has its own automation features like campaigns, automation, and groups. Campaigns are how users build and send regular broadcasts. Automations automatically trigger emails on schedules, after sign-ups, or when subscribers take action. Groups segment subscribers based on profile data and behaviors.
The automation builder provides a drag-and-drop workflow editor. Users can set up sequences with multiple paths using wait steps, conditional logic, variables, and operator rules. Advanced options exist too like A/B testing, predictive send times, and RSS-triggered automations.
MailChimp's automation works well for typical email marketing campaigns, retargeting, and abandoned cart scenarios. The toolset fully supports e-commerce automation needs.
ConvertKit wins for its focus on creating complex conversion funnels ideal for digital creators. The robust sequences, branching logic, and customization options excel at turning subscribers into customers. MailChimp meets general email marketing automation needs but can't match ConvertKit's specialized functionality.
Email Templates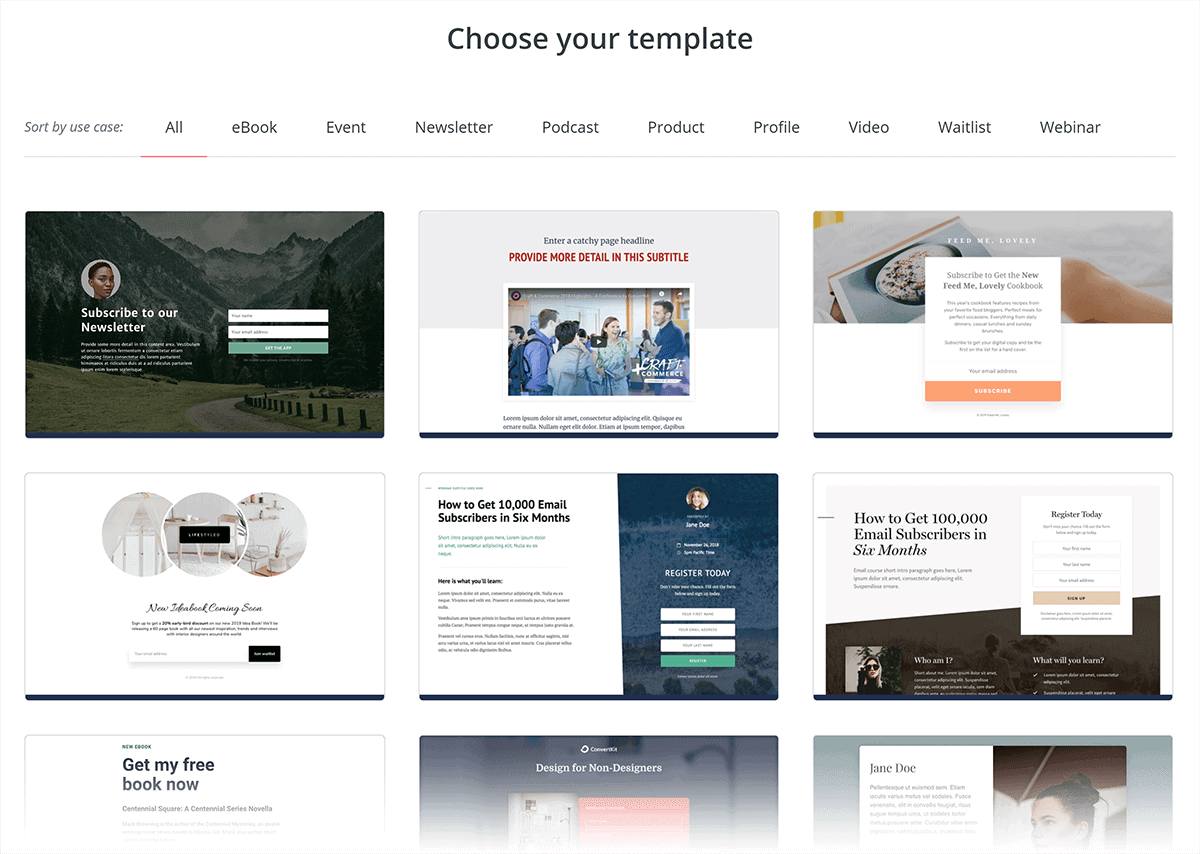 ConvertKit has over 100 professionally designed email templates. The templates are mobile-responsive with a simple, uncluttered aesthetic. Many templates are tailored to creators, with options for launching a new product, promoting a podcast, or offering pre-order access.
Users can customize templates by tweaking colors, fonts, and design elements like buttons or images. Advanced custom coding is also available for greater design control. All templates are optimized for major email clients.
ConvertKit's template library makes it easy for creators to maintain a consistent brand look across every email marketing campaign. The templates work well for product launches, content upgrades, and course announcements, and will be appreciated by experienced email marketers everywhere.
MailChimp provides hundreds of mobile-friendly email templates. Options range from simple one-column designs to complex multi-column templates for campaigns and promotions.
Customizing is easy with point-and-click editing tools for images, text, colors, and more. For deeper customization, the drag-and-drop builder or custom code can be used. Templates are tested across email clients for consistency.
The broad selection of templates supports typical promotional emails, newsletters, announcements, and other broadcast messaging needs. The templates are well-suited for business brands rather than individual creators.
ConvertKit wins for having email templates better optimized for digital creators promoting products, content, and courses. The polished, professional designs match this audience well. MailChimp has more templates overall but fewer specifically built for the ConvertKit target customer.
Segmentation
ConvertKit enables segmentation with tags and sequences. Tags are used to label subscribers based on attributes, behaviors, interests, and other criteria. Sequences can then target subscribers who have specific tags applied.
For example, a tag like "downloaded ebook" could be applied to subscribers who complete that action. A sequence can send follow-up emails exclusively to those with the "downloaded ebook" tag.
Advanced marketers can combine multiple tag conditions using "and" or "or" logic to target segments with higher precision. Overall, ConvertKit's segmentation provides the flexibility needed for creators and digital marketers.
MailChimp has groups, segments, and tags for segmentation. Groups manually organize subscribers, while segments dynamically group them using filters and conditions. Tags label subscribers for segmentation like in ConvertKit.
Complex segments can be created using options like location, purchase history, browser, email activity, and other data points. MailChimp provides the tools to target highly specific user segments.
The segmentation capabilities help send the right messages to subscribers based on attributes and behaviors. MailChimp excels at advanced segmentation for sophisticated email marketers.
MailChimp wins for having more advanced segmentation tools best suited to complex email marketing needs. The dynamic segments, intelligent grouping, and fine-tuned targeting provide greater options for precision email targeting.
ConvertKit's segmentation meets the core needs of creators, but Mailchimp emerges as one of the best email marketing services around.
Analytics
ConvertKit provides email analytics like opens, clicks, unsubscribes, and spam reports. The platform tracks stats for each campaign as well as subscriber engagement over time.
Useful metrics are shown including open and click-through rates. A/B test results are also reported for comparing campaign variants. Heatmaps display user click patterns within emails.
The analytics focus on email campaign performance. For in-depth data on subscriber engagement, ConvertKit integrates with Google Analytics for event tracking.
MailChimp has robust email analytics covering sends, opens, clicks, bounce rates, and more. Campaign reports track performance. Over time graphs show trends in key metrics.
Advanced options include A/B testing, predictive email analytics, and multivariate campaigns. Audiences are automatically scored based on engagement levels.
For complete insights, MailChimp integrates with Google Analytics, Salesforce, Slack, and other tools. The analytics provide deep intelligence for optimizing email programs.
MailChimp wins for having a wider range of email and subscriber analytics that lend greater insight into both campaign and individual performance. The predictive analytics and integration capabilities surpass ConvertKit's basic reporting offerings.
Unique Features
ConvertKit has multi-user accounts, ideal for teams and agencies. Collaboration workflows allow content approvals and delegated messaging.
The software also provides a native landing page and form building. Responsive, stylish pages can be built without coding knowledge.
For creators, ConvertKit has affiliate and partner programs to incentivize promotions. Commission rates and totals are tracked within the platform.
Overall, ConvertKit focuses its unique features on empowering digital creators and experts to grow their audience and revenue.
MailChimp offers free branded custom domains for sending emails (@yourcompany.mailchimp.com). This enhances sender authenticity.
Pre-designed content blocks, templates, and themes help users build emails and landing pages faster. The branded email design tools promote consistency.
For e-commerce, MailChimp has abandoned cart automation, order notifications, coupons, and customer re-engagement features. The tool integrates with major e-commerce platforms.
MailChimp's unique features focus on email marketing enhancement, brand building, and shopping cart automation.
ConvertKit wins for having unique features like multi-user accounts, native landing pages, and affiliate programs tailored specifically for the target user – digital creators building their brand and income. MailChimp has broader unique features that appeal to a general business audience.
3. Ease of Use
ConvertKit has an intuitive, modern interface. The dashboard provides quick access to key tasks like email campaigns, sequences, and reports. You can create forms of all types, and navigation feels slick and focused.
For beginners, ConvertKit's interface is approachable but has a learning curve. Mastering advanced features like tagging sequences takes time. The platform caters more to experienced users.
The experience centers around building conversion funnels. While there is a bit of a ramp-up, ConvertKit makes it easy to create multi-tiered automation. The visual workflow builder is user-friendly.
Overall, ConvertKit provides a straightforward but powerful user experience ideal for marketers with some email expertise. The platform rewards commitment to learning its more advanced capabilities.
MailChimp has a clean, easy-to-use interface. All key features are accessible from the main dashboard. Usability cues like color coding and icons make navigation intuitive.
Beginners can get started quickly with the platform. Setting up lists, designing basic emails, and sending broadcasts is simple. Automations take more training but aren't hard to grasp.
The tool's flexibility can lead to some complexity for larger email programs. But core tasks remain approachable even for novice users. MailChimp's primary interface promotes natural progression.
MailChimp is designed for usability, guiding users smoothly through email creation and campaign execution. The tool is accessible yet robust for marketers at all skill levels.
MailChimp wins for having the most user-friendly and intuitive interface. The tool's excellent usability ensures both beginners and experts can quickly master email marketing strategies and campaigns.
ConvertKit requires more proficiency to leverage its advanced capabilities. All in all, Mailchimp offers more in this regard, which is why it's considered to be one of the best email marketing tools for users of all skill levels.
4. Email Deliverability
ConvertKit has excellent email deliverability with inbox placement rates over 99% on average. The platform uses sophisticated sending infrastructure and optimization techniques.
ConvertKit monitors subscriber engagement to identify inactive accounts. Regular re-engagement and list cleaning maintain reputation. Email authentication like SPF, DKIM, and DMARC improve deliverability.
For creators building their lists, ConvertKit provides reliable deliverability and protects the sender's reputation. As subscribers grow into the thousands, deliverability remains consistently high.
MailChimp is known for pristine email deliverability with above 99% inbox placement. Years of experience combined with ongoing deliverability testing lead to email reliability.
The company closely monitors international and provider-specific spam filter trends to stay ahead. MailChimp also scrubs lists continually and reroutes problematic IP addresses.
For business users sending millions of emails, MailChimp's send infrastructure scales smoothly while preventing blocked messages. The tools protect both delivery and sender reputation at high volumes.
Winner: Tie
ConvertKit and MailChimp are evenly matched when it comes to excellent email deliverability and inbox placement. Both maintain stellar send reputations that enable 99%+ rates reliably, even at higher volumes. For this category, the two services deliver equal performance.
5. Customer Support and Community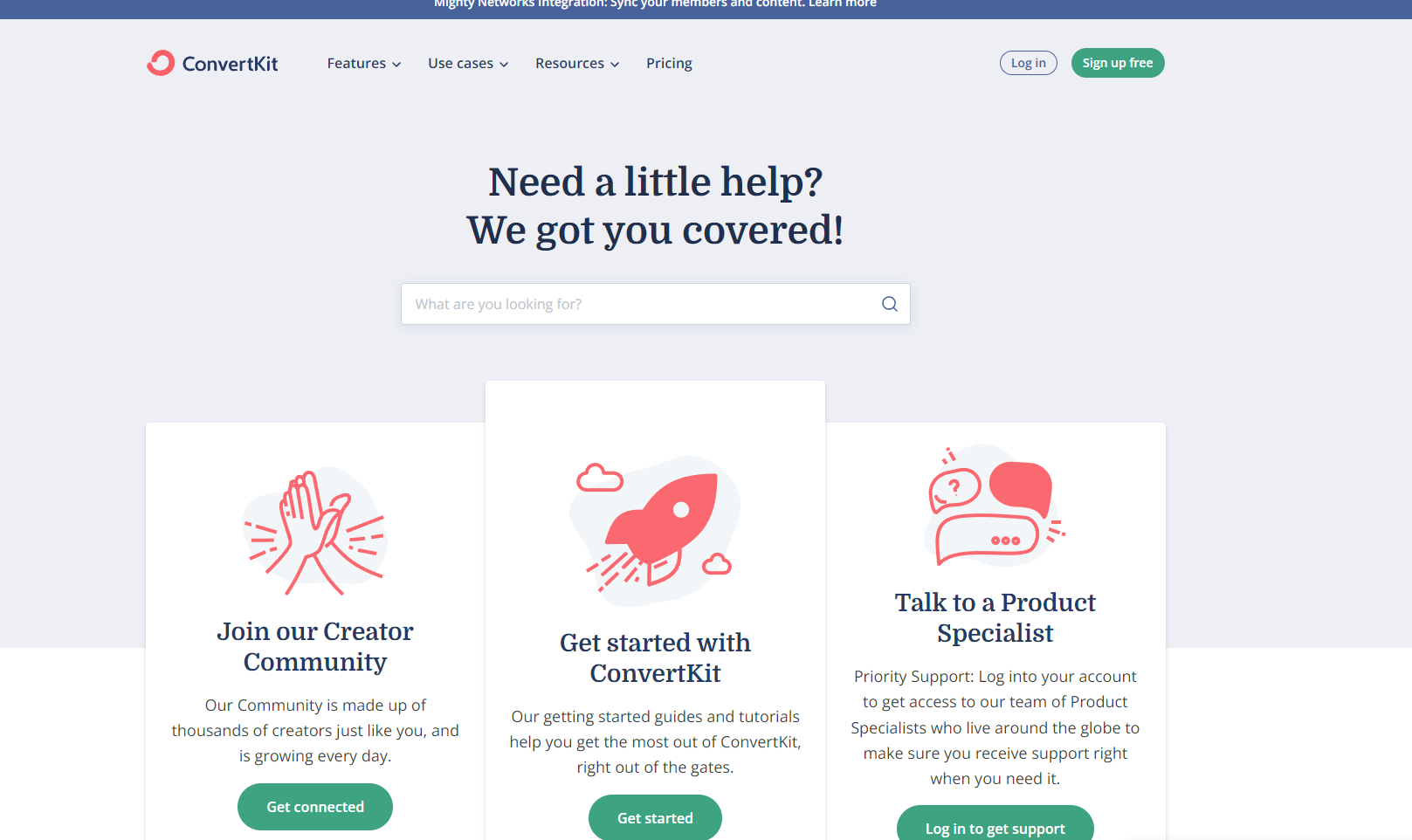 ConvertKit provides email support, live chat, and phone support. Typical replies are fast within an hour. The team is knowledgeable and friendly when assisting customers.
Active community forums exist to exchange ideas between users. A private Facebook group called ConvertKit Community has thousands of engaged members.
ConvertKit's combo of reliable direct support and user community forums creates a helpful environment for customers to get assistance and discuss best practices.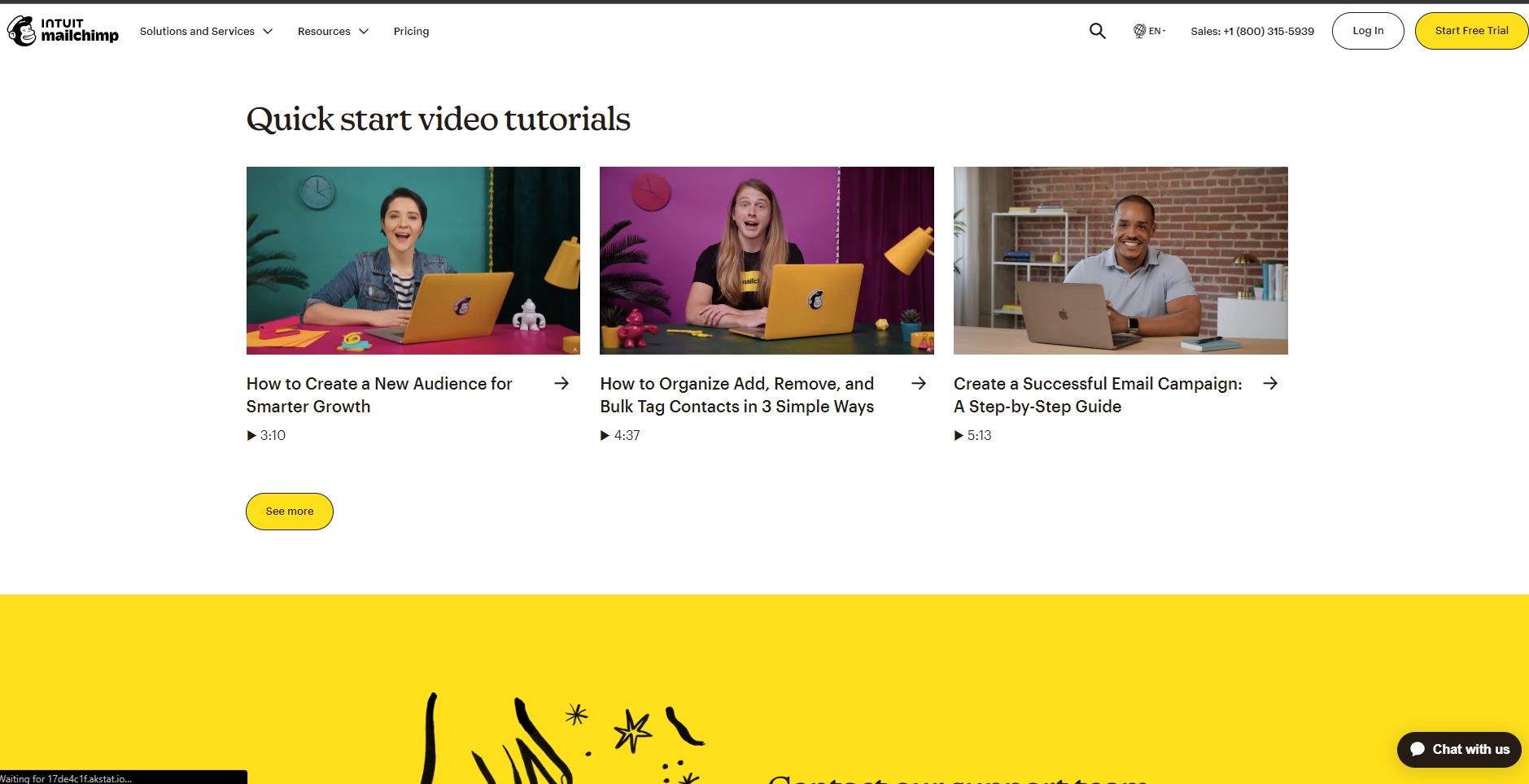 MailChimp offers email, chat, and phone customer support. Average response times are under 30 minutes for typical inquiries. Agents demonstrate expertise across email marketing topics.
As a popular platform, MailChimp has many community channels. The platform's Facebook group has over 13K members.
Between direct support and an expansive informal user community, MailChimp provides plentiful resources to troubleshoot issues and learn email marketing strategies.
MailChimp wins for having accessible customer support and larger community channels where users can exchange guidance, giving customers more outlets beyond official support. With over 13,000 Facebook group members, users have vast peer knowledge to leverage.
6. Integrations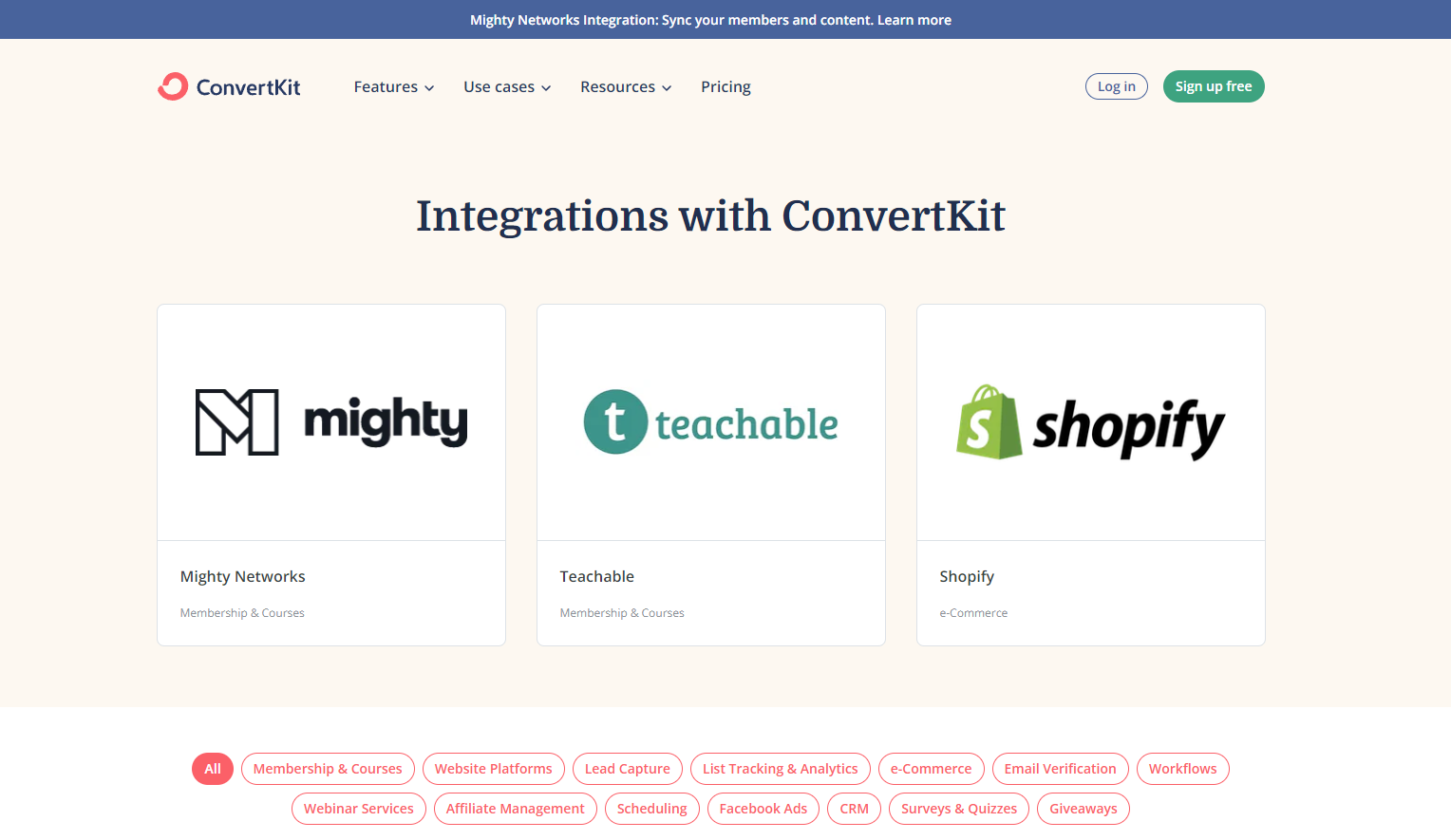 ConvertKit integrates with popular email services like Gmail, Outlook, and Apple Mail for list growth. It also connects to chat tools like Facebook Messenger for subscriber acquisition.
For analytics, ConvertKit integrates with Google Analytics for event tracking. It also partners with digital commerce platforms like Stripe and Gumroad for product sales data.
When it comes to list management, ConvertKit has all the integrations you need. You get the same features as those that Mailchimp offers, as well as tools to manage multiple lists, sender details, and many more integrations.
Other platform integrations include Zapier, allowing connections to hundreds of apps. ConvertKit has an open API for advanced custom integrations as well.
Overall, ConvertKit offers core integrations focused primarily on email list growth, e-commerce data, and analytics.
MailChimp has integrations with email services like Gmail and Outlook along with social networks such as Facebook and Twitter for list building. CRMs like Salesforce integrate for subscriber data.
Analytics tools like Google Analytics and Facebook Pixel integrate for campaign tracking. E-commerce platforms like Shopify, WooCommerce, and Magento connect for online store data. There are even integrations with online learning platforms, referral programs, and registration forms that a course creator can utilize.
Zapier partnerships extend integrations to hundreds of other apps. MailChimp also has an open API for custom connections.
In summary, MailChimp provides expansive integrations covering email, e-commerce, social, analytics, automation, and more.
MailChimp wins for having broader integrations beyond just email that support tying together all marketing channels, CRM data, and e-commerce activity. This wider scope benefits sophisticated marketers.
7. Pricing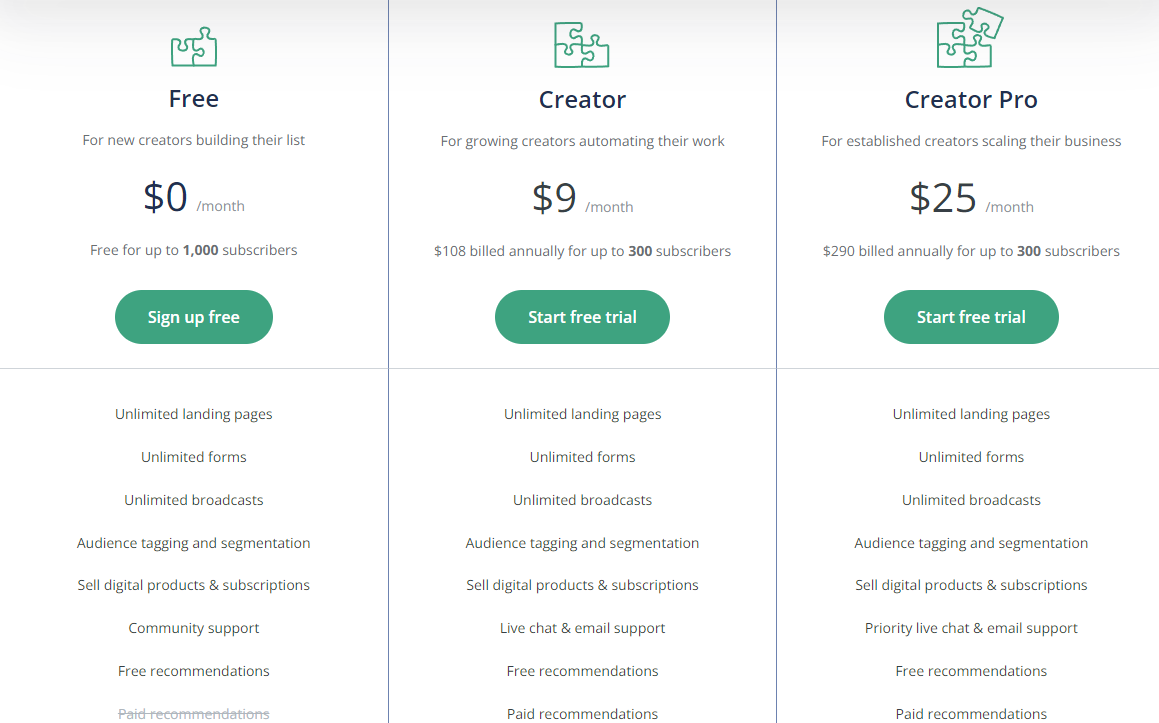 ConvertKit has a free plan for up to 1,000 subscribers, and three paid plans which are as follows:
Creator Plan – $9/month with unlimited forms, landing pages, and broadcasts for up to 300 subscribers.
Creator Pro Plan – $25/month for up to 300 subscribers. It comes with additional features to sell digital products and subscriptions, as well as audience tagging and segmentation tools.
Additional subscribers can be added for a per-subscriber rate. Features like landing pages, automation, and integrations are included at all plan levels.
ConvertKit pricing offers a generous free trial and transparent pricing without surprise fees. The platform is affordably priced for creators and small businesses, which simplifies the work of choosing email marketing software for your business.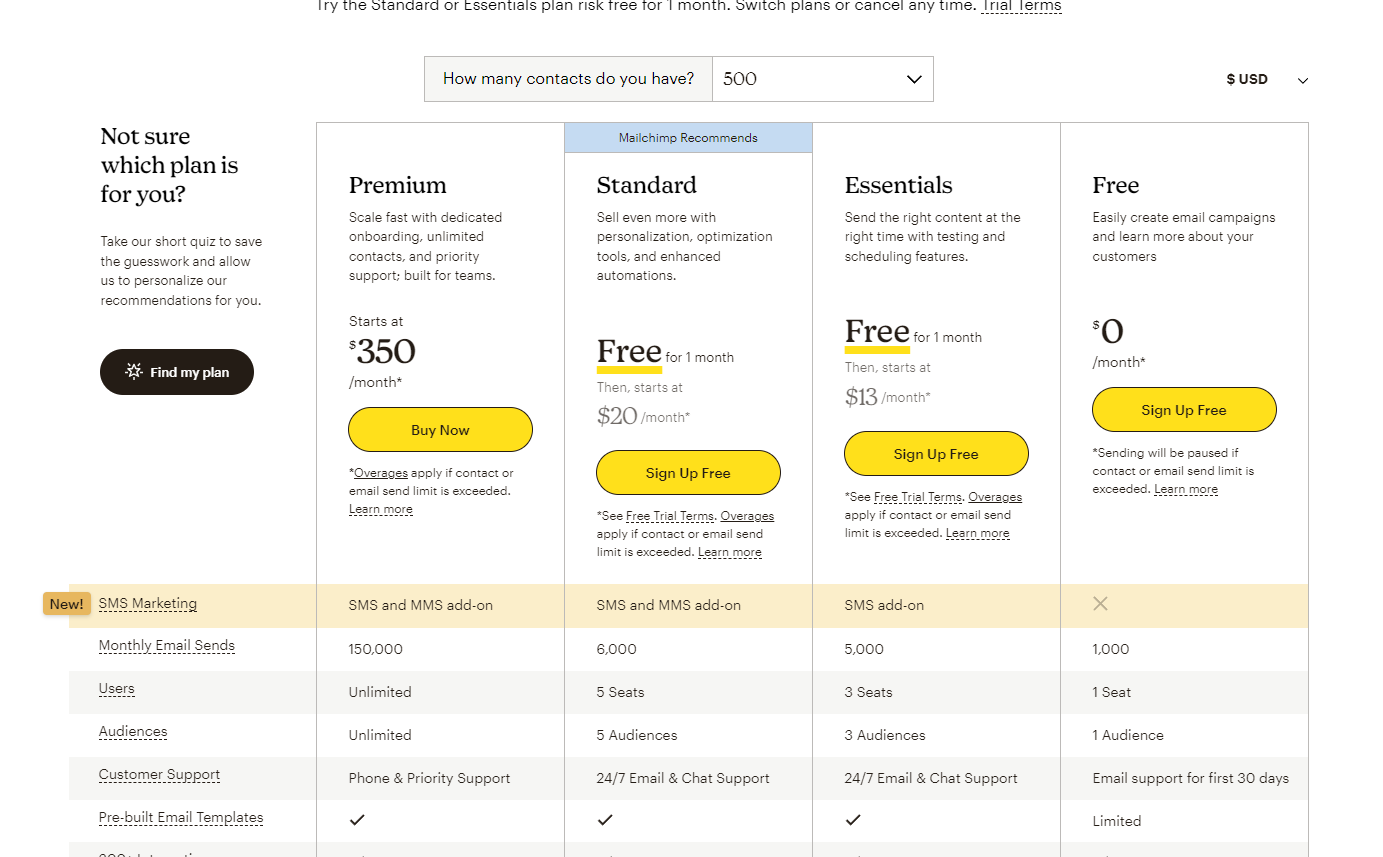 Mailchimp has 3 paid tiers: Essentials at $13/month, Standard at $20/month, and Premium at $350/month billed annually.
Lower tiers are suitable for small businesses. Advanced and Premium add powerful enterprise features like journey builder, workflow automation, and advanced analytics.
The free plan lets you send 1,000 emails per month with basic automation. Overall, Mailchimp offers cost-effective plans.
ConvertKit wins for having simple, transparent pricing with inclusive features for every email marketer. Predictable rates without surprise fees or add-ons make budgeting easy for small to medium sized businesses. MailChimp appears affordable but has opaque pricing with multiple upcharges.
8. Reviews and Reputation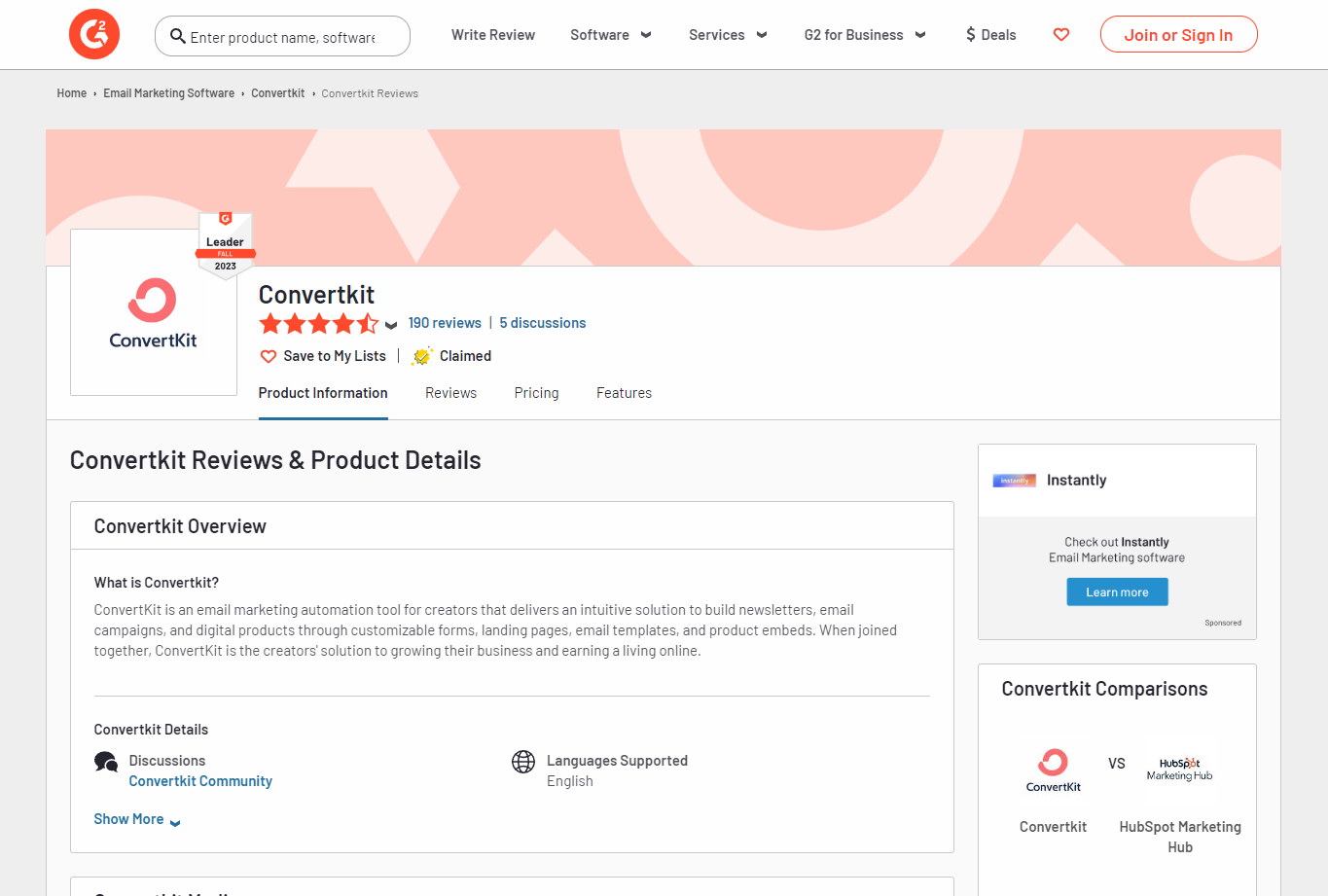 ConvertKit earns positive reviews for its automation capabilities, landing pages, and focus on digital creators. Users praise the seamless workflows for capturing leads and nurturing subscribers. Some feel the pricing is expensive for larger lists.
Reviews on Capterra average 4.7/5 stars. G2 users also rate ConvertKit highly. Many reviews cite excellent customer support and deliverability as standouts.
Overall, ConvertKit's reputation is as a robust platform tailored specifically to podcasters, bloggers, and info product creators. It has carved out an appealing niche.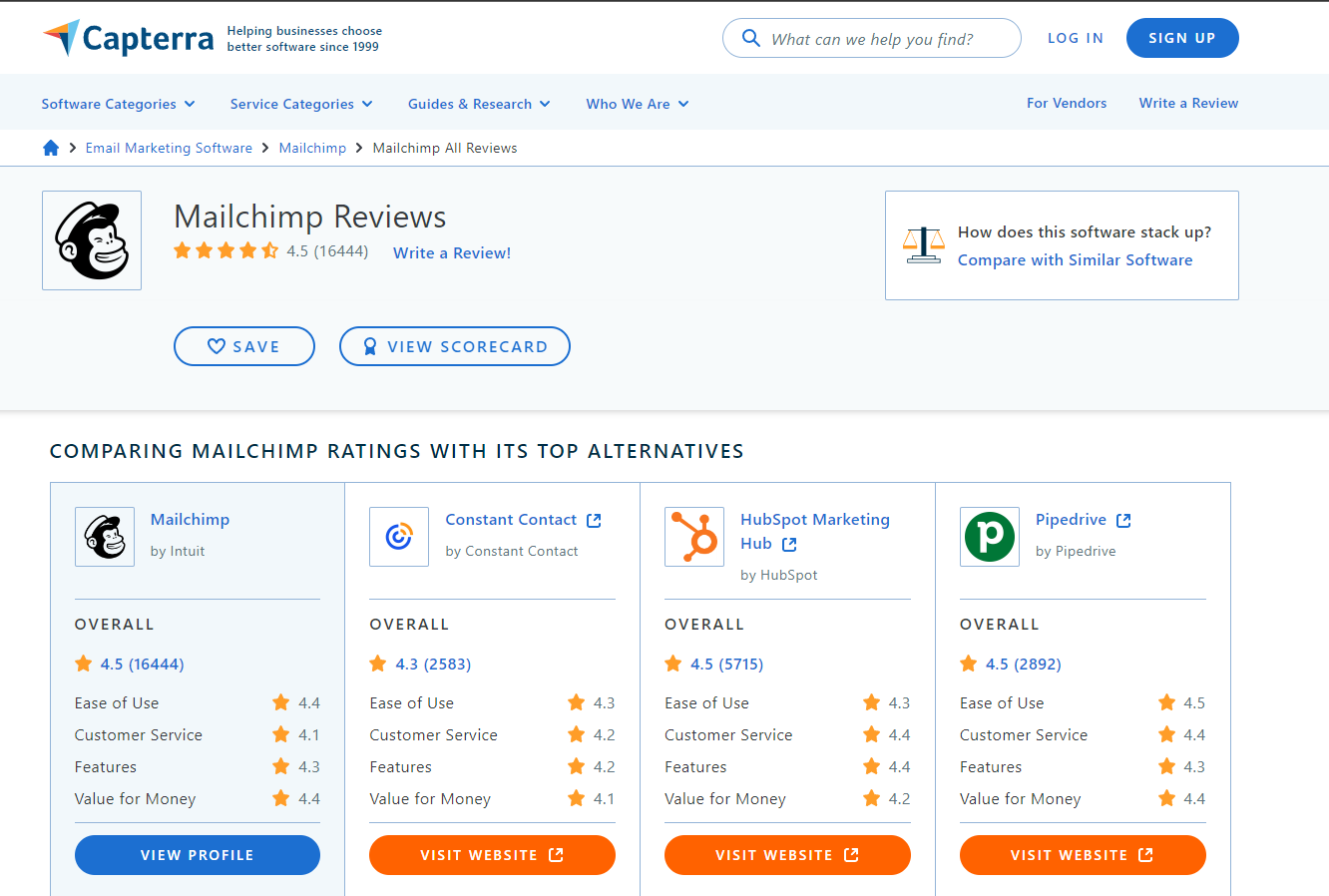 MailChimp garners very positive reviews for its ease of use, templates, and analytics. Users highlight its subscriber management and automation features. Some say advanced features can get pricey.
On G2, MailChimp has a 4.3/5 average based on 12K+ reviews. Capterra reviewers rate the platform 4.5/5 stars. Many praise the platform's intuitive interface and strong deliverability.
MailChimp's reputation is for being an accessible, reliable email marketing platform suitable for all business types and experience levels. The tool is regarded for usability.
With a broader user base and more ratings, MailChimp edges out ConvertKit when it comes to reviews and reputation. Positive feedback on intuitive use and an approachable learning curve give MailChimp an advantage that appeals to the widest audience.
9. FAQ's
What types of email can I send with ConvertKit?

ConvertKit is optimized for sending marketing emails like broadcasts, newsletters, sequences, and automation. Transactional emails like receipts or alerts may be better sent from your regular email provider.
Does ConvertKit have email templates?

Yes, ConvertKit offers over 100 professionally designed email templates that are mobile-responsive. Templates can be customized to match your brand.
How do I add subscribers to ConvertKit?

You can manually upload subscriber lists, integrate with services like Facebook or Twitter to capture leads, add forms or landing pages to your website for conversions, or import from other email platforms.
Is ConvertKit GDPR compliant?

ConvertKit enables GDPR compliance by allowing end-users to opt in/out of marketing emails and providing subscriber data export tools.
Does ConvertKit integrate with my e-commerce platform?

Yes, ConvertKit offers integrations with all major e-commerce platforms like Shopify, WooCommerce, and Squarespace for capturing buyer data.
What email deliverability rates does MailChimp guarantee?

MailChimp maintains above 99% inbox placement rates consistently, even at high volumes. Deliverability is closely monitored.
How do I create email campaigns in MailChimp?

The drag-and-drop email builder makes it easy to customize templates, insert content blocks, personalize messages, segment lists, and schedule campaigns.
Is there a limit on contacts with MailChimp's free plan?

Yes, the free plan allows up to 1,000 sends per month before overages apply. Paid plans support much higher volumes.
What reports does MailChimp provide?

MailChimp offers comprehensive reports on opens, clicks, bounces, unsubscribes, sent times, most engaged subscribers, campaign ROI, and more.
Does MailChimp support text message marketing?

Yes, MailChimp's Automation tools allow text messages to be integrated into cross-channel workflows with email for both marketing and transactional use cases.
Final Thoughts
ConvertKit is an excellent choice for creators, influencers, bloggers, authors, and info product businesses. It provides the automation tools digital marketers need for turning subscribers into customers with multi-sequence funnels.
ConvertKit also empowers growing teams with collaboration features. The platform is competitively priced for mid-size creator audiences up to 25k-50k subscribers.
MailChimp is ideal for all types and sizes of businesses requiring an easy-to-use email marketing solution. The intuitive drag-and-drop builder makes creating campaigns simple for beginners and experts alike.
MailChimp also offers expansive features and integrations to support advanced email programs. With a free tier for up to 2k subscribers, it's accessible to new startups.
You may also be interested in checking out some Mailchimp alternatives to help with the evaluation process.
Choosing the right email marketing platform is critical for nurturing leads, driving conversions, and staying in touch with customers. Consider your audience, product offerings, marketing automation needs, and team size. We're happy to answer any questions in the comments to help you select the best solution!