When it comes to email marketing platforms, two big names stand out: Mailchimp and Moosend. Choosing the right platform is critical for small businesses and startups looking to grow their customer base and drive sales through email campaigns.
In this Mailchimp vs. Moosend comparison, we will look at key criteria like market position, ease of use, features, performance, support, pricing, and reputation to help you determine which solution may be the better fit. We will compare the two platforms across categories including design customization, blogging capabilities, ecommerce features, SEO optimization, integrations, analytics, speed, uptime, and more.
This head-to-head Moosend Mailchimp comparison should provide the information you need to make an informed decision between the two email marketing tools that sets you up for success.
1. Understanding the Basics
Mailchimp was founded in 2001 by Ben Chestnut and Mark Armstrong. It has become one of the most popular email marketing platforms, with over 14 million users sending more than 1 billion emails per day. Mailchimp has captured about 11.5% of the global email marketing market share.
Moosend was created in 2012 by Panos Melissaropoulos and Yannis Psarras. While not as widely known as Mailchimp, Moosend has been growing in popularity with small and midsize businesses. It serves over 4,000 paying customers globally.
Both platforms have active user communities on Facebook:
These groups allow users to ask questions, share tips, and connect with fellow customers using the same platforms. If you need help or advice, the communities are a great resource.
2. Features and Functionality
Automation
Mailchimp offers a wide range of automation workflows to help streamline your email campaign efforts. You can create sequences triggered by user actions like email opens, clicks, and purchases. Automations are configurable with if/then logic, multiple lists, and tags for segmentation.
Some of the key marketing automation features include welcome emails to onboard new subscribers, abandoned cart flows to recover lost sales, RSS-to-email campaigns to send new blog content, birthday and anniversary messages, re-engagement campaigns for inactive subscribers, and more.
With the free plan, you are limited to 100 subscribers and basic automation. Paid plans unlock more advanced features like A/B testing, multi-step workflows, subject line suggestions, and e-commerce automation. Overall, Mailchimp provides robust automation capabilities for businesses at any stage.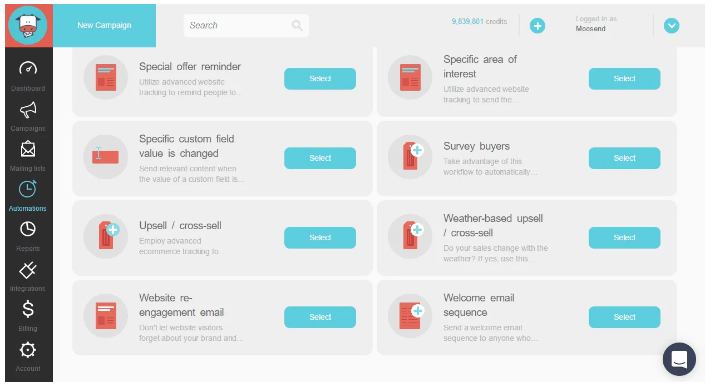 Moosend also provides powerful automation to streamline workflows. You can build sequences based on subscriber actions or schedule recurring broadcasts. Automation can be tagged for segmentation and support multiple lists/segments.
Some of the key Moosend automation features include a welcome series for new subscribers, cart abandonment sequences, RSS feed parsing to campaigns, event-based triggers like link clicks, segmented sequences based on tags, and post-purchase upsell messages.
The free plan includes basic automation for up to 1,000 subscribers. Paid tiers unlock more advanced options and remove subscriber limits. Moosend automations are highly customizable, allowing complex conditional logic.
Winner: Tie
Both Mailchimp and Moosend offer extensive automation capabilities essential for email marketing success. The platforms are evenly matched in terms of functionality, with advanced options on paid plans. For most small business needs, either solution would provide the necessary automation tools. It's too close to call a definitive winner.
Email Templates
Mailchimp offers hundreds of professionally designed email templates to choose from. Templates are categorized by industry and campaign type, like welcome emails, promotions, newsletters, and more.
The template editor makes it easy to customize colors, fonts, and design elements. You can also upload images, add blocks of content, and insert buttons or social sharing links. Templates are mobile-responsive by default.
While you can build emails from scratch, starting from pre-built templates can save time on design. All templates meet best practices for email deliverability. The template variety accommodates most use cases, from simple newsletters to complex product launches.
Moosend also provides professionally designed and mobile-optimized email templates. There are over 750 templates organized by categories, like welcome flows, announcements, newsletters, and holidays.
The drag-and-drop editor makes it easy to customize template content, images, colors, and layouts. You can also use HTML code to create emails from scratch, rather than the plain text options. All Moosend templates are optimized for major email clients.
While Moosend has fewer templates than Mailchimp, the selection covers common needs. Filtering and preview features help browse templates quickly. Overall, it provides quality templates for beautiful emails without heavy design work.
The Mailchimp vs Moosend automation shows that with over 600 responsive email templates, Mailchimp wins for providing the largest variety of professionally designed options. The categorized layout makes it easy to quickly find templates for your needs. While Moosend also has great templates, the smaller selection puts Mailchimp ahead. Starting emails from optimized templates can improve deliverability and save time.
Moosend vs Mailchimp – Segmentation
Mailchimp provides several ways to segment your audience for targeted email campaigns, list management, and lead generation processes. You can create groups based on user data like location, purchase history, engagement metrics, and more.
Segments can be static or dynamic. Static groups never change, while dynamic groups update based on criteria, such as transactional emails based on purchases. Tags offer another segmentation method, assigning keywords to subscribers to filter campaigns.
Power users can segment with Mailchimp's Visual Automation tool. You build a drag-and-drop workflow to filter subscribers based on if/then logic, engagement, purchases, and other data.
Overall, Mailchimp's segmentation provides precision targeting of emails. Dynamic tools like Visual Automation help create complex segments with changing parameters.
Moosend also allows the creation of segmented subscriber groups to send targeted messages. Options include basic static and dynamic segments, as well as tags for simple labeling.
Moosend's visual Segmentation tool provides a workflow builder for advanced filtering. You can target groups based on geography, engagement metrics, purchase activity, and more. Complex nesting and Boolean logic help refine segments.
While Moosend has fewer native segmentation tools than Mailchimp, its drag-and-drop workflow builder is on par with advanced options. For most needs, Moosend provides the necessary grouping tools.
With more native segmentation tools like Groups, Tags, and Visual Automation, Mailchimp edges out Moosend for audience grouping flexibility. Its depth of options helps craft highly targeted email campaigns and promotions. Precision subscriber segmentation is key for maximizing email relevancy.
Moosend Mailchimp – Analytics
Mailchimp provides powerful analytics to track and optimize your email campaigns. Reports include opens, clicks, unsubscribes, social shares, and more. View real-time campaign analytics or schedule custom reports.
Drill into audience segments to see how different groups engaged with emails. Track top-performing campaigns, subject lines, and send times. Integration with Google Analytics shows full ROI across channels.
Automation workflows can trigger based on subscriber behavior like email opens or link clicks seen in analytics. The detailed insights help fine-tune audience targeting and campaign performance.
Moosend also offers robust analytics to inform your email strategy. Track opens, clicks, unsubscribes, social sharing, and more for each campaign. Real-time reports provide instant feedback.
Moosend provides engagement metrics showing your most active subscribers over time. You can also see which links get the most clicks in your email content. Integrations are available for Google Analytics, Google Contacts, and Slack.
While analytics lack Mailchimp's depth, Moosend provides the key email and subscriber metrics needed. The data helps optimize open and click-through rates for better campaign performance.
Mailchimp wins for its unparalleled email analytics. The breadth of data, custom reporting, and segmentation insights surpass Moosend's capabilities. Optimizing email relevance and engagement depends on analytics to know your audience. Mailchimp provides the deepest analytics to refine campaign targeting.
Unique Features for Email Marketing Campaigns
Beyond core email marketing capabilities, Mailchimp offers some unique features. There is a free marketing CRM that allows you to view subscriber details and track interactions beyond email, with basic CRM tools included. Mailchimp also has an Automation mobile app that enables managing automation and viewing reports on the go.
Some other useful additions include the ability to create and manage Facebook ad campaigns directly in Mailchimp with integrated ad tools, deep integration with Shopify to help sync store data and track sales from email campaigns, and drag-and-drop landing page builder to easily create custom pages connected to campaigns.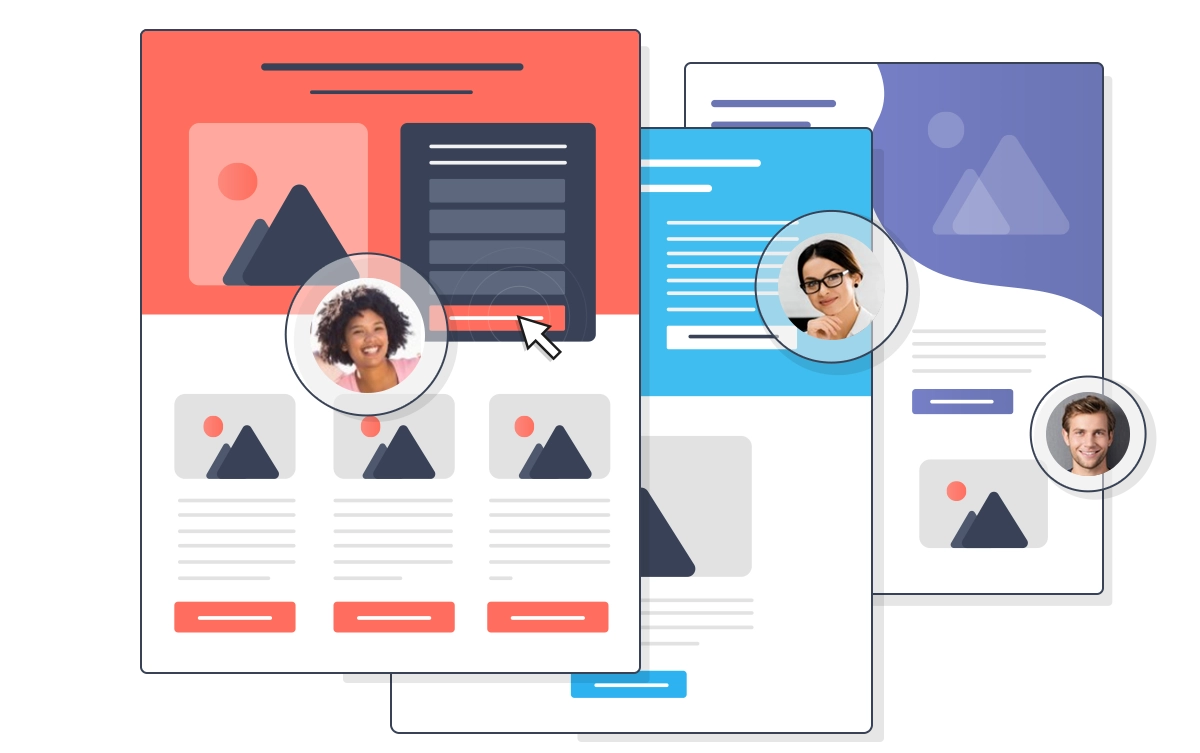 Moosend has some standout features as well. It offers SMS marketing to send text message campaigns alongside emails for multichannel messaging. Native pop-up forms make it easy to embed forms on your website to capture leads. Moosend also enables backing up and restoring your account data for protection.
Additional capabilities include a Facebook Ad Creator to design and launch Facebook ads right from your Moosend account and event triggers that allow automation to activate based on custom API event calls for advanced options.
Mailchimp wins for having more robust and fully-featured unique capabilities like its free marketing CRM and drag-and-drop landing pages. While Moosend has notable features like SMS and pop-up forms, Mailchimp's additions enhance and tightly integrate with its core email marketing platform.
3. Ease of Use
Mailchimp is known for its user-friendly interface and easy learning curve. The dashboard uses clean, intuitive navigation and visual design. Core features are accessible in the top menu bar, while reports and audience data are displayed on the main dashboard.
The email builder and automation workflows use a drag-and-drop editor that is simple for beginners to grasp quickly. Helpful tooltips explain features on hover. Inline tutorials walk through complex processes step-by-step.
Overall, Mailchimp prioritizes usability. The modern interface and visual editors allow most users to pick up the software quickly. Even advanced features are presented clearly in the workflow builders. The emphasis on simplicity benefits new email marketers.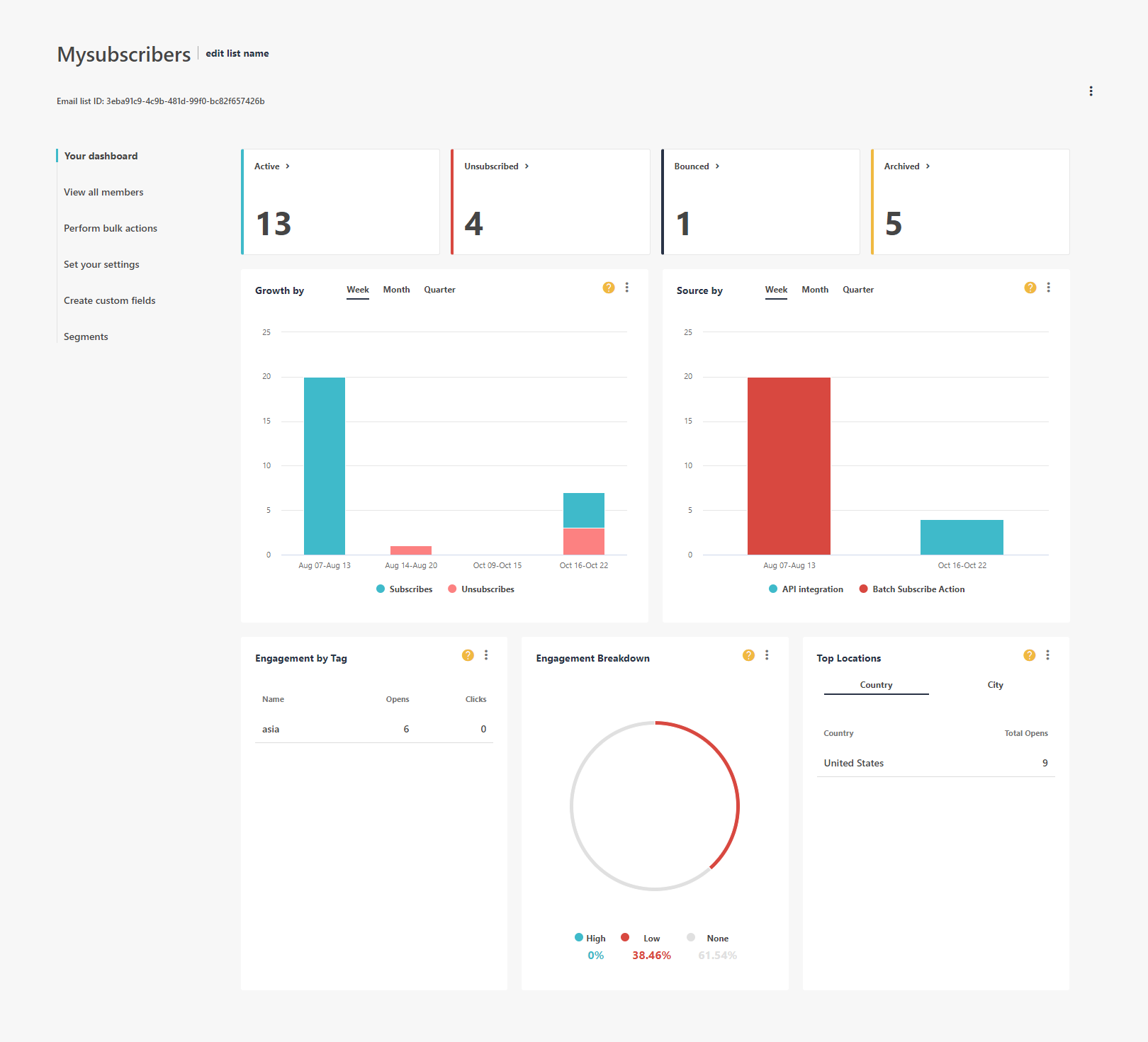 Moosend also offers a well-designed interface focused on simplicity. The main dashboard displays campaign reports and analytics charts for quick insights. The top navigation provides clear access to core features.
Moosend uses both drag-and-drop and traditional form-based editors. The automation and pop-up form builders are visual and intuitive. Building emails and broadcasts relies more on manual setup. The experience accommodates beginners but has a steeper learning curve.
While Moosend is relatively user-friendly, Mailchimp edges it out in terms of intuitive navigation and simplicity for cutting-edge visual editors. Moosend may require more learning time to master.
With its clean, visual interface optimized for simplicity and beginner onboarding, Mailchimp wins for best overall ease of use. The drag-and-drop editors lower the barrier for new users to pick up email marketing quickly. Moosend is decently intuitive but trails behind Mailchimp in UX design.
4. Email Deliverability
Mailchimp uses a number of strategies to optimize email deliverability. All default templates are pre-tested for deliverability best practices. The platform handles blocking monitoring and ISP reputation management in the background.
Users also get access to detailed deliverability reports showing open and click rates, bounce tracking, spam test scores, and other metrics. These insights help optimize campaigns for improved inbox placement and engagement.
For advanced users, Mailchimp allows managing custom IP pools, linking domains to send reputation, and granular segmentation to avoid triggering spam filters. Overall, it provides stellar deliverability through automation and optimization.
Moosend also incorporates deliverability optimization in its platform. Emails are sent through dedicated IPs with good sender reputation. The service handles monitoring and ISP outreach in the background.
Useful deliverability reports show open and click rates, bounce tracking, and spam test scores. A nifty social inbox feature shows how each campaign would appear in Gmail, Outlook, Yahoo, and other major inboxes. This helps optimize content before sending.
While Moosend cares about deliverability, it lacks some of Mailchimp's advanced tools. But for most use cases, Moosend provides reliable inbox placement.
Mailchimp wins for providing more robust deliverability features and automation out of the box. Its focus on optimizing inbox placement through pre-tested templates, segmentation, and advanced IP tools surpasses Moosend's offerings. Getting your emails delivered is crucial for email success.
5. Customer Support and Community
Mailchimp offers 24/7 customer support via live chat, phone, and email support. Users can also access an extensive knowledge base with articles, tutorials, and webinars.
The Mailchimp community provides many self-serve help resources, including community forums and a Facebook group. Between responsive support channels and a wealth of education resources, Mailchimp enables users to get help when needed. Active community forums add peer support.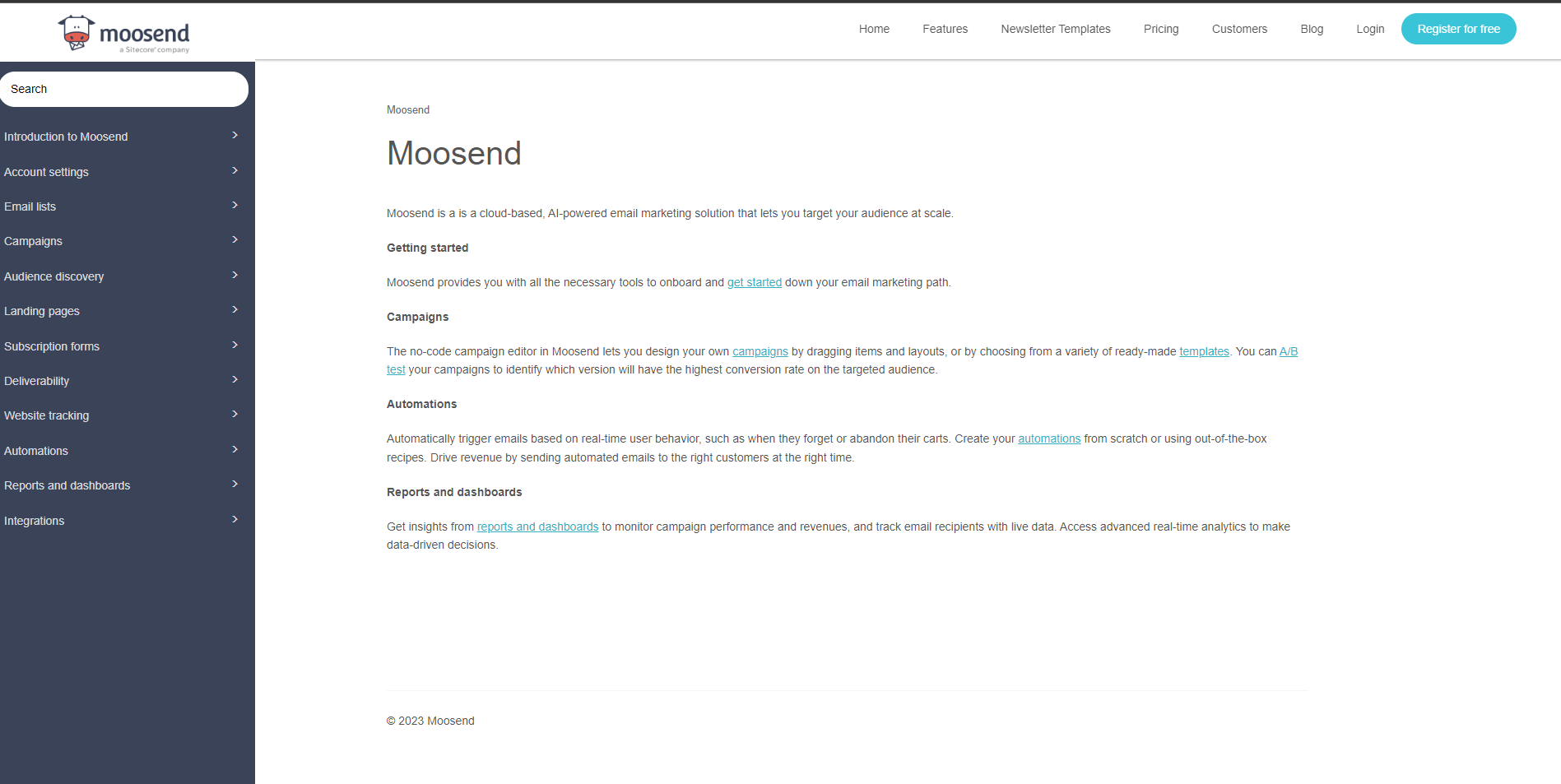 Moosend provides email and in-app support during business hours. Phone support is limited to higher-tier paid plans. The knowledge base offers ample tutorials and articles.
While Moosend doesn't have official community forums, users can connect and get advice on the Moosend Facebook page. Considering its smaller user base, Moosend provides decent customer support. But options lag behind Mailchimp, with no live chat or user community forums.
Mailchimp wins for providing 24/7 live customer support, an extensive knowledge base, and active user community forums for self-help. Moosend has decent support and tutorials but lacks around-the-clock options. For smooth onboarding and ongoing use, Mailchimp's superior support resources stand out.
6. Integrations
Mailchimp integrates with hundreds of third-party apps and services to expand its capabilities. Key integrations include CRM tools like Salesforce, Zoho CRM, and Capsule to sync contacts and campaign data. It also connects with ecommerce platforms such as Shopify, WooCommerce, and BigCommerce to integrate online stores.
For web analytics, Mailchimp offers integration with Google Analytics, Facebook Pixel, and other tools to track campaign results. Marketing apps like Facebook, Instagram, and Google allow managing ads directly. Automation tools like Zapier and Integromat help build complex workflows extending Mailchimp.
With its extensive integrations, Mailchimp can act as a central hub to manage contacts, orchestrate campaigns across channels, and unify data.
Moosend offers over 250 integrations with popular apps. These include CRMs like HubSpot, Zendesk, and Pipedrive for managing contacts and subscriber data. Ecommerce platform connections are available for Shopify, Wix, WooCommerce, and others.
For analytics, Moosend integrates with Segment, Google Analytics, Facebook Pixel, and more. Ad platforms like Google and Facebook can be connected to integrate ad campaigns. Zapier integration supports building custom automation with thousands of apps.
While Moosend has fewer native integrations than Mailchimp, key connections are available to support centralizing data and campaigns.
Mailchimp wins due to its unparalleled integration capabilities. With over 750 native app integrations, it can serve as the centralized hub for syncing all customer data and orchestrating cross-channel campaigns. Moosend integrates with top apps but trails behind Mailchimp in breadth.
7. Pricing
Mailchimp has a free forever plan and 3 paid tiers: Essentials at $13/month, Standard at $20/month, and Premium at $350/month billed annually.
Lower tiers are suitable for small businesses. Advanced and Premium add powerful enterprise features like journey builder, workflow automation, and advanced analytics.
Mailchimp's free plan lets you send 1,000 emails per month with basic automation for your email marketing campaigns. Overall, Mailchimp offers cost-effective plans.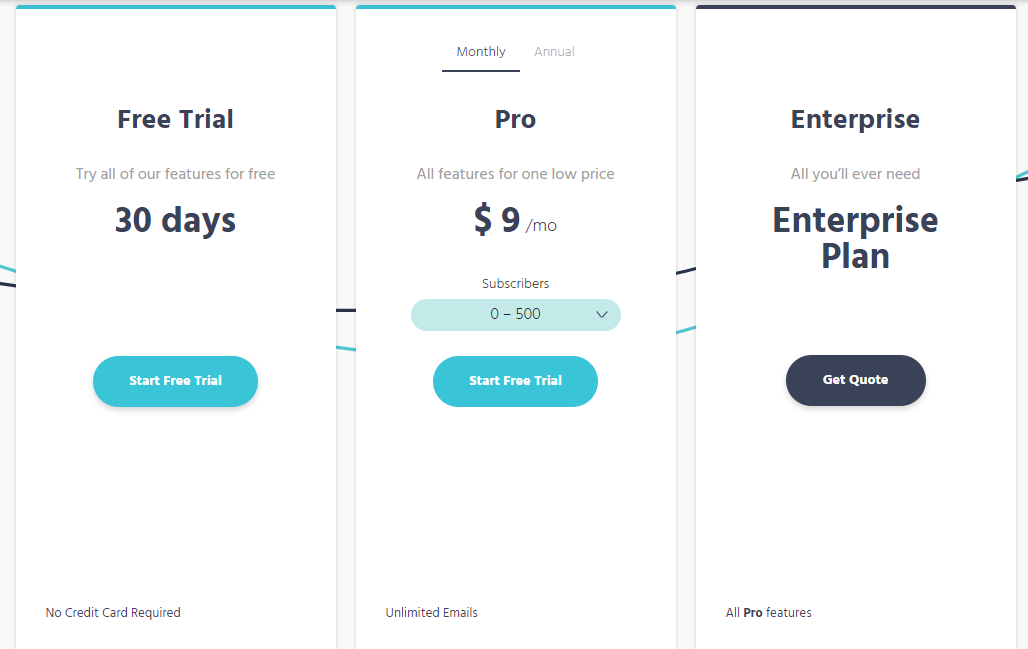 Moosend's free trial allows 1,000 subscribers with basic features. Paid plans start at $9 monthly for 500 contacts, adding automation, surveys, and advanced options. More contacts can be purchased as packages.
For enterprise-level accounts, custom pricing is available based on features and subscriber count. Overall, Moosend costs more than Mailchimp for smaller lists but may be cheaper at an enterprise scale with custom quotes. It has simpler pricing without add-ons.
Winner: Tie
Mailchimp offers a more generous free plan while Moosend has better value for mid-size accounts. At enterprise levels, custom quotes make pricing hard to compare directly. Both platforms are affordably priced for smaller businesses while scaling costs competitively for growing needs. It's a tie based on different pricing strengths.
8. Reviews and Reputation
With over 14 million users, Mailchimp is one of the most popular and well-reviewed email marketing platforms. On G2, it earns a 4.3/5 average user rating based on 12,300+ reviews.
Users praise the intuitive drag-and-drop builder, automation features, and great deliverability. Some downsides mentioned are the steeper learning curve for advanced features and the complex pricing structure.
Overall, Mailchimp enjoys an excellent reputation and customer satisfaction.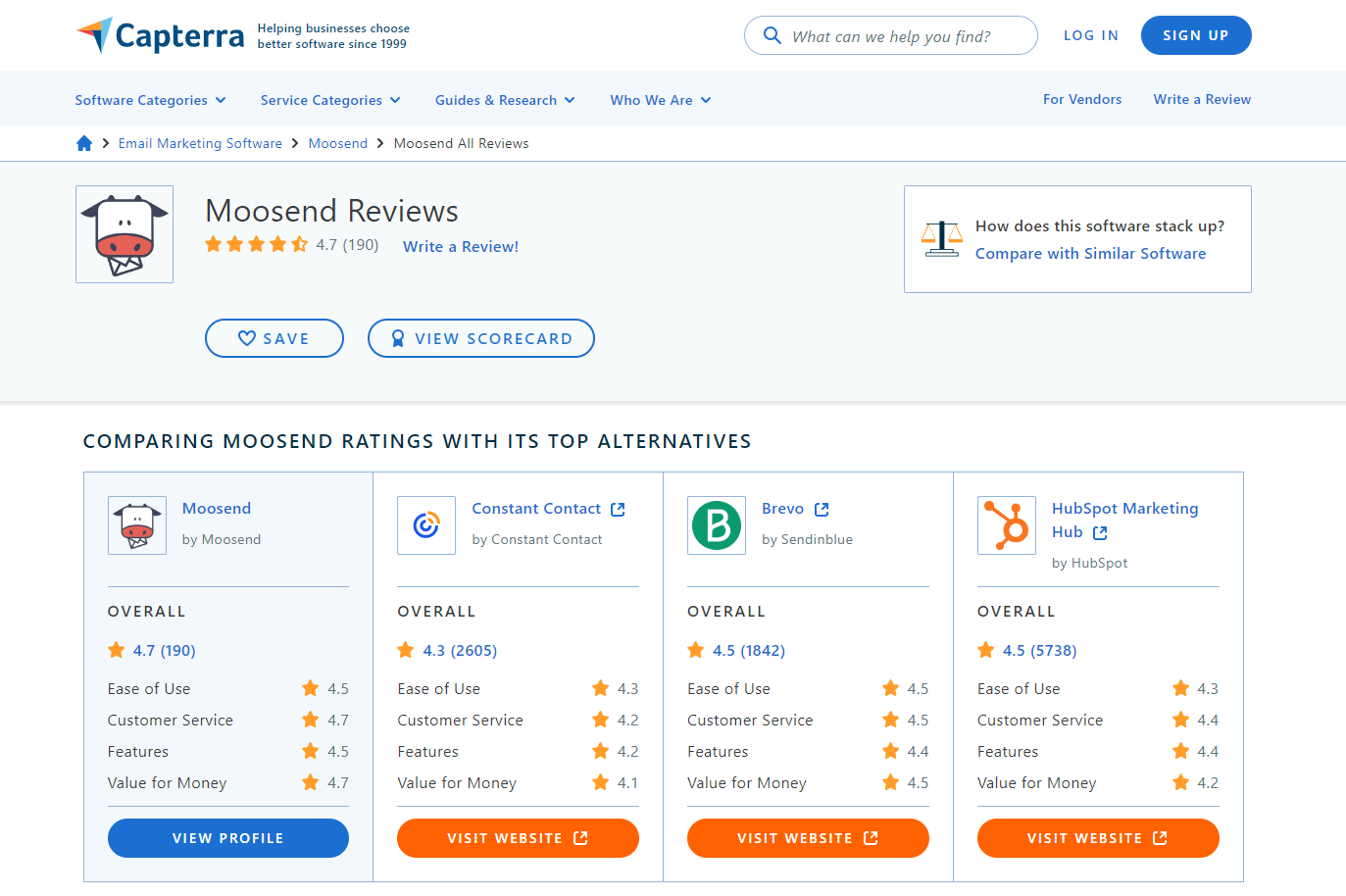 Moosend has a smaller but very satisfied user base. On G2, it earns a 4.7/5 average rating from 500+ reviews.
Users highlight the platform's ease of use, automation features, and great support service. Some downsides noted include occasional deliverability issues and a lack of advanced analytics.
On Capterra, Moosend is rated 4.7/5 based on just over 190 reviews. Users praise its affordability, segmentation abilities, and intuitive interface.
Though less well-known than Mailchimp, Moosend enjoys excellent customer satisfaction and reputation.
Winner: Tie
Both Mailchimp and Moosend are highly rated across review platforms, consistently earning praise for usability and core email marketing features. Each has a few drawbacks, but overall they enjoy excellent satisfaction and reputation. It's too close to pick a clear winner.
9. FAQ's
What is the subscriber limit on the free plan?

Mailchimp's free plan allows up to 2,000 subscribers and basic features.
Does Mailchimp have email templates?

Yes, Mailchimp offers hundreds of customizable, mobile-responsive email templates to choose from.
How much does Mailchimp cost?

Pricing starts at $13/month for up to 500 subscribers. Cost rises based on subscriber count and advanced features added.
Does Mailchimp offer automation workflows?

Yes, Mailchimp provides powerful visual automation builders to set up segmented workflows.
Can I integrate Mailchimp with my CRM?

Mailchimp offers CRM integrations with Salesforce, HubSpot, Zoho, and other popular platforms.
What's the subscriber limit on the free plan?

Moosend's free plan allows up to 1,000 subscribers.
Does Moosend have mobile-optimized email templates?

Yes, Moosend has over 750 mobile-responsive email templates to choose from.
How much does Moosend cost?

Pricing starts at $9/month for up to 500 subscribers. Enterprise pricing requires a custom quote.
What integrations does Moosend offer?

Moosend offers 250+ integrations including email, ecommerce, CRM, and marketing platforms.
Does Moosend support SMS marketing?

Yes, Moosend enables sending SMS campaigns alongside email.
Final Thoughts
With its wide feature set, extensive integrations, and brand recognition, Mailchimp is a great choice for established small businesses looking to scale their email marketing. It streamlines workflows with automation and supports complex multi-channel campaigns. The learning curve is a bit steeper but it's a powerful platform if you need advanced capabilities.
You may also be interested in checking out some Mailchimp alternatives to help with the evaluation process.
For solopreneurs, early-stage startups, and bootstrapped small businesses, Moosend provides an affordable but full-featured alternative to explore email marketing. The interface is very user-friendly so beginners can get up to speed quickly. While Moosend lacks some of Mailchimp's sophistication, it covers core needs for delivering beautiful, optimized email campaigns.
Choosing the right email marketing platform is critical for executing effective campaigns matched to your business needs and audience. If you have any other questions as you evaluate Mailchimp and Moosend, please ask them in the comments! We're happy to provide personalized advice to help you make the best decision.