With email marketing being a critical component of any successful online business, choosing the right email marketing platform is an important decision.
Mailchimp and iContact are two of the most popular services, but they have key differences. In this comprehensive Mailchimp vs iContact comparison, we evaluate Mailchimp and iContact across several criteria to help you determine the best platform for your business goals and needs.
We will look at the market position and popularity, ease of use, design customization options, features, and functionality like blogging, ecommerce, SEO, and integrations to help you select the email marketing platform that aligns with your priorities and provides the best value.
1. Understanding the Basics
Mailchimp was founded in 2001 in Atlanta by Ben Chestnut and Mark Armstrong. It has quickly become one of the most widely-used email marketing platforms, with over 14 million users as of 2021. Mailchimp has captured about 50% of the global email marketing market share.
iContact was founded in 2003 by Ryan Allis and Aaron Houghton. While still a popular platform, iContact has a smaller market share compared to Mailchimp. iContact currently has around 130,000 active users.
Mailchimp has cultivated an active user community on Facebook with over 1.2 million followers. This group shares email marketing tips, discusses new Mailchimp features, and helps troubleshoot issues. Many consider it to be the go-to forum for Mailchimp power users.
TheiContact Facebook page has a smaller but engaged base of over 27,000 followers. Users discuss the platform, give feedback, and get assistance from iContact's social media team. It provides a community, especially for new users.
2. Features and Functionality
Automation
Mailchimp offers several automation features to help streamline campaigns. Users can set up automated welcome emails to engage new subscribers. These messages can be personalized with merge tags like the subscriber's first name.
Mailchimp also allows users to create automated email sequences based on subscriber actions. For example, you can trigger a series of emails if someone downloads an ebook from your site.
The platform has robust segmentation options to target groups for automation. You can filter based on demographics, interests, purchase history, and more. Automation can also be scheduled based on subscriber anniversary dates or activity milestones.
Mailchimp enables if/then logic to create customized automation workflows. You can set up sequences like "If a subscriber clicks link A, send email B. If they don't click in 2 days, send email C." This creates tailored messaging based on recipient actions.
Overall, Mailchimp has powerful automation with advanced options for triggers, segmentation, timing, and workflows. The visual drag-and-drop builder makes it easy to set up complex automation without coding.
iContact has automation capabilities like welcome emails and action-triggered sequences. Users can send templates based on subscriber sign-up forms or ecommerce purchases. The platform also allows basic segmentation by list, location, or email domain.
However, iContact has fewer options to customize automation compared to Mailchimp. There is limited ability to set up if/then workflows based on multiple subscriber actions. iContact also lacks robust segmentation based on subscriber behaviors and attributes.
While you can schedule send times, the automation builder is less intuitive than Mailchimp's drag-and-drop visual editor. Those without technical skills may find it challenging to create advanced, multi-step sequences.
Mailchimp is the winner for automation, with significantly more advanced capabilities. The visual workflow builder and robust segmentation options enable highly customized sequences not possible in iContact. Mailchimp's automation features help marketers save time while delivering personalized messaging that nurtures leads and converts sales.
Email Templates
Mailchimp provides hundreds of professionally designed email templates to choose from. Templates are categorized by industry and campaign type, like announcements, newsletters, promotions, etc. Users can customize templates by adding images, changing colors, and adjusting layouts.
The template editor makes it easy to drag and drop design elements. You can also use Mailchimp's pattern library to maintain brand consistency. Emails are mobile-optimized and the builder shows how templates will render on desktops and devices.
Mailchimp has free and paid custom templates. Paid templates were designed by partner agencies and have exclusive features like animated images. Overall, the variety and quality of templates surpass what's available in iContact.
iContact has a template library but with fewer options compared to Mailchimp. There are around 100 free templates organized by category, like newsletters, launches, and events. Paid premium templates are also available.
The template editor allows customization like adding images, changing colors, and adjusting column layouts. However, editing capabilities are not as robust as Mailchimp. There are limited options for more advanced design tweaks.
While templates are mobile-responsive, there is no side-by-side desktop and mobile preview. You have to toggle between views to see how emails render. The template designs also tend to look more outdated than Mailchimp's modern options.
This iContact vs Mailchimp comparison shows that Mailchimp wins for email templates, with a vastly larger design library and more powerful editing tools. The quality and variety of templates surpass what's available in iContact. Mailchimp's designer-made templates also ensure emails look polished and professional across all devices.
Segmentation
Mailchimp provides extensive options to segment your audience for targeted messaging. You can create segments based on subscriber attributes like demographics, interests, and purchase history. Mailchimp also allows behavioral segmentation based on engagement with emails and your website.
For example, you can segment by actions like email opens, clicks, web visits, shopping cart additions, and more. You can combine multiple traits and actions to create highly refined segments for automation and broadcasts.
Mailchimp enables real-time segmentation synced with your audience data. When a contact meets the criteria for a segment, they are immediately added behind the scenes. This ensures messaging always reaches the right users at the optimal time.
Overall, Mailchimp's flexible segmentation rules and real-time syncing allow personalization at scale for campaigns.
iContact has basic segmentation capabilities based on categories like demographics, list memberships, and email interactions. You can also segment by a subscriber's email domain or location to target messaging.
However, iContact lacks robust options for multi-trait segmentation or behavioral targeting based on website actions. The platform does not offer real-time segmentation either. You have to manually upload new data for segments rather than have it automatically sync.
The segmentation functionality is aimed at smaller businesses with basic needs. More advanced users may find it limited compared to sophisticated platforms like Mailchimp.
Mailchimp wins for its powerful segmentation tools that enable personalized marketing automation. The fine-grained control over segments and real-time syncing provides targeting not possible with iContact's more basic options.
Analytics
Mailchimp provides powerful analytics to track and optimize campaigns. Users get real-time reports on opens, clicks, unsubscribes, bounce rates, and more. Data can be charted to visualize trends over time.
The platform offers deeper integration with Google Analytics to track subscriber engagement on your website. You can connect multiple views for more granular data.
Mailchimp provides an overview of your audience demographics and interests as well. The Audience Dashboard gives insights to guide segmentation and personalization.
Advanced features like A/B testing allow you to experiment with subject lines, content, and send times to boost campaign metrics. The robust analytics inform data-driven optimization.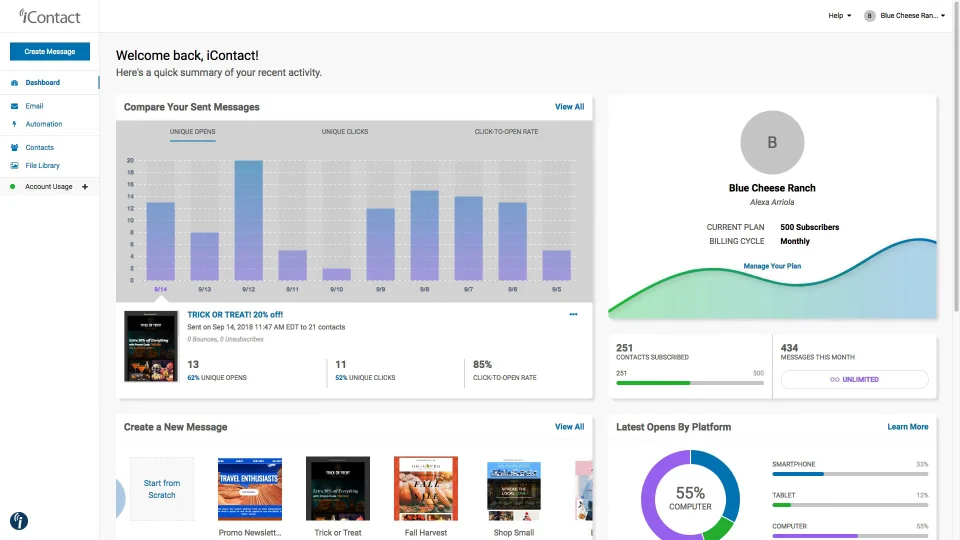 iContact has a basic email campaign reporting on opens, clicks, and unsubscribes. You can view metrics by campaign or across date ranges to see overall performance.
However, iContact lacks real-time dashboard views of analytics. There is no audience profiling or integration with web analytics platforms.
The reporting focuses mainly on email metrics without bigger-picture data to optimize broader engagement. There are also no A/B testing capabilities to experiment with improvements.
Mailchimp wins for its powerful analytics that goes deeper than campaign reports. Robust audience insights, website integration, and testing capabilities provide holistic data to maximize engagement.
Unique Features
Mailchimp has a couple of stand-out unique features worth mentioning. One is Mailchimp Presents, which offers customized landing pages and mini-sites to promote your campaigns. You can choose from pre-made templates or build your own responsive pages.
Mailchimp also recently launched Mailchimp Marketing CRM. This provides integrated CRM capabilities like contact management, deal tracking, and task automation. It syncs audiences and data with your email campaigns for a unified view.
The CRM and landing page features complement the platform's core email marketing tools for full-funnel functionality. These additions help marketers drive leads and sales with email at the center.
iContact doesn't have many unique features that differentiate it from competitors. One stand-out is its Social Share tool that adds social media sharing buttons to your emails for wider distribution.
However, most major email platforms now offer this ability as a standard feature. iContact's core capabilities are comparable to Mailchimp but without innovative additions that go above and beyond.
Mailchimp wins for bringing new features like customizable landing pages and a built-in CRM to elevate its offering. These tools help marketers centralize data and maximize email ROI with deeper customer engagement tools.
3. Ease of Use
Mailchimp has a clean, modern, and user-friendly interface that is intuitive to navigate. The dashboard provides quick access to key tasks like creating campaigns, segmenting contacts, and viewing reports.
For beginners, Mailchimp offers simplified campaign builders to launch email or post to social media. Step-by-step wizards guide you through each phase to create your first campaign.
The platform uses plain language over technical jargon in menus and instructions. Descriptive tooltips explain features for new users. The visual drag-and-drop editors also make building emails and landing pages simple.
While the platform has depth for experienced users, the learning curve is relatively small thanks to the user-friendly design. The UI makes automation, segmentation, and customization accessible.
iContact has a dated user interface that can seem overwhelming initially. While menus are organized logically, the dashboard lacks visual clarity and wayfinding.
The email campaign builder walks new users through creation step-by-step. However, certain areas like automation have a steeper learning curve without enough guidance.
Technical features lack supportive descriptions and documentation. Some platform terminology is confusing if you're unfamiliar with email marketing concepts.
Onboarding education is limited compared to Mailchimp's resources and tutorials. The UI design can make it tougher for novices to grasp iContact's full capabilities.
Mailchimp wins for ease of use with its clean, intuitive interface design. The platform does an excellent job of simplifying complex capabilities to make them approachable to new users. Mailchimp's superior usability enables marketers to create impactful campaigns regardless of skill level.
4. Email Deliverability
Mailchimp prioritizes email deliverability through advanced technology and partnerships. Each user gets dedicated IP addresses with stellar sender reputations, avoiding many spam filters. Mailchimp maintains strong whitelist relationships with major email providers like Gmail, Outlook, and Yahoo.
For subscribers, Mailchimp provides a customizable and brandable opt-in form to capture verified addresses. The double opt-in confirms valid emails to maintain list hygiene. Users also get automation tools to remove inactive contacts after a certain time period, keeping lists clean.
Mailchimp enables in-depth inbox placement testing and reporting. You can view your sending reputation and metrics like spam complaints to improve future deliverability. The Deliverability Dashboard offers transparency into how major ISPs receive your mailings.
With its deliverability expertise and monitoring, Mailchimp gives both new and advanced users the tools to consistently land in subscriber inboxes. The platform combines automation and optimization for email marketing success.
While iContact focuses on deliverability, it lacks some of Mailchimp's more robust capabilities. iContact uses shared IP addresses which can have lower sender reputations, leading to more spam folder placement.
iContact does have subscribers double opt-in to confirm valid emails. However, the platform has fewer ongoing list maintenance options. You cannot automatically remove inactive or bounced contacts over time.
There is also limited visibility into placement testing and inbox metrics. iContact does not provide reputation insights or feedback from ISPs. This makes it harder to proactively optimize future deliverability.
For less experienced users, iContact may provide adequate inbox placement. But high-volume senders would benefit from Mailchimp's more advanced monitoring and tools.
Mailchimp wins for its active approach to optimizing email deliverability through dedicated IPs, whitelisting, and transparency metrics. These features give Mailchimp the advantage of getting into subscriber inboxes consistently.
5. Customer Support and Community
Mailchimp provides exceptional customer support through multiple channels including live chat support, phone, email, and social media support. Users can access support 24/7.
The searchable knowledge base contains thousands of helpful articles, platform guides, and troubleshooting content. Mailchimp also powers an active user community forum with discussions on features, best practices, and getting help.
For new users, Mailchimp offers free 30-minute 1:1 onboarding calls and weekly live workshops to ask questions. The company also hosts local events and meetups for customers to connect in person.
Between the responsive support team, comprehensive self-help content, and engaged user community, Mailchimp customers have several resources to find answers.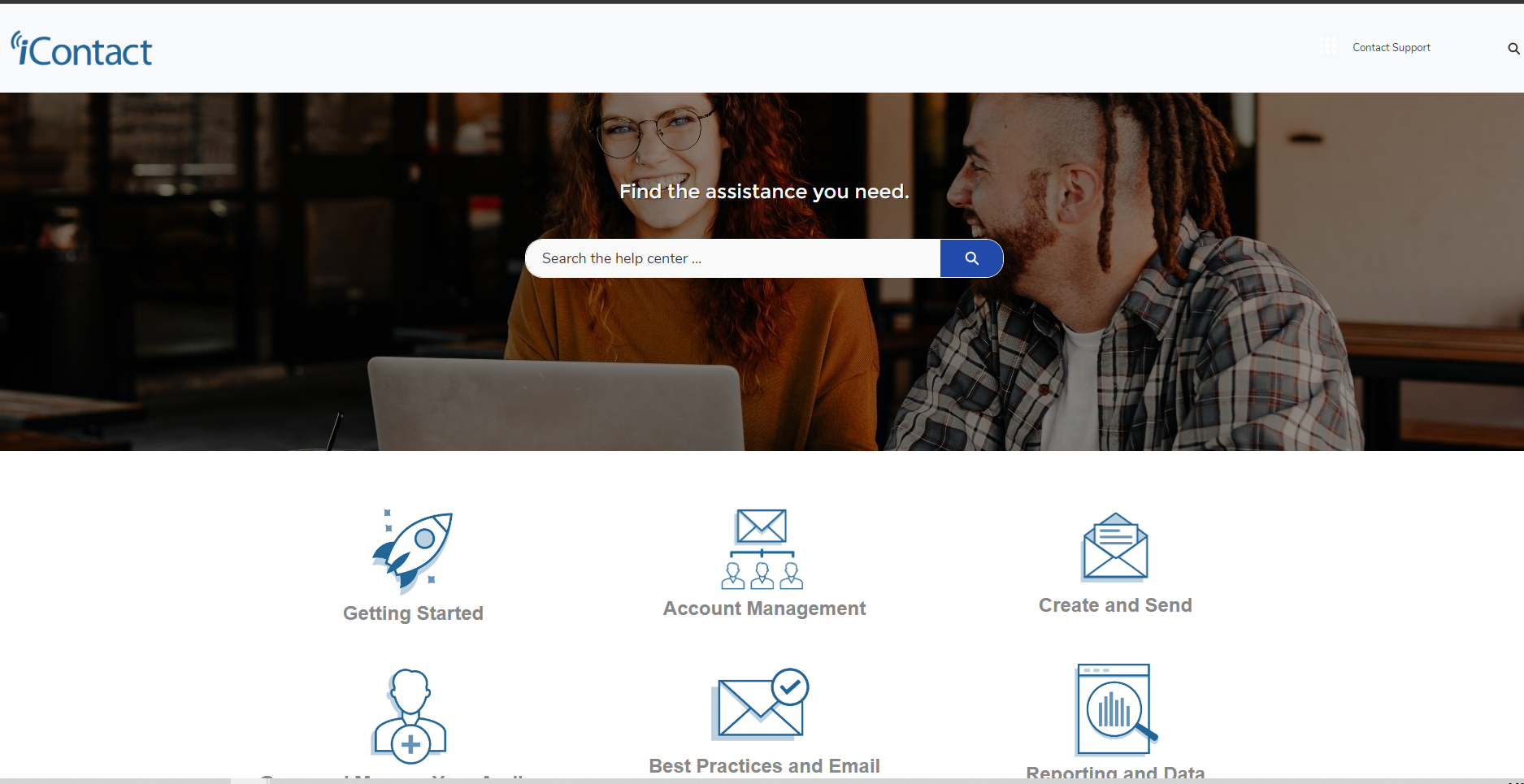 iContact offers customer support via email and phone during extended business hours, such as Monday to Friday 7 am – 8 pm EST. You can easily get in touch with support through your iContact account.
The help center has some documentation, email marketing guides, and platform tutorials. However, the content is not as comprehensive as Mailchimp's knowledge base.
While there are user-run iContact groups on Facebook, there is no official community forum from the company. The lack of a moderated community limits peer troubleshooting.
The support options from iContact cover the basics but lack Mailchimp's unwavering commitment to customer education and community engagement.
Mailchimp stands out for 24/7 customer support availability in multiple formats, including chat. The company also fosters an unparalleled user community with over 1 million members that serves as a valuable self-help resource.
6. Integrations
Mailchimp provides over 200 out-of-the-box integrations with marketing, sales, ecommerce, and website platforms. This allows users to connect Mailchimp workflows with other critical business technologies to complement the platform's basic features.
For ecommerce, Mailchimp offers deep integrations with all major shopping carts like Shopify, WooCommerce, BigCommerce, and Square. Real-time data syncing sends subscriber and order activity to Mailchimp to trigger automated campaigns.
CRM integrations with Salesforce, Microsoft Dynamics, Zoho, and other systems sync contacts, deals, and tasks between apps. This consolidates audience data in one place. Mailchimp also connects to email collaboration tools, survey software, lead generation, social media schedulers, and more.
With pre-built integrations across martech categories, users can assemble connected ecosystems tailored to their stacks. Advanced workflows automate between apps and data flows seamlessly.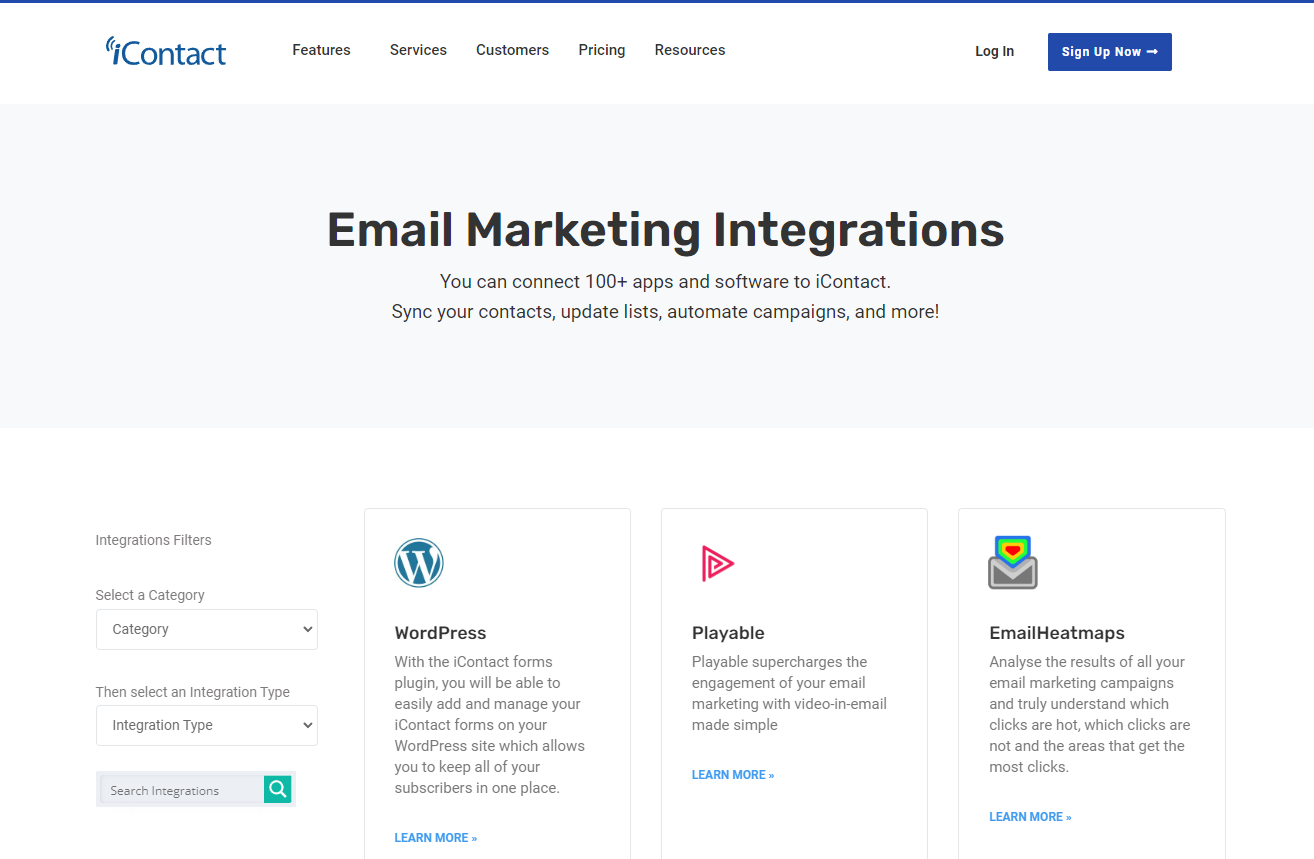 iContact has native integrations with some email and marketing-focused platforms including Salesforce, Microsoft Dynamics, and HubSpot.
For ecommerce, iContact connects with a limited number of platforms like Shopify and WooCommerce. However, the integrations lack robust real-time syncing capabilities available in Mailchimp.
Those using other major software outside of iContact's native partners would need to use Zapier to manually connect APIs. Building integrations requires more technical expertise versus Mailchimp's plug-and-play setup.
Mailchimp wins decisively, offering 200+ seamless integrations out of the box. Mailchimp's deep support for all major apps in each software category provides unmatched connectivity.
7. Pricing
Mailchimp offers a permanently free plan for up to 1,000 contacts and 12,000 emails per month. Paid plans start at $13/month for up to 500 contacts. Unlimited plans cost $350/month.
Higher volume pricing is available but requires contacting sales. Features are tiered across plans with more advanced options in the upper pricing.
The free version makes Mailchimp accessible to test for users on a tight budget. Paid plans are reasonably priced for smaller lists and include all the key features to run successful campaigns and make more deals. Large or complex needs require custom enterprise quotes.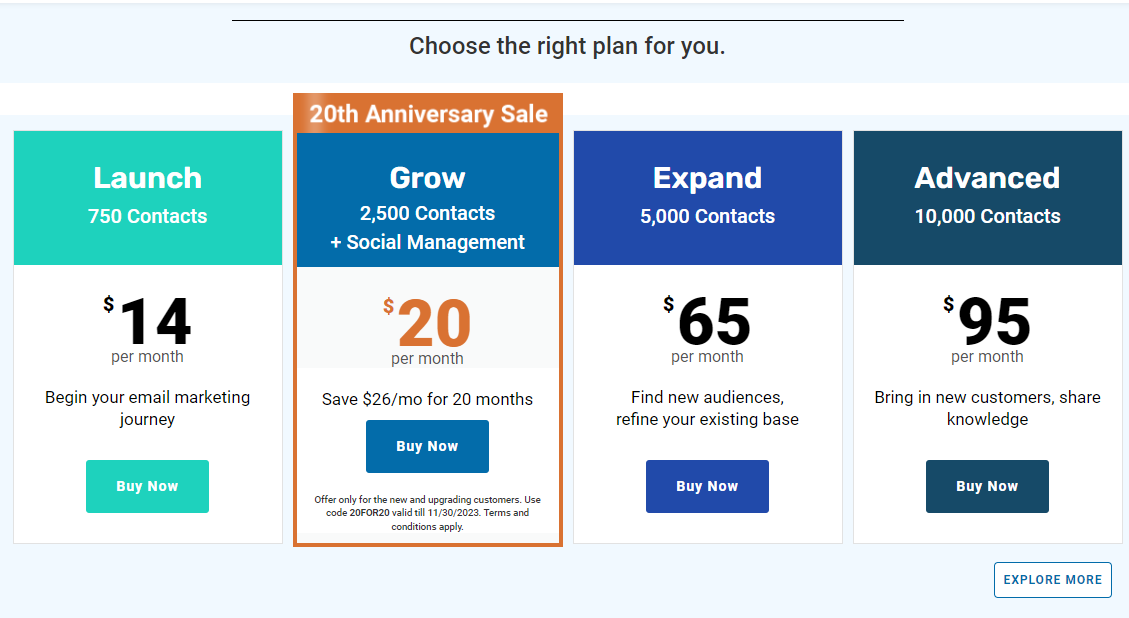 iContact plans start from $14/month for up to 500 subscribers, $20/month for 2,500 subscribers, and $65/month for 5,000 subscribers.
There are volume discounts for annual pre-pay, but per-month costs remain the same. iContact requires paying upfront annually to access lower pricing to send important emails.
Add-ons like extra design services, dedicated IP addresses, and marketing automation incur additional fees on the pro plans. However, core features have a flat price regardless of usage.
Winner: Tie
It's a tie for pricing. Mailchimp offers a forever free plan with comparable lower tier rates to iContact. iContact lets you pay monthly without mandatory annual contracts. However, advanced Mailchimp plans can become costly.
8. Reviews and Reputation
Mailchimp earns strong reviews from users. On Capterra, Mailchimp has a 4.5/5 rating based on 16,000+ reviews. Users praise the platform for its ease of use, templates, and automation features. Some downsides noted include the pricing at higher tiers and occasional deliverability issues.
On G2, Mailchimp rates 4.4/5 from almost 15,000 reviews. Users highlight the intuitive interface, excellent reporting, and quality customer support. Some would like to see better analytics and more consistent deliverability.
Overall, Mailchimp reviews indicate high satisfaction with the platform's usability and core email marketing capabilities. It's ideal for companies that want to scale their email marketing service.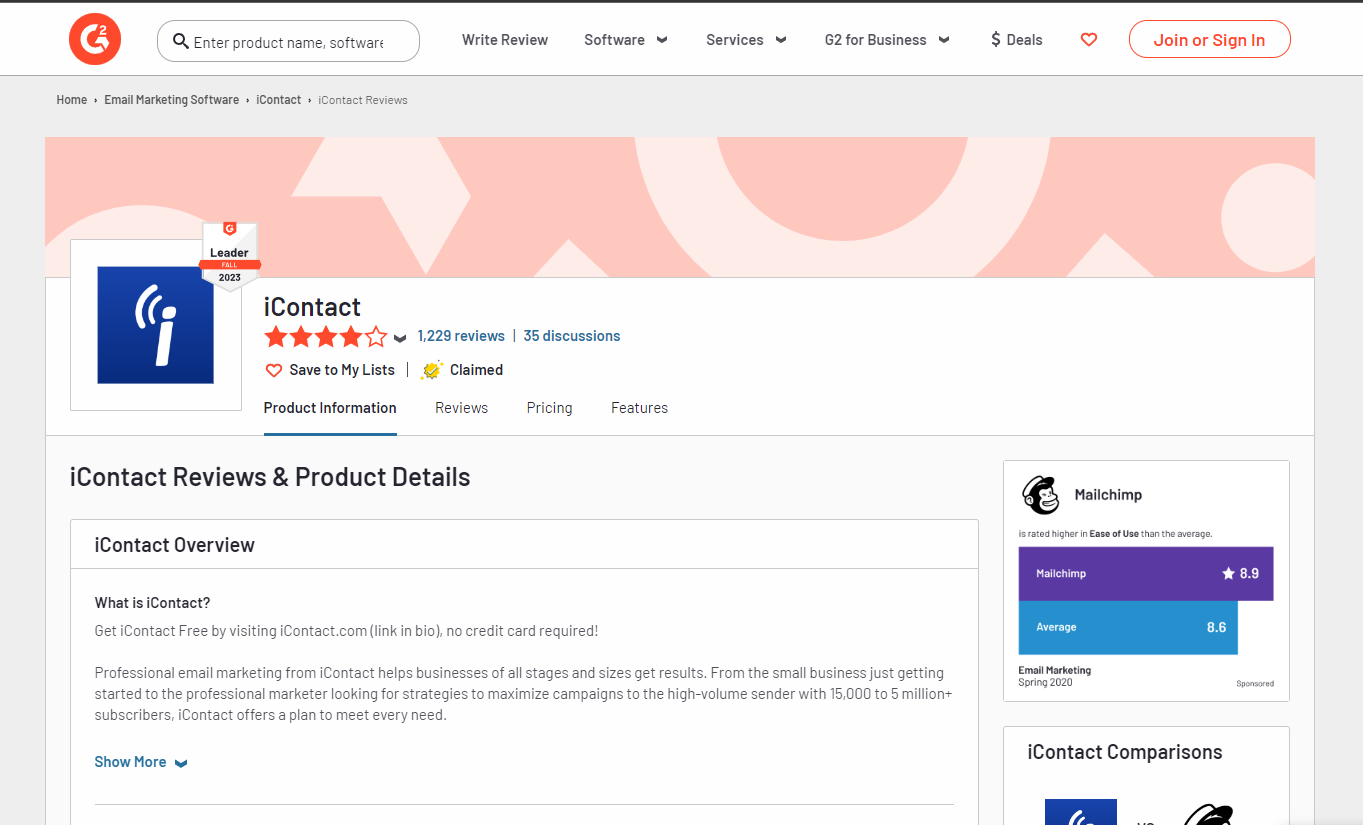 iContact reviews on Capterra average 4.5/5 from 500+ users. Positive feedback cites the platform's affordability for small lists and ease of use for beginners. Users note some drawbacks like the outdated user interface and lack of advanced features.
On G2, iContact scores 4.1/5 from over 1,200 reviews. Users mention the straightforward dashboard and decent deliverability at lower volumes. Some iContact cons indicate that users would like more template options and deeper analytics and reporting to better track results and get relevant screenshots from their browser.
Much of the feedback indicates that iContact works well for small and medium businesses with entry-level email marketing needs but lacks capabilities for more experienced users.
Based on over 20,000 combined reviews, Mailchimp lets you do much more and send emails for a lot less and emerges as the winner for its high marks on user experience and functionality. While affordable, iContact reviewers saw it as limited for growing beyond basic email marketing needs.
9. Mailchimp vs iContact: FAQ's
What is the free plan?

Mailchimp's forever free plan includes up to 2,000 subscribers and 12,000 emails per month. It's perfect for freelancers and large enterprises alike.
Is there a way to try before buying?

Yes, Mailchimp offers a free 30-day trial of paid plans to test features.
How do I import my email list?

You can import a CSV of contacts or connect your email service provider like Gmail.
Can I switch templates easily?

Yes, you can browse and customize any of Mailchimp's 700+ templates.
Is there a mobile app?

Yes, the Mailchimp mobile app lets you manage campaigns on the go.
What features are in the free trial?

The 30-day free trial includes access to all iContact features without subscriber limits.
What integrations does iContact offer?

Native integrations are offered for CRMs like Salesforce and email services like Gmail.
Can I reuse content across emails?

Yes, you can save modules of content to reuse across campaigns with the library.
Is there A/B testing?

No, iContact does not currently offer A/B testing capabilities.
How do I contact support?

Support is available via email and phone during extended business hours.
Final Thoughts
With its extensive features, integrations, and scalability, Mailchimp is ideal for growing businesses that want a platform to evolve with them. The intuitive interface makes complex functionality approachable for new and advanced users alike.
Mailchimp is a great choice if you need omnichannel marketing, automated workflows, deep analytics, and robust integrations. The free forever plan also makes Mailchimp accessible if you're just starting out but plan to grow.
You may also be interested in checking out some Mailchimp alternatives to help with the evaluation process.
iContact is best suited for small businesses with basic email marketing needs. The interface is easy to use if you want simple newsletter and announcement capabilities without advanced automation. iContact is affordable to get started if you have a small list and don't need robust segmentation or analytics. It's a decent entry-level solution that covers the email fundamentals.