Choosing the right platform is critical for effectively engaging customers, driving sales, and growing your business. Klaviyo and Mailchimp are two of the most popular email marketing platforms used by small businesses and startups today.
In this comprehensive Klaviyo vs Mailchimp comparison, we evaluate Klaviyo and Mailchimp across key criteria, including ease of use, customization, website performance, analytics, customer support, pricing, and reputation.
We'll take an in-depth look at how these two platforms stack up across metrics that matter most to small business success to help you determine which solution may be better suited for your needs.
1. Understanding the Basics
Klaviyo was founded in 2012 by Andrew Bialecki and Ed Hallen. It is a younger company compared to Mailchimp but has quickly become a top choice for e-commerce brands. Klaviyo focuses specifically on providing email and SMS marketing tools optimized for online stores.
Mailchimp launched in 2001 and was founded by Ben Chestnut and Mark Armstrong. It has over 14 million users worldwide, making it one of the most popular email service providers globally. Mailchimp offers email marketing, automation, landing pages, and basic e-commerce features.
Both platforms have active Facebook communities where users share tips and feedback. See the Klaviyo Users Group and Official Mailchimp Community. With over a decade more experience, Mailchimp has greater brand recognition. However, Klaviyo's singular focus on e-commerce has fueled rapid growth despite its younger age.
2. Features and Functionality
Whether you need strong blogging capabilities, e-commerce features, or advanced automation, the information below will provide you with the details you require to match a platform with your business goals and audience.
Automation
Klaviyo offers powerful automation tools optimized for e-commerce brands. You can create complex multi-step flows based on customer behaviors like email opens, clicks, purchases, and more.
For example, you can send an automated series of emails to re-engage cart abandoners or create flows personalized for top customers. Klaviyo's automation workflows support dynamic segments, allowing you to target groups with timely, personalized messages.
With Klaviyo's visual drag-and-drop builder, you don't need coding knowledge to build complex automation. You can easily set up welcome emails, abandoned cart flows, win-back series, and product recommendation messages based on purchase history or browsing behavior.
Advanced features like SMS automation, rating requests, and scheduling based on events like back-in-stock make Klaviyo a robust option for e-commerce automation. You also get A/B testing capabilities built directly into workflows so you can optimize your sequences over time.
Mailchimp offers automation tools like basic welcome sequences, abandoned cart tools, and re-engagement campaigns. You can build rule-based automation based on subscriber actions.
However, Mailchimp's automation capabilities cater more to basic email newsletters rather than advanced e-commerce personalization. Workflows don't allow for the same level of complexity or segmentation as Klaviyo.
Mailchimp's automation builder interface is easy to use for simpler email series. However, the inability to branch based on actions limits more sophisticated conditional logic. It also lacks more advanced e-commerce features like SMS workflows, rating requests, or dynamic content personalization.
While A/B testing is available, it requires setting up separate campaigns rather than inline optimization as with Klaviyo. Overall, Mailchimp's automation feels geared toward simple newsletters rather than detailed customer journeys.
Klaviyo is the clear winner for e-commerce automation capabilities. Its robust features, granular segmentation, and powerful visual builder make it easy to execute personalized, omni-channel campaigns tailored to customer lifecycle. Klaviyo's e-commerce-centric automation simply outshines Mailchimp's more basic offering.
Email Templates

Klaviyo offers a wide variety of professionally designed email templates optimized for mobile and tailored to e-commerce. You get access to hundreds of free templates spanning categories like abandoned cart, browse abandonment, post-purchase, SMS, and more.
The template editor makes it easy to customize templates without coding. You can easily swap images, edit text, add/remove sections, and modify template structure. Dynamic content tags let you automatically pull in customer data to personalize emails.
Klaviyo also allows saving templates as Master Templates. This makes it easy to update multiple emails simultaneously when you want to refresh a template. Overall, Klaviyo provides beautiful, customizable email templates perfect for e-commerce.
Mailchimp offers hundreds of free and paid email templates ranging from simple newsletters to complex multi-column templates. Filters allow browsing by category, layout, industry, and campaign goal.
The template editor provides flexibility for easy customization without touching code. You can resize/reorder sections, and upload images, fonts, and background assets. Basic merge tags enable personalization with customer data.
However, some aspects of Mailchimp's templates feel dated compared to Klaviyo's modern, mobile-optimized options. While customization is easy, the templates themselves provide less stylistic variety tailored to e-commerce brands.
Mailchimp lacks master template capabilities, so updating multiple emails requires manual editing. However, basic email templates are still highly customizable for Mailchimp users.
Winner: Tie
For most use cases, Klaviyo and Mailchimp offer comparable email template options with neither platform having a decisive advantage. Both provide hundreds of professionally designed templates that are easily customizable without coding knowledge. While Klaviyo provides more e-commerce-focused variety, Mailchimp templates still allow for flexibility. For basic email template needs, Mailchimp and Klaviyo deliver equally robust solutions.
Segmentation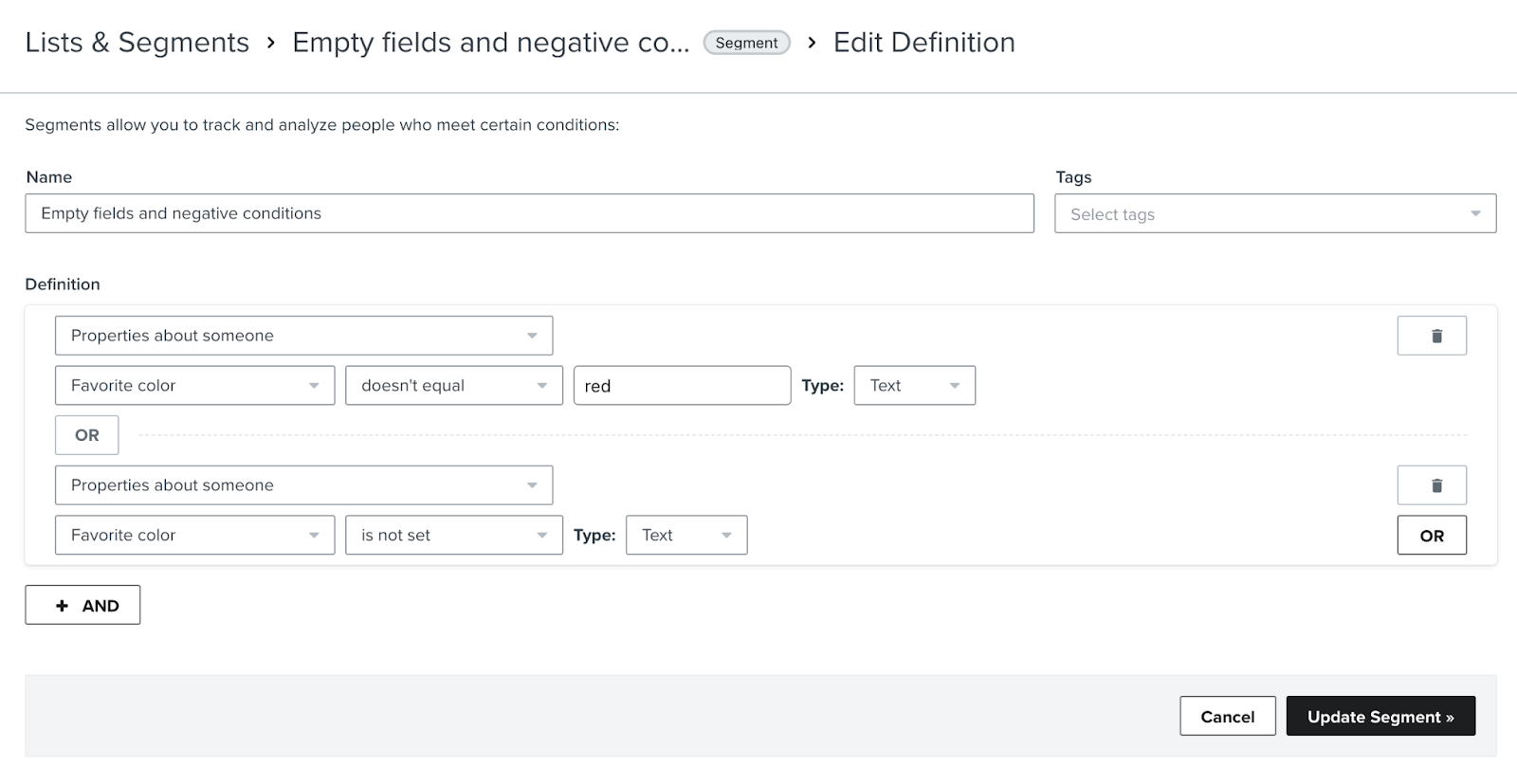 Klaviyo enables advanced customer segmentation with tools tailored to e-commerce sites. You can create dynamic segments based on detailed customer profiles, and behaviors like email/SMS opens/clicks, purchase history, products/categories viewed, cart events, lifetime value, and more.
Klaviyo makes it easy to build segments with dropdown menus rather than complex Boolean logic. Dynamic segments automatically update as customers meet or no longer meet criteria. You also get real-time stats showing segment size and key metrics.
Granular data from Klaviyo tracking lets you drill down segments with precision. You can target customers who viewed specific products recently but haven't purchased or high lifetime value customers showing signs of churn.
Mailchimp allows segmenting audiences based on basic profile info, purchase data, and engagement metrics like email opens and clicks. You can target new subscribers, dormant subscribers, loyalty tiers, and more.
Segments use Boolean logic, which requires proficiency to build complex filters accurately. They don't automatically update as subscribers meet criteria over time. Viewing key metrics and segment size requires exporting or analyzing reports.
Overall, Mailchimp's segmentation feels less granular compared to Klaviyo. You can't create hyper-targeted segments based on detailed browsing history or predictive customer lifecycle stages. The manual Boolean logic also makes complex segmentation time-intensive.
Klaviyo is the clear winner for segmentation and personalization capabilities. The visual, e-commerce-optimized tools allow for extremely detailed segments not possible in Mailchimp. Automated dynamic groups, real-time stats, and the ability to target based on granular behavioral data give Klaviyo the edge for segmentation.
Analytics
Klaviyo provides powerful analytics reports to track email and SMS marketing performance. Dashboards display key metrics like open rates, clickthrough rates, bounce rates, unsubscribes, revenue-driven, and more.
You can filter reports by date ranges, campaigns, customer segments, and other parameters for customized analysis. Klaviyo also offers an Analytics API to access data for external reporting.
Advanced analytics capabilities like predictive modeling provide insight into customer lifetime value and churn risk. Klaviyo's metrics integrate directly with your e-commerce platform for accurate attribution.
The platform makes it easy to analyze performance by campaign, track ROI, identify high-value customer segments, and optimize your approach over time.
Mailchimp provides basic email analytics like opens, clicks, unsubscribes, and device/location reporting. You can filter reports by timeframe, campaign, and other factors for comparison.
However, actionable e-commerce insights are lacking. There is no analytics related to customer lifetime value, predictive modeling, or granular segment analysis. Attribution relies on last-click rather than CRM data.
Mailchimp recently added Google Analytics integration for website traffic analytics. But its native email analytics focus more on top-level campaign performance rather than powerful business intelligence.
Klaviyo wins for its robust analytics focused on actionable e-commerce insights. Granular segmentation, predictive models, and CRM-powered attribution provide a true birds-eye view of marketing effectiveness for ecommerce businesses. Mailchimp analytics offer a high-level glimpse but lack the depth of business intelligence possible with Klaviyo.
Unique Features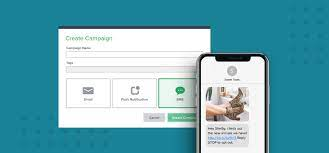 Klaviyo offers several unique features that set it apart:
SMS Marketing – Send automated SMS flows or one-off messages to customers. Integrates with email campaigns.
Referral Marketing – Create advocate programs to incentivize referrals and word-of-mouth promotion.
Ratings & Reviews – Request product feedback and reviews from customers post-purchase.
Event Tracking – Track onsite behaviors like clicking buttons to trigger flows.
Speed & Performance – Klaviyo proprietary methods result in fast load times and excellent deliverability.
These specialized tools for SMS, referrals, reviews, and more provide complete alignment between email marketing and broader business goals.
A few unique Mailchimp features include:
Automation Studio – Build complex, multi-branch automation workflows with a visual map.
Social Post Scheduling – Schedule and publish posts to Facebook, Instagram, and Twitter.
Free Plan – Mailchimp offers a forever free plan for up to 2,000 contacts.
Events App – Promote online or in-person events, and track registrations/tickets.
Goal Tracking – Connect campaigns to Google Analytics goals.
Mailchimp's extended capabilities for social, events, and CRM integrations cater well to general marketing activities beyond basic email. The platform also has unique features like predictive analytics, making it the perfect email marketing software for advanced users looking to scale their email marketing strategy.
Klaviyo wins for unique features that more directly support core e-commerce goals. Capabilities like SMS marketing, product reviews, referral programs, and event tracking align campaigns to metrics that impact ROI. Mailchimp offers nice extras, but Klaviyo's unique toolset drives business growth.
3. Ease of Use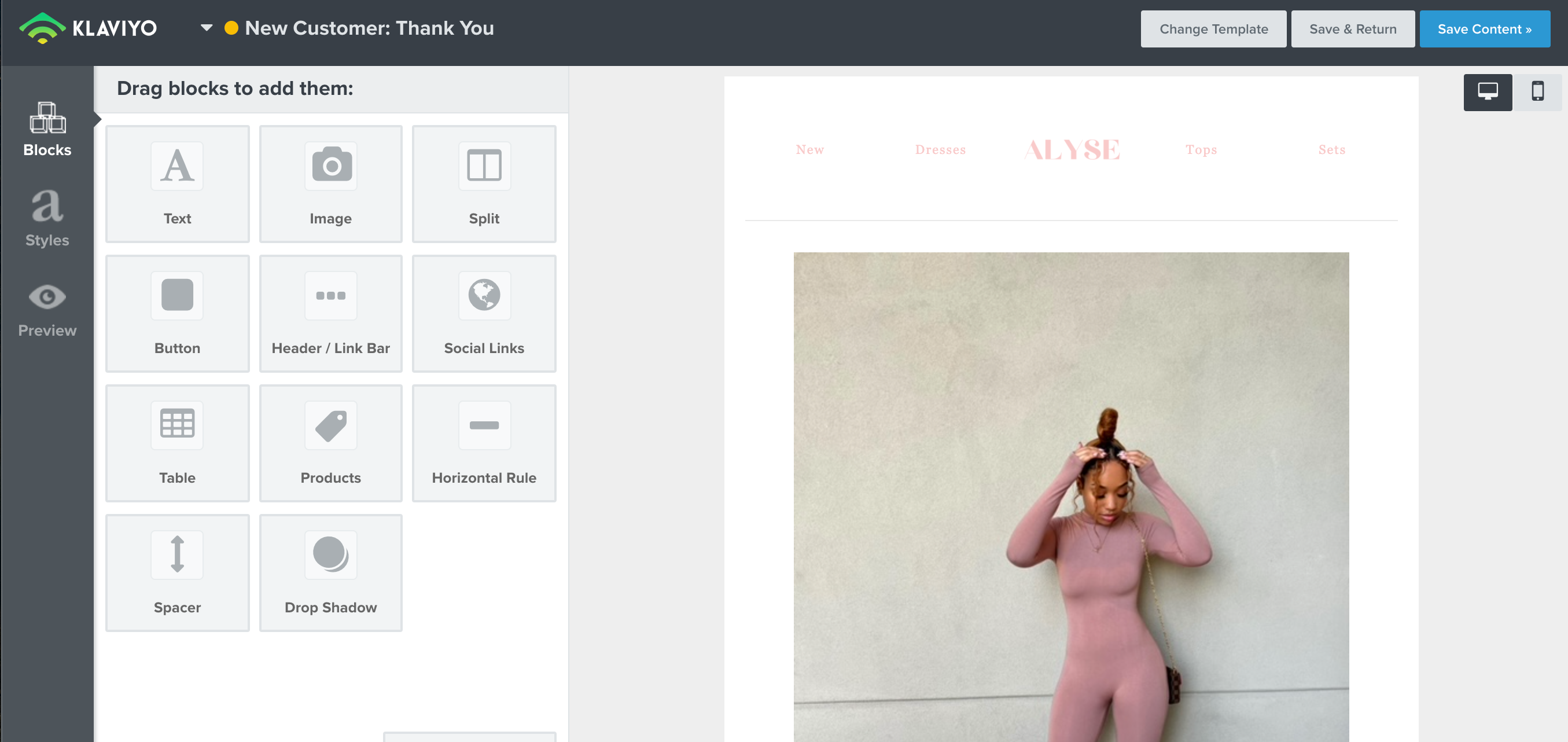 Klaviyo provides an intuitive user interface tailored to e-commerce workflows. The visual builder for automation and templates makes complex functionality accessible without technical skills.
Dashboard metrics provide an actionable snapshot of key data to inform strategy. Detailed tooltips and documentation explain features clearly for newcomers.
The platform is designed around e-commerce from the ground up rather than retrofitted. This results in a streamlined UX that mirrors online store needs like abandoned carts and re-engagement.
While Klaviyo has extensive capabilities, its purpose-built e-commerce focus makes onboarding more straightforward than generalized platforms. Workflows match natural store workflows.
Mailchimp offers a clean, easy-to-navigate user interface. The template and campaign builders enable the creation of emails without coding knowledge.
The platform uses intuitive visual workflows for building automation. Metrics and reports help monitor email performance at a high level.
However, the broad functionality beyond just email and e-commerce can result in a more crowded experience. Those solely needing email and automation may find the extra social, website and CRM tools distracting.
The generalized focus also means more complex e-commerce personalization requires workarounds rather than out-of-the-box configurations. The UX is not optimized around e-commerce workflows.
Klaviyo wins for ease of use, providing a streamlined experience laser-focused on SMS and email marketing automation for e-commerce. The purpose-built simplicity for online stores beats Mailchimp's more cluttered and generalized approach. Klaviyo removes e-commerce complexity rather than adding to it.
4. Email Deliverability
Klaviyo prioritizes deliverability through proprietary methods like intelligent sending algorithms, dynamic IP pooling, and automatic list cleaning. This results in industry-leading inbox placement rates.
Klaviyo email security features like mandatory double opt-in and granular permission settings minimize spam complaints. Real-time alerts notify you of any deliverability issues, while automatic re-sending ensures subscribers receive your emails.
SMS deliverability is also optimized with shortcodes and two-way messaging capabilities. Overall, Klaviyo delivers maximum email and SMS reliability.
Mailchimp takes measures to ensure strong email deliverability like regularly cleansing inactive subscribers and allowing granular permission settings.
However, Mailchimp relies on third-party services for sending and deliverability rather than proprietary infrastructure. Open and click rate benchmarks are also slightly below Klaviyo industry averages.
Mailchimp does display alerts if your account faces potential sending issues or reputation damage. However, proactive optimization is not as strong as Klaviyo's email and SMS-first approach.
Klaviyo wins for its best-in-class email and SMS deliverability rates across all major ISPs. Proprietary technology optimized for e-commerce marketers gives Klaviyo a competitive edge. Mailchimp offers reliable delivery too, but Klaviyo goes the extra mile to guarantee your messages reach the inbox.
5. Customer Support and Community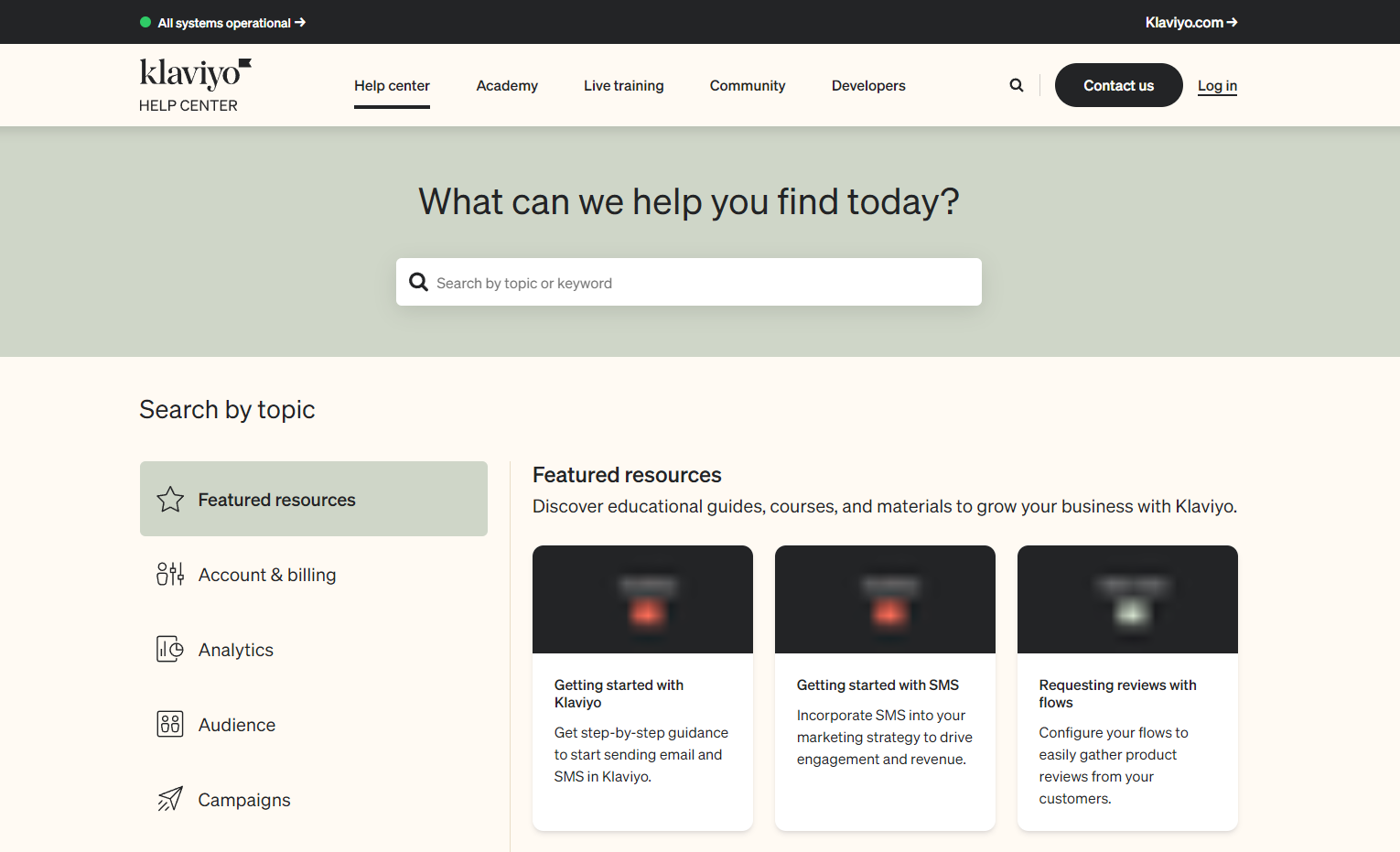 Klaviyo provides 24/7 live chat and email support. As a premium tool focused on enterprise e-commerce brands, Klaviyo offers very hands-on support.
You get assigned an onboarding specialist to help you fully optimize the platform for your needs. Ongoing account management provides strategic advice tailored to your goals.
Klaviyo also offers a private Facebook community group for users to network and share best practices.
With pricing aimed at established brands, Klaviyo emphasizes high-touch support and expert guidance you'd expect from an enterprise SaaS provider.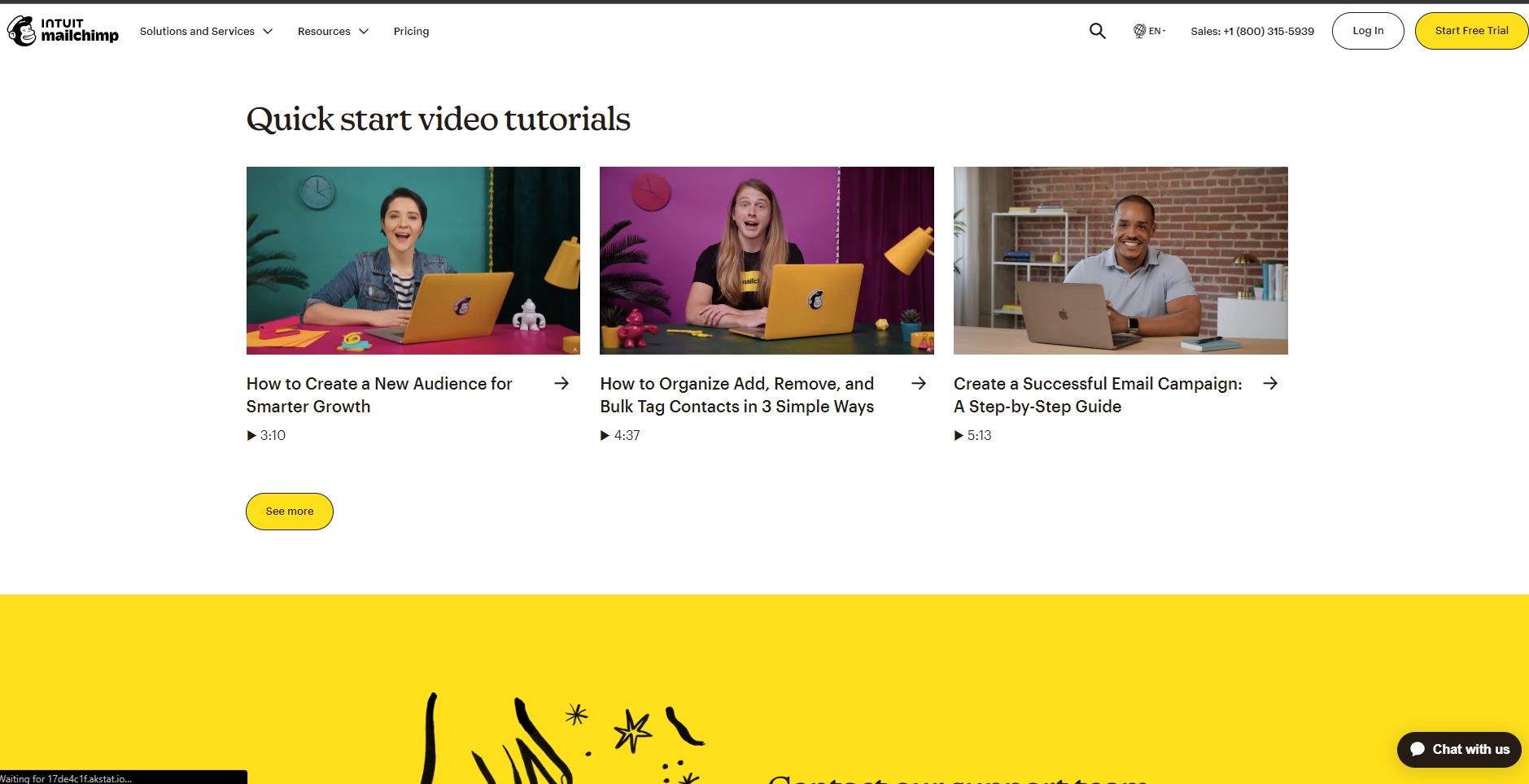 Mailchimp provides email-based customer support as well as an extensive knowledge base and community forums. Support is available 24/7.
However, hands-on guidance is limited unless you upgrade to premium-tier pricing. The breadth of Mailchimp's audience means support lacks personalization.
Mailchimp does have an active official Facebook community group with over 150K members. The broader user base creates a robust forum for troubleshooting and peer insights.
Winner: Tie
Klaviyo and Mailchimp take different approaches to support but both meet baseline expectations. Klaviyo offers more personalized, high-touch support suitable for large brands. Mailchimp provides solid self-serve resources that appeal to its broad customer demographics. For most small business users, either option will suffice.
6. Integrations
Klaviyo offers deep integrations with all major e-commerce platforms like Shopify, Magento, and WooCommerce. Real-time order data enables advanced automation and personalization.
Other platform connections include analytics (Google Analytics), product reviews (Stamped.io, Yotpo), SMS (Twilio), chat (Drift), wealth management (Acuity), and 200+ more.
Zapier integration also allows connecting with thousands of apps. Robust APIs enable building custom solutions.
For e-commerce, Klaviyo seamlessly ties into your core systems for complete data visibility and campaign optimization based on real customer insights.
Mailchimp provides integrations for common e-commerce platforms like Shopify and WooCommerce. CRM integrations with Salesforce, HubSpot, and Zoho provide campaign automation based on contact database activity.
Other integrations support social scheduling, website forms, surveys, and 100+ applications via Zapier.
However, some integrations feel less robust compared to Klaviyo. E-commerce platforms are not as turnkey for real-time data. APIs have limitations for complex use cases.
The broader toolset allows tying into the general martech stack, but Klaviyo offers deeper alignment to core commerce systems.
Klaviyo wins due to its deep, seamless, real-time integrations with major e-commerce platforms. Complete order data visibility optimizes campaigns and automation using actual customer insights. Klaviyo also takes the lead for direct, purpose-built integrations rather than through third-party middleware.
7. Pricing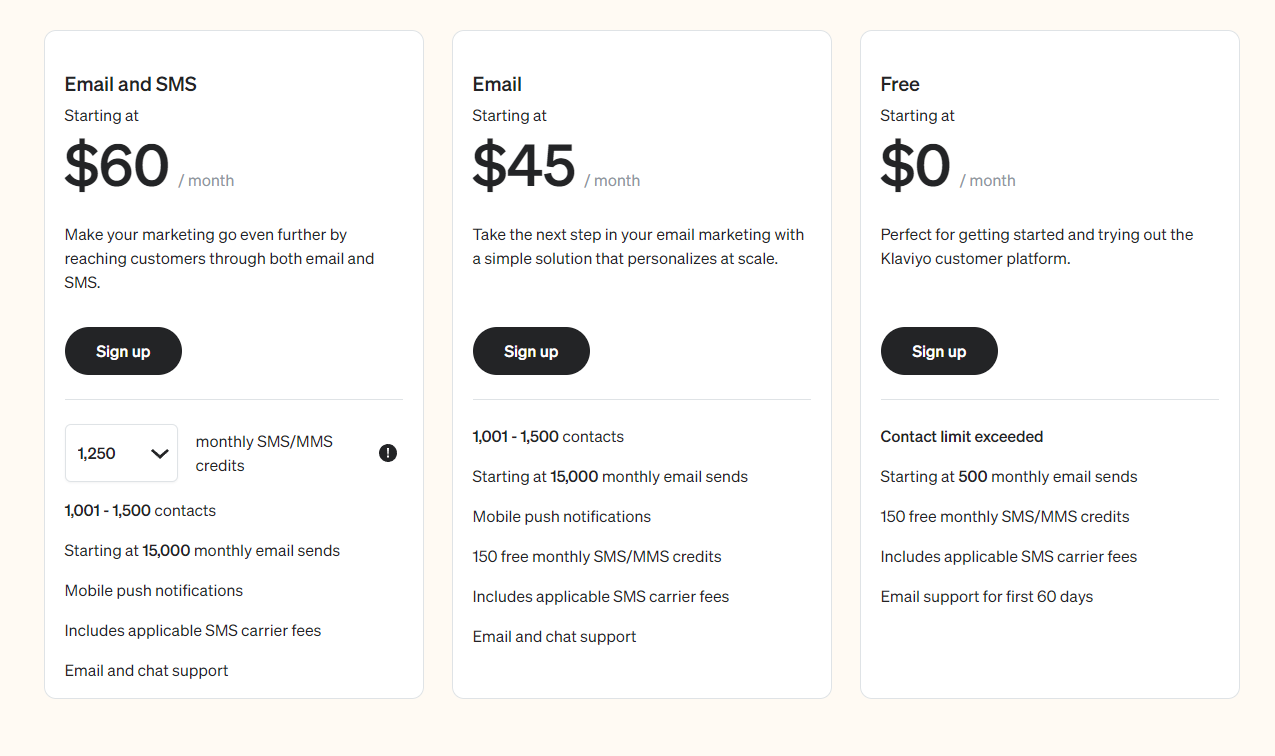 Klaviyo pricing is based on your monthly email volume, starting with the free plan which lets you send up to 500 monthly emails. The Email plan costs $45/month for up to 1,500 contacts and mobile push notifications. For $60/month, you get up to 15K monthly sends.
This transparent, usage-based model means you only pay for the required capacity. Add-ons like SMS credits cost extra.
Klaviyo is positioned as an enterprise-level tool focused on established mid-market and high-volume brands. The pricing reflects robust features and high-touch support.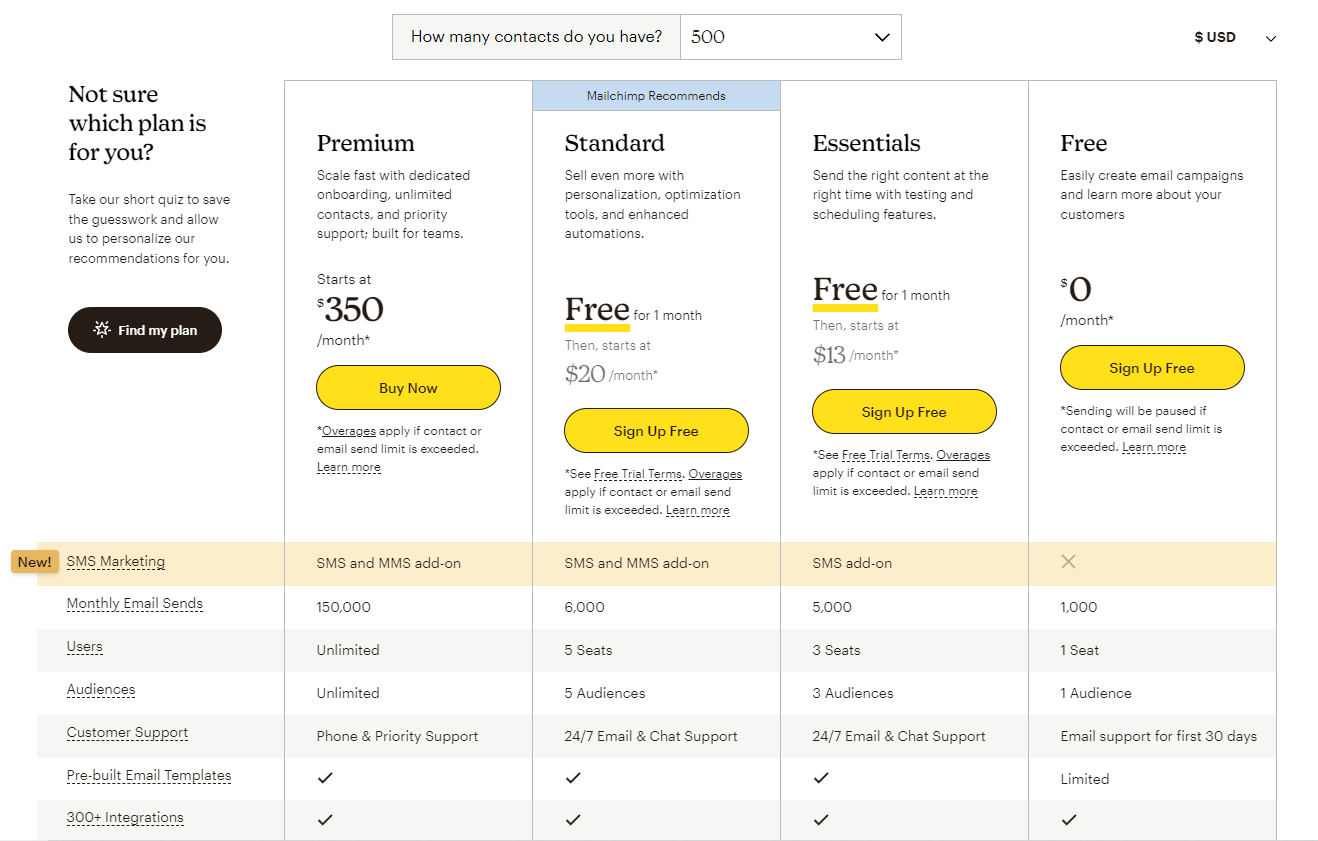 Mailchimp has 3 paid tiers: Essentials at $13/month, Standard at $20/month, and Premium at $350/month billed annually.
Lower tiers are suitable for small businesses. Advanced and Premium add powerful enterprise features like journey builder, workflow automation, and advanced analytics.
The free plan lets you send 1,000 emails per month with basic automation. Overall, Mailchimp offers cost-effective plans.
Winner: Tie
Mailchimp provides free options attractive to small businesses, while Klaviyo offers transparency and enterprise-level service. But paid plans end up comparable for mid-tier use cases with neither platform proving clearly cheaper long-term. For the robust feature sets, both carry pricing in line with competitors.
8. Reviews and Reputation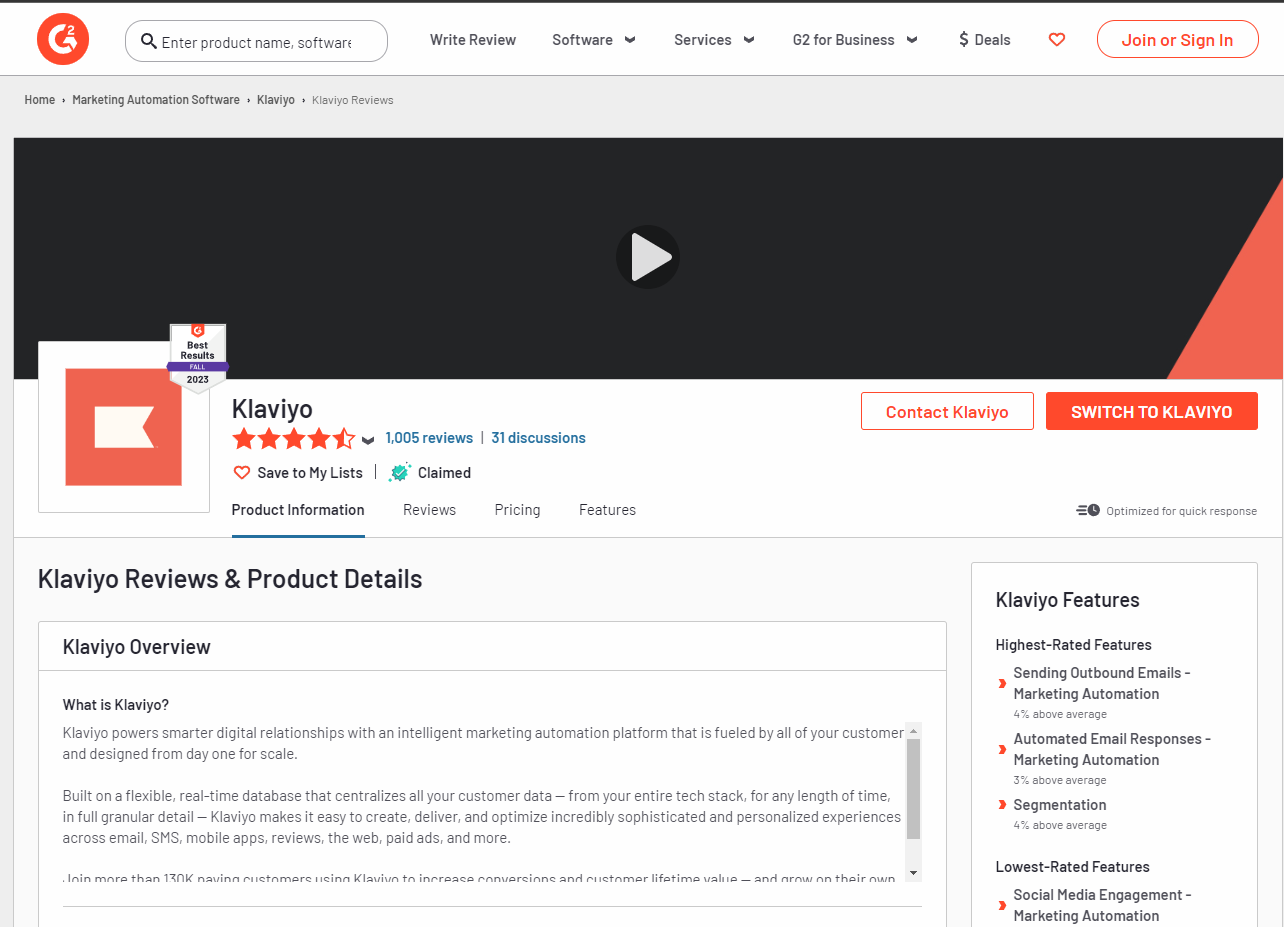 Klaviyo earns strong reviews for its powerful email and SMS marketing tools optimized for e-commerce. Users praise the platform's automation capabilities, segmentation options, and intuitive interface.
Positive feedback focuses on Klaviyo's ability to drive sales through abandoned cart flows and other targeted campaigns based on website behaviors. Reviews also highlight excellent customer support and deliverability.
The main complaints involve occasional slow loading times and the need for developer resources to fully leverage advanced features. But most consider Klaviyo's robust capabilities worth the investment.
See Klaviyo's reviews on G2, Capterra, and TrustRadius.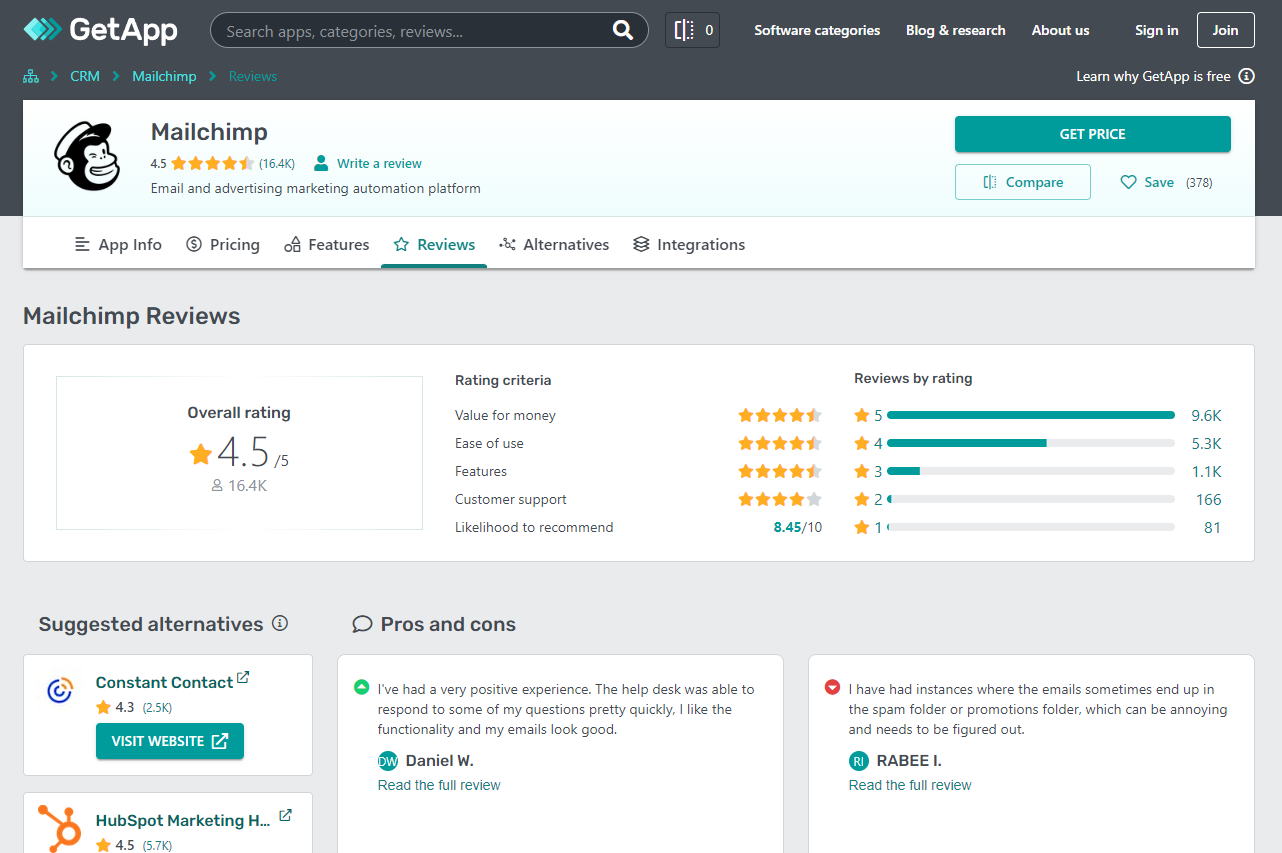 Reviews for Mailchimp are generally positive, with users pointing to its ease of use, template variety, and automation features as major benefits.
Praise focuses on Mailchimp's intuitive drag-and-drop builders and pre-designed templates that make email creation accessible. Users also appreciate the platform's affordability and integration capabilities.
Criticism revolves around occasional deliverability issues, clunky automation, gaps in advanced analytics, and limitations like no SMS or poor e-commerce personalization. But most agree Mailchimp works well for basic email marketing needs.
See Mailchimp reviews on G2, Capterra, and GetApp.
Based on in-depth reviews, Klaviyo emerges as the winner for overall user satisfaction and the capability to deliver robust email/SMS marketing for demanding e-commerce use cases. Mailchimp garners widespread praise too but is better suited for simpler email newsletter needs rather than advanced customer journeys.
9. FAQ's
What types of email campaigns can I create with Klaviyo?

You can create all core email campaigns like welcome series, weekly newsletters, promotional emails, abandoned cart flows, and more. Klaviyo specializes in triggered campaigns based on user behaviors.
Does Klaviyo have email and page templates?

Yes, Klaviyo offers a wide variety of professionally designed, mobile-optimized email and landing page templates that you can customize.
How does Klaviyo integrate with my e-commerce platform?

Klaviyo offers deep integrations with platforms like Shopify, Magento, and WooCommerce to track all user and order activity in real time.
What kind of support does Klaviyo offer?

Klaviyo provides 24/7 live chat support as well as email and phone support. You also get dedicated account management.
What is Klaviyo's deliverability rate?

Klaviyo deliverability rates are over 99% across major ISPs like Gmail, Outlook, and Yahoo. The platform is optimized for inbox placement.
What email functionality does Mailchimp offer?

Mailchimp enables the creation of signup forms, newsletters, promotional blasts, automated campaigns, and more. Key features include templates, basic automation, and reports.
Does Mailchimp have mobile optimization?

Yes, Mailchimp templates are all mobile-responsive, ensuring your emails look great on any device. The platform makes mobile easy.
How much does Mailchimp cost?

Mailchimp offers a free plan for up to 1,000 monthly sends. Paid plans start at $13/month and scale based on the number of contacts, features needed, and email volume.
Is it easy to use Mailchimp?

Yes, Mailchimp is known for its easy drag-and-drop editor and automation builder. You don't need any design or coding skills.
How reliable is Mailchimp for deliverability?

Mailchimp has average deliverability rates of around 95% across major inbox providers. Deliverability depends on your sender's reputation.
Final Thoughts
Klaviyo is the best choice for e-commerce brands looking to maximize revenue through advanced email and SMS marketing. With powerful segmentation, automation, and personalization capabilities tailored for online retail, Klaviyo gives brands the tools to execute sophisticated campaigns that drive conversions. The hands-on support and proven results for direct-to-consumer enterprises make Klaviyo the perfect scalable solution.
Mailchimp is ideal for small businesses seeking an easy-to-use email marketing platform. The intuitive drag-and-drop builder, variety of templates, and automation features streamline creating, sending, and managing basic email newsletters and promotions. The affordability and integration options also appeal to early-stage businesses with simpler email marketing needs.
You may also be interested in checking out some Mailchimp alternatives to help with the evaluation process.
Choosing the right email marketing platform is critical for reaching customers and growing your small business. Be sure to select a solution that aligns with your level of complexity, features required, and audience. Feel free to ask any questions in the comments and I'd be happy to provide personalized advice on the best platform for your specific needs!