Deciding between SendGrid and Mailchimp for your email marketing and automation needs can be a difficult choice for any business owner. Both email marketing platforms have their strengths and differences when it comes to features, functionality, ease of use, and pricing.
The right platform for your business can make all the difference in engaging with your customers and growing your brand. To help you make the right choice, in this Sendgrid vs Mailchimp comparison article, we will analyze key factors to consider when choosing between these two popular email service providers.
We will look at market position, ease of use, design and customization options, features and integrations, performance, customer support, pricing models, and reputation to provide the insights you need to select the best platform for your unique business goals and audience.
1. Understanding the Basics
SendGrid was founded in 2009 by Tim Jenkins, Jose Lopez, and Isaac Saldana. The company is based in Denver, Colorado, and went public in 2017 after being acquired by Twilio for $3 billion. SendGrid is one of the world's largest cloud-based email service providers, delivering over 63 billion emails per month for companies like Airbnb, Spotify, and Uber.
Mailchimp was founded in 2001 by Ben Chestnut and Mark Armstrong. Based in Atlanta, Georgia, Mailchimp reached 14 million customers in 2021 and has become a leader in the email marketing industry.
Both platforms have active Facebook communities. The SendGrid Facebook page has over 15,000 followers while Mailchimp's group has over 13,7K members. These groups allow users to interact, ask questions, and get feedback.
When it comes to market position, Mailchimp is the larger, more established player. However, SendGrid is rapidly growing in popularity, especially among developers and tech startups. Ultimately, the right platform will depend on your specific needs.
2. Features and Functionality
Whether you need advanced deliverability tools, e-commerce features, automation workflows, or blogger-friendly templates, our side-by-side analysis aims to help entrepreneurs make informed decisions. The platform you choose will have a major impact on your email marketing success, so let's explore what SendGrid and Mailchimp have to offer.
Automation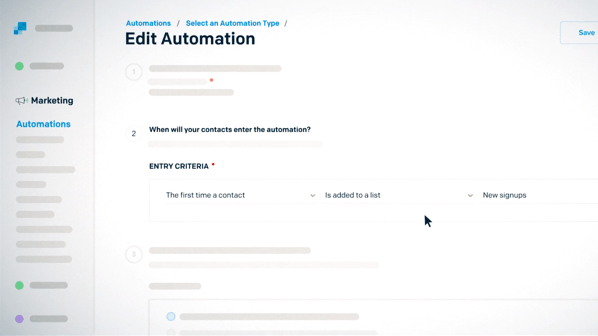 SendGrid offers robust email automation capabilities through its Marketing Campaigns tool. You can create segments based on user behaviors or attributes and then set up triggers like 'welcome new subscribers', 're-engage inactive users', or 'send birthday offers'.
With drag-and-drop workflow builders, you can set up multi-step drip campaigns with email sends timed after sign-ups, purchases, abandoned carts, and more. SendGrid also offers RSS-to-email automation to turn blog posts into campaigns. Their Automation templates make it easy to set up common flows like newsletter subscriptions, shipping confirmations, and lead nurturing.
Advanced features include dynamic email content, A/B testing, and integration with workflows from services like Zapier, making it easy to connect data from your CRM, e-commerce platform, and other apps. Overall, SendGrid provides powerful automation tools suited for developers and marketers alike.
Mailchimp also has robust automation capabilities through their Automation workflows. You can target groups or individual users with emails triggered by time delays, sign-ups, purchases, profile updates, and more.
With an intuitive drag-and-drop builder, you can create multi-step drip campaigns, welcome sequences, re-engagement flows, and RSS-to-email updates. Mailchimp offers numerous pre-built automation templates for common scenarios. You can also dynamically insert subscriber data into emails, A/B test your flows and integrate with 900+ apps via Zapier.
While their automation options used to be limited to Marketing CRM customers, Mailchimp opened up unlimited automation to all tiers recently. This makes them more competitive with SendGrid for comprehensive automation features.
Winner: Tie
Both SendGrid and Mailchimp offer excellent automation capabilities for sending transactional and marketing emails. They enable multi-step workflows triggered by user behaviors, dynamic content, A/B testing, and ample integrations. While Mailchimp previously limited automation, their recent opening of the features means both platforms now provide robust options suitable for most use cases. For automation power, SendGrid and Mailchimp tie.
Email Templates
SendGrid provides hundreds of professionally designed email templates to choose from for your campaigns. Templates are offered for welcome emails, promotions, newsletters, notifications, and more.
They provide drag-and-drop editors within the templates to customize colors, fonts, content, and images as needed. You can also edit the HTML source code if desired. SendGrid templates are mobile responsive out of the box.
While template customization is a bit limited compared to MailChimp, SendGrid templates offer a clean, simple design that is easy to modify. They integrate well with automation workflows and the template options cover the most common use cases.
Mailchimp is known for its extensive template shop with over 700 free and premium email templates. Their templates are professionally designed for opt-ins, campaigns, newsletters, notifications, and more.
Within the drag-and-drop editor, you have extensive control to customize colors, fonts, content layouts, images, blocks, and code. Mailchimp's template language allows for repeatable content modules.
Templates are mobile responsive, and you can create pop-out web views for more immersive designs. Overall, Mailchimp provides gorgeous templates with more advanced customization and design options compared to SendGrid.
When it comes to templates for marketing and transactional emails, Mailchimp is the winner thanks to their vast gallery of creatively designed templates that are highly customizable for both design and content. Their template editing experience offers more advanced features for crafting on-brand, beautiful emails.
While SendGrid templates are decent, their customization options are more limited. For non-developers who want access to professional, innovative email templates that can be extensively tailored to your brand, Mailchimp is the superior choice.
Segmentation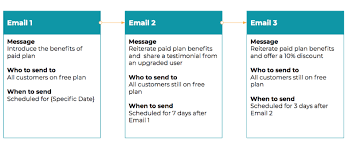 SendGrid allows you to create subscriber segments based on a variety of criteria like email activity, engagement, device information, geolocation, demographic data, and more.
You can segment by attributes from your contact database, such as interests, purchase history, plan level, or any custom field. SendGrid also offers pre-built segments for common criteria like new subscribers, inactive users, or contacts with no device data.
With dynamic segments, you can set rules to automatically add or remove subscribers when they meet triggers like email opens, link clicks, date fields, e-commerce activity, and more. Overall, SendGrid provides robust segmentation options.
Mailchimp also enables extensive subscriber segmentation with tags, groups, and automation triggers to enhance your email marketing strategy. You can manually add contacts to static or smart groups based on interests, plan types, purchase activity, and any custom field in your audience dashboard.
Or you can set up dynamic groups with complex filters to automatically add users matching triggers like email engagement, inactive subscribers, new sign-ups, e-commerce behaviors, and more. You can combine groups using AND/OR for advanced segmentation logic.
Mailchimp makes it easy to see group details like size and engagement analytics. Overall, their segmentation feels more intuitive and advanced than SendGrid's options.
For subscriber segmentation tools, Mailchimp wins thanks to the intuitive interface, automation triggers, and insights provided around created segments. The ability to combine groups and set complex filters to populate segments dynamically based on behaviors is extremely powerful.
While SendGrid has decent segmentation, the experience feels more developer-centric and less intuitive for easy drag-and-drop segmentation building compared to Mailchimp. For user-friendly, advanced subscriber segmentation, Mailchimp comes out on top.
Analytics
SendGrid is one of the best email marketing platforms with in-depth analytics tools. The software provides robust email analytics to track opens, clicks, bounce rates, spam reports, unsubscribes, and more across your campaigns.
You can view real-time reports on a dashboard showing top metrics like deliverability, open rate, click rate, and unsubscribe rate for quick insights. SendGrid offers deep segmentation of your data by campaign, time period, email type, and recipient attributes.
The platform provides clear visualizations like time series charts to observe trends. You can also export raw data to CSV or integrate analytics with BI tools like Tableau or Excel. Overall, SendGrid has powerful analytics for email marketers.
Mailchimp also offers detailed email analytics and reports. You can track opens, clicks, forwards, unsubscribes, spam complaints, and more down to the individual recipient level.
Their dashboard displays quick snapshots of your top metrics for opens, clicks, and more. You can toggle between account-level or campaign-specific reporting. Mailchimp allows you to segment analytics by groups, campaign type, time frame, and other criteria.
Like SendGrid, Mailchimp offers time-series charts to visualize performance trends. You can also export data or integrate your Mailchimp analytics with other business intelligence tools.
Winner: Tie
When it comes to email marketing analytics, SendGrid and Mailchimp are tied. Both platforms provide excellent visibility into open rates, click rates, unsubscribes, spam complaints, and other key metrics for your campaigns.
You can segment your data in a variety of ways as well as view clear reports and visualizations of trends over time. Either solution would provide the analytics needed to optimize email marketing performance. For analysis power, SendGrid and Mailchimp are on par.
Unique Features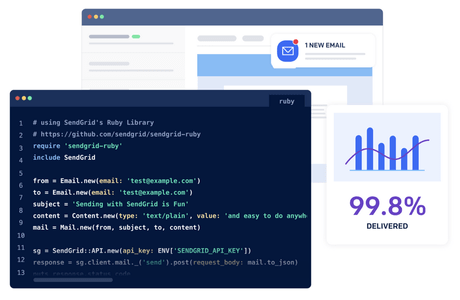 SendGrid offers a few unique capabilities beyond core email marketing tools. For deliverability, they provide advanced tools like link whitelisting, blacklist monitoring, and email authentication like DMARC, SPF, and DKIM.
Their email infrastructure is optimized for scalability, processing billions of emails monthly. SendGrid also supports two-way email with inbound email parsing and routing to help manage responses. There's automated queue handling, as well as other features for advanced users.
For developers, SendGrid provides APIs and webhooks to build custom integrations and event tracking in your app. They also offer a free plan tier for low-volume email. Overall, their unique focus is on deliverability, scalability, and development.
Mailchimp also stands out in some unique ways. Their well-known Freddie mascot and fun brand set them apart. The forecasting capabilities leverage AI to predict your audience growth.
Extensive CRM features are targeted at small business marketing. Mailchimp offers free branded email domains and landing pages to uplevel perceived brand professionalism.
The social ad capabilities allow you to extend email campaigns to platforms like Facebook and Instagram. And omnichannel marketing campaigns help connect your emails to other channels.
For unique features beyond core email marketing, Mailchimp emerges as the winner. Their omnichannel campaign integration, audience forecasting, free domains, and landing pages provide extra capabilities many competitors lack.
The fun, approachable branding also sets Mailchimp apart. While SendGrid certainly wins for developers, Mailchimp goes above and beyond email with features that benefit small business owners without technical expertise in particular. Their unique tools simplify marketing execution across channels.
3. Ease of Use
SendGrid is an email marketing tool that provides a clean, modern interface that is relatively user-friendly. The main navigation makes it easy to access various email tools like campaigns, automation, contacts, and reports.
The dashboard displays key metrics and shortcuts to create campaigns or segments. For beginners, the interface is well-organized but could be overwhelming with the developer-centric options.
Building emails and automation using the drag-and-drop editor is simple enough. However, those without coding expertise may find some complexity in the platform's advanced features.
The learning curve is moderate. SendGrid provides decent documentation and tutorials, but mastering advanced features like deliverability tools requires high technical expertise.
In contrast, Mailchimp is designed specifically with beginners and non-technical users in mind. The intuitive drag-and-drop interface makes it easy to create campaigns, automation, and landing pages.
Helpful wizards guide users through setting up common workflows like newsletters, post-purchase flows, and lead nurturing. Dashboard stats and reports are displayed in simple, easy-to-understand visualizations.
The learning curve is low, with helpful prompts, tutorials, and plain English explanations of all features. Mailchimp's fun branding also makes the platform feel approachable.
For ease of use and beginner-friendliness, Mailchimp is the clear winner. Their interface has been thoughtfully designed for simplicity and intuitiveness targeted at small business owners and entry-level marketers.
Features are easy to find, workflows are guided with wizards, and metrics are displayed clearly. SendGrid provides a decent user experience but assumes a higher level of technical proficiency. For the most user-friendly email marketing platform, Mailchimp comes out on top.
4. Email Deliverability
SendGrid prioritizes deliverability through advanced tools like dedicated IP addresses, link whitelisting, blacklist monitoring, and sender authentication.
The email delivery platform offers high inbox placement rates thanks to an optimized email infrastructure and established sender reputation. SendGrid customers can expect industry-leading 99%+ delivery rates.
Robust tools allow you to authenticate your domain with DKIM, SPF, and DMARC to boost security. Real-time alerts notify you of any blacklisting issues.
For advanced users, SendGrid provides granular controls like IP pooling, custom TLS encryption, and advanced routing for scaling deliverability. Overall, deliverability is a clear strength.
Mailchimp also offers reliable email deliverability with an average 99%+ inbox placement rate. However, their tools are less robust compared to SendGrid.
You are restricted to shared IP addresses instead of dedicated IPs. Link whitelisting, blacklisting notifications, and authentication are only included in premium plans.
Mailchimp does allow domain verification through SPF and DKIM to aid security. However, advanced controls like IP pools, custom encryption, and routing are not supported.
While deliverability rates are decent, Mailchimp seems to prioritize ease of use over granular configuration. SendGrid offers more advanced options.
For superior email deliverability tools, SendGrid is the winner. Their unique focus on deliverability shows through the dedicated IPs, link whitelisting, blacklisting alerts, advanced routing, and scaling capabilities.
Mailchimp deliverability is reliable for most use cases but lacks some of the enterprise-level customization that SendGrid offers. For the best inbox placement rates and granular control, SendGrid comes out ahead.
5. Customer Support and Community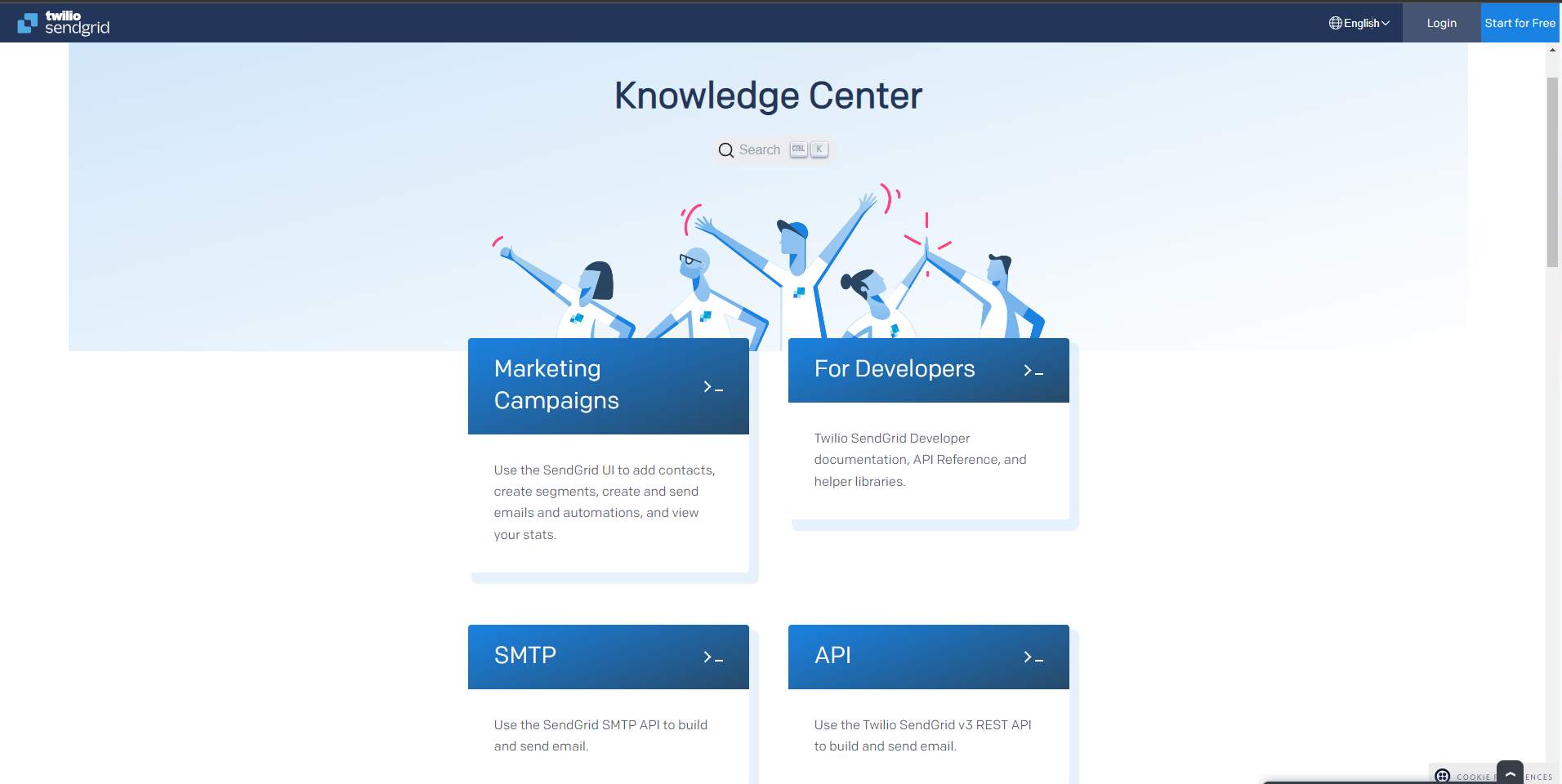 SendGrid offers 24/7 customer support via live chat, email, and phone. Support reps are generally knowledgeable and able to resolve issues quickly.
They provide an extensive library of help docs, guides, and video tutorials for self-service support as well. However, their community options are relatively limited compared to competitors.
Overall, SendGrid's customer service is excellent but community resources for advice and discussions are lacking.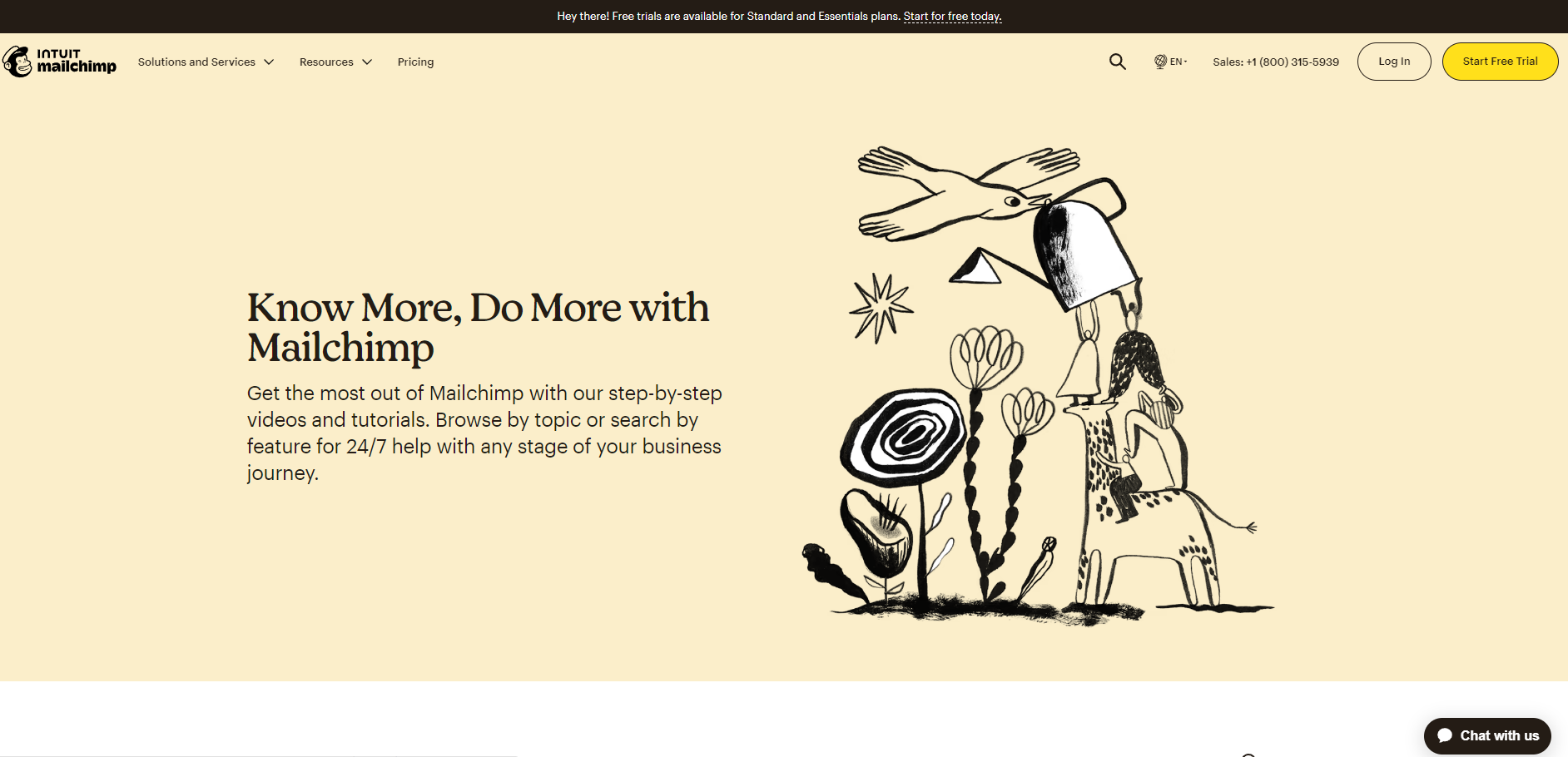 Mailchimp provides 24/7 live chat support, email, and phone assistance. Wait times can be longer than SendGrid depending on package level.
The help center knowledge base offers extensive articles, guides, and videos for self-service. Peer-to-peer community options are a strength.
There's an official Mailchimp Users Group on Facebook and a subreddit, r/Mailchimp, with 13,000+ members. These communities allow for idea exchange and advice.
For customer support and community, Mailchimp wins thanks to the large, active user communities on Facebook and Reddit. Those forums provide peer insights beyond official documentation.
While SendGrid edges out for direct support response times, Mailchimp's communities create a collaborative knowledge base for all experience levels. For user-powered assistance and discussions, Mailchimp is the winner.
6. Integrations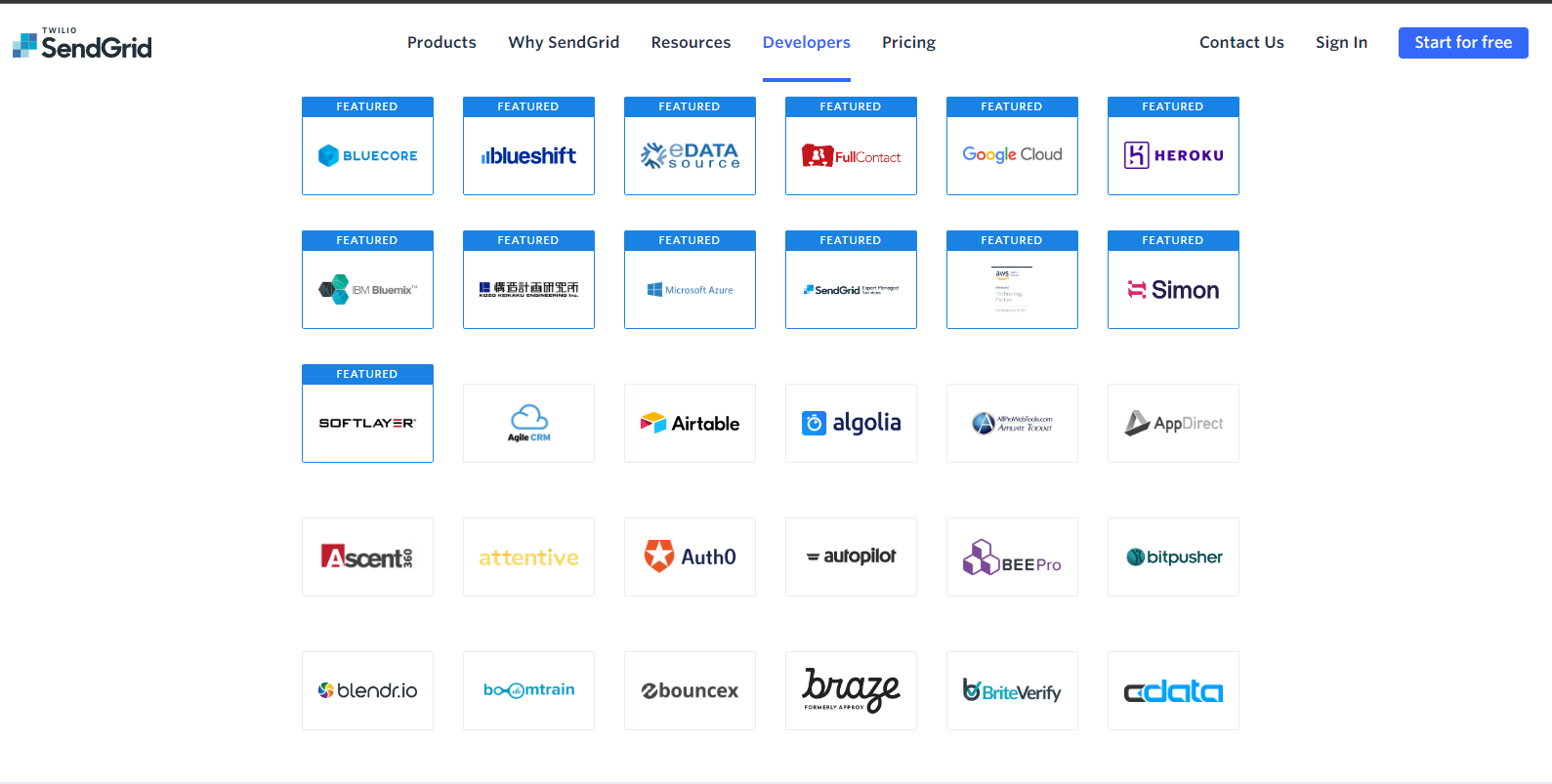 SendGrid offers native integrations with leading CRM, e-commerce, and marketing platforms like Salesforce, Shopify, HubSpot, and Marketo.
They also provide direct webhooks and REST APIs to connect custom apps and build automated workflows between SendGrid and other platforms.
For connecting disparate apps not natively supported, SendGrid integrates with Zapier which allows you to easily automate data flows to thousands of web services.
Overall, SendGrid provides broad integration options natively and through developer APIs or Zapier for easy connectivity.
Mailchimp also supports an extensive array of integrations with major CRM, CMS, e-commerce, and marketing platforms.
You can connect Mailchimp directly with Shopify, Square, Salesforce, WordPress, and other top tools. APIs and webhooks enable building custom integrations as well.
For connecting apps without native support, Mailchimp offers a Zapier integration with access to over 1,000+ web services to automate workflows.
With pre-built integrations, APIs, and Zapier, Mailchimp enables robust connectivity similar to SendGrid.
Winner: Tie
When it comes to third-party integrations, SendGrid and Mailchimp are tied. Both offer native support for connecting major marketing, sales, and e-commerce platforms directly.
Developers have access to APIs and webhooks for custom systems. And non-technical users can leverage Zapier to easily automate data sharing across thousands of apps. For integration power, the two platforms are evenly matched.
7. Pricing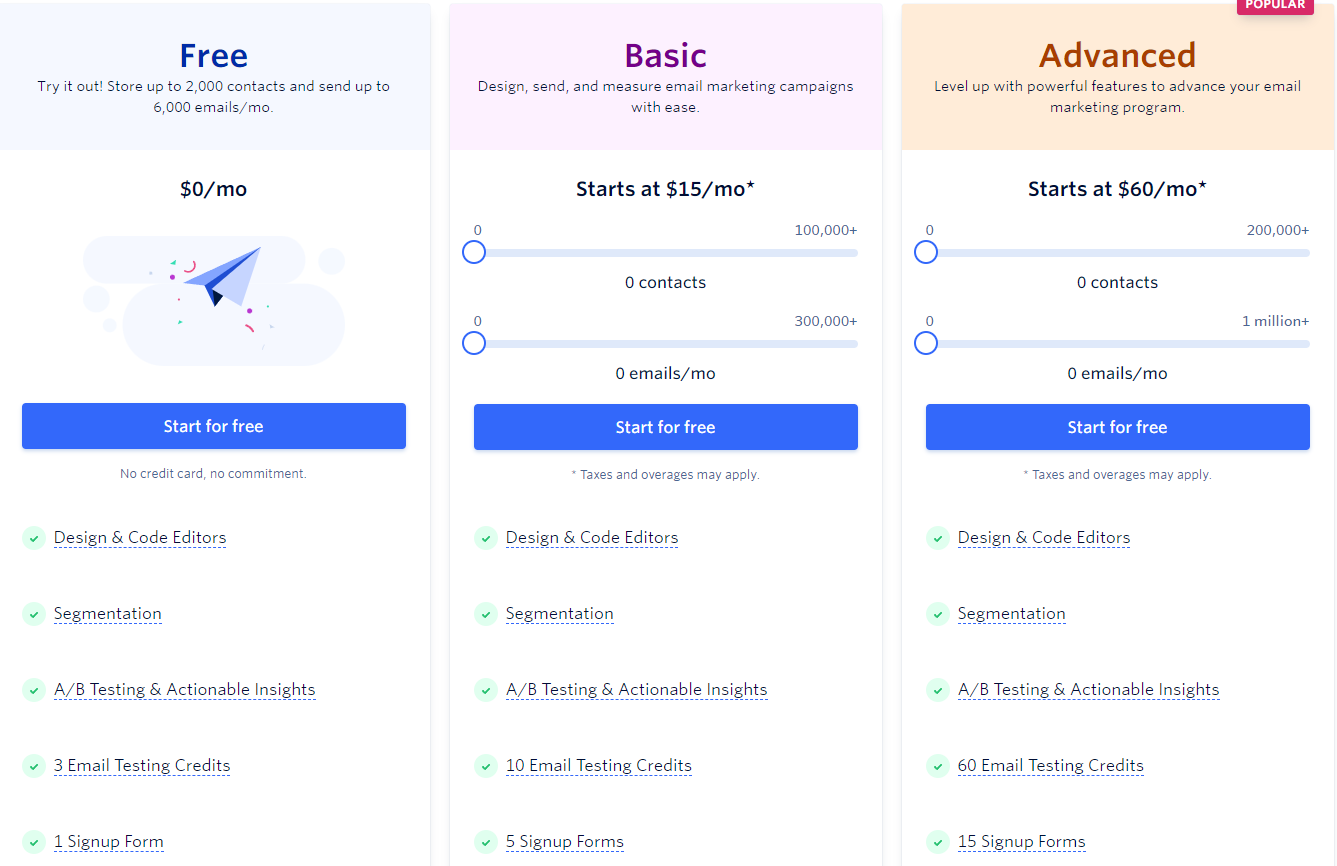 SendGrid offers a forever free plan for up to 100 emails/day and 2,000 contacts. Their paid plans start at $15/month for 40k emails/month and 5k contacts.
Volume-based pricing gives you discounts as your email usage scales into the millions. Data and analytics are limited on lower tiers. Deliverability features like dedicated IPs cost extra.
Overall, SendGrid is affordably priced for small to mid-market email volume needs. Enterprise-level emailers will appreciate the volume discounts but may find the à la carte fees for certain features pricey.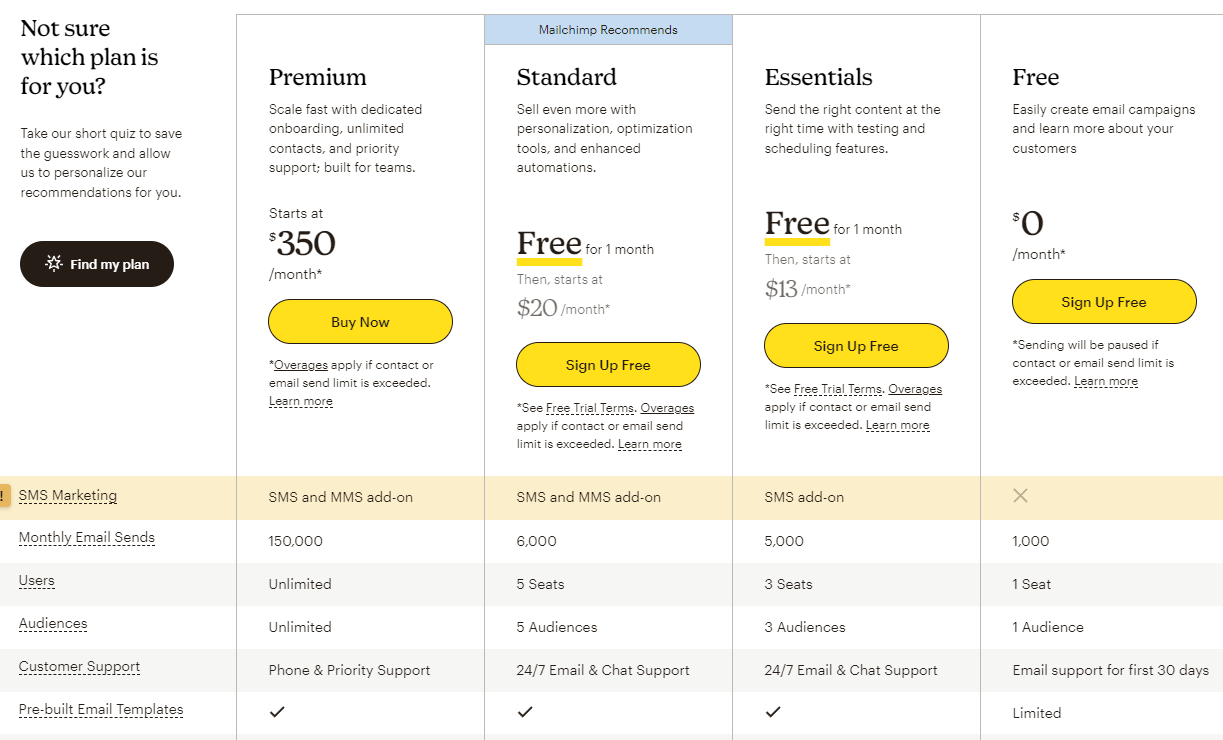 Mailchimp has 3 paid tiers: Essentials at $13/month, Standard at $20/month, and Premium at $350/month billed annually.
Lower tiers are suitable for small businesses. Advanced and Premium add powerful enterprise features like journey builder, workflow automation, and advanced analytics.
The free plan lets you send 1,000 emails per month with basic automation. Overall, Mailchimp offers cost-effective plans.
For businesses with smaller email lists under 10k contacts, Mailchimp wins for pricing thanks to the generous free plan options and lower entry pricing compared to SendGrid.
At scale, SendGrid becomes more affordable, which makes it ideal for anyone who works with a marketing team. But Mailchimp better serves early-stage startups, bloggers, and smaller companies with their pricing model. SendGrid caters more to mid-market and enterprise demand.
8. Reviews and Reputation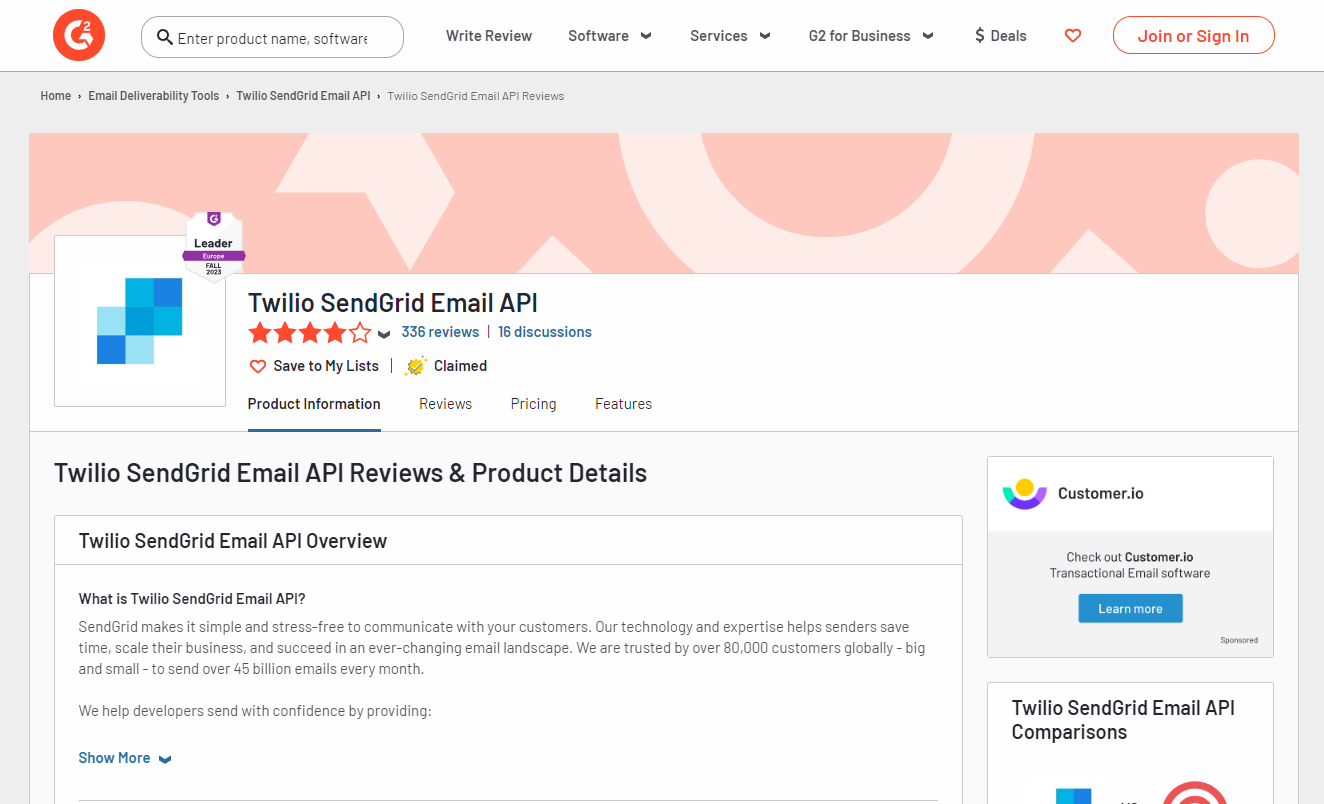 SendGrid earns positive reviews for its deliverability and development features. Users praise the reliable delivery rates, granular configuration options, and integrations.
However, some find the interface less intuitive than competitors – better suited for developers versus beginners. Occasional issues with deliverability also get called out.
On G2, SendGrid has 4/5 stars. Praise focuses on deliverability while complaints mention complexity. On Capterra, they have a 4.5/5 rating. Reviews highlight reliability.
Overall, SendGrid appeals to those who want robust deliverability and are willing to trade off some usability. See G2 reviews here.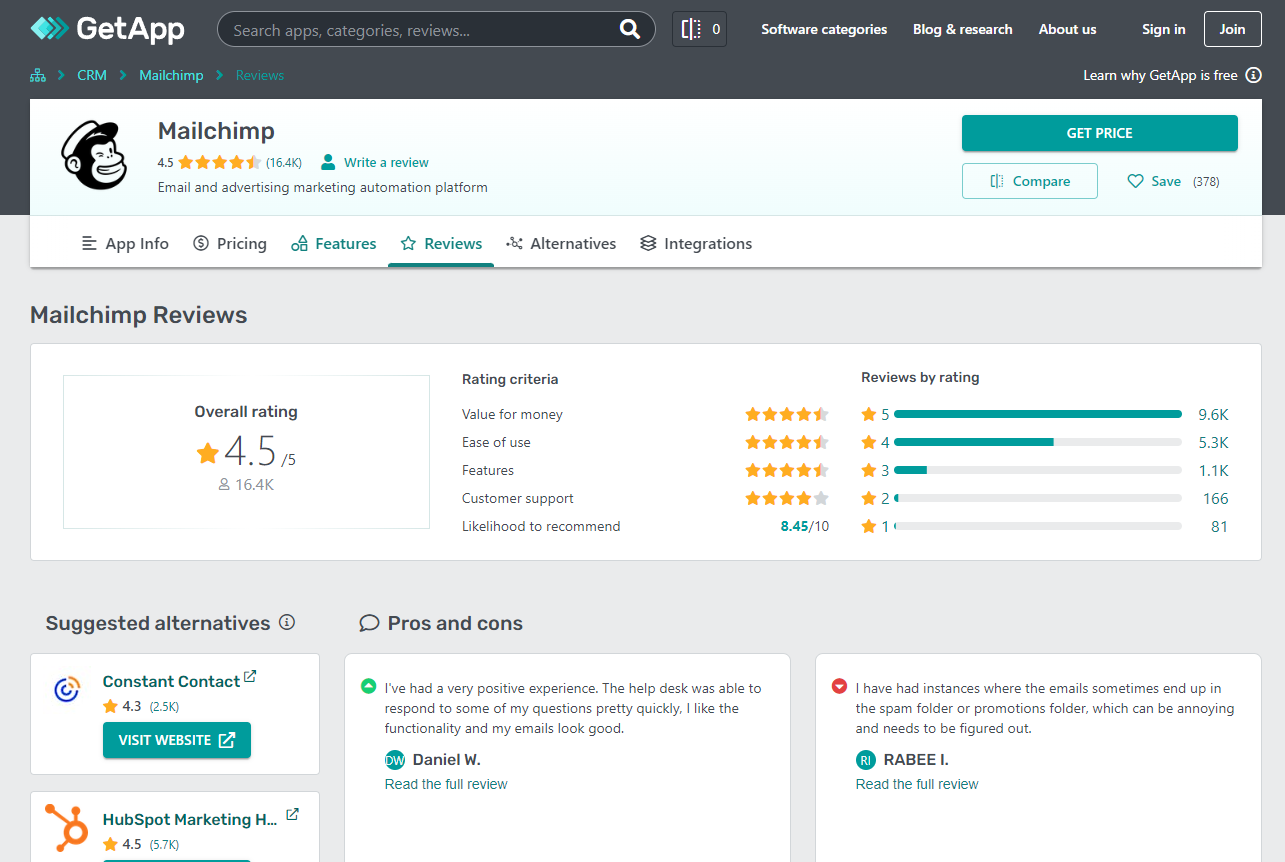 Mailchimp earns strong reviews for its ease of use, templates, and automation features. Users highlight the intuitive drag-and-drop builder.
Some complain about the lack of volume discounts and more limited deliverability controls versus competitors. Complex automation can also be tricky.
On G2, Mailchimp has 4.4/5 stars. Users praise usability but critique pricing. The Capterra rating is 4.5/5 stars with positive feedback on features.
For non-technical users wanting straightforward email marketing, Mailchimp satisfies them. See G2 reviews and Capterra reviews.
Winner: Tie
Based on in-depth user reviews, SendGrid and Mailchimp are tied. SendGrid wins on deliverability while Mailchimp is better for usability. Depending on your needs, either solution can be ideal or have downsides. For overall reputation, they are comparable.
9. FAQ's
How does SendGrid compare to Mailchimp for email marketing campaigns?

SendGrid specializes in deliverability, scalability, and catering to developers. Mailchimp focuses on usability and serving small business owners.
Does SendGrid have email templates?

Yes, SendGrid provides professionally designed email templates for common use cases. The customization options are more limited than Mailchimp though.
Is SendGrid easy to use?

SendGrid has a decent interface but caters more to technical users. The learning curve is higher than on beginner-friendly platforms like Mailchimp.
Does SendGrid offer free plans?

SendGrid has a free plan for up to 100 emails/day. Paid plans start at $15/month for marketers.
How are SendGrid's deliverability rates?

As an email infrastructure-focused platform, SendGrid offers excellent deliverability with rates consistently above 99%.
How does Mailchimp compare to SendGrid?

Mailchimp is email marketing software that prioritizes usability and serving small business owners over developers. SendGrid focuses more on scalability and deliverability.
Does Mailchimp have good templates?

Yes, Mailchimp is known for its extensive template library with over 700 free, professionally designed email templates.
Is Mailchimp easy to use?

Mailchimp has an intuitive drag-and-drop builder designed specifically for beginners and non-technical users. The learning curve is very low.
What's Mailchimp's pricing?

Mailchimp has a free plan for up to 12k emails/month. Paid plans start at $13/month for up to 6.000 monthly sends.
How reliable is Mailchimp's deliverability?

Mailchimp has average deliverability rates of around 99% but less advanced tools than SendGrid for optimizing deliverability.
Final Thoughts
SendGrid is a great choice if you need enterprise-level deliverability tools, high-volume email sending, and integration with sophisticated marketing and sales workflows.
The granular configuration options make SendGrid ideal for established businesses sending millions of emails per month. Developers will also appreciate the APIs and advanced customization capabilities.
While not as intuitive as Mailchimp, SendGrid provides the scalability, deliverability, and flexibility needed for high-demand email marketing.
Mailchimp is the optimal choice if you want an easy-to-use platform for creating email campaigns, newsletters, and automated workflows.
The drag-and-drop editor and extensive templates make Mailchimp perfect for solopreneurs, small business owners, bloggers, and anyone without technical expertise.
While Mailchimp lacks robust enterprise-level features, its usability and approachable pricing meet the needs of most small email list owners just starting out.
You may also be interested in checking out some Mailchimp alternatives to help with the evaluation process.
Choosing the right email marketing platform is critical for connecting with your subscribers. If you still have questions about whether SendGrid or Mailchimp is better for your business needs, ask in the comments below and we're happy to provide personalized advice!