Choosing the right email marketing tools is a crucial decision for any business owner. Two popular options are Brevo and Mailchimp, both robust platforms for building an online presence. Brevo is an all-in-one platform for creating websites, blogs, and online stores, while Mailchimp focuses specifically on email marketing, automation, and analytics.
In this Brevo vs Mailchimp comparison, we'll evaluate how these platforms stack up across key criteria like features, customization, performance, support, and pricing.
Our objective is to provide you with a clear, unbiased view of the pros and cons of Brevo and Mailchimp, so you can make an informed decision when choosing a platform that aligns with your vision.
1. Understanding the Basics
Brevo, formerly Sendinblue, was founded in 2012 by entrepreneur Armand Thiberge who had a vision to create an all-in-one platform for small businesses. In the years since, it has quickly gained popularity, with over 50,000 users as of 2023.
Mailchimp, on the other hand, has been around since 2001. Founded by Ben Chestnut and Dan Kurzius, it has become one of the world's leading email marketing platforms, with over 13 million users.
In terms of market position, Mailchimp is the bigger player. It has greater brand recognition and caters to businesses of all sizes. Brevo is newer to the scene and currently focuses on sole proprietors, freelancers, and small teams.
When it comes to online communities, both platforms have active Facebook groups:
Joining these groups allows you to connect with other users, ask questions, and get feedback. As Brevo continues to expand its user base, its community is likely to grow as well. But Mailchimp has an established, global community that has been cultivated over many years.
2. Features and Functionality
Below, we'll compare these two competitors on design capabilities, functionality, website performance, customer support, pricing, reputation, and more. By the end, you'll have the information you need to determine if Brevo or Mailchimp is the right platform to power your online presence.
Automation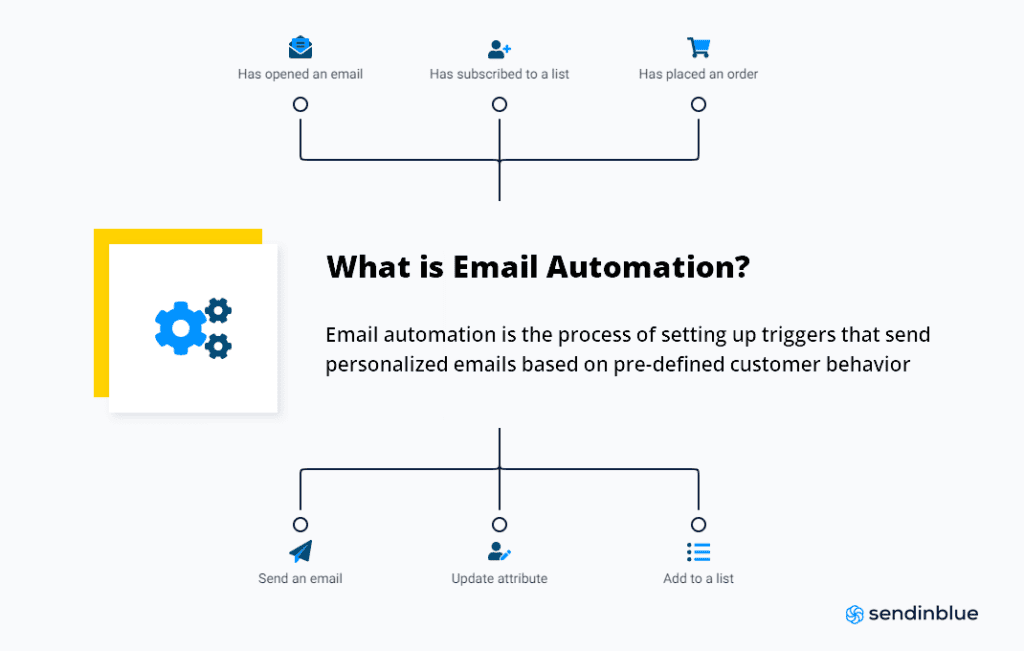 Brevo is a marketing automation platform that allows users to create workflows and automation without code through its drag-and-drop workflow builder, making it easy to set up sequences to engage website visitors and customers.
Some key automation features include the ability to send automatic welcome messages when someone signs up or makes a purchase, and remind customers about items left in their cart to rescue lost sales with abandoned cart recovery.
Send personalized promotions on customers' birthdays, automatically send new blog post updates to subscribers with RSS campaigns, target groups based on behavior, demographics, purchase history, and more with segmentation, automate across email, SMS marketing, web notifications, and more on multiple channels, schedule and automate a series of touchpoints over time with drip campaigns.
Brevo also offers hundreds of pre-built automation templates to make setup faster. You can customize the content while leveraging best practices. Overall, Brevo's automation capabilities are robust yet easy to use for non-technical users. The visual workflow builder enables you to create complex sequences without coding.
Mailchimp is renowned for its powerful email automation features. It offers both visual workflow builders and more advanced options for skilled users.
It's one of the most powerful email marketing channels that provides key capabilities like signup forms to embed and automate lead capture, a welcome series to make great first impressions with personalized onboarding, and segmentation to send the right message to the right subscriber at the right time.
You also get triggers to activate automation based on subscriber behavior, transactional emails to automate order confirmations, shipping notifications, etc. The RSS-to-email feature turns blog posts into automated email campaigns, and you get abandoned cart functions to win back customers who don't complete purchases.
Send drip campaigns to nurture subscribers with timed email series, multi-channel features to engage across social, web, mobile push, and more, and API integrations to connect workflows with other platforms.
Mailchimp offers over 250 templates and easy visual workflow builders for basic sequences. It also has the Merge Language for more advanced, code-based automation. Overall, Mailchimp sets the standard for sophisticated email marketing automation. Its breadth of options accommodates beginners and experts alike.
Mailchimp is the winner when it comes to marketing automation, especially for marketers who intend to run SMS campaigns and advanced segmentation. With over 20 years of perfecting email workflows, Mailchimp simply has more advanced capabilities, integrations, and proven best practices when it comes to sophisticated automation.
Its combination of both visual workflow builders and advanced coding options makes it the more versatile, scalable platform as businesses grow. While Brevo makes automation accessible for beginners, Mailchimp has more robust options for automating complex omnichannel campaigns.
Email Templates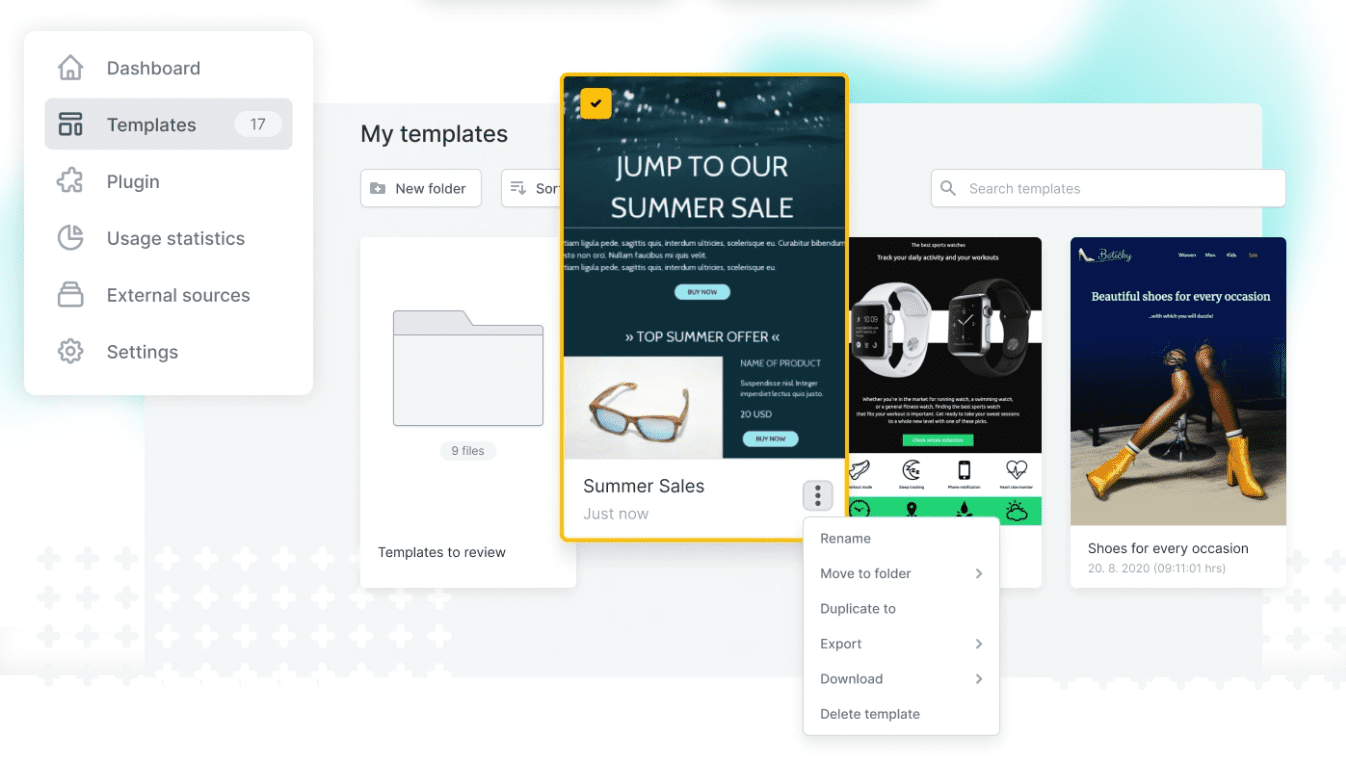 Brevo provides professionally designed email templates to help users create high-converting newsletters, announcements, promotions, and more. It offers over 100 responsive templates covering use cases like welcome emails, product launches, events, holiday campaigns, and RSS digests.
The templates utilize best practices for email design and come with pre-written content. Users can easily customize the content, images, colors, and layout based on their brand. Drag-and-drop editing makes it fast and simple to modify templates without any coding or design expertise required.
Brevo's templates are mobile-optimized and use principles of minimalist design for clarity. Template categories include:
Welcome Series – Onboarding for new contacts
Promotions – Announce sales, deals and offers
Newsletters – Engaging and information-rich updates
Holiday & Events – Seasonal and time-based campaigns
RSS to Email – Turn blog content into email
While Brevo provides high-quality templates for essential email campaigns, its selection is still fairly limited compared to other platforms. But the templates are a good starting point for non-designers to quickly create professional emails.
With over 250 free email templates, Mailchimp offers extensive options for crafting targeted campaigns. Mailchimp email templates support the most common email types like newsletters, promotions, announcements, surveys, and any other type of template to suit your marketing plan.
The responsive templates were created by professional designers and optimized for mobile devices. They also incorporate principles like minimalism, negative space, effective calls-to-action, and ideal paragraph length for clarity.
Some categories of Mailchimp's templates include:
Welcomes – Greet and onboard subscribers
eCommerce – Promote sales, deliver receipts, share order updates from your ecommerce store
Events – Drive registrations and event promotions
Holiday – Seasonal holiday templates
RSS to Email – Send blog post summaries
Instagram – Turn Instagram posts into email campaigns
In addition to complete, customizable email templates, Mailchimp provides code snippets for embedding elements like opt-in forms, social sharing buttons, and more.
With such expansive options, nearly any email need is covered through Mailchimp's templates. And they are easily tailored to match brand style and tone.
Mailchimp emerges as the winner for email templates. With 4x more templates covering a broader range of use cases, Mailchimp simply provides more options to start with for creating polished, professional emails tailored to any niche or need.
Both platforms make templates easy to customize, but Mailchimp's greater volume and variety of pre-designed templates make it the better email marketing tool. For non-designers who want access to professionally designed emails that convert, Mailchimp offers more templates to choose from to kickstart email marketing success.
Segmentation
Brevo enables users to segment their audiences based on attributes like demographics, interests, engagement, purchase history, and more.
Its visual segment builder makes it easy to define specific groups using AND/OR logic. For example, you can target email subscribers who opened an email AND clicked a link in the last 30 days. Or visitors from a certain city OR specific company size.
Some key segmentation options in Brevo include:
Behavioral – Email opens, link clicks, site visits, etc.
Demographic – Location, age, gender, job title
Engagement – Email subscribers, abandoned carts
Custom fields – Segment on custom tags or attributes
Brevo also automatically segments customers based on their lifecycle stage, categorizing them as new subscribers, repeat customers, or inactive.
Additionally, e-commerce customers can be grouped by total order value, products purchased, order frequency, and more.
Once audiences are defined, they can be targeted with custom content through campaigns, personalization, and automation. Overall, Brevo covers the essential segmentation capabilities needed for most use cases. However, advanced users may require more complex options.
Mailchimp is renowned for its sophisticated audience segmentation tools. It enables both basic and advanced options for isolating specific groups.
Key features include:
Demographic, geographic, and order-based groups
Dynamic segments that update based on real-time user behavior
Complex nested segment logic with unlimited combinations
AI-powered predictive audiences based on past behaviors
Segment overlap and comparison reports
Ability to assign weights to different traits when segmenting
Mailchimp also offers a segmentRecommender feature that automatically surfaces common traits among engaged subscribers to find new opportunities.
With robust segmentation power combined with automation, Mailchimp makes it easy to deliver hyper-targeted, 1:1 messages. Its advanced options provide extreme precision when isolating niche groups.
Mailchimp emerges as the winner for its more sophisticated segmentation and targeting capabilities. While Brevo covers the basic demographic, behavioral, and order-based segmentation most businesses need, Mailchimp simply provides more advanced options for precision targeting.
With complex segment logic, predictive audiences, and AI-powered recommendations, Mailchimp gives power users finer control over crafting targeted groups. For businesses that rely heavily on segmentation to create personalized experiences, Mailchimp is the more capable platform.
Analytics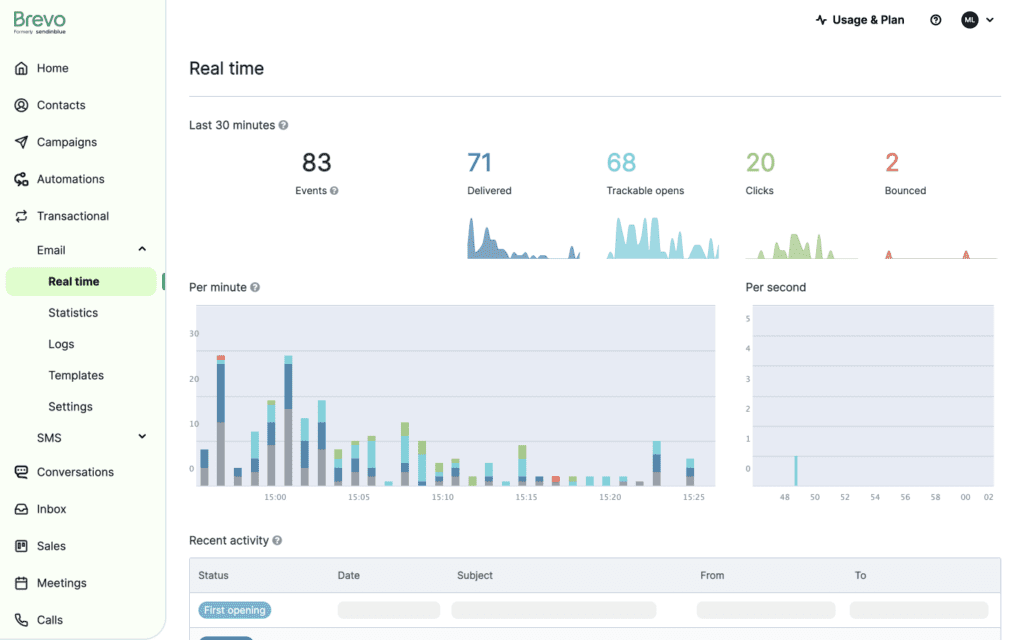 Brevo provides integrated analytics to help users track performance and optimize campaigns. Its dashboard displays high-level metrics and trends for key activities across your website, blog, and store.
Some key reporting features Brevo includes are traffic metrics to track unique visitors, page views, bounce rate, and more, lead tracking to view new subscribers, contact form entries, downloads, audience insights to analyze visitor demographics, interests, behavior, content analytics to see which blog posts drive the most traffic.
You also get email reporting for opens, clicks, unsubscribes, sender reputation, and campaign ROI including sales, revenue, margins, and other e-commerce data, as well as Google Analytics integration to connect your GA account for deeper analysis.
Brevo's visual reports and graphs make performance data easy to digest. Users can segment analytics by time period, traffic source, campaigns, and other factors to dig into the numbers. While Brevo covers the basic website, blogging, email, and e-commerce analytics a business needs, there is an opportunity to provide even deeper unified insights across platforms. However, it offers more than enough data for most use cases. All in all, Brevo is a great mailchimp alternative in terms of analytics and reporting.
Analytics are at the core of Mailchimp's platform. It offers powerful, customizable reports to track and optimize every marketing channel in one place.
Key analytics features Mailchimp provides include email insights for opens, clicks, deliverability, subscriber activity, automation analytics to track workflow performance, and landing page reports with views, conversions, and drop-off rates.
Mailchimp also provides reporting for eCommerce metrics like sales, revenue, transactions, profit margins, audience insights for engagement, churn, preference center activity, and campaign ROI to compare revenue and costs across campaigns.
There are integrations to connect other apps like Facebook and Google Analytics, custom dashboards to mix and match reports with advanced filters, and predictive analytics using machine learning to model outcomes and trends.
With its extensive analytics capabilities unified into a central dashboard, Mailchimp provides unmatched visibility into cross-channel performance. Users can dig deep and analyze results from all angles.
Mailchimp emerges as the clear winner for its best-in-class marketing analytics. While Brevo covers the basic performance reporting businesses need, Mailchimp offers a much wider, deeper set of metrics and customization options.
With unified insights across every channel, predictive analytics, and the ability to customize reports, Mailchimp gives marketers the tools to derive actionable data intelligence and make informed decisions. For those who take analytics seriously, Mailchimp is the superior platform.
Unique Features
One of Brevo's standout features is its integrated blog. The built-in blogging engine makes it easy for users to regularly publish content without any extra tools. Key blogging features Brevo provides include a WYSIWYG editor with visual editing and formatting options, SEO optimization to auto-generate meta descriptions and titles, the ability to easily embed multimedia like videos, images, gifs and more.
You also get options to publish and schedule posts, set publish dates, and manage drafts. There's an RSS feed to automatically enable blog subscription, and analytics to see traffic sources and engagement.
By centralizing blogging within the platform, Brevo provides a streamlined way to manage and optimize blog content without relying on third-party tools.
A unique Mailchimp capability is its Instagram integration. Users can connect an Instagram Business profile to automatically turn posts into email-ready visual content.
With the Instagram integration, users can auto-sync Instagram posts into customized email templates, schedule emails featuring new Instagram content to continually engage their audience, track the performance of Instagram email campaigns, and auto-send email digests of recent Instagram activity.
This provides a simple automation for repurposing visual content without ongoing manual work. Mailchimp also offers Facebook and other social media integrations. Overall, it makes it easy to engage audiences by syncing social media content into targeted email campaigns.
Winner: Tie
Both Brevo and Mailchimp offer unique capabilities that help streamline marketing activities. Brevo's integrated blogging platform provides a seamless content creation workflow. And Mailchimp's Instagram and social media integrations enable automated multi-channel engagement.
These platform-specific features cater to different use cases. For businesses focused on content creation, Brevo's built-in blogging has advantages. And for social-savvy brands, Mailchimp's social integrations are a differentiation. Since both features deliver value depending on content and channel strategy, we declare this category a tie between Brevo and Mailchimp.
3. Ease of Use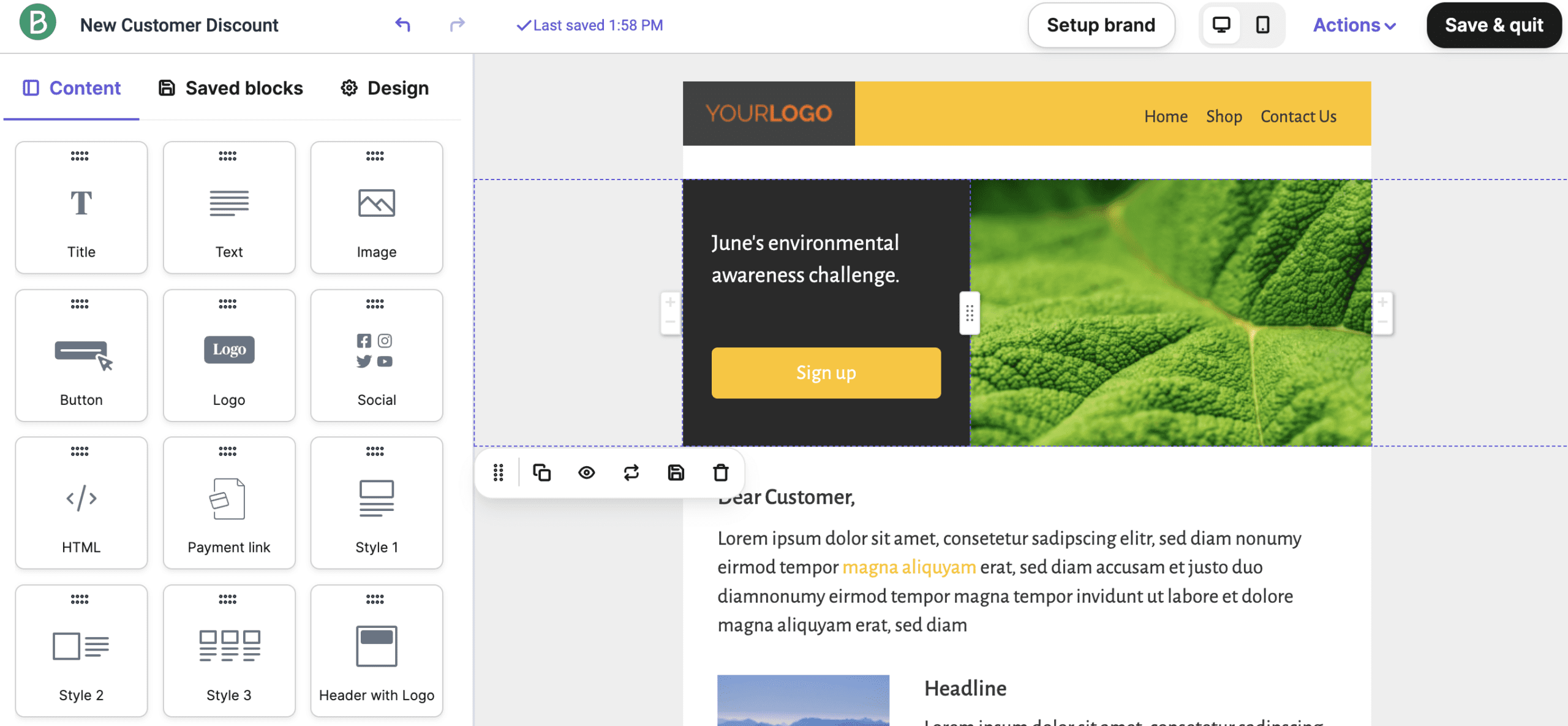 Brevo prides itself on usability and has an intuitive, beginner-friendly interface. The dashboard uses a clean, minimalist design making it easy to find key features. Icons and visual cues help guide users seamlessly through workflows.
Brevo follows web design best practices by placing critical functions in predictable locations. Options are cleanly organized in sidebars rather than buried in complex menus.
The platform provides in-line tutorials and hover tooltips explaining how features work. Customer support is also highly responsive for assisting new users.
With drag-and-drop functionality for building emails, landing pages, and automation, no coding skills are required. Brevo makes it simple for novices to start leveraging powerful marketing tools quickly.
However, Brevo does lack some more advanced configuration options that technical users may desire. Its simplicity also means less customization for those with complex needs.
Mailchimp balances usability with customization through its tiered interface. At the surface, options are simplified to make critical tasks intuitive even for beginners.
It offers both drag-and-drop builders and templatized guidance to help novice users create campaigns, automation, and landing pages with a minimal learning curve.
But behind the friendly facade, Mailchimp offers more sophisticated features and settings through its Expert mode for technical users. Those with coding skills have deep control over custom CSS, HTML, and programming integration.
The platform is structured well with clear navigation and visual indicators guiding users to important tools and reports based on experience level. If simplicity is ever a blocker, toggling into Expert View opens advanced functionality.
Mailchimp wins for its tiered experience catering to both beginners and experts. Its surface-level interface is clean, intuitive, and visually guided like Brevo. But its robust underlying capabilities and customization options exceed Brevo's relatively shallow toolset.
Mailchimp essentially combines the easy usability of Brevo with greater sophistication through Expert mode. This provides the polish and simplicity beginners need while allowing depth for more advanced marketers over time.
4. Email Deliverability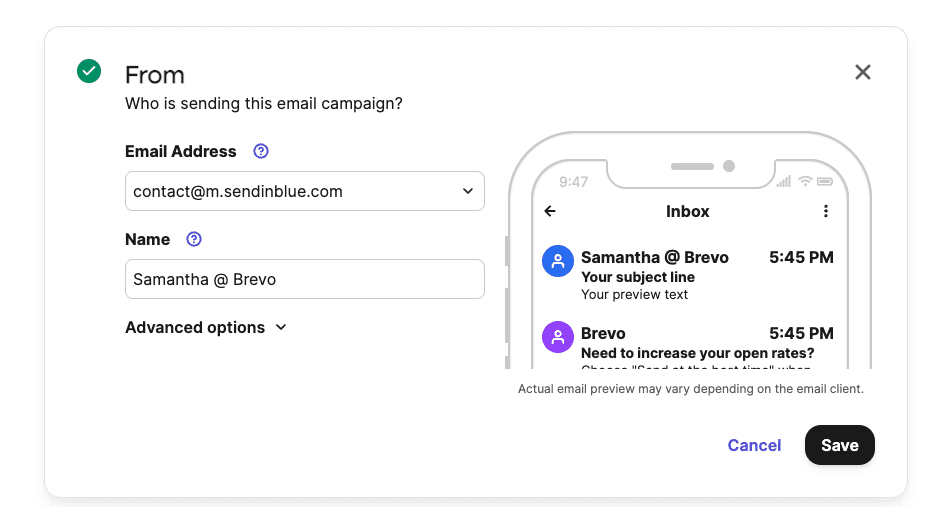 Brevo takes measures to ensure high email deliverability rates. It provides dedicated IP addresses to avoid shared blacklisting risks. Outbound emails are sent through major ISPs to avoid spam filters.
Brevo also enables email authentication through SPF, DKIM, and DMARC to prove the sender's identity. Preview text is generated to give recipients a sample of email content directly in the inbox.
Each campaign is automatically checked for spam trigger words, broken images, bad links, and formatting issues. Recommendations are provided to optimize deliverability prior to sending.
Deliverability metrics like open and click rates, bounces, spam reports, unsubscribes, and more are tracked. However, some users report inconsistent sending volumes from Brevo-shared IPs leading to gradual blacklisting. Deliverability capabilities lag behind leaders.
Mailchimp is known for its consistently stellar email deliverability thanks to sophisticated sending infrastructure and ongoing optimizations. It maintains a strong domain reputation across major inbox providers.
Mailchimp utilizes advanced AI to evaluate account behaviors and patterns to detect risky activity before it causes deliverability problems. Accounts are carefully monitored and preemptively optimized.
The platform offers dedicated IPs, sender authentication, and spam checkers. Granular analytics track inbox placement, spam reports, opens, clicks, and other metrics to assess deliverability.
Mailchimp also automatically re-sends messages if they are flagged, helping increase eventual delivery rates. And its algorithms learn from recurring delivery issues to improve ongoing performance.
Few other competitors match Mailchimp's deliverability rates, which are some of the best in class.
Mailchimp emerges as the clear winner for email deliverability. Its dedicated IPs, advanced spam avoidance, and continuous optimization techniques result in extremely competitive inbox placement rates across Gmail, Outlook, Yahoo, and other major providers. While Brevo takes steps to facilitate deliverability, it cannot match the sophisticated level of Mailchimp's email-sending operation. For reliability in getting to the inbox, Mailchimp is the superior choice.
5. Customer Support and Community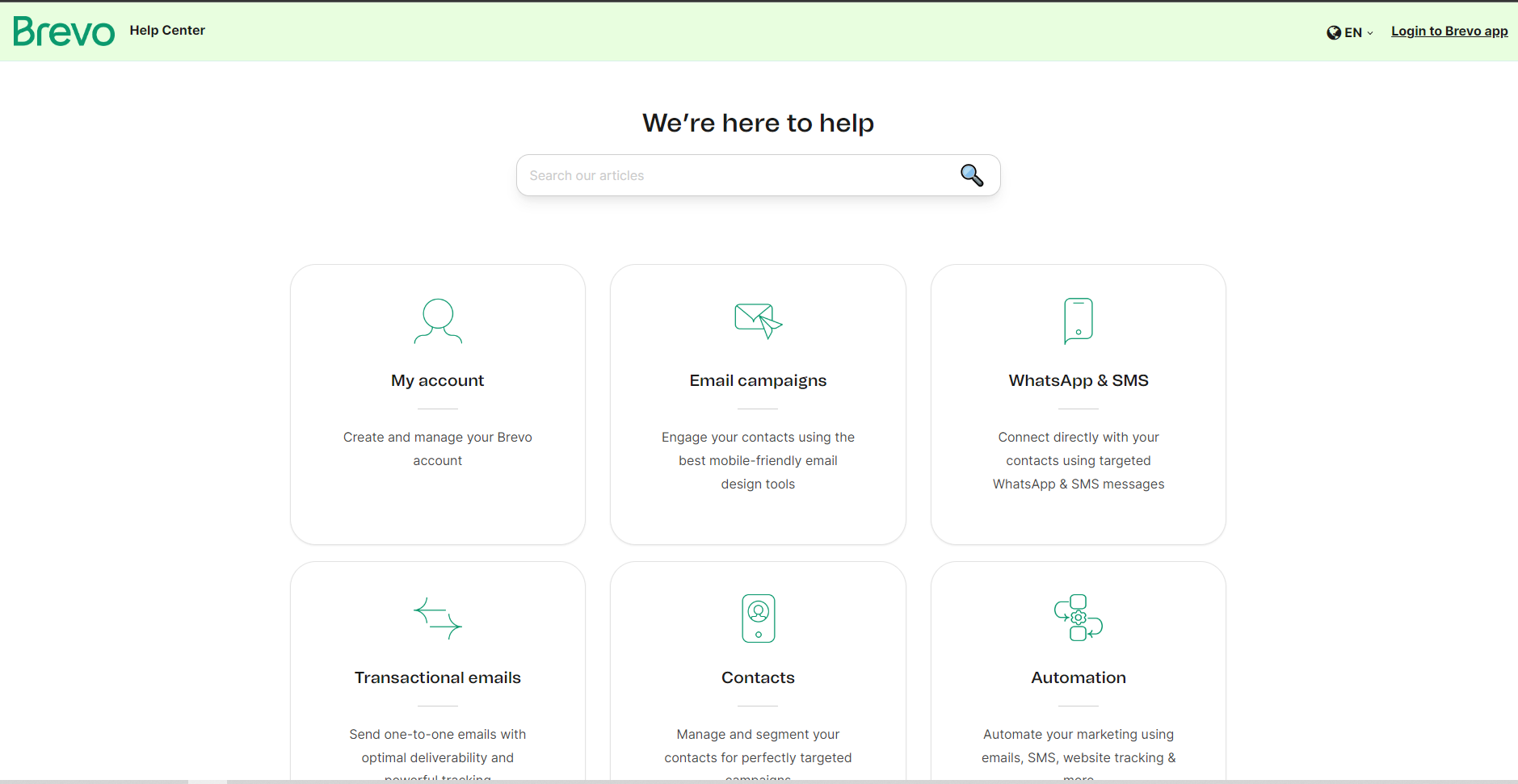 Brevo provides the following customer service channels for assistance:
Email support
Live chat
Phone support
Support center with FAQs and documentation
Active user community forum
The company prides itself on responsive support and short wait times to connect with knowledgeable agents. Phone and chat support are available 24/7.
Brevo's online community forum has over 36,000 members sharing feedback, troubleshooting issues, and giving product ideas. Users can post questions and expect a reply from customer service or other users in less than 24 hours.
Join the Brevo Users Group on Facebook
While still a growing platform, Brevo is focused on providing quality assistance through multiple convenient channels.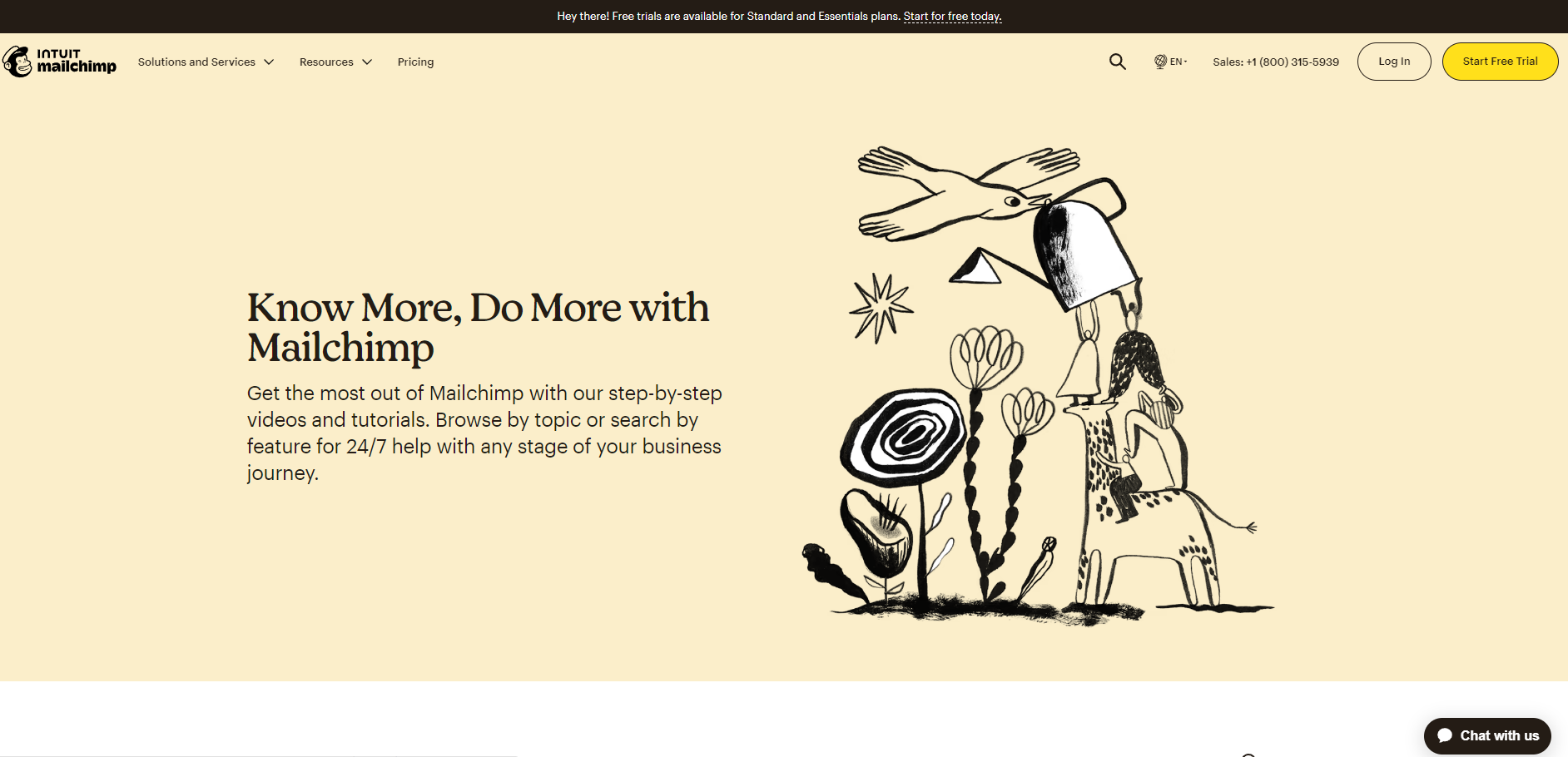 With over 20 years of perfecting customer support, Mailchimp offers:
24/7 email and chat assistance
Online knowledge base and video tutorials
Active user community forums
Local sites in non-English languages
Phone support for higher-tier accounts
In-app messaging and notification center
Mailchimp is widely praised for its exceptional customer service experience. Users have access to exhaustive resources and can expect fast personalized responses.
The Mailchimp community forum has over 1 million members and is an invaluable resource for tips, examples, and troubleshooting.
Join the Mailchimp Users Forum on Facebook
Mailchimp sets the gold standard for educated support staff, self-serve help content, and engaged user communities.
Mailchimp edges out Brevo for its world-class customer service reputation. With more channels, localized sites, in-depth self-help content, and a more established community, Mailchimp has greater resources to assist customers.
While Brevo makes an effort to provide quality support through chat, email, and its forum, it does not yet match Mailchimp's pedigree when it comes to educating and empowering users across global markets. For access to proven resources and problem resolution, Mailchimp is the winner.
6. Integrations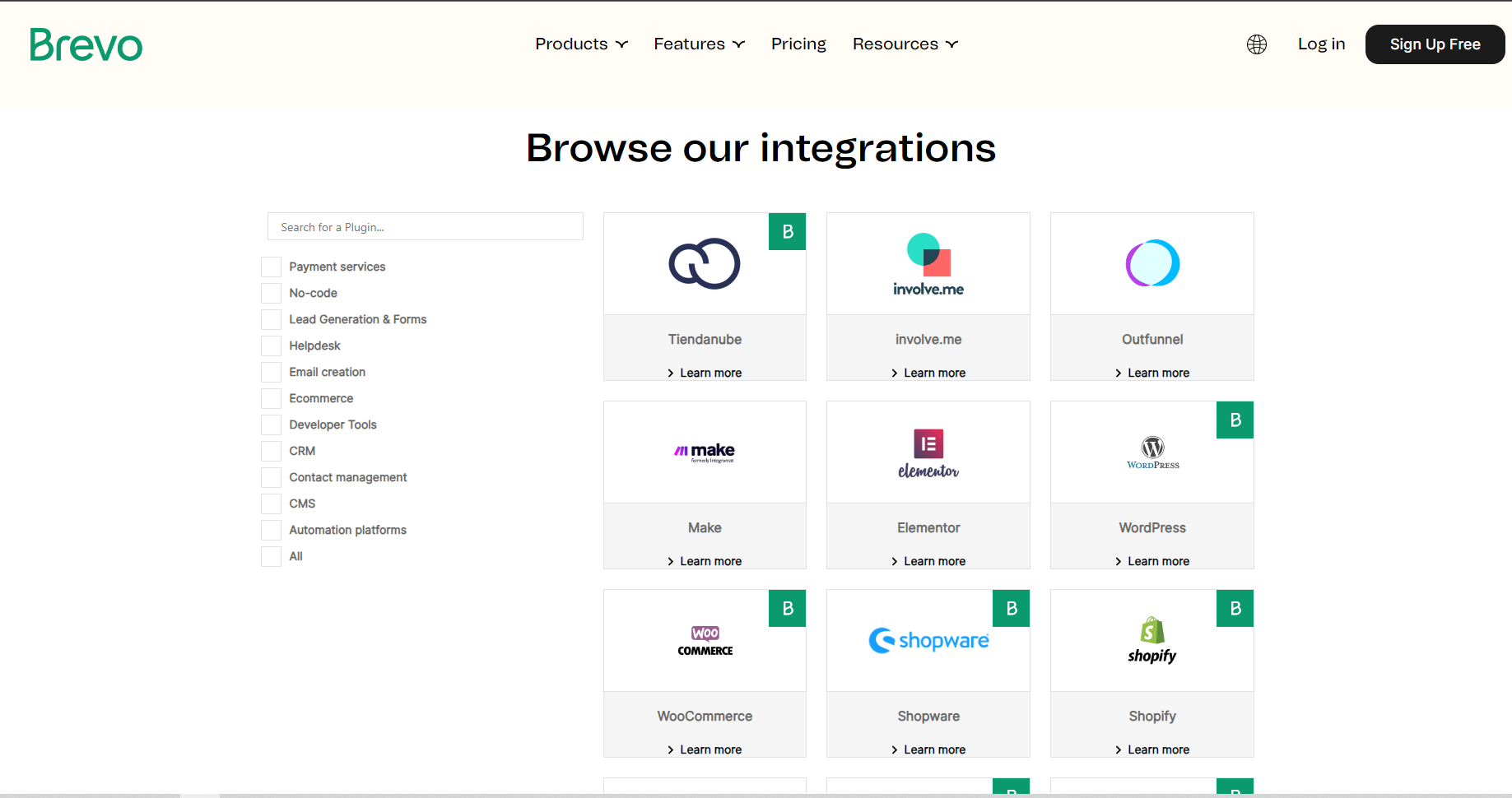 Brevo provides some pre-built integrations with popular apps to extend platform capabilities:
Google Analytics – Connect for deeper website insights
Zapier – Automate workflows with other apps
PayPal – Accept payments and simplify checkout
Stripe – Flexible payment processing through the Brevo store
Slack – Get notifications and alerts in Slack
GitHub – Deploy online store changes from GitHub
1000+ Zapier apps – Additional options through Zapier two-way functionality
While Brevo covers integrations for critical functions like analytics, payments, and automation, its app ecosystem lags behind some competitors. The Zapier integration helps connect with popular tools, but users may desire more robust, native integrations.
Mailchimp offers hundreds of technology integrations natively built into its platform:
eCommerce: Shopify, WooCommerce, PrestaShop, Magento
CRM: Salesforce, Capsule CRM, Insightly, Zoho CRM
Analytics: Google Analytics, Google Ads, Facebook Ads
Social Media: Facebook, Instagram, Twitter, LinkedIn
Payments: PayPal, Stripe
Productivity: Slack, Trello
Forms: Typeform, Wufoo
Landing Pages: Unbounce, Leadpages
Webinars: GoToWebinar, Zoom
With its open API, Mailchimp can connect directly to virtually any major marketing, sales, and operations solution. This facilitates the creation of unified cross-channel workflows.
Mailchimp is the winner for its abundance of natively supported app and technology integrations. While Brevo checks the boxes for key integrations like analytics, e-commerce, and payments, Mailchimp offers far more options out of the box. With over 500 integrations, users can connect Mailchimp to their entire martech stack for consolidated data and workflows. For flexibility to integrate with your choice of tools, Mailchimp leads over Brevo.
7. Pricing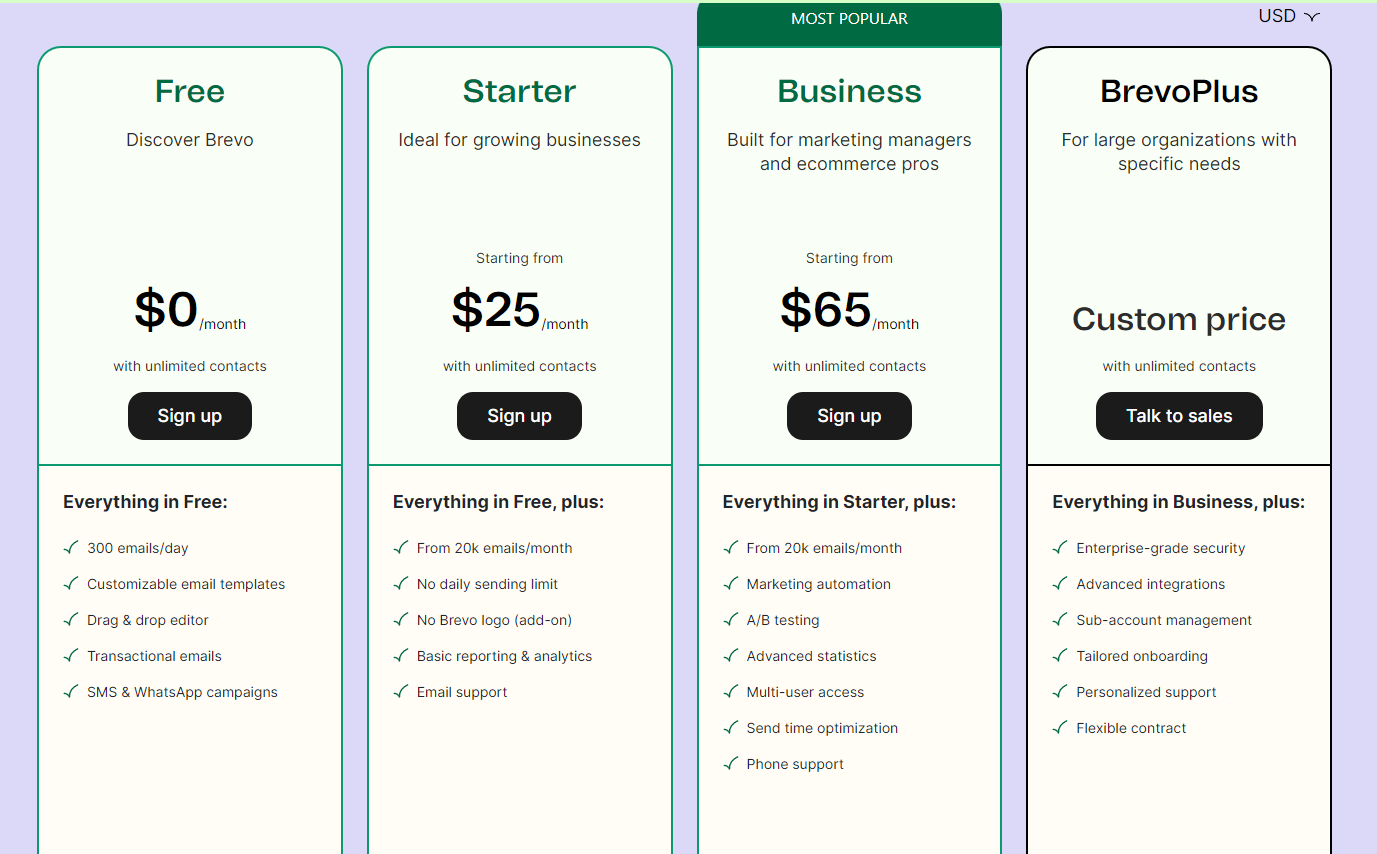 Brevo offers the following pricing plans:
Basic – Brevo's free plan lets you send up to 300 emails a day
Starter – This paid plan costs $25/month for 20K emails/month
Business – $65/month for 5,000 contacts and marketing automation features.
BrevoPlus – Custom pricing for larger organizations with specific needs.
The Basic plan provides core features like email marketing, forms, reports, and automation. Starter unlocks advanced options like A/B testing and API access.
At the Business tier, capabilities expand further with features like custom CSS, multi-user logins, and product recommendations for e-commerce.
Storage, bandwidth, and contacts scale with each tier, with the highest-priced plan offering unlimited marketing automation. Overall, Brevo is positioned at the lower end of industry pricing but delivers robust capabilities even at low tiers.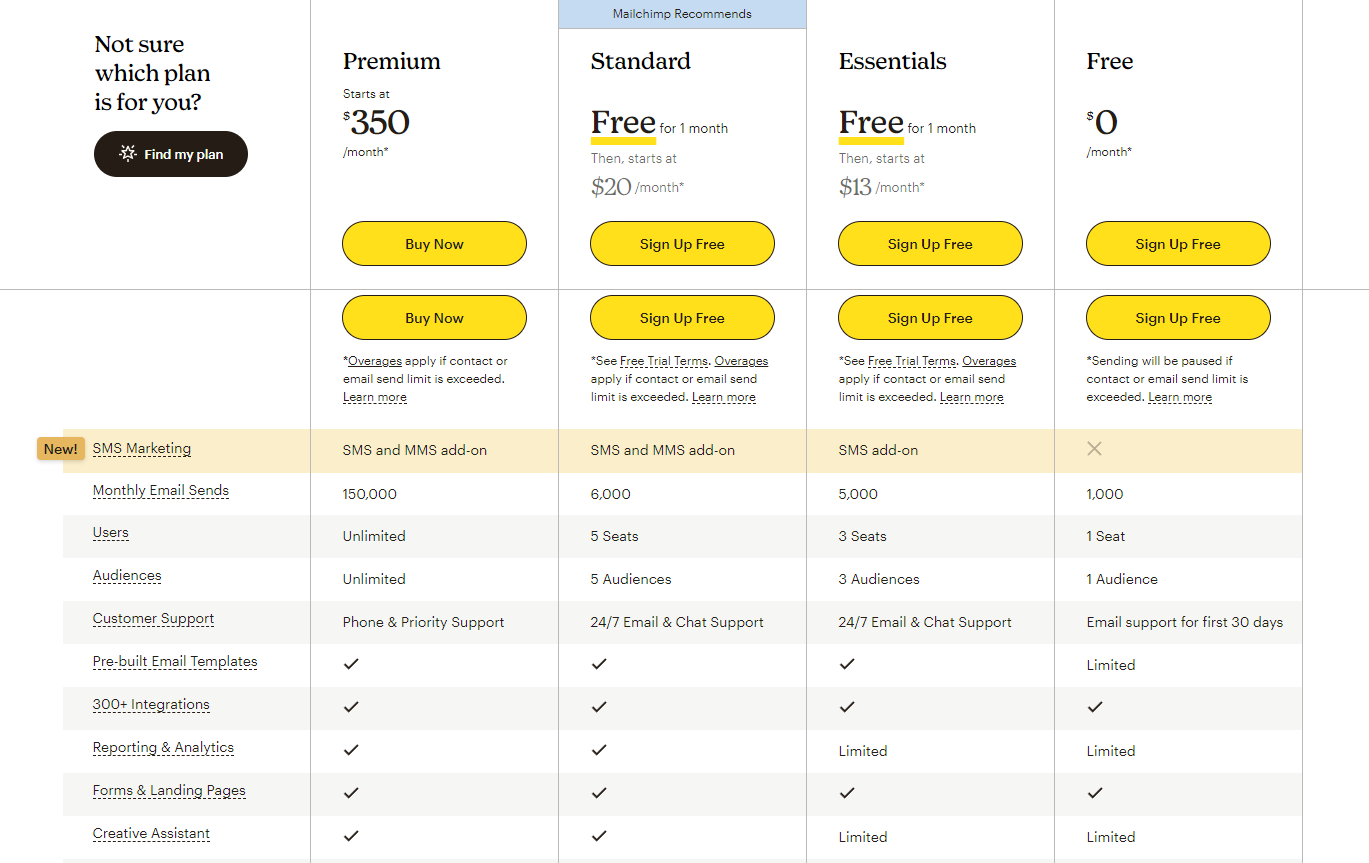 Mailchimp has 3 paid tiers: Essentials at $13/month, Standard at $20/month, and Premium at $350/month billed annually.
Lower tiers are suitable for small businesses. Advanced and Premium add powerful enterprise features like unlimited contacts, a journey builder, workflow automation, and advanced analytics.
There are also add-ons for expanded deliverability, Facebook and Instagram ads, additional automation, and other capabilities.
While sometimes perceived as more expensive, Mailchimp provides greater sophistication, deliverability, and support that justifies higher pricing for growing businesses. Offerings scale up for truly enterprise-level needs.
Winner: Tie
Brevo and Mailchimp each offer a generous free plan, and both have tiered plans making robust features accessible to businesses of any size. Brevo skews more affordable for early-stage startups, making it one of the best Mailchimp alternatives out there.
However, Mailchimp provides premium capabilities and support at scale that warrant its higher pricing. Ultimately, both represent fair value depending on the business stage and needs. We declare this category a tie – Brevo for economy, and Mailchimp's email marketing software for premium power and service.
8. Reviews and Reputation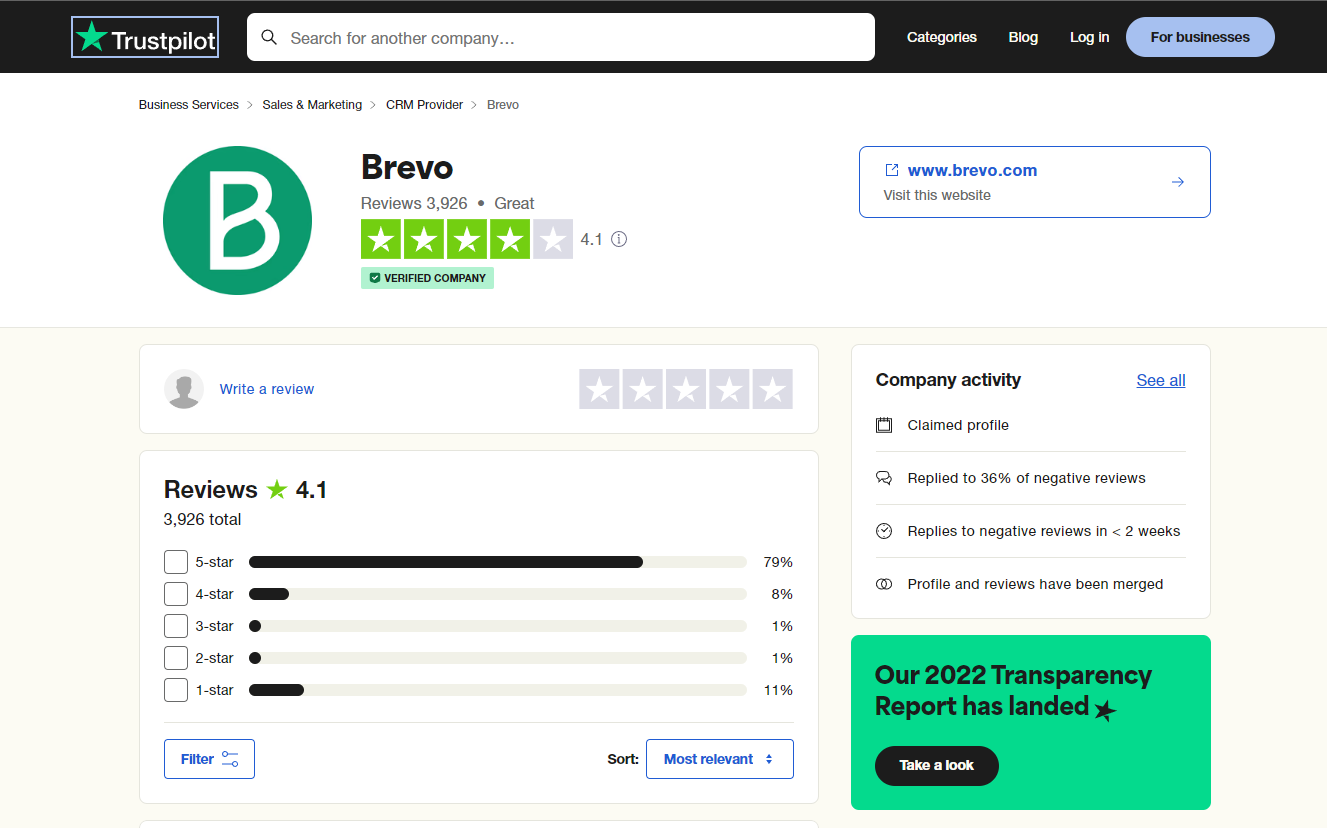 As a newer platform, Brevo has limited independent reviews but is generally well-received. On reputable software review sites like Capterra and G2, it earns high satisfaction ratings from users.
Positive feedback on Brevo includes its intuitive, easy-to-use interface that makes the platform accessible for beginners, excellent customer support that is helpful for onboarding and troubleshooting, and comprehensive features that provide all-in-one functionality.
Constructive criticism includes Brevo lacking advanced configuration options leading to less flexibility for technical users, having a smaller feature set than competitors with some key functions still missing, and slow development of new features causing it to lag behind the rapid market.
While Brevo is still building its reputation as a reliable email marketing solution, initial feedback indicates it competes well on usability and support. With more maturity and development, it can become a major player.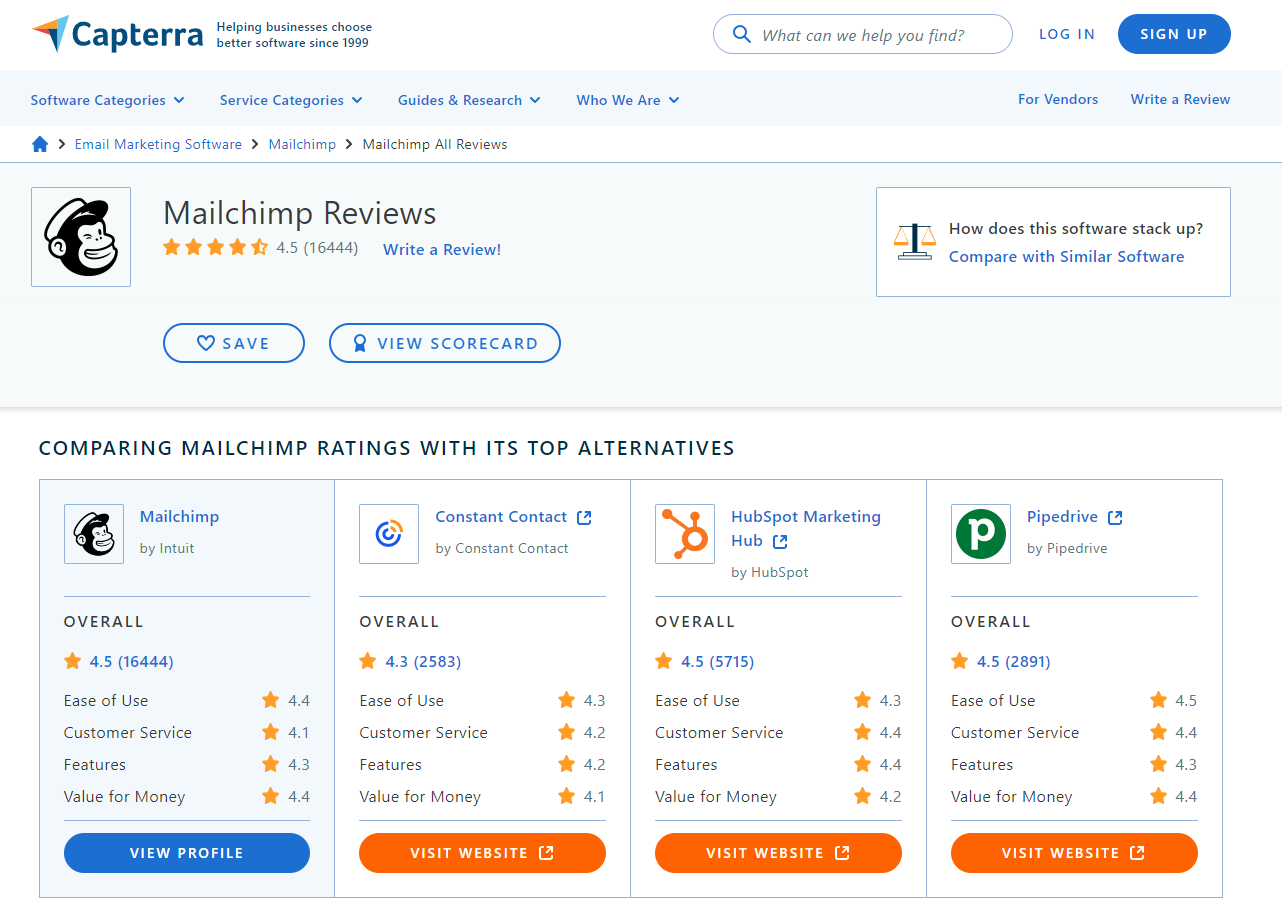 With over 20 years in business, Mailchimp enjoys a sterling industry reputation with overwhelmingly positive reviews.
Mailchimp users praise the platform for its intuitive interface that is easy to navigate despite robust options, outstanding customer support with quick responses and expertise, powerful deliverability resulting in email delivery that consistently hits inboxes, expanding integrations with native connections to popular apps, and analytics capabilities through customizable reports to optimize performance.
Some downsides according to reviews are a steeper learning curve for advanced features, potentially more expensive pricing compared to competitors, and occasional delays on new feature rollouts.
Mailchimp's reputation is deservedly strong – it exemplifies many traits like usability, deliverability, and support that users value most.
With overwhelmingly positive reviews and reputation, Mailchimp emerges as the winner over Brevo's mixed early feedback. Mailchimp's long-term refinement, deliverability excellence, and customer satisfaction give it an advantage that reliably meets user needs.
While Brevo shows promise, it cannot yet match Mailchimp's pedigree and renown as a reliable digital marketing platform. For proven results businesses can trust, Mailchimp is the reputable choice.
9. FAQ's
What types of email campaigns can I create in Brevo?

Brevo supports the creation of multiple campaigns, and you can send marketing emails like promotions, newsletters, announcements, welcome campaigns, holiday emails, event invitations, and more. It has drag-and-drop editors to customize content.
Does Brevo have e-commerce features?

Yes, Brevo provides tools to build online stores, accept payments, manage products, fulfill orders, and analyze e-commerce data.
How does Brevo handle deliverability?

Brevo uses dedicated IP addresses and sender authentication to maintain good deliverability rates. It also provides preview text and spam checks before sending.
Is there a mobile app?

Currently, Brevo does not offer mobile apps, but its web interface is mobile-responsive for accessing your account and running your email marketing campaigns from mobile devices.
How does Mailchimp pricing work?

Mailchimp offers four paid plans based on the number of contacts, starting at $13/month for up to 500 contacts on Essentials. More features are included at higher tiers.
What types of automation can I set up?

Mailchimp supports welcome automation, purchase follow-ups, abandoned cart workflows, RSS campaigns, birthday messages, and more. Complex options are available.
Can I connect Mailchimp to my e-commerce store?

Yes, Mailchimp integrates directly with all major e-commerce platforms like Shopify and WooCommerce to track sales and sync data.
Is there A/B testing for emails?

Mailchimp has robust A/B testing capabilities to compare subject lines, content, send times, and more to optimize email performance.
Final Thoughts
Choose Brevo If…
Brevo is a great choice if you want an all-in-one solution to create a website, blog, store, and marketing campaign. Its intuitive drag-and-drop editor makes it easy for beginners to build professional emails, and landing pages, and post content without any technical skills.
Brevo's plans are very affordable to bootstrap your blog, online businesses, or ecommerce site. With quality templates and excellent support, it provides great capabilities for solopreneurs, small teams, and agencies managing multiple client accounts.
Choose Mailchimp if you want industry-leading email marketing, segmentation, and automation powered by sophisticated deliverability and analytics. Mailchimp is the go-to tool for established businesses ready to scale.
With more advanced features, custom development options, and integrations, growing companies can expand beyond the basic email campaign into multi-channel campaigns while leveraging behavioral data to personalize experiences. Mailchimp's reputation and expertise make it ideal for mature organizations.
You may also be interested in checking out some Mailchimp alternatives to help with the evaluation process.
Choosing the right email marketing platform is critical for successfully growing your business online. We hope this comparison has provided valuable guidance, but feel free to ask any additional questions in the comments if you need help assessing the best solution for your unique needs.