Email marketing platforms like Emma and Mailchimp allow businesses to design and send engaging email campaigns, newsletters, and automated messages. Choosing the right platform is crucial for small business owners who want to grow their customer base and drive repeat sales.
In this Emma vs Mailchimp comparison article, we will evaluate Emma and Mailchimp across several key criteria to help you determine the best email marketing platform for your business's needs.
Whether you are concerned about budget, need powerful ecommerce features, or want something that is easy for beginners, our side-by-side analysis aims to help you make an informed decision.
1. Understanding the Basics
Emma was founded in 2003 by Clint McClellan. The United States founded company has over 50,000 customers worldwide. The company has established itself as one of the top email service providers.
Mailchimp was founded in 2001 in Atlanta by Ben Chestnut and Mark Armstrong. Mailchimp has over 13 million users and 800 employees. Mailchimp has become one of the most widely used email marketing platforms.
Emma has a Facebook community with over 17,000 members. You can join it here: Emma Facebook Group.
Mailchimp also has an active Facebook group with over 400,000 members that can be joined here: Mailchimp Facebook Group.
2. Features and Functionality
Marketing Automation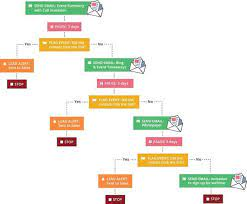 Emma's automation tool allows you to set up triggers and create sequences of emails to send to subscribers. You can create signup automation to onboard new subscribers, cart abandonment sequences to re-engage shoppers, and birthday or anniversary automation to build relationships.
With Emma's visual automation builder, you can easily set conditional logic like if/then statements. For example, you could send different messages based on whether a subscriber clicked a link in a previous email.
Emma also offers RSS-to-email automation. You can automatically send new blog post updates to subscribers. Overall, Emma provides robust options for setting up targeted, personalized automation.
Mailchimp has a powerful automation tool called Automation Workflows. You can create multi-step campaigns with conditional logic and scheduling options.
One advantage of Mailchimp is the ability to base automation on subscriber tags, interests, purchase history, and more. This helps target content effectively. The drag-and-drop workflow builder is intuitive for beginners.
Overall, Mailchimp provides excellent email marketing automation suitable for both simple and complex email marketing needs. The flexibility and segmentation options are hard to beat.
This Mailchimp Emma comparison shows that Mailchimp wins for best automation capabilities due to the advanced conditional logic, expansive trigger options, and intuitive workflow builder. The ability to create highly targeted, personalized automation gives Mailchimp the edge.
Email Marketing Templates
Emma provides hundreds of professionally designed email templates for different industries and campaign types. Templates are organized into categories like Welcome Series, Promotions, Holidays, and more.
Emma's templates are mobile-optimized and the builder allows you to preview on different devices. You can create basic text emails or complex templates with dynamic content.
Overall, Emma's polished templates and flexible editor provide excellent options for creating on-brand, visually appealing emails.
Mailchimp offers over 700 responsive email templates that work great to run any type of email campaign on mobile devices. Like Emma, the templates are organized by category and industry for targeted emails.
The template editor enables you to quickly customize fonts, colors, and layouts. You can also insert merge tags to pull in subscriber information.
While Emma may have an edge for creative design, Mailchimp's email template functionality, collaboration options, and extensive template library make it very versatile.
Winner: Tie
Both Emma and Mailchimp provide ample professionally designed email templates that can be customized to match brand needs. Their template editors are easy to use with similar capabilities. For email templates, Emma and Mailchimp are tied.
Email Campaign Segmentation
Emma allows you to segment your subscriber list based on sign-up attributes, interests, purchase history, past email engagement, and more so you can send messages that are more relevant.
You can create custom segments with complex filters and conditions to target specific groups. For example, you could send a promotion only to subscribers in California who opened a previous email.
Emma also lets you save segments for reuse. Overall, it provides good segmentation capabilities for targeted messaging.
Mailchimp offers extensive options for segmenting your audience. You can filter by subscriber tags, interests, demographics, purchase history, engagement metrics, and more.
With Mailchimp's Groups feature, you can also group contacts together and send emails to that entire group. The filtering and grouping options enable excellent personalization.
Mailchimp wins for best segmentation and targeting capabilities. The automatic tagging from automation, expansive filter options, and Groups make Mailchimp more powerful for sending highly personalized, behavior-based content.
Analytics
Emma provides solid email analytics to help you track performance. You can view high-level metrics like open rate, click rate, and unsubscribes.
Emma also integrates with Google Analytics for expanded reporting. Overall, Emma covers the basics well for understanding your email marketing results. It's ideal for large enterprises that need detailed analytics.
Mailchimp offers powerful analytics both within your account and via integrations. You get real-time reports on opens, clicks, conversions, and more.
Integrating with Google Analytics is a breeze and gives expanded insights. You can track website visits, ecommerce transactions, and ROI from your emails.
The Mailchimp Emma comparison shows that Mailchimp wins for its exceptional built-in analytics and deep Google Analytics integration. The email software is perfect for small businesses. The flexibility to segment and filter reports provides superior insights into the performance of email campaigns. It's one of the best services to help improve your results.
Unique Features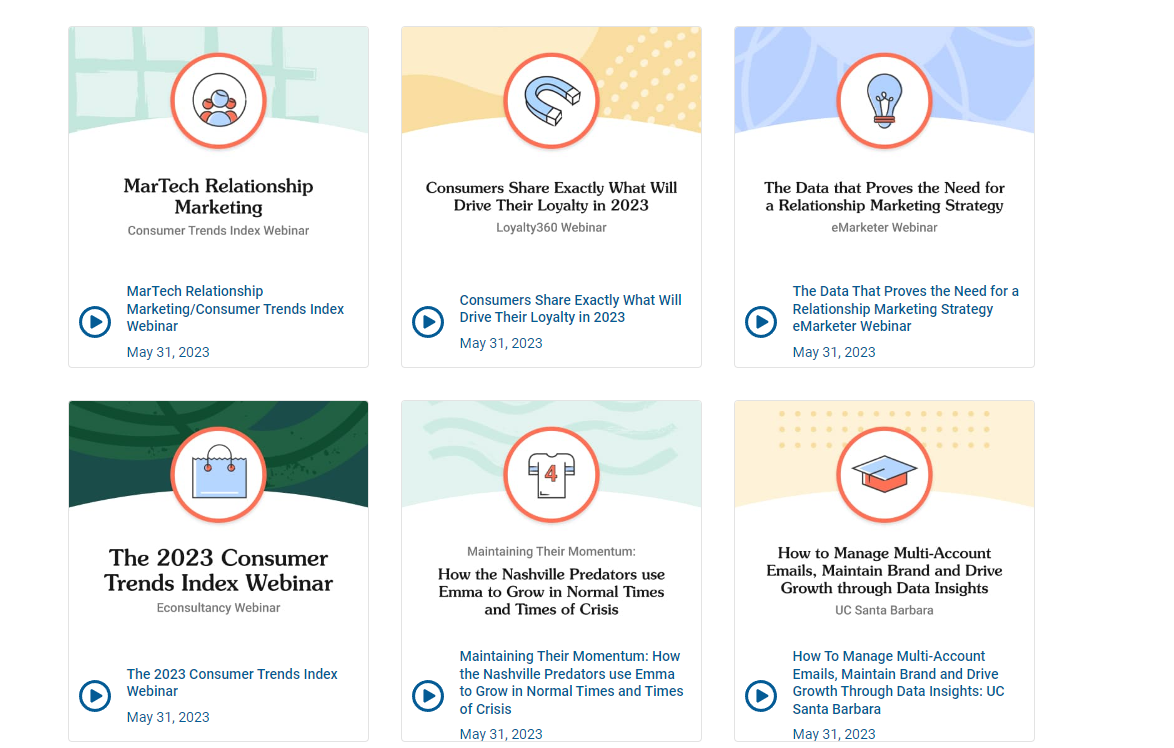 One unique feature of Emma is its library of bite-sized training videos and courses to help users master email marketing best practices across all platform features.
This great software simplifies compliance with international anti-spam laws like GDPR and CASL and helps you run your campaigns correctly.
A standout feature of Mailchimp is Automation Recipes – pre-built workflow automation that users can easily add to their account, simplifying complex automation creation.
The Prediction Builder leverages AI to model campaign performance scenarios and help optimize email marketing efforts.
Mailchimp wins for its unique features including Automation Recipes, built-in social paid ad management, and AI-powered prediction capabilities. These differentiators enhance marketing beyond basic email functionality.
3. Ease of Use
Emma's user interface is clean and intuitive. The left sidebar makes key features easy to access.
For beginners, Emma's dashboard prompts you toward the recommended next steps to set up your first campaign. The platform also has thorough support articles.
The learning curve is not steep thanks to the structured dashboard and visual editors. Emma provides a positive user experience.
Mailchimp's dashboard is organized into clear sections for audience, campaigns, automation, and reports. This makes it easy to find what you need.
Overall, Mailchimp is easy to use for beginners but also provides robust functionality for advanced users. The learning curve is minimal.
Winner: Tie
Both Emma and Mailchimp offer intuitive dashboard interfaces, visual builders for emails and automation, and guided onboarding for beginners. Their learning curves are similarly minimal. For ease of use, Emma and Mailchimp tie.
4. Email Deliverability
Emma takes measures to ensure strong email deliverability rates. They automatically authenticate emails through SPF, DKIM, and DMARC.
Emma also has sender verification and warmup capabilities to safely ramp up new sender IPs. Overall, deliverability is a clear focus.
Mailchimp prioritizes deliverability through advanced email authentication and monitoring systems. Emails are automatically signed with SPF, DKIM, and DMARC.
With a dedicated deliverability team and advanced email authentication, Mailchimp is optimized for deliverability.
Winner: Tie
The Mailchimp Emma comparison shows that both platforms use email authentication, sender verification, inbox monitoring, and gradual warmups on new accounts. They also provide personal support. The two platforms are evenly matched for optimizing email deliverability.
5. Customer Support and Community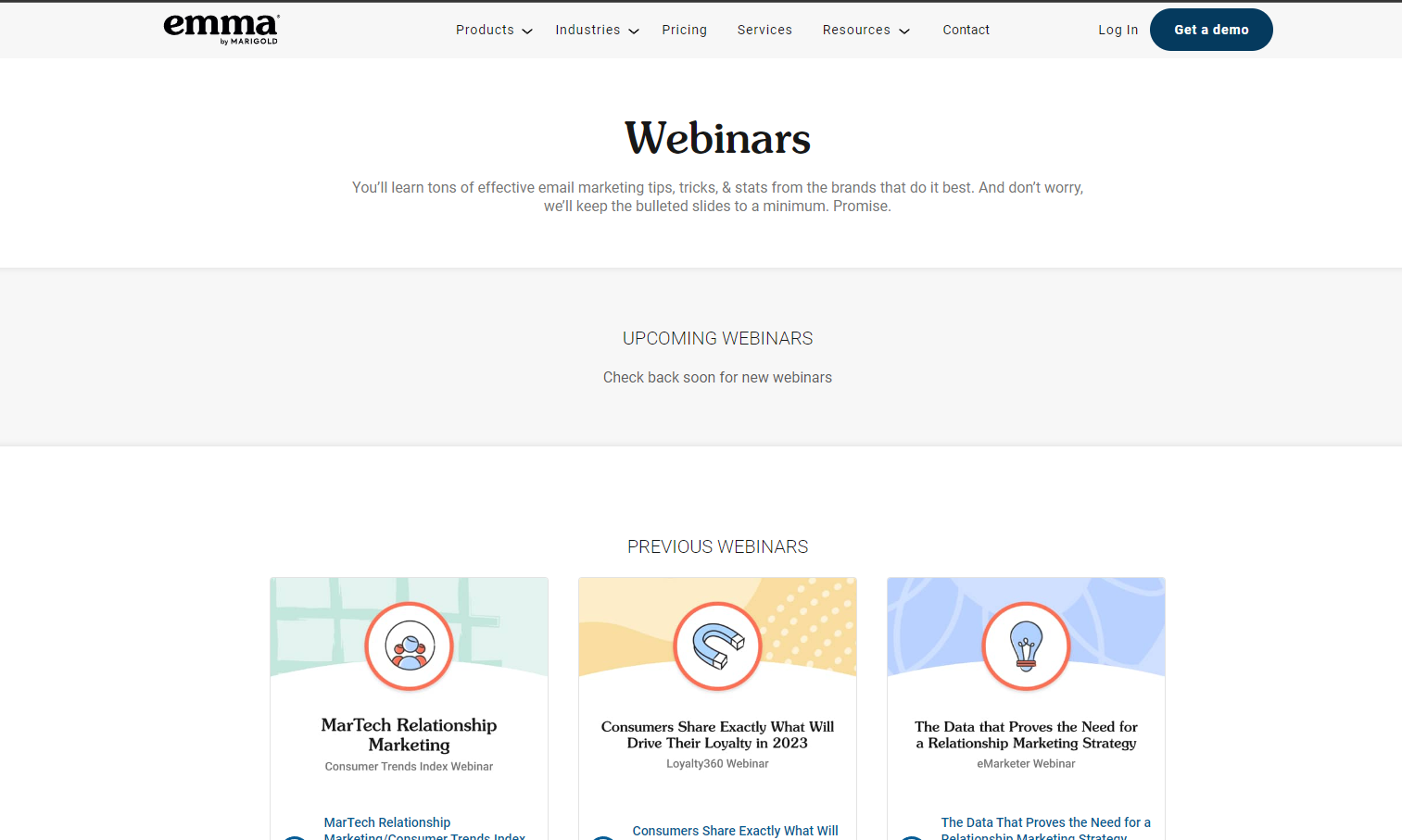 Emma provides email support, live chat, and phone support depending on your plan level. All users have access to their comprehensive help center with FAQs, how-to videos, and step-by-step articles to self-serve answers to common questions.
Overall, Emma provides solid customer support options through email, chat, help resources, and onboarding assistance. The user community provides peer insights, though fairly small.
Mailchimp stands out by offering 24/7 customer support via email, live chat, and phone (for upgraded plans). All users get access to their extremely comprehensive help center and knowledge base for self-service troubleshooting.
Mailchimp wins for best overall customer support and community resources. The 24/7 live support channels, personalized onboarding and account advisors, and extremely large user community of over 150,000 members provide unmatched education and assistance.
6. Integrations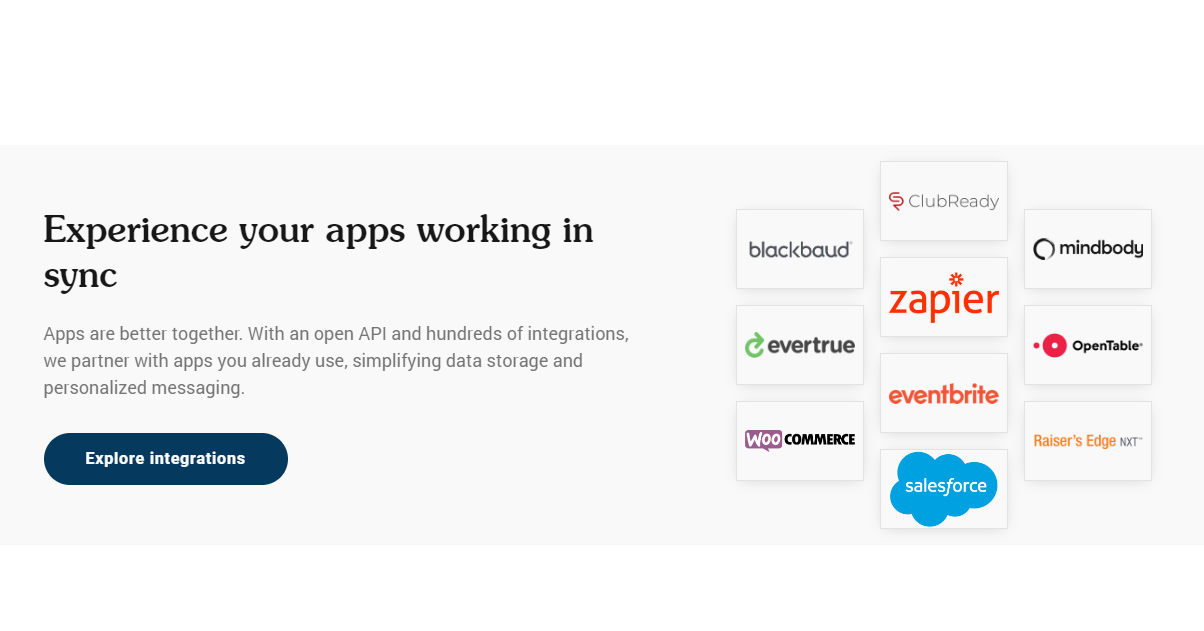 Emma offers a handful of core integrations with platforms like WordPress, WooCommerce, and Gorgias for helpdesk ticketing.
The core integrations focus on connecting Emma to your website and store. Support for complex marketing tech stacks is lacking.
Mailchimp stands out for its vast integration marketplace. They offer over 800 native integrations with leading apps.
With pre-built integrations across marketing, sales, and service tools, Mailchimp provides excellent expansion capabilities.
Mailchimp wins for best integrations because of its vast marketplace connecting to 800+ tools across all categories. This flexibility to integrate with CRMs, marketing automation, social media, and more is unparalleled.
7. Pricing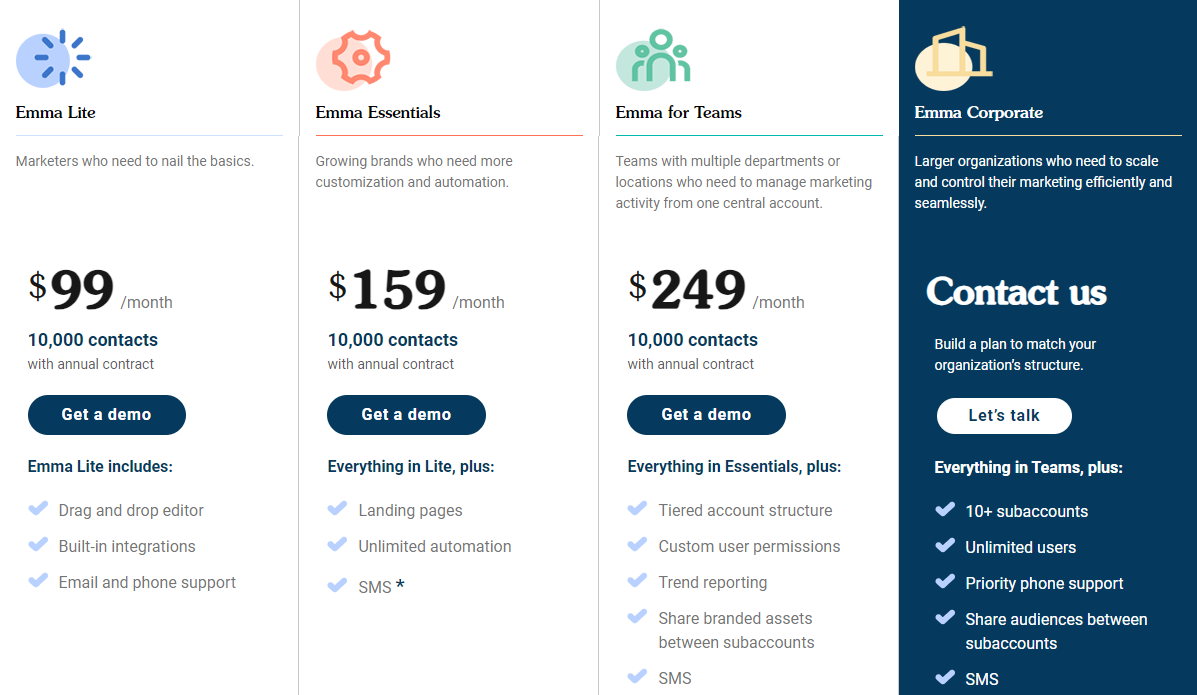 Emma starts at $99/month for up to 10,000 contacts. Higher tiers are $159/month for 25,000 contacts and $249/month for 50,000 contacts.
Emma offers a 30-day free trial to test the platform. Annual billing gets you 2 months free. Overall, Emma is affordably priced for small businesses.
Mailchimp offers a permanently free plan for up to 1,000 contacts and 12,000 emails per month. Paid plans start at $13/month for up to 500 contacts. Unlimited plans cost $350/month.
The free plan makes the platform accessible to test. Paid plans are reasonably priced for smaller lists. Large or complex needs require custom enterprise quotes.
This software wins for pricing because they offer a forever free plan with basic features. Paid plans start under $13/month. Combined with unlimited emails and discounts for annual billing, Mailchimp provides the best value.
8. Reviews and Reputation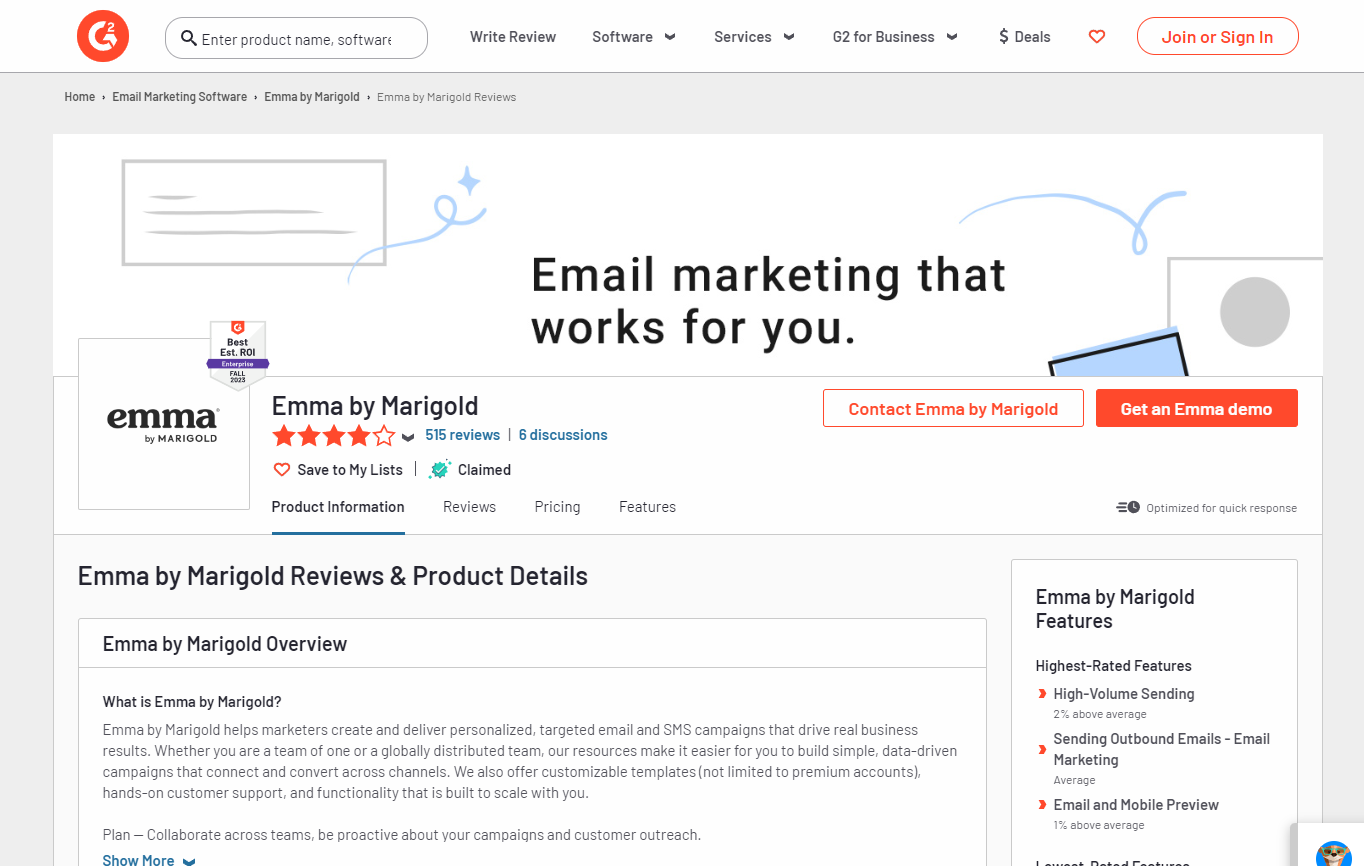 Emma earns overwhelmingly positive reviews for its ease of use, workflow automation capabilities, and quality customer support. Users consistently praise the clean, intuitive interface and visual workflow builder that makes creating emails and automation simple.
On G2, Emma holds a 4 out of 5 average rating based on over 500+ verified customer reviews. Many reviews highlight Emma's strong email deliverability rates and the helpful guidance it provides for beginners.
With over 20,000 user reviews analyzed, Mailchimp earns excellent ratings across multiple review platforms for its simplicity, automation features, value pricing, and analytics capabilities that are perfect for businesses of all sizes and large enterprises.
On G2 Crowd, they maintain a 4.2 out of 5 rating from over 12,000 reviews. The consensus across reviewers is very positive.
With a significantly larger volume of customer reviews averaging a higher rating across review platforms like TrustRadius and G2 Crowd, Mailchimp emerges as the winner for best overall reputation.
9. FAQ's
What types of email campaigns can I create with Emma?

Emma allows you to create standard email newsletters, automated email workflows triggered by user actions, targeted segmented campaigns, and RSS-driven emails to turn blog content into campaigns automatically.
Does Emma have email templates?

Yes, Emma provides hundreds of professionally designed email templates you can customize for your brand with just a few clicks. Templates are mobile-optimized.
Does Mailchimp offer free plans?

Yes, Mailchimp has a forever free plan that lets you send up to 2,000 contacts with basic features. This makes Mailchimp very affordable for getting started.
What analytics does Mailchimp provide?

Mailchimp has powerful analytics to track opens, clicks, conversions, unsubscribes, and more. You can segment stats by campaign, audience, and other factors to optimize performance.
Final Thoughts
Choose Emma if…
Emma is a great choice for small businesses who want a streamlined email marketing platform that's easy to use. The United States founded software has an intuitive interface and guided workflows that make it beginner-friendly and ideal for businesses of all sizes, including large enterprises. Emma excels at automation for complex triggered email sequences.
Mailchimp is ideal for small business owners who want powerful marketing automation features at a low cost. The forever-free plan makes it easy to get started. Mailchimp shines when it comes to analytics and integrations with other apps.
You may also be interested in checking out some Mailchimp alternatives to help with the evaluation process.