With so many marketing automation platforms available, choosing the right one for your business can feel overwhelming. Two of the most popular options are HubSpot and Mailchimp, but they have key differences.
In this comprehensive Mailchimp vs HubSpot comparison, we'll look at the market position, ease of use, features, performance, support, pricing, and reputation of both platforms. Our criteria focus on factors including functionality, design, customer support, and value for money. Armed with this information, you can confidently decide which email marketing tool will help drive growth for years to come.
1. Understanding the Basics
HubSpot was founded in 2006 by Brian Halligan and Dharmesh Shah. It is headquartered in Cambridge, Massachusetts. HubSpot is one of the most popular inbound marketing and sales platforms, with over 120,000 customers in more than 120 countries.
Mailchimp was founded in 2001 by Ben Chestnut and Mark Armstrong. It is headquartered in Atlanta, Georgia. Mailchimp is a leading email marketing automation platform, with over 14 million users sending more than 1 billion emails per day.
Both HubSpot and Mailchimp have strong market positions and popularity. HubSpot may have a slight edge in terms of inbound marketing capabilities, while Mailchimp is renowned for email marketing and automation.
Active Facebook communities for each platform include:
Joining relevant Facebook groups can provide support, inspiration, and advice from fellow users of each platform.
2. Features and Functionality
Having the right marketing software in place is crucial for businesses today. It allows you to nurture leads, automate campaigns, and track results in one centralized hub. However, not all platforms are created equal.
We'll compare HubSpot and Mailchimp across 10 categories to reveal the strengths and weaknesses of each. This will empower you to make an informed decision about which solution best fits the unique needs and goals of your business.
Automation
HubSpot offers robust automation tools to help streamline your marketing strategy (whether that be for e-commerce or otherwise) and sales processes. Some key features include:
Email automation – Create tailored email sequences to nurture leads based on their actions and interests using the platform's built-in marketing automation tools. For example, you can send a series of onboarding emails to new contacts over time.
Workflow automation – Build multi-step workflows to automatically assign tasks and update contact data in your pipeline. This saves time by removing manual work.
Meeting scheduling – Automate the process of scheduling meetings with prospects using HubSpot's meeting tool. It integrates with your calendar.
Asset delivery – Send relevant assets like ebooks, checklists, or proposals automatically when a prospect takes a desired action.
Web personalization – Personalize your website experience for visitors based on their past engagement and profile. For example, show certain CTAs or content to leads vs non-leads.
Ads automation – Create customized ad experiences based on actions site visitors take on your site using HubSpot Ads.
Overall, HubSpot provides robust options to automate your inbound marketing and sales processes from end to end so you can get better results from your marketing efforts. You'll be able to increase efficiency and create a more tailored experience.
Mailchimp enables powerful email marketing automation for sending targeted, automated campaigns. Key features include:
Pre-built automation – Choose from automation templates for common scenarios like welcoming new subscribers, re-engaging inactive contacts, and more.
Custom automation – Build custom email workflows based on any combination of triggers and actions using a visual workflow builder. Send automatic follow-up emails when a contact clicks a link, abandons a cart, and more.
Segmentation – Divide your lists into segments, then trigger automation based on segmentation rules. For example, send a series of emails automatically to all VIP subscribers.
Tags and groups – Apply tags and organize contacts into groups, then use them as triggers for your automation. For example, trigger an automation when a contact is tagged as "lead."
API integrations – Connect Mailchimp to other apps via API to unlock more advanced automation capabilities. For example, add new subscribers to a workflow when they fill out a Typeform.
Overall, Mailchimp provides powerful options for email marketing automation, though it lacks broader marketing and sales automation features.
HubSpot is the winner when it comes to marketing channels and sales automation capabilities. While Mailchimp excels at email automation, HubSpot enables automation across your entire customer journey – from ads and landing pages to email and meeting schedules. Its broader feature set automates more marketing and sales tasks end-to-end.
Email Templates
HubSpot provides a gallery of professionally designed email templates that can be customized for your brand. There are over 100 free email templates available for different marketing campaigns and lifecycle stages, designed by HubSpot's team.
You can easily customize the templates through HubSpot's drag-and-drop editor, which allows you to drag, drop, and edit components without coding. For more advanced customization, you can directly edit the HTML and CSS source code. Personalization is enabled through the insertion of dynamic text and images that populate with data from your contacts database.
All templates are mobile responsive out of the box, and you can preview how they look on mobile. Template reporting also allows you to see email open rates and click-through rates for each template, so you can identify your top performers. Overall, HubSpot provides high-quality and customizable templates to choose from for your email campaigns.
Mailchimp offers hundreds of professional email templates that are mobile-optimized and customizable. There are pre-designed templates available for all types of campaigns, newsletters, announcements, events, and more. You can filter and browse by category or layout to find options.
Mailchimp's drag-and-drop builder allows you to visually create your own templates and customize existing ones by dragging in sections or images. For more advanced customization, you can insert your own HTML and CSS code or use Mailchimp's built-in code editor.
Merge tags enable you to dynamically insert contact data into your emails. The templates are optimized for mobile out of the box, and you can make mobile-specific tweaks. You can also browse design inspiration and examples from Mailchimp's blog and community. Overall, Mailchimp provides a vast library of polished email templates to give your campaigns a professional design.
Winner: Tie
For email templates, HubSpot and Mailchimp are tied. Both provide hundreds of professional, customizable email template options out of the box via an easy drag-and-drop editor. Their offerings are quite comparable to well-designed email templates.
Segmentation
HubSpot enables segmented email marketing campaigns based on contact properties, behaviors, and other criteria. Key features include:
You can create segments based on lifecycle stage, past email engagement, website activity, contact properties like title or industry, and more. HubSpot makes it easy to segment and target leads, customers, subscribers, and other groups effectively.
When contacts meet the criteria for a segment, they are automatically added behind the scenes. You can then select segments to target with your email campaigns, nurture streams, ads, and other content.
Segments update dynamically as your contacts' properties and behaviors change over time. For example, if a lead converts to a customer, it will automatically move from your "Leads" segment to your "Customers" segment.
Overall, HubSpot provides powerful segmentation tools to send targeted, personalized messaging to different audience groups.
Mailchimp enables email list segmentation to target subgroups with tailored messaging. Key features include the following:
You can segment your list by location, purchase history, engagement with your emails and site, demographic info, or tags you add manually.
When you set up a segmentation rule, Mailchimp will automatically filter your list and create the segment. Contacts are added to appropriate segments as they take action.
You can then send emails or trigger automation specifically targeted to a segment, like sending new subscribers a welcome series.
With Mailchimp's visual campaign builder, you can easily drag and drop segments to target for each campaign. It also shows segment size.
Overall, Mailchimp makes it easy to divide your audience into segments and craft targeted email campaigns accordingly.
For segmentation capabilities, HubSpot is the winner. It provides more advanced options for automatically segmenting based on detailed contact criteria and behaviors across channels beyond just email. The automatic synchronization of segments is also a key advantage of HubSpot's segmentation engine.
Analytics
HubSpot provides powerful analytics to track your marketing performance across channels. Key features include:
The Marketing Hub dashboard centralizes key metrics and reports for your emails, landing pages, forms, blogs, ads, contacts, and deals.
Drill into detailed campaign analytics to analyze email opens/clicks, CTR, conversions, ROI, and subscriber engagement over time. Identify top-performing segments, templates, and sends.
Integrate Google Analytics for deeper analysis of website visits, conversions, landing page optimization, and more based on your email and content campaigns.
Leverage the workflow analytics tool to monitor bottlenecks and inefficiencies in your sales workflows by department, stage, time to close, and more.
Overall, HubSpot enables multi-channel analytics from your marketing automation platform to optimize the entire customer experience.
Mailchimp provides email campaign analytics to optimize your marketing. Key features include:
See opens, clicks, unsubscribes, spam reports, and more for each campaign. Compare email stats by campaign, segment, or across your audience.
Analyze subscriber engagement trends over time to identify when your audience is most active. Track growth metrics like new subscribers.
Get insights on your email content performance – which subject lines, preheaders, and designs drive the most opens.
Integrate Google Analytics to connect email stats with important website metrics like conversions and ROI.
While Mailchimp has robust email analytics, it lacks analytics beyond the email campaign scope.
For marketing analytics, HubSpot is the winner. HubSpot provides a centralized dashboard to track performance across email, landing pages, forms, and ads – beyond just email campaign stats. This provides a more complete view of your marketing ROI across channels.
Unique Features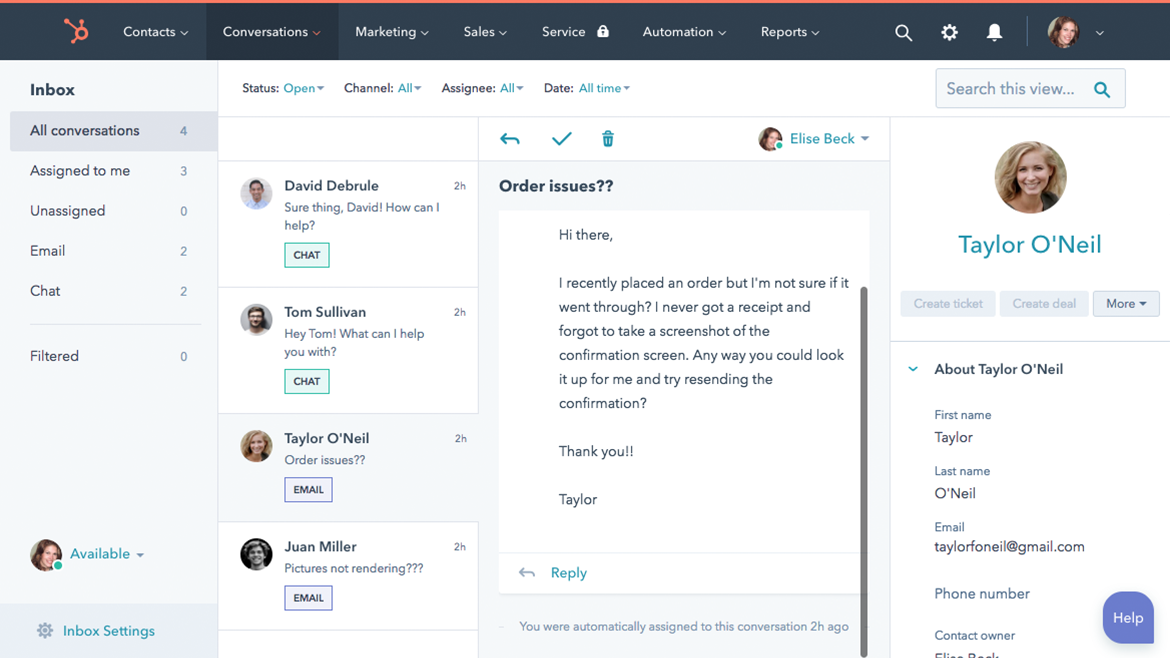 Some of HubSpot's standout unique features include:
Free CRM – HubSpot offers a free CRM to store all your contacts and manage deals and workflows. This seamlessly integrates with email and landing pages.
Meetings tool – Schedule and manage meetings with prospects right in HubSpot. It integrates with your calendar.
Website builder – Build a customized website on HubSpot's CMS platform. Leverage templates and design tools.
Social media management – Manage and schedule social media content from one HubSpot dashboard.
Ads platform – Run targeted ads on Facebook, Instagram, Google, and LinkedIn integrated with your contacts and campaigns.
Some of Mailchimp's notable unique features include:
Automations mobile app – Manage your email automation on the go with the Mailchimp mobile app.
Facebook ad campaigns – Run Facebook ad campaigns directly in Mailchimp to reach new subscribers.
E-commerce integrations – Connect online stores like Shopify to sync store data with Mailchimp campaigns.
SMS marketing – Send targeted SMS campaigns alongside your emails.
Overall, both platforms offer useful and unique features, but HubSpot has a broader suite of marketing tools.
For unique features beyond just email marketing, HubSpot wins. Its free CRM, meetings tool, website builder, and integrated ads platform provide an impressively complete inbound marketing and sales suite.
3. Ease of Use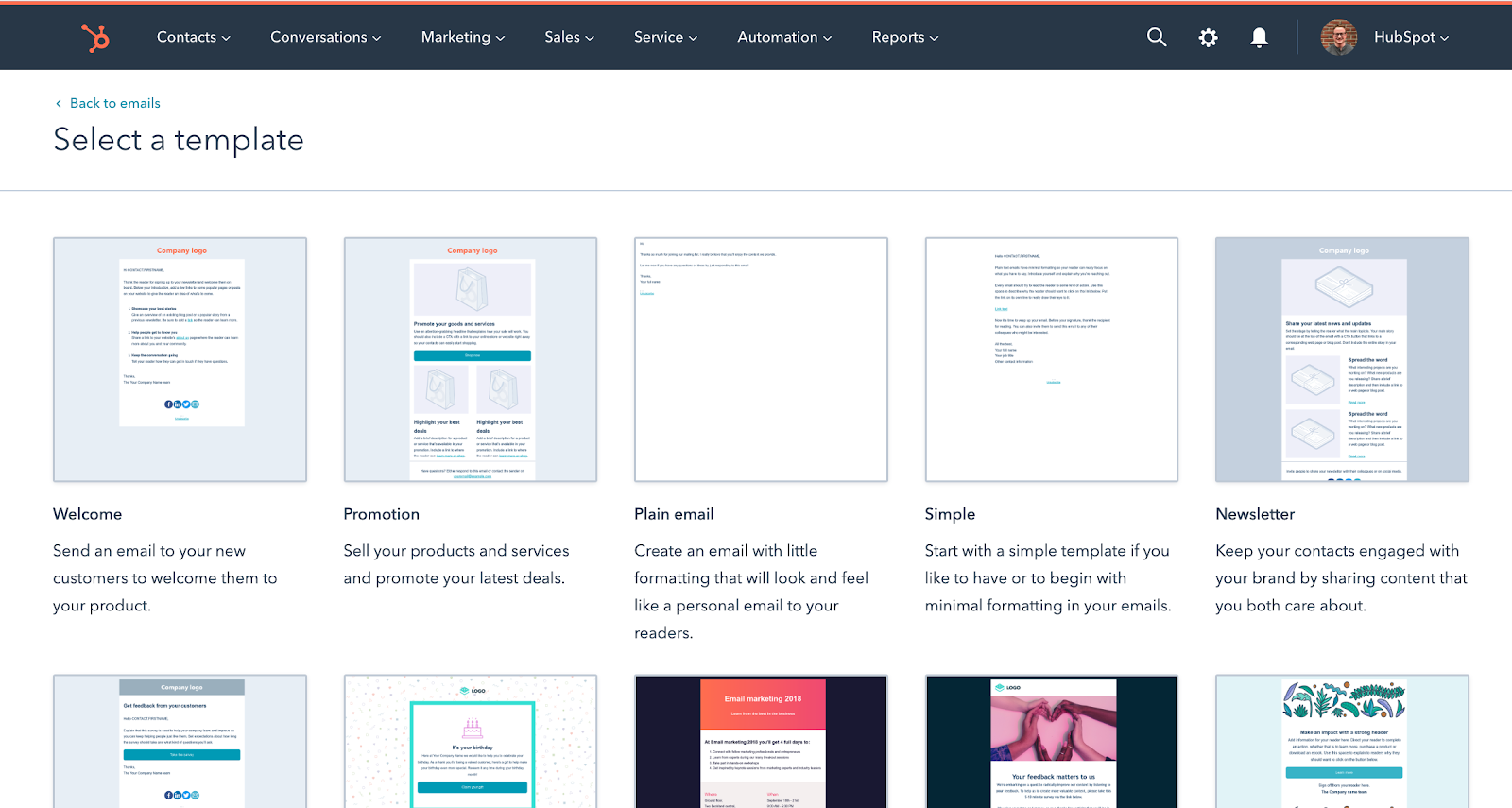 HubSpot was designed to be intuitive and easy to use, especially for beginners. The user interface has a clean, modern design with sleek icons and graphics. Key tasks are laid out in simple left sidebar navigation with guiding tips.
When you first sign up, you are led through an onboarding checklist highlighting key setup steps. Interactive demos and tooltips explain how to use features. The platform includes templates and pre-made configs to accelerate getting started.
Overall, HubSpot has done an excellent job making its platform approachable for beginners. The interface is straightforward and HubSpot Academy provides ample educational resources. The learning curve is relatively small.
Mailchimp offers a clean, friendly user interface that helps simplify email marketing. Navigating between campaigns, lists, reports, and settings is easy with the intuitive left sidebar.
Helpful prompts guide you through creating your first campaign, importing contacts, picking a template, and sending your email. Campaign builder features also include tips and definitions.
The platform is quite beginner-friendly for launching basic email campaigns. However, more complex workflows or coding require a steeper learning curve to master.
Overall, Mailchimp's UI makes email marketing accessible for new users, though more advanced features require more expertise.
For ease of use, HubSpot wins. Its UI design and educational resources help minimize the learning curve required for beginners to get started with the platform across its suite of tools. Mailchimp is very easy to use for basic email and simple automation.
4. Email Deliverability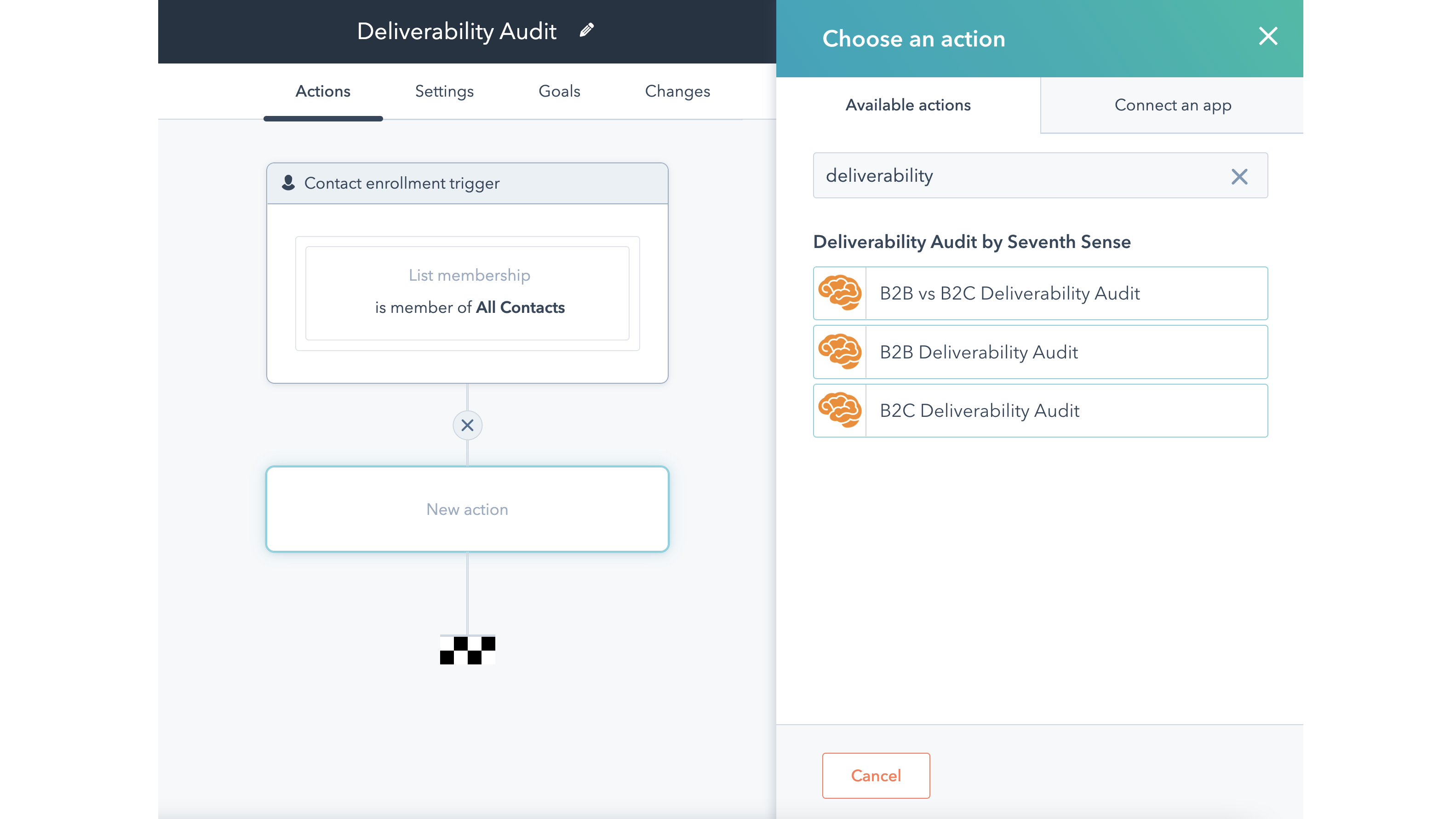 HubSpot optimizes email deliverability through advanced validation, authentication, and monitoring capabilities. It provides dedicated IP addresses to maintain a strong sender reputation. Emails are authenticated with SPF, DKIM, and DMARC to prove sender validity.
Inbox monitoring tools allow you to test deliverability and spam filtering before sending. Email addresses are validated before sending to remove risky contacts. HubSpot also enables automatic list cleaning.
Deliverability reports provide analysis on bounces, blocks, spam, deferrals, and more. Overall, HubSpot provides strong email deliverability features to maximize inbox placement.
Mailchimp also offers robust features to optimize email deliverability. You can use shared or dedicated IP addresses depending on your usage levels. Custom feedback loops allow you to monitor inbox placement over time. Email authentication is handled through SPF, DKIM, and DMARC to improve security.
Both email address validation and automatic list cleaning are provided. You can run spam filter tests on campaigns before sending them out. Reports provide insights on bounces, spam complaints, and subscriber engagement metrics.
Mailchimp also offers deliverability consulting services for expertise. Overall, Mailchimp enables optimized deliverability through a similar set of key capabilities.
Winner: Tie
HubSpot and Mailchimp are evenly matched when it comes to core email deliverability features. Both platforms provide advanced validation, authentication, monitoring tools, and consulting services to maximize inbox placement. This results in a tie between the two platforms.
5. Customer Support and Community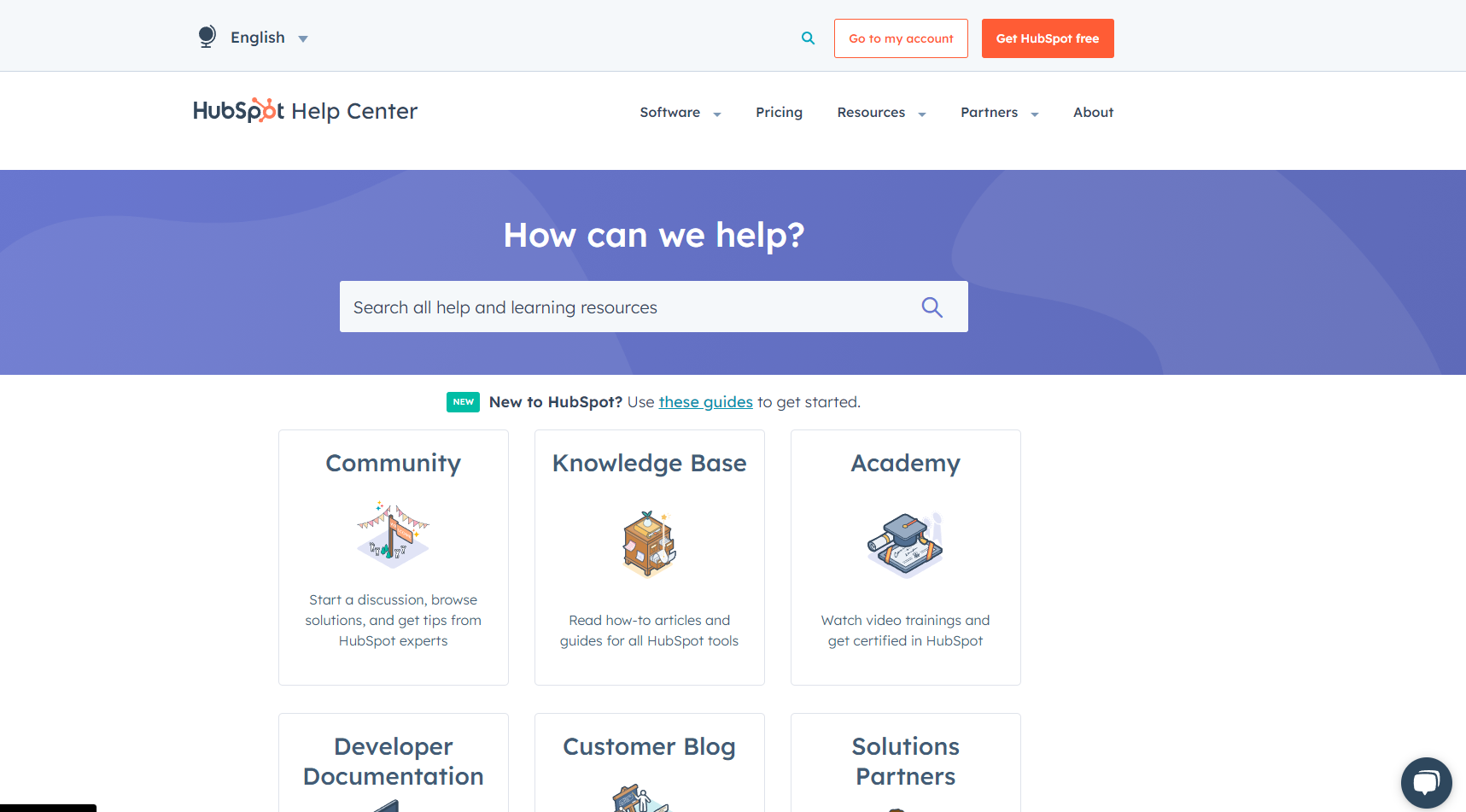 HubSpot offers multiple tiers of customer support depending on your subscription:
The Basic tier includes email support and access to the knowledge base. The Pro tier adds live chat support during business hours. The Enterprise tier provides 24/7 live chat, email, and phone support.
HubSpot also has an active customer community called HubSpot User Groups Education where you can connect with other HubSpot users to ask questions and share best practices.
Overall, HubSpot provides solid customer support options appropriate for the tier and robust community resources.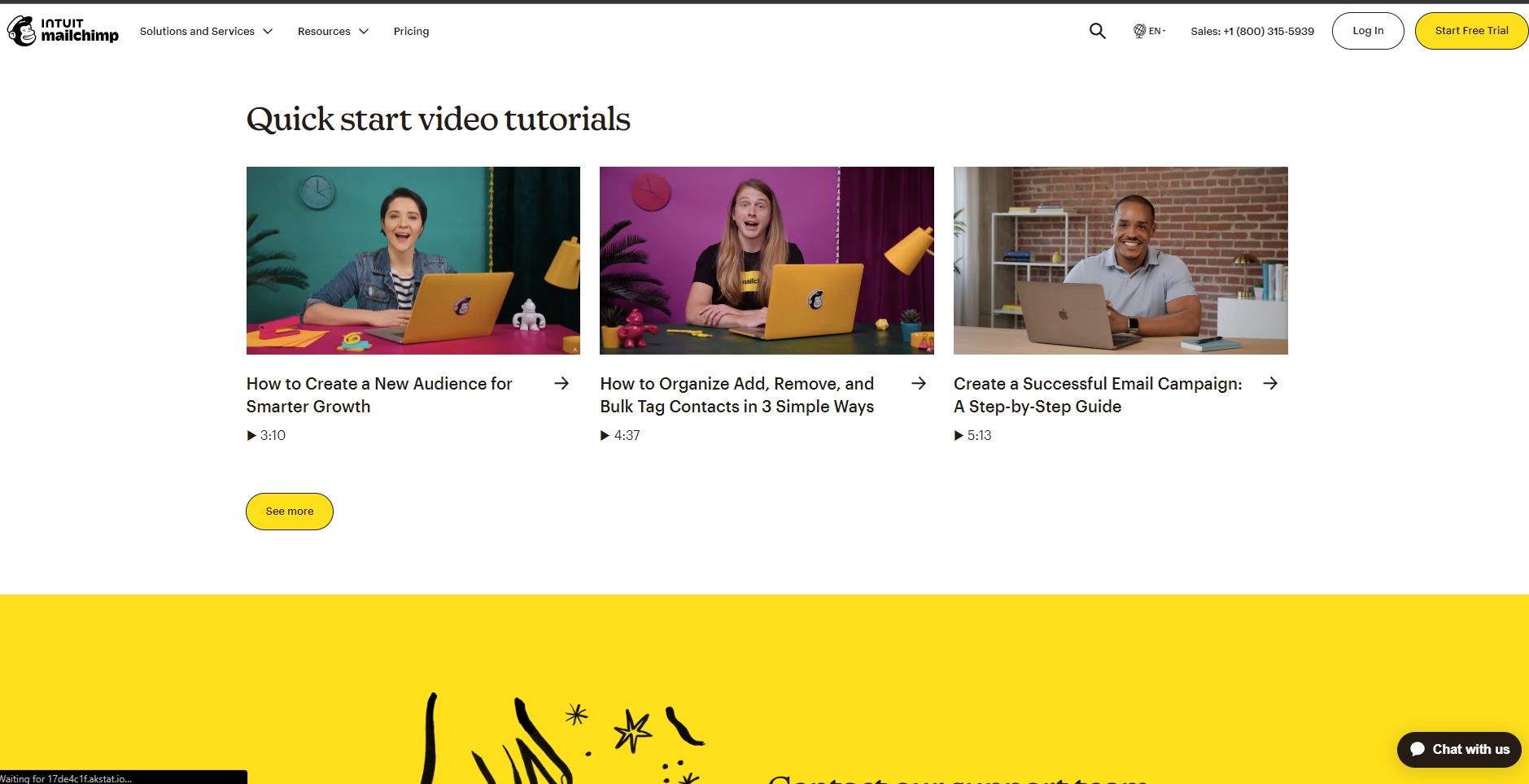 All Mailchimp users have access to the following support resources:
Email support with a one-business-day response time from Mailchimp's support team. Self-serve options like the searchable knowledge base and support chatbots.
Mailchimp also has an engaged user community on Facebook called Mailchimp User Group with over 13,000 members. This group provides peer-to-peer education.
While Mailchimp provides helpful customer support, options beyond email and self-service are only available on higher-priced plans.
For customer support and community, HubSpot wins. It offers more support channels like live chat and phone on paid plans, along with a very active official user community group on Facebook. Mailchimp's community is also beneficial, but support lacks live options.
6. Integrations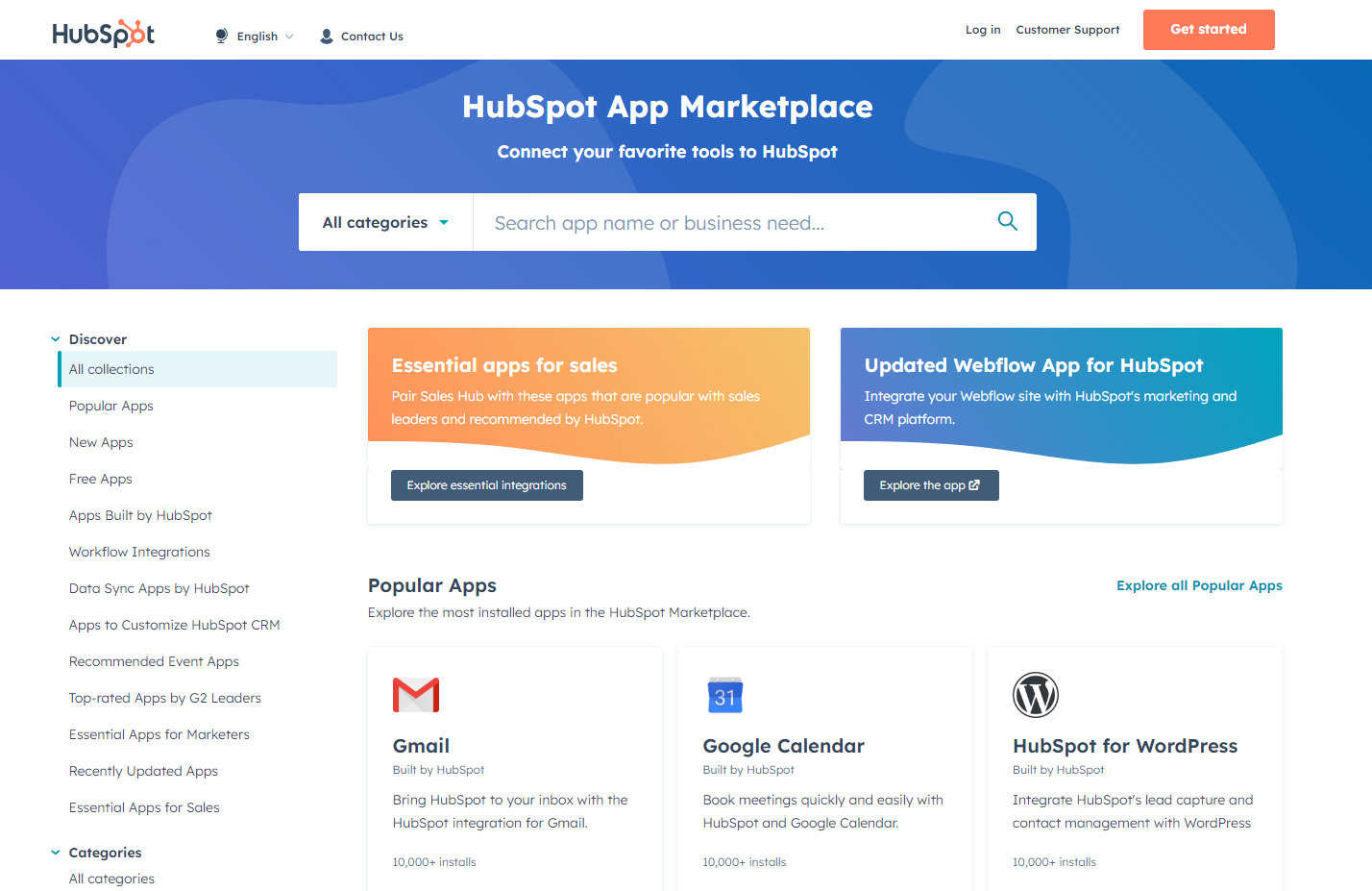 HubSpot offers hundreds of integrations with apps and platforms via APIs and app marketplaces. Key integrations include CRM and marketing apps like Salesforce, Marketo, and Zendesk as well as email providers like Gmail, Outlook, and Yahoo.
For social media, HubSpot integrates with Facebook, Twitter, and LinkedIn. E-commerce platforms like Shopify, Magento, and WooCommerce can be connected. CMS platforms like WordPress, Drupal, and Webflow are also supported. Analytics tools like Google Analytics and Google Ads integrate seamlessly.
Payment systems like Stripe and PayPal are included. Automation tools like Zapier can also integrate. Overall, HubSpot makes it easy to connect and synchronize data between platforms using its vast set of integrations.
Mailchimp also provides integrations with popular apps and systems including email services like Gmail and Outlook as well as e-commerce platforms like Shopify, WooCommerce, and Magento. CRMs like Salesforce, Zoho, and Capsule can integrate. For social media, Mailchimp connects with Facebook and Instagram.
Marketing platforms like Marketo and Zapier are supported along with analytics systems like Google Analytics. The integrations enable syncing contact and campaign data between Mailchimp and other platforms.
For integrations, HubSpot is the winner. It offers an expansive set of integrations with marketing, sales, email, social, e-commerce, CMS, and analytics platforms. This enables powerful connectivity across the martech and sales tech stacks. Mailchimp also provides useful integrations, but they are more narrowly focused on email marketing capabilities.
7. Pricing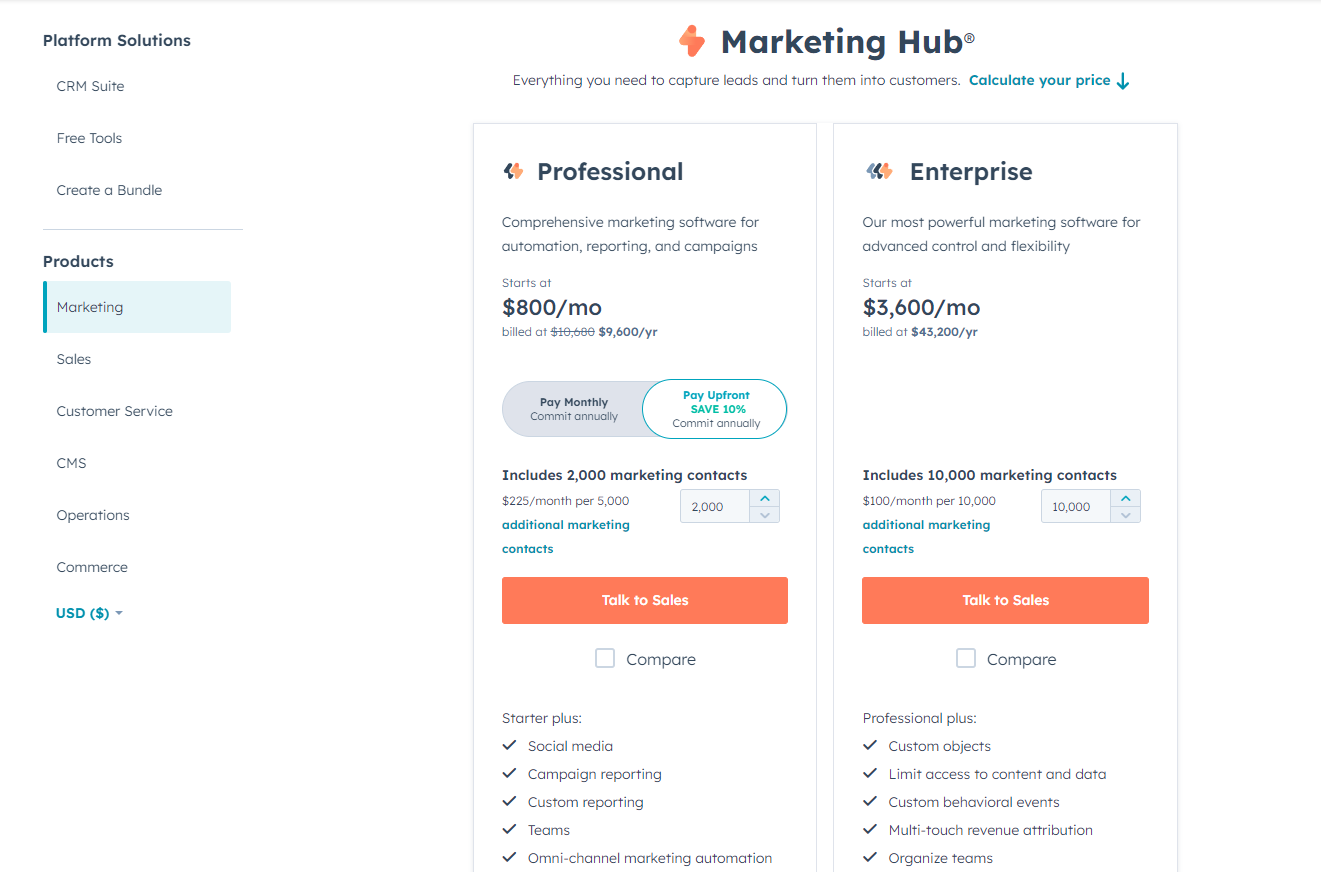 HubSpot offers the following pricing tiers:
Free – Includes basic CRM, contacts, and email.
Starter – $20/month. CRM, unlimited contacts, and email to 1,000 contacts per month.
Professional – $890/month. CRM, 10,000 contacts, and email to 5,000 contacts per month.
Enterprise – Custom pricing. Premier services and unlimited contacts and emails.
HubSpot pricing is based on the number of contacts and the maximum number of emails you can send per month. More advanced tiers provide additional features and functionality.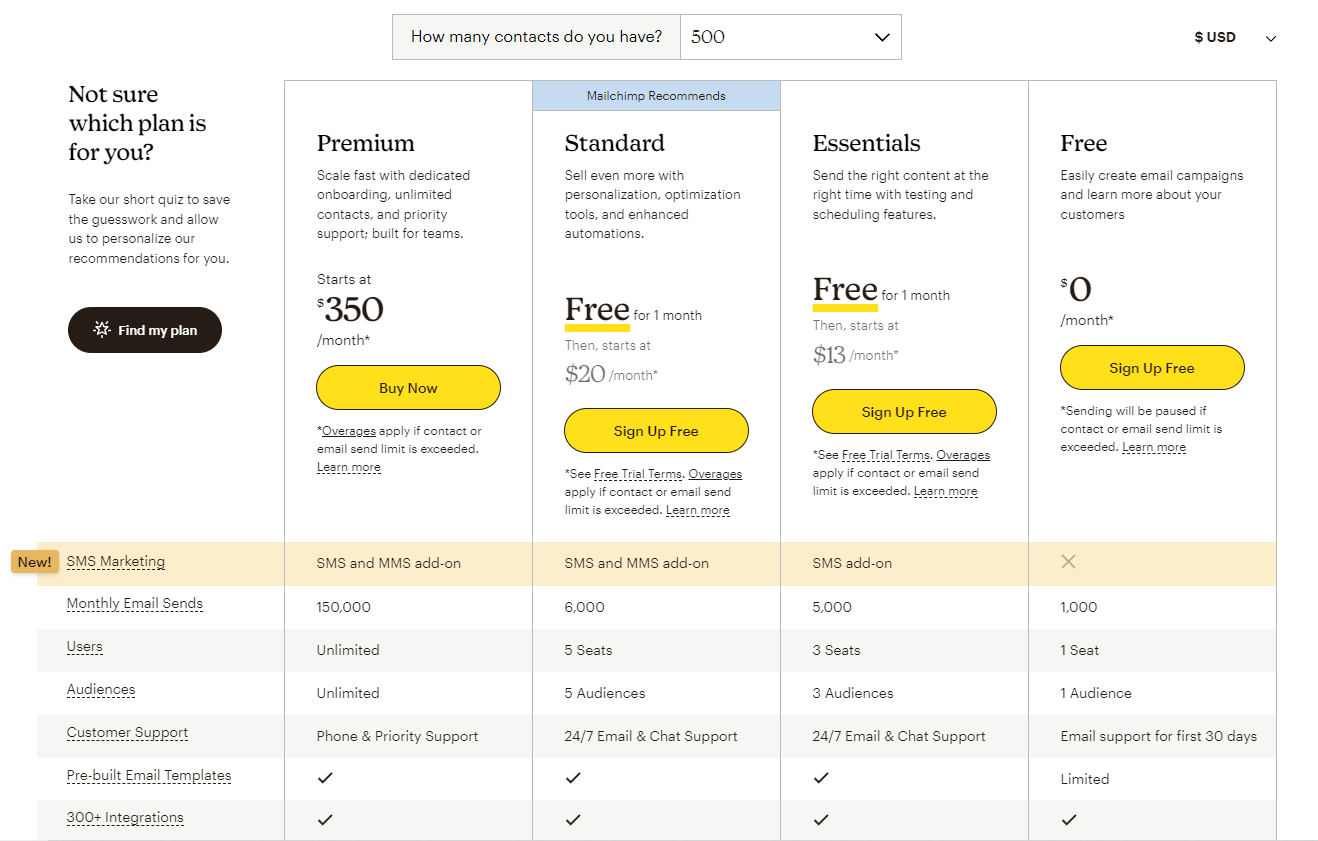 Mailchimp has 3 paid tiers: Essentials at $13/month, Standard at $20/month, and Premium at $350/month billed annually.
Lower tiers are suitable for small businesses. Advanced and Premium add powerful enterprise features like journey builder, workflow automation, and advanced analytics.
The free plan lets you send 1,000 emails per month with basic automation. Overall, Mailchimp offers cost-effective plans.
Winner: Tie
Pricing for HubSpot and Mailchimp is roughly comparable. Both offer free tiers for smaller needs. Their starter paid plans are affordable for small businesses first growing their audience. The premium plans provide robust features and capacity for larger businesses. This results in a tie.
8. Reviews and Reputation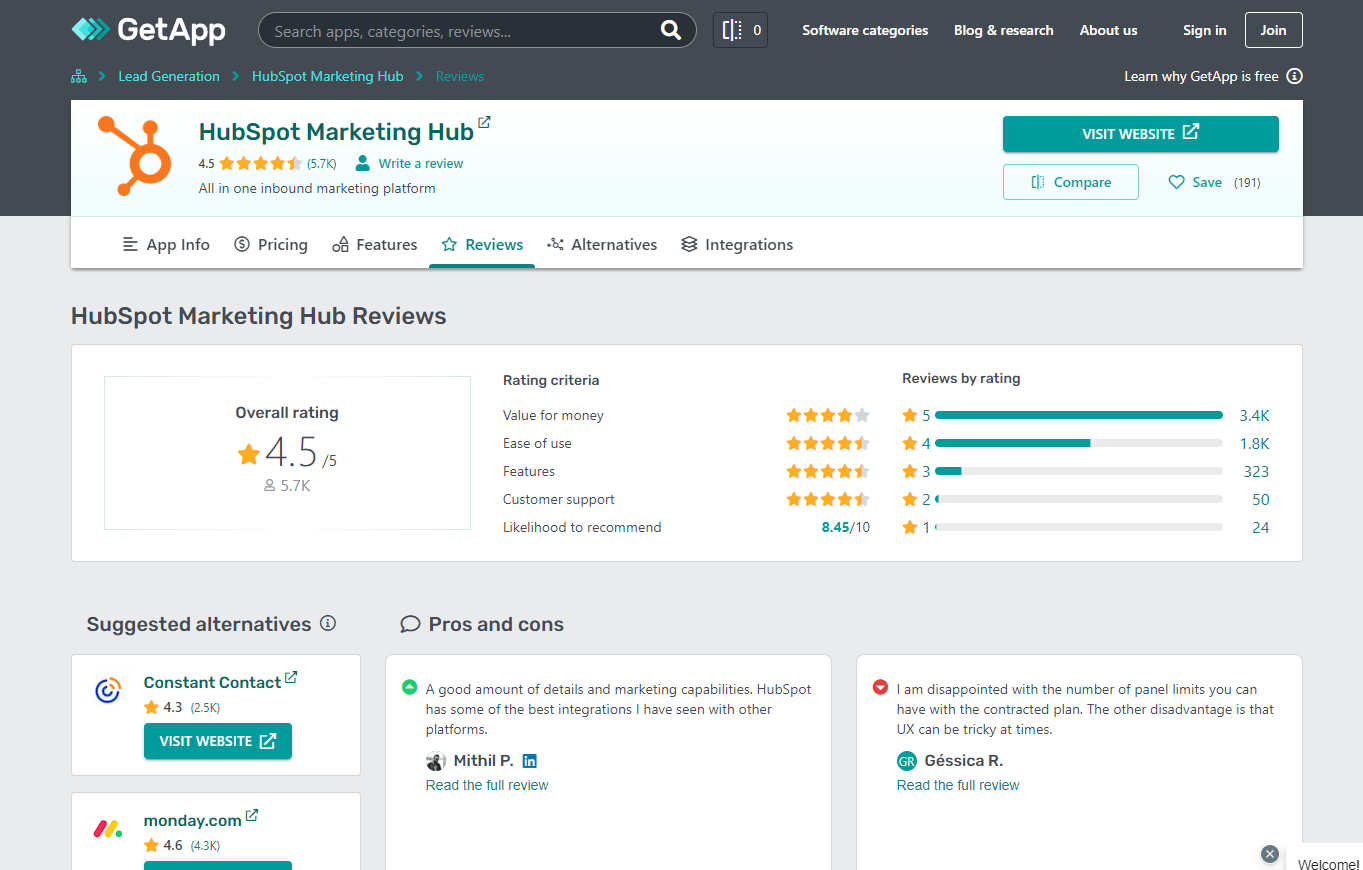 HubSpot has overwhelmingly positive reviews and reputation. On G2, it earns a 4.4/5 rating based on 10,500+ user reviews. Praised features include CRM, email automation, landing page builder, and excellent analytics. Some downsides mentioned include the learning curve and complexity for beginners.
On Capterra, HubSpot has a 4.5/5 average rating from 5,000+ reviews. Pros highlighted include great tools, customer support, and integrations. The cons mentioned are the pricing and occasional glitches.
Overall, HubSpot enjoys strong reviews and a reputation as a top inbound marketing platform.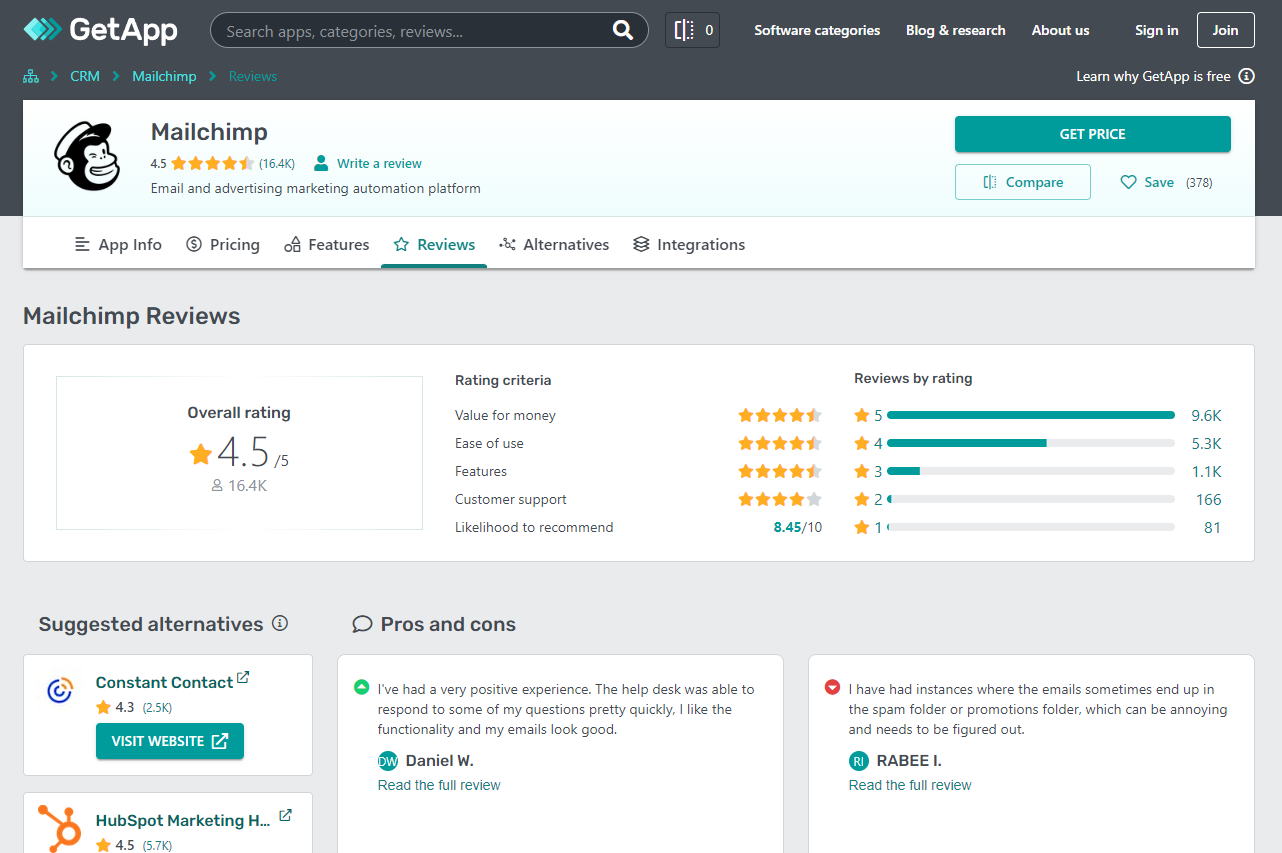 Mailchimp also has stellar reviews and a reputation. It has a 4.3/5 rating on G2 from 12K+ customer reviews. Users praise the ease of use, deliverability, automation features, and great support. Drawbacks include limits of basic plans and a lack of more advanced tools.
The platform averages 4.5/5 stars on Capterra from 16,500+ user reviews. Pros include reasonable pricing, excellent deliverability, and analytics. Cons are some limitations for e-commerce and difficulty integrating for advanced users.
Overall, Mailchimp is known for making email marketing easy and powerful for most small business users.
Winner: Tie
Both HubSpot and Mailchimp enjoy excellent reputations and overwhelmingly positive customer reviews. Each platform is praised for its strengths – HubSpot for its robust inbound marketing tools and Mailchimp for making email marketing accessible. Both have stellar reviews, resulting in a tie.
9. FAQ's
What types of businesses use HubSpot?

HubSpot is used by companies across many industries including technology, professional services, manufacturing, education, healthcare, and more. It works well for B2B companies.
Does HubSpot offer email marketing?

Yes, HubSpot provides powerful email marketing tools including templates, automation, deliverability optimization, and analytics.
Is HubSpot easy to use?

HubSpot is designed to be intuitive and easy to use, especially for beginners. The platform uses clean interfaces, helpful tooltips, and valuable onboarding resources.
What kind of support does HubSpot offer?

HubSpot provides email support by default, with options for live chat and phone support on premium paid plans.
Does HubSpot integrate with other software?

Yes, HubSpot offers hundreds of integrations with marketing, sales, email, e-commerce, and CMS platforms via APIs.
What types of businesses use Mailchimp?

Mailchimp is very popular among small businesses, entrepreneurs, bloggers, artists, and non-profits. It works well for B2C companies.
Does Mailchimp offer landing pages?

No, Mailchimp focuses solely on email marketing automation. It does not have landing page creation or website builder tools.
Is Mailchimp easy to use?

Yes, Mailchimp is widely praised for having an intuitive, easy-to-use interface. The platform makes it simple for beginners to create email campaigns.
What kind of support does Mailchimp offer?

Mailchimp offers email support and an extensive self-service knowledge base. More live support options are only available on higher-tier paid plans.
Does Mailchimp integrate with CRMs?

Yes, Mailchimp offers some key CRM integrations like Salesforce, Zoho CRM, and Capsule CRM to help segment your contacts.
Final Thoughts
HubSpot is the best choice if you want an all-in-one inbound marketing, sales, and CRM platform. It provides powerful tools for email, landing pages, workflows, website management, and analytics in one centralized suite. HubSpot is great for B2B companies ready to take a sophisticated and robust approach to their digital marketing and sales process.
Mailchimp is the ideal solution if you just need an easy-to-use email marketing automation platform. It makes it simple for small businesses to create and manage email campaigns, newsletters, and basic contact lists. Mailchimp is great for entrepreneurs, artists, bloggers, and B2C companies focused on email marketing.
You may also be interested in checking out some Mailchimp alternatives to help with the evaluation process.
Choosing the right email and marketing automation platform is critical for the success of your business. Be sure to consider your budget, technical needs, and internal resources as you evaluate HubSpot vs Mailchimp. Please feel free to ask any questions in the comments if you need help determining the best solution for your unique business needs!