With so many options on the market, choosing the right email marketing platform when comparing Mailerlite vs Mailchimp is crucial for small business owners looking to grow their customer base and boost sales.
In this MailerLite vs Mailchimp comparison article, we'll examine key criteria like market popularity, ease of use, customization options, features, website performance, customer support, pricing, and reputation.
We'll provide an in-depth look at how MailerLite and Mailchimp stack up across these factors. Whether you're looking for basic email functionality or advanced features like blogs, e-commerce, and analytics, our goal is to arm you with the information you need to determine which email marketing tool best fits your business needs and budget.
1. Understanding the Basics
MailerLite was founded in 2012 by Ignas Rubezius and is headquartered in Vilnius, Lithuania. Mailchimp was launched in 2001 and was created by Ben Chestnut and Mark Armstrong in Atlanta, Georgia. Both companies have become incredibly popular email marketing platforms.
Mailchimp has over 14 million users and sends over 1 billion emails per day, making it the larger and more established player. MailerLite has around 1 million users but has quickly grown in popularity due to its free plan and ease of use.
In terms of market share, Mailchimp commands about 50% making it the clear leader.
Mailchimp has an active Facebook community of over 13,000 members that users can join for discussions and support. For MailerLite, there is a Facebook group called MailerLite Community.
By understanding the background and current standing both email marketing tools, you can better evaluate which platform aligns with your business's size and needs.
2. Features and Functionality
Automation
MailerLite offers a visual drag-and-drop builder to create an automation workflow based on triggers like subscribes, clicks, date-based events, e-commerce events, form submissions, and more.
You can send automated welcome emails, segmentation flows, abandon cart sequences, follow-up messages, and other workflows to nurture leads. Conditional logic, delays, and filters allow you to target automation precisely.
For example, you could set up automation welcoming new subscribers with one path for VIP customers getting exclusive offers and another path for general subscribers. You can insert text blocks for a personalized touch.
With Mailchimp, you build automation by picking a trigger and adding a series of connected "if this, then that" actions. Triggers include things like sign-ups, purchases, profile updates, and date-based events.
Actions you can add include sending emails, adding tags, updating subscriber profiles, waiting a period of time, splitting based on conditions, and more. You can target automation to specific groups and settings.
For instance, when someone joins your newsletter, you could automatically add them to a segment, and then wait 2 days before sending a tailored welcome email. Further actions would nurture subscribers based on their interests and activity.
Winner: Tie
Both MailerLite and Mailchimp provide robust list management and automation tools to turn subscriber data into targeted, personalized campaigns that run on autopilot. With easy drag-and-drop builders and a wide range of triggers and actions, these platforms are evenly matched when it comes to creating and managing automation. One doesn't have more advanced features than the other. The right solution comes down to your specific needs and preferences.
Email Templates
MailerLite provides hundreds of basic templates, all of which are professionally designed email templates covering categories like welcome emails, promotions, newsletters, holidays, and more.
Templates are mobile-optimized and most are customizable with your own images, colors, and branding. You can also build new templates from scratch using a drag-and-drop editor with content blocks, image tools, and flexible layout options.
MailerLite has templates for standard emails as well as HTML templates for landing pages and pop-ups, allowing you to match your opt-in forms and pop up forms to the same contact and your emails for a cohesive look.
Mailchimp gives you pre-designed email templates for different campaigns and industries. Templates are mobile-friendly and most are editable with your own content, images, colors, and fonts.
You can browse templates based on goals or formats and preview them with test data. Options range from simple newsletters to complex templates with multiple sections and columns.
In the template editor, you can drag and drop new elements like images, text boxes, buttons, dividers, social sharing icons, and more. Basic coding knowledge allows deeper customization.
When it comes to email templates, Mailchimp pulls ahead with a wider selection of professionally designed, highly customizable templates covering an extensive range of styles and campaign goals. While MailerLite also provides quality templates, Mailchimp's larger library with more sophisticated options and a simple user interface gives it the advantage in the email marketing world. The ability to extensively customize Mailchimp templates also makes it more flexible.
Segmentation
MailerLite enables you to segment your audience based on various criteria to target campaigns and automation.
You can create segments manually by selecting subscribers who meet your conditions or use automatic segmentation to group people based on their interactions and profile data.
Segments can be based on things like email opens/clicks, location, purchase history, date subscribed, custom fields, interests, and more. You can combine multiple rules to refine segments.
For example, you could make a segment for subscribers in California who opened a back-to-school promo email but haven't made a purchase in 30 days. Dynamic segments automatically update based on changing data.
Mailchimp gives you several ways to segment your audience for more relevant messaging. You can build segments based on subscriber activity, interests, purchases, demographics, geography, and other factors.
Options include manual and automatic segmentation. With manual segmentation, you define the rules each segment should follow. Automatic options segment people as they interact with your emails and store.
For instance, you could automatically segment people who clicked a product link from last month's newsletter. Mailchimp makes it easy to see your list analytics and create high-value segments.
You can save segments for reuse and combine multiple conditions to target groups very precisely. Segmentation helps personalize the customer experience.
Winner: Tie
Both MailerLite and Mailchimp provide extensive segmentation capabilities to group subscribers based on various criteria and behaviors. The platforms make it easy to create manual and automatic segments using clear UIs and a robust set of targeting options. Since the core segmentation tools are on par, this category ends in a tie. The choice comes down to additional factors like marketing needs and budgets.
Analytics
MailerLite provides insights and reports to help you analyze your email marketing performance.
The dashboard shows key metrics like opens, clicks, unsubscribes, spam complaints, and bounce rates. You can view aggregated reports or drill into specifics for each campaign.
Tools like heatmaps show user engagement visually for each email. You can see which links get the most clicks and which parts people engage with most.
Campaign reports display opens over time, geolocation of opens/clicks, and subscriber engagement profiles. You can compare A/B test results side-by-side to improve future emails.
You can get advanced analytics via direct integration with Google Analytics for deeper insights. You can connect multiple email and landing page data sources.
Mailchimp gives you powerful analytics to optimize your email marketing and grow revenue. The Reports tab shows high-level campaign metrics as well as granular data.
You get real-time reports on opens, clicks, geo-performance, activity by device, top links, social sharing, abuse complaints, unsubscribes, and more.
Heatmaps visualize subscriber interactions and engagement with your emails. A/B testing helps refine your campaigns.
Integrated e-commerce reports track sales, revenue, and ROI from your email efforts. Audience reports analyze list growth and engagement over time.
When comparing Mailchimp and MailerLite for in-depth email marketing analytics, Mailchimp comes out ahead. While both platforms provide robust reporting on subscriber engagement, Mailchimp opens up additional visibility with its integrated e-commerce tracking, audience insights, a promotions tab, and real-time campaign monitoring capabilities. The ability to connect offline CRM and sales data also gives Mailchimp an edge.
Unique Features
MailerLite has a few unique features that set it apart:
Landing Pages – Built-in templates and a drag-and-drop editor to create custom landing pages for lead capture.
Surveys – Create surveys to get subscriber feedback and improve your marketing.
SMS Marketing – Send SMS campaigns to subscribers in the US and Canada.
Webinars – Host live or automated webinars integrated with your email marketing.
Bounce Handling – Tools to automatically or manually re-engage with bounced email addresses.
Some unique features Mailchimp offers include:
Facebook Ad Automation – Automatically upload email-generated audiences to Facebook for targeted ads.
Product Recommendations – Drive sales with personalized product recommendations based on purchase history.
Google Remarketing – Use email engagement data to create targeted Google remarketing ads.
Instagram Ad Automation – Sync email-generated segments to Instagram for targeted ad campaigns.
Audience Dashboard – Get a 360-degree view of your subscribers with demographic data, purchase history, and recent site activity.
With powerful capabilities like Facebook and Instagram ad automation, product recommendations, and in-depth audience analytics, Mailchimp pulls ahead for its robust and innovative set of unique features. These specialized tools for leveraging email data provide savvy marketers with significant added value. MailerLite has some nice extras as well, but none are as advanced as Mailchimp's offerings.
3. Ease of Use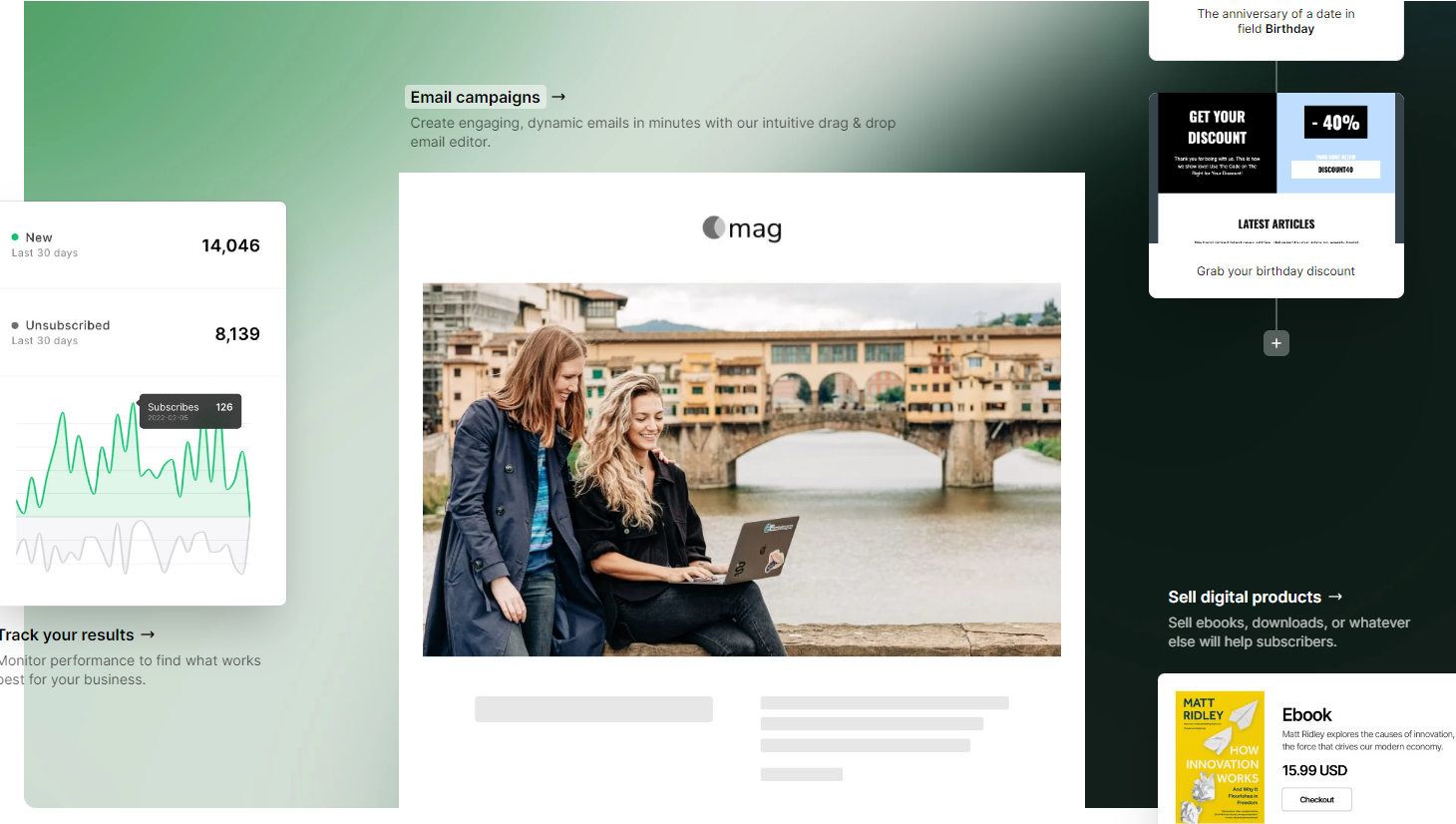 MailerLite's user interface is simple, clean, and designed for ease of use. The dashboard provides quick access to all key functions like creating broadcasts, viewing reports, managing subscribers, and setting up automation.
The visual drag-and-drop builders for emails, landing pages, forms, and automation enable you to create campaigns without any coding skills required. Built-in wizards guide you through settings.
The platform is beginner-friendly with prompts to help build your first campaign. Helpful tooltips explain features. Documentation and video tutorials assist with learning.
The overall user experience is smooth and uncomplicated. While advanced users may want more customization options, MailerLite is ideal for beginners.
Mailchimp's user interface comes with a clean dashboard to manage your accounts, campaigns, reports, and audience data. Navigation is simple with a clean, uncluttered interface.
The drag-and-drop email builder enables anyone to create professional emails without coding expertise. Pre-designed templates make it even easier.
Helpful prompts help beginners set up their first campaign. The platform guides you through best practices for designing and sending effective emails.
While the tool has plenty of advanced features, the learning curve isn't bad for new users thanks to clear menus and an intuitive workflow. The main functions are accessible.
For pure ease of use especially for email marketing beginners, MailerLite comes out on top. Its interface introduces users to just the key features needed without overwhelming options. Setup is simplified through handy wizards. The tool prioritizes simplicity throughout, making it faster to get started compared to Mailchimp's fuller-featured but more complex toolset.
4. Email Deliverability
MailerLite uses advanced deliverability features and best practices to maximize inbox placement. All emails are checked for spam triggers before sending.
The platform offers granular inbox placement monitoring to optimize future deliverability. You can view inbox placement rates broken down by country, domain, and other parameters.
Tools like re-engagement sending help you win back subscribers with inactive or invalid emails to clean your list. List hygiene is automated based on compliance rules you set.
MailerLite handles ISP reputation management for you and proactively works to boost IP standing. There are no monthly sending limits.
Mailchimp is meticulous about optimizing email deliverability through advanced tools and ongoing list maintenance.
Emails are automatically scanned for spam triggers before sending. The platform uses machine learning to continually improve deliverability odds based on ISP and subscriber engagement data.
You get actionable tips to enhance deliverability directly within your account. Mailchimp handles the heavy lifting of ISP relations and sender reputation monitoring behind the scenes.
Detailed reports show inbox placement rates over time so you can optimize subject lines, content, and segmentation for better results.
With its immense volume of emails sent and deep ISP relationships, Mailchimp has proven expertise when it comes to email deliverability. Its years of experience combined with AI-driven optimization gives Mailchimp an edge over the newer MailerLite in this area. For those wanting rock-solid deliverability, Mailchimp is the leader.
5. Customer Support and Community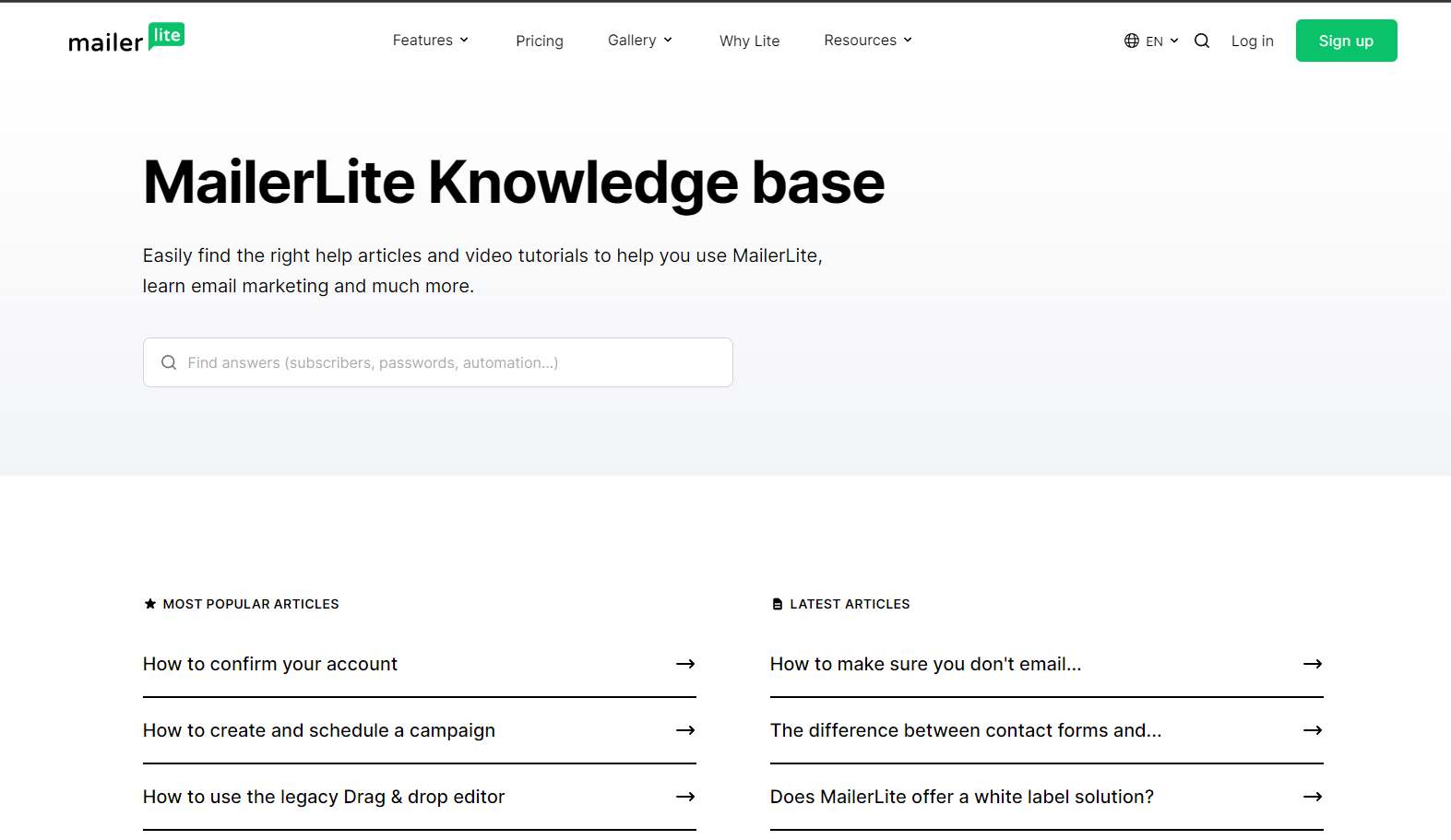 MailerLite provides email support with typical 24-48 hour response times. There are no phone support options.
The platform offers an extensive library of tutorials, guides, and videos for self-help. You can browse by topic or use the search to find answers to specific questions.
An active community forum allows users to get advice from others and offer help. Email marketing beginners often find the forums useful.
Users can also join the MailerLite Users Facebook group to connect with others using the platform.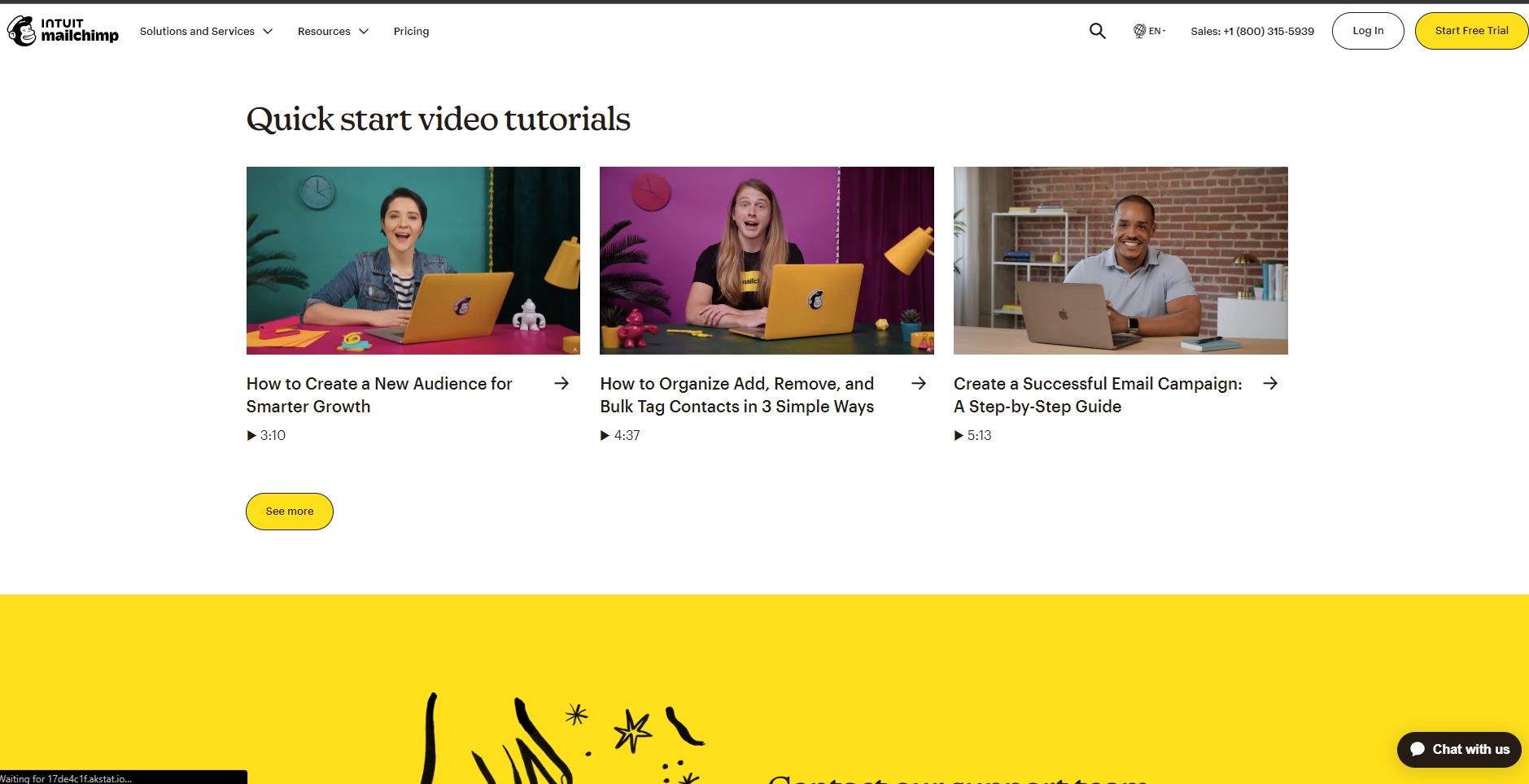 Mailchimp offers email support, live chat support, and phone support depending on your plan. It's one of the best email marketing services with knowledgeable and timely support. Paid users get faster responses via priority email and chat.
Self-help resources include detailed user guides, an extensive knowledge base of FAQs, tutorial videos, webinars, and more. Answers to common questions are easy to find.
The Mailchimp Community forum has thousands of users discussing email marketing and helping each other. Users can network and share experiences.
When it comes to customer support resources, live support, and community engagement, Mailchimp offers more options and easier access to assistance. The availability of phone support, larger community forums, detailed self-help content, and active social channels give Mailchimp the advantage. However, both platforms provide useful help resources.
6. Integrations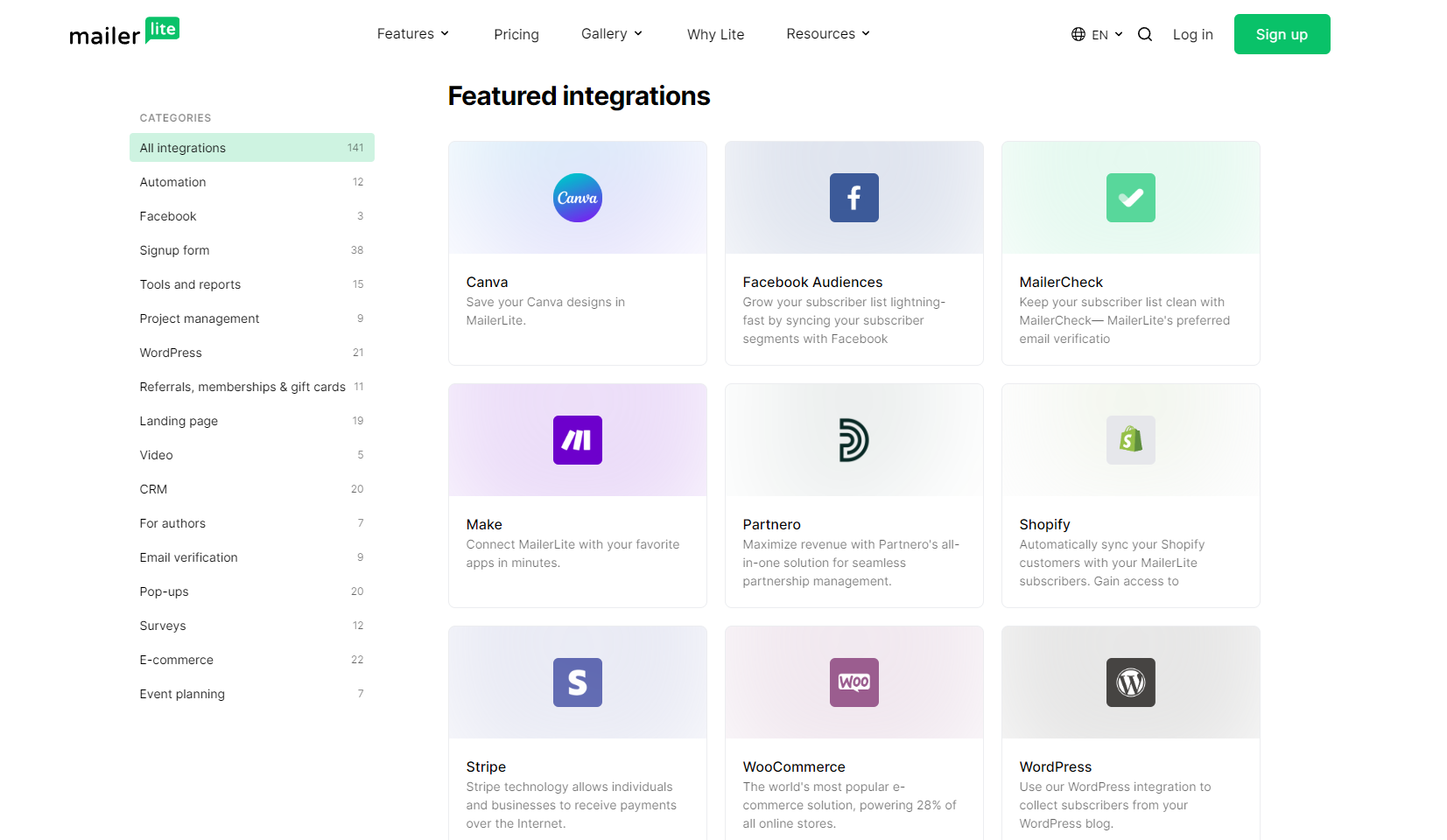 MailerLite integrates with over 1,000 third-party apps and services to expand its capabilities.
Key integrations include top CRMs like Salesforce, HubSpot, Zoho, and Freshworks to sync subscriber data. E-commerce platforms like Shopify, WooCommerce, and BigCommerce can share purchase data.
Other notable integrations are email apps like Gmail and Outlook, webinar software like Zoom and GoToWebinar, social media platforms, form and survey tools, analytics systems, and payment processors.
Zapier further connects MailerLite to thousands more business apps with workflows. Developers can build custom integrations through the Mailer API.
Mailchimp offers hundreds of third-party integrations to link your email marketing efforts with other business systems.
For CRMs, Mailchimp connects with Salesforce, HubSpot, Zendesk, and many others to share contacts. E-commerce integrations include Shopify, Magento, and PrestaShop.
Other key integrations cover webinar tools, social media apps, analytics platforms, survey software, landing page builders, calendars, phone systems, and more.
The Mailchimp API allows for custom connections, while Zapier extends options into thousands of other apps.
in the Mailchimp MailerLite comparison, Mailchimp wins when it comes to third-party integrations thanks to its longer time on the market to build partnerships. Mailchimp simply offers more pre-built integrations to popular business systems – especially CRMs and e-commerce platforms – compared to MailerLite. It also provides more APIs and custom connection options.
7. Pricing: Which is the More Affordable Email Marketing Tool?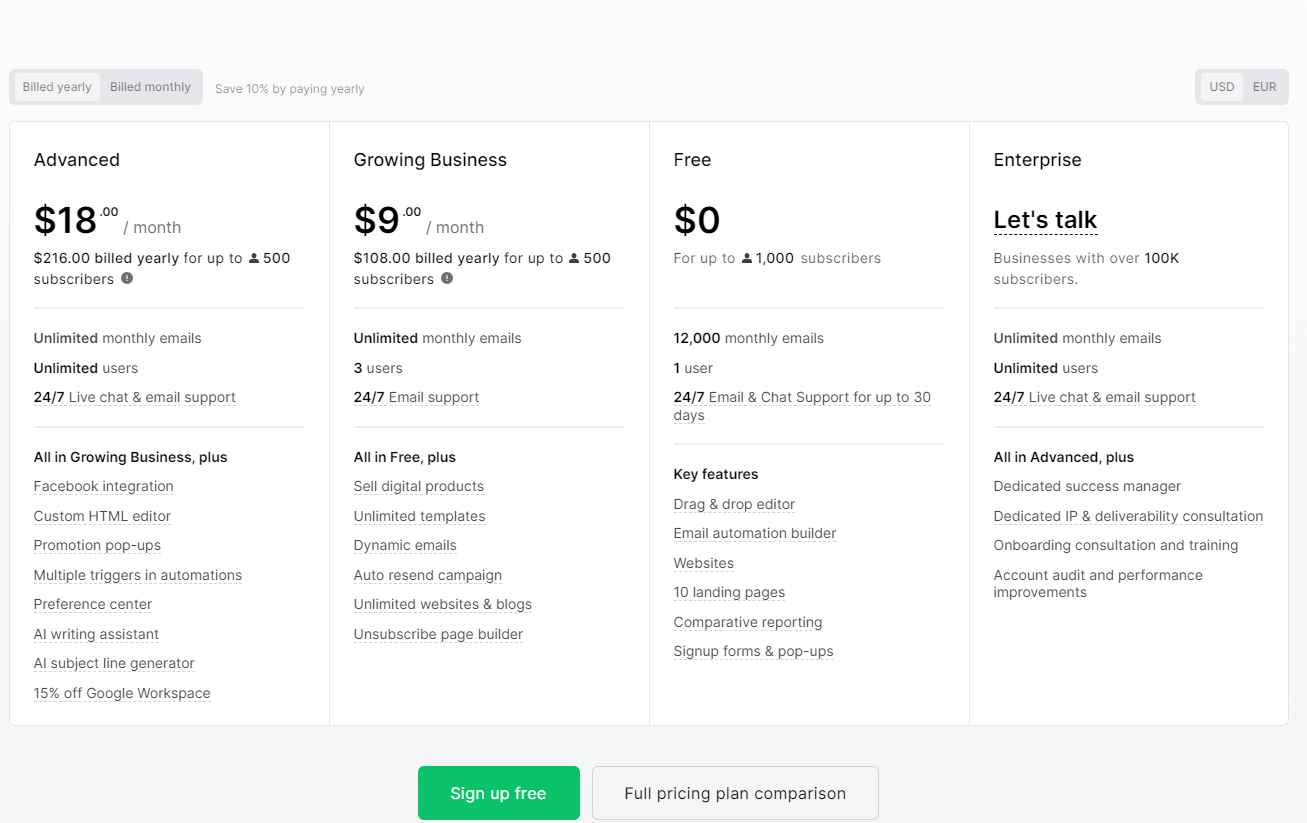 Unlike Mailchimp, MailerLite only has three pricing plans for users of different levels. The pricing structure is as follows:
Free Account – MailerLite's free plan allows 1 user and up to 12,000 emails sent per month.
Growing Business – $9/mo for 3 users, unlimited subscribers, embedded forms, and advanced automation tools.
Advanced – $18/mo for unlimited users, advanced reporting, in-depth analytics, direct integrations, and unlimited monthly emails.
The features are relatively consistent across paid plans. Core capabilities like email design, automation, and basic analytics are included. Higher-tier plans offer machine learning algorithms and multi-step visual builder used by many well-known SaaS brands.
For the features provided, MailerLite offers more competitive pricing than Mailchimp at lower email volumes. But React's capabilities become limited for larger lists, while Mailchimp's grow more robust, making it ideal for scaling your email marketing campaigns.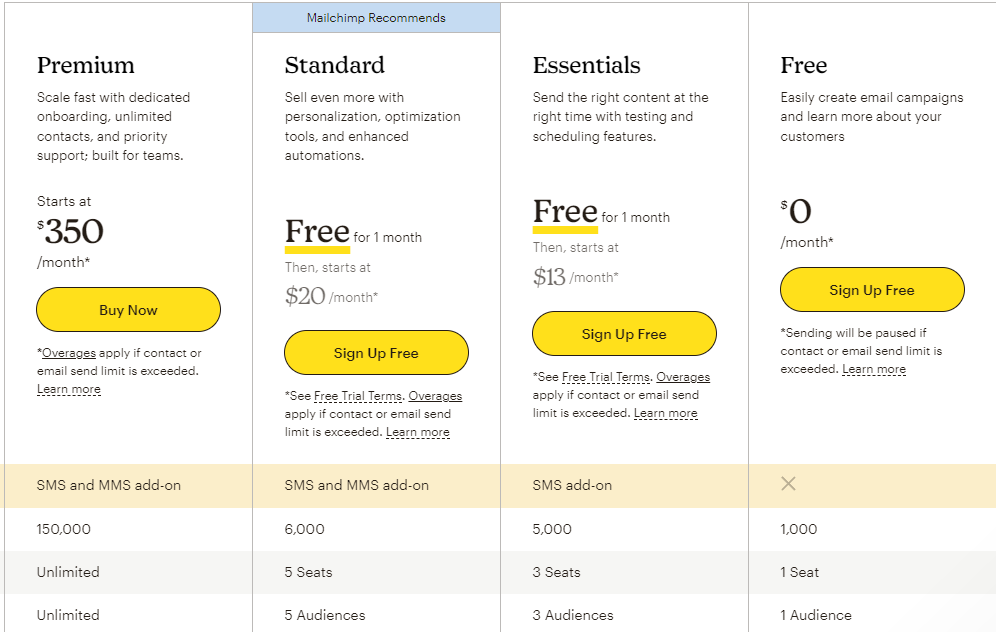 Mailchimp has 3 paid tiers: Essentials at $13/month, Standard at $20/month, and Premium at $350/month billed annually.
Lower tiers are suitable for small businesses. Advanced and Premium add powerful enterprise features like journey builder, workflow automation, and advanced analytics.
Mailchimp's free plan lets you send 1,000 emails per month with basic automation. Overall, Mailchimp offers cost-effective plans, but you'll have to upgrade to a paid plan for more features if you want to run complex campaigns.
For budget-conscious users, MailerLite wins for pricing thanks to its low-cost plans, free features like automation, and lack of per-email fees. A 2,500-subscriber account is just $29/month compared to $14.99 for 500 subscribers on Mailchimp. At higher tiers, Mailchimp becomes more affordable but starts off more expensive for smaller accounts.
8. Reviews and Reputation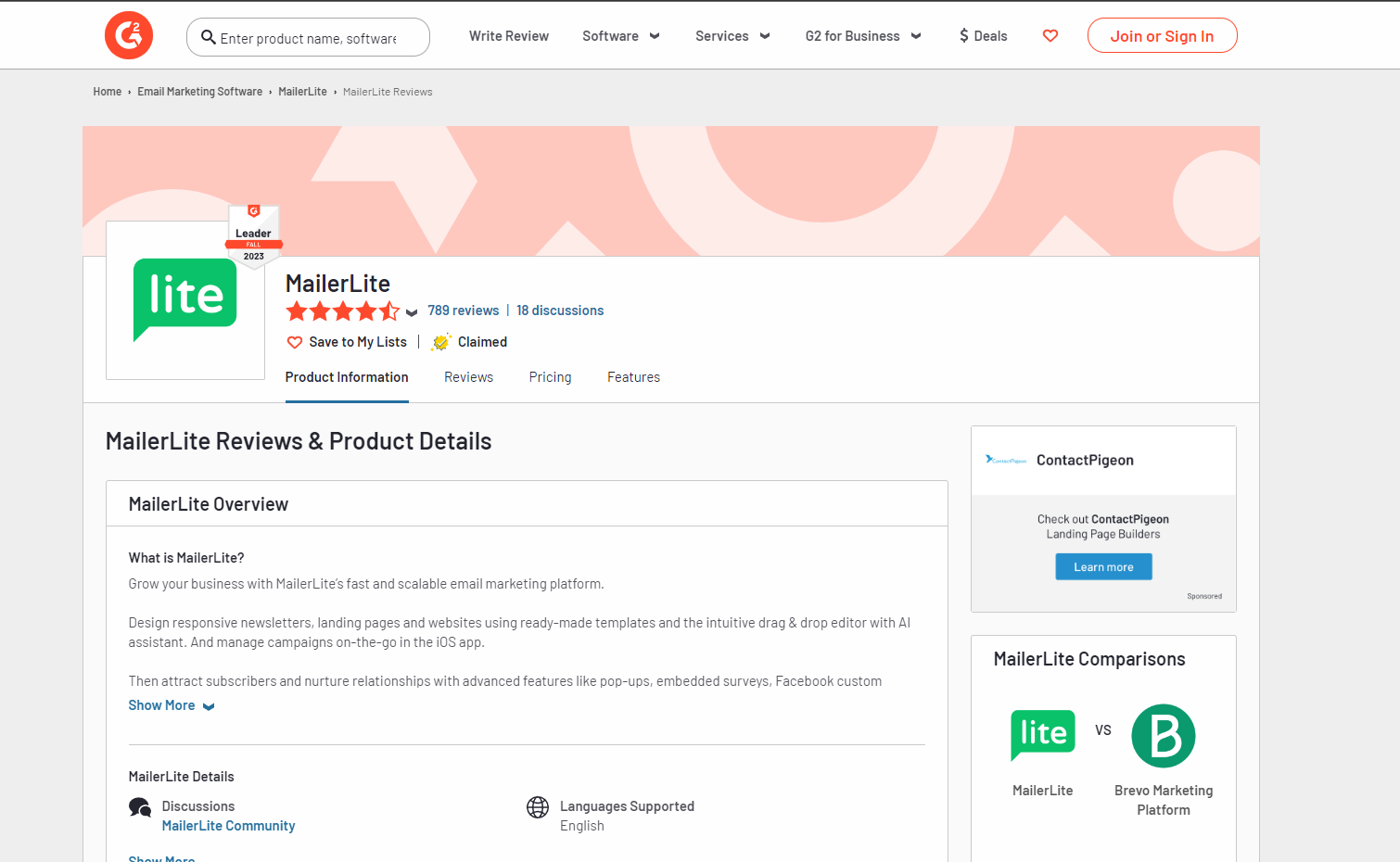 MailerLite earns positive reviews for its ease of use, free plan, and excellent customer support. Users highlight the intuitive drag-and-drop editor and range of features as pros.
Reviews on Capterra average 4.7/5 stars, with praise for the platform's affordability and simplicity for getting started with email marketing. Some users feel basic analytics and lack of phone support are weaknesses.
On G2, MailerLite rates 4.6/5 stars. Users like the quality free plan and good deliverability for e commerce platforms. Some want more advanced email personalization and customization capabilities.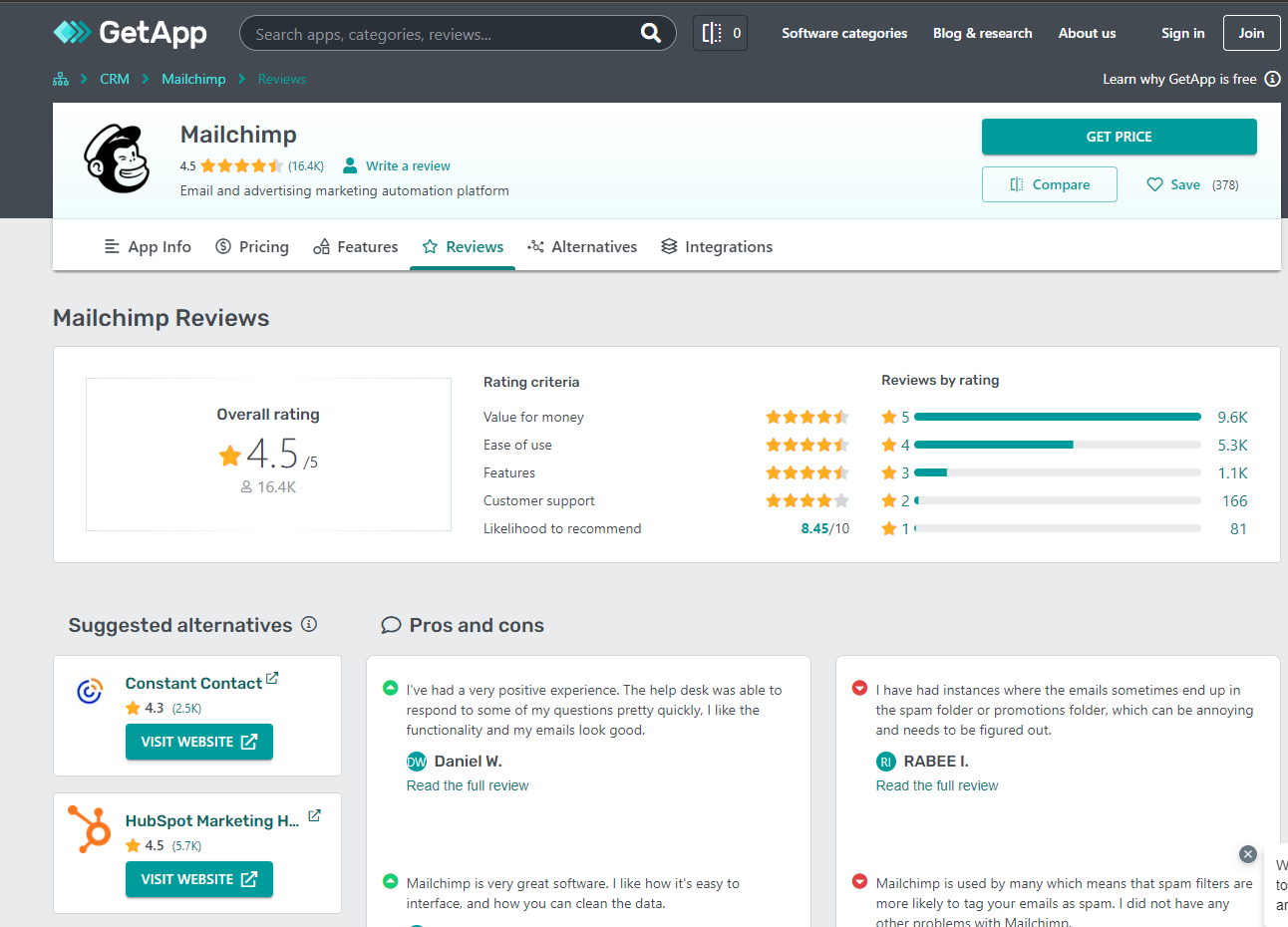 Mailchimp is praised for its comprehensive features, e-commerce integration, and strong deliverability though some lament its learning curve.
Capterra reviews average 4.5/5 stars. Users highlight robust segmentation and automation tools. Downsides noted include complexity and pricing model.
The platform earns 4.3/5 on G2 with positive feedback on usability and negative marks for occasional glitches. Many reviews cite expensive pricing.
PCMag gives Mailchimp 4/5 stars as a leading email marketing platform but notes it can be overkill for simple needs.
Winner: Tie
Both MailerLite and Mailchimp earn strong reviews for capabilities like campaign creation tools, templates, deliverability, and segmentation. MailerLite is favored for ease of use while Mailchimp gets kudos for advanced features and integrations. The platforms essentially tie here, each ideal for different use cases and preferences.
9. MailerLite vs Mailchimp FAQ's
What is the biggest benefit of MailerLite?

MailerLite's biggest benefit is its powerful email marketing features, including an intuitive interface, ease of use, and subscriber management features that are ideal for email marketing beginners. The platform makes it simple to create professional emails.
Does MailerLite have free plans?

Yes, MailerLite has a free plan for up to 1,000 subscribers and 12,000 emails monthly. This is generous compared to other providers.
What types of email campaigns can I create?

You can design welcome emails, newsletters, promotional emails, automated sequences, and more. There are also built-in templates to make email creation easy.
How reliable is email delivery with MailerLite?

MailerLite is one of the best email clients with excellent inbox placement and deliverability rates across major ISPs thanks to its reputation monitoring tools.
What is Mailchimp best for?

Mailchimp is ideal for mid-size or larger businesses wanting advanced email marketing and automation features. It's a robust tool.
Does Mailchimp integrate with e-commerce platforms?

Yes, Mailchimp seamlessly integrates with all the major e-commerce platforms to track sales and sync subscriber data.
Is Mailchimp easy to use for beginners?

Mailchimp has a steeper learning curve than some platforms but offers ample educational resources to help new users get oriented with its powerful toolset.
How does Mailchimp pricing work?

Pricing is based on number of subscribers, with unlimited plans available. Premium features like automation incur additional fees.
Final Thoughts: Which is the Best Email Marketing Software?
MailerLite is the best choice for beginners wanting an affordable and user-friendly digital marketing platform to start email marketing. With its drag-and-drop editor, quality free plan, and excellent deliverability, solo entrepreneurs and small businesses can create professional campaigns easily. MailerLite is ideal if you value simplicity and ease of use but want fantastic branding to boost brand awareness.
You value powerful email marketing tools with more automation features, including multi-step custom workflows. Mailchimp is the optimal pick for larger companies needing advanced features like top-tier analytics, expansive integrations, sophisticated automation, and Facebook/Instagram ad capabilities. The platform scales to any size, though beginners may find it overly complex. Mailchimp is right if you want robust tools to manage your email marketing strategy.
You may also be interested in checking out some Mailchimp alternatives to help with the evaluation process.