Choosing the right email marketing service is a crucial decision for any business owner. ActiveCampaign and Mailchimp are two popular email marketing platforms. Both platforms offer powerful features to help you build relationships with customers through targeted email campaigns, but they differ in their specific capabilities.
In this comprehensive ActiveCampaign vs Mailchimp comparison, we'll evaluate ActiveCampaign and Mailchimp across key criteria, including the market position and popularity of each platform, how easy they are to use, the design customization options available, and the features and functionality ranging from blogging to e-commerce to analytics.
By the end, you'll have all the information you need to determine which solution is the best fit for your business goals and use case.
1. Understanding the Basics
ActiveCampaign was founded in 2003 by Jason VandeBoom. It is headquartered in Chicago. ActiveCampaign is currently used by over 150,000 businesses worldwide. It has become one of the top email service providers in the industry.
Mailchimp was founded in 2001 by Ben Chestnut and Mark Armstrong. It is headquartered in Atlanta. Mailchimp is used by over 14 million users worldwide. It has long been the most popular email marketing platform on the market.
Both platforms have active Facebook communities:
When it comes to market position, Mailchimp edges out ActiveCampaign and many other email marketing services based on the total number of users. However, ActiveCampaign has been quickly gaining ground with small and medium-sized businesses looking for more advanced features beyond basic email marketing.
2. Features and Functionality
Automation
ActiveCampaign offers robust automation capabilities to help businesses maximize efficiency. You can create sequences based on certain triggers like email opens, form submissions, or e-commerce transactions. Automations are visual so you can easily see each step.
Sequences can include emails, SMS, webhooks, and more. For example, you could set up a 7-day onboarding drip campaign to orient new customers. Or an abandoned cart sequence reminding customers about items left in their cart.
ActiveCampaign also has sales automation tools like lead scoring to categorize leads, deal stages to track opportunities, and sales pipelines to manage the sales process. You can run the same campaigns as major competitors but with the added advantage of these built-in tools.
Overall, ActiveCampaign has powerful built-in automation with the flexibility to customize complex workflows.
Mailchimp has automation features like basic drips and triggers to create email workflows. You can send welcome emails, abandoned cart reminders, and more based on subscriber actions.
However, Mailchimp's automations are not as robust as other ESPs. You are limited to only sending emails in automation – no SMS, webhooks, etc. Also, automation can only be based on a subscriber list, not other event data like form submissions.
For more advanced sales and marketing automation, Mailchimp offers add-ons at an extra cost through partners like Salesforce, Zapier, and PieSync.
The automation capabilities are decent for basic email marketing needs but limited compared to the built-in power of ActiveCampaign.
Both ActiveCampaign and Mailchimp have robust tools to run automation campaigns, but ActiveCampaign is the winner for automation capabilities based on the visually drag-and-drop workflows, pre-built automation, and flexibility to incorporate SMS, webhooks, and other events. The functionality allows both simple and complex business logic without needing third-party add-ons. ActiveCampaign has more automation power out-of-the-box to streamline marketing and sales.
Email Templates
ActiveCampaign has hundreds of professionally designed email templates created by their in-house design team. Templates are optimized for mobile and customizable.
There are templates for welcome series, promotions, announcements, newsletters, and more. You can browse by category or see the most popular templates.
Templates are customizable with a drag-and-drop editor to change layouts, colors, and fonts. You can also edit the HTML/CSS code directly. Images, buttons, and text blocks can be added with ease.
Overall, ActiveCampaign provides beautiful, mobile-ready templates suitable for all industries to create on-brand emails quickly.
Mailchimp has over 250 free email templates available. Templates are mobile-optimized and cover common uses like newsletters, promotions, announcements, etc.
The template editor allows you to swap template sections, modify text and colors, upload images, and add code blocks. There are not as many design customization options compared to other platforms.
While templates are professionally designed, the selection for specific industries is smaller than other ESPs. You may need to start from a basic template versus finding one tailored to your niche.
The template functionality serves basic email needs but lacks more advanced branding flexibility.
ActiveCampaign wins for email templates thanks to the large gallery of industry-specific, professionally designed templates. The customizable drag-and-drop editor also makes it easy for anyone to create on-brand, polished emails that drive results.
Segmentation
ActiveCampaign has powerful segmentation options to target your emails. You can create segments based on subscriber data, behaviors, locations, custom fields, and more.
Segments are dynamic, meaning they update automatically as subscribers meet the criteria. You can combine multiple rules to segment smaller groups.
For example, you could target customers in California who opened a back-to-school email and didn't make a purchase for a re-engagement campaign.
Overall, ActiveCampaign's segmentation equips you to personalize messaging and serves the right content to the right people.
Mailchimp enables you to segment your list based on subscriber profiles, behaviors, and interests. You can target segments with tailored content that resonates.
However, Mailchimp has a cap on the number of segments you can create on lower pricing tiers. Advanced segmentation options are only included on higher-priced plans.
The segmentation is decent for basic subscriber grouping but is limited compared to ActiveCampaign's robust, customizable options that help drive conversions.
ActiveCampaign wins for its powerful segmentation capabilities that allow both simple and advanced subscriber grouping. Segmenting by any data point enables targeted, personalized messaging at scale.
Analytics
ActiveCampaign has powerful email analytics to track opens, clicks, bounces, unsubscribes, shares, and more. Reports provide insights into email performance.
You can view analytics for individual emails or across campaigns. Data can be segmented and filtered for deeper analysis.
ActiveCampaign also integrates with Google Analytics to connect email data with website visits, conversions, and other metrics. This provides a complete view of marketing attribution.
Overall, ActiveCampaign equips you with deep analytics to optimize your email marketing results.
Mailchimp offers basic email analytics like open and click rates. You can see top-performing emails and links.
However, Mailchimp lacks more advanced tracking and segmentation options compared to other platforms. There is no integration with web analytics platforms.
The reporting provides a surface-level overview but lacks the depth needed for complex analysis and optimization. You would need to upgrade to a premium plan for additional features.
ActiveCampaign wins for its powerful email analytics, integration with Google Analytics, and campaign segmentation options. Marketers get access to in-depth data and insights without limits or need for upgrades.
Unique Features
ActiveCampaign has a built-in CRM with contact management, deal tracking, and sales automation. This provides an all-in-one marketing and sales platform.
Other unique features include SMS marketing, cart abandonment tools, advanced site tracking with the ActiveCampaign cookie, and native integration with WordPress.
Overall, ActiveCampaign combines robust email marketing with extra elements like CRM and SMS under one roof. This eliminates the need for multiple platforms.
Mailchimp offers basic landers and forms to capture emails, expand your audience, and integrate with your website.
However, when it comes to advanced features like CRM, SMS, or shopping cart integration, you need to pay extra for third-party apps and add-ons.
While Mailchimp specializes in email, those wanting an all-in-one solution may find limitations compared to a platform like ActiveCampaign. However, the third-party integrations do provide added functionality.
ActiveCampaign wins for its wider range of built-in features beyond email like CRM, SMS, and shopping cart tools. This provides powerful marketing automation in one platform without needing to pay extra for add-ons. The seamless integration of features makes ActiveCampaign a robust all-in-one solution.
3. Ease of Use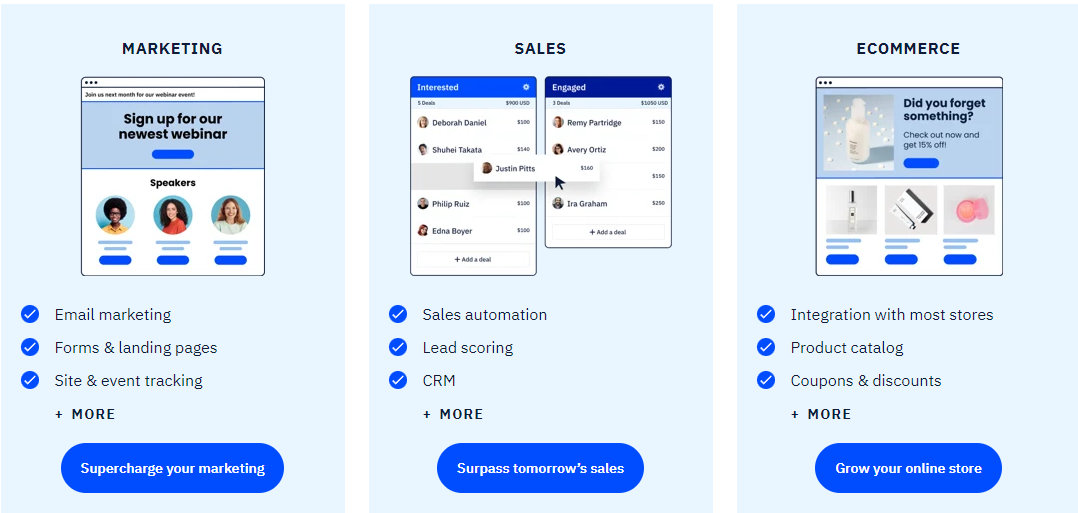 ActiveCampaign has an intuitive, modern interface. The dashboard provides easy access to all tools from email campaigns to landing pages and automations.
The platform uses a drag-and-drop editor for designing emails, creating landing pages, building workflows, and more. This makes it simple for beginners to get started.
Navigation is easy with category tabs and helpful tooltips guiding you. ActiveCampaign offers free live training webinars and an extensive help center for learning best practices.
The user experience is seamless across both web and mobile apps. Overall, ActiveCampaign is very user-friendly for email marketers of any skill level.
Mailchimp has a clean dashboard that makes it fairly easy for beginners to get started. Key functions like creating campaigns and segments are accessible.
The template and campaign builders are more limited than other ESPs. You have less drag-and-drop flexibility to customize beyond preset options. The workflow requires more steps.
Mailchimp's knowledge base offers text-based support but lacks interactive learning. Published help articles tend to cover the basics only.
The user experience works well enough for simple email campaigns. However, marketers may find it less intuitive when handling more advanced functionality.
ActiveCampaign wins for ease of use based on its modern, visually intuitive interface that enables both beginners and experts to quickly master the platform. The interactive learning resources also set ActiveCampaign apart in elevating user expertise.
4. Email Deliverability
ActiveCampaign takes a proactive approach to deliverability. They use feedback loops with major ISPs to maintain a stellar sender reputation.
The platform offers deliverability tools like link tracking, bounce management, and list cleaning to keep metrics optimal.
ActiveCampaign enforces best practices in their templating and setup to ensure emails land in the inbox. For example, images are hosted internally to prevent blocking.
You also get access to deliverability experts and training resources. Overall, deliverability is a priority.
As one of the world's largest ESPs, Mailchimp has established deliverability thanks to high sending volumes and a feedback loop with ISPs.
However, some users report deliverability issues after their account is initially set up. There is less onboarding guidance compared to other platforms.
Mailchimp does offer deliverability tools like link wrapping and bounce management but requires upgraded plans to unlock features.
For the average user, inbox placement is generally decent but could be optimized further with more education.
ActiveCampaign wins for taking a transparent, hands-on approach to supporting deliverability through training resources and technology. Their priority on the issue results in extremely high inbox placement.
5. Customer Support and Community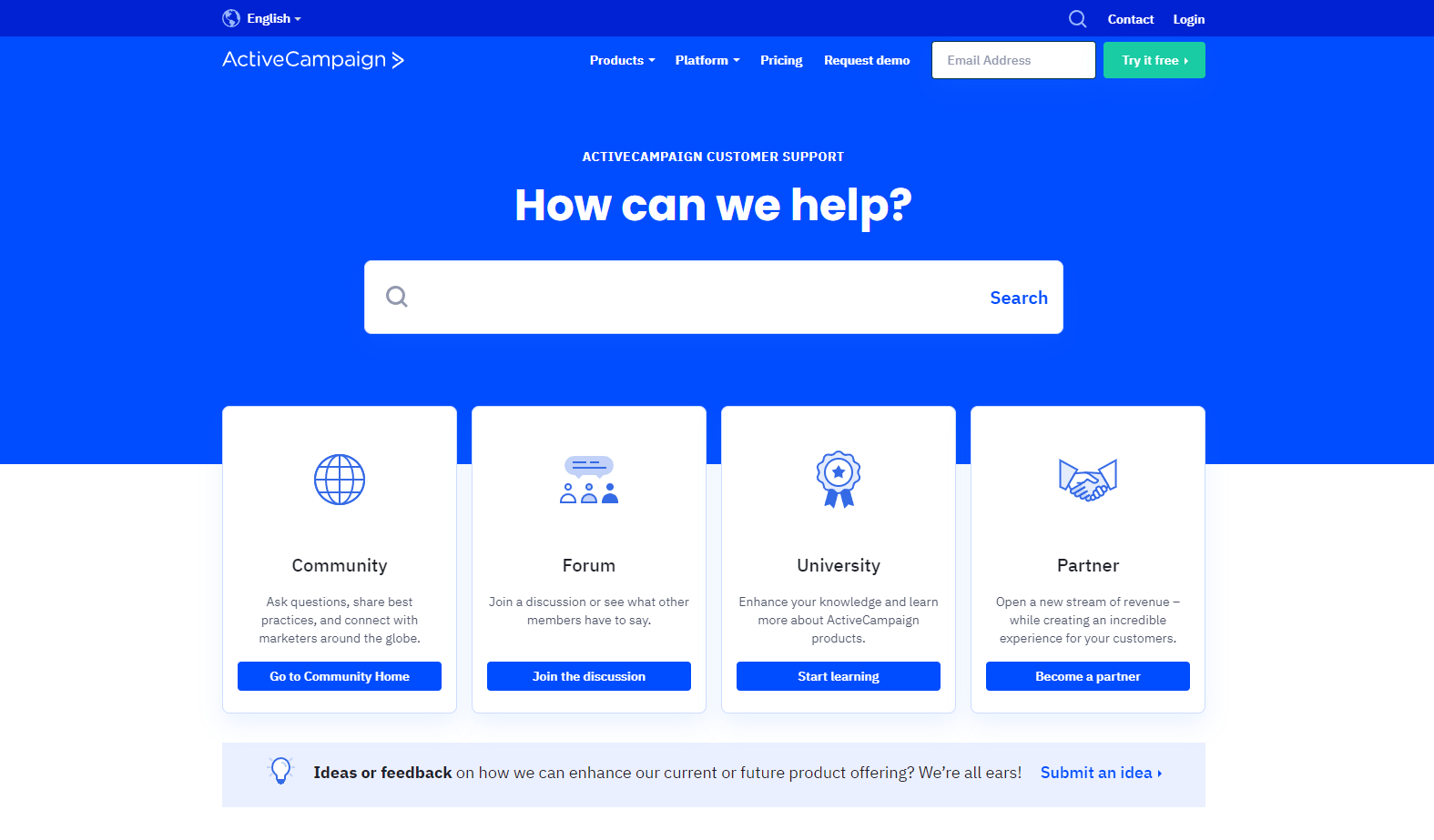 ActiveCampaign offers 24/7 live chat and email support. You can also schedule phone support for more complex issues.
Their customer service reputation is excellent. Users praise the quality assistance, quick response times, and friendliness.
ActiveCampaign also provides an online community forum, live webinars, and a robust help center with tutorials.
For user-to-user support, there is an ActiveCampaign Facebook Group with over 13.8K members.
Overall, ActiveCampaign shines when it comes to customer support and resources.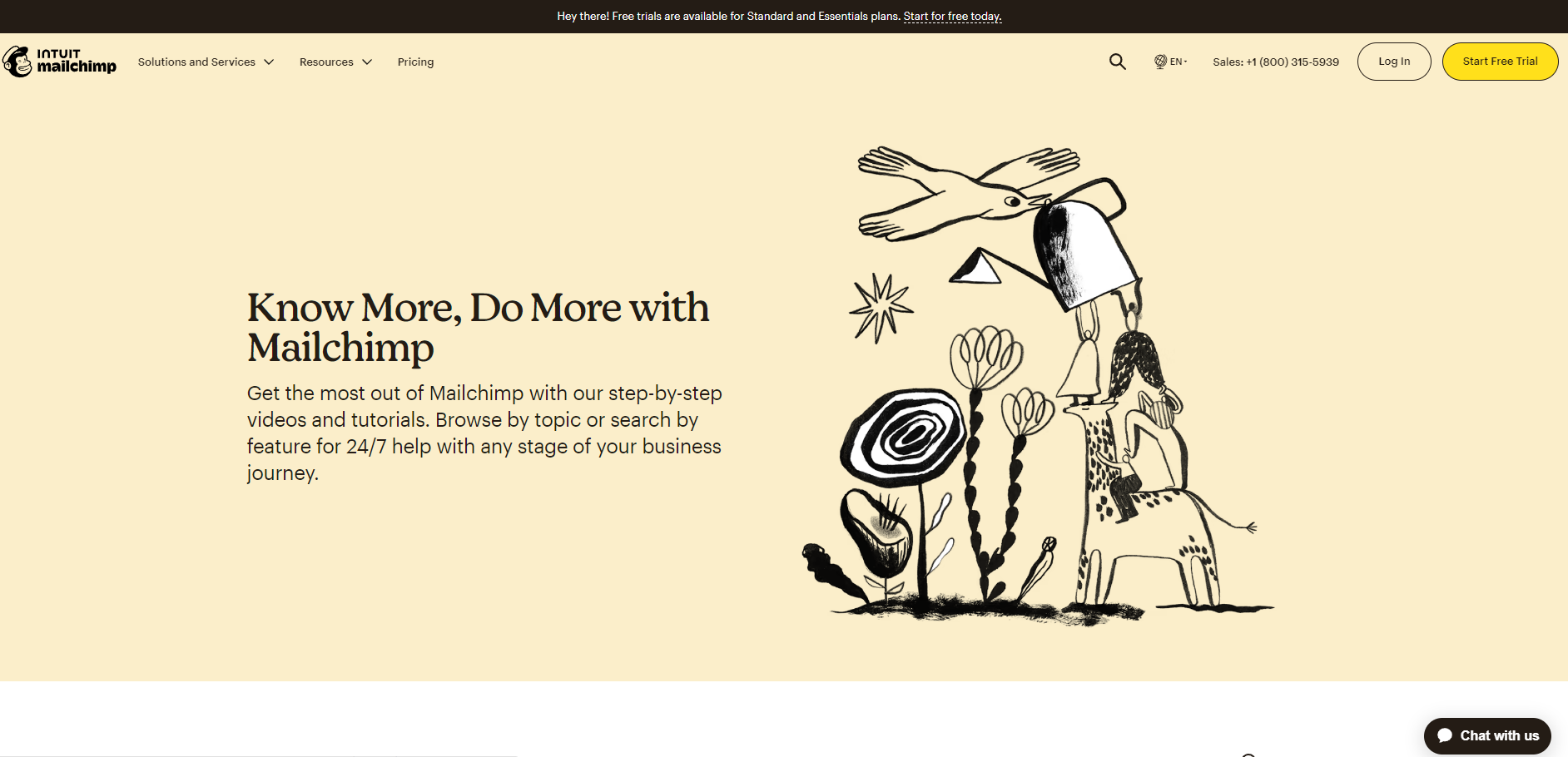 Mailchimp offers 24/7 email support and limited live chat for paying users. Phone support is only by request for premium accounts.
Average response times tend to be slower compared to ActiveCampaign. Some users feel support is overly reliant on form responses.
For learning, Mailchimp has an extensive knowledge base but lacks interactive forums or webinars.
The Mailchimp Facebook community group has over 13.7K members for tips and discussion.
Mailchimp provides decent customer assistance but has room to improve, especially for free users.
ActiveCampaign is the winner for providing exceptional 24/7 customer support with both personal and interactive self-service options. Their comprehensive resources set the standard.
6. Integrations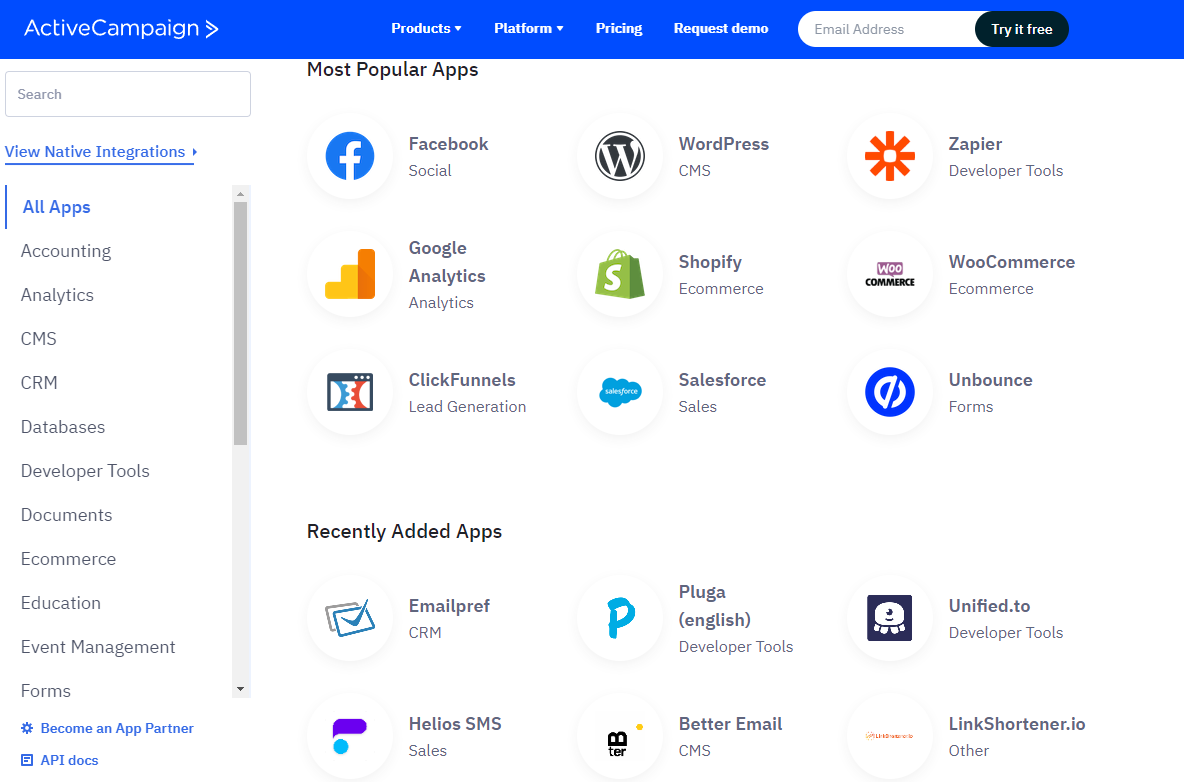 ActiveCampaign offers 300+ native integrations with apps like Shopify, WordPress, Salesforce, and Pardot. This allows connecting email with other systems.
Popular integrations include webinar platforms, membership software, calendars, and payment processors.
ActiveCampaign also has a free plugin for WordPress sites to capture emails from your blog.
With Zapier, you can connect to 1,000+ other apps. Overall, ActiveCampaign plays nicely with other tools to expand functionality.
Mailchimp has native integrations with popular e-commerce platforms like Shopify and WooCommerce.
For connecting with marketing, sales, and CRM systems, Mailchimp offers 200+ third-party integrations through the Zapier partnership.
However, some key software systems don't sync directly with Mailchimp and require Zapier workarounds.
Mailchimp's first-party integration options lag slightly behind other ESPs in scope. But Zapier helps fill the gaps.
ActiveCampaign wins for offering one of the most expansive lists of native integrations that seamlessly connect your email platform to other tools. This plug-and-play access optimizes your tech stack.
7. Pricing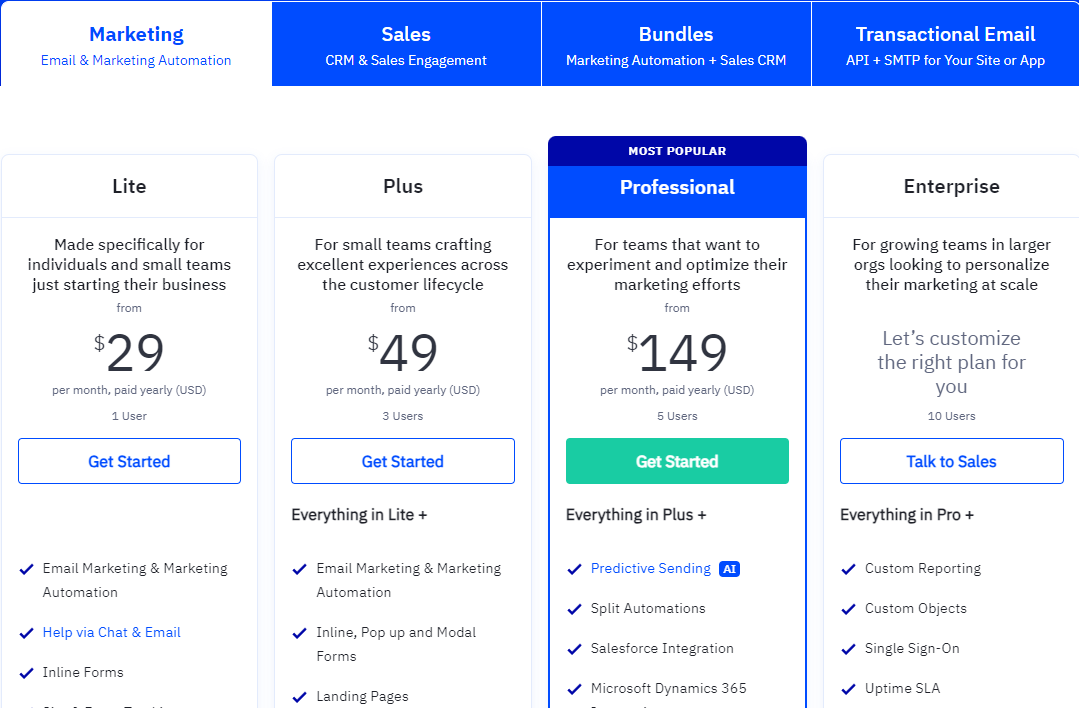 ActiveCampaign offers 4 paid plans: Lite, Plus, Professional, and Enterprise. Price is based on the number of contacts.
The Lite plan is $29/month for up to 500 contacts and comes with email marketing and automation tools. The Plus plan is $49/month for up to 2,500 contacts. The Professional plan is $149/month for 10,000 contacts and advanced features including an AI-powered Predictive sending tool and a customer journey builder.
Sales automation features and other tools like marketing automation, email scoring, site tracking, and CRM are included in all paid plans. There are no costly add-ons.
Discounts are offered for annual billing. Overall, ActiveCampaign is an affordable email marketing tool that provides strong value at competitive prices.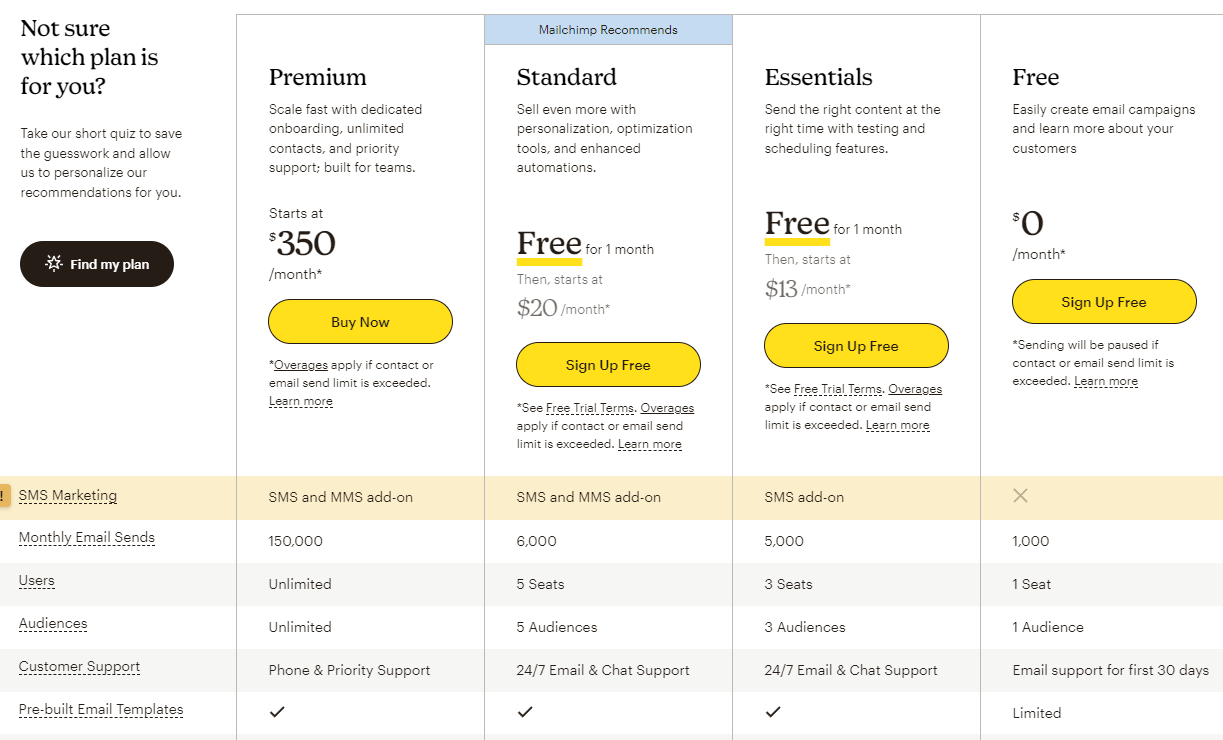 Mailchimp has 3 paid tiers: Essentials at $13/month, Standard at $20/month, and Premium at $350/month billed annually.
Lower tiers are suitable for small businesses. Advanced and Premium add powerful enterprise features like journey builder, workflow automation, and advanced analytics.
Mailchimp's free plan lets you send 1,000 emails per month with basic automation for your email marketing campaigns. Overall, Mailchimp offers cost-effective plans.
The two marketing automation tools have a lot of value to offer at affordable prices. However, ActiveCampaign wins for pricing thanks to its straightforward plans that include robust features at competitive rates. The email marketing service has no expensive add-ons are required, providing excellent value.
8. Reviews and Reputation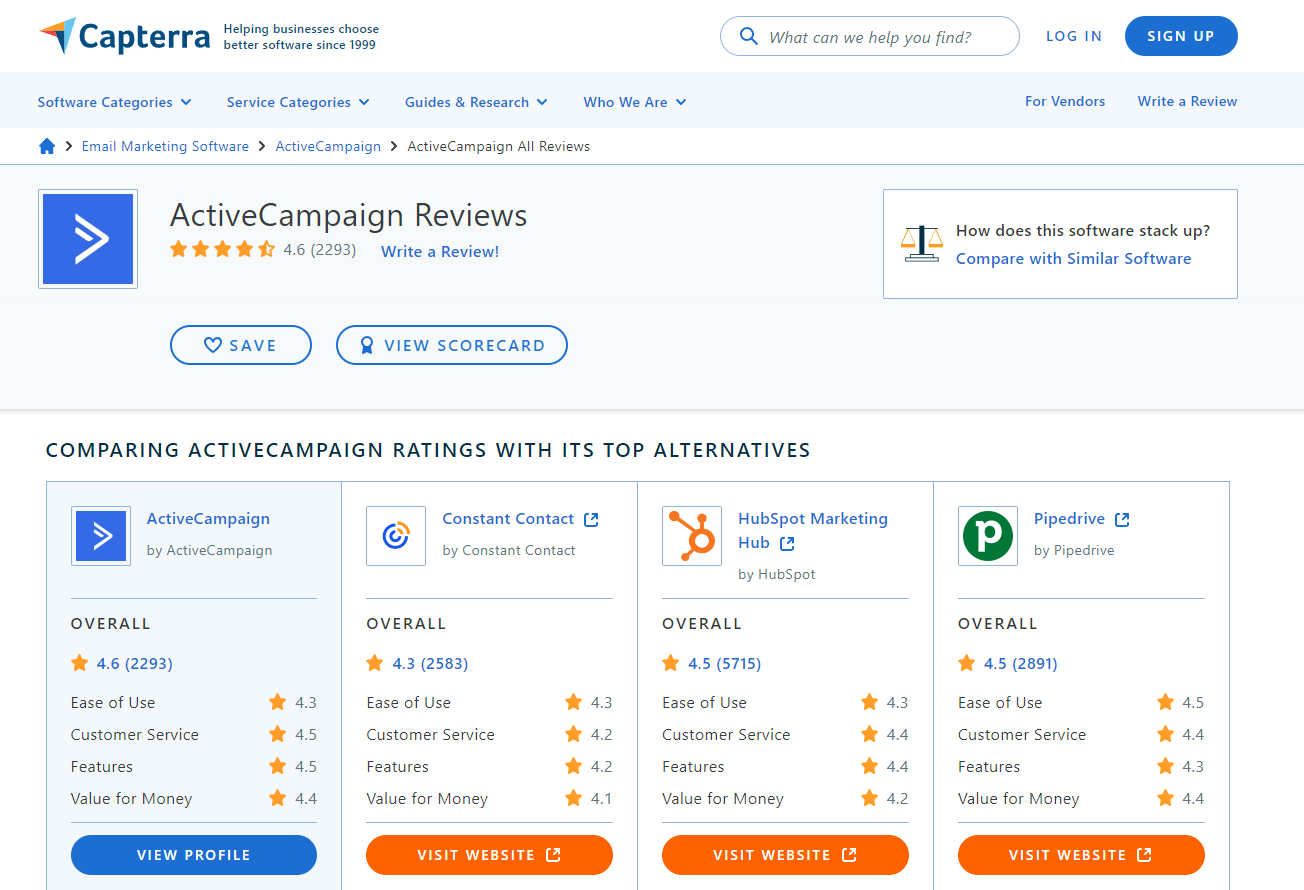 ActiveCampaign earns glowing reviews for its all-in-one marketing automation platform. Users highlight the intuitive interface, powerful features, and excellent support.
Positive mentions include versatility for advanced segmentation, valuable built-in integrations, and strong deliverability. Many switch from Mailchimp to ActiveCampaign for robust functionality.
Some downsides mentioned are the occasional buggy experience, and that comprehensive features can seem overwhelming for new users.
But overall, ActiveCampaign dominates with 4.6/5 stars on Capterra based on 2,000+ reviews.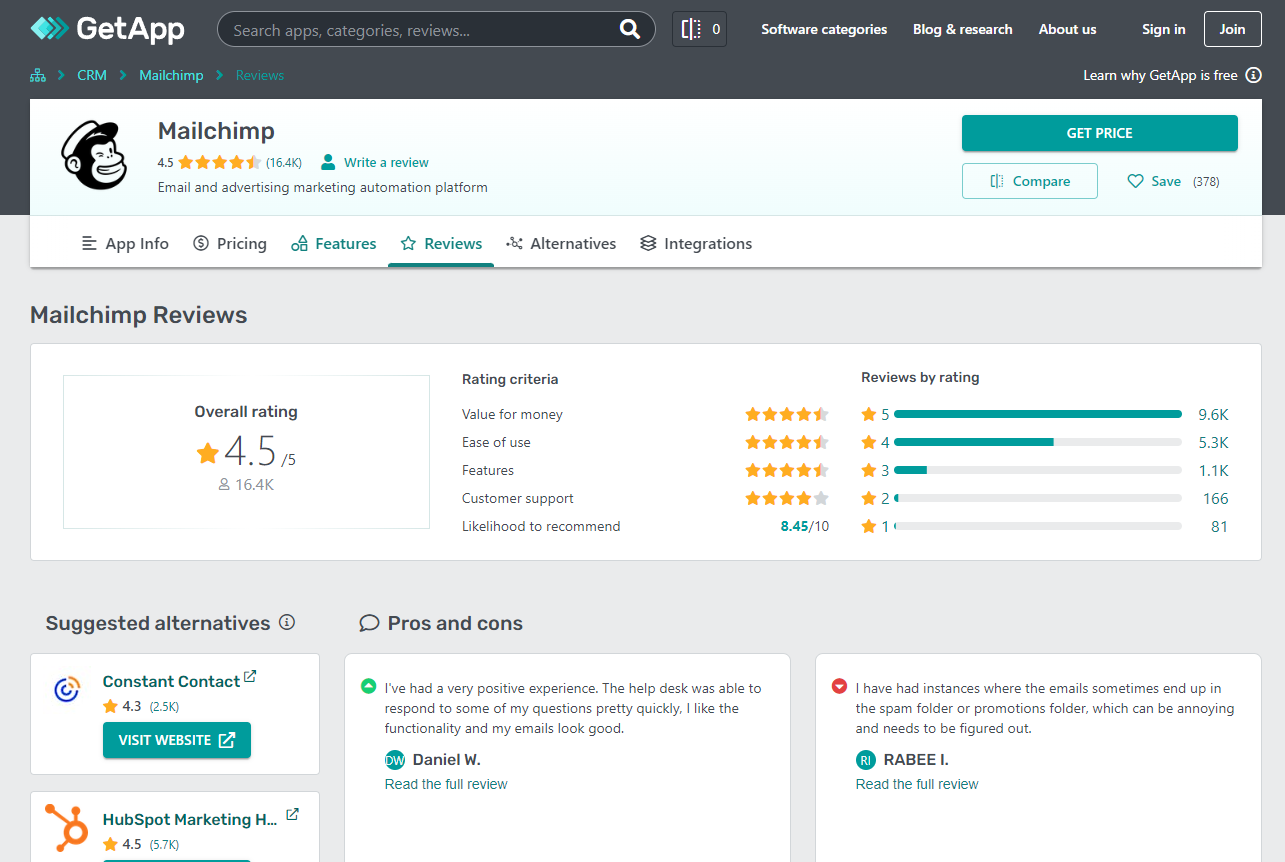 As a long-standing player, Mailchimp enjoys steady popularity, especially with small businesses. Users praise the ease of getting started, solid deliverability, and free tier.
However, many wanting advanced features beyond basic email are frustrated by limited segmentation, lackluster automation, and the need for expensive add-ons.
Mailchimp garners around 4.5/5 stars on various review sites like GetApp. The platform satisfies email fundamentals but often falls short of scaling demands.
ActiveCampaign emerges as the winner for reviews and reputation thanks to overwhelmingly positive feedback on its automation capabilities, great support, and ease of use even with advanced tools. The email marketing software has built trust in the market as the best tool for automated campaigns.
9. FAQ's
What types of email campaigns can you create in ActiveCampaign?

You can create welcome emails, announcements, promotional emails, newsletters, cart abandonment reminder emails, event reminder emails, and more. Really any type of email campaign you need for your business.
Does ActiveCampaign have landing pages and forms?

Yes, ActiveCampaign has a landing page and form builders to help capture leads and grow your email list.
How does ActiveCampaign handle deliverability?

ActiveCampaign uses dedicated deliverability experts, feedback loops with ISPs, and optimization technology to maintain excellent sender reputation and inbox placement.
Does ActiveCampaign offer SMS marketing?

Yes, ActiveCampaign allows you to send SMS messages to contacts in addition to email. SMS works seamlessly with automation workflows.
What types of email can you send with Mailchimp?

The core email campaigns are newsletters, promotions, announcements, welcome series, and alerts. Transactional email is only included on premium plans.
Does Mailchimp have CRM features?

No, Mailchimp does not have built-in CRM capabilities – you need to integrate a separate CRM system via Zapier.
How does Mailchimp support deliverability?

Mailchimp uses domain authentication and sender reputation monitoring to optimize inbox delivery rates.
Can you create popups, landing pages, and forms?

Yes, Mailchimp offers the ability to design various types of landing pages and forms to capture emails. Pop-up creation requires a third-party tool.
Final Thoughts
Choose ActiveCampaign if you want a powerful, all-in-one marketing automation platform. ActiveCampaign is ideal for growing businesses that need to graduate beyond basic email into advanced functionality like in-depth reporting, CRM, SMS, and sophisticated automation. Users praise ActiveCampaign for its wide range of robust features, great support, and flexibility to integrate with other business systems. While the comprehensive platform has a steeper learning curve, it provides the tools you need as your marketing becomes more complex.
Choose Mailchimp if you just need to get started with email marketing through an easy-to-use platform. Mailchimp is best suited for beginners, small businesses, and side hustlers looking for basic email campaigns and list management capabilities. Users love the simple, intuitive interface to create newsletters and manage subscribers. Mailchimp excels at email fundamentals but falls short if you want more advanced features like visual workflow automation or integrated CRM. The free forever plan also makes Mailchimp accessible.
You may also be interested in checking out some Mailchimp alternatives to help with the evaluation process.
Choosing the right email marketing platform is critical for your business success. Be sure to consider your current and future needs to determine if ActiveCampaign or Mailchimp is a better fit. Please leave any questions in the comments and I'm happy to provide guidance to help you decide!