With email marketing being an essential component of any successful online business, choosing the right email marketing platform is crucial. Constant Contact and Mailchimp are two of the most popular options, but they have key differences that business owners need to evaluate closely.
In this comprehensive Constant Contact vs Mailchimp guide, we compare and contrast these two industry leaders across a range of criteria to help you determine which solution may be the best fit for your business. Specifically, we will analyze Constant Contact and Mailchimp's market position and popularity, ease of use, design customization capabilities, features and functionality, website performance, customer support, pricing, and reviews and reputation.
This guide aims to provide the insights you need to enable you to select the one that aligns with your business goals, technical needs, and budget.
1. Understanding the Basics
Mailchimp was founded in 2001 by Ben Chestnut and Mark Armstrong. It quickly became one of the most popular email marketing platforms, now with over 14 million users. Mailchimp has a strong market position, currently holding about 50% of the email marketing market share.
Some popular Mailchimp Facebook groups and pages:
Constant Contact launched in 1998, was founded by Randy Parker and Richard Yaeger. It also has a significant market presence, with over 600,000 customers. Constant Contact holds around 10% of the email marketing market share currently.
Relevant Constant Contact Facebook groups:
Both Mailchimp and Constant Contact have strong brand awareness and loyal user bases. Comparing their market position and popularity shows two established email marketing leaders.
2. Features and Functionality
Automation
Mailchimp offers a wide range of automation features to help streamline your email campaigns. You can set up welcome emails to go out automatically when a new subscriber joins your list. Mailchimp's automation workflows allow you to create segmented drip campaigns to nurture leads and customers.
For example, you could set up a 5-email nurture sequence for subscribers who downloaded an ebook, automatically moving them through the workflow over a set time period.
Mailchimp also provides automated email templates for common scenarios like abandoned carts, order confirmation, shipping confirmation, and more. These can help save time designing transactional emails from scratch.
The automation features integrate across email, social ads, and landing pages, helping to coordinate cross-channel campaigns. You can even set up smart segments that automatically group subscribers based on behavior like email opens or link clicks.
Overall, Mailchimp's automation capabilities are robust, intuitive to use, and provide the necessary tools for creating automated campaigns, workflows, and experiences.
Constant Contact has a strong set of automation features as well. You can create auto-welcome messages and build automation workflows with their Visual Campaign Builder. This drag-and-drop editor makes it simple to set up multi-email sequences targeted to different subscriber segments.
For e-commerce stores, Constant Contact offers post-purchase automation like abandoned cart recovery emails. Their automated marketing integrations allow you to trigger campaigns based on events and customer data from tools like Shopify, WooCommerce, and others. You can also build automated birthday, anniversary, and loyalty emails to engage your subscribers.
While Constant Contact's automation tools are easy to use, they may not be quite as advanced as what Mailchimp offers. But for basic drip campaigns and transactional automation, Constant Contact still provides solid options.
Mailchimp wins for best automation capabilities due to its more advanced features, deeper integration options, and more intuitive workflow builder. The segmentation and automation combinations you can create in Mailchimp provide greater customization for complex campaigns.
Email Templates
Mailchimp provides hundreds of professionally designed email templates to choose from. Their template options make it easy to find on-brand templates for different campaign types like promotions, newsletters, announcements, and more.
Templates are fully customizable, allowing you to change colors, fonts, and design elements to match your branding. You can also edit template content blocks and images as needed. Mailchimp has mobile-optimized templates that render well on smaller screens.
If you want to start from scratch, Mailchimp has a flexible drag-and-drop builder and an old-school HTML editor. You can also save custom templates for reuse. Overall, Mailchimp's templates help simplify email creation for beautiful, branded campaigns.
Constant Contact also offers pre-designed email templates covering various categories like marketing, announcements, newsletters, and seasonal. Their template library is robust and stylish.
The templates feature drag-and-drop modules you can rearrange and customize with your own images, colors, and text. You can create mobile-friendly emails with column-based templates.
For greater customization, Constant Contact has a code-based editor. Their templates are generally easy to work with and allow you to maintain brand consistency across campaigns. The selection may not be quite as large as Mailchimp's, but still provides good variety.
Mailchimp wins for best email templates due to its larger library and greater customization flexibility, including more options for mobile optimization. Their beautiful, professionally created templates span a wide range of styles and campaign types.
Segmentation
Mailchimp provides powerful segmentation options to target subscribers. You can create segments based on subscriber data like email activity, purchase history, interests, and more. Segments can be dynamic – automatically updated based on subscriber behavior.
Mailchimp lets you combine multiple segmentation rules to create highly targeted groups. For example, you could segment by those who opened a previous email AND clicked a specific link. Their "Saved Segments" feature lets you reuse segments easily.
You can target regular segments or automation to specific segments. Mailchimp also offers A/B testing capabilities for different segments to compare performance. Overall, Mailchimp's flexible segmentation provides precision targeting of your audiences.
Constant Contact enables creating segments based on subscriber attributes and behavior as well. You can build segmented lists using filters like demographics, email opens/clicks, and purchase activity.
While useful for basic segmentation, Constant Contact has some limitations in its combinations of rules. You can't create segments with "AND" or "OR" logic – only filter by one attribute at a time. Their segments also don't automatically update like Mailchimp's dynamic lists.
Still, Constant Contact provides the essentials for basic subscriber segmentation. It just lacks some of the more advanced combinations and automation that Mailchimp offers.
Mailchimp wins for best segmentation capabilities due to the more sophisticated, customizable options for subscriber grouping. Dynamic lists that update automatically and granular multi-attribute segments give Mailchimp the edge.
Analytics
Mailchimp provides powerful analytics to track and optimize your email marketing performance. Their main Email Activity dashboard lets you view key metrics like send rate, open rate, click rate, and unsubscribe rate.
You can drill down into subscriber engagement stats for each campaign to see total clicks, most clicked links, open and click heatmaps, and more. Mailchimp also integrates with Google Analytics to connect email data with website visits and conversions.
Their Reports feature offers pre-built reports on subscriber engagement, domains, productivity, e-commerce, and automation. You can customize reports with charts and graphs for easy analysis and sharing. Overall, Mailchimp has robust analytics for gaining actionable insights.
Constant Contact also provides email marketing analytics through its Insights reporting dashboard. You get an overview of opens, clicks, bounces, and unsubscribes for each campaign. Drilling into individual reports, you can see subscriber engagement metrics.
Useful reports are available for email activity, subscriptions, surveys, events, and e-commerce. The analytics integrate with Google Analytics as well. Constant Contact's reports are easy to customize with filtering and comparisons across date ranges.
The analytics and reporting functionality help inform email marketing strategy, though may not be quite as deep as Mailchimp's capabilities. But for basic email metrics and campaign insights, Constant Contact still delivers.
Mailchimp wins for its superior analytics capabilities. The drill-down campaign metrics, custom reports, and heatmaps provide greater visibility into subscriber engagement. Mailchimp's analytics offer more robust optimization capabilities.
Unique Features
Mailchimp offers some unique capabilities beyond core email marketing features. Its Automation feature lets you trigger emails based on subscriber behavior across multiple channels like email, landing pages, and ads.
Mailchimp's Shopify integration provides e-commerce marketing tools for segments and abandoned cart automation. They also offer Facebook and Instagram ad management within the platform.
You can even build popups, landing pages, and basic websites directly in Mailchimp using their Website Builder tool. Pre-built modules make site creation simple.
Overall, Mailchimp positions itself as a marketing automation platform with tools expanding beyond just email into other channels. The integrations and website builder are key unique features.
Constant Contact has some unique features as well. Their Website Builder provides an easy way to create sites from pre-designed blocks – no coding needed. Useful blogging tools are included like SEO optimization and included hosting.
For social marketing, Constant Contact lets you schedule and publish posts on Facebook, Instagram, Twitter, and LinkedIn. They also offer POS marketing integrations with digital menus and coupons.
The EventSpot event management tool helps market, manage, and sell tickets for live and virtual events all in one place. These special capabilities complement Constant Contact's core email marketing offering.
Mailchimp wins for best unique features due to the expanded marketing automation capabilities beyond just email. Tools like multi-channel automation, deep e-commerce integrations with Shopify, popups/landing pages, and social ad management provide robust options suited for more sophisticated marketing needs.
3. Ease of Use
Mailchimp's user interface is clean, modern, and intuitive. The dashboard layout makes key tasks easy to locate. Icons and visual elements help guide you.
For beginners, Mailchimp is relatively easy to pick up. Their simplified campaign builder workflow walks you through each step. Handy tooltips explain features.
The platform is responsive and loads quickly. Mailchimp's mobile app also provides easy access on the go. Automation and segmentation interfaces use a simple visual style.
One downside is that with tons of integrations and customizations possible, the platform can sometimes feel overwhelming. There may be a learning curve in fully leveraging Mailchimp.
Constant Contact also touts an easy-to-use interface. Menu items and pages are clearly labeled to find your way around. Dashboard widgets highlight key metrics.
The campaign builder's step-by-step flow enables even beginners to create emails easily. But some parts of Constant Contact's UI feel a bit outdated in style.
Loading times can occasionally be slow. Their segmentation tools have some limitations in usability. While generally user-friendly for basic features, some customization areas feel clunky.
Mailchimp wins for best ease of use. Their modern interface provides smooth navigation and an intuitive workflow for building campaigns. Extensive features are presented in a clean, understandable way reducing the learning curve.
4. Email Deliverability
Mailchimp takes measures to ensure strong email deliverability. They automatically authenticate domains with SPF, DKIM, and DMARC to boost inbox placement. Mailchimp monitors subscriber activity to remove inactive emails.
Their Deliverability Dashboard displays up-to-date spam test scores, blacklists, and other metrics so you can optimize as needed. You can see projected spam rates per campaign as well.
Mailchimp allows some customization like sender names and email addresses to improve opens. Overall, their tools and monitoring promote email reliability and deliverability.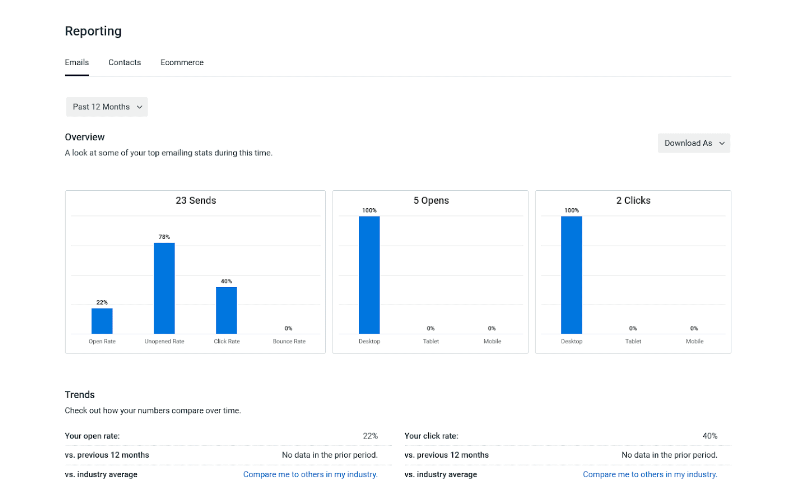 Constant Contact also provides key tools for maximizing email deliverability. Their Inbox Inspector checks for issues before sending and Deliverability Grader rates your domain setup.
Each campaign is tested against major ISP spam filters before going out. You can preview spam scores for subject lines and test subject lines too. Constant Contact enables sender verification and customized from names.
While helpful, their deliverability features are not quite as robust. But Constant Contact still offers a strong fundamental toolkit to maximize inbox placement.
Mailchimp wins for superior email deliverability capabilities. Their hands-on tools like real-time blacklisting notifications, projected spam scoring, subject line testing, and comprehensive diagnostics surpass Constant Contact's offerings and promote greater reliability.
5. Customer Support and Community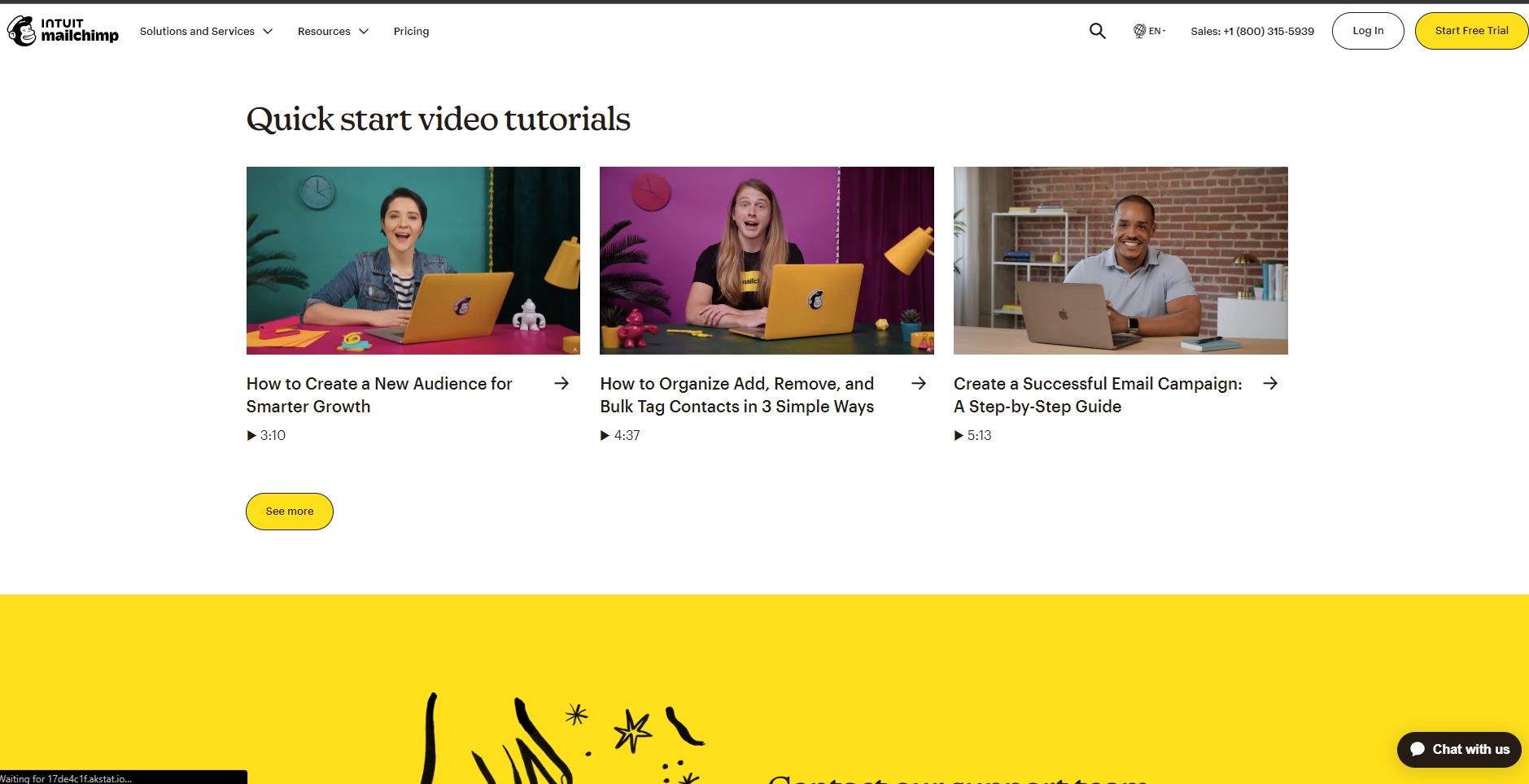 Mailchimp provides 24/7 customer support via live chat, as well as email support and phone support. They also offer an extensive knowledge base of articles, how-to guides, and videos that may quickly answer questions.
An active user community exists in the Mailchimp Community forums to exchange tips and get advice. Popular Facebook groups like Mailchimp Users Group provide peer support as well.
Mailchimp's regular webinars and Mailchimp Presents show highlight education and inspiration from industry experts. Overall, Mailchimp does well at customer support through various self-service and direct channels.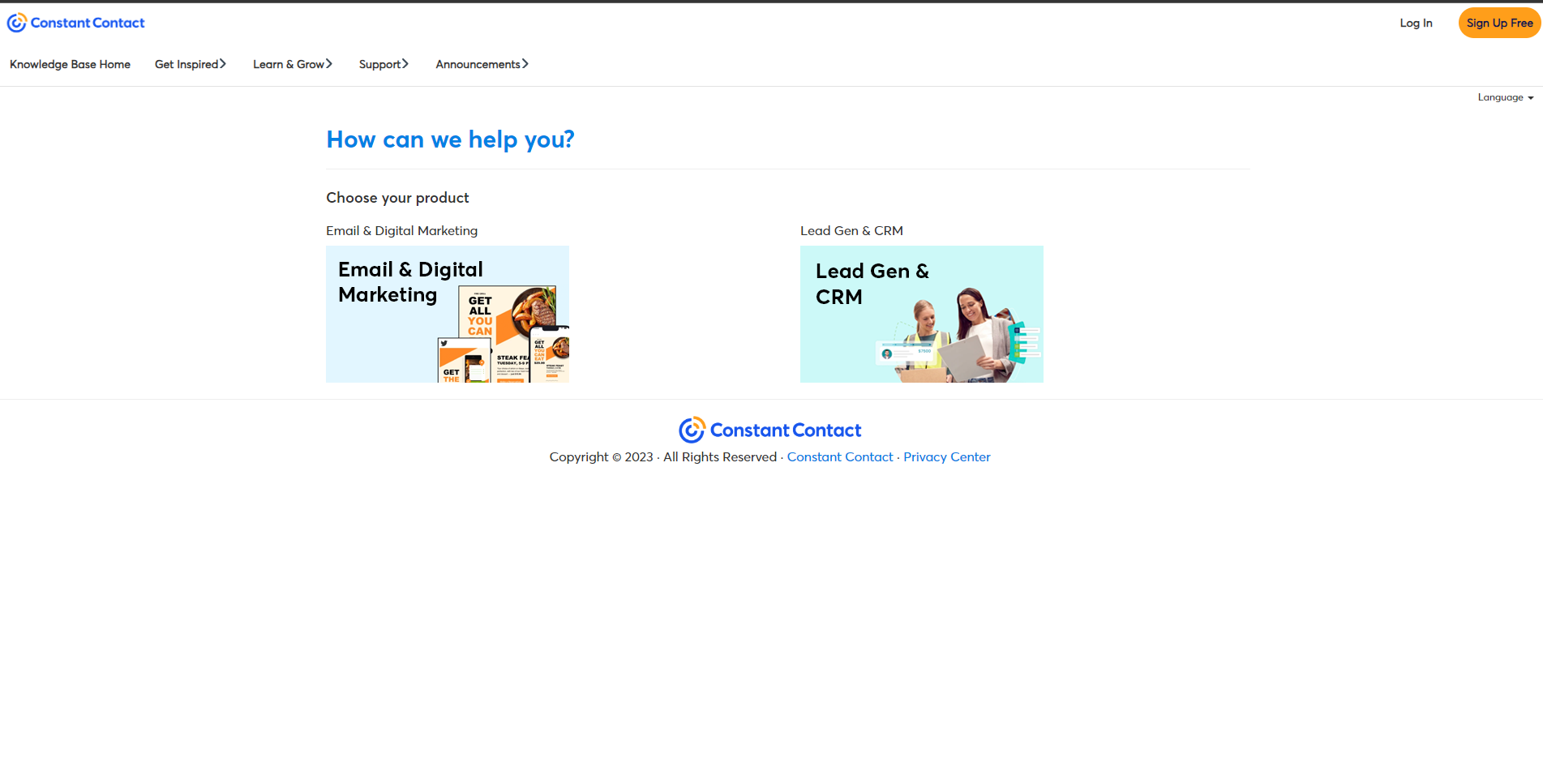 Constant Contact also provides around-the-clock customer support accessible by phone, chat, and email. Their Help Center contains a searchable library of FAQs and troubleshooting guides.
While not as large as Mailchimp's, there's a Constant Contact Users Facebook Group. They offer some exclusive classes and webinars for further education.
The support options from Constant Contact are decent, though direct channels like chat may not always have the shortest wait times. However, self-service help resources are quite comprehensive.
Both Mailchimp and Constant Contact offer various support channels, but Mailchimp wins for best customer support and community due to the large knowledge base, active user forums, and expansive educational content. Multiple self-service options provide quick access to information for questions and issues.
6. Integrations
Mailchimp integrates with a wide variety of third-party apps and services. They offer e-commerce integrations with major platforms like Shopify, WooCommerce, and Magento to track purchases and recover abandoned carts.
Popular CRM integrations exist for Salesforce, HubSpot, Zoho, and others to sync subscriber data. Mailchimp also integrates with webinar/meeting tools like Zoom, GoToWebinar, and Webex.
Other notable integrations include social media platforms, analytics tools, landing page builders, and ad platforms. With 800+ app integrations, Mailchimp connects comprehensively across the martech stack.
Constant Contact also provides important integrations but with not as wide of a selection. E-commerce platforms like WooCommerce and Shopify are supported for cart tracking and sales data.
The Constant Contact CRM integrates with Salesforce, Zoho, and Microsoft Dynamics to combine subscriber information. Email campaign data can be passed to Google Analytics and Facebook Ads.
Other Constant Contact integrations include SurveyMonkey, Eventbrite, and Instagram. However, its app ecosystem lacks the breadth of Mailchimp's expansive integrations.
Mailchimp is the winner for its unparalleled integration capabilities with apps spanning email marketing software, e-commerce, social media, analytics, and more. The flexibility to connect Mailchimp workflows across many other tools is a key advantage.
7. Pricing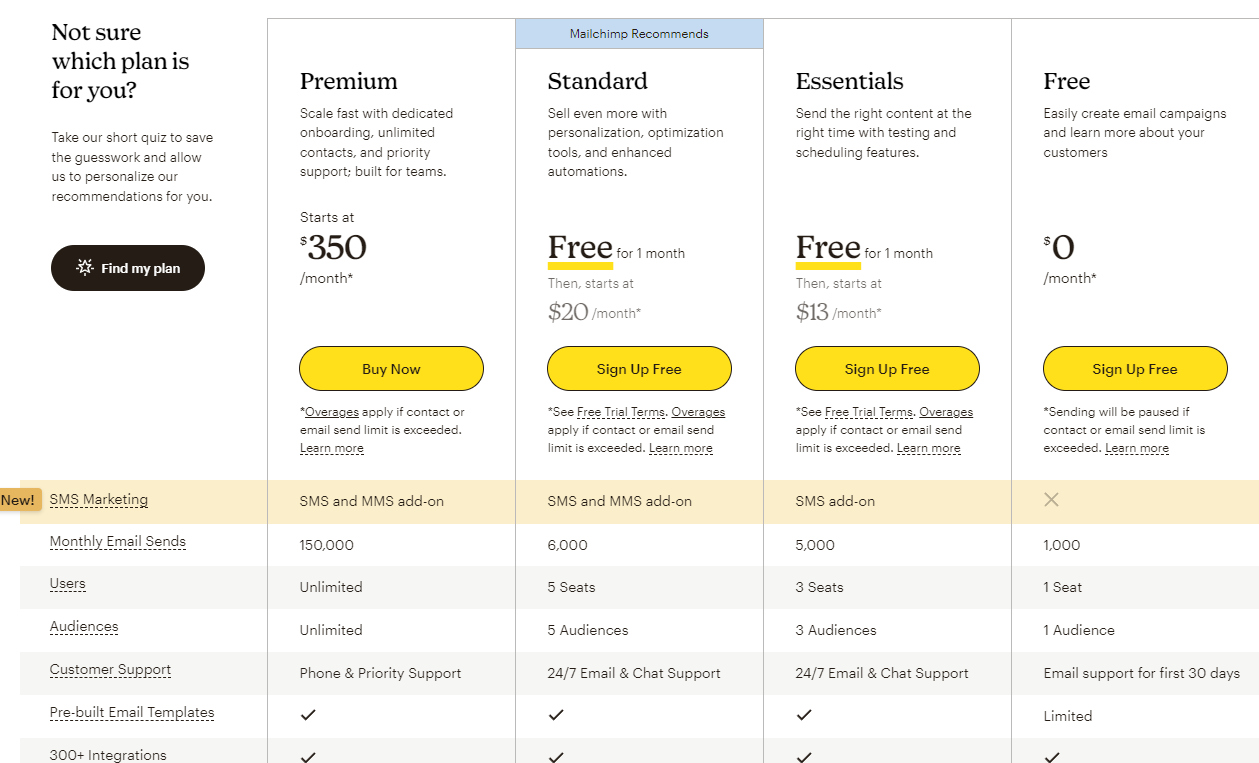 Mailchimp has 3 paid tiers: Essentials at $13/month, Standard at $20/month, and Premium at $350/month billed annually.
Lower tiers are suitable for small businesses. Advanced and Premium add powerful enterprise features like journey builder, workflow automation, and advanced analytics.
Unlike Constant Contact, Mailchimp has a free plan that lets you send 1,000 emails per month with basic automation. Overall, Mailchimp offers cost-effective plans.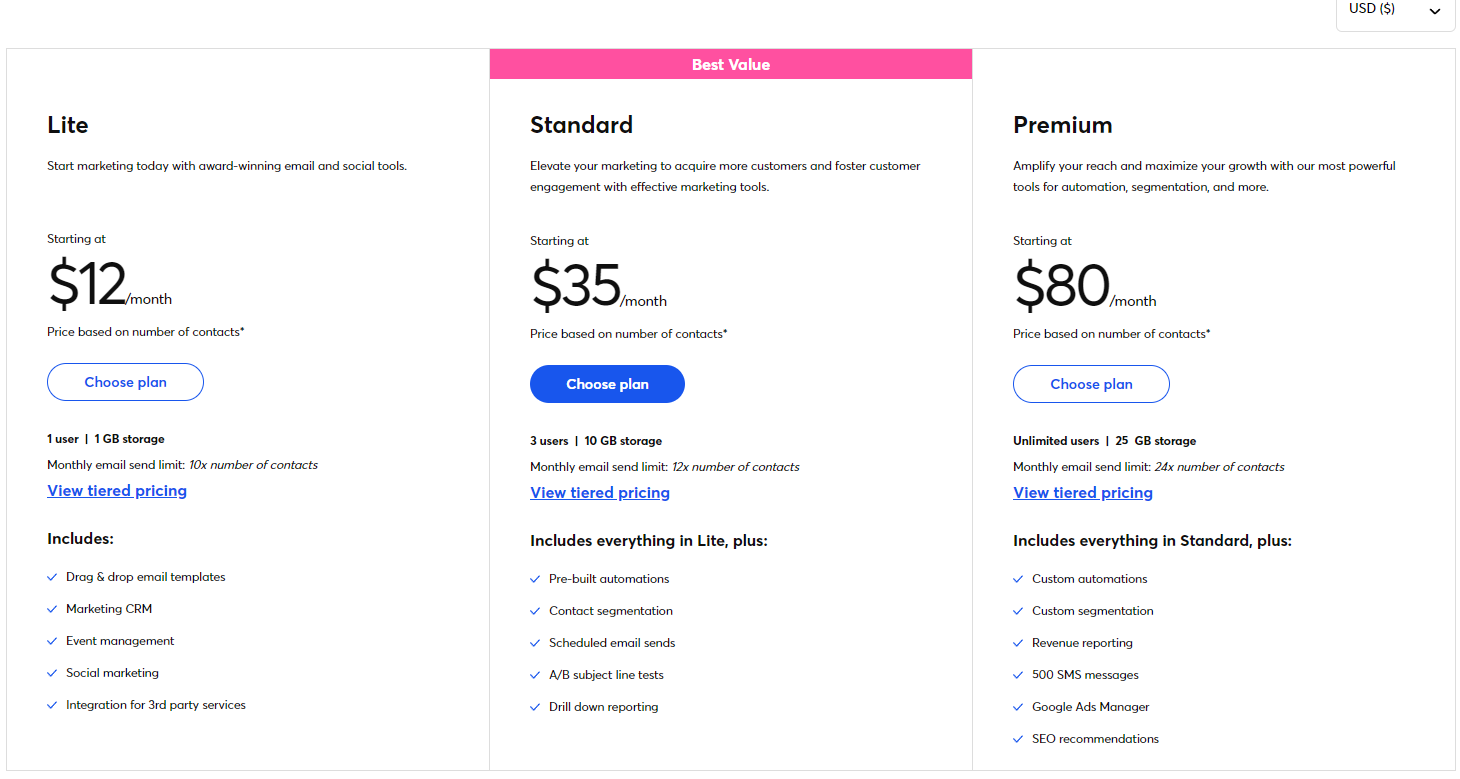 Constant Contact's free trial lets you send to 500 contacts. The Lite email plan is $12/month for up to 500 contacts with additional features like the marketing CRM, event management tools, and social marketing features.
The Standard plan is $35/month and comes with 3 users, pre-built automation, and contact segmentation features.
For $80/month, you get the Premium plan, which includes unlimited users, custom automation, custom segmentations, revenue reporting, and Google Ads Manager.
Core features are available in most paid plans beyond free trials. The lower-volume tiers can represent good value for smaller businesses. But costs rise sharply for unlimited plans compared to Mailchimp.
Comparing Constant Contact to Mailchimp shows that both email marketing tools offer much value, but Mailchimp wins for pricing with a more generous free plan and lower-cost tiers for small businesses. Unlimited plan pricing is more affordable than Constant Contact's comparable offerings once businesses scale. The pricing flexibility is a Mailchimp advantage.
8. Reviews and Reputation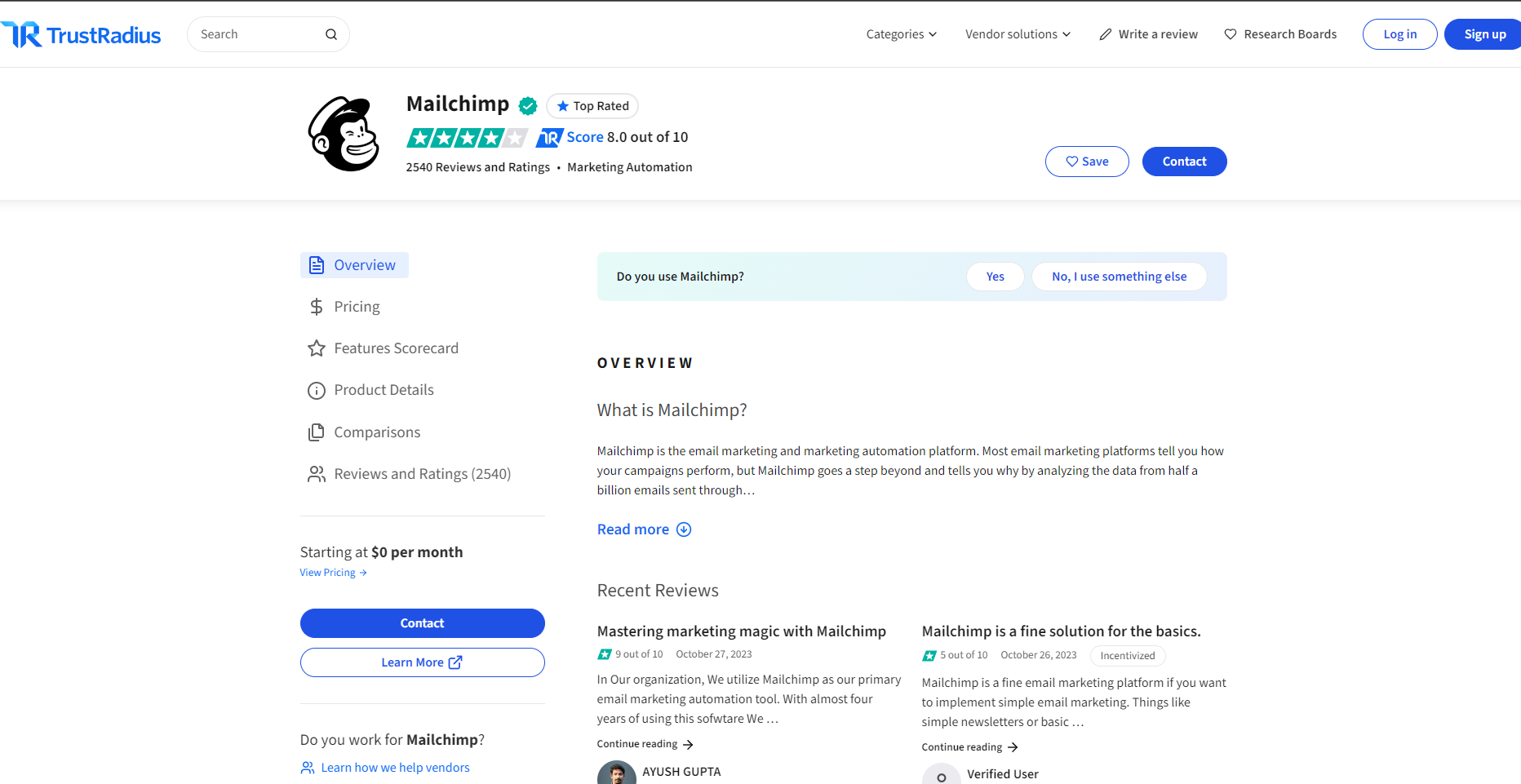 Mailchimp earns strong reviews for its comprehensive features, automation, and integrations. Users praise the intuitive drag-and-drop editor, templates, and segmentation capabilities.
The platform regularly receives high marks for email deliverability and analytics. Many reviews also highlight affordable pricing and good customer support.
Potential downsides mentioned include occasional glitches with automation, limitations of basic plans, and the learning curve for advanced features. But most reviews rate Mailchimp very positively.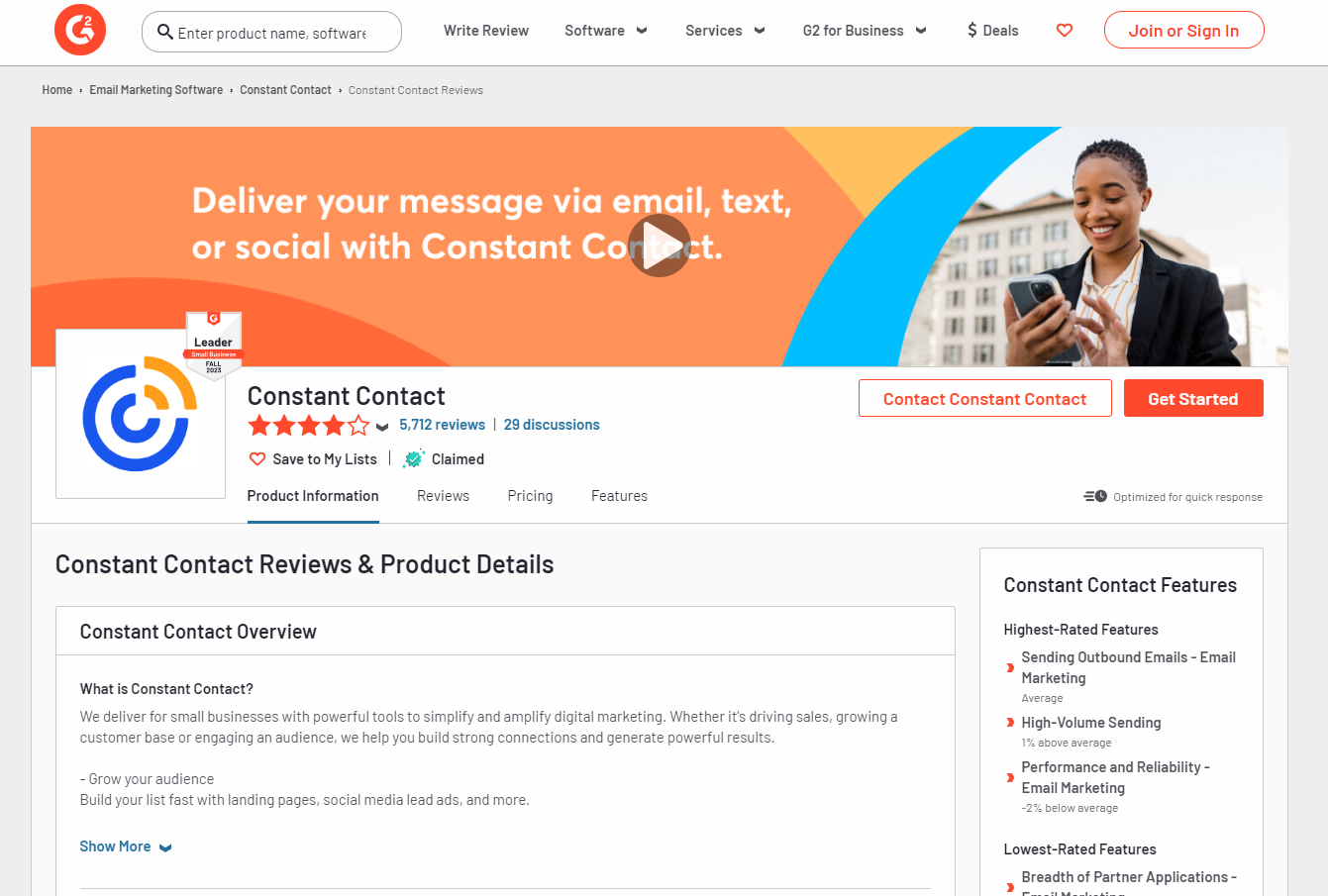 Constant Contact garners positive feedback for its ease of use and template variety. Reviewers praise the step-by-step email builder workflow and educational resources for beginners designed to help you in your marketing efforts.
Reviews mention occasional inconsistencies in deliverability compared to some competitors. The basic editor lacks the more advanced customization that some users want. Pricing on unlimited plans also receives some negative feedback.
However, most reviews rate Constant Contact as a solid choice for entry-level email marketing, thanks to the straightforward interface and coaching features.
Both Constant Contact and Mailchimp have raving reviews online. However, the depth of positive reviews for Mailchimp's wide feature set gives it the win for reputation. Users consistently highlight usability, automation, deliverability, integrations, and value as Mailchimp's strengths.
9. FAQ's
What features are included in the free plan?

Mailchimp's free plan includes basic email marketing features like contacts up to 2k, 12k monthly emails, and basic templates and reports. Automation and advanced features require an upgrade.
Is there a limit for contacts and emails on paid plans?

No, Mailchimp's paid plans have unlimited contacts and emails, with tiers offering different send rates per month. Unlimited plans remove contact and send limits.
Does Mailchimp integrate with e-commerce platforms?

Yes, Mailchimp provides integrations with all major e-commerce platforms including Shopify, WooCommerce, Magento, and others.
Is there a drag-and-drop email builder?

Mailchimp has an easy drag-and-drop email builder and template editor for creating campaigns visually.
How quickly does Mailchimp deliver emails?

Mailchimp uses top deliverability practices to get your emails delivered quickly, typically within 5-10 minutes.
Does Constant Contact have free plans?

Constant Contact offers a 60-day free trial. But they do not have a freeforever plan beyond trials.
What features are limited in lower-cost plans?

Lower Constant Contact plans have limits on contacts, emails per month, and some advanced features. Unlimited plans remove most limits.
Is Constant Contact beginner-friendly?

Yes, Constant Contact offers simplified email builders and educational resources focused on helping beginners get started.
How are Constant Contact's deliverability rates?

Constant Contact takes measures to optimize deliverability, though some users report slightly lower inbox placement rates compared to rivals.
Does Constant Contact have salesforce integration?

Yes, Constant Contact provides integration with Salesforce to synchronize contacts and campaign data.
Final Thoughts
With its expansive features, integrations, and automation, Mailchimp is ideal for growing businesses ready to scale their email marketing. If you want to sync your email campaigns across other marketing channels, require deep analytics, and create sophisticated workflows, Mailchimp has the flexibility to meet those needs.
The affordable unlimited plans also make Mailchimp a great solution as your subscriber list and send volume grows over time. If you are an established business seeking a powerful email marketing platform with extensive capabilities, Mailchimp is likely the best fit.
You may also be interested in checking out some Mailchimp alternatives to help with the evaluation process.
For beginners just getting started with email marketing, Constant Contact provides a user-friendly solution. The simplified builder and educational resources help guide new email marketers through the process with ease.
If you have a relatively small subscriber list and primarily want to create basic campaigns and newsletters, Constant Contact offers what you need without the complexity of more advanced tools. The lower pricing tiers also appeal to smaller businesses on a tight budget.
If you are still unconvinced that this email marketing platform is for you, check out some Constant Contact alternatives.
Choosing the right email marketing platform is critical – it should align with your business needs and budget as closely as possible. If you have any other questions about Mailchimp vs Constant Contact, please leave a comment below so we can help you make the best decision for your business!