Choosing the right email marketing platform is crucial for connecting with customers and growing your business. Omnisend and Mailchimp are two of the most popular solutions, each with unique strengths. In this Omnisend vs Mailchimp comparison, we evaluate how these platforms stack up across key criteria like features, performance, pricing, and more.
We will compare these two industry leaders across eight categories: market position, ease of use, design and customization, features and functionality, website performance, customer support, pricing, and reviews and reputation.
By evaluating the platforms side-by-side on the criteria most important for business success, you will have the information you need to confidently choose the best email marketing solution for your company.
1. Understanding the Basics
Omnisend was founded in 2014 by CEO Rytis Lauris and is headquartered in Lithuania. It is a relative newcomer compared to Mailchimp, which was founded in 2001 by Ben Chestnut and Mark Armstrong.
Mailchimp dominates the email marketing industry and is used by over 14 million businesses worldwide. Its position as an email marketing pioneer and industry leader makes it one of the most widely-used and well-known platforms.
In contrast, Omnisend has around 8,000 customers globally. As a younger company, the email marketing tool has less brand recognition but has been growing in popularity for its Shopify integration and e-commerce-focused features.
Both companies have active social media presences and online communities:
While Mailchimp has greater reach and mindshare, Omnisend offers robust competition with its specialized ecommerce strengths. However, Mailchimp still dominates in terms of overall user base and market penetration.
2. Features and Functionality
With the right platform, you can create targeted campaigns, drive sales, and gain marketing insights to make smarter decisions.
However, the wrong solution can hold your business back with limited capabilities and lackluster deliverability. Understanding the key differences between Omnisend and Mailchimp will ensure you select the best platform for your needs and budget.
Automation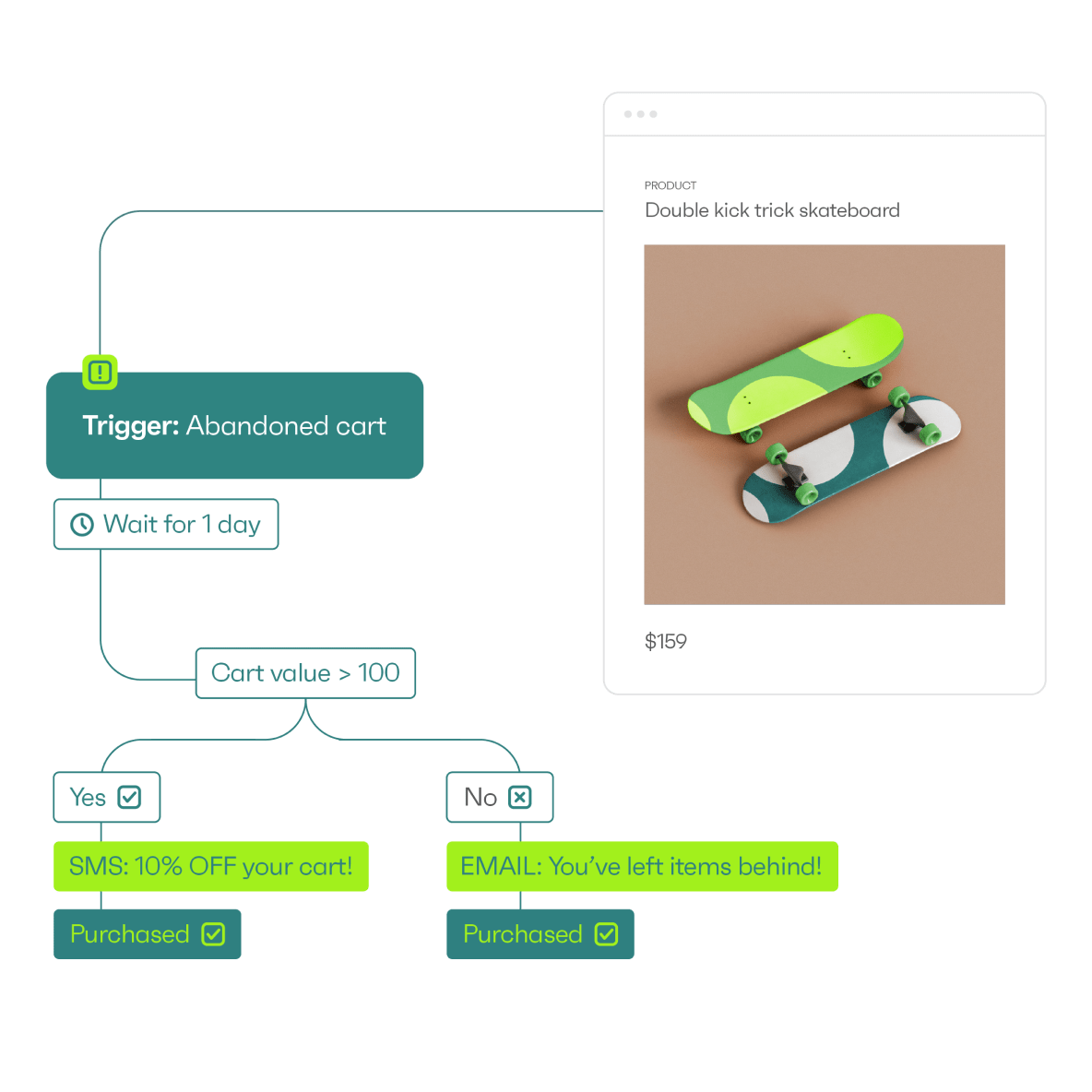 Omnisend offers a visual drag-and-drop workflow builder to create customized automation workflows and campaigns. You can trigger workflows based on actions like signups, purchases, abandoned carts, and more.
With the workflow builder, you can string together sequences of emails, SMS marketing, web push notifications, and other actions. For example, you could set up a 5-email welcome series for new subscribers or an abandoned cart recovery workflow to re-engage shoppers.
Omnisend has a library of pre-made automation templates you can use or customize. It also lets you create segments to target groups for campaigns. Overall, the automation features are robust and intuitive for e-commerce uses.
Mailchimp also provides a visual automation builder to set up segmented workflows with email, SMS, and other actions. You can create complex automation based on time delays, multiple conditions, tags, and user behaviors.
While Mailchimp has pre-built automation templates, its workflows may require more customization for ecommerce uses compared to Omnisend's Shopify-optimized templates. But Mailchimp lets you reuse workflow components for more efficiency.
Mailchimp's automation features are highly capable, offering strong segmentation options and integration with many apps and CRM platforms. However, the interface can have a steeper learning curve for beginners.
Both email marketing platforms have a lot to offer in terms of marketing automation. However, Omnisend wins for its automation capabilities due to the pre-optimized templates for Shopify stores right out of the box. This makes setting up powerful automation faster and easier, especially for ecommerce use cases. While Mailchimp has robust workflow features, Omnisend streamlines automation creation for busy ecommerce marketers.
Email Templates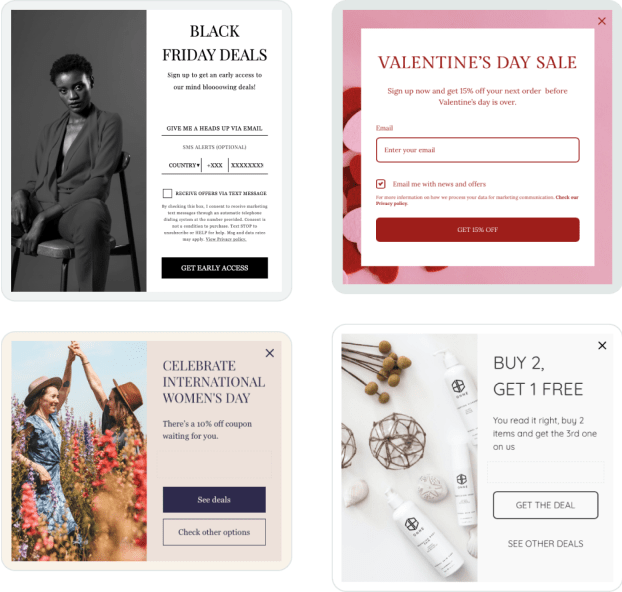 Omnisend provides hundreds of professionally designed, mobile-optimized email templates for welcome emails, promotions, cart abandonment, and more.
Templates are categorized by type and industry, making it easy to find relevant options. You can customize templates with your own branding, images, and content using the drag-and-drop editor.
While Omnisend has beautiful templates, the selection is smaller compared to Mailchimp. However, its templates are focused on high-converting ecommerce emails like order confirmations and abandoned cart reminders.
Mailchimp offers over 700 responsive email templates across a wide range of categories, styles, and industries.
Its template options are expansive, covering use cases like onboarding, events, surveys, and ecommerce. You can browse by category or search for keywords to find the perfect template.
While some templates need more customization, Mailchimp makes it easy to swap in your branding, images, and content with drag-and-drop tools. Overall, its template library edges out Omnisend in terms of volume and variety.
Mailchimp wins for email templates with its vast template library covering every use case imaginable. The sheer volume and style variety make it easy to find an eye-catching and effective template suited for your brand and audience. Omnisend templates are more focused on ecommerce but less robust overall.
Segmentation

Omnisend enables the creation of unlimited segments based on criteria like location, purchase history, browser, device, tags, and other attributes. You can combine multiple rules to target segments for automation workflows and campaigns.
It also offers AI-powered predictive segmentation. This automatically creates highly specific segments based on behavioral data and machine learning algorithms to target your most valuable customers.
Overall, Omnisend provides robust segmentation capabilities tailored to ecommerce sites. Predictive segmentation especially helps convert abandoning visitors into customers.
Mailchimp also allows the creation of unlimited segments with complex logic and rules. You can combine criteria like demographics, interests, purchase history, email activity, and more.
It also features an AI-powered Audience Dashboard to view your audience insights. You can save audience segments for reuse in campaigns and automation.
However, Mailchimp doesn't offer predictive behavioral segmentation. Its segmentation focuses more on traditional criteria versus the predictive intelligence of Omnisend.
Omnisend wins for its predictive segmentation capabilities that use AI to target high-value users based on behaviors. This level of granularity and automation takes segmentation to the next level compared to Mailchimp's more traditional approach. Omnisend's Shopify-optimized segmentation gives it the edge.
Analytics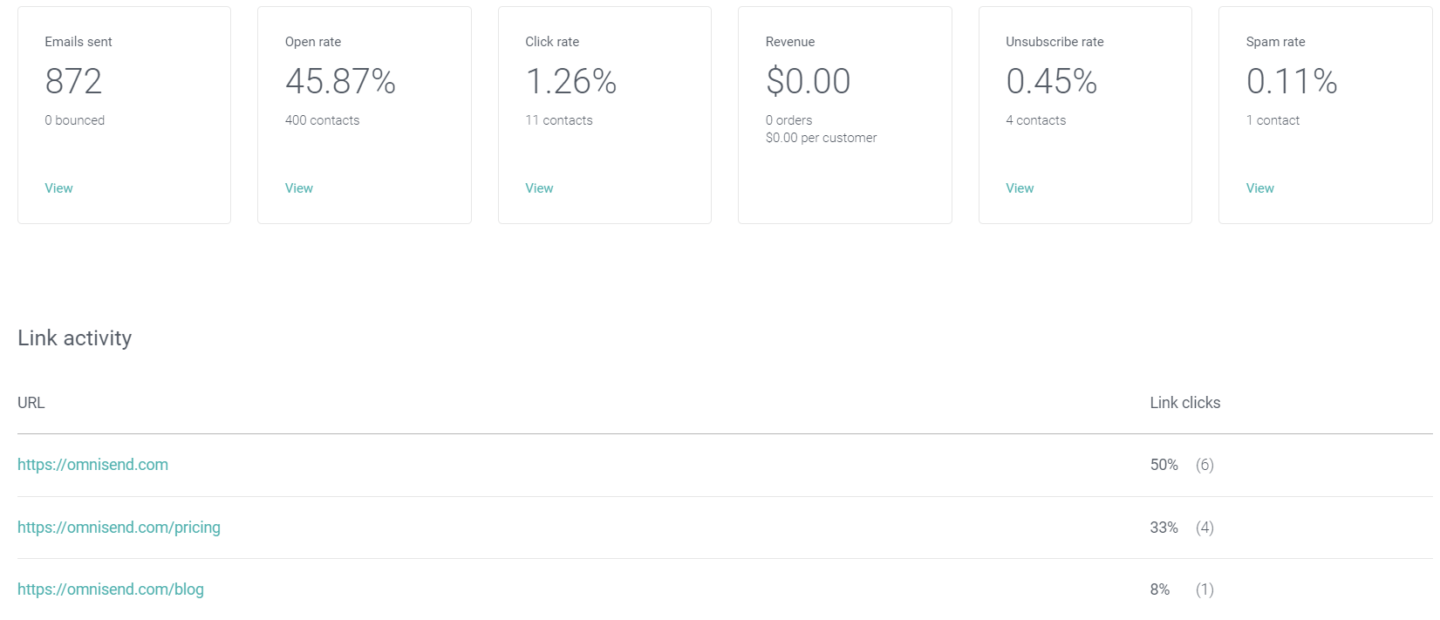 Omnisend provides robust analytics to track email and SMS campaign performance. You can view opens, clicks, unsubscribes, bounce rates, and other metrics for each campaign.
It also integrates with Google Analytics and Facebook Pixel to track site traffic and conversions driven by your campaigns. This helps connect marketing efforts to bottom-line business results.
Useful real-time reports show top-performing segments, most engaging content, and subscriber engagement over time. However, compared to Mailchimp, Omnisend's reporting is more focused on email metrics versus business insights.
Mailchimp offers powerful analytics both within the platform and via integration with Google Analytics 360.
You get real-time campaign reports and can track customer journeys across channels. It's also easy to customize reports with advanced segmentation and filters for deeper insights.
Mailchimp provides an Analytics Dashboard showing high-level metrics and trends as well as deeper dive capabilities. Its breadth of reporting provides visibility into all marketing and business performance.
Both email marketing services have powerful analytics tools. However, Mailchimp wins for its unparalleled analytics capabilities that connect marketing efforts to wider business goals. With deep cross-channel reporting and customization powered by Google Analytics integration, Mailchimp provides superior insights compared to Omnisend's email-focused analytics.
Unique Features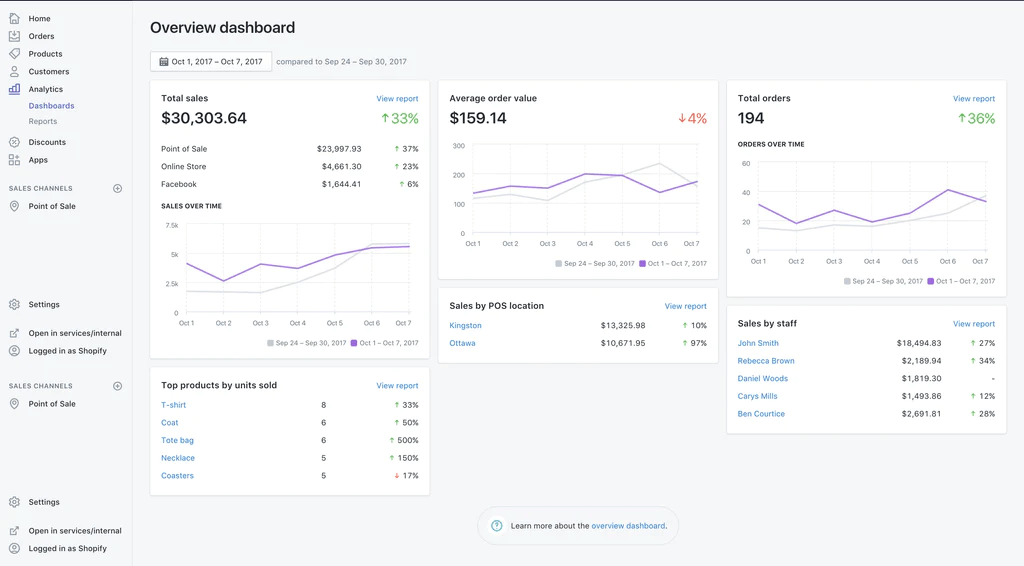 One of Omnisend's unique features is its built-in SMS capabilities for running SMS campaigns and automations along with email.
It also offers robust store synchronization with platforms like Shopify and WooCommerce, pulling in key data to power automation.
Omnisend also enables the creation of custom pop-up forms for list building right on your website without coding. Overall, it focuses on e-commerce-centric capabilities for SMS, pop-ups, and integrations.
A standout Mailchimp feature is its powerful AI tool Attribute Match which matches customer records and cleans your contact database automatically.
It also provides Facebook and Instagram Ad Campaigns to run social campaigns directly within Mailchimp. This simplifies cross-channel coordination.
While Mailchimp lacks SMS support, its unique features focus on using advanced AI for tasks like list management and contact record matching.
Winner: Tie
Both email marketing tools have much to offer. Mailchimp offers different but equally valuable unique features tailored to their strengths. Omnisend's SMS and pop-ups better serve ecommerce sites, while Mailchimp's AI-powered platform enhancements benefit users across industries. Their uniqueness results in a tie.
3. Ease of Use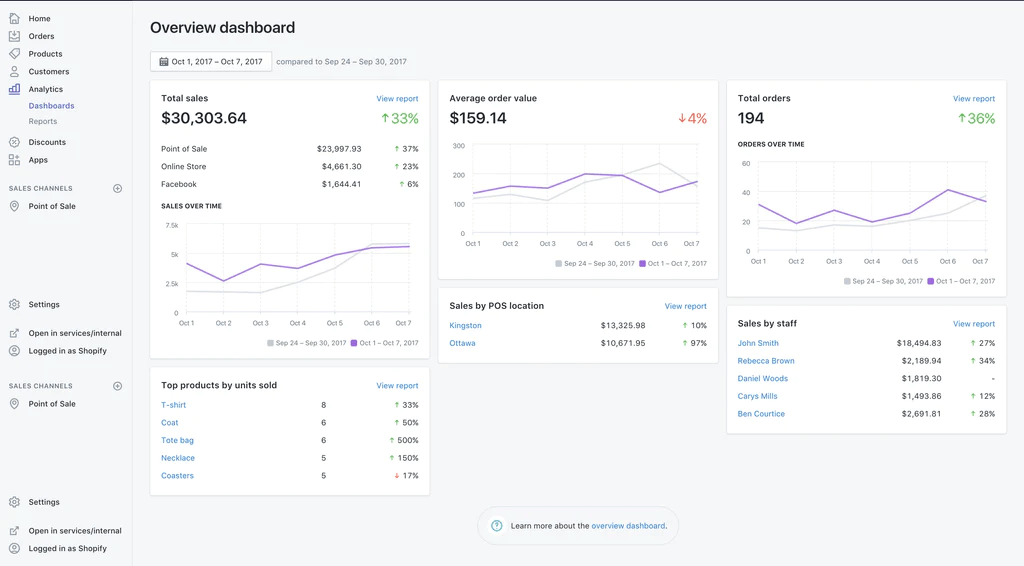 Omnisend has an intuitive drag-and-drop visual interface that makes it easy for beginners to start creating campaigns and automation quickly.
The dashboard is clean and organized, with clear menus and navigation. Core features for building emails, segments, and workflows are accessed in just a few clicks.
Omnisend uses terminology tailored to ecommerce sites, with options optimized for Shopify stores right out of the box. This makes the learning curve gentler for ecommerce users.
However, some advanced features like dynamic content can require more expertise to customize and optimize fully. But overall, Omnisend prioritizes usability and simplicity.
Mailchimp provides a user-friendly dashboard, but the extensive feature set can seem overwhelming for beginners at first.
The interface has more complexity, and navigating between the many campaign, automation, and reporting features involves a steeper learning curve.
Mailchimp is better suited for intermediate to advanced users who desire maximum options and customization. The expansive possibilities come at the cost of a more crowded interface and notifications.
Omnisend wins for its clean, visually intuitive interface tailored for ecommerce users. Beginners can get up and running quickly with campaign creation and simple automation. Mailchimp has more features but a more complex interface not as friendly for first-time users.
4. Email Deliverability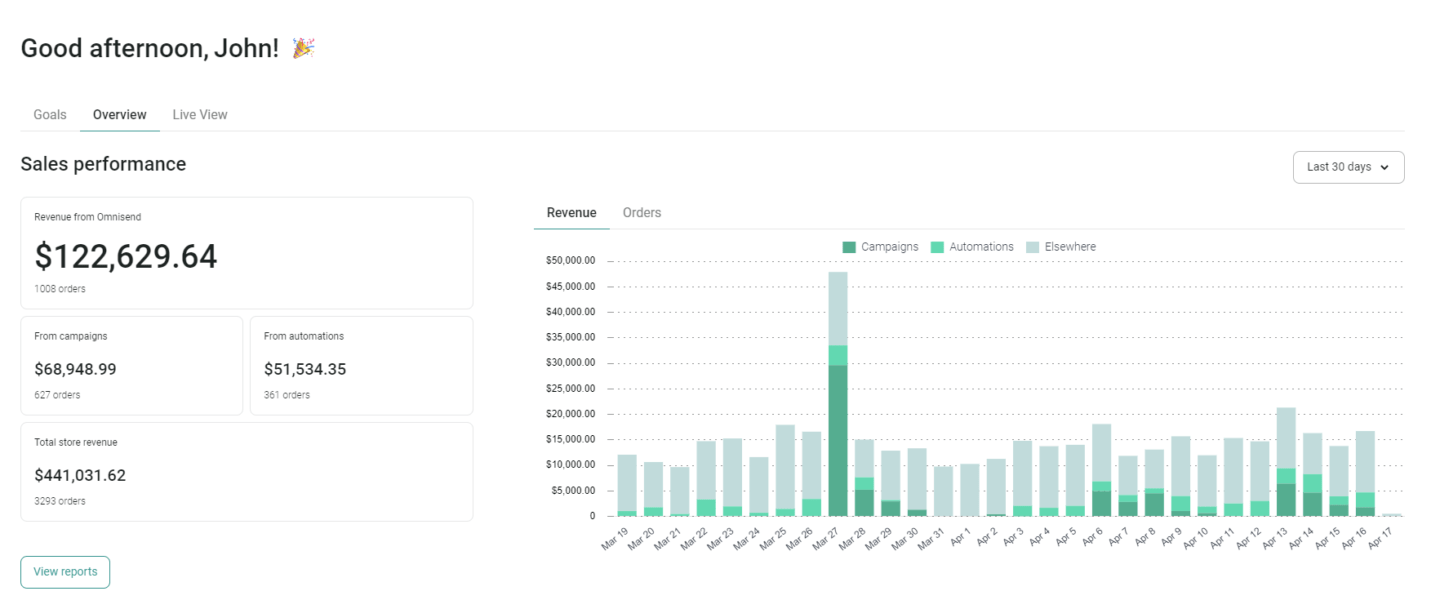 Omnisend focuses heavily on deliverability with features like sender score monitoring, inbox placement tests, and IP warm-up tools.
It offers dedicated IPs to protect the sender's reputation. Omnisend also allows domain authentication via DMARC, SPF, and DKIM to boost deliverability.
For subscriber management, it offers granular opt-in customization and active list cleaning to remove inactive emails.
While Omnisend lacks some of Mailchimp's deliverability automation, its strong emphasis on inbox placement helps achieve above-average rates.
Mailchimp prioritizes deliverability with sophisticated automation capabilities.
It features an automated Deliverability Dashboard that monitors reputation and spam test scores. You also get access to detailed monthly deliverability reports.
Mailchimp runs ongoing inbox monitoring tests and can automatically remediate issues like bad send times or high complaint rates.
With its robust automation and monitoring, Mailchimp edges out Omnisend in advanced deliverability assurances.
Mailchimp wins for its unparalleled emphasis on optimizing and automating deliverability through features like the Deliverability Dashboard. Omnisend takes steps to aid inbox placement but lacks Mailchimp's sophisticated capabilities.
5. Customer Support and Community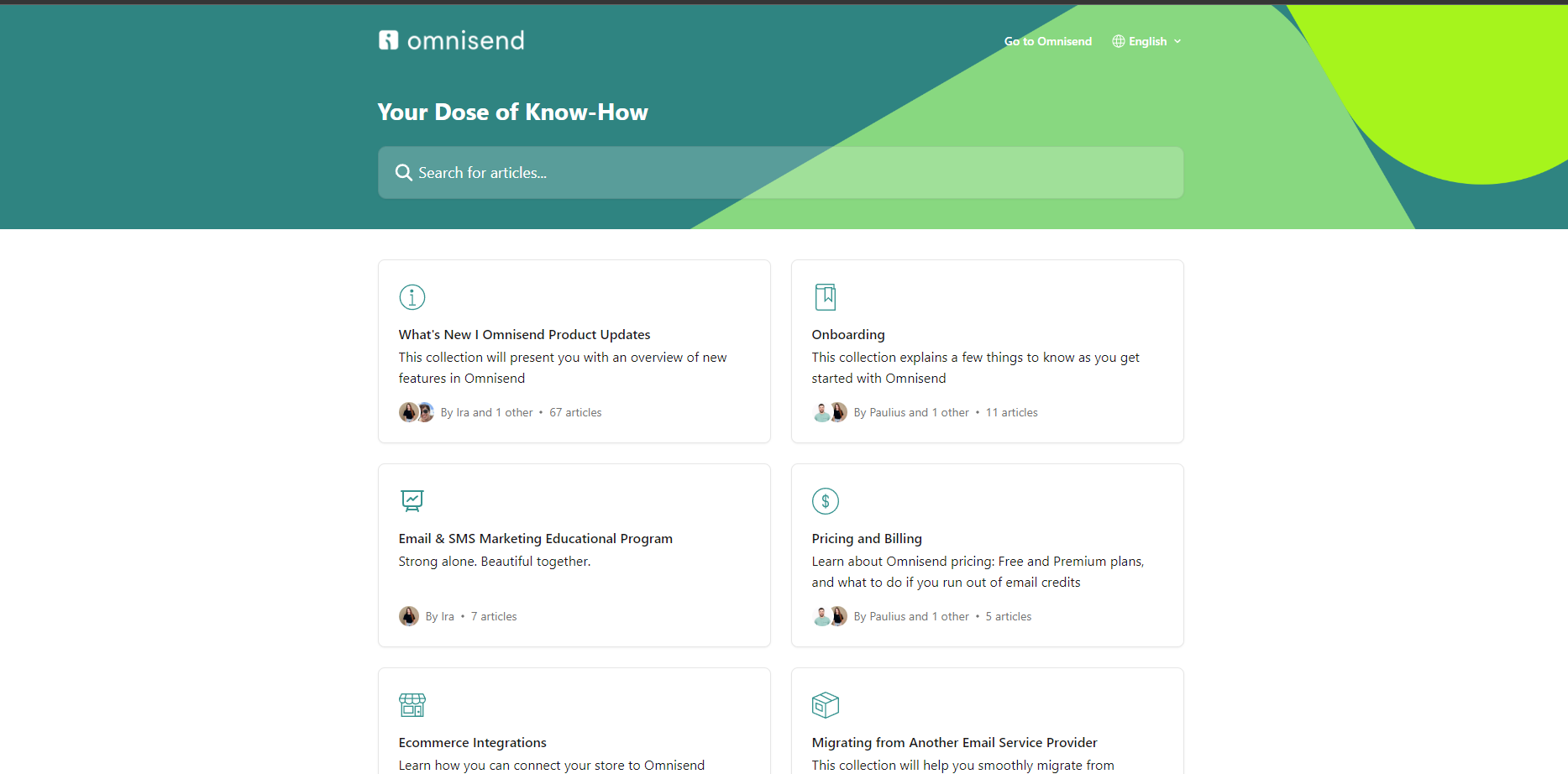 Omnisend provides email support, live chat, and phone support. It also offers an extensive library of tutorials, docs, and videos for self-help.
Response times for support are fairly fast, usually within 24 hours via email. The support team is knowledgeable and able to resolve most issues.
For the community, Omnisend has an active Facebook group with over 7,500 members for discussing issues and best practices:
While Omnisend's customer service options are decent, the community is smaller than a platform like Mailchimp.
Mailchimp offers 24/7 chat support, email support, and phone assistance. Users can also access an extensive knowledge base for DIY troubleshooting.
As an established leader, Mailchimp provides reliable support across channels. Email and chat queries see quick responses within 24 hours in most cases.
For the community, the Mailchimp Facebook group has over 150,000 members for peer discussion:
Mailchimp wins for its stellar customer support given its size and scale as an industry leader. Omnisend provides decent options but can't match Mailchimp's expansive knowledge base and community size. Mailchimp's dominance gives it the edge here.
6. Integrations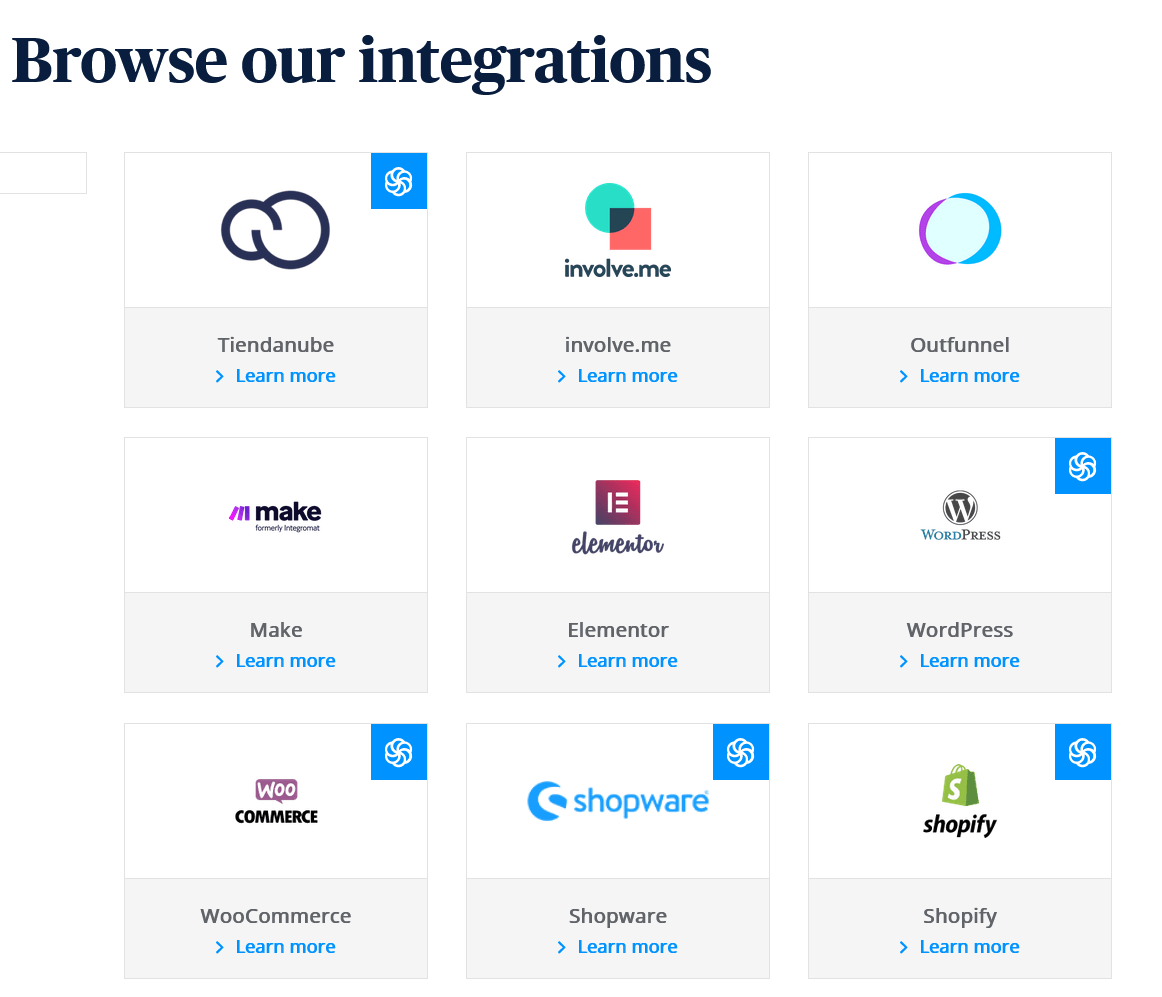 Omnisend offers native integration with ecommerce platforms like Shopify, WooCommerce, and BigCommerce. It syncs key data like customers, products, orders, and more.
It also integrates with CRM platforms, webinar software, chat tools, and marketing & analytics apps via Zapier.
While Omnisend has the core integrations needed for syncing ecommerce data, its third-party app integration options lag behind Mailchimp.
Mailchimp integrates natively with all major ecommerce platforms such as Shopify, WooCommerce, Magento, and PrestaShop.
It also offers a vast marketplace of over 700 third-party app integrations through Zapier, allowing you to connect to marketing, sales, and support tools.
Mailchimp's wider range of integrations with CRM, automation, and analytics tools provides more options for customizing your stack.
Mailchimp is the winner for its wider app integration ecosystem. With over 700 third-party apps available, it enables connecting your marketing stack far beyond Omnisend's capabilities. Mailchimp's maturity gives it better integration support.
7. Pricing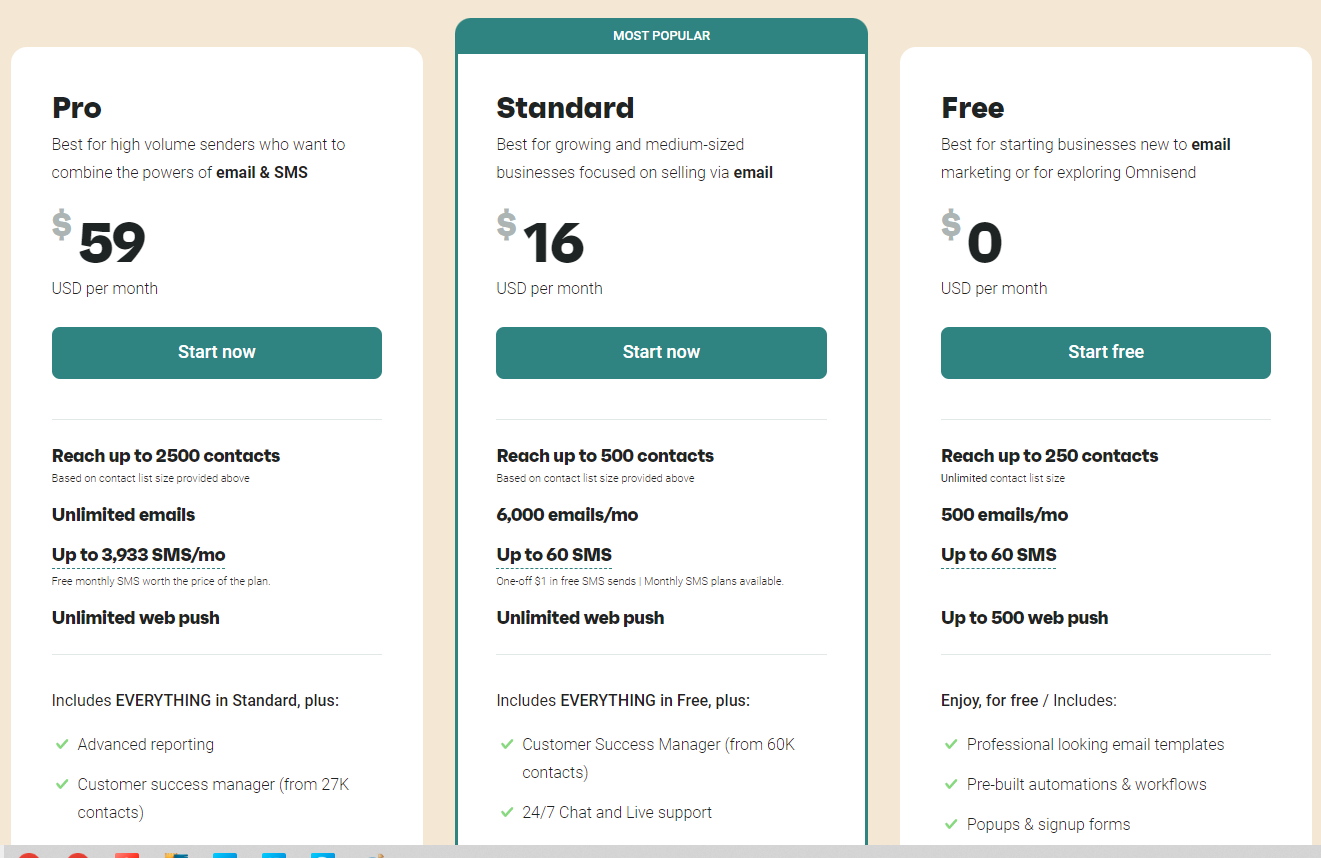 Omnisend offers 3 plans:
Free – up to 250 contacts and 500 emails/month
Standard – $16/month for up to 500 contacts and 6,000 emails.
Pro – $59/month for up to 2,500 contacts and unlimited emails.
Custom enterprise plans are also available. Overall, Omnisend is affordably priced for small and medium businesses. You get a generous free plan to test it out.
Mailchimp has 3 paid tiers: Essentials at $13/month, Standard at $20/month, and Premium at $350/month billed annually.
Lower tiers are suitable for small businesses. Advanced and Premium add powerful enterprise features like journey builder, workflow automation, and advanced analytics.
Mailchimp's free plan lets you send 1,000 emails per month with basic automation for your email marketing campaigns. Overall, Mailchimp offers cost-effective plans.
While Mailchimp is affordable for lower volumes, its pricing can get costly at higher tiers when advanced features are added on.
Omnisend wins on pricing with affordable plans packed with features. Mailchimp starts cheaply but gets expensive for advanced needs. Omnisend provides greater value, especially for growing ecommerce businesses.
8. Reviews and Reputation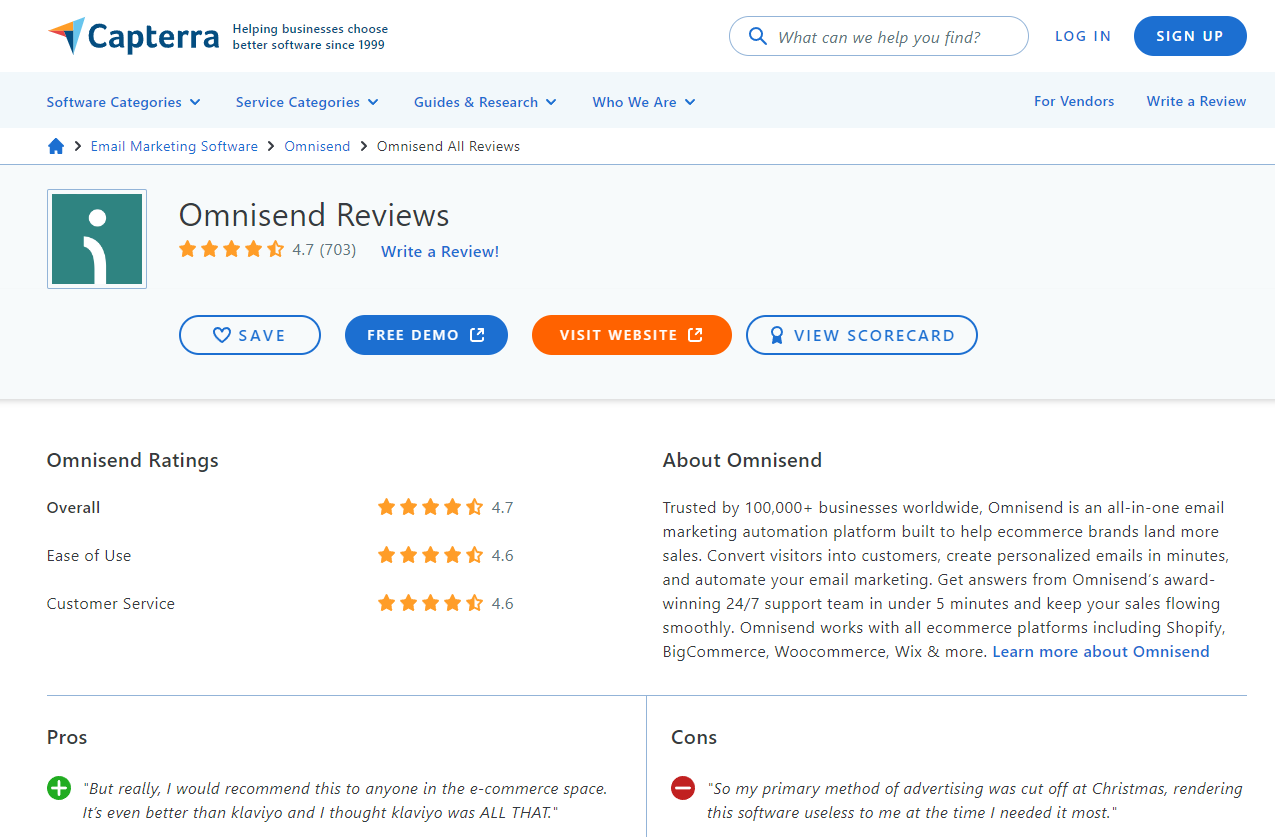 Omnisend earns positive reviews for its easy-to-use interface, Shopify integration, and excellent support. Users praise the visual workflow builder and automation features tailored for ecommerce.
However, some users felt the template selection was limited compared to competitors. There were also complaints about occasional glitches with synced data.
On review sites like TrustRadius, Omnisend earns high ratings for usability but mixed reviews for features.
As an email marketing leader, Mailchimp enjoys a strong reputation for reliability and deliverability. Users highlight the extensive features, integrations, and analytics capabilities. However, some reviewers felt Mailchimp was overly complex for beginners. Others noted the premium pricing at higher tiers. Technical glitches also pose challenges for some.
Mailchimp earns praise from most reviewers, with some caveats around pricing and complexity. You can find more Mailchimp reviews on G2's site.
Mailchimp wins for reputation, reflected by consistently positive reviews of its capabilities and deliverability. While some criticize its learning curve, most praise its powerful platform. Omnisend earns good reviews but lacks Mailchimp's brand recognition.
9. FAQ's
What e-commerce platforms does Omnisend integrate with?

Omnisend offers native integration with Shopify, WooCommerce, BigCommerce, and other major ecommerce platforms. It syncs key data like products, customers, and orders.
Does Omnisend have email templates?

Yes, Omnisend provides professionally designed email templates for ecommerce, including promo emails, abandon cart recovery, and more.
Is there a limit to contacts on Omnisend plans?

No, all paid Omnisend plans have unlimited contacts. The free plan includes up to 500 contacts.
Does Mailchimp offer free plans?

Yes, Mailchimp has a free forever plan for up to 2,000 contacts. Paid plans start at $13/month.
What analytics does Mailchimp provide?

Mailchimp provides powerful analytics on email campaigns, subscriber engagement, and ecommerce data. It also integrates with Google Analytics.
Can I switch email service providers easily?

Mailchimp makes it easy to switch ESPs, with tools to import contacts and campaign history from other platforms.
Final Thoughts
Omnisend is ideal for ecommerce businesses selling on Shopify or other platforms. Its automation and analytics are tailored for online sellers who need to sync product data and track sales. Omnisend makes it easy to set up workflows to capture leads and recover abandoned carts. With its Shopify expertise and affordable pricing, it's a great choice for small ecommerce sites.
Mailchimp is better suited for established businesses ready to scale. With powerful features for complex automation, detailed reporting, and cross-channel coordination, it provides sophisticated capabilities for savvy marketers. But its learning curve and premium pricing make Mailchimp better for larger brands versus early-stage startups.
You may also be interested in checking out some Mailchimp alternatives to help with the evaluation process.
Choosing the right email marketing platform is critical for your business growth. We hope this Mailchimp vs Omnisend comparison has helped you determine whether Omnisend or Mailchimp is better for your needs. Please leave any questions in the comments, and we're happy to provide personal recommendations to help you decide!