Choosing the right email marketing platform is crucial for businesses looking to build their brand, engage with customers, and drive sales. Two of the most popular solutions on the market are MailMunch and MailChimp.
Both platforms offer powerful features to design email campaigns, manage subscriber lists, track analytics, and integrate with other apps. But which one is right for your business?
In this comprehensive MailMunch vs Mailchimp comparison, we evaluate the two email marketing platforms across all important criteria so you can confidently choose an email marketing solution to help grow your business.
1. Understanding the Basics
MailMunch was founded in 2014 by Adeel Raza. It started as a side project but quickly gained traction as a freemium email marketing app. MailChimp was launched much earlier in 2001 by founders Ben Chestnut and Mark Armstrong. It has become one of the most widely-used email marketing platforms with millions of users.
In terms of popularity and market share, MailChimp is far larger. According to Datanyze, MailChimp holds over 50% of the email marketing market while MailMunch has less than 1%. However, MailMunch occupies a solid position as a feature-rich freemium option compared to MailChimp's wider pricing range.
Both platforms have active Facebook communities:
2. Features and Functionality
Automation
MailMunch offers robust marketing automation with over 50 triggers and actions you can combine to create workflows. When new users sign up or complete actions, you can automatically send welcome emails, segmented broadcasts, push notifications, and more.
With tags and segments, tailor your automated messages and workflows to different groups. Schedule your automations in advance or set them to run immediately after a trigger occurs.
While MailMunch has pre-built automation for common needs, you can also build custom multi-step workflows with your own triggers and actions. Everything is configurable to match your business goals.
MailChimp provides automation through its Journeys feature. You can create unlimited branched journeys that adapt to your subscribers' behaviors. Journeys are triggered by events like signing up, opening an email, clicking a link, or marking an order complete.
While journeys have pre-made templates, you can fully customize the triggers, actions, settings, and schedule. Send to entire lists or filters based on tags and other properties for segmentation.
Overall, MailChimp's automation feels more intuitive and visual to build compared to MailMunch. Both are powerful, but MailChimp's journey builder enables drag-and-drop workflows with less complexity.
With its user-friendly journey builder, MailChimp wins for having the best automation capabilities. Creating multi-branch workflows is straightforward and visual, allowing you to adapt your messaging for any scenario.
Email Templates
MailMunch provides hundreds of professionally designed email templates to choose from. Browse templates by category like Welcome Emails, Promotions, Newsletters, and more. They are optimized for mobile and accessible across devices.
When you select a template, you can fully edit and customize it. Change colors, and fonts, add/remove sections, and insert your own images. All templates are responsive so they display beautifully on mobile.
While the template selection is decent, it doesn't match the breadth offered by some competitors. However, the ability to edit and customize makes up for this limitation.
MailChimp provides thousands of professional email templates created by in-house designers to send automated welcome emails and lead generation emails. Browse by category, preview designs, and select a template to customize it for your brand.
Edit colors, text, images, layouts, and more directly within the template editor. Insert your logo, switch up fonts, pop in product photos, etc. to make it your own. The templates are mobile-friendly and the code is optimized for deliverability.
With its vast template library and customization features, MailChimp is the clear winner for email templates. The selection is exponentially bigger than MailMunch while still providing editing tools to personalize designs.
Segmentation
MailMunch enables you to segment your contacts based on various properties and behaviors. Create segments using criteria like location, purchase history, email activity, subscription date, and more.
For example, build segments to target contacts in a specific city or country, subscribers who opened an email in the last 30 days, customers who spent over $100, and contacts who subscribed in the last week. This allows you to deliver tailored messaging to different groups. Segments update dynamically as your data changes.
MailChimp gives you powerful tools to segment your audience. Divide contacts using combinations of interests, behaviors, demographics, order data, and other properties.
Segment by attributes like language preference, email client and device type, download history, purchase frequency, location, and activity level.
MailChimp wins for segmentation thanks to having no limits across plans. You get access to robust, unlimited segmentation capabilities whether you have 100 subscribers or a million.
Analytics
MailMunch provides robust email analytics to help you track performance. View reports on opens, clicks, unsubscribes, spam complaints, and more.
Analyze stats for individual campaigns or get an overview through consolidated reports. See which subject lines, from names, and send times perform best. View device, browser, and location data of opens and clicks.
MailChimp offers powerful analytics both within campaigns and through dedicated reports. You can track opens, clicks, geographical data, activity by device, bounce and spam rates, and more.
See how subject lines, preview text, and send times impact performance. Analyze which links get the most clicks in your emails. Track unsubscribes and abuse reports down to the contact level.
MailChimp wins for its premium templates, advanced analytics, and other features that provide a holistic view of both subscriber engagement and email performance over time. The depth of reporting surpasses the capabilities of MailMunch.
Unique Features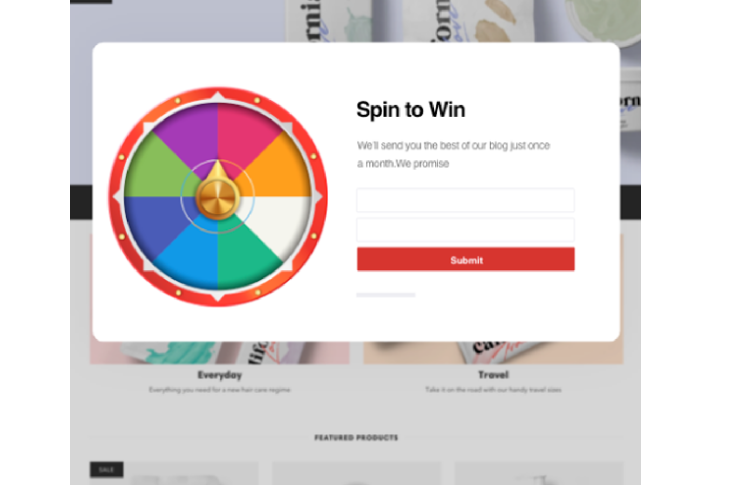 One of MailMunch's standout features is its spinwheels which you can use to make your emails more enticing. The platform also has integration with Google Sheets. This allows you to manage your email lists and subscriber data directly in a Google Sheet.
When you make updates to the sheet, contacts are automatically synced with MailMunch. You can segment and message contacts without leaving the Google Sheet interface. The comprehensive marketing platform also allows you to embed lead capture forms.
A key unique feature of MailChimp is the Automation of recipes. This tool lets you trigger automation based on actions contacts take on your website, not just within your email program.
For example, send automation when someone views a certain page, clicks an important link, or spends time on your site. Integrate your website analytics with your emails.
The Mailchimp vs Mailmunch comparison shows that MailChimp wins for its unique features like automation recipes, social ads, and social media management. These capabilities help integrate your email marketing campaigns with your broader digital strategy.
3. Ease of Use
MailMunch provides a clean, modern interface that is intuitive to navigate. The dashboard outlines your key stats and links to campaign creation, list management, and other tasks.
The visual editor makes it straightforward to build and customize emails with drag-and-drop modules. Layouts automatically adapt for mobile.
MailChimp prioritizes usability with a highly visual interface. The dashboard outlines top metrics and recommended actions.
Building emails and landing pages is intuitive with drag-and-drop modules and responsive mobile-optimized templates.
MailChimp makes it simple for beginners to get started. The platform provides step-by-step guidance, prompts, and tutorials where needed.
MailChimp wins for its seamless user experience that remains easy to navigate even as you access more sophisticated capabilities. The platform offers the perfect balance of usability and power.
4. Email Deliverability
MailMunch takes measures to optimize email deliverability. The platform provides authenticated sender identity with SPF, DKIM, and DMARC to boost inbox placement.
Email content is automatically scanned for spam triggers before sending. MailMunch also has feedback loops enabled with major ISPs to monitor reputation.
As an industry leader, MailChimp is finely tuned for strong email deliverability. The company maintains dedicated IP addresses with stellar sender reputations.
MailChimp applies rigorous abuse monitoring and advanced authentication protocols across its global sending infrastructure. Content is automatically scanned to avoid spam triggers.
With its category-leading deliverability and engagement rates, MailChimp is the clear winner. Its established sending infrastructure and partnerships result in higher inbox placement and response.
5. Customer Support and Community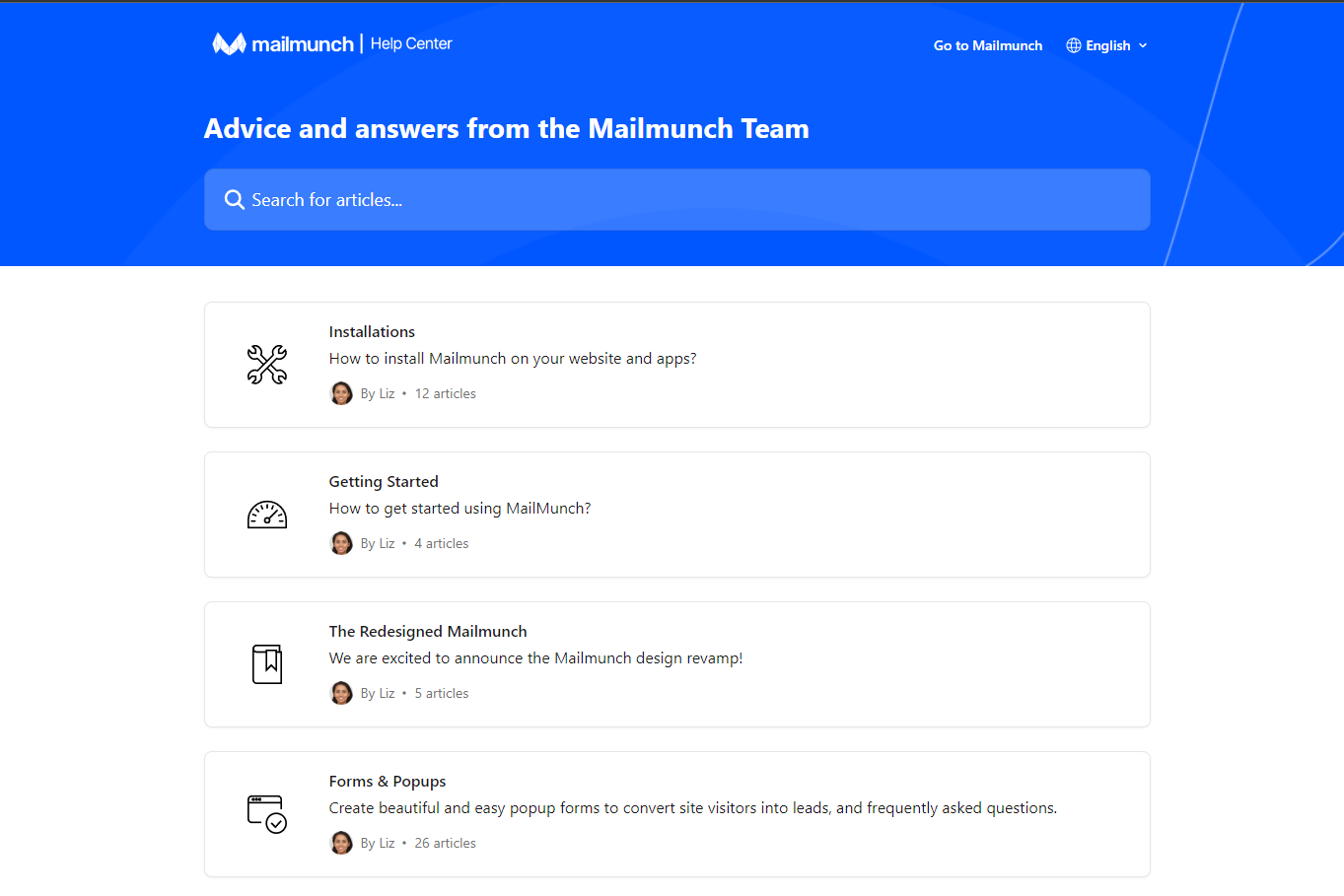 MailMunch provides email support with reasonably fast response times during business hours. Paid users get access to priority email support.
The platform also offers an online knowledge base with articles, guides, and FAQs on using MailMunch. You can browse help docs or search for assistance.
MailChimp offers 24/7 email support and live chat for all paid users. Assistance is prompt, knowledgeable, and catered to your use case.
Extensive self-help resources are available through the searchable knowledge base and community forums, tutorials, guides, and webinars offer training.
With its stellar 24/7 customer support, robust educational resources, and vibrant online community, MailChimp is the winner. The company surrounds users with ongoing help and connections.
6. Integrations
MailMunch offers over 750 integrations with popular apps through Zapier. This allows you to connect MailMunch workflows with tools like WordPress, Shopify, Salesforce, Facebook, Slack, and more.
MailChimp has over 800 pre-built integrations allowing you to connect directly with platforms like Shopify, Salesforce, Facebook, Instagram, Slack, and Google Analytics.
With its wider range of native app integrations and open API access for all users, MailChimp provides the most flexibility to customize and connect your email marketing workflows.
7. Pricing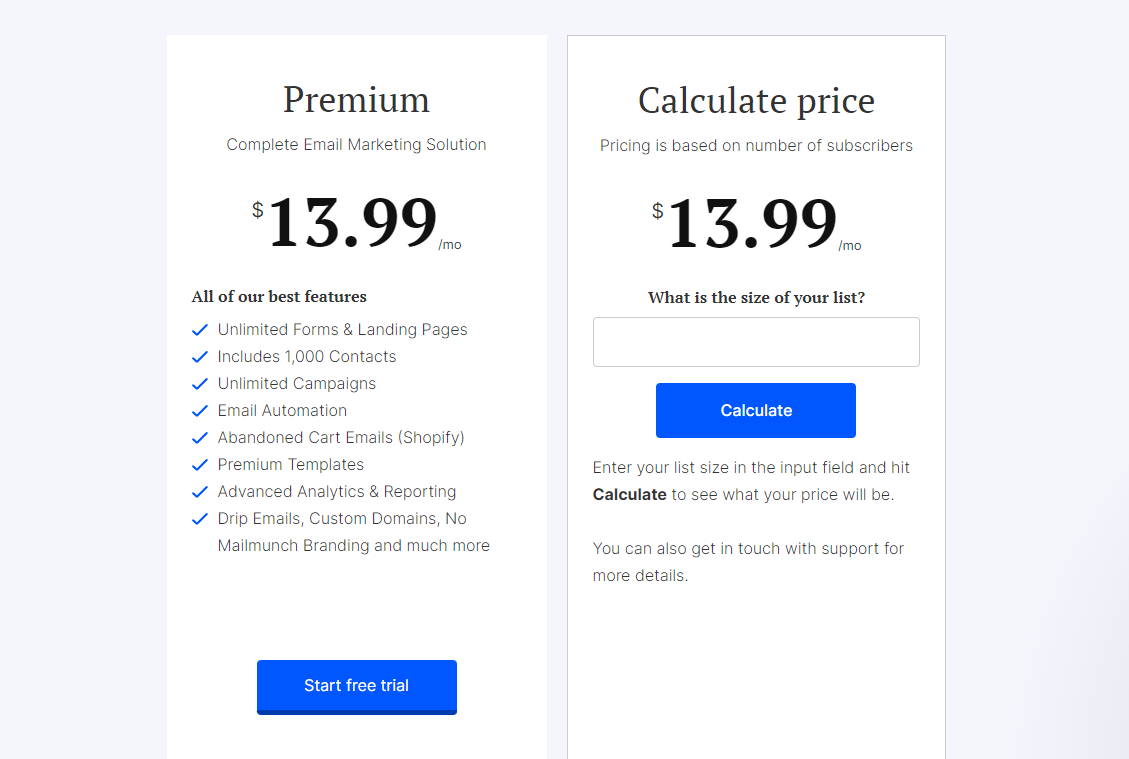 MailMunch offers a free trial with basic features for up to 1,000 subscribers. Paid plans start at $13.99/month and come with unlimited forms and landing pages.
Mailchimp offers a permanently free plan for up to 1,000 contacts and 12,000 emails per month. Paid plans start at $13/month for up to 500 contacts. Unlimited plans cost $350/month.
Higher volume pricing is available but requires contacting sales. Features are tiered across plans with more advanced options in the upper pricing.
MailChimp wins for its pricing model which includes a free version and scales up based on capabilities, not just list size. Advanced features are available a la carte as your needs evolve, which makes it the best option compared to other email marketing solutions like Mailmunch and Constant Contact .
8. Reviews and Reputation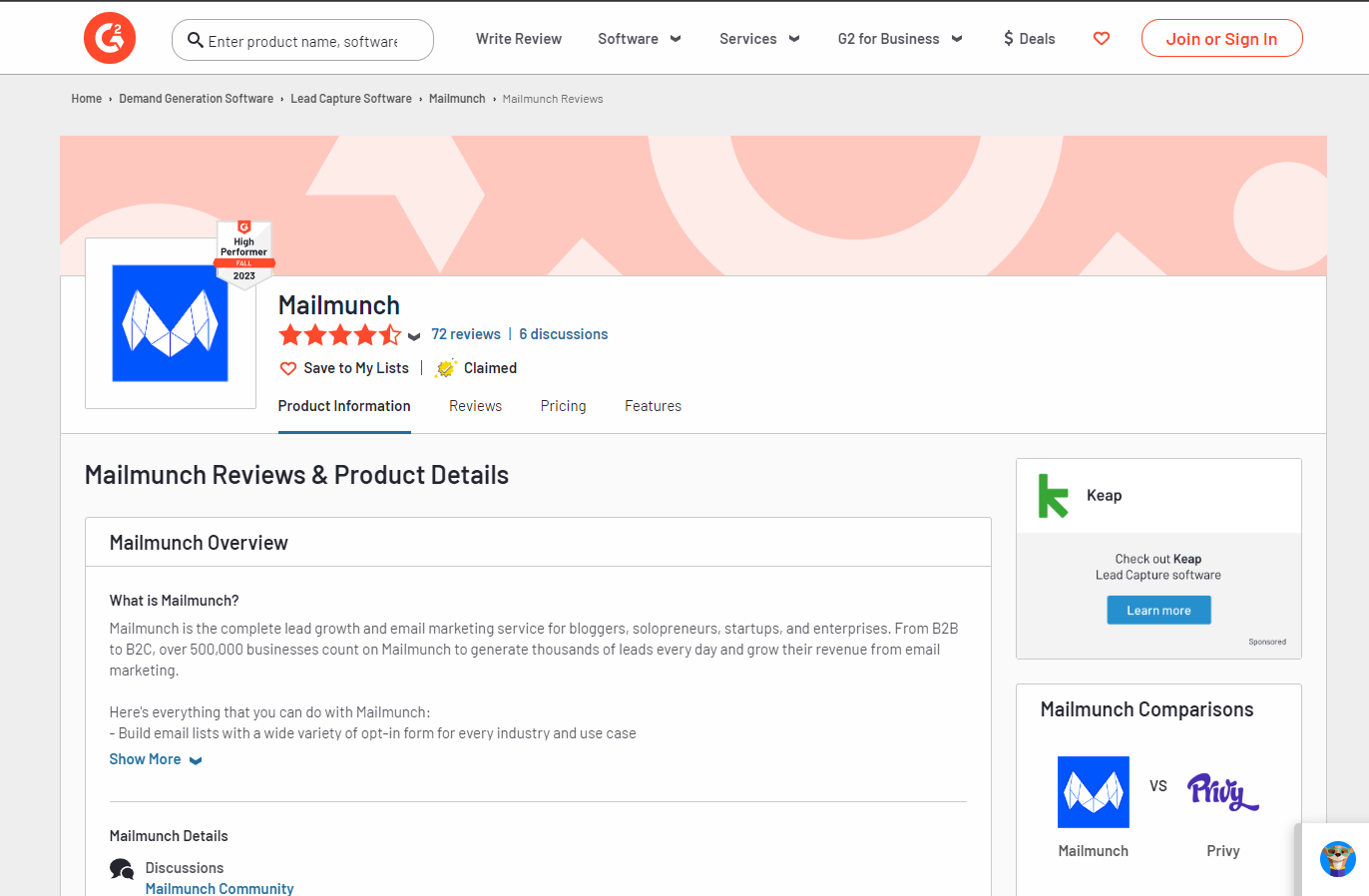 MailMunch earns positive reviews for its ease of use, automation features, signup forms, and integration with Google Sheets. Users praise the intuitive drag-and-drop builder and workflows.
However, some users on G2 felt the features were too basic compared to leading platforms. Certain capabilities like analytics are viewed as limited.
MailChimp consistently earns rave reviews for its features, deliverability, customer support, and form templates tailored for all online marketing efforts. The platform is praised for its balance of power and simplicity.
Users highlight the easy-to-use visual builders, automation, and integration capabilities. Reviews on sites like G2 regularly average 4.5-5 stars.
With its stellar reputation backed by data science and thousands of glowing user reviews, MailChimp emerges as the winner. The platform has earned significant goodwill through its capabilities and customer care.
9. FAQ's
What is the subscriber limit on the free plan?

The free MailMunch plan supports up to 1,000 subscribers. Paid plans offer higher limits.
Does MailMunch offer email templates?

Yes, MailMunch has hundreds of customizable email templates across categories. You can also build custom templates from scratch.
Is MailMunch GDPR compliant?

MailMunch is GDPR compliant and provides tools to help users meet requirements like consent tracking and exportable subscriber data.
What is MailChimp's deliverability rate?

MailChimp maintains industry-leading deliverability rates averaging over 90% inbox placement.
Does MailChimp offer ecommerce features?

Yes, MailChimp has extensive ecommerce capabilities like product recommendations and abandoned cart automation.
Can MailChimp integrate with CRMs?

MailChimp offers native integrations with popular CRMs like Salesforce, Zoho, and Microsoft Dynamics.
Final Thoughts
Choose MailMunch if you want one of the best standalone email marketing systems with solid automation, unlimited landing pages, and Google Sheets integration at an affordable price. The intuitive drag-and-drop editor and customizable templates make it beginner-friendly while still providing robust features. MailMunch best serves solopreneurs and small businesses looking for a capable freemium option.
Choose MailChimp if you want leading email marketing capabilities, deliverability, and support. MailChimp balances power with simplicity, making sophisticated features accessible. With comprehensive analytics, automation, and integrations, MailChimp suits growing businesses ready to scale. Its reputation is unmatched.
You may also be interested in checking out some Mailchimp alternatives to help with the evaluation process.