When it comes to email marketing software, two giants stand above the rest: Campaign Monitor and Mailchimp. With powerful features for creating, sending, and tracking email campaigns, these platforms can transform how you engage with customers.
However, with so many overlapping capabilities, it can be challenging to determine which solution is the best fit for your business. In this comprehensive Campaign Monitor vs Mailchimp comparison, we evaluate how the two platforms stack up across several key criteria to help you make an informed decision.
We analyze market position, ease of use, design customization, features and functionality, website performance, customer support, pricing models, reputation, and more to give you insights into the strengths and weaknesses of each email marketing service.
1. Understanding the Basics
Founded in 2004 in Australia by two childhood friends Ben Richardson and David Greiner, Campaign Monitor is a long-standing player in the email marketing space. With offices now in three countries, Campaign Monitor has over 150,000 customers from startups to enterprise organizations.
Mailchimp was created in 2001 by Ben Chestnut and Mark Armstrong in Atlanta, Georgia. Now with over 14 million users, Mailchimp has become one of the most widely used email marketing platforms.
Both companies have cultivated large user communities. The Campaign Monitor Facebook group has over 27,000 members where people share email design ideas and marketing tips. The Mailchimp Facebook user group has 13.7K members.
When it comes to popularity and market share, Mailchimp tends to edge out Campaign Monitor. As of 2022, Mailchimp accounts for over 50% of the global email marketing platform market compared to Campaign Monitor at around 9%. However, Campaign Monitor has a stronger foothold in the Asia-Pacific region.
2. Features and Functionality
Automation
Campaign Monitor enables users to create automated email workflows based on subscriber actions and triggers. You can set up a welcome series to onboard new subscribers, segmentation to send targeted content, and behavioral automation like cart abandonment flows.
With the Visual Automation workflow builder, you can create multi-step campaigns with conditional logic using a drag-and-drop interface. For example, you could set up a 5-email nurture sequence that sends specific content based on whether the subscriber downloaded an ebook or requested a demo.
Campaign Monitor also offers RSS-to-email automation to turn blog posts into email newsletters automatically. It has ready-made automation for common scenarios like abandoned cart recovery, event registrations, weekly digests, and more. You can also use tags, custom fields, and segments for personalized 1:1 messages.
Overall, Campaign Monitor provides robust automation capabilities for crafting customized experiences across the subscriber lifecycle. The intuitive workflow builder and range of triggers allow both simple and advanced automation.
Mailchimp gives users several options for email automation including basic drips, RSS campaigns, and full Automation workflows.
With the drag-and-drop Automation builder, you can create multi-step campaigns based on detailed IF/THEN conditional logic. Automation can be triggered by actions like link clicks, purchase activity, inactivity, new subscriber status, and more. You can also set up segmented lists and tags for personalized content.
Pre-built automation templates help you get started quickly with workflows for abandoned carts, welcome series, win-back campaigns, and regular digests. The WooCommerce extension enables product purchase automation.
While Mailchimp automations are powerful, some users find the workflow builder less intuitive than other platforms. It may require more learning to master complex multi-path automation.
Overall, Mailchimp provides a wide range of automation options to customize the subscriber experience. The templated options get you started quickly while the advanced builder allows intricate sequences.
his Mailchimp Campaign Monitor comparison shows that both platforms have a lot to offer, but with entry-level options and advanced features, as well as a wider range of pre-built templates, and deeper ecommerce automation, Mailchimp takes the prize for best overall automation capabilities. Its a complete email marketing solution with extensive triggers and flexibility to craft complex workflows make it the automation leader.
Email Templates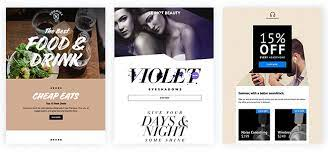 Campaign Monitor offers hundreds of professionally designed email templates that can be customized for your brand. Templates are organized into categories like Welcome Series, Promotional, Newsletters, and more.
You can browse templates and preview them with your own copy and images before selecting. All templates are mobile-optimized and the majority are editable directly within Campaign Monitor's drag-and-drop editor. You can easily customize colors, fonts, and design elements.
There are also coded templates built with HTML for more advanced customization outside the editor. Campaign Monitor checks all templates for spam compliance. Images are stored on their CDN for fast loading.
Overall, Campaign Monitor provides beautiful, modern templates designed to run successful email marketing campaigns in over 20 industries. Small businesses will find quick personalization tools that make it easy to create on-brand emails without coding expertise.
Mailchimp offers hundreds of email templates ranging from simple newsletters to complex multi-message automation. Templates are fully customizable with the drag-and-drop editor.
Templates are organized by categories like Marketing, Ecommerce, automation, and more. You can filter by layout and goal like Promotional, Welcome Series, or Announcement to find the right template faster.
Most templates can be customized entirely within Mailchimp's template editor. You can change colors, fonts, images, and layouts without touching the code. For more advanced design, HTML templates are also available.
All Mailchimp templates are mobile-friendly, spam-tested, and optimized for major email clients. Images are stored on their content delivery network for fast loading.
Overall, Mailchimp provides professional, versatile email templates suitable for every email goal. Easy customization and categorization help you quickly create on-brand, effective emails.
Winner: Tie
Both Mailchimp and Campaign Monitor offer an extensive template library with styles suited for every industry and use case. Their templates are professionally designed, mobile-friendly, and easy to customize within the editor without coding. For beautiful email templates that can be quickly adapted to any brand, Mailchimp and Campaign Monitor deliver equally strong options.
Segmentation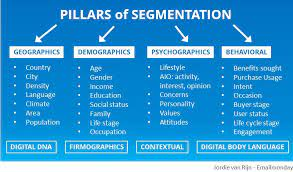 Campaign Monitor enables you to segment your subscriber list based on data like email activity, dates, order history, and more. You can create segments easily by applying filters in the app.
Segments can be based on email engagement, opened/clicked specific emails, date subscribed, custom fields, social profiles, transactional data, and more. Complex nested segments are also possible for advanced targeting.
Once you've created segments, you can target them in your email campaigns to send more personalized content. You can also use segments for A/B testing email subject lines and content.
Campaign Monitor makes it simple to visualize and manipulate your segments. You can see the number of subscribers that fall into each segmented list. New contacts are added automatically based on your criteria.
Overall, Campaign Monitor provides a straightforward way to slice, dice, and target your subscriber list for relevant, tailored messaging. Granular data filters allow advanced personalization.
Mailchimp offers extensive options for segmenting your audience in a variety of ways. You can create segments based on subscriber activity, profile data, purchase history, and more.
Options for segmentation include email engagement, clicks/opens for specific messages, on-site activity like page visits, survey responses, purchase history, order volume, inactive subscribers, and date added.
Advanced options allow you to combine multiple types of criteria into complex segments. You can then leverage these targeted lists for things like re-engagement campaigns or segmented journeys.
Mailchimp provides stats on each created segment so you can see the number of subscribers that fall into each one. As subscribers take action, they will automatically move between segments based on your criteria.
Overall, Mailchimp equips users with deep segmentation abilities to target subscribers based on numerous data points. You can craft highly personalized experiences through custom-defined segments.
The Campaign Monitor Mailchimp comparison shows that each email service provider has robust segmentation capabilities. However, with the ability to build segments using a wider range of criteria—from email engagement to on-site activity—Mailchimp edges out Campaign Monitor by a slight margin. Mailchimp makes it easy to define even advanced targeted segments for custom experiences.
Analytics
Campaign Monitor provides robust email analytics to track and optimize your campaigns. You can view reports on opens, clicks, unsubscribes, spam complaints, and more.
Key metrics include open and click-through rates, deliverability rates, top-performing subjects/content, and subscriber engagement over time. You can segment reports by campaign, subscriber type, and other factors.
The interactive reports allow you to dive deeper into subscriber behavior patterns. You can see links clicked, most engaged recipients, and subscriber journeys across campaigns.
For deeper integration, Campaign Monitor supports webhooks and APIs to access campaign data. This allows for building custom dashboards or feeding stats to other software.
While powerful, Campaign Monitor's reporting lacks some of the deeper customer behavior insights and predictive analytics of other platforms. But for campaign-level email metrics, it provides comprehensive tracking.
Mailchimp offers powerful analytics both within your email campaigns and across the subscriber lifecycle. You can track opens, clicks, conversions, and more.
Email reports provide opens, click-through rates, deliverability stats, subscriber engagement and growth, and campaign performance over time. You can segment reports by campaign, audience, and other parameters.
Beyond email stats, Mailchimp's wider analytics provide a 360-degree view of your subscribers. You can see behavioral data like site activity associated with email contacts. Predictive analytics help you model future subscriber actions.
With Mailchimp's automation workflows, you can track conversion rates across an entire customer journey from first subscription to purchase and beyond. Advanced options like A/B testing allow ongoing optimization.
Overall, Mailchimp enables deep behavioral analytics across channels while still offering robust email campaign tracking. The holistic subscriber insights support strategic optimization.
With broader subscriber analytics that goes beyond email into wider customer lifecycle insights, Mailchimp provides a more powerful analytics suite than Campaign Monitor. The holistic view and predictive options give actionable data for optimizing your strategy across channels.
Unique Features
Campaign Monitor offers a few unique capabilities that set it apart. Its world-class deliverability stems from close relationships with major ISPs that maintain stellar sender reputations for some of the highest email deliverability in the industry.
It also provides transactional email functionality beyond marketing emails to enable sending high-volume messages like order confirmations and password resets. Campaign Monitor's Visual Workflow builder is a standout with seamless automation, customizable paths, and conditional logic for advanced personalization.
With its roots in design, Campaign Monitor is particularly strong for creating polished, on-brand email templates tailored to your specific business. While it covers the core email marketing capabilities well, Campaign Monitor's strengths really lie in reliable delivery, design, and workflow automation. For users prioritizing those aspects, it's a great choice.
A few unique features make Mailchimp stand out. It offers deep integrations with major ecommerce platforms like Shopify and WooCommerce to track purchases and optimize post-sale engagement. Mailchimp also enables connecting ad accounts from Facebook and Instagram to automate campaigns based on social ad performance.
Mailchimp applies AI and machine learning for predictive analytics that model subscriber behavior and guide decisions through predictive segmentation and journey mapping. It also delivers an advanced automation builder with multiple paths and fine-tuned conditional logic to craft sophisticated subscriber journeys.
With strengths in ecommerce and cross-channel integration, Mailchimp is ideal for retail brands seeking holistic marketing automation across channels.
While Campaign Monitor excels at deliverability, design, and email-focused workflows, Mailchimp offers a wider range of capabilities for integrated cross-channel marketing and ecommerce. For broader functionality beyond just email, Mailchimp takes the win.
3. Ease of Use
Campaign Monitor provides an intuitive, easy-to-navigate interface. The dashboard offers clear access to key functions like creating campaigns, managing lists, and viewing reports.
The drag-and-drop campaign builder makes it simple for beginners to quickly build and customize responsive emails with a minimum learning curve. Useful wizards guide you through settings.
Navigation and menus are streamlined so most common tasks are only a click or two away. Icons and visual cues make the platform highly visual and user-friendly.
While Campaign Monitor doesn't have the most extensive capabilities, what it does offer is well-organized and easy to implement. The platform prioritizes simplicity in both interface design and workflows.
For those needing only straightforward email marketing tools, Campaign Monitor's simplicity and intuitive workflow are ideal. It removes complexity so anyone can create effective emails.
Mailchimp offers a user-friendly dashboard with clear menus and navigation options for accessing key features. The visual drag-and-drop builders make it easy to create emails and automation.
The platform is organized logically, with settings and options easy to locate. Handy prompts help guide users through workflows like setting up campaigns or automation using recommended settings.
While the breadth of capabilities means menus can get lengthy, usability remains a priority. Smart search helps users quickly find options. The mobile app also offers easy access.
For more complex workflows, Mailchimp offers both templated options so beginners can start quickly and advanced configurations for power users. The extensive help center aids the learning process.
Winner: Tie
Both Mailchimp and Campaign Monitor emphasize usability, with drag-and-drop builders for easy campaign creation. While Mailchimp packs in more features, its focus on clean menus and guided workflows maintains a strong ease of use. For two platforms with excellent usability tailored to their respective capabilities, this category is a close tie.
4. Email Deliverability
Campaign Monitor prioritizes deliverability through close partnerships with major email providers like Gmail, Outlook, and Yahoo. It maintains high sender scores and a reputation for achieving some of the industry's best inbox placement rates.
Proactive deliverability monitoring, advanced spam testing, and compliance help avoid blacklisting. Campaign Monitor also offers premium IP options for dedicated IP addresses to protect sender scores on large-volume emails.
Granular mailbox provider reports highlight successes and trouble spots for inbox placement. Overall open and click rates are above industry averages, indicating strong deliverability.
For any business relying on email as a critical channel, Campaign Monitor provides reliable deliverability and inbox access consistently above competitors.
Mailchimp focuses heavily on protecting deliverability through ongoing testing and monitoring. Default settings follow recommended best practices for spam compliance.
To avoid blocking or blacklisting, Mailchimp helps users identify problematic content before sending. It also maintains a high IP reputation across major email providers.
Reports highlight inbox placement rates for ongoing optimization. However, Mailchimp's open and click-through rates tend to fall below industry leaders, suggesting potential deliverability gaps.
While deliverability is a priority, Mailchimp seems to struggle to match the rates of top-tier competitors when it comes to inbox placement and engagement. This makes it less ideal for companies highly reliant on email.
With inbox placement rates consistently at the top of the industry, Campaign Monitor is the clear winner for deliverability. Its proactive approach to building positive sender reputations and partnerships with email providers results in excellent deliverability metrics that edge out Mailchimp.
5. Customer Support and Community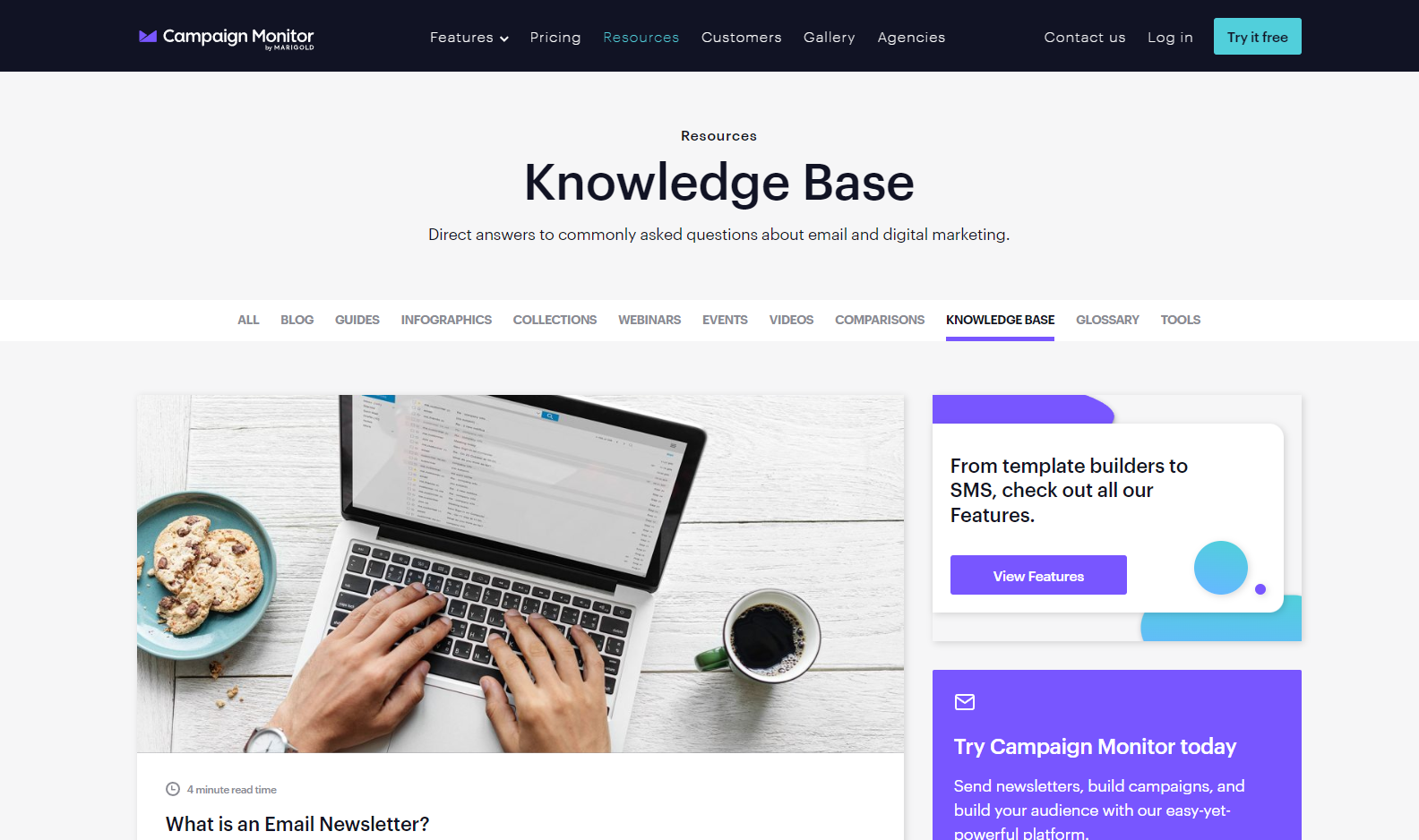 Campaign Monitor offers 24/7 customer support via live chat, email, and phone. Support agents are responsive, knowledgeable, and able to resolve most issues promptly.
The platform also provides an extensive library of self-help resources including guides, walkthroughs, tutorials, and FAQs. Everything is well-organized for easy searching by category or keyword.
An active online community exists through the Campaign Monitor Facebook group, which has over 27,000 members. Users share advice, design assets, and marketing tips.
Between readily available self-help, responsive direct support, and peer community, Campaign Monitor users have access to ample assistance resources from multiple channels.
Mailchimp provides 24/7 customer support by phone, email, live chat, and social media. Average wait times are short and agents are skilled at troubleshooting issues.
The knowledge base packs thousands of searchable articles, guides, and FAQs to address common questions on your own. The content is thorough but well-organized for browsing by topic.
Peer support comes through the Official Mailchimp User Group on Facebook where active discussions and feedback provide real-world advice.
Between quality direct support and a massive base of self-help content and discussions, Mailchimp offers both immediacy and depth across its support channels.
Both platforms provide excellent customer service through multiple channels. But the edge goes to Mailchimp for the staggering amount of self-help content and slightly larger peer community. Users can find answers to any question independently or engage deeply with other customers, making Mailchimp the winner.
6. Integrations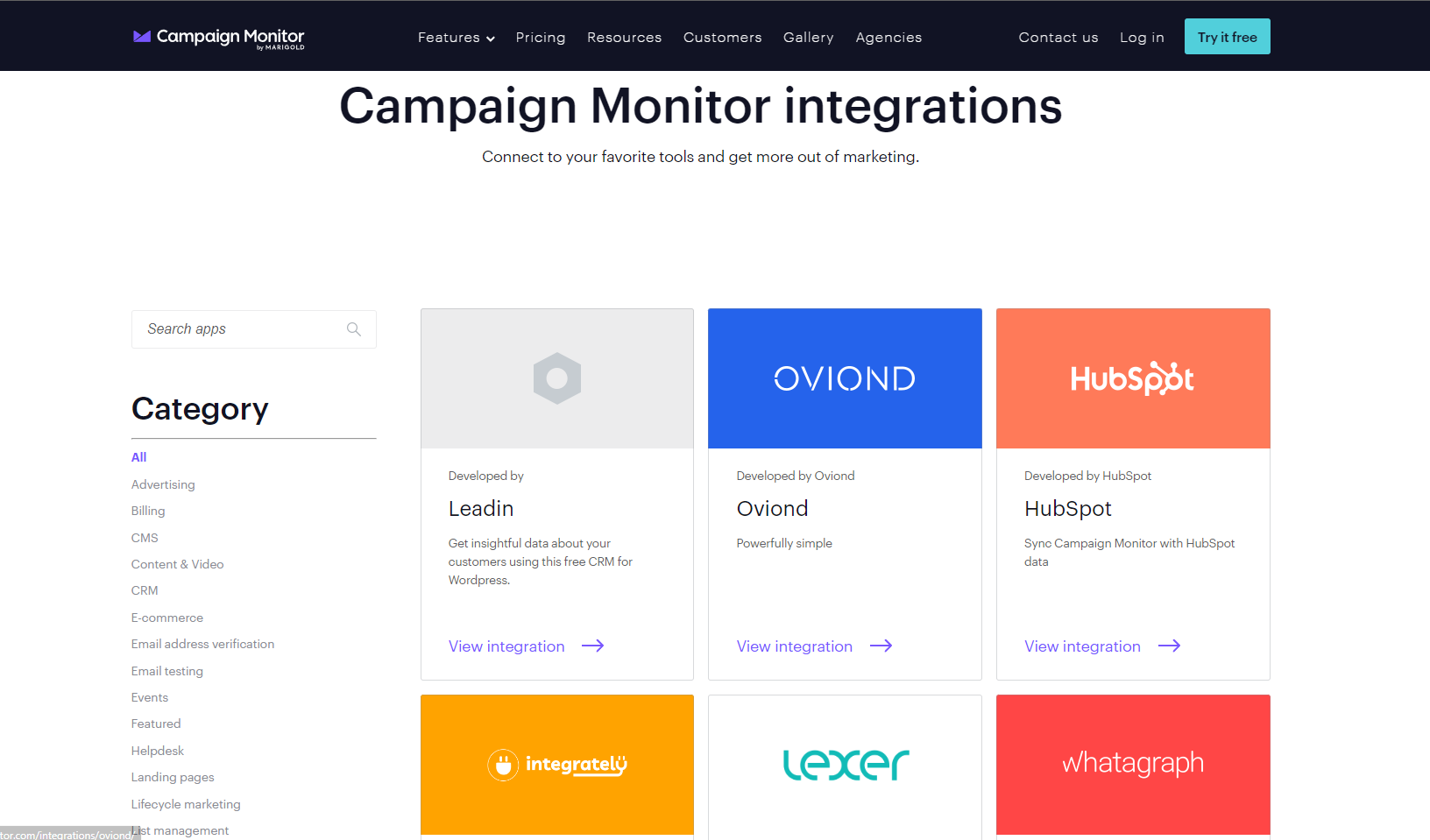 Campaign Monitor integrates with many popular third-party platforms to expand functionality. It offers integrations with major CRMs like Salesforce, HubSpot, and Zoho to sync subscriber data. Ecommerce integrations are available for platforms like Shopify, WooCommerce, and Magento to track customer activity.
Users can create forms and landing pages for campaigns using Unbounce, Leadpages, and other form builders. Webinar software integrations like GoToWebinar and Zoom allow integrating registration and attendee data. Google Analytics can also be connected to track subscriber engagement with website content. You can even run ad campaigns on social media from your dashboard.
While Campaign Monitor covers the primary platforms users need, it lacks some of the wider range of niche tool integrations that competitors have. But it integrates with the key systems needed for most use cases.
Mailchimp integrates with an extensive range of marketing, sales, and ecommerce tools. It offers deep CRM integrations with Salesforce, HubSpot, Zoho, Keap, and all other major CRMs for subscriber syncing. Ecommerce integrations with Shopify, WooCommerce, BigCommerce, and others are also robust.
Email clients like Gmail, Outlook, and Yahoo can be connected to manage campaigns. On the analytics side, Mailchimp integrates with Google Analytics, Mixpanel, Facebook Analytics, and more. It also enables automating cross-channel campaigns with Facebook, Instagram, LinkedIn, Twitter, and Google Ads.
Form and landing page builders like Unbounce and Leadpages help create opt-in forms for Mailchimp campaigns. With over 100 direct integrations, Mailchimp offers connectivity with an unparalleled range of tools for complete marketing automation.
While Campaign Monitor covers the primary integrations, Mailchimp goes far deeper across sales, marketing, analytics, social media, and niche tools. For the broadest connectivity to unify data and automate workflows across channels, Mailchimp is the clear integration leader.
7. Pricing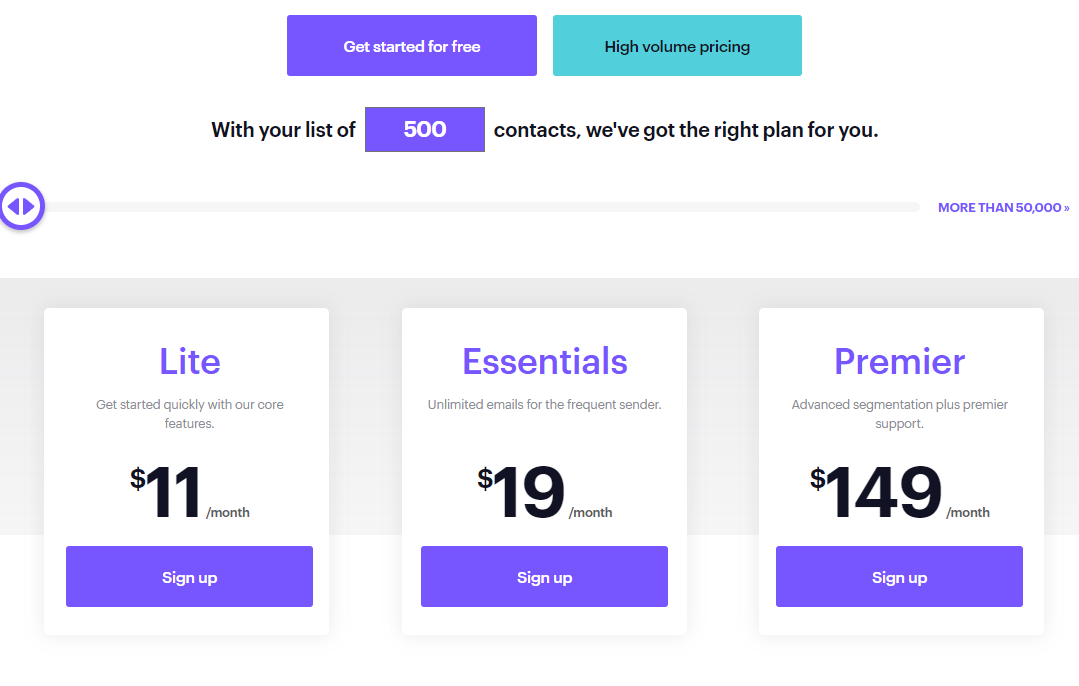 Campaign Monitor pricing plans depend on your number of email contacts and are designed to scale up to add more features like automation, reporting, and design services.
Here are some key pricing highlights for a list of 500 contacts:
Lite Plan: $11/month. Access the platform's core features and send up to 2,500 emails.
Essentials: $19/month. Send unlimited emails and get advanced automation features, including engagement segments and time zone sending.
Premier Plan: $149/month. Get advanced segmentation plus SMS marketing, and premier support.
For a list with 2,500 contacts, you can expect to pay $39, $59, and $149/month respectively for the same features. Volume discounts are available. Campaign Monitor provides a free trial to test drive their platform as well. Pricing is competitive for the robust capabilities provided.
Mailchimp has 4 paid tiers:
Free: Up to 1,000 monthly email sends.
Essentials: $13/month billed annually for up to 5,000 emails per month.
Standard: $20/month billed annually for up to 6,000 email sends.
Premium: $350/month billed annually for up to 150K emails sent per month.
Mailchimp's free tier makes it easy for startups to get started. Paid plans offer robust features, with premium capabilities like customer journey building reserved for Premium.
Add-ons like vanity URLs or additional account users cost extra per month for all plans. Overall, Mailchimp provides excellent value, especially through a generous free plan and affordable entry pricing.
While both platforms offer competitively priced packages, Mailchimp wins for providing the most value for money. The free tier for up to 1,000 emails per month makes Mailchimp accessible to early-stage businesses. Paid plans offer significant functionality at a lower cost than Campaign Monitor as well.
8. Reviews and Reputation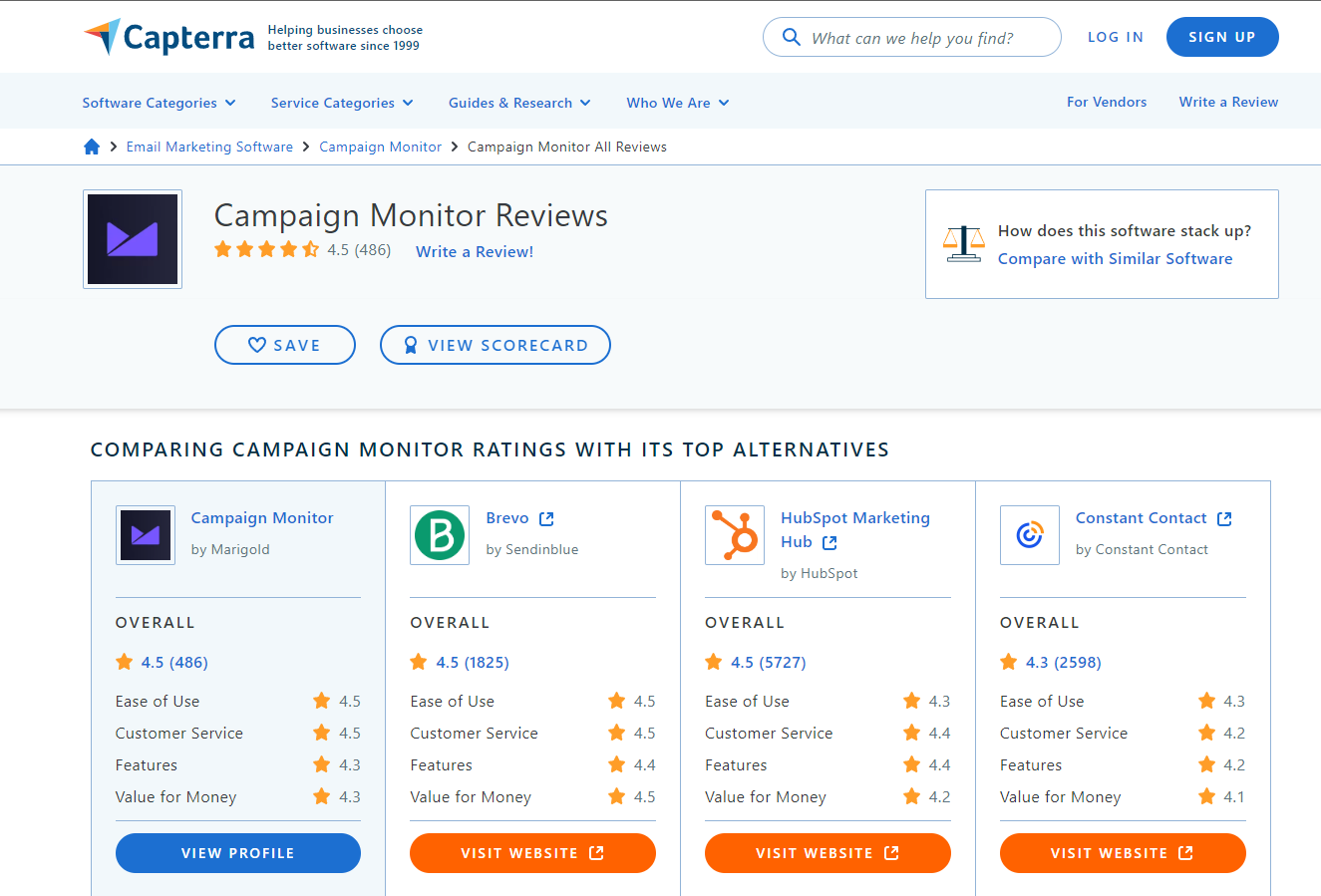 Campaign Monitor earns positive reviews for its ease of use, deliverability, and quality support. Users praise the intuitive drag-and-drop builder and straightforward workflows for creating emails.
Many reviewers on sites like G2 and Capterrahighlight excellent deliverability with above-average open and click rates. Reliable inbox placement is a recurring pro.
Customer support receives rave reviews for prompt, knowledgeable assistance. Users also appreciate Campaign Monitor's clean interface and ample educational resources.
Potential drawbacks mentioned include the lack of advanced marketing automation features beyond basic email. But for core email marketing needs, reviews are overwhelmingly positive.
Mailchimp enjoys strong reviews for its comprehensive features, ease of use, and affordability. Users onG2 praise the intuitive drag-and-drop builder and navigation.
Many reviewers highlight Mailchimp's excellent value, with a free tier and affordable pricing. The breadth of email and automation features also appeals to users wanting robust functionality.
Some users occasionally report frustrations with the complexity of advanced workflows or deliverability not being best-in-class. However, most reviews are enthusiastic about the platform's capabilities and pricing.
Both platforms have excellent reputations and satisfy customers with useful capabilities. But Mailchimp edges out based on reviews highlighting its unparalleled value through pricing, free plan, and extensive built-in features appreciated by users. For overall reputation, Mailchimp is the winner.
9. FAQ's
What types of emails can I send with Campaign Monitor?

You can send a wide range of email types including newsletters, promotional blasts, automated campaigns, transactional emails, and more.
Does Campaign Monitor offer free plans?

No, the lowest-priced paid plan (for 500 subscribers) starts at $11/month when billed annually. However, Campaign Monitor does offer free trials to test the platform.
How does Campaign Monitor compare for deliverability?

Campaign Monitor specializes in deliverability, with inbox placement rates among the industry's highest thanks to a good sender's reputation.
Does Campaign Monitor offer marketing automation?

Campaign Monitor has basic automation for things like onboarding flows and triggered campaigns. For advanced automation, other platforms are stronger.
How easy is Campaign Monitor for beginners?

With an intuitive drag-and-drop builder and clear workflows, Campaign Monitor is praised for being easy to use even for total email marketing beginners.
Does Mailchimp have a free plan?

Yes, Mailchimp offers a free plan for up to 1,000 emails per month. Paid plans start at $13/month billed annually.
What email features does Mailchimp offer?

Mailchimp offers comprehensive email marketing and automation features including templates, drag-and-drop builders, segmentation, landing pages, reports, and more.
Can Mailchimp integrate with my ecommerce store?

Yes, Mailchimp offers deep integrations with all major ecommerce platforms to track sales and automate marketing workflows.
How are Mailchimp's deliverability rates?

Mailchimp focuses on deliverability but isn't quite best-in-class. Open and click-through rates lag slightly behind top competitors.
Is Mailchimp easy to use for beginners?

Yes, Mailchimp is very user-friendly, with drag-and-drop builders, clear navigation, and ample educational resources to help newcomers get started.
Final Thoughts
Campaign Monitor is a great choice for anyone wanting straightforward email marketing and automation focused primarily on core functionality like beautiful templates, drag-and-drop builders, and excellent deliverability. For businesses that rely heavily on inbox placement and high open rates, Campaign Monitor can help take your email marketing to the next level.
Mailchimp is ideal for those wanting a comprehensive email marketing and automation platform with expansive capabilities for sophisticated workflows, deep ecommerce integrations, and cross-channel customer journeys. With an unbeatable free plan and affordable pricing, Mailchimp makes robust functionality accessible for businesses of any size.
You may also be interested in checking out some Mailchimp alternatives to help with the evaluation process.
Choosing the right email marketing platform is critical for your business success. Make sure to select the solution that best matches your needs and goals. Feel free to ask any questions in the comments if you need help making the right choice!