Email marketing platforms like Mailjet and Mailchimp are powerful tools for business owners looking to connect with customers and drive results.
With so many options on the market, choosing the right platform is crucial. The wrong solution can hamper marketing efforts, while the right one can take your business to the next level.
In this comprehensive Mailjet vs Mailchimp comparison, we evaluate Mailjet and Mailchimp across several key criteria to help you determine which email marketing platform is best suited for your business. With the insights from this piece, business owners can confidently select the best email marketing platform to meet their unique needs and support their success.
1. Understanding the Basics
Mailjet was founded in 2010 by French entrepreneurs Wilfried Durand and Julien Tartarin. It has over 12,000 customers globally. Mailjet has a strong market presence in Europe but has been expanding worldwide.
Mailchimp was founded in 2001 by Ben Chestnut and Mark Armstrong. It now has over 14 million users making it one of the most popular email marketing platforms. Mailchimp has captured over 50% of the email marketing share in the US.
Both platforms have an active social media presence. The Mailjet Users Facebook group has over 3,300 followers. The Official MailChimp Forum on Facebook has hundreds of engaged users.
Mailjet and Mailchimp have been around for a while and established themselves as leading options. Mailchimp currently edges out Mailjet in worldwide market share. However, Mailjet maintains a competitive presence. The large user communities on Facebook demonstrate the engagement around both platforms.
2. Features and Functionality
Automation
Mailjet offers a visual automation builder to create customized workflows and campaigns. You can trigger emails based on time delays, user actions, API events, and e-commerce events. Pre-built automation is available to simplify setting up common workflows like abandoned cart, browse abandonment, new subscriber, post-purchase, and more.
Advanced segmentation options allow you to target groups and progressively move them through workflows. You can set up automation funnels with multiple paths based on user behavior. Automation can include follow-up emails, SMS, and push notifications.
Overall, Mailjet provides robust automation with flexible triggers, segments, and actions. The visual workflow builder makes it easy to create complex sequences without coding.
In Mailchimp, automations are powered by their "Automation" tool. It provides pre-built and customizable campaigns to turn insights into automated workflows. Triggers include things like subscribing, opening emails, clicking links, and data points like purchase history.
With Automation, you can create segmented and personalized multi-step workflows including welcome emails, browse abandonment, re-engagement campaigns, and more. It seamlessly integrates with e-commerce platforms like Shopify and WooCommerce.
The editor has a drag-and-drop workflow builder for simple automation creation. Advanced users can edit the underlying code. Overall, Automation provides robust features to turn insights into automated, tailored sequencing.
Winner: Tie
The Mailjet Mailchimp comparison shows that both email marketing platforms offer extensive automation capabilities through visual workflow builders and pre-built options. They enable the creation of comprehensive sequences tailored to your business needs without technical skills. The platforms are evenly matched when it comes to automation power and flexibility.
Email Templates
Mailjet provides hundreds of professionally designed email templates to choose from. Templates are optimized for mobile and separated into categories like Marketing, Transactional, E-commerce, and Holidays.
The template editor has a responsive drag-and-drop builder to customize templates. You can modify structure, content, images, colors, and fonts. Templates are coded to be compatible across all major email clients.
Mailjet also offers a template language called MJML. It lets you quickly build new templates with reactive components that adapt to different screen sizes. Overall, Mailjet makes it easy to create professional, branded templates with minimal coding.
Mailchimp has over 250 mobile-optimized email templates designed by in-house professionals. Templates are organized by categories like Promotional, Transactional, Email Newsletters, and more.
The template editor provides a responsive drag-and-drop WYSIWYG builder to customize layouts. You can edit fonts, colors, and content. Templates feature conditional content to display different versions for mobile.
Users can also create custom HTML templates from scratch or use existing ones. The templates are tested across email clients. Overall, Mailchimp offers beautiful templates and an intuitive editor to customize your branding.
Mailjet wins when it comes to email templates, providing more options covering a wider range of use cases. The email marketing service has an MJML templating language that makes building new responsive templates simple and coding-free. The combination of pre-designed templates and easy customization gives Mailjet the edge for transactional emails, newsletters, and more.
Segmentation
Mailjet provides powerful segmentation tools to target your audience. You can create segments based on a wide range of criteria like demographics, location, engagement metrics, purchase history, and more.
Segmentation options include basic filters, segmentation funnels, and AI-powered predictive segments. Mailjet offers real-time syncing with your data sources to maintain up-to-date segments.
You can combine multiple criteria using logical operators to define complex segments. Dynamic segments automatically update based on user data like clicks or cart activity. Overall, Mailjet has robust options to precisely target customers.
Mailchimp enables segmenting your audience using tags, profiles, campaigns, activity metrics, and other data points. You can target based on things like demographics, purchase history, email engagement, website activity, and more.
The platform offers basic and rules-based segments. Rules combine data points using AND, OR, and NOT operators. Real-time syncing keeps segments current.
Mailchimp also includes predictive segments powered by their machine learning capabilities. This automatically detects shared traits to cluster recipients. Overall, Mailchimp provides extensive tools to target customers based on behavior.
Winner: Tie
Both Mailjet and Mailchimp offer powerful segmentation capabilities to target your audience. They provide options to combine multiple data points as well as AI-powered predictive grouping. The two platforms are evenly matched when it comes to flexibility and precision for segmentation.
Analytics
Mailjet provides powerful analytics to track and optimize your campaigns. The dashboard shows real-time statistics on opens, clicks, conversions, unsubscribes, spam complaints, and more.
You can view reports by campaign, template, segment, geo-location, device type, and other filters. Heatmaps show user click patterns within your emails. A/B testing tools are available to compare campaign performance.
Mailjet integrates with Google Analytics for expanded insights. Reports can be scheduled and exported. Overall, Mailjet has robust analytics to monitor engagement and fine-tune your approach.
Mailchimp includes detailed analytics on opens, clicks, unsubscribes, spam reports, and more. You can filter reports by campaigns, segments, templates, and other parameters.
The platform tracks subscriber engagement over time to identify trends. Tests allow you to experiment with subject lines, send times, and content. Automated reports can be emailed on a recurring schedule.
For expanded insights, Mailchimp integrates with Google Analytics and other third-party platforms for real-time analytics. The analytics provide real-time data to optimize your efforts.
Winner: Tie
Both Mailjet and Mailchimp offer essential features and extensive campaign analytics with segmentation and comparison capabilities. Their dashboards provide the in-depth tracking and custom reporting needed to monitor engagement. When it comes to email analytics power, Mailjet and Mailchimp are evenly matched.
Unique Features
One standout Mailjet capability is the email previewer. It provides an AI-powered SPAM test to optimize deliverability before sending. Mailjet also offers multilingual campaigns, allowing you to target subscribers in their native language.
The Drag & Drop editor makes creating emails fast and easy with a WYSIWYG experience. Behavioral and demographic data can be appended to subscriber profiles for more targeted messaging.
Mailjet enables sending SMS campaigns alongside email. It also integrates with web push notifications. These cross-channel options help maximize engagement.
A key Mailchimp feature is e-commerce functionality like abandoned cart automation. It also offers Facebook and Instagram ad management within the platform. This centralizes cross-channel advertising.
Mailchimp's AI tool, Auditor, analyzes copy, images, and content to optimize engagement. The prediction capabilities assist with planning the best time to send. Mailchimp also provides social sharing features to amplify reach.
This Mailchimp vs Mailjet comparison shows that Mailjet wins when it comes to unique capabilities for email campaigns. The previewer, multilingual support, SMS, web push, and simple drag-and-drop editor provide differentiated value for your marketing emails. These innovative features give Mailjet the edge when you create email campaigns.
3. Ease of Use
Mailjet provides a modern, intuitive user interface. The dashboard layout is clean with a logical grouping of tools and analytics. Icons and visual elements help locate key functions quickly.
The visual campaign builder enables drag-and-drop email creation without coding. Pre-designed templates further simplify getting started for beginners. Mailjet offers helpful prompts, cues, and tutorials throughout the experience.
Overall, the platform is easy to navigate. New users can quickly get oriented and build effective campaigns. The learning curve is minimal thanks to the simple interface and guidance provided.
Mailchimp has a clean, uncluttered dashboard design. Menus and icons clearly indicate available tools for building campaigns, automation, and more. The visual experience helps users get started.
Drag-and-drop email and landing page builders make creating content simple without technical skills. Pre-designed templates are available for fast customization. The platform provides tips and training content for new users.
The intuitive experience enables beginners to start sending and monitoring campaigns quickly. Mailchimp minimizes the learning curve through the user-friendly design.
Winner: Tie
Both Mailjet and Mailchimp are very easy to use for beginners but also provide robust functionality for experts. The intuitive dashboards, visual builders, and ample educational resources minimize the learning curve. When it comes to usability and simplicity, Mailjet and Mailchimp are evenly matched.
4. Email Deliverability
Mailjet offers dedicated IP addresses to enhance deliverability and avoid shared blacklisting risks. It runs continuous authenticity checks to maintain the sender's reputation with ISPs.
The platform provides pre-send testing tools like firewall, spam, and render previews. This identifies issues proactively. Mailjet leverages AI to optimize sending domains, volume, and timing for delivery.
Globally distributed sending infrastructure maintains speed and inbox placement. Compliance checks and subscription management minimize spam complaints. Overall, Mailjet focuses heavily on optimized delivery.
Mailchimp checks the campaign against ISP standards pre-send to maximize the deliverability. It routes traffic through proprietary technology not available on shared IPs to avoid issues.
Subscription management, content personalization, advanced targeting, and compliance help build a positive sender reputation. Mailchimp staggering sends over 3 days based on historical data for improved delivery.
The platform analyzes campaign factors like links, images, and content that could trigger filters. Mailchimp optimizes its own domains and infrastructure for reliable inbox delivery.
Mailjet wins when it comes to email deliverability. The dedicated IPs, rigorous pre-testing, predictive AI optimization, and robust infrastructure give Mailjet the edge for getting emails to the inbox.
5. Customer Support and Community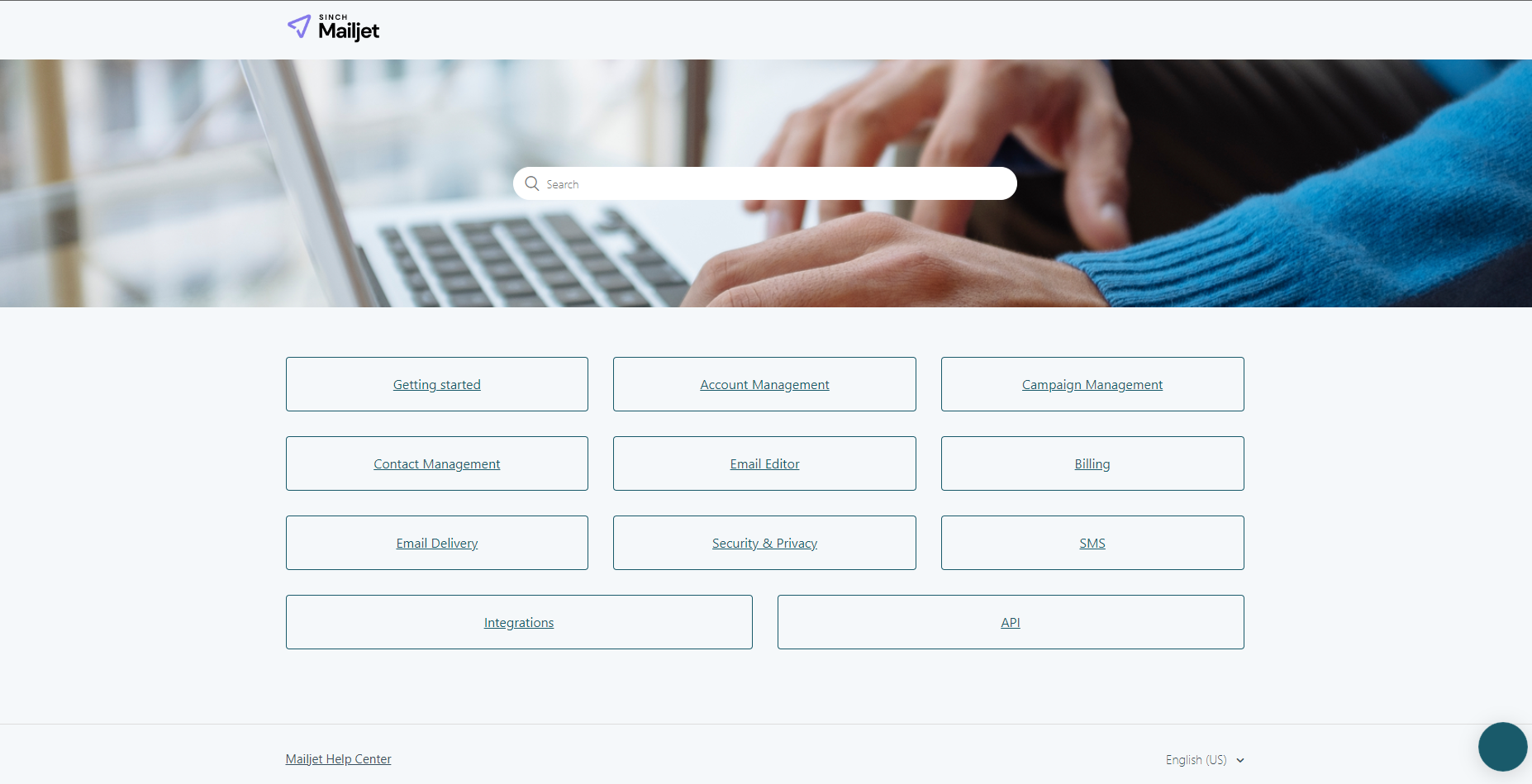 Mailjet provides 24/7 email and live chat support. Phone support is also available during extended business hours for all plan types. The help center offers searchable documentation, guides, and FAQs.
Users can access video tutorials, webinars, and events for ongoing education. The Mailjet Users Facebook page has over 3,300 members helping each other.
Mailjet also provides dedicated onboarding, training, and support resources for larger accounts. Overall, solid support resources are available.
Mailchimp offers 24/7 email support and live chat during business hours. Phone support is provided for paid users. The searchable knowledge base provides how-to articles and troubleshooting guides.
The official MailChimp Community on Facebook has over 150,000 members. Mailchimp also hosts free webinars and events. Video tutorials are available in the app and on YouTube.
Paid users get access to priority support and a dedicated account manager. Helpful resources exist both from Mailchimp and its active user community.
Mailchimp wins when it comes to customer support, particularly the community aspect. The extremely large and active user community provides peer help and knowledge sharing that surpasses Mailjet's offerings.
6. Integrations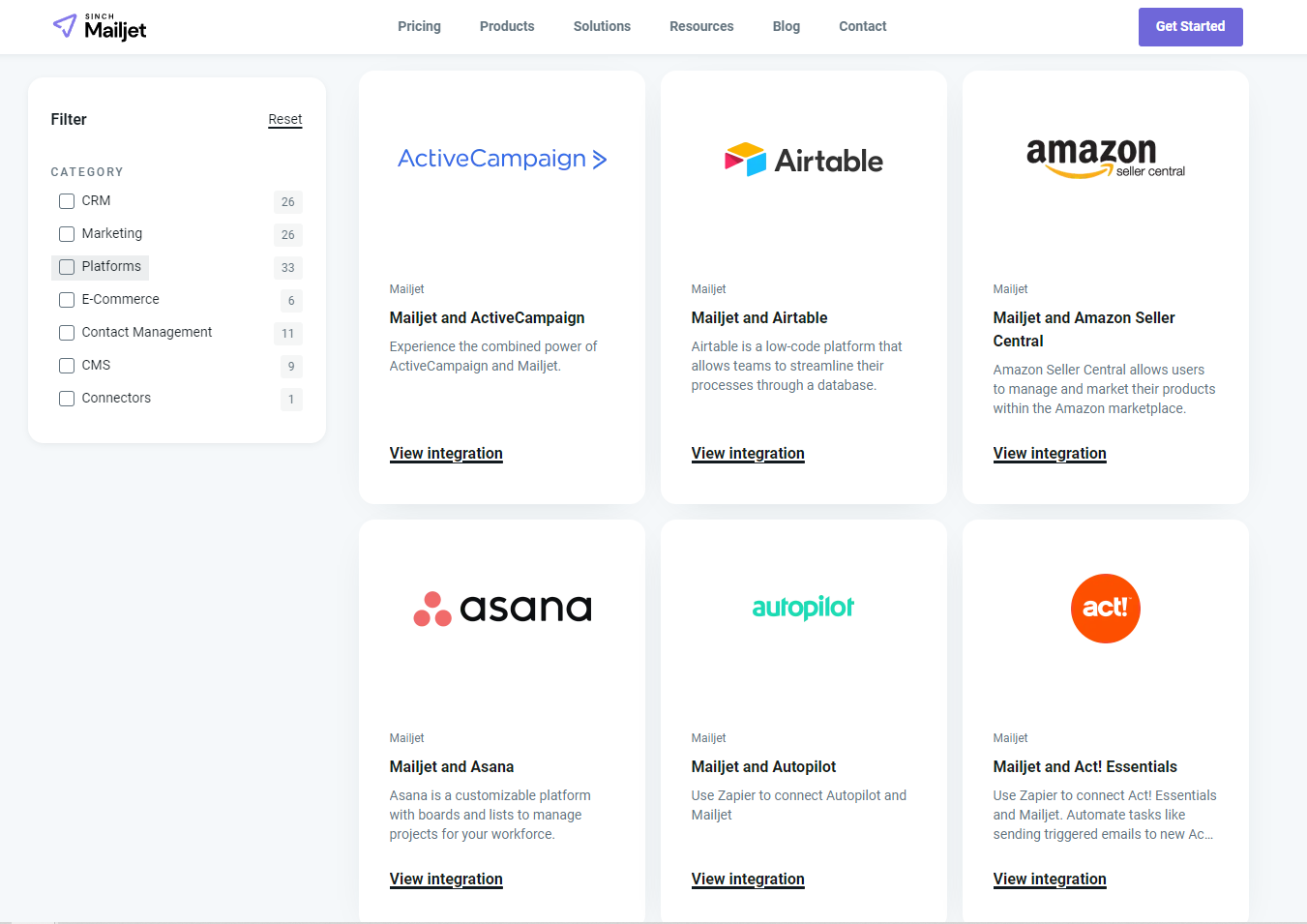 Mailjet integrates with over 150 applications including leading CRM, e-commerce, CMS, and marketing platforms. Connectors exist for tools like Shopify, Magento, PrestaShop, WooCommerce, and more.
It also offers integrations with Salesforce, Zoho, HubSpot, and other popular business apps to sync data. The API allows connecting custom platforms and building unique workflows.
Users can connect social media accounts for unified engagement insights and cross-channel campaigns. Overall, Mailjet enables comprehensive integration.
Mailchimp integrates with CMS platforms like WordPress and Drupal for easy email capture. E-commerce integrations with Shopify, Magento, Cratejoy, and others are offered.
For CRMs, Mailchimp connects with Salesforce, Zoho, and other top tools. It also partners with marketing apps like Facebook and Instagram. The APIs enable custom connections.
In all, Mailchimp supports over 700 third-party integrations. It focuses on connecting major business applications for seamless data flow.
Mailchimp wins when it comes to integrations, offering native connectors with over 700 platforms, including CRMS, analytics tools, and other email services and integration options. The extensive partner ecosystem provides seamless links between Mailchimp and critical business systems.
7. Pricing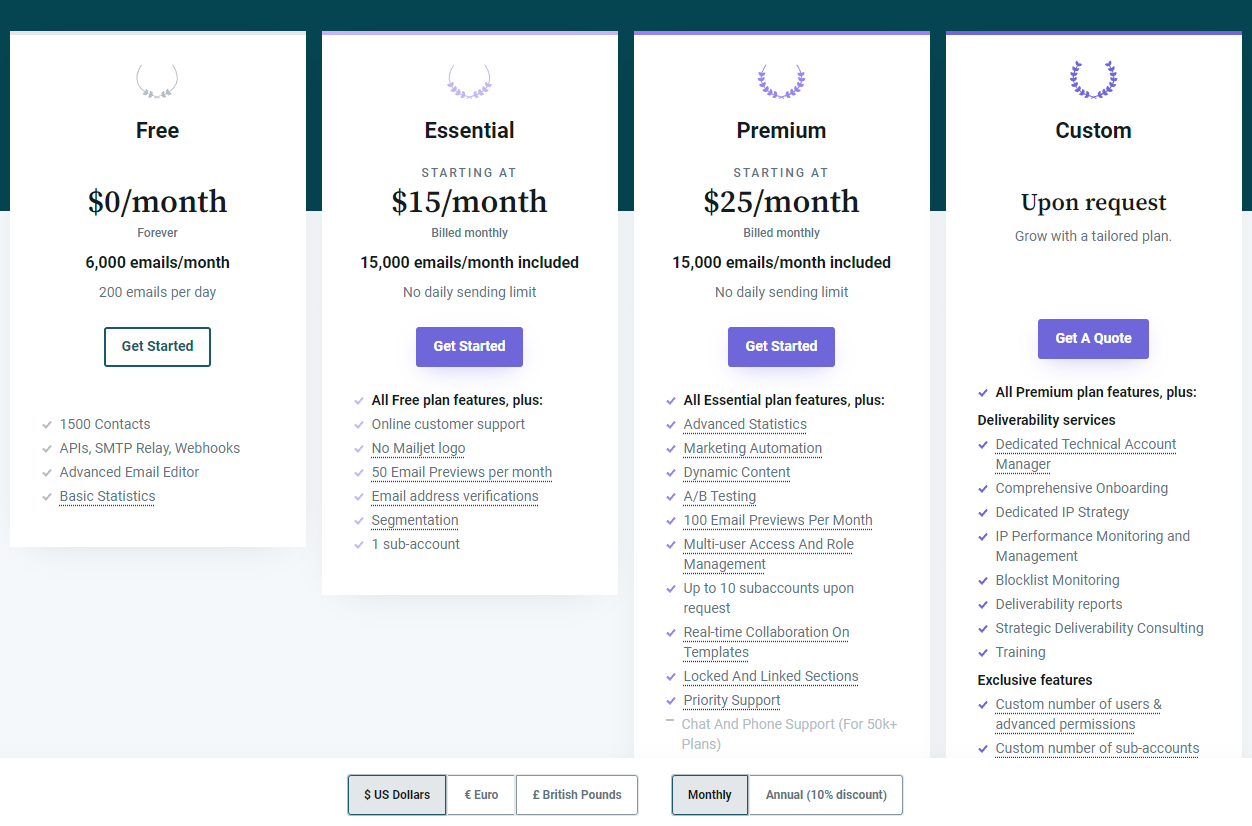 Mailjet has a free plan and 3 paid plans. The free plan allows you to send 200 emails per day to up to 1,500 contacts.
The Essential plan is $15/month for 2,500 contacts and 15,000 emails. The Premium plan is $25/month for 5,000 contacts and no daily sending limits. Custom prices are available upon request for businesses that need a tailored plan.
The key differences in plans are the number of contacts, emails, and features included. More contacts, emails, and advanced features like dedicated IP are added in higher tiers.
Overall, Mailjet is affordably priced for small businesses but can get costly when handling large volumes. Custom enterprise pricing is available.
Mailchimp offers a permanently free plan for up to 1,000 contacts and 12,000 emails per month. Paid plans start at $13/month for up to 500 contacts. Unlimited plans cost $350/month.
Higher volume pricing is available but requires contacting sales. Features are tiered across plans with more advanced options in the upper pricing.
The free plan makes Mailchimp accessible to test. Paid plans are reasonably priced for smaller lists. Large or complex needs require custom enterprise quotes.
Mailchimp wins on pricing by offering a permanently free plan alongside reasonable rates for paid plans. Mailjet requires paying from the start. For budget-conscious users with smaller lists, Mailchimp is more affordable.
8. Reviews and Reputation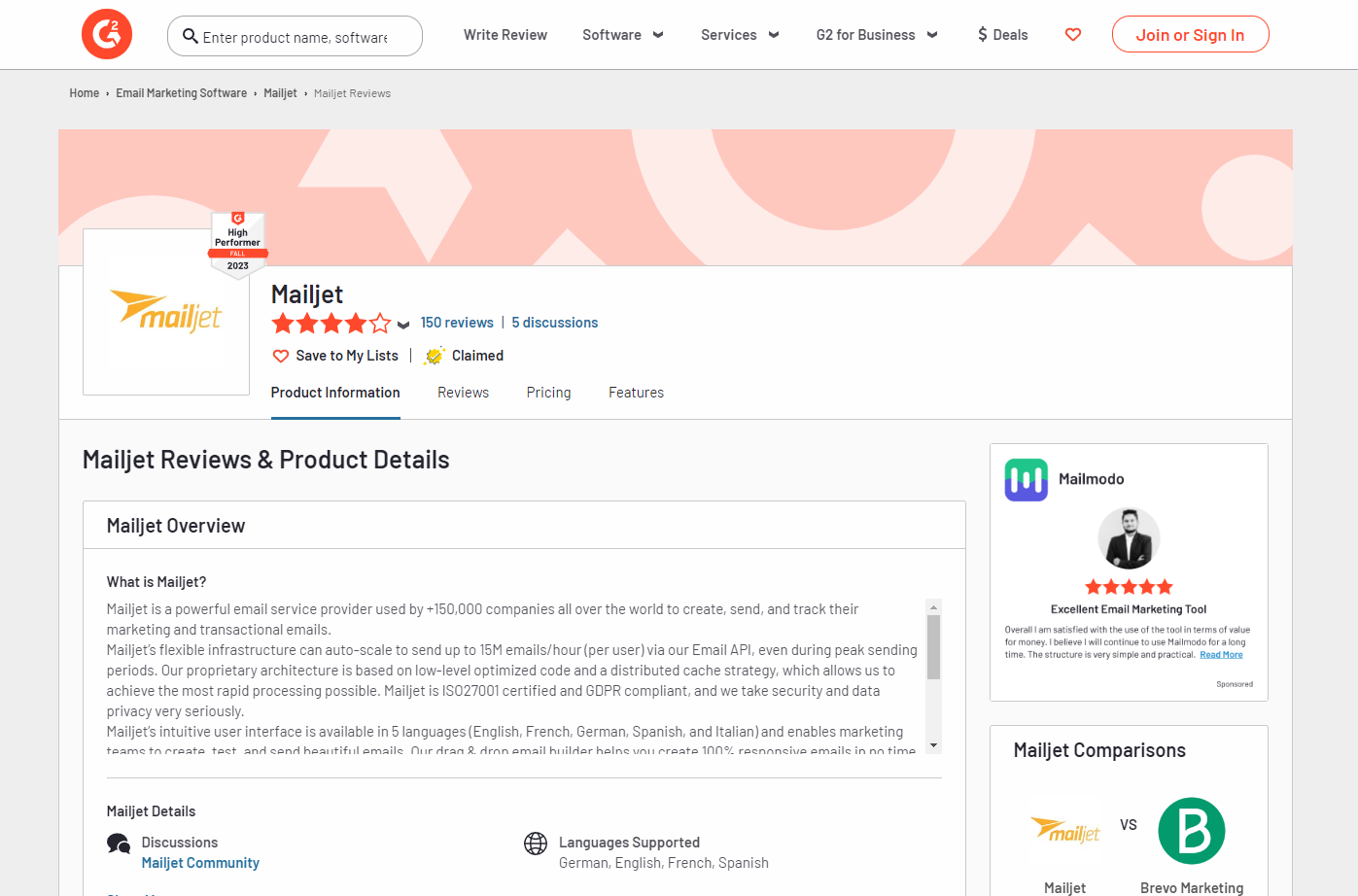 Mailjet receives positive feedback from users focused on the platform's powerful email capabilities and intuitive interface. Praise includes the user-friendly drag-and-drop editor, robust automation tools, and helpful analytics (G2).
Potential downsides mentioned in some reviews include occasional technical glitches and delays in customer support response times. However, most reviews highlight strong deliverability rates and an overall high-quality product.
User reviews frequently cite Mailchimp's ease of use, excellent templates, and automation features as major benefits. Many note how simple it is to get started and quickly become productive with the platform (G2).
Some more advanced users indicate limitations in capabilities as a drawback. Others cite deliverability inconsistencies. However, the overwhelming majority of feedback is extremely positive, praising Mailchimp's usability and core email marketing functions.
With predominantly glowing reviews highlighting its usability and capabilities, Mailchimp edges out Mailjet in reputation based on aggregate user feedback. Widespread satisfaction with the platform makes Mailchimp the winner in this category.
9. FAQ's
What are the main differences between the Mailjet pricing plans?

The main differences between Mailjet pricing plans are the number of contacts included and access to advanced features. Higher tiers have more contacts, emails, and capabilities like dedicated IPs.
Does Mailjet integrate with CRMs and email clients?

Yes, Mailjet offers integrations with popular CRMs like Salesforce and Zoho. It also connects with webmail platforms like Gmail, Outlook, and Yahoo.
How does Mailjet compare to other email service providers?

Mailjet is competitive with features, deliverability, ease of use, and pricing. It compares well to providers like SendGrid, SendinBlue, and Benchmark Email.
Does Mailchimp offer free plans?

Yes, Mailchimp has a free plan for up to 1,000 contacts and 12,000 emails per month. Paid plans start at $13/month.
What email marketing features are included in Mailchimp?

Key features include templates, drag-and-drop builder, automation workflows, reports, integrations, landing pages, and more.
Can you use your own domain name with Mailchimp?

Yes, custom domains can be connected to brand emails from your own domain instead of from Mailchimp.
Final Thoughts
Mailjet is a great choice for mid-market businesses wanting robust email marketing capabilities without high costs. The automation, analytics, and integration features provide enterprise-level power on an SMB budget. Mailjet is ideal for those wanting an intuitive platform that can scale.
Mailchimp is ideal for solopreneurs, startups, and small businesses getting started with professional email marketing. The free plan and affordable pricing tiers make Mailchimp accessible. The easy learning curve also makes Mailchimp a great starting point before upgrading to more advanced platforms.
You may also be interested in checking out some Mailchimp alternatives to help with the evaluation process.
Choosing the right email marketing platform is critical for the success of your business. Be sure to consider your specific needs in order to select the best solution. Please ask any questions in the comments below if you need help determining which platform is the optimal choice for your unique situation. We're happy to provide guidance to set your business up for email success!