Email marketing platforms like MailChimp and Mandrill are critical tools for business owners looking to engage with customers and drive growth. Choosing the right email marketing platform is key to maximizing deliverability, automation, and analytics.
In this Mailchimp vs Mandrill comparison, we'll evaluate MailChimp and Mandrill across several factors vital for small business success.
Our goal is to provide an in-depth, side-by-side analysis to help you select the best solution for your unique needs and budget.
1. Understanding the Basics
MailChimp was founded in 2001 by Ben Chestnut and Mark Armstrong in Atlanta. It has around 14 million users worldwide and is popular with small businesses and solopreneurs.
MailChimp is consistently ranked as a top email marketing platform and competes with other platforms like Constant Contact. It has a very active Facebook community with over 400K followers.
Mandrill was founded in 2012 and acquired by MailChimp in 2014. It has around 350,000 active users and is popular with developers and marketing agencies. Mandrill offers a powerful transactional email API that integrates with MailChimp for marketing campaigns. It has a smaller Facebook presence with 17,000 followers.
2. Features and Functionality
Automation
MailChimp offers a visual drag-and-drop automation builder to set up workflows without code. Pre-built automation like welcome campaigns, abandoned carts, weekly digests, and more can be activated with one click. Complex multi-step workflows are possible with if/then branching logic.
Automation for Mailchimp transactional email can be triggered by customer data such as subscriber actions like email opens, link clicks, sign-ups, purchases, and more. Standalone automation or automation sequences that combine with regular broadcasts are available.
Mandrill focuses on transactional automation through its email API rather than visual marketing workflows. Send email confirmations, receipts, password resets, and other real-time notifications as triggered events occur.
While not a core strength, basic email marketing workflows are possible in Mandrill by setting up a main broadcast and then defining conditional follow-up emails.
MailChimp is the winner for automation thanks to its powerful visual workflow builder, pre-built automation templates, and seamless integration with e-commerce platforms that make it easy to send transactional messages and purchase blocks. The ability to combine marketing and transactional workflows makes it more robust for small businesses that need to run basic email campaigns.
Email Templates
MailChimp offers hundreds of professionally designed and customizable templates for all industries. Templates are mobile-responsive and optimized for all major email clients.
Users can also create custom templates from scratch using a blank canvas. The template builder allows for adding/deleting sections, columns, buttons, dividers, social sharing icons, and other elements.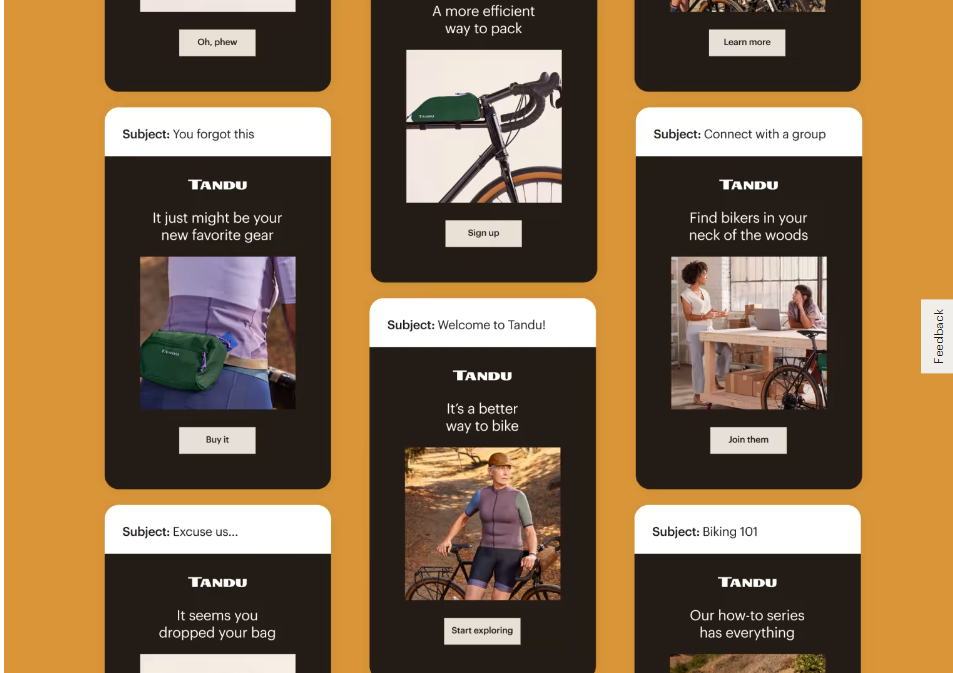 Mandrill is a transactional email platform whose template library selection is smaller compared to MailChimp. There are around 70 free templates for transactional and marketing emails.
Mandrill templates work best for basic transactional emails like receipts, alerts, or password resets. Design and branding is not a core strength, but you can manage templates easily from your dashboard.
MailChimp wins for email templates thanks to its expansive designer template library and easy drag-and-drop customization for non-coders. It offers more options for creating branded, polished emails.
Segmentation
MailChimp allows subscribers to be targeted based on automated or manual segmentation. Pre-defined automation segment based on email activity, purchase history, survey responses, and more.
Once created, segments can be leveraged to send tailored content to readers based on their attributes and engagement. Personalization helps drive open and click-through rates.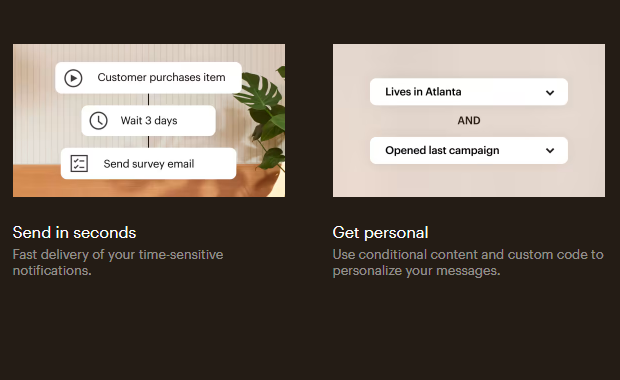 Mandrill has basic segmentation capabilities for senders to group contacts. Segments can be defined based on attributes like location, purchase history, or activity.
Overall, Mandrill's segmentation options are sufficient for basic grouping but lack the depth for complex subscriber targeting and personalized journeys.
MailChimp wins for its powerful segmentation engine. Granular filters, custom fields, and engagement metrics enable deep subscriber personalization and tailored messaging at scale. Mandrill lacks advanced segmentation tools to send personalized emails, welcome emails, and order confirmations.
Analytics
MailChimp provides extensive analytics capabilities to track email campaign performance and subscriber engagement over time.
Pre-configured reports provide insights into opens, clicks, unsubscribes, bounce rates, and more. Data can be filtered by campaign, audience segment, geolocation, device type, and other parameters to analyze trends.
MailChimp integrates with Google Analytics, Facebook Pixel, and other tools to connect email data with website traffic, subscriber management, and ad performance for complete attribution. Automated reports can be scheduled and emailed to stakeholders regularly without manual work.
Mandrill provides basic email activity reporting including metrics on send volume, open rates, link clicks, bounces, spam complaints, and unsubscribes. The data can be segmented by parameters like email campaign, template used, or date range to analyze performance.
The focus is on transactional email metrics versus the deep subscriber engagement analysis and unified email-to-website attribution that dedicated email marketing platforms like MailChimp provide.
MailChimp is the clear winner in analytics thanks to its powerful customizable reporting, heat mapping capabilities, and integrations with major external tools for complete data in one unified dashboard.
Unique Features
Some unique features MailChimp offers include A/B testing to optimize marketing campaigns through testing up to 4 email variants. It also provides Landing Pages that can be built without coding and integrated with emails.
For social media, MailChimp offers Social Posting features to schedule and publish posts on Facebook, Twitter, and LinkedIn. It has a robust visual workflow builder for complex automation with triggers and sequences. Surveys can also be created to engage subscribers and gather feedback.
Some of Mandrill's unique features include tools to handle inbound emails, track replies, and monitor incoming messages. It offers SMTP Relay to securely send high volumes of email through Mandrill's deliverability expertise.
Webhooks allow users to trigger actions based on email events like opens, clicks, and delivery. Emails can be scheduled up to 3 months in advance through flexible Scheduling options for timed delivery. Dynamic template Tags let users easily customize transactional emails.
Winner: Tie
Both MailChimp and Mandrill provide unique value through different features. MailChimp excels at marketing capabilities while Mandrill focuses on transactions and developer tools. For unique features, this comparison ends in a tie.
3. Ease of Use
MailChimp has a clean, intuitive user interface. The dashboard is well-organized with campaigns, reports, and lists easily accessible.
Advanced features like automation and landing pages have a steeper learning curve but overall the experience is better for non-technical users.
Mandrill has a more basic, developer-focused interface. It is better suited for technical teams versus marketing novices.
Building emails requires HTML and coding skills. The building blocks are not as visual or intuitive compared to MailChimp.
Mandrill accelerates development through its email API rather than core user experience. The focus is on programmatic sending versus an easy drag-and-drop workflow.
MailChimp wins for ease of use thanks to its clean dashboard, intuitive workflow builder, and beginner-friendly UX that enables novices to create advanced campaigns with minimal technical skills.
4. Email Deliverability
MailChimp Transactional Email Delivery
MailChimp has excellent email delivery rate and inbox placement thanks to the advanced anti-spam and security protocols they have in place. These measures help maintain sender authenticity and credibility with major email providers.
Other key features include a dedicated IP addresses, domain authentication through SPF/DKIM/DMARC, and strong relationships with mailbox providers like Gmail, Yahoo, and Outlook all contribute to higher inbox placement rates and sender credibility that improves over time.
Mandrill Transactional Emails
Mandrill also focuses heavily on maximizing email deliverability given its roots as a transactional email service. It has robust security features like SPF, DKIM, and DMARC implementation that authenticate messages as coming from a legitimate, trusted sender.
Power users can leverage custom DKIM signatures, advanced tagging, and granular metadata to enhance deliverability for their specific needs. But core inbox placement capabilities work well out of the box.
Transactional Messages Winner: Tie
Both MailChimp and Mandrill have robust features that prioritize email deliverability and security, providing advanced capabilities that optimize sender credibility and inbox placement rates over time. When it comes to deliverability, this comparison ends in a tie.
5. Customer Support and Community
MailChimp provides exceptional customer support through multiple channels including live chat, phone, and email support 24/7. Users also have access to an extensive knowledge base with articles, webinars, and how-to guides on using MailChimp features.
The MailChimp user community is highly active on Facebook, with an Official MailChimp Users Group. Other popular groups like Ecommerce Automation with MailChimp, MailChimp New Users, and MailChimp Chat foster idea sharing and advice amongst sophisticated users.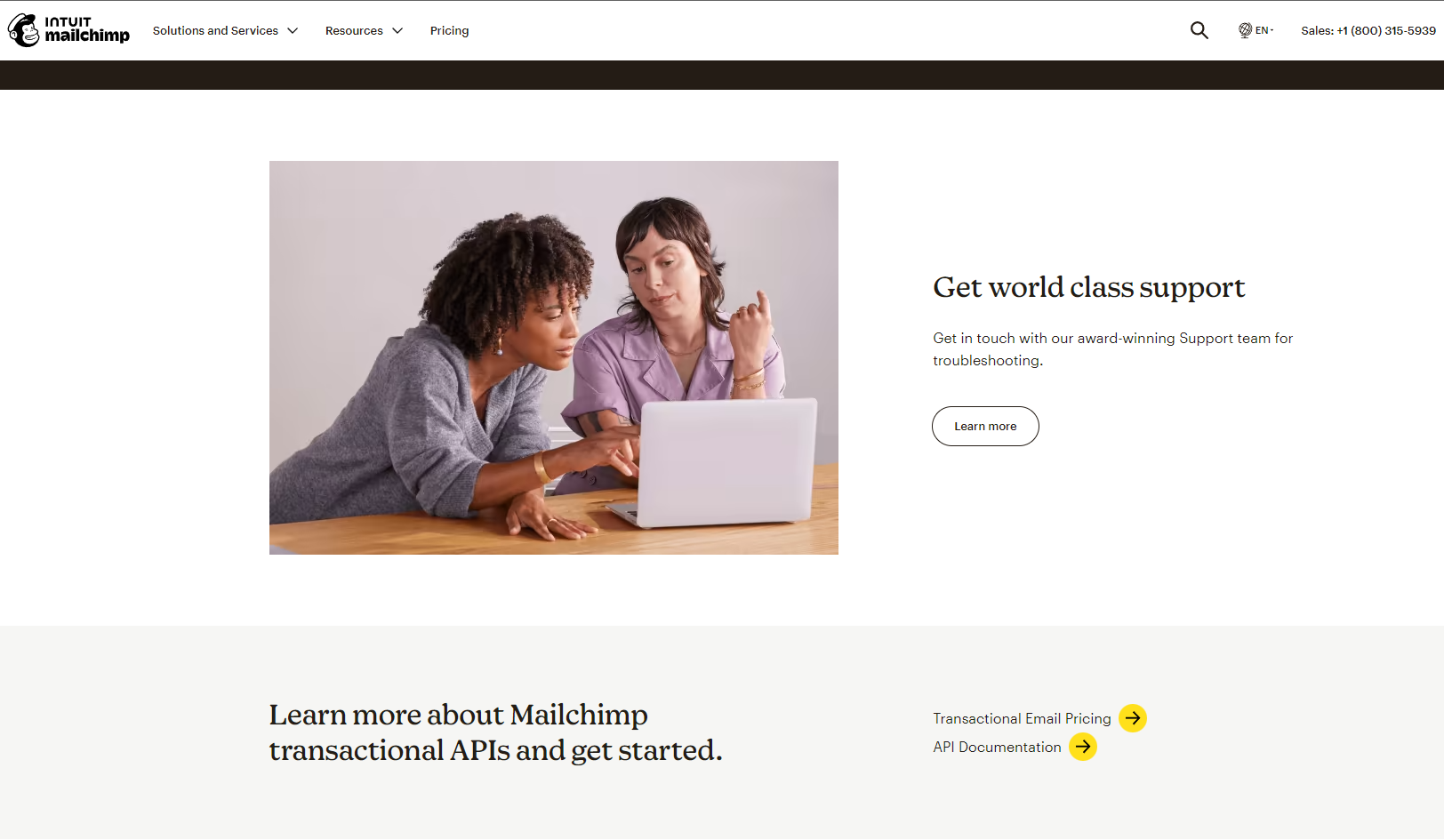 Mandrill offers more limited customer support options suited to its technical user base. Support resources consist mainly of its online knowledge base, developer documentation, and direct email support channels. Phone support is not available.
Given its focus on developers, Mandrill has a smaller community presence compared to MailChimp, and the crowdsourced knowledge base isn't as robust.
MailChimp emerges as the clear winner for customer support and community resources. Its 24/7 live support, massive knowledge base, and highly active social community provide exceptional help channels that MailChimp users rely on.
6. Integrations
MailChimp integrates with an extensive directory of popular third-party applications and CRM platforms to streamline marketing workflows. Key integrations include eCommerce platforms like Shopify, WooCommerce, Magento, and PrestaShop to manage online store customers and purchase data.
Two-way sync capabilities automatically push and pull data between MailChimp and integrated apps to maintain centralized, up-to-date information across marketing technology stacks.
Mandrill seamlessly integrates with MailChimp allowing the ability to coordinate relevant information, including transactional and marketing campaign emails from one platform. Mandrill's API integrations tailored to development tools like Stripe, GitHub, Zendesk, and Intercom to inject campaigns or automated emails into workflows.
Both email marketing services have much to offer, but MailChimp emerges as the winner for its vast selection of marketing, ecommerce, CRM and other third-party integrations that enable automated data synchronization across key systems and certain events used by its diverse customer base for the purposes of sending transactional emails.
7. Pricing
Mailchimp offers a permanently free plan for up to 1,000 contacts and 12,000 emails per month. Paid plans start at $13/month for up to 500 contacts. Unlimited plans cost $350/month.
The free plan makes Mailchimp accessible to test. Paid plans are reasonably priced for smaller lists. Large or complex needs require custom enterprise quotes.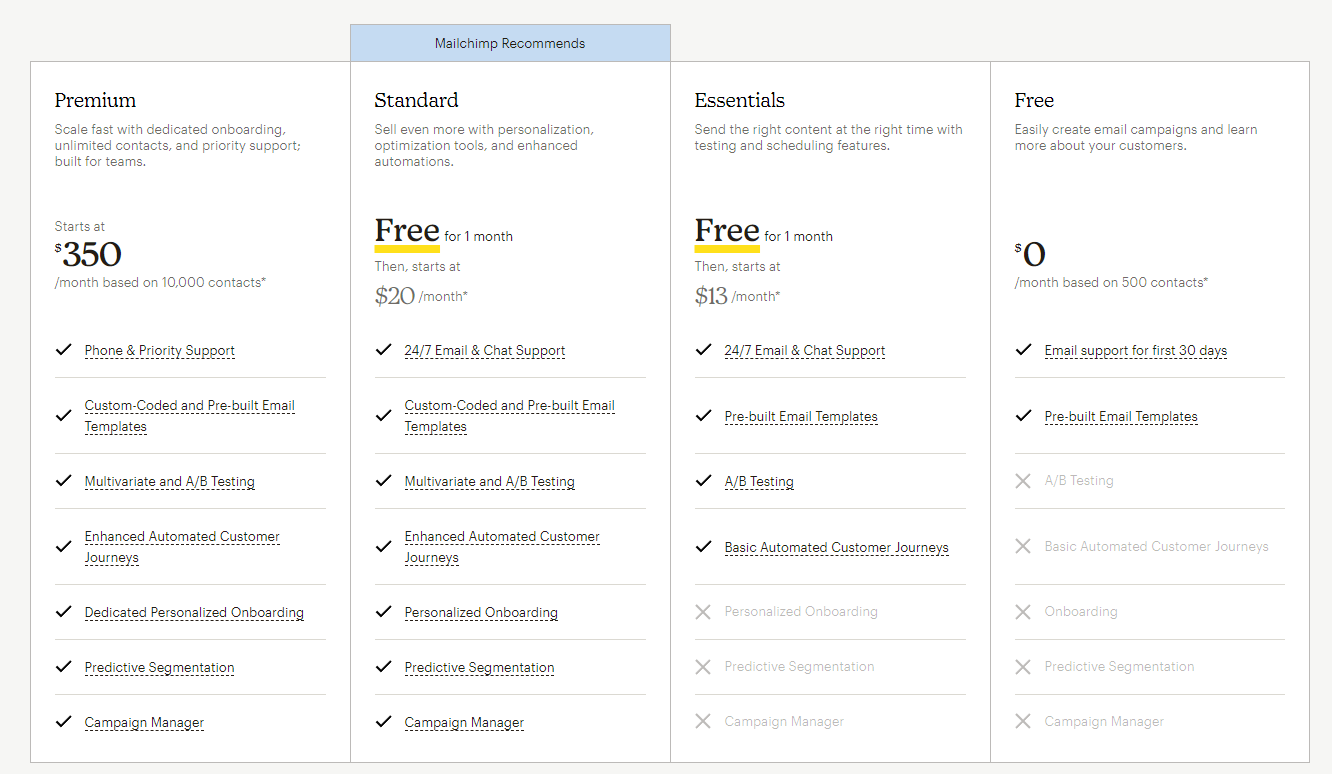 Mandrill has a free plan for up to 500 contacts. Paid plans start at $13/month for up to 25,000 emails. Enterprise pricing is customized based on high-volume needs. The fee structure is mainly volume-based, charging per email sent beyond free limits. Add-ons like dedicated IPs cost extra.
MailChimp wins based on providing a more generous free plan. Costs scale gradually for growing businesses, and discounts reward annual commitments.
8. Reviews and Reputation
MailChimp earns positive reviews for its ease of use, templates, automation, and integrations. Users praise the intuitive drag-and-drop editor and pre-built email templates, as well as the ease with which you can send emails to your email list.
Reviews on sites like G2 give MailChimp high ratings for overall quality and customer satisfaction.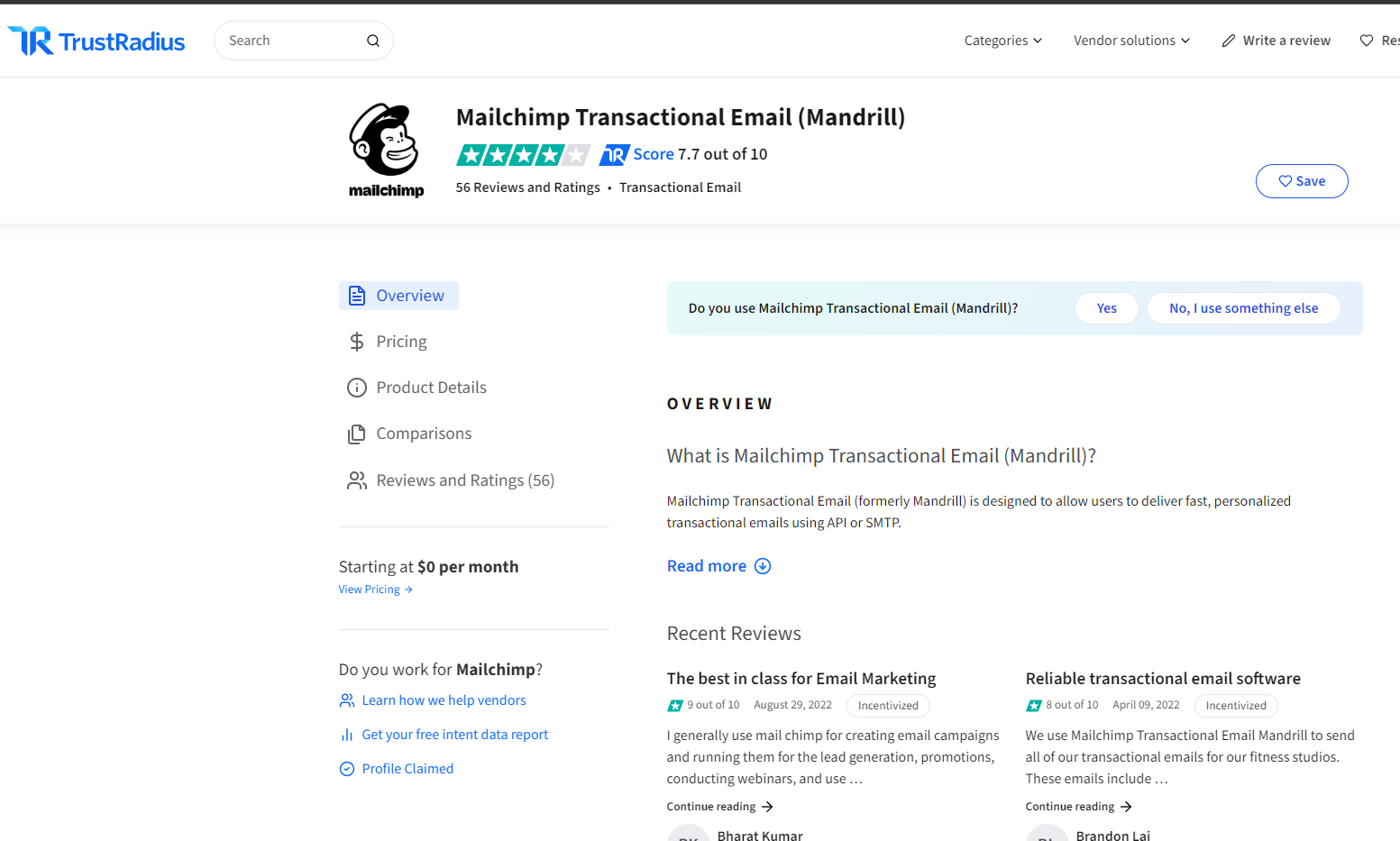 Mandrill garners mixed reviews on sites like TrustRadius. Developers praise its email infrastructure, delivery rates, and API integrations. However, the interface can be dull and less intuitive for marketers.
Overall though, Mandrill enjoys positive reviews, particularly within tech teams for its focus on smooth email integration and delivery.
With higher overall user ratings and reviews emphasizing usability, features, and value, MailChimp emerges as the winner over Mandrill for broader appeal and satisfaction across customer types.
9. Mailchimp vs Mandrill: FAQ's
What types of email can I send with MailChimp?

You can send all types – newsletters, promotional, transactional, automated campaigns, and more.
Does MailChimp offer free plans?

Yes, MailChimp has a free forever plan for up to 2,000 contacts and 12,000 emails per month.
Can I integrate MailChimp with my ecommerce store?

Yes, MailChimp offers integrations with all major store platforms like Shopify, WooCommerce, etc.
How easy is MailChimp for beginners?

MailChimp is very beginner-friendly thanks to its intuitive drag-and-drop builder and pre-designed templates.
Does MailChimp have good deliverability rates?

Yes, MailChimp has excellent deliverability and inbox placement rates powered by its algorithms.
Is Mandrill for transactional or marketing email?

Primarily transactional, but basic marketing capabilities exist. Best paired with MailChimp.
Does Mandrill have a free plan?

Yes, 12,000 emails are free per month. Paid plans start at $13/month.
Can Mandrill handle high email volumes?

Yes, enterprise plans are customized for major volume needs like mass transactions.
Is Mandrill easy to use and set up?

No, it requires some technical skill versus drag-and-drop builders. Best for developers.
Does Mandrill integrate with CRMs?

A handful like Salesforce, but limited versus MailChimp's vast integrations.
Final Thoughts
MailChimp is the best choice if you want a full-featured email marketing platform with excellent deliverability, detailed analytics, and powerful automation.
It's ideal for ecommerce companies, bloggers, agencies, and other small business owners prioritizing marketing capabilities. Though advanced options exist, the platform remains easy for beginners to pick up. MailChimp balances power and simplicity.
You may also be interested in checking out some Mailchimp alternatives to help with the evaluation process.
Mandrill is optimal if you need to integrate transactional emails into apps and websites. Developers and companies focused on real-time notifications will benefit most from Mandrill's deliverability expertise, email API, and automation flexibility. Marketing teams engaged in complex nurturing may find the platform limited. But Mandrill shines for high-volume transactional and operational emails.