Choosing the right email marketing software is a crucial decision for any business owner looking to grow their customer base and drive sales. AWeber and Mailchimp are two of the most popular solutions, used by millions of small businesses and entrepreneurs worldwide. But with so many features to weigh up, how do you decide which platform is right for your needs?
In this comprehensive Aweber vs Mailchimp comparison, we'll be looking at key criteria like market position, ease of use, customization options, features, website performance, customer support, pricing, and reputation.
Understanding how AWeber and Mailchimp stack up across these factors will provide the insights you need to select the best platform for your business goals and budget.
1. Understanding the Basics
AWeber was founded in 1998 by Tom Kulzer and Emmanuel Straschnov. It is one of the oldest and most established email service providers. AWeber has over 120,000 active paying customers.
Mailchimp was founded in 2001 by Ben Chestnut and Mark Armstrong. It has over 14 million users worldwide, making it the most popular email marketing platform.
Both AWeber and Mailchimp have a strong market presence. AWeber is known for its robust features and Mailchimp for its ease of use.
For user communities, the AWeber Users Facebook Group has over 16,000 members. The Mailchimp Community Forum has over 13,000 members. Joining these groups can provide support and advice from other users.
Overall, both platforms have been around for decades and have strong brand recognition. Mailchimp edges out AWeber in terms of total users due to its freemium pricing model. However, AWeber maintains a loyal customer base drawn to its powerful feature set.
2. Features and Functionality
Automation
Whether you need advanced analytics, e-commerce integrations, or a platform that's incredibly easy to use, this evaluation will help you objectively compare these two industry leaders. Email marketing can be a powerful growth tool for your business, but only if you choose the right solution from the start.
With the pros, cons, and key differences laid out across the main criteria, deciding between AWeber and Mailchimp will be simple.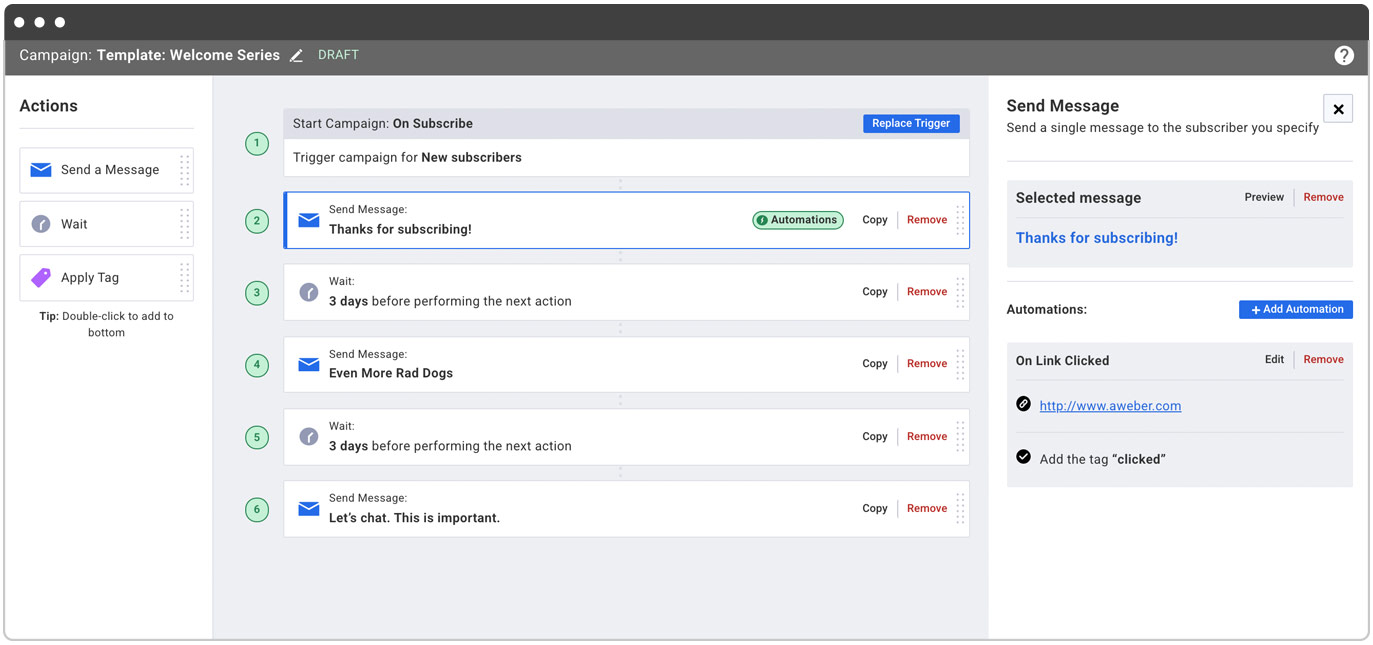 AWeber offers robust automation through its Follow-Up series and Split Funnel campaigns. The Follow-Up series allows users to create sequenced drip campaigns that deploy emails based on time delays or subscriber actions. This is useful for onboarding sequences, lead nurturing, and more.
Split Funnel campaigns allow marketers to segment their audience based on behavior and direct subscribers down tailored messaging paths. For example, one funnel path is for highly engaged users, and the other for inactive users to try to re-engage them.
AWeber's Visual Campaign Builder provides an intuitive drag-and-drop interface for building campaigns with no coding required. Users can easily set up triggers based on subscriber data and actions. Integrations with services like Zapier also expand automation possibilities.
Overall, AWeber provides powerful options for segmented, behavior-based email marketing automation. The visual workflow builder makes creating complex campaigns simple and easy.
Mailchimp offers robust automation through its workflows and automation features. Workflows allow users to create multi-step campaigns based on time delays, subscriber actions, and other triggers.
The automation builder provides drag-and-drop creation of "if this, then that" sequences, such as automatically adding subscribers to workflows based on their interests. This allows for highly customized, personalized messaging.
Mailchimp also offers options like RSS-to-Email campaigns that automatically pull in blog post content to send to subscribers. And its tags and segments enable users to target messaging to specific subscriber groups easily.
The automation capabilities integrate tightly with options like landing pages, forms, and e-commerce to provide expanded possibilities. Overall, Mailchimp provides extremely deep email automation with powerful segmenting options.
Mailchimp wins for best automation capabilities due to the greater depth and flexibility of its tools like workflows and automation rules. These provide deep personalization and customization options for creating highly tailored subscriber experiences. While AWeber also offers robust options, Mailchimp's breadth of triggers and integrations gives it the advantage.
Email Templates
AWeber provides hundreds of professionally designed email templates that users can customize to match their brand. Templates are available for welcome series, product announcements, newsletters, and any other type of email marketing strategy or campaign.
Users can modify templates by editing elements like colors, fonts, and images. Drag-and-drop editing makes it simple to swap template components around.
While template customization is easy, advanced users have limited control compared to building emails from scratch. But for quickly creating branded emails that look great, AWeber's templates are highly effective.
AWeber also offers a template code editor for fine-tuning HTML/CSS. And their "labs" feature lets users access new beta capabilities like improved customization controls. Overall, it offers a robust template library for fast email creation.
Mailchimp provides hundreds of professionally designed email templates that are customizable for any brand. Templates support drag-and-drop editing right within Mailchimp.
Users can customize colors, fonts, content blocks, images, and more. Advanced customization like CSS editing is also available in the design tools. This makes it easy to tweak templates to match a brand's style.
Mailchimp also allows uploading HTML emails created externally into its template builder, making it one of the best email marketing solutions for advanced users. Users can then continue editing and customizing before sending.
The template options range from simple newsletters to complex, multi-column product announcements with image galleries. This breadth combined with the deep customization makes Mailchimp highly flexible for crafting branded emails.
Winner: Tie
Both AWeber and Mailchimp offer excellent pre-designed email templates that can be customized to match specific branding needs. While Mailchimp provides greater design flexibility, AWeber makes it very simple to quickly customize templates. For most use cases, both platforms enable the creation of professional, on-brand emails with ease.
Segmentation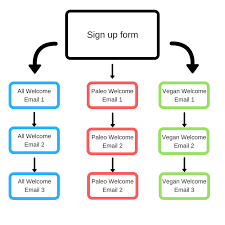 AWeber allows segmenting subscribers using lists, tags, and custom fields. Lists provide a way to group subscribers by interest or campaign type. Tags enable categorizing subscribers based on behaviors like clicking a link.
Custom fields allow capturing additional data about subscribers, such as location or purchase history. This data can then be used to segment lists and target groups with tailored messaging.
AWeber's segmentation options integrate with its automation tools like Follow Up Funnels and Split Funnels. This allows sends to be triggered based on subscriber attributes and actions for personalized experiences.
Overall, AWeber provides robust segmentation capabilities to define subscriber groups. While not as extensive as some platforms, the integration with automation and campaigns makes subscriber targeting highly effective.
Mailchimp enables advanced subscriber segmentation using groups, tags, and custom fields. Groups provide list segmentation, while tags are used for interest-based and behavioral targeting.
Hundreds of pre-built segments allow for one-click grouping of subscribers by attributes like location, purchase activity, and engagement. Custom fields also enable capturing unique data to segment on.
Mailchimp's automations integrate tightly with groups and tags, enabling personalized multi-step campaigns. As subscribers take action, they can be automatically moved to different groups and sent down targeted paths.
The segmentation options make complex subscriber targeting simple. Overall, Mailchimp provides extremely flexible options for advanced subscriber grouping and personalization.
Mailchimp wins for best segmentation due to the vast flexibility of its groups, tags, and pre-built segments. This makes complex behavior-based and interest-based subscriber targeting simple to execute for highly personalized messaging and campaigns. While AWeber has solid options, Mailchimp's breadth of segmentation flexibility gives it the advantage.
Analytics
AWeber provides robust email analytics to track and optimize campaigns. Its main reporting features include:
Open and click tracking to see subscriber engagement
Link click-through tracking to monitor content performance
Bounce and unsubscribe tracking to identify issues
Delivery tracking to monitor deliverability
List growth reports to analyze subscriber acquisition
Email client and device data to optimize for mobile
AWeber also integrates with Google Analytics for expanded tracking of clicks. The reports provide data visualizations for understanding metrics clearly.
Users can view campaign, message, list, and subscriber-level analytics to optimize both overall program performance and individual targeting. Overall, AWeber has a strong email analytics stack.
Mailchimp has powerful analytics capabilities for understanding email performance. Key reports include:
Comprehensive email activity reports showing opens, clicks, etc.
Automation tracking to monitor workflow performance
Link click-through and audience behavior reports
List growth and subscriber activity monitoring
Email client and device data for optimization
A/B test reports for comparing campaign variants
Mailchimp provides the raw data as well as clear visualizations for easy analysis. Users can drill into campaign, message, and audience metrics to optimize their approach.
Mailchimp also integrates with Google Analytics for expanded insights. The breadth and flexibility of Mailchimp's reporting provide deep insights.
Mailchimp wins for its stellar email analytics capabilities. The extensive reports on subscriber engagement, email, and link performance, and automation metrics provide unmatched visibility into both overall and segmented campaign effectiveness. AWeber analytics are solid but Mailchimp's broader report suite takes the prize.
Unique Features
AWeber has a few unique capabilities that set it apart. Split Funnel Campaigns allow marketers to direct subscribers down different messaging paths based on engagement and attributes, useful for personalized journeys.
Dynamic Text Replacement enables email content to be automatically personalized using merge tags based on subscriber data. The RSS to Email feature pulls blog RSS feeds into emails to engage subscribers with timely content.
Facebook Ad to Email Capture syncs email signups from Facebook ad campaigns directly with AWeber for seamless onboarding. Webinar integration with platforms like GoToWebinar tightly integrates with AWeber for capturing leads. A native shopping cart in AWeber emails enables building shopping cart order forms directly in emails.
Overall, AWeber's unique features focus on simplifying complex marketing programs and campaigns through integrations and automation.
Some of Mailchimp's stand-out capabilities include extremely robust automation with combinations of triggers and actions that enable highly customized subscriber workflows. Facebook and Instagram Ad Integration manages and tracks email signups directly from social campaigns. Multi-channel campaigns combine email with postcards, social ads, etc. for integrated campaigns.
Deep e-commerce integration ranges from on-site tracking to abandoned cart emails and more. Beacon Technology uses proximity-based beacon messaging to engage subscribers in the real world. Goal Tracking enables tracking revenue and conversions from email campaigns.
Mailchimp's unique features focus heavily on expanded campaign options through advanced integrations and multi-channel capabilities.
The Mailchimp Aweber comparison of unique features shows that Mailchimp edges out its rival as the winner for its breadth of unique features that expand possibilities for complex, integrated, and multi-channel email marketing services. While AWeber has robust capabilities, Mailchimp's bevy of advanced and innovative features push it ahead.
3. Ease of Use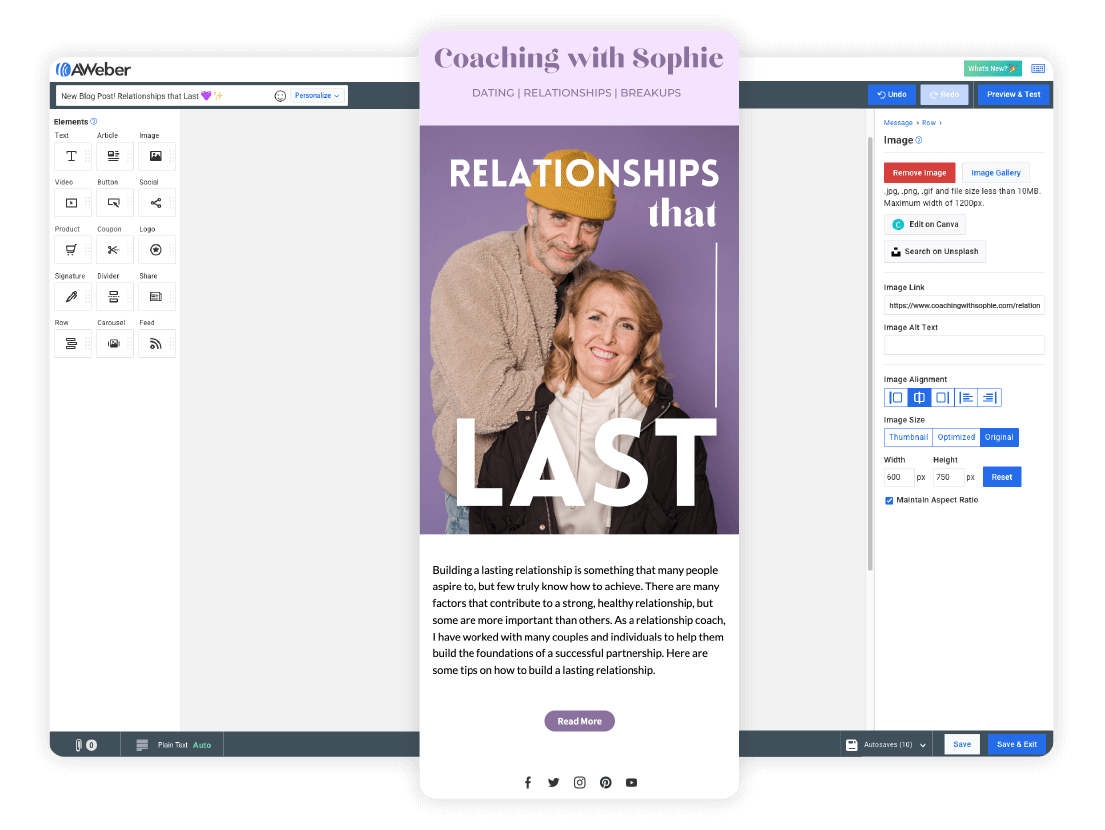 AWeber provides an intuitive user interface that is relatively easy for beginners to navigate. The dashboard uses clean, simple menus and visuals to surface key information without looking cluttered.
Common tasks like creating broadcasts, building lists, and segmenting subscribers can be accessed quickly in just a few clicks. For more advanced functionality, AWeber surfaces options in a structured way that is easy to explore.
The visual campaign builder and email editor make creating and designing emails very simple with drag and drop, requiring no coding knowledge. Overall, the experience is streamlined for rapidly handling day-to-day email marketing needs.
However, for intermediate to advanced users who want to leverage the platform's full sophistication, the learning curve can be steeper. Some more complex workflows take time to master. But the basics are quite beginner-friendly.
Mailchimp is praised for its clean, intuitive user interface that makes email marketing easy even for complete beginners. The dashboard clearly highlights key metrics and recommended actions to guide users.
Core functions like creating broadcasts, building lists, segmenting, and designing campaigns can be picked up quickly with little prior experience required. Mailchimp's drag-and-drop email designer enables the easy creation of stylish emails.
As users get savvier with email techniques, Mailchimp makes it easy to tap into advanced features through its structured, learnable interface. There is significant depth available once users are ready for more complexity.
Overall, Mailchimp sets the standard for usability in email marketing platforms. Both novice and experienced users praise its simplicity and ease of learning over time.
Mailchimp wins for best usability and ease of use. Its intuitive interface, guided workflows for beginners, and layered complexity for depth make it highly learnable. While AWeber is relatively user-friendly for basics, Mailchimp's superior design and discoverability put it over the top.
4. Email Deliverability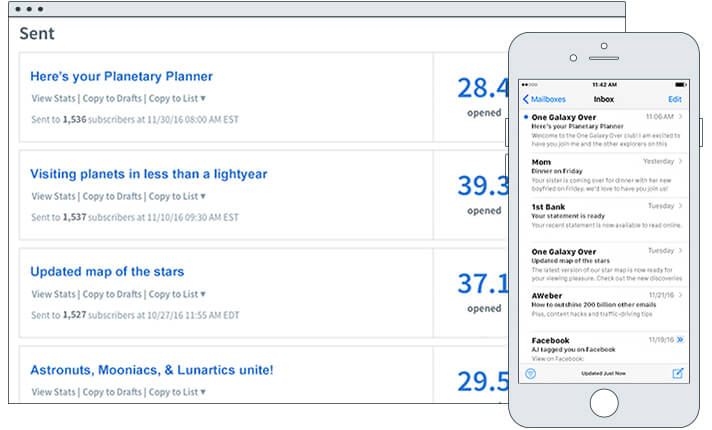 AWeber has a strong focus on email deliverability through advanced verification and optimization techniques. They monitor subscriber engagement to remove inactive and bounced email addresses automatically.
AWeber also provides deliverability consulting to optimize campaigns and avoid spam filters. Features like link tracking, open tracking, and click tracking inform optimization.
Advanced list hygiene and aggressive bounce handling ensure email reachability remains very high over time. AWeber also lets users compare deliverability against industry averages.
Overall, AWeber utilizes tight controls and constant optimization to enable consistently high inbox placement across subscriber bases for reliable deliverability.
Mailchimp invests heavily in optimizing email deliverability through advanced targeting, analytics, and list management. Emails are scanned for factors that could risk deliverability before sending.
Powerful analytics allow monitoring and optimizing deliverability over time based on granular engagement data. Mailchimp's algorithms also study subscriber behavior to remove risky or inactive contacts automatically.
Mailchimp provides guidance and best practices to users for improving deliverability through list segmentation, content optimization, and more.
Overall, Mailchimp combines powerful analytics, automation, and expertise to enable email marketing with strong deliverability across subscriber bases.
Winner: Tie
Both AWeber and Mailchimp offer excellent email deliverability capabilities through automated optimization, analytics, and expertise. Each platform provides the tools and guidance needed for reaching inboxes consistently without manual effort. For most use cases, AWeber and Mailchimp are equal when it comes to reliable email deliverability.
5. Customer Support and Community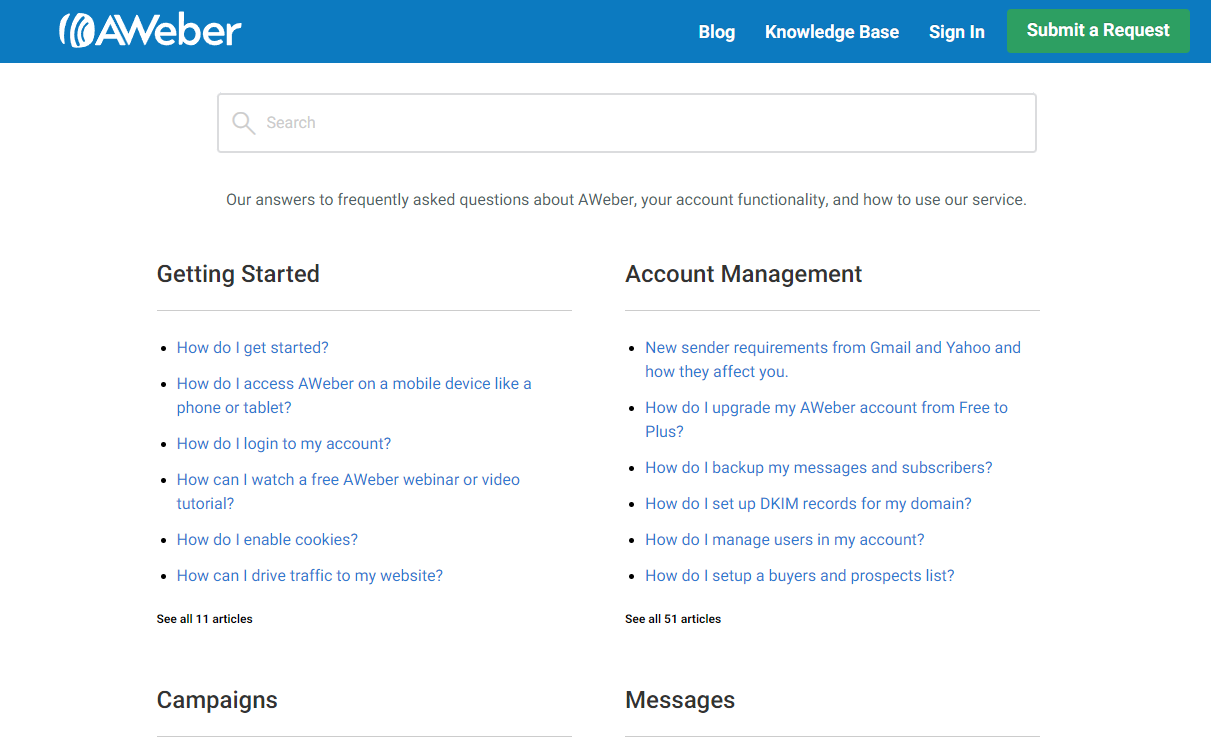 AWeber provides phone support, email support, and chat support with 24/7 availability for all pricing tiers. Users can also access an extensive knowledge base of articles, video tutorials, and webinars for self-help when needed.
The learning center covers platform guidance, email marketing fundamentals, and best practices guides. For those wanting to connect with other users, AWeber has an active user community on Facebook with over 8,000 members.
Overall, AWeber provides solid customer support coverage through various channels. While phone support has mixed reviews, the breadth of self-service resources is useful. And users can tap into the AWeber user community on Facebook for advice.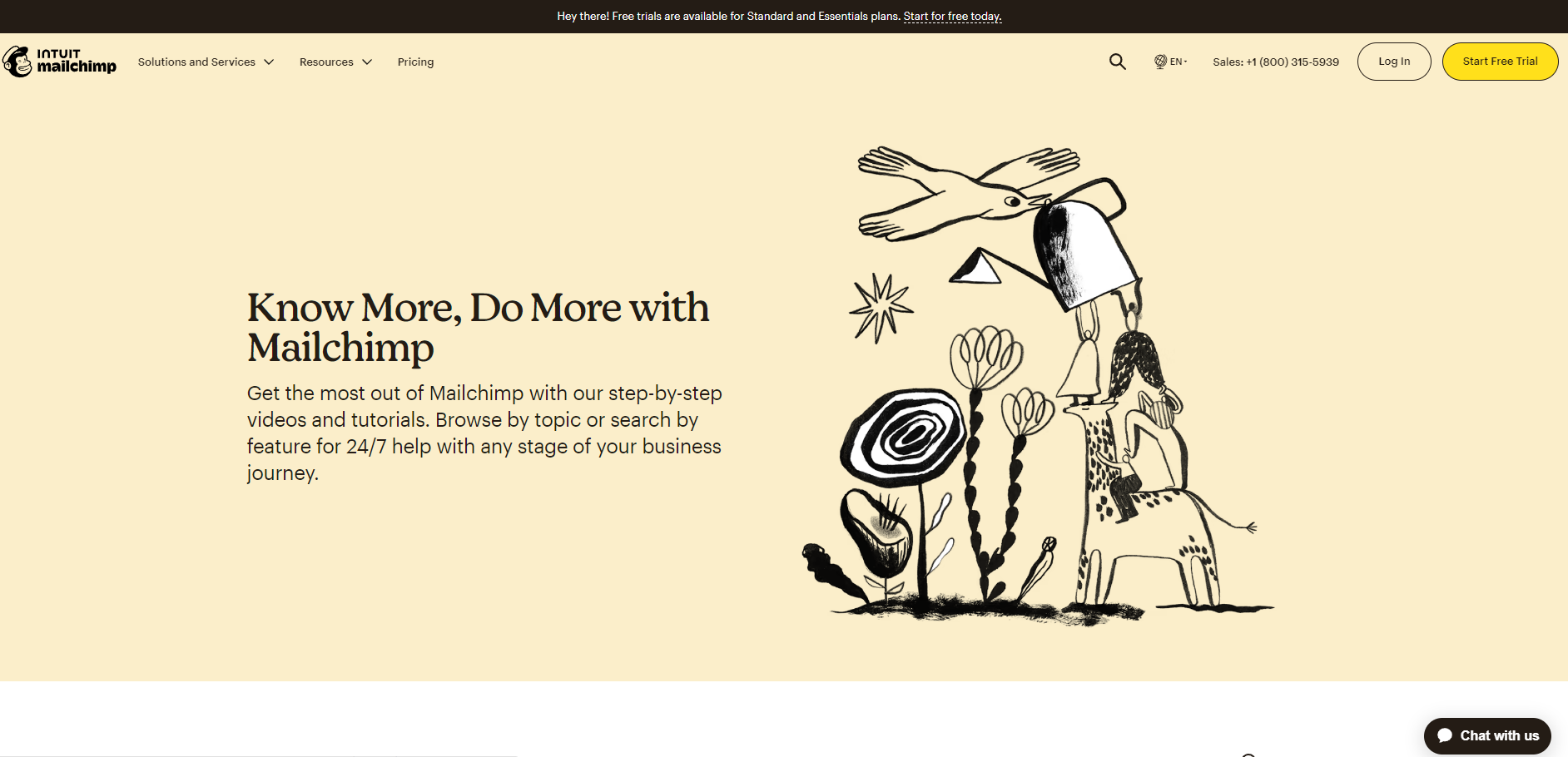 Mailchimp offers 24/7 customer support via live chat, email, Twitter, and an online contact form. Users mention occasional slow response times, but overall support quality is quite good.
For self-help, Mailchimp provides an extensive knowledge base with platform guidance, email marketing tips, and step-by-step walkthroughs. The learning resources are vast and well-organized.
The Mailchimp user community is also very active on the Mailchimp Community Forum which has over 150,000 members. This makes it easy to connect with other users and access crowdsourced knowledge.
Mailchimp edges out AWeber for best customer support and community options. Its knowledge base is more robust and user-friendly which complements the responsive live support nicely. Mailchimp's community forum fosters an extremely helpful and active user community that adds significant value on top of official channels.
6. Integrations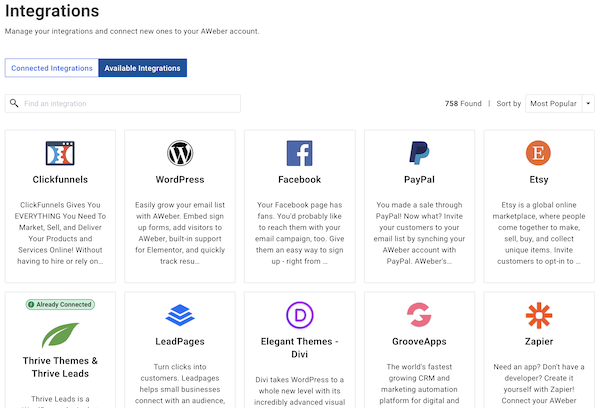 AWeber integrates with many popular third-party tools and services to expand functionality. Some key integrations include:
CRM Integrations – Sync subscriber data with platforms like Salesforce, HubSpot, and Zoho CRM for centralized management.
Webinar Integrations – Register webinar attendees directly to AWeber lists from GoToWebinar, WebinarJam, and other platforms.
eCommerce Integrations – Connect online stores from Shopify, WooCommerce, Magneto, and others with AWeber.
Marketing Automation – Build workflows triggered by AWeber data within tools like ActiveCampaign.
Web and Mobile Analytics – Pull in engagement data from Google Analytics, Mixpanel, and others.
Social Media Platforms – Sync social followings into subscriber lists automatically.
While not as robust as some platforms, AWeber covers the core integrations needed for unified data and workflows. It provides open APIs for advanced custom connections as well.
Mailchimp integrates with a vast array of marketing, e-commerce, and CRM tools. Some popular options include:
Email Clients – Sync contacts and calendars from Outlook, Gmail, Yahoo, and others.
CRM – Connect platforms like Salesforce, Zoho, and HubSpot with Mailchimp lists and campaigns.
eCommerce – Integrate online stores from providers like Shopify, WooCommerce, Magento, and BigCommerce.
Social Media – Manage opt-ins from Facebook, Twitter, Instagram, and more directly in Mailchimp.
Analytics – Import data from Google Analytics, Mixpanel, Heap, and others.
Advertising – Track conversions from Facebook, Instagram, Google, and Bing ads campaigns.
With its vast app directory, open APIs, and Zapier integrations, Mailchimp connects with practically any major marketing platform.
Mailchimp wins for its unparalleled integrations with every major marketing, CRM, analytics, social media, and advertising platform. This makes it easy to unify data and workflows across channels. AWeber has strong core integrations but can't match the breadth and flexibility of Mailchimp.
7. Pricing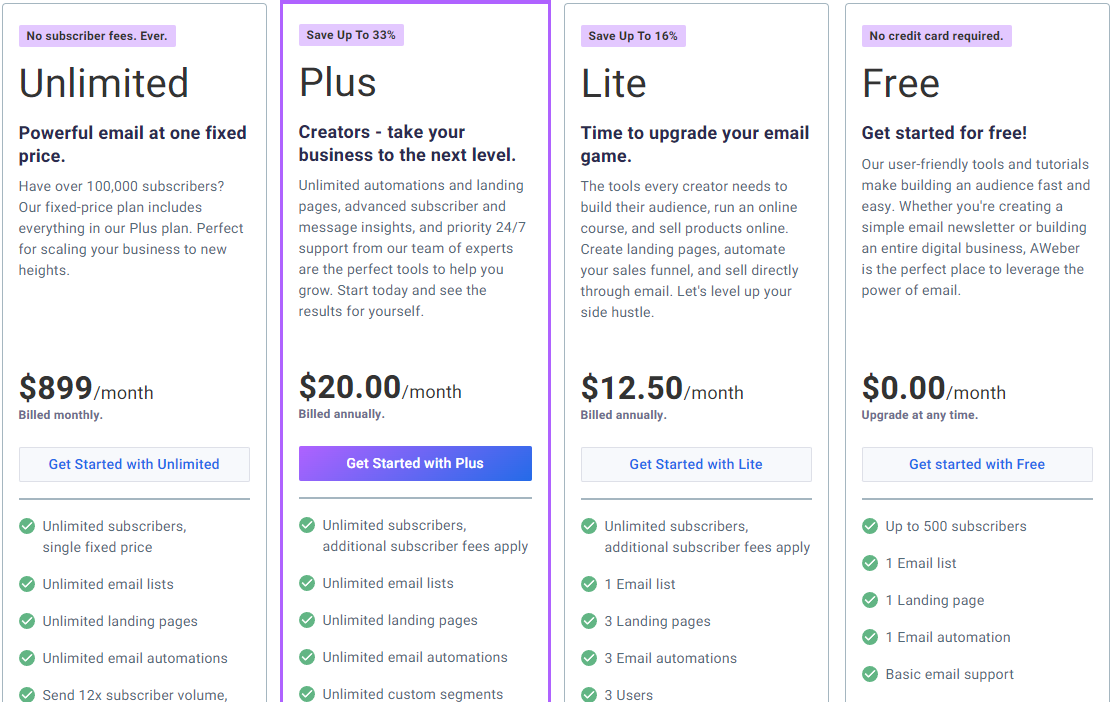 AWeber pricing is based on the number of subscribers on your list. There's a free plan that lets you get started sending emails to up to 500 subscribers.
Paid plans start at $12.50 per month for the Lite plan which comes with unlimited subscribers. The cost per subscriber goes down as the list size increases. The Plus plan costs $20/month and includes unlimited email lists and landing pages.
Advanced features like split testing, segmented broadcasts, and API access are included in all plans. The Unlimited plan costs $899/month and is ideal for lists over 100,000 subscribers.
Overall, Aweber's pricing is competitive for smaller lists but becomes more expensive at higher subscriber tiers.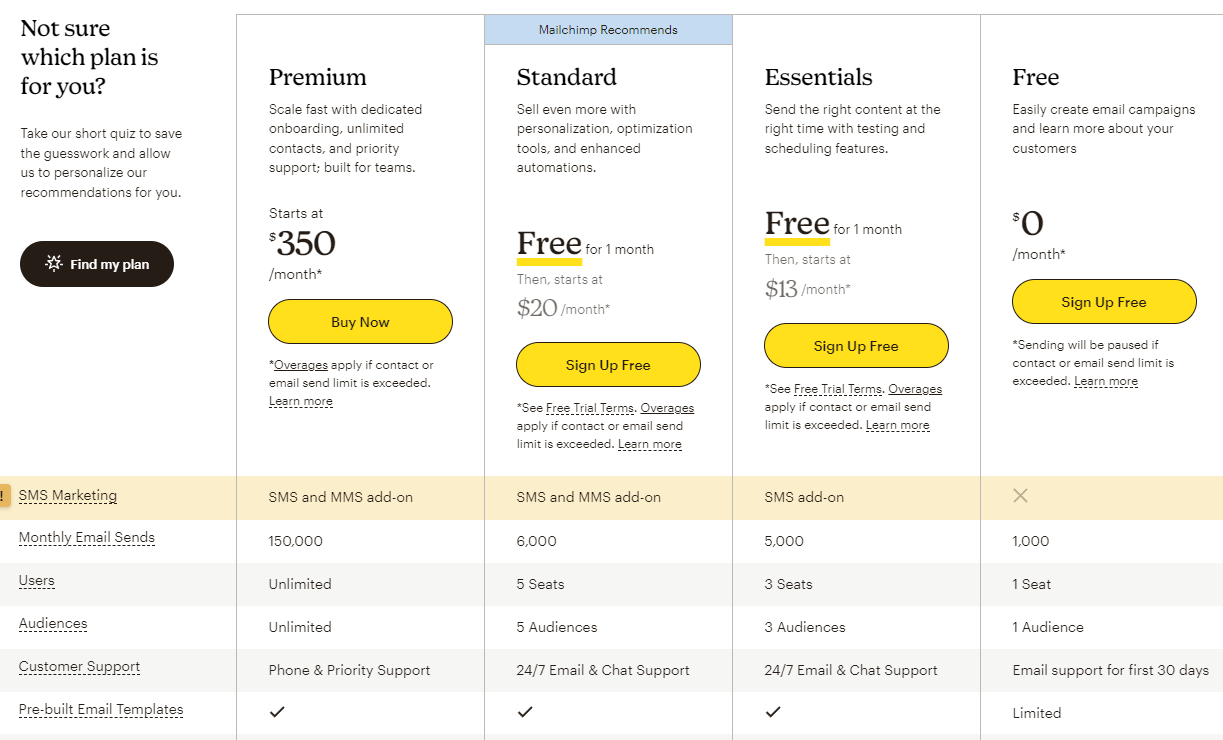 Mailchimp has 3 paid tiers: Essentials at $13/month, Standard at $20/month, and Premium at $350/month billed annually.
Lower tiers are suitable for small businesses. Advanced and Premium add powerful enterprise features like journey builder, workflow automation, and advanced analytics.
Mailchimp's free plan lets you send 1,000 emails per month with basic automation. Overall, Mailchimp offers cost-effective plans.
Mailchimp wins on pricing by offering a forever free plan with solid capabilities along with affordable rates for businesses even as their lists scale into the millions. AWeber's pricing starts out competitive but gets disproportionately expensive compared to Mailchimp at higher tiers.
8. Reviews and Reputation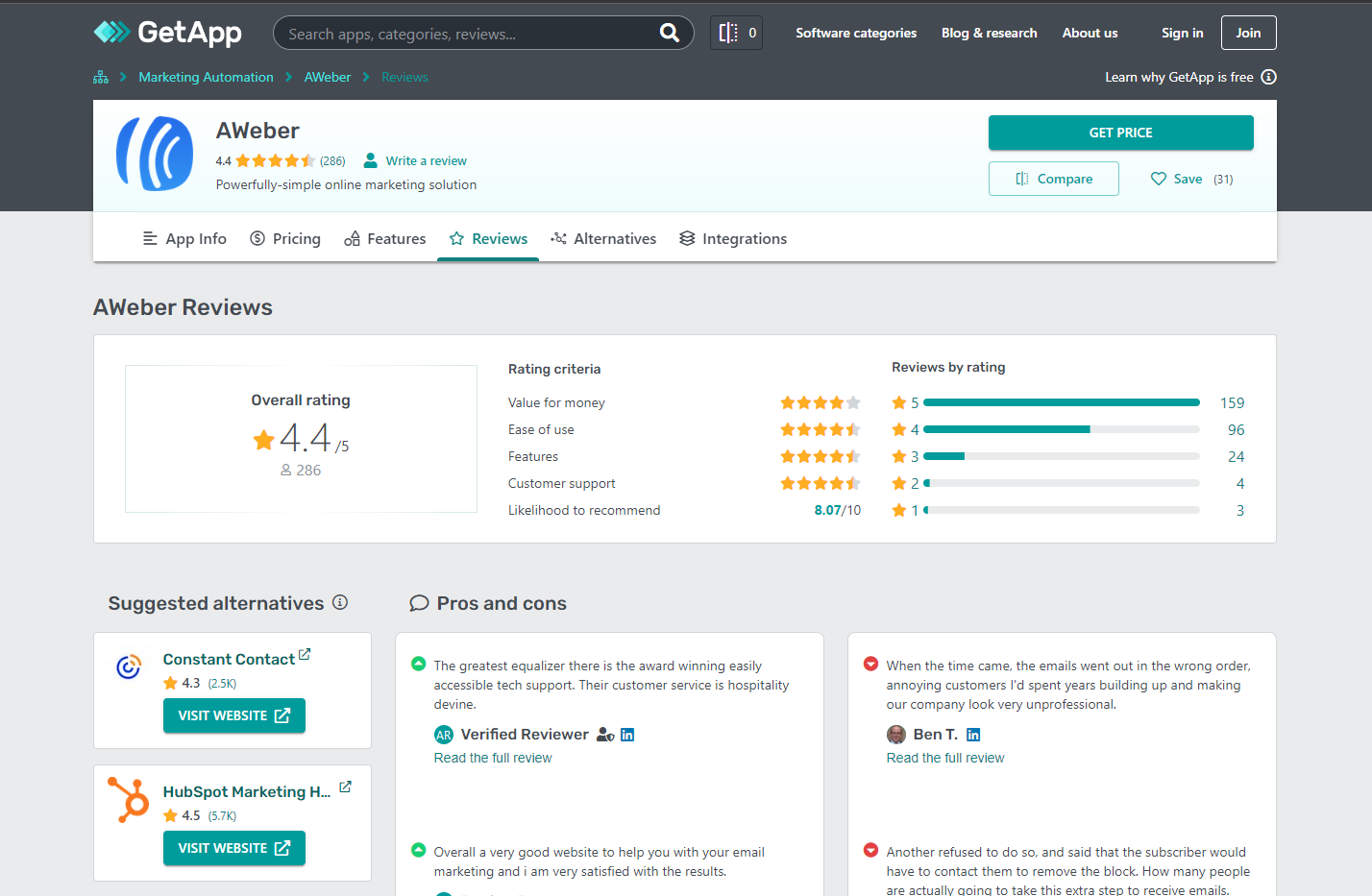 AWeber receives positive reviews for its versatility, segmentation capabilities, and automation features. Users mention the platform is easy to use for basic functions but can be complex for advanced workflows.
Many reviews praise AWeber's template designs and drag-and-drop editor for creating attractive email campaigns easily. Customization capabilities rate well.
Negative feedback centers around occasional deliverability issues, lack of more advanced analytics, and pricier costs for larger lists.
On third-party review sites like G2 and TrustRadius, AWeber earns high satisfaction scores, though some users express it could use a modern refresh. Overall, a very capable platform despite some limitations.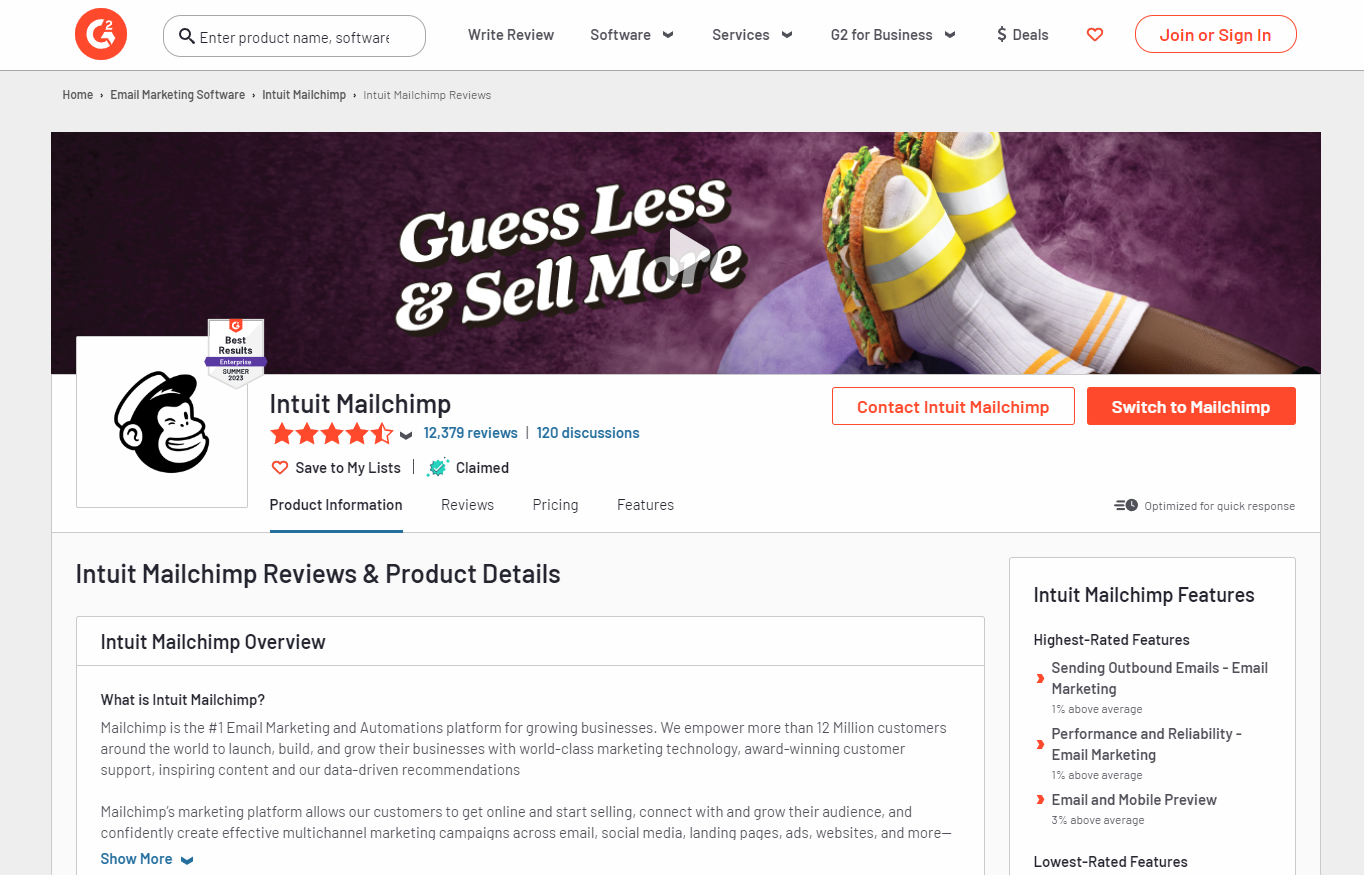 Across reviews, Mailchimp is touted as the best email marketing software. It's praised for its ease of use, affordability, and automation features. Both beginners and advanced users mention its intuitive, streamlined workflows.
Many reviews highlight excellent deliverability and detailed analytics reporting as key strengths. Users also appreciate the breadth of integrations and customization options.
Negative feedback is limited but mainly focuses on the occasional slow loading times for the web interface. Some users also want more advanced marketing automation capabilities.
On trusted review sites like G2, Mailchimp consistently earns outstanding ratings and feedback for usability. Overwhelmingly, user sentiment is extremely positive.
Based on in-depth user reviews, Mailchimp earns a reputation as the superior email marketing platform. Its positive feedback across affordability, ease of use, features, analytics, and deliverability surpasses AWeber's mixed critiques. For user satisfaction, Mailchimp is the clear winner as one of the best email marketing tools on the market.
9. FAQ's
What types of email marketing campaigns can I create?

AWeber supports standard newsletters, automated and segmented drip campaigns, RSS-to-email, and more.
How do I get started with AWeber?

Sign up for a 30-day free trial account, and use the email designer and guided workflows to create your first campaign.
Does AWeber integrate with my CRM or store?

Yes, AWeber offers integrations with platforms like Salesforce, Shopify, WooCommerce, and more.
What analytics does AWeber provide?

Get open-and-click tracking, link analysis, bounce tracking, unsubscribe monitoring, and deliverability reporting.
Is AWeber GDPR compliant?

Yes, AWeber helps users handle GDPR requirements like consent management, requests for data, and privacy compliance.
What types of email campaigns can I create?

Send standard newsletters, automated workflows, RSS campaigns, and more.
How do I get started with my Mailchimp account?

Sign up for a forever free account to handle up to 2,000 subscribers. Use the drag-and-drop designer to create your first campaign.
Does Mailchimp integrate with my e-commerce store?

Yes, Mailchimp offers deep integrations with providers like Shopify, Magento, BigCommerce, and more.
What analytics does Mailchimp provide?

Get detailed reports on opens, clicks, subscriber engagement, demographics, campaign ROI, and more.
Is Mailchimp GDPR compliant?

Yes, Mailchimp offers automated tools to help users comply with GDPR and manage first-party data responsibly.
Final Thoughts
AWeber is a good choice if you want robust features and automation in a platform that's easy to use for beginners. It can scale powerfully through segmentation and its focused feature set. AWeber suits businesses that don't need advanced customization or expansive integrations. Its segmentation and automation capabilities provide versatile options for marketers with growing email programs.
Mailchimp is ideal if you want a platform that's affordable for all audience sizes and provides extensive features for advanced tactics. It's easy for novices but scales to meet sophisticated needs. Mailchimp suits businesses that want deep integrations, extensive customization, and multi-channel campaigns. Its breadth, flexibility, and scalability empower expanding email and marketing programs.
You may also be interested in checking out some Mailchimp alternatives to help with the evaluation process.
Ultimately, choosing the right email marketing platform depends on your budget, features needs, and level of experience. Both AWeber and Mailchimp are excellent solutions – be clear on your use case and growth plans to pick the one that's best aligned. Don't hesitate to reach out in the comments with any other questions!