With email marketing being an essential component of any successful online business, choosing the right email marketing platform is crucial.
Zoho Campaigns and Mailchimp are two of the most popular options but have key differences that business owners should consider.
This article provides an in-depth Zoho Campaigns vs Mailchimp comparison to help you determine email marketing platform is the best for your needs.
1. Understanding the Basics
Mailchimp was founded in 2001 by Ben Chestnut and Mark Armstrong. It's one of the most popular email marketing platforms, with over 15 million users worldwide. Mailchimp has established itself as an industry leader, capturing an estimated 50% of the email marketing market share.
The United States founded Zoho Campaigns got its start in 2007 and was created by Sridhar Vembu as part of the Zoho products suite. While not as widely used as Mailchimp, Zoho still has a strong user base of over 150,000 businesses. However, it only accounts for an estimated 7.8% of the market.
If you want to connect with other users, here are some popular Facebook groups:
2. Features and Functionality
Automation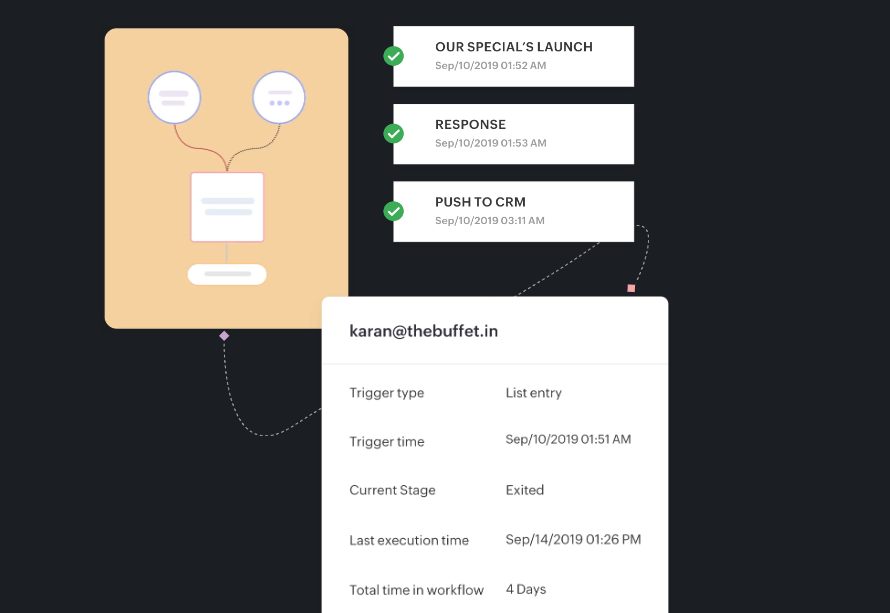 Zoho offers a visual workflow builder to automate your email campaigns and make the entire email creation process easier. You can create sequences to send emails on multiple channels based on actions like signups, purchases, anniversaries, etc.
Workflows support if/then conditional logic, time delays, and multiple decision paths. You can also set up automated follow-up emails and RSS-triggered emails.
Mailchimp has a built-in automation tool that allows you to create multi-email workflows based on subscriber actions. You can send emails triggered by sign-ups, abandoned carts, profile updates, transactional events, and more.
With e-commerce automation for cart abandonment and post-purchase follow-ups, Mailchimp provides robust functionality for creating customized sequences. Their automation builder is easy to use for both simple and complex scenarios.
The Zoho Campaigns Mailchimp comparison shows that Intuit Mailchimp wins for best automation capabilities. The software's workflows are highly customizable for both generalized email sequences and specialized ecommerce automation for a successful email marketing strategy. The drag-and-drop editor simplifies creation without limiting functionality. For small businesses wanting to save time and convert more customers, Mailchimp is the leader.
Email Templates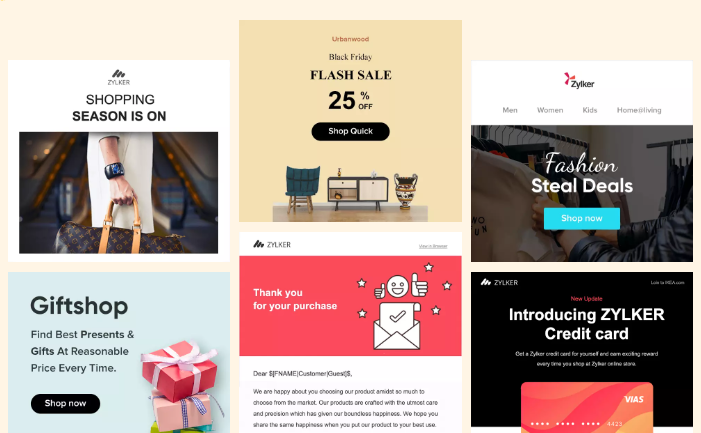 Zoho Campaigns provides professionally designed templates to choose from to create your emails. There are over 100 responsive email templates optimized for mobile devices.
You can customize the template colors, fonts, content blocks, and images. Templates are editable using a drag-and-drop builder. For further customization, you can edit the HTML source code.
Mailchimp offers a wide selection of professional, mobile-optimized email templates. There are over 250 free templates available.
Mailchimp also allows you to create reusable content blocks to maintain brand consistency across templates.
Winner: Tie
Both Zoho Campaigns and Mailchimp offer ample professionally designed email templates and easy drag-and-drop customization. Their template galleries are extensive, covering common email scenarios.
For most small businesses, the template options in both platforms will suffice without needing much custom HTML/CSS work. The two systems are evenly matched in email template features.
Segmentation
Zoho Campaigns allows you to segment your subscriber list based on various criteria to target your email campaigns.
You can create segments based on:
Email activity – opens, clicks, bounces, unsubscribes
Interests and preferences
Location
Contact info – company, industry, job title
Behavior – purchase history, order value
Date – member sign-up date, last order date
Segments can be used to create targeted emails, send to specific groups only, and customize content blocks in emails.
For example, you could send a coupon just to subscribers who haven't opened in over 3 months to re-engage them. Or send an email only to contacts labeled as VIP members.
Mailchimp has powerful segmentation features to group contacts based on various attributes. Segmentation allows you to target emails and tailor content.
You can segment your list based on:
Profile info – location, age, gender
Interest categories and groups
Purchase activity and order history
Email engagement – opens, clicks, etc.
Sign up date
Automation workflow steps
For instance, you could send a "win back" email campaign to lapsed subscribers by creating a segment for those inactive for 6+ months.
Overall, Mailchimp's segmentation provides deep targeting capabilities to create highly personalized, behavior-based email campaigns.
Mailchimp wins when it comes to segmentation and targeting email subscribers. Their breadth of attributes you can use to create segments gives superior flexibility. Segmentation helps boost engagement and conversions by delivering tailored, relevant messaging.
Analytics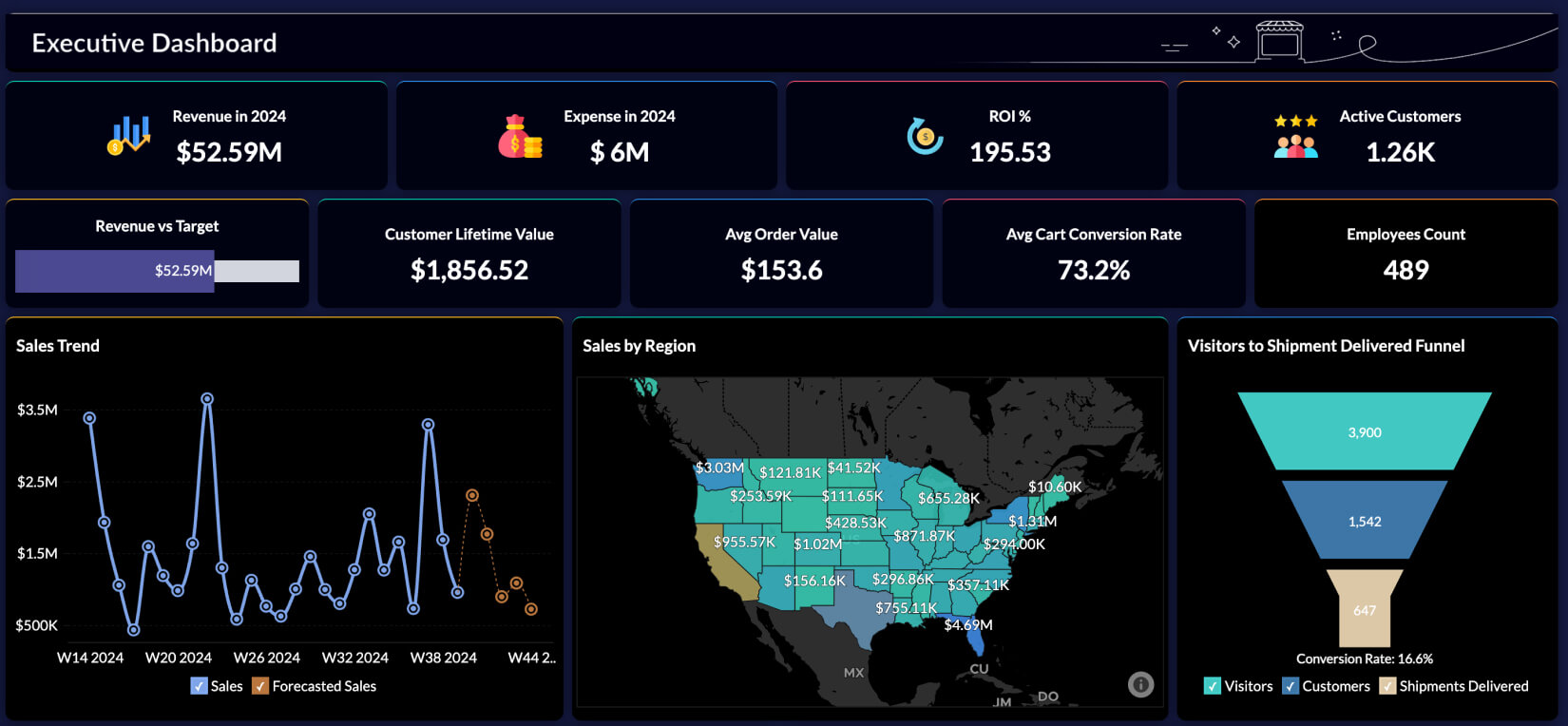 Zoho Campaigns provides robust email analytics to track and optimize your campaigns. Key metrics include sends, opens, clicks, bounces, clickthrough and open rates, link clicks by URL, activity by location, device, and client, and unsubscribe rate.
You can view analytics for individual emails or entire campaigns. Zoho integrates with Google Analytics to connect email data with your website analytics.
Reports can be scheduled and exported to share or for further analysis. Overall, Zoho Campaigns provides excellent analytics to assess email performance.
Mailchimp has powerful built-in analytics to track email campaign metrics. Key reports include email activity such as opens, clicks, forwards, unsubscribes, send and delivery data, click activity by link and content block, audience demographics and activity by location, device, and source, and campaign ROI reporting.
You can compare campaign performance over time and segment data by campaign, audience, and other filters. Mailchimp integrates with Google Analytics for full-funnel tracking.
The reporting provides deep insights to iteratively improve email content, segmentation, timing, and more. Custom-branded reports can be scheduled and exported.
Winner: Tie
Zoho Campaigns and Mailchimp offer robust email analytics and campaign reporting. Their core metrics and integration with Google Analytics allow in-depth tracking. For most small business needs, either platform would provide the necessary data to optimize email program performance.
3. Ease of Use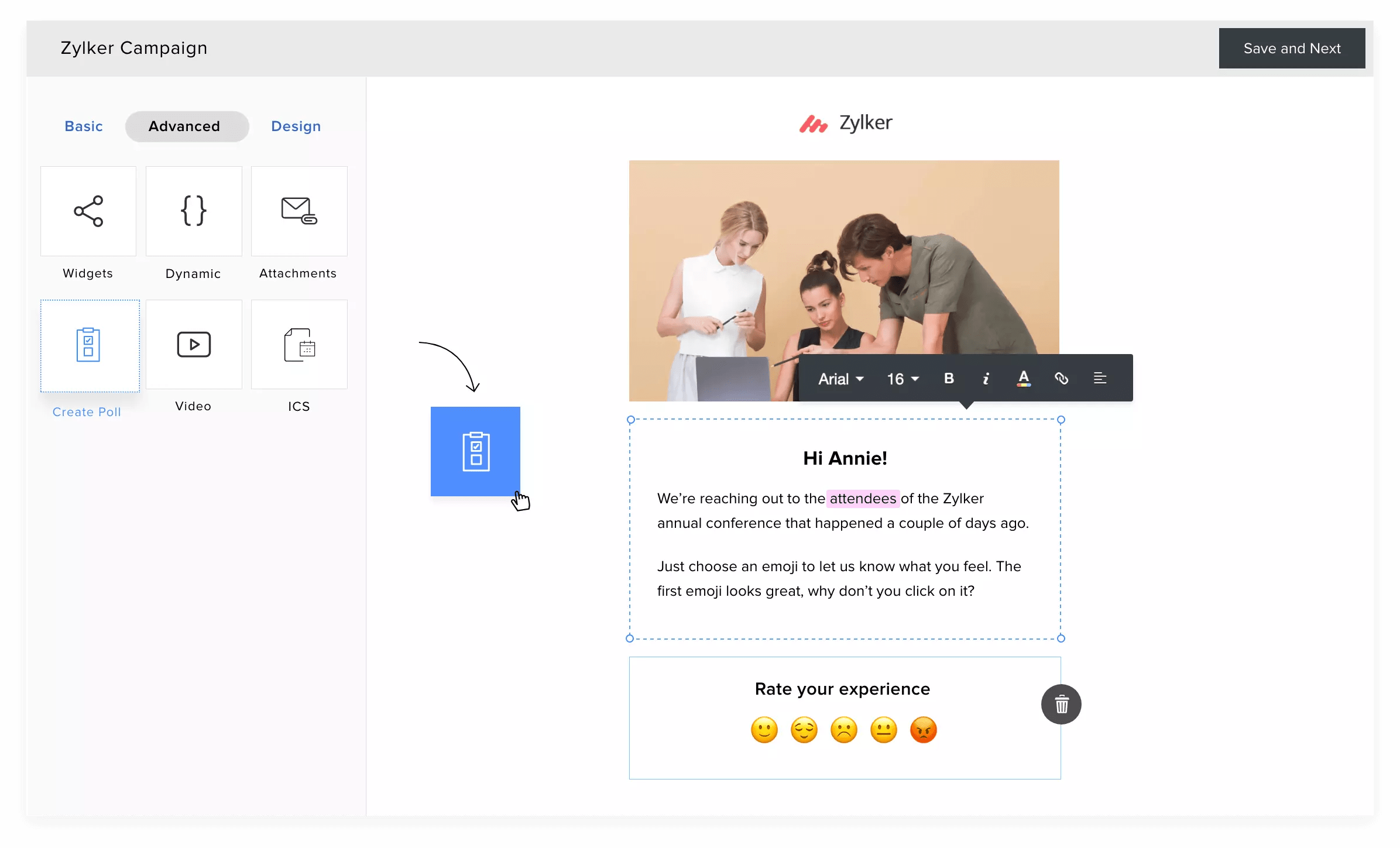 Zoho Campaigns has a clean, modern user interface that is intuitive to navigate. The dashboard provides easy access to key functions like creating broadcasts, viewing reports, and managing contacts.
For beginners, Zoho offers helpful prompts and tutorials throughout the platform to guide new users. Creating your first campaign is simple with their step-by-step workflow.
Mailchimp provides a simple dashboard interface that makes it easy for beginners to get started. Core functions like creating campaigns, adding contacts, and sending broadcasts are obvious.
Helpful tooltips explain features to new users. Mailchimp offers free email marketing courses and webinars for onboarding.
Winner: Tie
Both Zoho Campaigns and Mailchimp stand out for their highly usable interfaces and minimal learning curve. They make robust email marketing tools accessible for small business owners without technical expertise. Either platform would enable easy use for email marketers at any experience level.
4. Email Deliverability
Zoho Campaigns offers excellent email deliverability through advanced authentication methods like SPF, DKIM, and DMARC. This helps ensure your emails reach the inbox rather than spam folders.
They provide automatic list cleaning to remove inactive or bounced email addresses. You can see if an email address is considered risky before adding it.
Zoho monitors ISP complaint rates and reputation to proactively identify potential issues. They offer deliverability consulting services if needed.
Overall, Zoho Campaigns has a strong focus on optimizing email deliverability through both technical and reputation safeguards.
Mailchimp prioritizes email deliverability through advanced security protocols like DMARC and sender authentication. This helps achieve reliable inbox delivery.
They automatically detect high-risk and abusive senders to maintain a quality reputation. Mailchimp removes inactive subscribers and offers list audits to maximize deliverability.
In-depth analytics allow monitoring of email engagement and spam complaints. Support teams will help troubleshoot any delivery issues.
With their experience sending over a billion emails per day, Mailchimp has optimized its deliverability rates across major ISPs.
Winner: Tie
Both platforms provide excellent email deliverability through advanced security, sender reputation monitoring, and list hygiene. Zoho Campaigns and Mailchimp are matched in their focus on getting your emails reliably delivered to the inbox. For most small business needs, either solution would suffice.
5. Customer Support and Community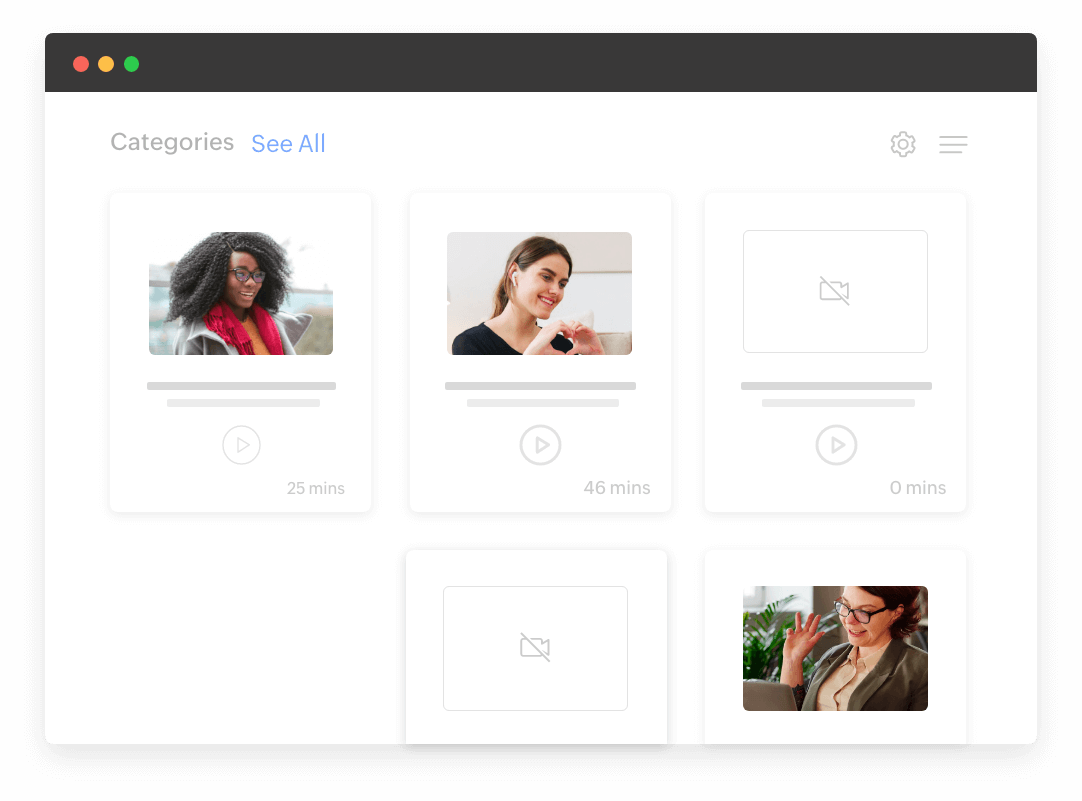 Zoho Campaigns provides 24/7 customer support via live chat, phone, and email. Support is available in multiple languages. They offer email and phone support with representatives that are knowledgeable and responsive.
Zoho also provides an extensive library of tutorials, webinars, and documentation for self-service help. Their blog and forums offer additional tips. Overall, Zoho Campaigns' stellar customer service and active user community foster easy troubleshooting.
Mailchimp offers 24/7 customer support through live chat, email, Twitter, Facebook, and phone. Wait times are typically very short. Their support representatives are friendly, knowledgeable, and thorough.
Mailchimp also offers an Academy with free email marketing courses and a comprehensive Knowledge Base for self-help. Their active blog and YouTube channel provide useful tutorials and tips.
Winner: Tie
Both Zoho Campaigns and Mailchimp provide exceptional customer support and have vibrant user communities. They offer numerous self-service resources like knowledge bases, blogs, and forums. For most small business needs, either platform would provide sufficient help resolving issues quickly.
6. Email Marketing Integrations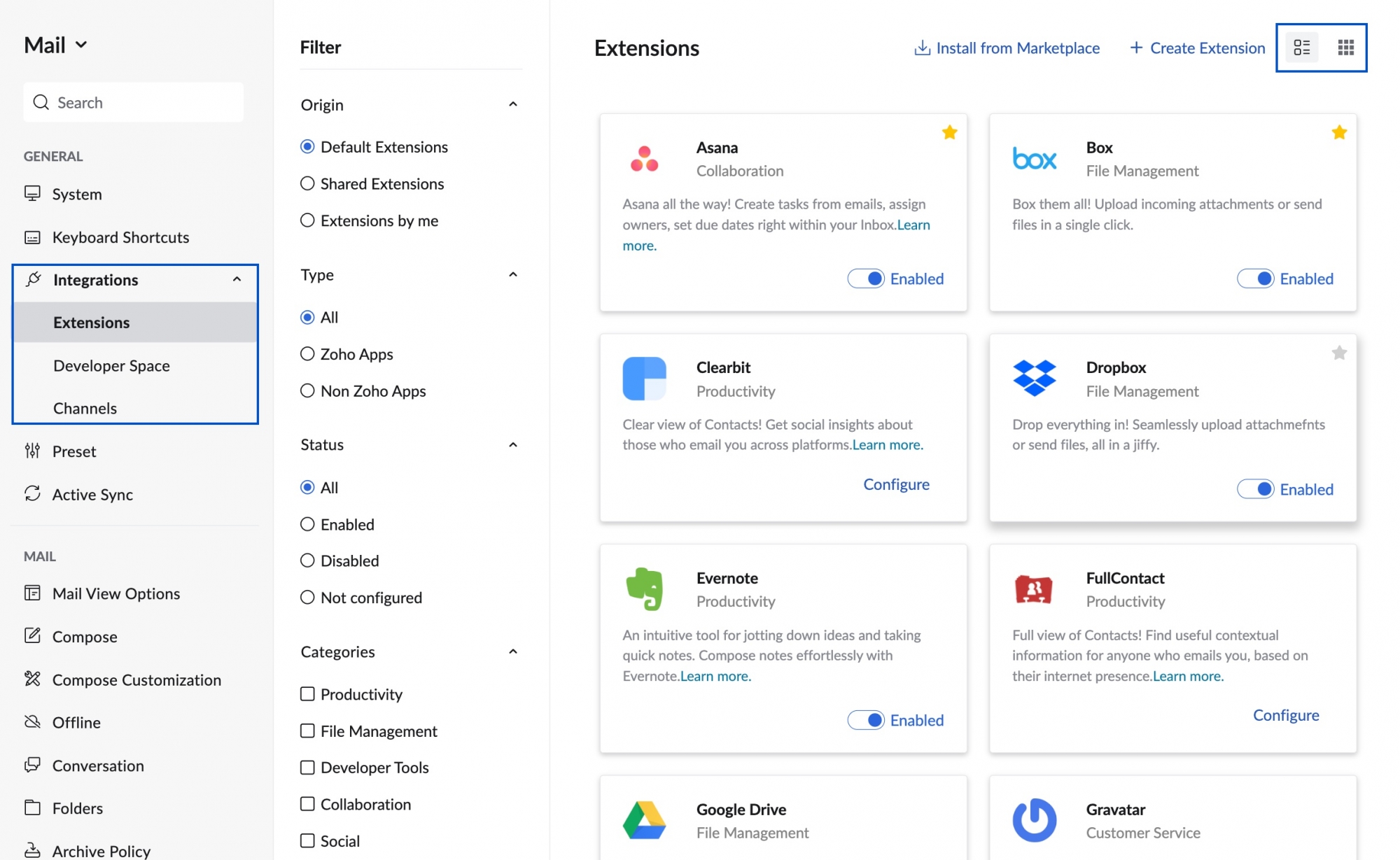 Zoho Campaigns integrates with 1000+ business applications, including SMS marketing software, CRM platforms like Zoho CRM to sync contacts, deals, and tasks, and e-commerce platforms such as Shopify, WooCommerce, and Magento.
It also integrates with webinar software including Zoho Meeting, GoToWebinar, Webex, survey tools like SurveyMonkey, Google Forms, Typeform, social media platforms such as Facebook, Twitter, and LinkedIn, as well as and web analytics tools like Google Analytics.
Mailchimp offers 250+ integrations with key apps, including SMS campaigns, ecommerce platforms such as Shopify, WooCommerce, BigCommerce, and Magento, CRM software like Salesforce, Zoho CRM, Pipedrive, analytics tools including Google Analytics, Mixpanel, and Kissmetrics.
Other integrations include social media networks like Facebook, Instagram, Twitter, and LinkedIn, customer support systems such as Zendesk, Intercom, Freshdesk, and form platforms like WordPress, Typeform, and Wufoo. Mailchimp focuses on integrations to sync contacts, campaign data, and ecommerce information.
Zoho Campaigns wins when it comes to integrations, offering native connections with nearly every major SaaS platform and business application, including an SMS gateway. Their breadth of integrations enables seamless unification of marketing, sales, support, and analytics data to further your marketing efforts.
7. Pricing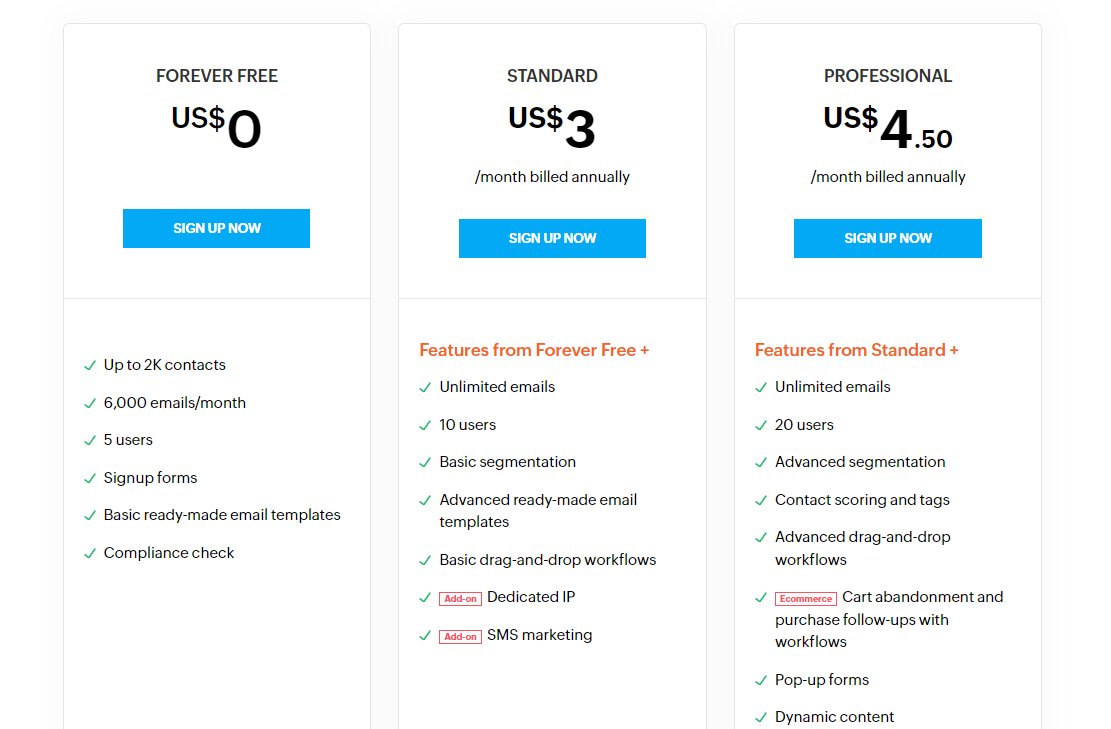 Zoho Campaigns has a forever-free plan and 2 premium plans:
Standard – $3/month for up to 1,000 contacts and an unlimited number of emails.
Professional – $4.50/month, up to 5,000 contacts, and advanced segmentation.
The Standard plan includes basic features like emails, automation, and reports. The premium plan adds more contacts, sequences, custom domains, and premium features.
Zoho Campaigns charges an affordable price and offers volume discounts if you pay annually. There is also a free plan for up to 2,000 emails per month. Overall, Zoho Campaigns provides strong value with competitive pricing.
Mailchimp has a free plan and 3 paid tiers:
Essentials – $13/month, up to 500 contacts
Standard – $20/month, up to 2,500 contacts
Premium – $350/month, up to 25,000 contacts
Lower plans have basic features, while Premium adds advanced automation and priority support.
Mailchimp charges per subscriber rather than a flat monthly fee. This can get costly for larger lists. But they offer free plans for up to 2,000 subscribers.
Overall, Mailchimp's pricing is reasonably affordable for small lists. But costs scale high with more contacts.
Zoho wins for its cost effectiveness and transparent pricing structure with monthly flat fees. The affordable entry plan sets Zoho Campaigns apart and accommodates larger lists more affordably than Mailchimp's per-subscriber costs. For budget-conscious users, Zoho is the best alternative as it offers greater value especially as your list size grows.
8. Reviews and Reputation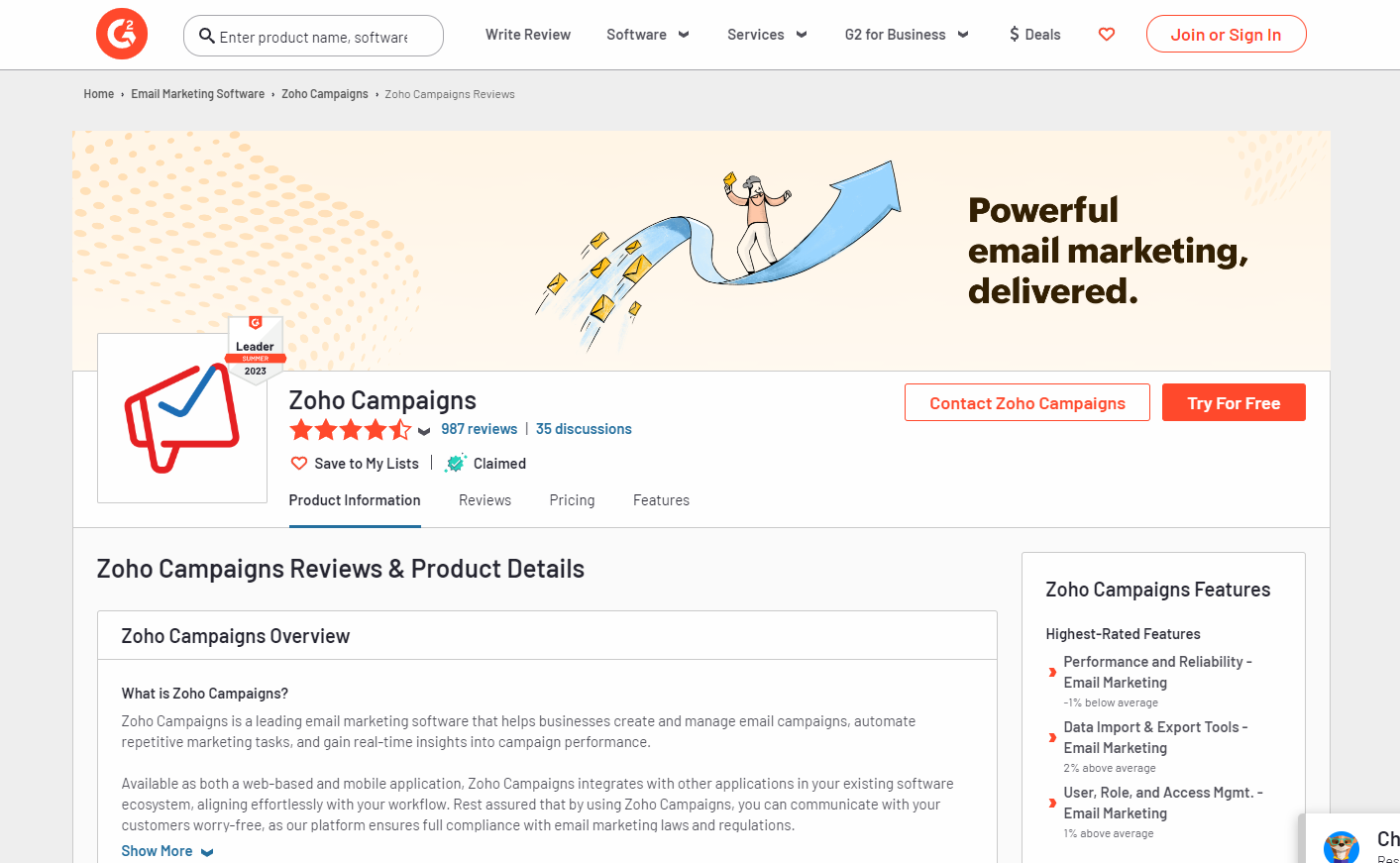 Zoho Campaigns earns positive reviews for its affordability, wide feature set, ease of use, and the ability to create best fit emails. Users praise the intuitive interface, segmentation capabilities, and strong analytics.
Some downsides mentioned include occasional glitches in the mobile app and a lack of native social media integration. But most reviewers on sites like G2 agree Zoho Campaigns provides powerful features for the price.
Mailchimp earns top marks for its simplicity, templates, and automation features. Reviewers on sites like G2 highlight the user-friendly interface, excellent deliverability, and top-notch support.
Potential drawbacks noted include the higher pricing for large contact lists and occasional glitches in complex workflows. But most reviews agree Mailchimp is ideal for beginners wanting an intuitive, full-featured platform.
With overwhelmingly positive reviews with details praising its ease of use and capabilities, Mailchimp edges out Zoho Campaigns in reputation. Many review writers consider Mailchimp the best email marketing platform for small businesses. But Zoho also earns great feedback, especially given its affordability.
9. FAQ's
How much does Zoho Campaigns cost?

Zoho Campaigns start at just $3/month for up to 1,000 contacts. There are higher tiers for more contacts and advanced features. They also offer a free plan, unlike many competitors.
Does Zoho Campaigns integrate with other software?

Yes, Zoho Campaigns integrates with over 1,000 other applications including CRM tools for advanced users, ecommerce, webinars, surveys, social media, and analytics tools.
Can I create automated workflows in Zoho Campaigns?

Yes, Zoho Campaigns provides robust automation for emails triggered by events like sign-ups, purchases, date-based campaigns, and more.
Does the Zoho Campaigns platform have mobile apps?

Yes, Zoho Campaigns offers iOS and Android mobile apps so you can manage your account on the go.
What does it cost to use Mailchimp?

Mailchimp starts at $13/month for up to 500 contacts. Pricing scales based on number of contacts, starting at $20/month for up to 2,500 subscribers.
Can Mailchimp integrate with my ecommerce store?

Yes, Mailchimp offers direct integrations with all major ecommerce platforms like Shopify, WooCommerce, Magento, etc.
How easy is Mailchimp for beginners?

Mailchimp is designed to be very user-friendly for email marketing beginners. The platform has an intuitive interface and helpful educational resources.
Does Mailchimp offer templates?

Yes, Mailchimp provides over 250 professionally designed email templates that are customizable and mobile-optimized.
Final Thoughts
Zoho Campaigns is a critical tool for small businesses wanting an affordable but full-featured email marketing platform. With its competitive pricing, deep integrations, and multi-channel marketing capabilities, Zoho Campaigns is a great choice for companies wanting robust functionality on a budget.
If you need comprehensive email marketing tools without high costs as your list grows, Zoho Campaigns is an excellent solution.
Mailchimp is the perfect platform for beginners wanting a user-friendly, intuitive introduction to email marketing. With its extensive educational resources, mobile optimization, and automation focused on ecommerce, Mailchimp excels at helping new email marketers get started. If you need an easy-to-use platform that simplifies complex capabilities, Mailchimp is a great choice.
You may also be interested in checking out some Mailchimp alternatives to help with the evaluation process.