Wix and Squarespace are giants in the website creation industry. Both are well-established companies with millions of users across the globe.
I have personally used both website builders in creating some of my sites and I can safely say that they are excellent solutions for building a website.
But, although similar in a lot of ways, these two powerful platforms have some distinct differences that make them ideally suited to different types of users.
I've spent 15 hours reviewing and comparing the two platforms in terms of ease of use, design and customization, eCommerce capabilities, and more.
Read the rest of this Wix vs. Squarespace comparison where I dive deeper into each platform's features and functionality to help you discover which site builder best fits your needs.
1. Ease of Use
Before you start your online journey, it's incredibly important that you choose a website builder that is easy to use. That's why I've decided to start this Wix vs. Squarespace comparison by comparing how easy (or not) these two website builders are.
I've seen too many people waste weeks and even months trying to figure out how to build their websites.
If you want to avoid this common pitfall, it's important to choose a website builder that is easy to use.
Let's take a look at how Wix and Squarespace stack up.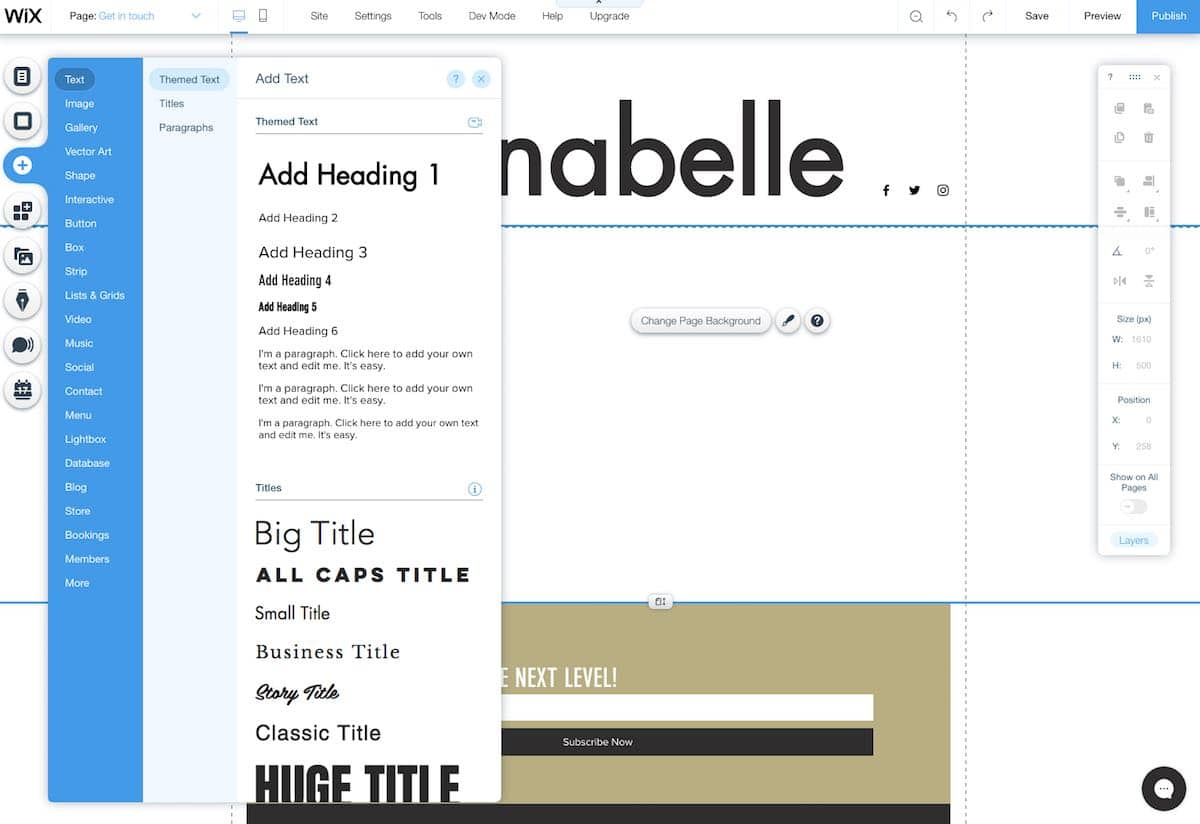 Wix has a beginner-friendly editor, Wix ADI that automatically populates your website by asking you a few simple questions to collect crucial information about your new site.
Once your site is created, you can use the Wix Editor to customize the content and layout to better suit your needs.
This requires some basic technical skills. So while the setup wizard is relatively easy to use, you still need to know a little bit about website building to tweak and edit the content.
For example, you may need to insert different types of elements or sections like testimonials, galleries, calendars, etc. onto the page and move them around as appropriate.
Wix's unstructured website editor allows you to create your website with pixel-perfect accuracy. You get ample options to create and customize your pages. With dozens of icons and buttons to choose from.
The platform is a dream – if you're an experienced website creator.
But, for a total beginner, the sheer number of choices can be overwhelming and unless you know what you're doing, you'll find it very hard to maintain a consistent look across your entire website.
For this reason, it's important to create some sort of style guide when using Wix so you can keep your branding consistent across all your pages.
So, for example, you might choose specific typography, design, and colors to use on all pages. You can then customize each page whenever necessary using the different strip choices that Wix provides.
Summary of Wix's Ease of Use Features:
All-in-one website-building experience, including hosting and domains
Easy website management from an intuitive interface
Artificial design intelligence for quick and easy website setup
Powerful classic editor with drag-and-drop technology
Unstructured editor for total design freedom
Mobile-optimized templates
Built-In SEO tools for quick search engine rankings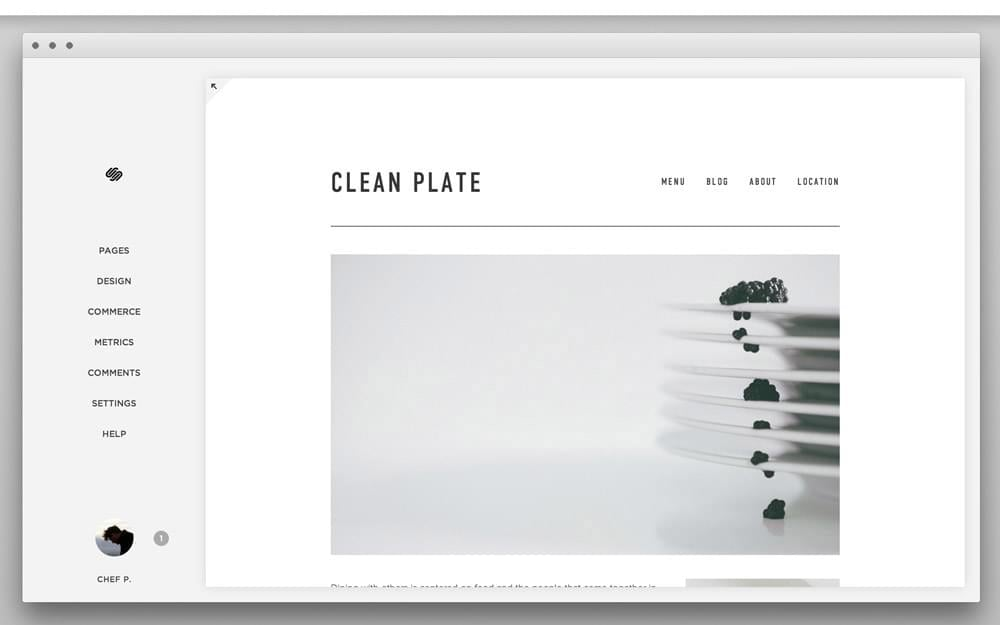 Squarespace has a structured page editor that makes it easy to create a website with no technical experience.
There's also a wide selection of Squarespace templates to choose from, making it easy to build a fll site with no technical knowledge.
Non-designers may find Wix's unstructured editor a little frustrating as it requires some technical skill. Squarespace, on the other hand, makes it significantly easier to build a website if you don't have any technical knowledge.
For example, when you use Wix to build a website, you get the option to move things around, in and out of the grid line. However, if you move something out of the grid line, the elements may not be visible or accessible on some devices.
This is a problem you won't experience with Squarespace. Every change you make translates to all devices, which means your Squarespace site will look good no matter how or where it's viewed.
Not only is the Squarespace editor easy to use, but you also get a handy beginner's tutorial when you log in to your dashboard for the first time.
You'll get a checklist to take you from the first step until you launch your website.
Regardless of your experience level, Squarespace's intuitive editor makes it easy for you to get through the entire website-building process without having to put much thought into all the different elements necessary to build a fully functional website.
Summary of Squarespace's Ease of Use Features:
All-in-one website-building platform
Built-in website management tools, no plugins necessary
Free, unlimited website hosting
Intuitive drag-and-drop design system
In-depth tutorials for getting started
Winner: Wix
Both Wix and Squarespace have a lot going on in terms of website-building features. But, Wix is the clear winner thanks to its versatile range of features, including an intuitive page builder and classic editor.
In fact, Wix's page editor is one of the biggest differences between the two platforms. It's unstructured, which makes it easy to create a site that looks exactly the way you want.
Of course, if simplicity is what you need, then you may prefer Squarespace's editor which is structured and significantly easier for beginners to use.
2. Design and Customization
Custom website design gives your site a more professional look. It makes it easier to tailor your website to your visitors' needs so they can navigate it easily.
Custom web design also allows you to showcase important information so it's easier for readers to find (and act upon).
Let's see how Squarespace and Wix compare in terms of website design and customization.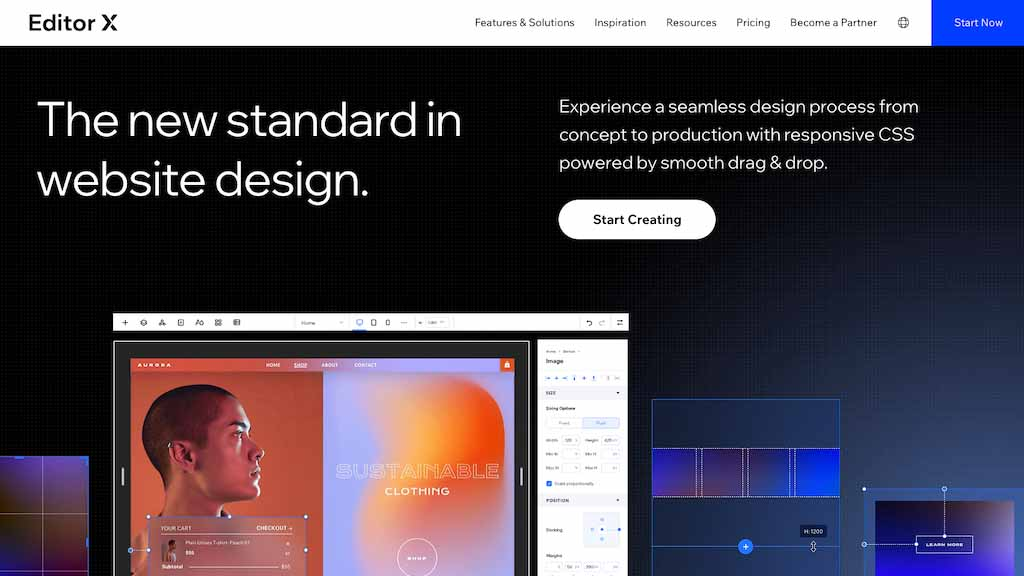 Compared to Squarespace, Wix has a wider range of templates. There are over 800 unique Wix templates to choose from. This means you don't have to build your new website from scratch.
Simply pick a template you like, and you can then customize it fully to look and function exactly the way you want.
Wix makes it easy to change your website page design. You can choose from a range of layouts and styles and then adjust colors, corners, borders, and other elements to transform the template.
You can change so many different elements in any of Wix's templates that it would be nearly impossible to tell which original template a page was created from.
Wix has two entirely different page editors that you can use depending on your skill level.
The first is an AI-powered editor, Wix ADI, which builds an entire website for you from scratch in just seconds.
All you have to do is answer a few quick questions about the type of site you want, then you can sit back and watch the Artificial Design Intelligence do its thing.
The other is the highly flexible classic Wix editor which comes with all the features you need to build a fully customized website.
You'll also find thousands of integrations on the Wix App Market to further expand the functionality of your website – all within reach inside your dashboard.
In short, this site builder is a comprehensive solution that lets you do everything from one convenient place.
Summary of Wix's Design and Customization Features:
Over 800 high-quality templates to choose from
Video backgrounds available
Royalty-free video and stock photography library
Editor X page builder for responsive websites
Robust customization options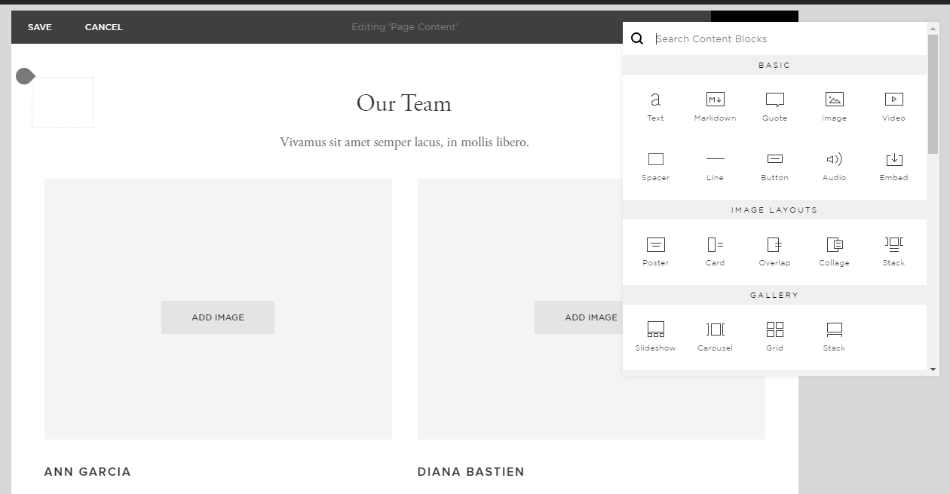 When it comes to website templates, Wix offers quantity whereas Squarespace offers quality. The platform has some of the most stunning templates in the industry.
Unlike Wix, Squarespace focuses mainly on simplicity. If you can click a mouse, you can build a stunning blog, online store, or any other type of website. It's my firm belief that you'd have to work really hard to create a bad-looking website with Squarespace.
The simplicity of this site builder makes it the perfect tool for anyone who wants to take the path of least resistance to completing their website.
Of course, the cost of such ease means you have to sacrifice some level of customization.
If your goal is to build a small business website with basic functionalities, then this software can handle it smoothly.
But, for more complex websites, you may require a site builder like Wix which comes with more robust features and tools.
Having said that, it's important to note that Squarespace is continually making improvements to its editor.
For example, the previous version of Squarespace only allowed users to move elements around on the page and reformat image layouts by changing the design settings. So, for instance, you could create a collage or make images overlap.
However, the newer version, Squarespace 7.1, allows you to use the Fluid Engine, Squarespace's latest editor technology, to drag and drop elements with more creative control.
This editor is perfect for anyone who finds the simplicity of Squarespace classic editor a bit restricting.
Although the main focus of this site builder is on simplifying the site-building process, those with coding knowledge can still go the extra mile to tailor backgrounds, colors, and forms for a truly unique website.
One of the features I like about Squarespace is that it allows you to add video backgrounds to your pages. You can create a background using an embedded video or one that you upload yourself.
There's also a stock photography library where you can browse a massive selection of free images to use on your website. If you need additional images, you can purchase them easily thanks to the Shutterstock integration on the platform.
Summary of Squarespace's Design and Customization Features:
Modern, clean, and aesthetically pleasing templates
Massive selection of typefaces
Fully responsive templates
Fluid Engine for complete control over mobile and desktop versions
Getty Images integration for high-quality stock photos
Winner: Tie
Wix offers an exceptional website-building experience for users of all skill levels thanks to two powerful editors.
The classic editor gives you a well-stocked toolbox so you can unleash your creativity, whereas Squarespace gives you a straight path to a fully functional website.
Although Squarespace has a smaller range of templates, they are all highly flexible and of consistently better quality than those you'll find on Wix.
So, the bottom line is one site builder is only better than the other depending on your needs – extreme simplicity (Squarespace website) or robust customization Wix website).
3. eCommerce Capabilities
The next feature we'll be comparing in this Wix vs. Squarespace comparison is eCommerce capabilities.
Both Wix and Squarespace have built-in eCommerce features with everything you need to create and manage your online store – from templates and inventory management to discounts, product variations, automatic taxes, and more.
There are also advanced features that you can unlock as your store grows. Let's take a closer look at each site builder's eCommerce functionalities.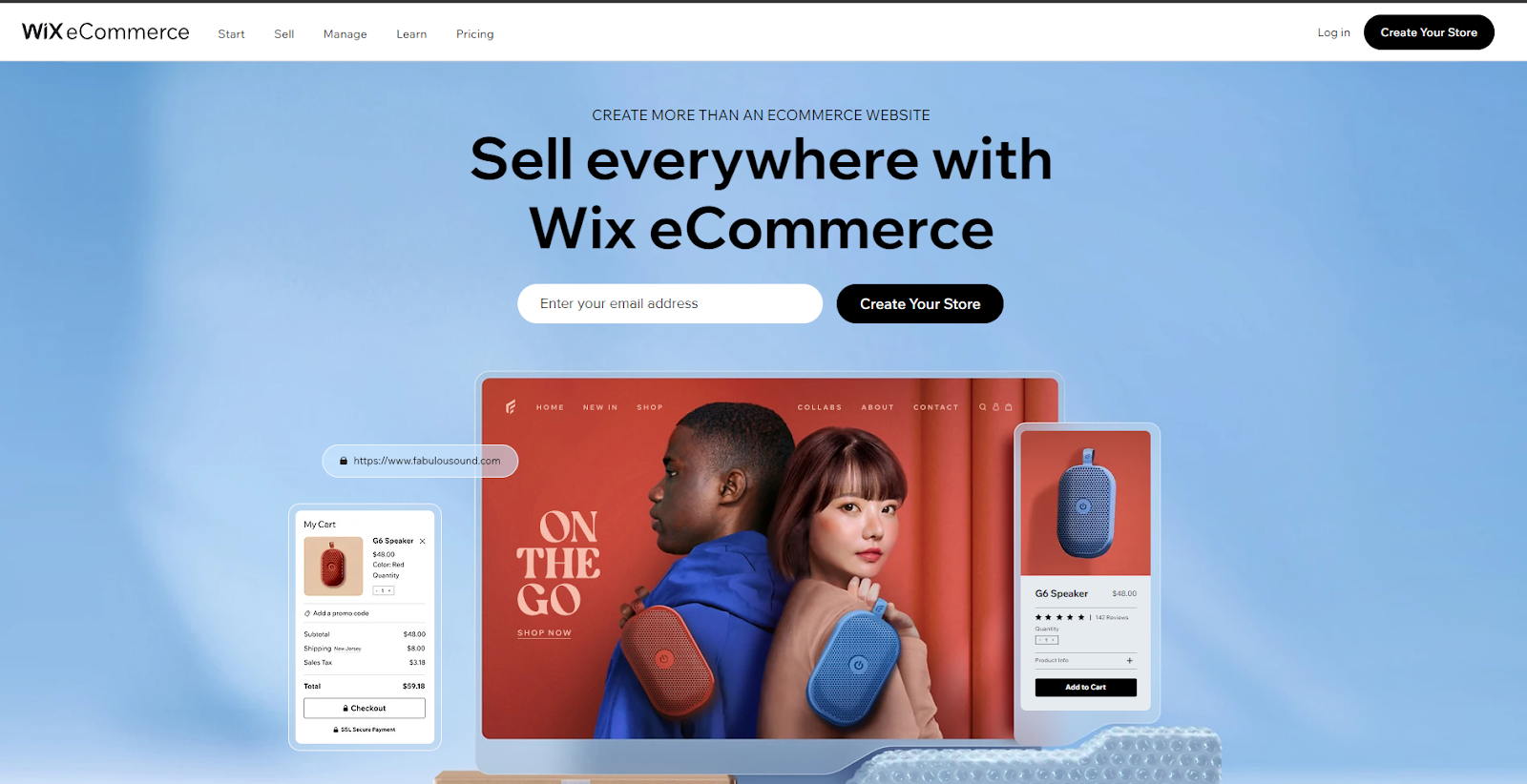 Wix is an all-in-one platform with powerful eCommerce features to help you grow your online store.
The eCommerce website builder comes with a range of pre-made store templates so you don't have to build your online shop from scratch.
You'll find plenty of professionally designed store templates with built-in eCommerce functionality so you don't have to integrate third-party apps.
For example, there are built-in tools for seamless inventory management, catalog management orders, marketing, and payments.
You can also get custom functionality with APIs.
Choose a template to suit your industry and customize it to match your brand. List your products, connect your payment methods, and you're ready to start promoting your products to a global audience.
You can sell on multiple sales channels, including web storefronts, mobile platforms, social media channels, and online marketplaces.
You can even sell in physical stores using the powerful point-of-sale (POS) system.
On Wix, you can have digital products as well as physical products. You also have the ability to sell recurring payment products. You can use gift cards, coupons, and discounts to entice more sales.
Wix also has Instagram shop tagging and an automated cart recovery feature to help you get back some of your lost income from visitors who leave your store before completing their purchase.
You can manage everything from shipping and payments to marketing and more from a single unified dashboard. This means that you can start, launch, manage, and grow your online business from one place.
eCommerce selling doesn't get any easier than this.
In case you need help building your online store, Wix also has a well-stocked knowledge base filled with how-to guides and video tutorials to help you build a successful eCommerce business.
Whether you're starting from scratch or you're an established seller who wants to stay on top of the industry's happenings, you'll find information here to keep you inspired.
Summary of Wix's eCommerce Features:
Scalable platform to handle high-volume sales
Automated cart recovery
Robust point-of-sale system
Recurring payment products
Instagram shop tagging
Enterprise-grade security for maximum protection
Multichannel sales management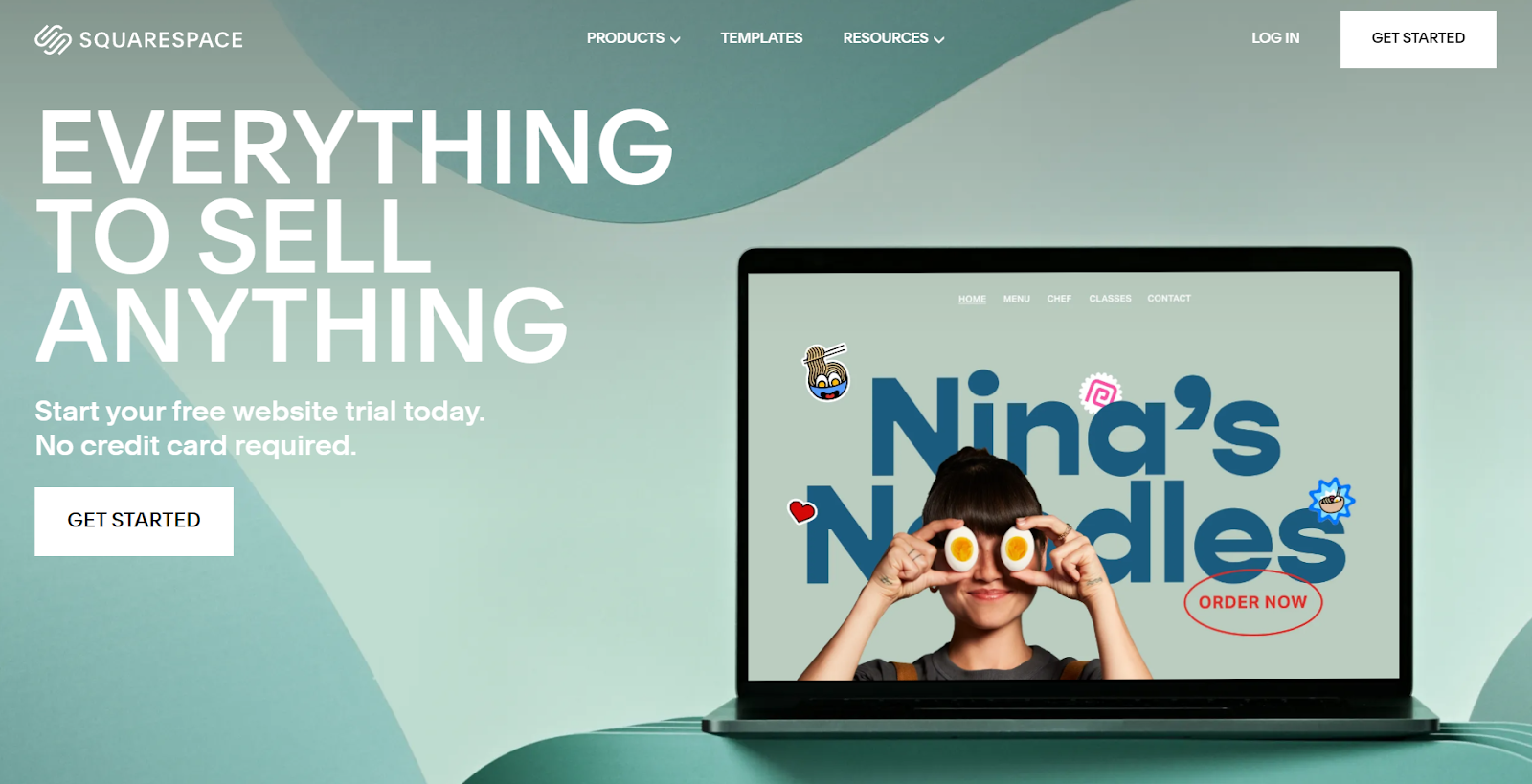 Squarespace has robust eCommerce features to help you create a professional online store.
As it says on the website, you get everything to sell anything.
You can choose from a wide range of modern store templates – all of which are fully customizable for a truly custom design.
Sell everything you want, including physical products, digital products, services, subscriptions, and more.
One eCommerce feature that differentiates Squarespace from Wix is that you can add sophisticated forms to your products.
This allows you to ask for more information from customers before they checkout. Choose from multiple field types, including:
Dates
Phone numbers
File uploads
Text fields
… and more.
That's not all. Squarespace also has a more advanced system for managing inventory, tax, and shipping.
The product editor is significantly better than the one on Wix and you can access the CSS stylesheet to add lines of CSS to your website.
You can do this using the dedicated CSS editor which lets you make edits visually – something that you wouldn't be able to do using the standard controls on the platform.
With this tool, you can customize your website in more ways than you'd be able to if using a platform like Wix.
In addition to getting a unique storefront, you also get secure online payments, and various other tools to power your web store.
With all these and other eCommerce tools on offer, it's easy to see why so many people consider Squarespace to be one of the best eCommerce website builders out there.
Summary of Squarespace's eCommerce Features:
High-quality digital storefront templates
Access CSS via a dedicated CSS editor
Industry-leading web store infrastructure and security
Faster speed for an enhanced online shopping experience
Scalable eCommerce store platform
Winner: Wix
Both platforms are powerful when it comes to eCommerce. But, if I have to choose a winner, it has to be Wix.
While Squarespace has a number of advanced features that you won't find on Wix, such as the integrated product forms, Wix has better selling tools overall.
It's extremely easy to add eCommerce functionality to support business operations, and you can also install a wide range of apps on your Wix site from the platform's massive app store.
4. Blogging Tools
When building a website or eCommerce store, it's always a good idea to integrate a blog to help you drive more targeted traffic to your products.
Let's see how these two platforms compare with regard to their respective blogging features.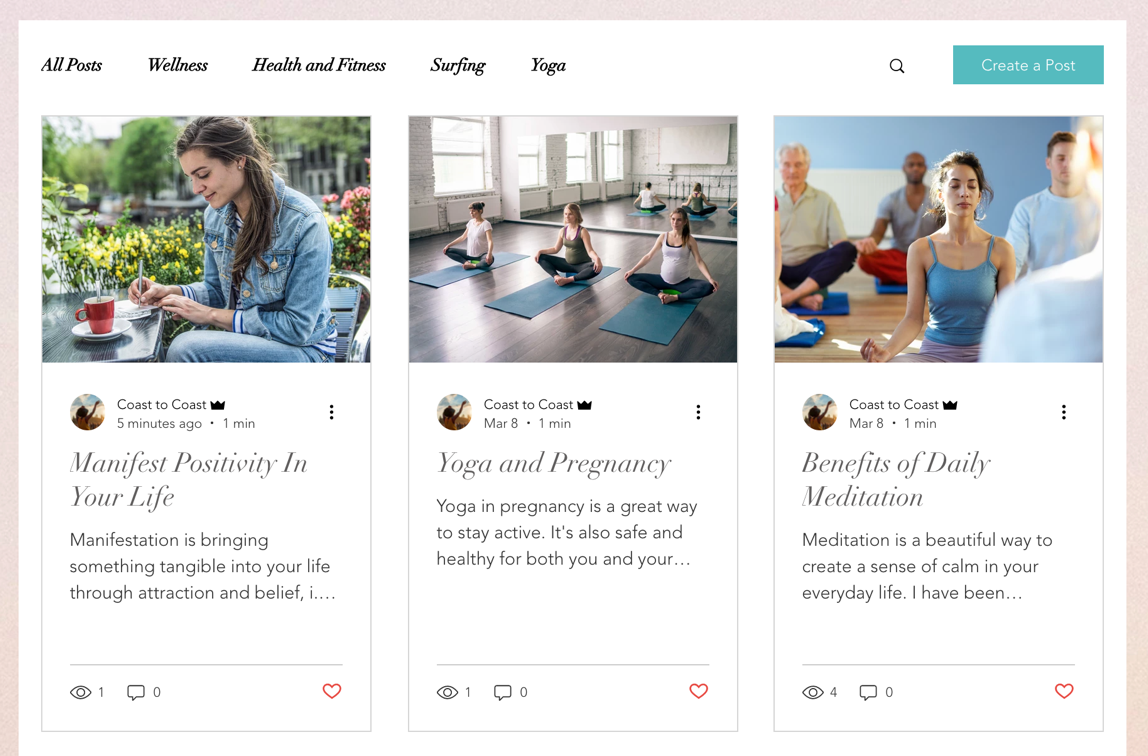 Wix has features that allow you to create an inspiring blog so you can maximize your website's potential. Starting a blog is quick and easy, and you can even use the platform's artificial intelligence to do it for you.
Wix blogs are responsive and mobile-friendly. They make your content easily accessible on any device.
You can set featured posts or pinned posts which are sticky posts that appear at the top of your regular blog feed even when you post new articles.
Features posts can appear on any page of your website that you choose, and you can even add a custom feed to ensure that your readers don't miss any important posts.
You have the option of a members area which you can use to give your blog subscribers access to various features, including the ability to login and access premium content, create a public profile, comment on your blog posts, and more.
You can customize the look of your posts list on your blog page. To do this, simply click the "display" tab and choose the information you want to show on your post list. Alternatively, you can click the "layout" tab and choose the preset layout.
Customize it using the available options. For instance, you can change the thumbnail image, text alignment, spacing, and other elements to make your blog page unique.
You'll find plenty of other design options that let you change everything from colors and fonts to hover settings, text styles, category labels, and video settings in your Post List.
All in all, Wix provides you with a complete solution to build your business website and blog.
Be it sports, religion, travel, food, or fashion, Wix lets you create a stunning blog to suit your personal style a brand.
Your Wix dashboard has all the tools you need to grow your community and promote the topics you love.
You also get advanced SEO and marketing tools to ensure that your content is found online by your target readers.
Summary of Wix's Blogging Features:
Free hosting for your blog
Powerful content management features
Easily edit title tags, image attributes, and meta-descriptions
Fully mobile-responsive blog
Powerful SEO features, including automated XML and HTML sitemaps
Advanced integrations to drive more blog traffic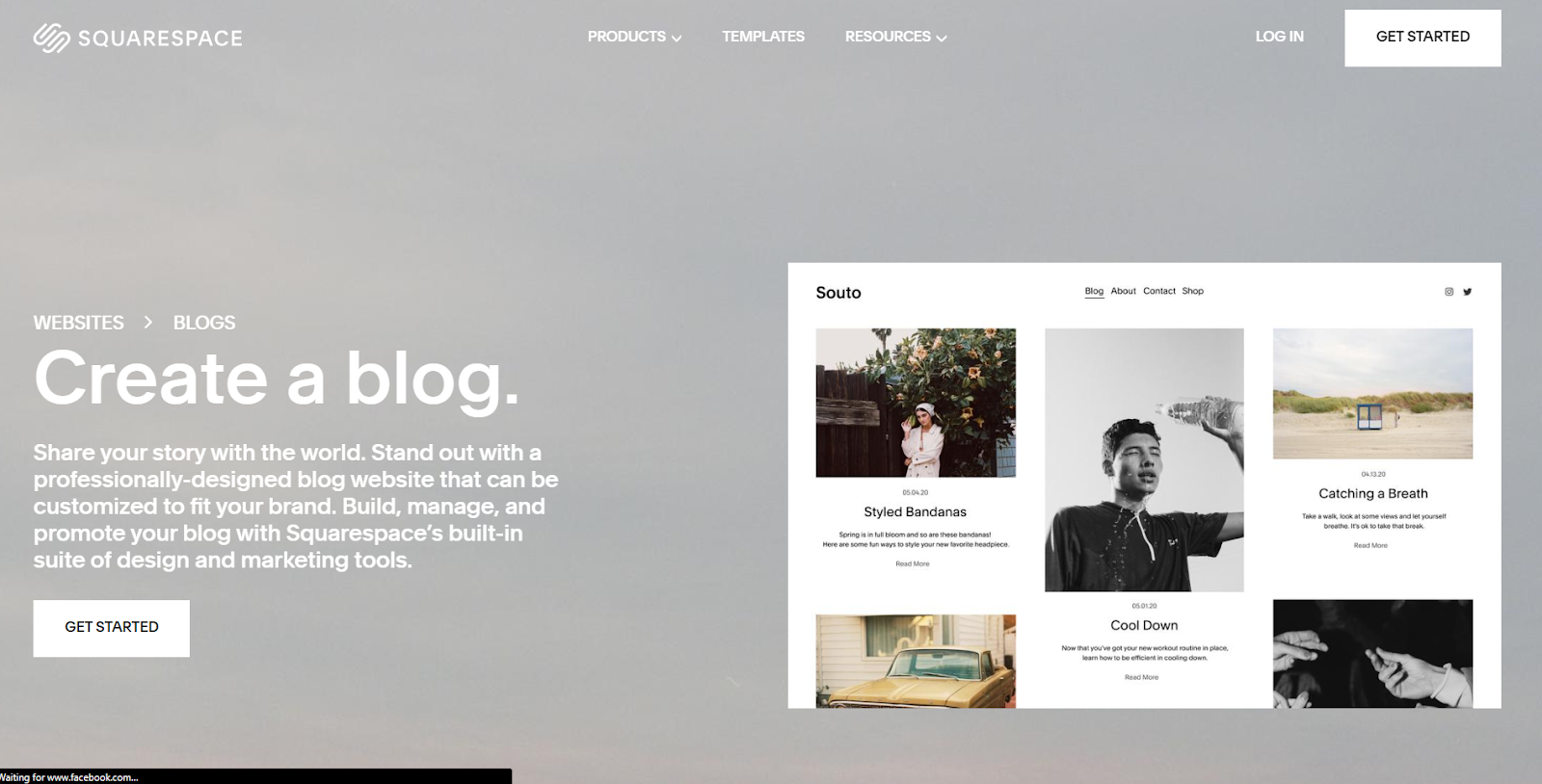 Squarespace has better blogging tools than Wix. In addition to all the fundamental blogging features like categories, tagging, drafts, comments, and user roles, the software also gives you advanced features for things like Google AMP support and more.
You also get robust SEO features, including URL, title, and description, as well as social sharing tools to make it easy for you to share your content with your audience.
There are endless design options to give life to your vision. Your blog can look however you want.
Choose from the platform's flexible blog layouts and custom color pallets to create a unique blog that speaks to your target audience.
You can have a side-by-side blog, single-column blog, grid blog, or masonry blog – whatever takes your fancy.
Use images from the platform's huge library of high-quality stock images to make your blog more attractive. There are also built-in photo editing tools so you don't have to look for an additional tool to enhance your images.
Like Wix, Squarespace has a member area feature that allows you to generate revenue from your premium content. This means you can monetize your blog with video series, podcasts, paid newsletters, and more.
Summary of Squarespace's Blogging Features:
User-friendly blogging and content management system
Cloud hosting for your blog
Built-in SEO features for online visibility
Easy social media sharing tools
Members area for monetizing content
Although both platforms have robust blogging functionality, Squarespace wins this one because it has more built-in SEO features to help you rank your content faster.
Wix is a lot weaker in terms of search engine optimization, with its biggest weakness being its inability to properly render mobile versions of your website.
5. Search Engine Optimization Tools
Having an attractive website is redundant if your content doesn't appear in search results.
For you to gain organic traffic, you need a website builder with powerful search engine optimization tools to help you rank high on Google and other search engines.
Let's see what types of SEO features each of these site builders have to offer.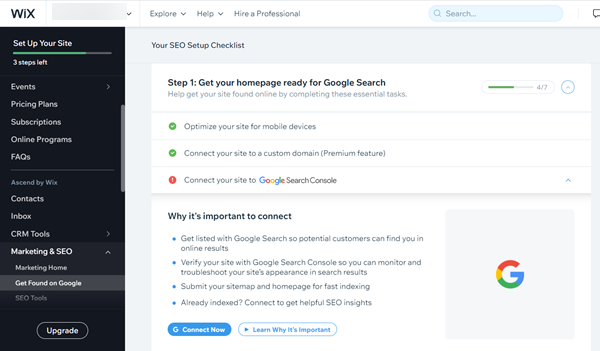 Wix has all the search engine optimization tools we've come to expect from a website builder of its caliber, including structured data markup, URL customization, server-side rendering (SSR), and custom meta-tags
There's also a range of advanced SEO features available to use. If you don't know how to leverage any of these features, never fear. You get an SEO setup checklist, and there's also the Wix SEO Wizard to guide you through the entire process of optimizing your website..
Summary of Wix's SEO Features:
Built-in basic and advanced SEO tools
Powerful website analytics for actionable growth insights
SEO Wiz and tailored SEO checklist to get your site indexed fast
SEMRush integration to find high-ranking keywords for your website
SEO API for developers to customize client-side code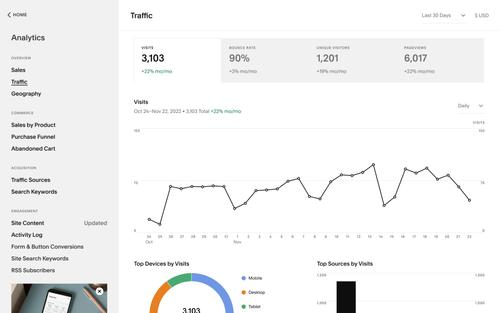 Squarespace has a range of SEO features to help you build your website the right way. Every square space website and web store comes with built-in mobile optimization, clean URLs, SSL security, and various other SEO settings to hit the ground ranking.
Like Wix, Squarespace also offers a range of advanced SEO tools that you can leverage to optimize your website for search. You'll find all the SEO page settings available on your dashboard, from page titles and descriptions to image settings, site maps, automatic markups, and more.
Summary of Squarespace's SEO Features:
Powerful built-in SEO features for pages and items
Built-in mobile optimization
Social image-sharing control
Settings to hide pages from search engines
SEO checklist for best practices
Google search console integration for valuable visitor data
As previously noted, Wix has weaker SEO features compared to Squarespace. It doesn't offer truly responsive websites unless you use the more advanced Wix editor. On the other hand, Squarespace offers responsive design by default which means you don't have to worry about this aspect of your SEO when building your website.
6. Community and Support
Support is another important factor to consider before choosing the best website builder. You want to choose a platform that offers robust support through a number of different channels.
Better yet, you want a site builder that has a vibrant community of users, developers, and creators with whom you can connect and learn from.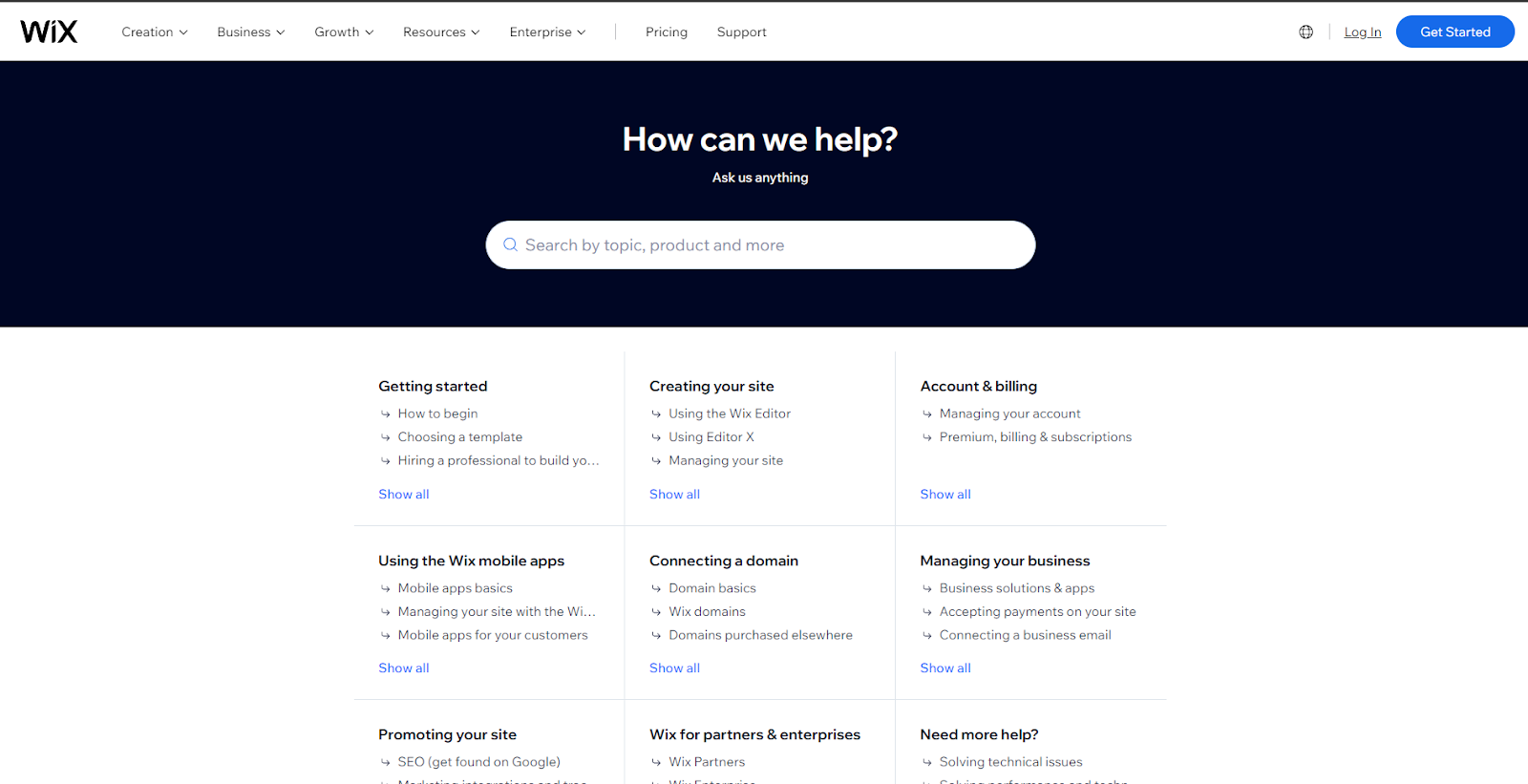 Wix has a well-stocked knowledge base with documentation to answer some of the most commonly asked questions concerning the use of the software. You can get in touch with the support team during the week between 5 AM and 5 PM PT via live chat or email. If you're on the VIP plan, you get priority phone support 24/7.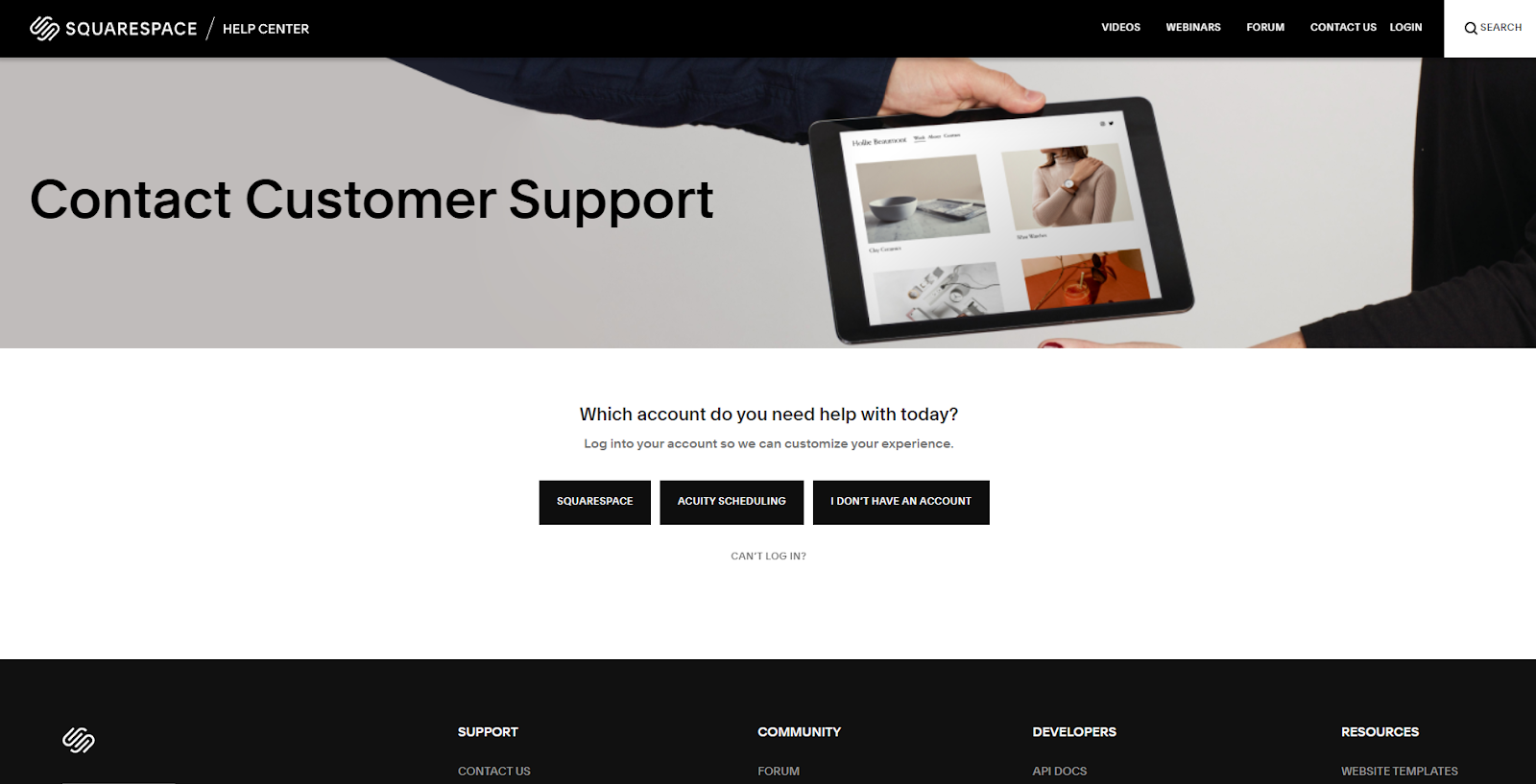 Squarespace offers support through chat, phone, and email. There's also a well-curated help center where you can search for any topic you need assistance with.
Log into your Squarespace account to customize your help experience. There's also a community of users where you can connect with other Squarespace users and chat on the forum or social media.
Winner: Wix
Both platforms offer prompt, knowledgeable support in a number of ways, so we'll call this one a tie.
7. Pricing
Pricing is yet another important consideration. You want a website builder that provides you with all the features you need at an affordable price. Here's how Wix and Squarespace compare in the pricing department.
Wix offers a range of plans to suit different needs. There's a free plan that you can sign up for, but it's quite limited in the number of features available to you, and it comes with Wix ads.
You can also sign up for a free trial to test out the core features of each of the premium plans.
Here's what each plan entails:
Free Plan: $0/Month: Weeks has a free plan that you can use for as long as you want. You get a free subdomain and up to 500 MB of storage and bandwidth. Customer support and online payments are not included and you can't connect a custom domain or third-party integrations like Google Analytics unless you upgrade to one of the premium plans.
Combo Plan: $16/Month: This plan is ideal for personal use. It comes with a custom domain, a free SSL certificate, and 2GB of storage space. You can host up to 30 minutes of video.
Unlimited Plan: $22/Month: The Unlimited plan comes with everything in the Combo plan + 5GB of storage space, one-hour video, and a visitor analytics app. This plan is ideal for entrepreneurs and freelancers and comes with a Google Ads budget to help promote your business.
Pro Plan: $27/Month: The Pro plan is ideal for complete online branding. It comes with all the features in the Unlimited plan, as well as 50GB of storage space, two hours of video, an events calendar app, and over 40 different sizes of your logo ready to use on various social media channels.
VIP Plan: $45/Month: This plan has everything in the Pro plan, as well as 100GB storage space, 5 video hours, and priority customer care. If you value first-priority support, then this plan is ideal for you.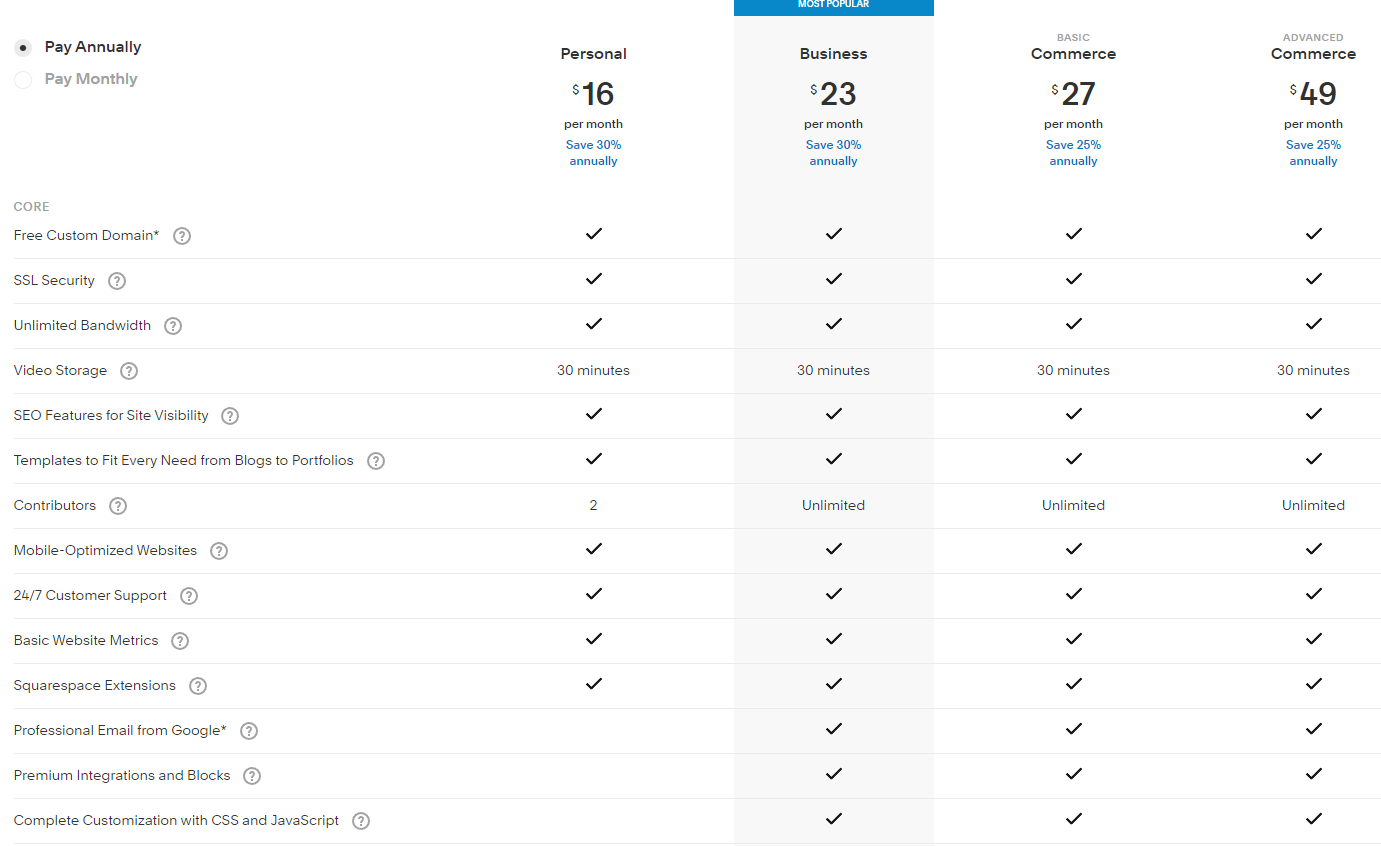 Squarespace has four growth-focused plans to choose from. They are as follows:
Free Trial: $0/Month: You can sign up for a free trial to test out the platform's core features. No credit card is required, and you'll be able to publish a website on a subdomain. However, this free trial is limited in the number of features you have access to, which is why it's a good idea to upgrade to one of the premium plans if you want to build a professional website.
Personal Plan: $16/Month: If you opt for the annual website plan, you get a free custom domain for the year. This plan also comes with SSL security, unlimited bandwidth, and built-in SEO features for website visibility.
Business Plan: $23/Month: The "Business" plan includes everything in the "Personal" plan + unlimited contributors, professional email from Google, premium integrations, and promotional pop-ups and banners. You also get access to Squarespace Video Studio App to help you create and share engaging videos.
Basic eCommerce: $27/Month: This plan includes everything in the "Business" plan + 0% transaction fees, although it's important to note that your payment processor may still apply its own transaction fees. This plan also includes product reviews, customer accounts, products on Instagram, and point-of-sale which allows you to sell in person using the Commerce app.
Advanced Commerce: $49/Month: The Advanced Commerce plan has everything in the "Basic eCommerce" plan + abandoned cart recovery features, and the ability to sell subscriptions. You also get advanced discounts, advanced shipping, and commerce APIs.
Winner: Wix
The winner here is Wix because it offers a free plan whereas Squarespace does not.
Of course, you can get a time-limited free trial to test out Squarespace and see if the site builder is right for you. But, with Wix, you can use the software for free forever and only upgrade if you need to unlock additional features.
Just note that the free Wix plan is ad-supported and does not facilitate eCommerce.
Final Thoughts
As previously stated, I've used both Wix and Squarespace before and found the platforms to be more than adequate for creating high-quality websites with no coding required.
With regard to the general feature set, Wix is the obvious winner in most categories. For someone who values robust blogging, data capture features, and eCommerce functionality, this is the obvious choice.
Wix also has a wider range of templates and integrations to help you build a truly unique website.
But, if you want simplicity and ease, then Squarespace is a worthy consideration. It has all the basic features you need to build and run your website or online store.
It comes with a range of beautiful, modern, and fully responsive templates and a user interface that is intuitive and easier to use compared to Wix.
With Squarespace, there isn't much you need to think about when building your website, except to drag and drop the elements you want onto a page, and then customize them to match your brand using the simple page editor.
What it comes down to is whether you value customization or simplicity.
Both site builders are excellent options for building a website that is beautiful and functional and you can choose one or the other based on your needs and level of technical expertise.
If you still aren't sure which platform is right for you, you may want to consider reading about other Wix Alternatives.
This wraps up the Wix vs. Squarespace comparison so I hope it was of help to you!
Other Comparisons You May Enjoy