Creating a unique and well-designed website is a must for individuals, businesses, and brands of all shapes and sizes. But finding the best web design software for your unique needs can be difficult, especially if you're a first-time website builder. That's why my team and I compiled this list of the best web design software:
Having the best product or service may not be enough to convert your website visitors. According to the State of the Connected Customer report from Salesforce, 79% of B2C and 85% of B2B website visitors say that their experience with the brand is just as important as the quality of what they are purchasing.
In other words, even if your site has the highest-quality products on the market, you still have to make sure your customers have a positive experience with your brand.
This means you need to create a stunning, interactive, and engaging website design to captivate your audience's attention and make them remember your brand positively.
Let us have a personal and meaningful conversation, and let me help you find the best software and tools; however, it can be difficult. There are hundreds, if not thousands, of options available, and most of them are pretty bad, to be honest.
That's why I've created this list of the best web design software to help you find the right tools to create converts, build brand ambassadors, and expand your site's reach in just a few clicks.
What is the Best Web Design Software?
Best Overall Website Design Software ($2.61/month With Special 10% Off Offer)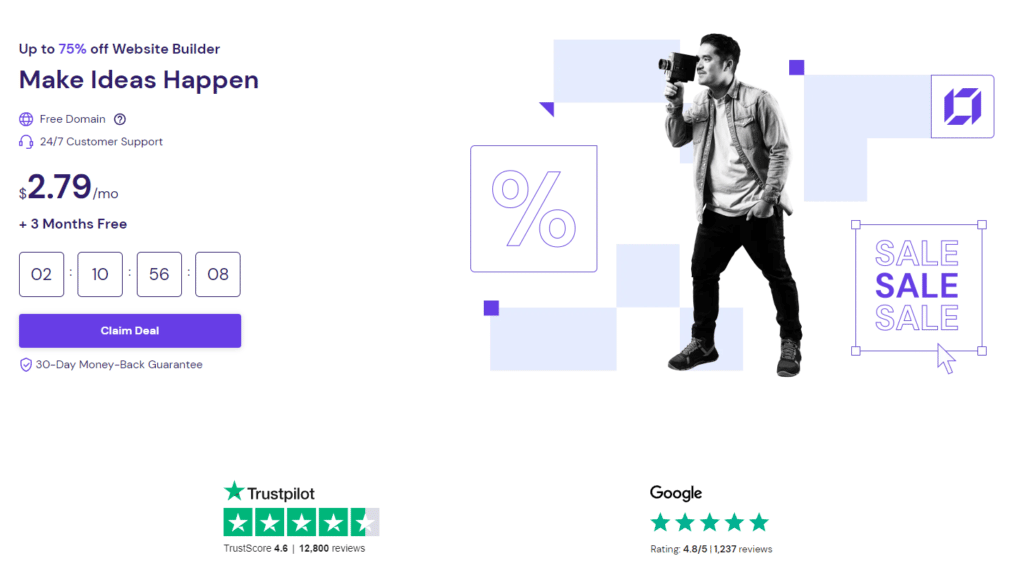 Hostinger is a no-code website builder that lets you create professional-looking eCommerce stores, websites, portfolios, and much more.
This website design software prides itself on the fact that 90% of its users publish their websites in under an hour. 
You can try it for free. No credit card is required. If it's a great fit for you, in that case, you can upgrade to one of the affordable premium plans to start growing your business with an attractive, fast-loading website that ranks high on search engines and helps you convert more of your website traffic into actual customers.
Key Features:
24/7 Support: All premium Hostinger plans come with live chat support from a dedicated and knowledgeable team.
Functionality for eCommerce Websites: You can set up an online store and start selling online in minutes, and there are no hidden fees.
SEO Features: The platform comes with integrated search optimization features to rank your content faster and higher on Google.
Pricing:

Hostinger offers three distinct plans that are packed with features (the website builder is included in all of them). You'll also get a 30-day money-back guarantee, 99,90% uptime guarantee, and 24/7 support no matter which plan you choose.
They are as follows:
1. Single Web Hosting: $9.99/month
Perfect for beginners
1 Website
50 GB SSD Storage
100 GB Bandwidth
Weekly Backups
Full Security Package
1 Email Account
Managed WordPress
WordPress Acceleration
2. Premium Web Hosting: $11.99/month
Perfect for personal websites
Everything from the 'Single Web Hosting' plan +
100 GB SSD Storage
Free Domain
Free Email
WP-CLI
WordPress Multisite
3. Business Web Hosting: $14.99/month
Perfect for small and medium businesses
Everything from the 'Premium Web Hosting' plan +
200 GB SSD Storage
WordPress Staging Tool
Object Cache for WordPress
---
Best Website Design Software With Advanced Artificial Intelligence ($14/month)
Any online search you conduct for the "best website builders" will likely have Wix as one of the top options. There is a good reason for this.
Wix has a great engineering team behind it. It is affordable, easy to use, and has loads of features. For instance, there are over 500 templates from different industries for you to choose from. As a professional web design software, you can personalize each template with various background images and animations. There are image editing features, social media buttons, and various other marketing features and many other great web design tool.
Many of the templates can be used straight out of the pack without the need to change anything except to add your text, images, etc.
This makes Wix the perfect website builder for users of all skill levels who require a quick and easy way to get their sites online.
Key Features:
Advanced Design Features: Wix top web design software has free fonts, an intuitive text editor, scrolling effects, etc., all of which will help you design unique websites.
User-Friendly Design Software: The platform is designed to make it easy for anyone to use its features, regardless of their skill level or experience.
Wix ADI (Artificial Design Intelligence): This feature automatically creates a unique website based on your answers to a few basic questions.
Pricing:
Wix has a wide range of payment tiers, including a free version for beginners.
Pricing is as follows:
1. Free Version
Great for newbies who want to test out the software
Hundreds of templates
Unlimited pages
Top grade hosting
2. Combo Plan: $14/month
Ideal for personal use
"Free" features +
Customized domain
Free domain for one year
Free SSL certificate
No Wix ads
3 GB storage space
Video hours: 30 minutes
24/7 customer care
3. Unlimited Plan: $18/month
Perfect for entrepreneurs and freelancers.
"Combo" features +
10 GB storage space
Video hours: 1 hour
$300 ad vouchers
Site Booster app (free for one year)
Visitor Analytics app (free for one year)
4. Pro Plan: $23/month
A plan ideal for complete online branding
"Unlimited" features +
20 GB storage space
Video hours: 2 hours
Events Calendar app (free for one year)
Professional logo from AI-Powered logo maker
Social media logo files
5. VIP Plan: $39/month
Great for those who want first priority support
"Pro" features +
35 GB storage space
Video Hours: 5 hours
Priority customer care
Or, check out my Wix review to learn more about this web design software.
---
Best website design software for eCommerce ($16/month)
Squarespace is another easy-to-use yet powerful platform ideal for small businesses, entrepreneurs, freelancers, restaurants, etc. It's a leading digital publisher and an all-in-one solution for building mobile-optimized websites with complex elements.
Regardless of the industry, you're in; you'll find dozens of modern templates to choose from. In addition, there are tons of customizable colors, fonts, and page configurations to help you design unique and brand-aligned websites.
Thanks to the simple drag-and-drop editor, even complete beginners with zero technical skills can create stunning website pages by moving text, images, and other elements onto the page.
All the plans come with unlimited storage and bandwidth and SSL security and SEO features for website visibility. It's a great tool for working on a single site or multiple projects.
Key Features:
Fully Customizable Templates: Squarespace templates are expertly designed and fully customizable to match your brand. Create a customized website in just a few minutes.
Diverse Content Types: The platform has free Typekit fonts, audio collections, photos, videos, text, and galleries to use in your website creation.
Great eCommerce Platform Features: There's customer account functionality for eCommerce stores, discount codes, inventory management, abandoned cart recovery, etc.
Pricing:
Squarespace has simple plans and prices to ensure that you only pay for the features you need.
Plans are as follows:
1. Personal Plan: $16/month
Free customized domain name
SSL security
Unlimited storage and bandwidth
SEO features for websites visibility
Templates for blogs and portfolios
Two contributors
Mobile optimized websites
Basic website metrics
Squarespace extensions
24/7 customer support
Limited access to Squarespace Video Studio App
2. Business Plan: $26/month
"Personal" features +
Unlimited contributors
Full access to Squarespace Video Studio App
Professional email from Google
Premium integrations and blocks
Complete customization with JavaScript and CSS
Advanced marketing and eCommerce platform-tools
3. Basic Commerce Plan: $35/month
"Business" features +
Customer accounts
Point-of-sale
Checkout on your domain
Powerful eCommerce store analytics
Merchandising tools
Add products on Instagram
4. Advanced Commerce Plan: $54/month
"Basic Commerce" features +
Abandoned cart recovery
Sell subscriptions
Advanced discounts
Advanced shopping
Commerce APIs
*Note: You can save up to 30% by paying annually.
---
Best suite of native apps (Starts from Free)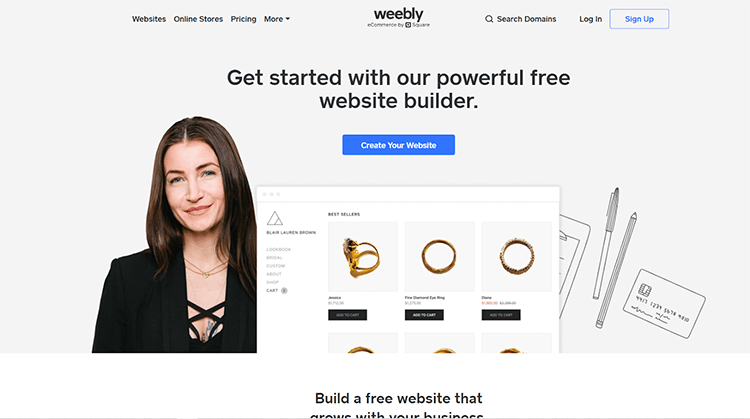 Weebly is the perfect platform for anyone with little to no coding experience. It offers many design options that you can easily customize, even if you have no prior website-building experience.
This is one of the easiest website design software that doesn't come with a long learning curve, and you can create mobile-friendly websites in just minutes – all without ever having to learn a single line of code.
This is a reliable website-building platform that has been around for over a decade and a half. On it, you'll find an easy-to-use drag-and-drop builder, as well as a ton of user-friendly templates for creating all types of websites and eCommerce options to suit anyone who wants to sell products or services online.
You can try out the free version of the software to see if it's the right choice for you, after which you can unlock the full functionality by upgrading to one of the premium plans.
Key Features:
Robust Customization: Weebly has a great drag-and-drop editor feature with tons of customization features that will keep all types of content creators happy.
Excellent Uptime: The platform has an impressive uptime of 99.98%, which gives you the peace of mind of knowing your site will always be online.
Wide Range of Apps: The software supports over 350 apps that you can use to expand your website's functionality.
Pricing:
Weebly offers a free version for basic use, but this comes with limited functionality. To unlock more features, you'll have to upgrade to one paid plan.
Weebly's plans are as follows:
1. Basic Plan: Free
Free SSL security
Add third-party embed code
Shopping cart
Unlimited items
Item badges and options
Quick shop
Inventory management
Coupons and gift cards
Automatic tax calculator
2. Personal Plan: $6/month
"Free" features +
Use your domain
Sell digital goods
Shipping calculator
Pop-up notifications
3. Professional Plan: $12/month
"Personal" features +
Unlimited storage
Advanced website stats
Free domain
Remove Square (Weebly) ads
Password protection
Phone support
4. Performance Plan: $26/month
"Professional" features +
Accept payments through PayPal
Item reviews and multi-monitor support to design websites
Abandoned cart emails
Shipping labels
Advanced eCommerce platform insights
Priority Support
---
Web design software with over 50,000+ third-party plugins ($228/year)
WordPress is a popular website builder that powers 41% of the websites online. It's a simple yet powerful and flexible software that makes it ideal for users of all skill levels, from beginners to experts.
You can download and use WordPress page builders for free, and the platform also offers web hosting plans that are among the most affordable options. You can even watch WordPress tutorials or follow the guide from the web builder, and it will help you choose from various growth-focused plans that will allow you to scale your business easily.
WordPress offers users the ability to use a wide variety of free and premium themes. Thrive Themes is one of the best options to consider, not only its incredibly appealing graphic design, but there are website builders built specifically for graphic designers as well.
Read this Thrive Themes review to understand more about what the software offers and how you can use WordPress to create a unique website for your business.
Key Features of WordPress:
Affordable Pricing: Compared to most other website builders, WordPress with Thrive offers great prices for all types of businesses.
50,000+ Plugins: These are tools and apps you can add to your website in WordPress to extend its functionality and fit your brand. WordPress has everything from SEO tools to graphic design editing widgets you can integrate easily and quickly.
Excellent CMS: WordPress has a superior content management system that makes it easy to publish content online.
Pricing:
Thrive Themes Pricing includes two main options.
Thrive Suite Quarterly ($90/Quarter)
All Thrive Themes Plugins
Thrive Theme Builder, Shapeshift and Ommi
Unlimited Support
Unlimited Updates
Access to Thrive University
Install on up to 25 websites
30 Day Money Back Guarantee
Thrive Suite Yearly ($228/Year)
All Thrive Themes Plugins
Thrive Theme Builder, Shapeshift and Ommi
Unlimited Support
Unlimited Updates
Access to Thrive University
Install on up to 25 websites
30 Day Money Back Guarantee
Lowest Possible Price
---
Best for web design software for on-screen animations (Starts from Free)
It was created as a simple JavaScript library that has evolved into more. Today, InVision Studio offers lightning-fast screen design thanks to its vector-based drawing tools. In addition, all the layouts are adaptive and responsive by design.
The powerful layout engine allows you to quickly and easily adjust and scale your own design automatically and rapidly fit any layout or screen.
The platform also lets you easily collaborate with your team, and you will have a completely synced workflow.
Many basic features will let you create web pages in minutes – even with no prior experience. And there are also advanced features like relative positioning with containers, advanced pinning, percentage base geometry, etc.
Together, these features make InVision Studio a perfect design tool for experienced users and beginners.
Key Features:
Powerful Collaborative Tools: InVision Studio offers global syncing, real-time updates, and seamless collaboration for easier teamwork.
Apps Library: Choose from over 50 apps, assets, UI kits, plugins, icons, and other elements to supercharge your website building experience.
Advanced Motion Feature: Seamlessly animate your designs to create more emotion through motion on your web pages.
Pricing:
You can use InVision Studio for free forever, but to unlock full functionality from the software, you must upgrade to a premium plan.
InVision Studio plans are as follows:
1. Free Plan: $0/month
Ideal for individuals and small teams
Up to 10 active users
Three documents (prototypes, boards)
Unlimited freehands (the platform's endless digital whiteboard)
Unlimited public spaces (flexible folder systems for your documents)
Build a documentation site in seconds
2. Pro Plan $7.95/month
Designed for cross-collaborative teams
"Free" features +
Up to 15 active users
Unlimited documents and archiving
Unlimited public and private spaces
Prototypes, freehand, boards, inspect, and studio features.
3. Enterprise Plan: Contact website for pricing
Perfect for organizations with advanced needs
"Pro" features +
Per seat pricing, no user limits
Unlimited documents, prototypes, boards, freehand's
Custom freehand templates
Advanced team management and security
---
All-in-one web design platform to make design faster, smarter, and easier
Mockplus is an all-in-one product design tool aimed to make web design and team collaboration easier; with over 2 million users and 200k enterprises enjoying the functionalities and convenience it brings.
With helping web design mind, Mockplus is built to address several pain points experienced by web developers; not only does it boast a huge library of templates and UI elements ready for use, but it also comes with a cloud-based task and resources management system that allows any designer teams to share, edit, comment, test and tracking your on-going projects.
Since developers and designers may utilize different software such as Photoshop, Sketch, Figma, and more, they may find Mockplus useful as a collaboration tool since it allows them to export assets and compare or measure, creating a smooth design-to-development handoff process.
For web designers, Mockplus shines where an interactive prototyping workflow is needed among different team members with different tools and software. From design to publishing, all workflow can be directed, pushed, commented and compared with integration to all mainstream software such as Adobe, Sketch, Axure etc.
With its huge element library and simple drag-and-drop interaction, Mockplus is also suitable for entry-level designers where simplicity and accessibility are preferred creating websites.
Mockplus Features:
Interactive prototyping: Quickly turn ideas into functional prototypes with components, icons, and interactions. Streamline design and validation process without a single line of code or professional designers .
Rich UI libraries: Prototype faster with built-in UI templates and icon libraries, and reuse them in any design.
Sketch / PS / XD / Figma / Axure integration: With the Mockplus plugin, you can import designs directly from Sketch / PS / XD / Figma / Axure. Collaborate, iterate and handoff designs easily online.
Pricing:
---
Best for designing responsive websites fast ($20.99/month)
Adobe Dreamweaver is a great tool for designing and developing a modern, responsive website that includes Adobe Photoshop and many other Adobe products to help you create websites with ease.
Although it's geared more toward skilled web developers, the platform requires no coding knowledge.
This means that you can still design a professional-level website using HTML, JavaScript, and CSS through coding shortcuts and other tools that help you work faster, such as multiline editing, line previews, and error checking.
Adobe Dreamweaver is the perfect tool for you if you want to create, code, or manage a dynamic website. You'll get a flexible coding engine to build responsive websites that fit in any screen size.
Key Features:
Code-Free Platform: Dreamweaver provides you with all the features you need for fast and flexible code-free web design, including code hints, visual aids, and the ability to copy code snippets.
Adobe Photoshop and Stock Library: When you sign up for Dreamweaver, you also get access to Adobe's Creative Cloud and its vast library of graphic design assets, including Adobe Fonts, Adobe Photoshop, graphic design tools, and complex animations well as video backgrounds.
Real-Time Editing Minimizes the Learning Curve: The platform lets you preview your website so you can make edits in real-time.
Pricing:
Adobe Dreamweaver offers a 30-day free trial to test out the software. However, unlike other tools on this list, there is no free plan and only a premium plan ($20.99/month).
The premium plan comes with the following features:
100 GB of cloud storage
Adobe Photoshop
Adobe Portfolio
Adobe Forms
Adobe Spark
Creative Cloud
Access to the latest features and updates as they roll out.
---
Web design software that blends coding and no-options options ($12/month)
Webflow is yet another great way to build websites for non-developers. It empowers designers of all skill levels to create professional, custom sites using a no-code, completely visual canvas. In addition, there is no steep learning curve with Webflow.
More advanced designers can use clean, semantic code like HTML5, JavaScript, and CSS to bring their design vision to life.
Thanks to the built-in features, you can also create immersive interactions and animations quickly and easily. In addition to all that, Webflow also offers powerful CMS and eCommerce features for building an attractive and functional online store and storing CMS data securely.
Key Features:
Dynamic Content Types: The platform lets you build completely custom databases for your online store and other dynamic websites contents.
Scalable Plans: Webflow is focused on providing you with a hassle-free hosting network that easily scales as your business grows.
99.9% Uptime and Zero Maintenance: You never have to worry about your site going down or updating packages.
Pricing:
You can use Webflow for free forever. No credit card is required, and there is no trial period.
As soon as you sign up, you can start building your website right away with full design and CMS control.
Webflow has a free plan as well as several paid plans. Take a look at what you get with each:
1. Free Plan: $0/month
Start with two projects
100+ hours of tutorials
Full design and CMS control
Publish to Webflow.io
2. Basic Plan: $16/month
Ideal for simple websites that don't need a CMS
Custom domain
100 pages
25,000 monthly visits
100 form submissions/month
CDN with 50 GB bandwidth
3. CMS Plan: $16/month
Best for blogs and content-driven websites
"Basic" features +
100,000 monthly visits
2,000 collection items (the maximum number of records in your CMS database)
1,000 form submissions/month
200 GB CDN bandwidth
60 API requests per minute
Three content editors
Site search feature
4. Business Plan: $36/month
Perfect for higher traffic marketing websites or blogs
"CMS" features +
500,000 monthly visits
10,000 collection items
2,000 form submissions/month
Forum file upload on your own website
Global CDN (400 GB bandwidth)
120 API requests per minute
Ten content editors
Check out how Webflow compares to highly popular website builders like Squarespace in my Squarespace vs. Webflow comparison.
---
Best free and open-source web design software (Free)
GIMP stands for GNU Image Manipulation Program. It's a free and open-source software for editing images and a valuable tool to have in your arsenal.
Although not technically a web builder, this tool is still a huge part of the entire process of building websites.
With it, you can retouch and edit images, conduct free-form drawing, and convert between different image formats. You can use the software on Windows, max, Linux, FreeBSD, and Sun Open Solaris.
You'll be able to create icons, art, and other graphical design elements for user interface components as well as mockups.
Key Features:
Robust Support: The software supports C, C++, Python, Perl, schema, and many others in its code editor.
Multiple File Formats: The software supports various image file formats, including JPEG, GIF, and special multi-color-depth Windows icon files.
Customizable Interface: With the platform, you get photo enhancement, digital retouching, and various other features for customization.
Pricing:
You can download and use GIMP for free.
The website will automatically display the appropriate download links for Windows, macOS, Linux, etc.
---
Best content management system for SEO ($11/month)
Ghost is the perfect publishing platform for anyone looking for a simple and affordable way to create professional websites.
It offers built-in memberships, email newsletters, and a ton of other great features. In addition, a minimalistic yet powerful editor makes it easy to edit content, even for total beginners.
The platform boasts top site-loading speed and has a user-friendly and lightweight content management system (CMS) for SEO.
You can also set up a membership website with zero hassle. Everything you need to design, build, and manage your website is located on one convenient dashboard, making this the perfect platform to build a sustainable business around your creative work.
Key Features:
All-in-One Platform: Build and manage your website, publish blog posts, send newsletters, grow your audience, sell premium subscriptions, and much more.
Intuitive Dashboard: Ghost's dashboard is designed to make it easy to navigate and easily find the features you need for building a successful website.
Expertly Designed Themes: Ghost has a wide range of official themes that you can preview and install with a single click.
Pricing:
You can sign up for a 14-day free trial to see if the software is a great fit for you. Admittedly, this is much shorter than other free trials, and there is no free version. However, there are multiple paid plans to choose from, including:
1. Starter Plan: $9/month
One staff user
500 website members
Official Ghost themes
Built-in integrations
Custom domain support
Managed install and set up
Automatic updates, server maintenance, and backups
Threats and uptime management
Global CDN
Automatic SSL certificate
2. Creator Plan: $31/month
"Starter" features +
Two staff users
Up to 1,000 members
Custom themes
Custom integrations
Migration help
3. Team Plan: $63/month
"Creator" features +
Five staff users
1,000 members
Priority support
Team migration assistance
Handle high-volume traffic
---
Best cross-platform web design software ($52.99/month)
Adobe XD is a feature-rich cross-platform designed to help you build websites, run your projects, and collaborate with your team, all in one convenient place.
The web design software has a ton of tools to help you turn your ideas into reality in an effortless way, which means you'll be able to design your websites, apps, and more in a faster and more efficient way.
You can quickly sketch wireframes and mockups, create high-fidelity designs for any device, and work with your team in real time.
You can also add animations, build interactive prototypes, and test your design across different devices – all on one dashboard.
Furthermore, you can share your designs and collect feedback so you can iterate quickly without having to jump to a different tool. Adobe XD lets you do it all.
Key Features:
3D Transformations: With Adobe, you can go beyond flatscreen design and design in a new dimension. You can layer in depth and rotate across planes – all with a single click.
Auto Animations: The platform has a cool auto-animations tool that lets you put your designs in motion, connect artboards, run parallax effects, etc.
Components: Scale up your creations with reusable design elements. This means you can create something once and reuse it everywhere across all your design systems.
Pricing:
Adobe XD offers a free trial so you can test out the software's features before committing to a paid plan.
The premium plan costs $9.99/month for a single license and includes the following:
Layout and design features
Prototyping and animation features
Co-editing – unlimited shared documents and editors
Link sharing – unlimited shared site links
Export assets (PNG, SVG, JPEG)
100 GB cloud storage
Creative Cloud libraries
Portfolio full font library
However, there is another plan for $52.99 that includes Adobe XD as well as 20+ other Creative Cloud apps.
---
Best WordPress web page builder ($89/year)
Divi is among the best and most popular website builders for webmasters, freelancers, and agencies alike.
The site-building platform has a visual builder that allows non-technical people to create spectacular web pages easily.
You can customize every aspect of the website, including images, text, fonts, colors, etc., making it easy to create a site that matches your brand.
You can either create your site from scratch or choose from over 800 pre-designed templates designed to appeal to your target audience.
The intuitive editor is easy to navigate and has functionalities such as shape dividers, bulk editing, effects, layouts library, and many others to make your work easier.
Key Features:
Powerful Editor: Divi has responsive editing with features such as animations, text styling, shape dividers, and advanced code editing, among many others.
Hover Option Interface: There is an easy-to-use "Hover" option interface unique to the platform.
Expertly Designed Templates: Creating a professional-looking website is easy when you start with one of the hundreds of premade designs.
Pricing:
Unfortunately, Divi does not offer a free trial or plan but two different paid plans. The first is a yearly membership that costs $89/year, while the second is a lifetime membership with a one-time fee of $249.
Each plan includes the following:
Access to Divi, Bloom, Extra, and Monarch themes
Hundreds of beautifully designed website hacks
Premium support
Product updates
Unlimited website usage
30-day money-back guarantee
---
Web design software with the simplest team collaboration tools ($9/editor/month)
Sketch is the perfect platform for freelancers and large businesses. It provides you with all the tools you need to collaborate in real-time and build stunning websites with your team.
You can customize your workflow with hundreds of integrations and plugins that allow you to make your designs more accessible.
The platform offers a free 30-day trial, so you can start creating, collaborating, and bringing your ideas to life before you have to commit to a paid plan.
Suppose you are looking for a reliable platform with tons of integrations and apps for prototyping and collaborating to create awesome products. In that case, this is a great one for you to consider.
Key Features:
Convenient Web App: Sketch offers a web app for everyone to view projects and documents, download assets, inspect designs, comment, discuss, etc.
Native Mac Editor: You get real-time collaboration, prototyping, advanced layout, and components from a platform that's customizable and works offline.
Real-time Collaboration: You can work with your team on the same documents and pages inside the Mac app
Pricing:
Sketch pricing is simple. You pay a $9 fee for each editor per month.
Alternatively, you can pay $99 per editor on the annual plan.
Each plan gives you access to all the software's features, but these paid plans can become quite pricey. For example, have a bunch of editors on your team that need access to the software. Additionally, there is no free trial or plan to let you test the product before you pay for it.
However, the price is worth it as you can get in touch with the team on the website to get custom quotes for businesses and large organizations with advanced needs, such as:
Priority support
Invoice-based billing
Single sign-on (SSO)
The dedicated customer success manager
Customized security reviews and terms
…and more.
---
Best web design software for teams and agencies ($12 per editor/month)
Figma is intuitive, vector-based software with powerful UI and UX design features for creating professional websites.
The end-to-end collaboration software combines a modern pen tool, arc tool, and vector networks. In addition, it's cloud-based, making it easy and convenient for teams to work together efficiently.
On the platform, you'll find dozens of expertly designed templates that are ready to use. There are also animated prototypes that you can leverage in your designs in the same way as natural elements.
You'll also find all the tools for gathering insights from users, testing different design concepts, as well as plugins for everything from flow diagrams to stock imagery, colors, and much more.
Key Features:
End-To-End Collaboration: The FIGJAM feature allows you to brainstorm with your team using whiteboards, sticky notes, and various other tools.
All-in-One Platform: From ideation to execution, you can complete all your design work in one convenient place.
Gather Feedback: Sigma has powerful design systems that let you share, present, and collect feedback on interactive prototypes.
Pricing:
The free version of Figma can be used forever, which is nice since other programs like Ghost and Abode Dreamworks only offer a free trial period. Additionally, what makes Figma stand out is that its premium plans are free for students and educators.
However, if you are not a student or educator, these are paid plans, and they do cost a little more than other similar tools, especially if you have a lot of editors. Take a look:
1. Starter Plan: $0/month
Unlimited files and drafts
Unlimited viewers and commenters
Unlimited editors on three-team files
One team project
30-day version history
Unlimited cloud storage
2. Professional Plan: $12 per editor/month
"Starter" features +
Unlimited projects
Unlimited version history
Custom file/user permissions
Invite-only private projects
Shareable team libraries
Audio conversations
3. Organization Plan: $45 per editor/month
"Professional" features +
Org-wide design systems
Design system analytics
Branching workflows
Centralized content management
Centralized admin and billing
SSO plus advanced security
Auto-provisioning via SCIM
---
Best web design software for business growth for businesses ($29/month)
Bootstrap Studio has a ton of beautiful, mobile responsive website templates to choose from. Each of them is fully customizable so that you can create a unique website aligned with your brand.
There's a drag-and-drop interface to make it easier for non-technical people. But, for more experienced users, Bootstrap Studio also gives you full control over HTML, CSS, JavaScript, and SASS.
Key Features:
Powerful Desktop App: Bootstrap Studio has many in-built components for designing and prototyping stunning websites.
Intuitive Interface: The platform's drag-and-drop interface is built to be simple to use, making it the perfect tool for inexperienced users.
Real-time Preview: The preview feature lets you open and edits your design on multiple devices and web browsers.
Pricing:
Bootstrap Studio has a free interactive demo that runs in Google Chrome, which means no installation is required.
To use the software's full features, you must purchase a license.
1. Standard License: $29 One-time fee
It runs on Windows 7+, Linux, macOS
Install it on all your computers
Buy it once and own it forever
Free forms (such as contact forms) and web hosting
One year of free upgrades
2. Lifetime License: $59 One-time fee
"Standard" features +
Free upgrades forever
---
Additional Web Design Tools: Google Web Designer, Google Fonts, & More
Framer is a web design toolperfect for creating your design prototype ($12/month).
Bluefish offers a simple and lightweight web design solution with an intuitive interface.
Visual Studio Code includesa powerful text editor from Microsoft.
Google Web Designer helps create stunning sites with interactive elements, animation, andHTML5-based designs.
Statamic includes a CMS created by developers for developers.
RapidWeaver is built exclusively for Mac to create stunning websites.
OpenElement integrates a free WYSIWYG web editor with powerful editing features. Though there are many WYSIWYG website builders on the market to consider.
CoffeeCup HTML Editor offers functionality for both beginners and professional web designers.
Atom is a free web design software and open-source software from GitHub.
BigCommerce Essentials makes building eCommerce online stores site super simple.
Google Fonts is a free and open-source library of over 1000 fonts that you can integrate into any web design software such as Google Web Designer.
Google Ads is a great tool for getting your own website to the top of Google without any SEO work.
Pattern Labs allows you to create prototypes that you can transform into stunning websites.
What is Web Design Software?
Web design software refers to the technology designed to help users build the required elements of a website without writing code. This includes things like graphic design, page layout, content, etc.
With the right web design software, you do not have to hire experienced web designers for your web development- you can create a professional-looking website that is attractive to users, easy to navigate, and facilitates an efficient flow of content without needing coding skills.
These days, there are many capable web design software options to choose from that let even complete beginners design and create their websites. Some other tools you may need in your digital design toolkit include:
Drag and drop landing page builder and website designer and editor for each web page
Simple and complex drop elements, including video backgrounds
Integrated code editor elements to add unstyled HTML elements
Professional design templates, including mobile-responsive templates
Features for optimizing UX on mobile devices
SEO Plugins, Apps, and Integrations
Web hosting Functionality for big and small businesses
Video and photo editing tools
Form Builder Tools
Content Delivery Networks (CDNs)
Not all web design program tools come with these features, however, so when investigating which tools are best for you and your brand's website, consider everything you will need and then check to make sure that the web design tools you're looking for are the web design tools you're looking for at support that functionality.
The most important factor of web design software is easy to use. It should also come with expertly designed templates, negating the need for coding skills. This way, anyone can use the software to build professional and even complex websites.
Many web design like Google Web Designer and other web design tools strive to automate as much of the website building process as possible. Still, sometimes it's necessary for web designers to integrate a few other tools or software, depending on the type of website required.
But, whether you're building a website for eCommerce and online stores, graphic design, marketing campaigns, or HTML websites, web design software tools like the ones mentioned in this article will help simplify the process significantly.
Types of Web Design Software
During your search for the best web design software, you probably noticed hundreds of different options to choose from.
They fall into different categories for building different types of websites.
Listed below are some of the web design software options available out there, with examples of a few site design tools in each category:
Best Web Design Software for eCommerce
Best Web Design Software for Building Websites
Wix
WordPress with Thrive Themes
Divi
Best Web Design Software for Marketers
InVision Studio
Ghost
Figma
Best Web Design Software for Graphic Designers
Best Web Design Software for HTML Sites
Adobe Dreamweaver
Webflow
Bootstrap Studio
As you can see, there is enough variety to cater to the needs of all types of creators – whether you want web design software for building a simple blog or eCommerce store, or if you want it for interface and prototyping, graphic design, web editing, etc.
What Features to Look For in Web Design Software
When looking for the best website design software, you need to know which factors to consider to make the right choice.
Now that you know the different software available for other use cases, it's time to look at the features to look for before making a choice.
Read through the features listed below to better understand what to look for when choosing the best web design tools to cater to your needs.
1. Ease-Of-Use as Drag-and-Drop Editor
Choose a website builder that is easy to use, ideally with drag-and-drop builder functionality, so you can add different elements such as text, images, videos, widgets, etc., easily without having to handle any code.
2. Professionally Designed Templates
Having a wide range of pre-designed templates to choose from can save you a lot of time and effort since you won't have to start building your website from scratch.
3. Mobile Responsive Themes (Even with Free Web Design Software)
Choose a website builder with themes that adjust perfectly for devices of every size. You can simply add your content, and it will automatically be displayed correctly on different screens. The platform must also have preview features so you can see how your site looks in real-time on both desktop and mobile.
4. Third-Party Integration
Choose a website builder with extensive integration with third-party tools and apps, such as those that automate sharing of social media posts, emails, and other content from your site through different digital marketing tools and widgets, image libraries, fonts, videos, and so on.
This will help you gather all your website-building tools on one platform so you can use them from one convenient dashboard.
5. eCommerce Functionality
If you need to sell your products or services online, then choose a website builder with eCommerce features that will make it easy to run your store without the need to integrate costly third-party tools.
6. Mobile App
Your web design software should come with mobile apps that allow you to make changes to your website on the go. This can be an extremely handy feature for busy webmasters.
What Software do Professional Web Designers Use?
The best software for web design that one web designer uses may not be the best choice for another one. It's all situational.
Some web designers prefer Figma due to its intuitive and easy-to-use interface, while others use Hostinger to utilize its powerful tools. The truth is, you should choose what is best for your current situation and project.
Best Web Design Tools: Summary and Top Picks
When selecting the best web design software, remember that web design software's primary purpose is to create an interactive and engaging site that your visitors enjoy visiting.
The best web design software allows you to easily create blog articles, design individual landing pages, make full-site design changes simply, integrate third-party plugins for ease of cross-platform content sharing and eCommerce selling, and easily monetize with affiliate marketing or display ads — all without breaking the bank.
Here's My Top Recommended Web Design Software:
Each web design software option outlined above is best in class and will undoubtedly boost your productivity, increase ROI, and help you create an engaging and interactive on-site experience for all of your site visitors.