Wix and GoDaddy are two of the industry's leading providers. Together, the two platforms power over 55% of websites currently online.
They are similar in a lot of ways. Both website builders offer premium plans that include SEO tools, website analytics, basic booking tools, and an SSL certificate. But, there are also a lot of differences between the two providers. For example, Wix has a third-party app marketplace whereas GoDaddy does not.
Read the rest of this Wix vs. GoDaddy comparison as I put the two website-building solutions head-to-head. I've spent over 11 hours reviewing and comparing them on various factors, including ease of use, design and customization, eCommerce capabilities, pricing, support, and more.
So, let's get cracking and find out which platform is the best for building a website.
1. Ease of Use
To kick off this Wix vs. GoDaddy comparison, we'll be looking at ease of use.
When comparing the features of two website builders, I always like to start with ease of use. After all, the last thing you want is to sign up for a site builder only to spend days or weeks trying to figure out how it works.
So let's take a closer look at how Wix and GoDaddy compare in this regard.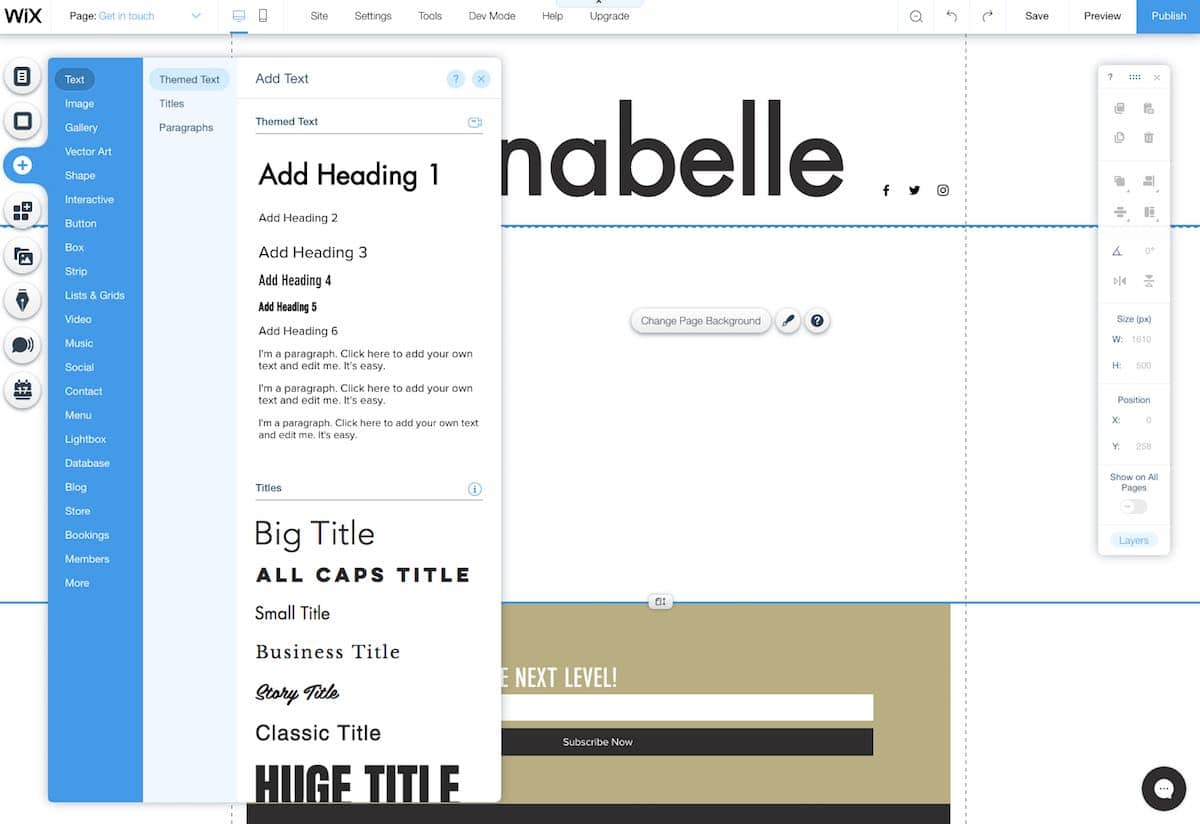 Wix has a modern interface that is easy to navigate. All the tools you need to build your website are at your fingertips and you simply have to click on any element, such as text, images, etc. to add it to your page.
The site builder's drag-and-drop editor doesn't require any coding knowledge. Even non-techies will find this feature-rich platform easy to use. It gives you a higher level of creative control over your website, and you can make changes on a pixel-by-pixel basis.
In addition to the Wix editor, there's also an AI (artificial intelligence) site-building tool, Wix ADI that you can use to customize your website in one go.
Just input the information about the website you'd like to build, and in a few minutes, Wix's AI will create a custom site for you.
Website building doesn't get any easier than that.
Summary of Wix's Ease of Use Features:
Wix ADI (Artificial Design Intelligence) for swift site creation
Simple, unstructured editor for pixel-perfect site design
Modern interface that's easy to navigate
Drag and drop editor for simplicity and ease
Easy integration of blog, store, and other features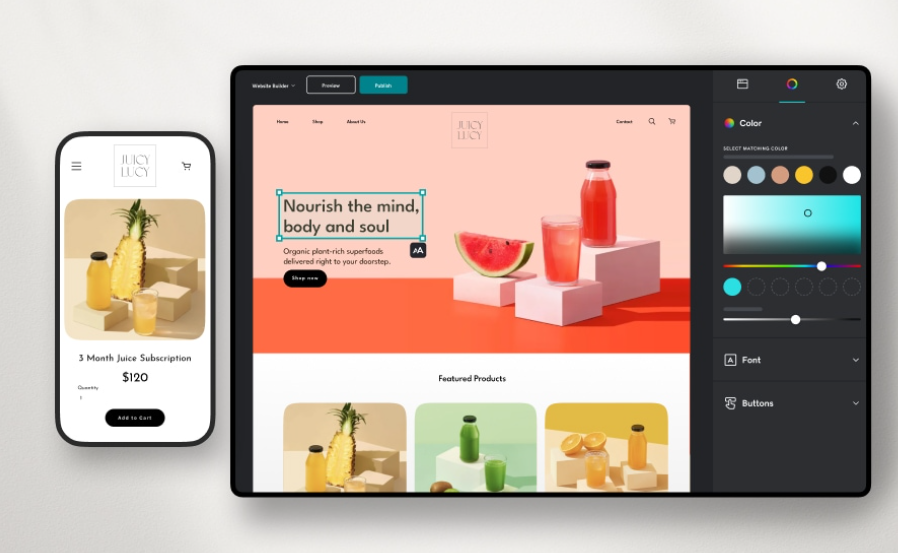 Although GoDaddy doesn't offer as many features as Wix, it compensates for the limited control by simplifying the process of website building for new users.
The site builder has a single editor that allows you to drag and drop different elements onto a page. You can then customize the colors, fonts, and styles to create the right look and feel for your new website.
Summary of GoDaddy's Ease of Use Features:
Free, mobile-friendly website for your business
Built-in marketing and sales features
Dozens of industry-specific templates to choose from
Easy online store and blog integration
Automatic updates for continued safety and security
There's no denying that the GoDaddy website builder is the simpler of the two. It's easier to use and takes significantly less time to get set up.
However, it's important to note that the simplicity and ease come at a cost. The no-code site builder means you won't have as much control over your website's customization.
Having said that, you will still be able to build a spectacular website, complete with a blog, online store, and various other features to help you run a successful online business.
2. Design and Customization
Website design and customization are important features to consider before choosing a website builder.
Being able to customize your website according to your visitors' needs allows you to offer an enhanced user experience.
Let's take a look at how these two site builders stack up in terms of design and customization.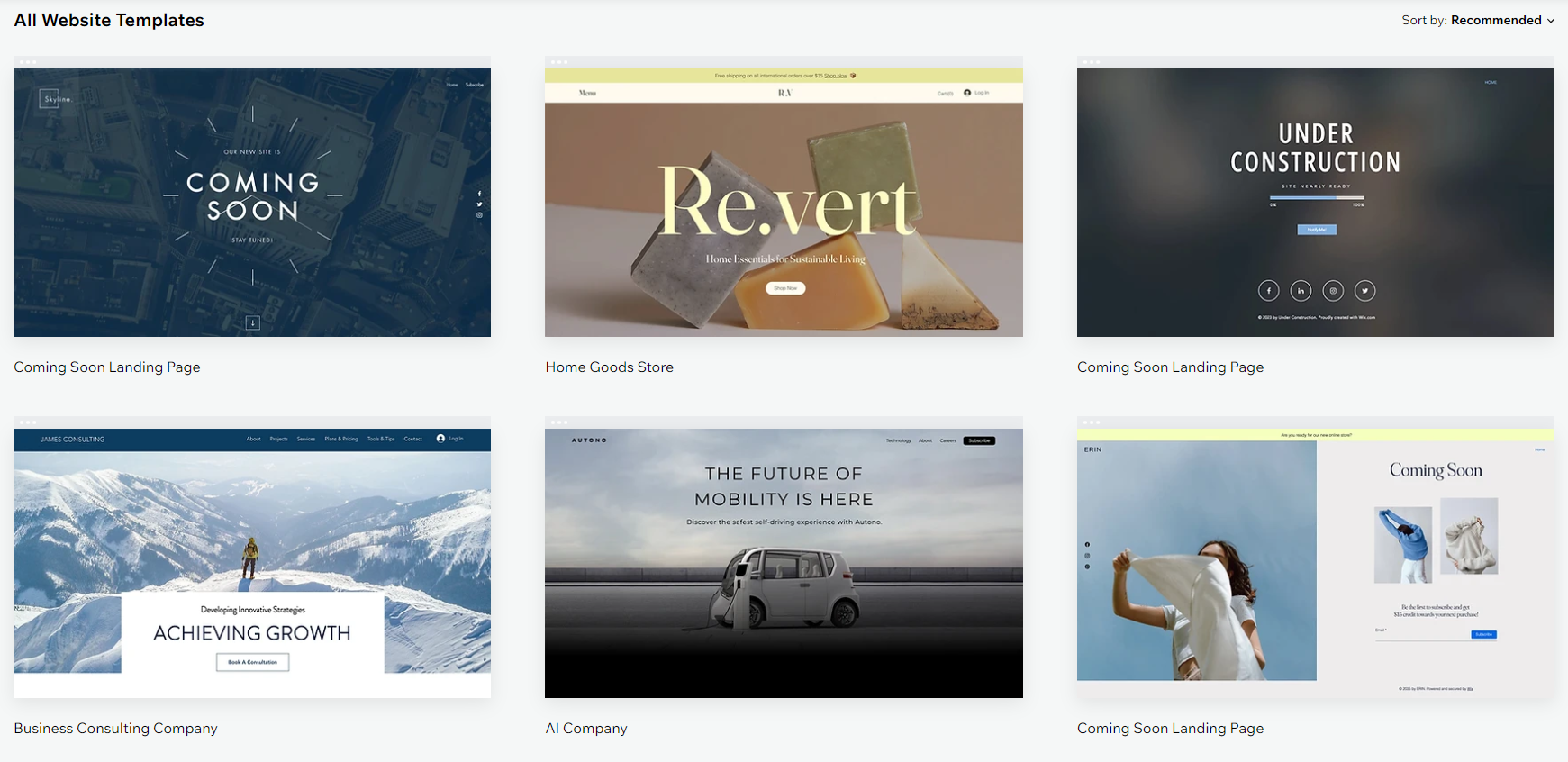 Wix has an impressive selection of templates; over 900 in total, segmented into two dozen categories. You'll be able to find industry-specific templates, all of which are mobile-responsive and optimized for speed.
Each category comes with subcategories to help you find specific-use templates. For example, the "Music" category has subcategories for singers, DJs, bands, and producers. Once you've found your desired template, it's easy to customize it to meet your needs using the platform's editors.
The classic Wix editor offers a lot of design flexibility when it comes to creating your site. It's intuitive and simple to use.
Wix's Editor X is the new standard in site design. It has a smooth drag-and-drop functionality and advanced design features that let you define the exact behavior and position of each and every element with both flexible and grid layouts.
This editor also has features for teamwork and collaboration. Multiple users can work on the same website at the same time. They can also give and receive feedback using live comments and share reusable design assets.
Regardless of which Wix editor you're using, you can easily drag and drop the tools you want from the sidebar to build your site. Customize your site further with free images, icons, etc. from the Wix library.
There are tons of customization options but this level of choice comes with a bit of a learning curve.
This means that Wix is better suited to someone with a bit of technical knowledge. Newbies may find the editor a bit intimidating; kind of like giving a canvas and paint to someone who's never even taken an art lesson and asking them to recreate Monet's Water Lilies.
The process would be extremely frustrating for them. Yet, the same tools would be put to good use by someone with the right knowledge and skills.
Summary of Wix's Design and Customization Features:
User-friendly designs
Fully customizable and mobile-friendly templates
Free tools to create your own logo
High-quality photo and video backgrounds
Massive library of free images, icons, and vector art
Built-in marketing and sales tools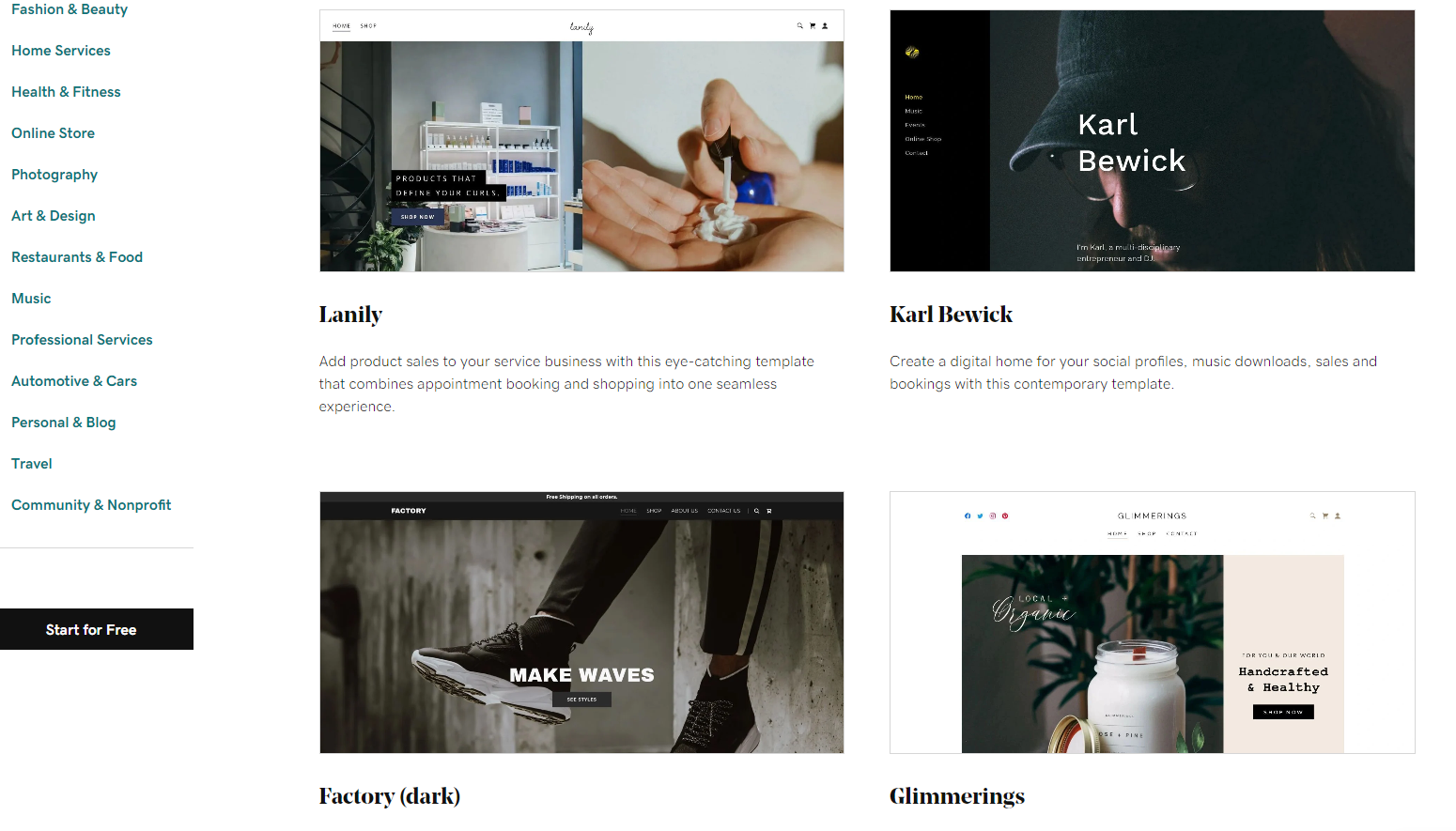 Although GoDaddy has been around for more than two decades, the company's site builder was only launched in 2017. This means that the platform is relatively new and thus not as sophisticated as its competitor.
However, the site builder does offer a solid selection of templates designed for specific industries. It's ideally suited to users who don't mind sacrificing design flexibility for the sake of simplicity.
GoDaddy has significantly fewer templates compared to its competitor. They are divided into various categories, including online stores, fashion and beauty, home services, restaurants and food, health and fitness, coming soon, and many more.
The templates are modern and professionally designed. All you have to do is pick one and customize the text and images to create a unique design that is all your own.
The images included with each website are free to use, but you can change them out on your own with a single click – no technical skills are needed.
Like Wix, GoDaddy also has an AI-assisted setup which is simple and fast. The AI-powered tool guides you every step of the way from start to finish.
Each website template comes with built-in tools for SEO, social media, and email marketing. This means you won't have to worry about integrating additional apps to help you grow and engage your audience.
All in all, GoDaddy is a simple yet powerful website builder that makes it easy for you to build a website and add a blog and online shop. With one click, you can add elements like photo galleries, menus, price lists, and even entire sections from any device.
One of the best things about using GoDaddy's website builder is that you can switch templates at any time without losing your content. This is something you can't do with Wix.
Summary of GoDaddy's Design and Customization Features:
Choose from industry-specific templates
No technical skills required
Mobile-friendly templates look great on all devices
A-powered GoDaddy Insight feature to help you boost your online presence
Free professional images available for use
Built-in SEO, email, and social media tools
Switch between templates without losing your content
Winner: Wix
There's really no contest here. Wix simply offers a more robust level of customization choices. It's built with all-around performance and design in mind whereas GoDaddy is more geared toward basic websites.
Wix also has more templates to choose from and better integrations with third-party tools. Of course, if your main priority is to get your website up and running in the quickest and simplest way possible, you may appreciate the simplicity and ease of GoDaddy's site builder.
But for those who want more control over how their website looks, Wix is the clear winner here.
3. eCommerce Capabilities
When choosing a website builder, you want one with robust eCommerce features that let you manage content effectively, integrate payment tools easily, and get reporting and analytics to help you make better business decisions.
Let's see what Wix and GoDaddy have to offer in terms of eCommerce capabilities.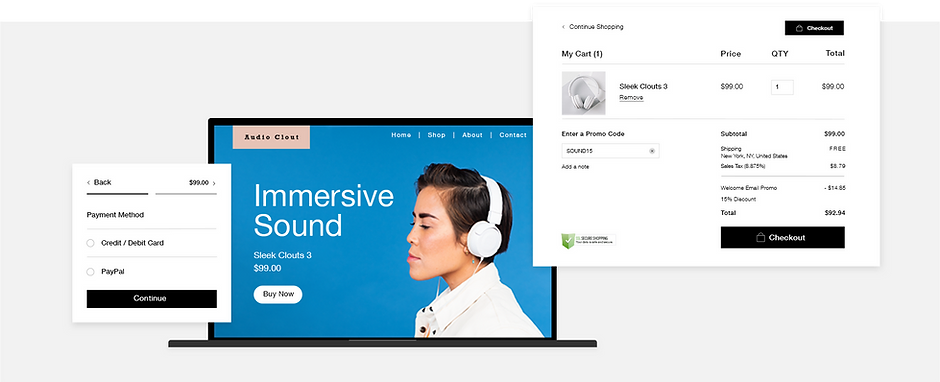 Wix is one of the most popular eCommerce platforms out there. Compared to GoDaddy, Wix is better suited for eCommerce. Just note that you will have to sign up for the Wix Business or eCommerce plan which allows you to sell online.
The basic Business plan costs $27/month and gives you access to online selling features ideal for small to medium-sized businesses. You can sell an unlimited number of products both digital and physical.
In fact, the platform's POS (point-of-sale) features allow you to sell not only online but also in physical stores, as well. Moreover, you can sync your inventory easily so customers in either place always know what's available.
Filter and sort your products easily on your website, manage your store on the go using the mobile app, and get in-depth reports and analytics on every aspect of your business performance.
The Business plan also has an abandoned cart saver tool that automatically contacts visitors who leave your website before completing their purchase. Visitors get an offer of a discount code (or another incentive set by you) to encourage them to complete their transactions.
Another great feature of Wix eCommerce is that it facilitates dropshipping apps like Spocket, Modalyst, and Syncee. If you want to use the dropshipping model in your business, you won't have to look for any third-party tools or apps.
Furthermore, Wix provides customers with real-time shipping calculations further simplifying the process of selling for you.
And that's not all. Wix also comes with enterprise-grade security which means your website is fully protected against cyber threats with real-time detection, threat prevention, and PCI DSS Level-1 compliance.
Summary of Wix's eCommerce Capabilities:
Sell digital products, physical products, and subscriptions
Important up to 5,000 products at once via CSV
Display product videos as well as images
Connect 80+ payment solutions to give customers more options
Allow customers to pay in installments
Flexible shipping options
Robust point-of-sale (POS) features
Dropship products through Modalyst, Spocket, Printful, etc.
Add more online store functionality through Wix App Market
Enterprise-grade security for maximum protection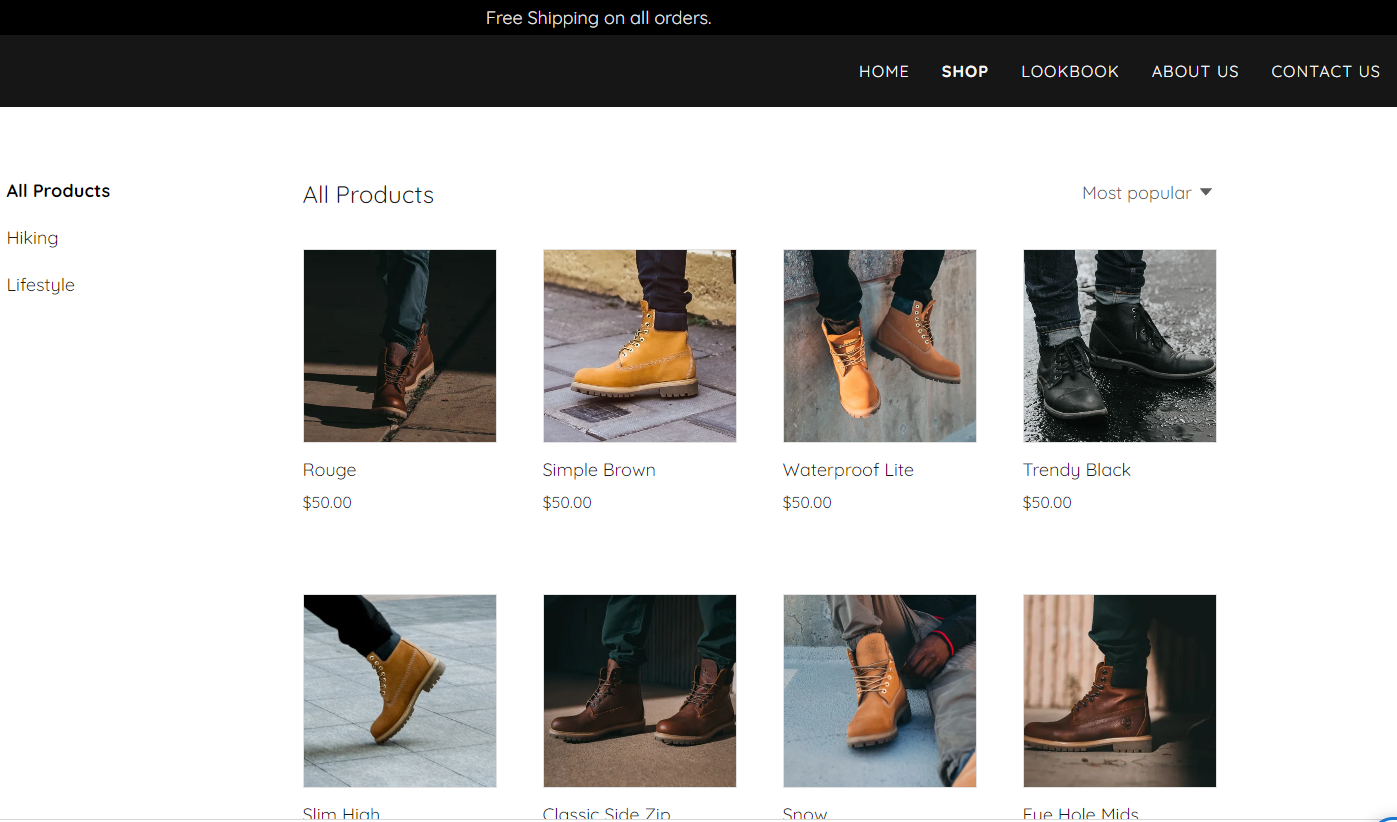 Compared to Wix, GoDaddy is better suited for small-budget startups. Although somewhat basic, its built-in eCommerce features allow you to set up easy payments via credit card, Google Pay, Apple Pay, and PayPal.
You also get flexible shipping options, including free and paid shipping, curbside pickup, and more. Add discounts and coupons to entice more sales. The site builder even allows you to create banners to highlight products and sales on your website.
GoDaddy focuses on easy and flexible store setup so you can sell online like a pro even if you are just getting started in eCommerce. You'll find dozens of templates to choose from and you can add up to 5,000 products to your website, each with up to 10 images. Manage all of this easily on your dashboard.
You also get simplified shipping which allows you to offer flat-rate and weight-based options. There's a built-in appointment scheduling tool so clients can book appointments whether you are available online or not. This way, you'll never miss calls or double-book clients again.
Each onine store template comes with built-in marketing tools including SEO tools to help you boost website traffic and increase conversions.
Use the built-in email marketing feature to send eye-catching emails to your subscribers and automate your email series to save time and effort.
GoDaddy also has a studio where you can easily create beautiful, unique content to promote your products on your site or social media. With this tool, there's no need to get additional subscriptions to sites like Canva for gorgeous visuals.
Clearly, your GoDaddy dashboard has everything you need to run a successful online business.
Summary of GoDaddy's eCommerce Capabilities:
Free online store setup
Built-in SSL protection to keep your website secure
Flexible shipping options
Built-in SEO and email marketing tools
Social media integration
Appointment scheduling calendar
Mobile-optimized store templates
GoDaddy Studio for unique branded content
Winner: Wix
Both website creation solutions are well-rounded, making them ideal for eCommerce users. However, Wix offers more in terms of built-in eCommerce features, such as multi-channel sales management, global drop ship partners, and print-on-demand tools.
Wix also has a larger number of designer-made templates that are eCommerce-focused (over 500), and the platform has a Wix Owner app that makes it easy to manage your eCommerce business on the go.
4. Blogging Tools
In today's information era, every business website needs a blog. A blog can help you connect with your audience, provide them with helpful information, and drive targeted customers to your products or services.
Fortunately, most website builders come with built-in blogging tools. But, some have more features than others.
Let's see what blogging features Wix and GoDaddy have to offer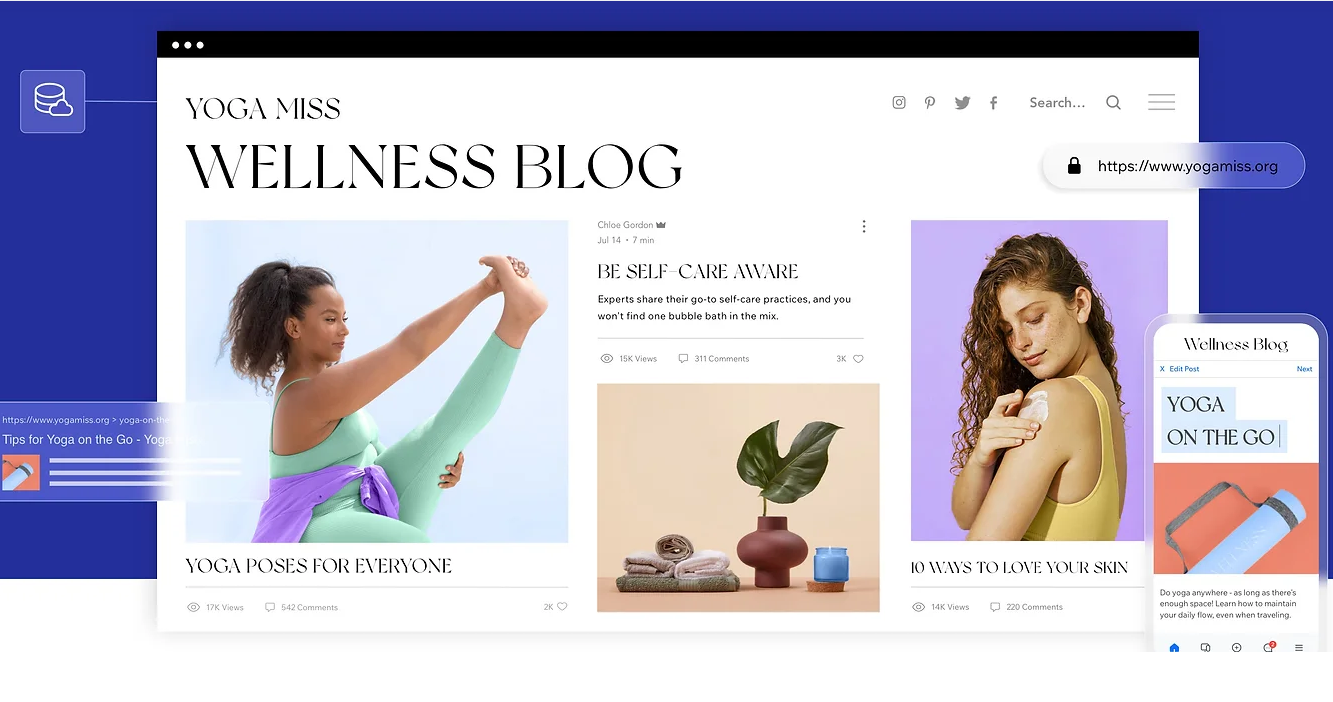 When you sign up for Wix, you get instant access to the platform's site builder with its full suite of intuitive web design features and built-in tools to create a unique blog that's worth sharing.
In addition to the site builder, Wix has plenty of tools to complement your blogging efforts, including email marketing tools, social media tools, and a well-stocked app store.
Set yourself up for success with dozens of expertly-designed blog templates that are fully customizable to suit your preferences. From food blogs to fashion blogs, travel blogs, and news blogs, you'll find the right template to design a unique blog that captures your brand's personality.
The Wix blog maker also comes with a free blog name generator, an AI-powered tool that generates a list of blog name ideas and suggestions. All you have to do is type a word or phrase that you want in your blog name and the blog name generator will do the rest.
Once you have your blog name, you can buy and register the custom domain without leaving the Wix website. In fact, when you sign-up for any of the Wix premium website plans, you get the domain name free for one year.
Summary of Wix's Blogging Tools:
A fully customizable blog that fits your need
Rich text editor with video and audio add-ons
Fast-loading blog for optimal user experience
Free domain name with a premium plan
Free, reliable web hosting on cloud servers
Free logo design and blog name generator
24/7 support to help you build a successful blog
Third-party integrations to expand your blog's functionality
Robust website security to keep information secure and avoid spam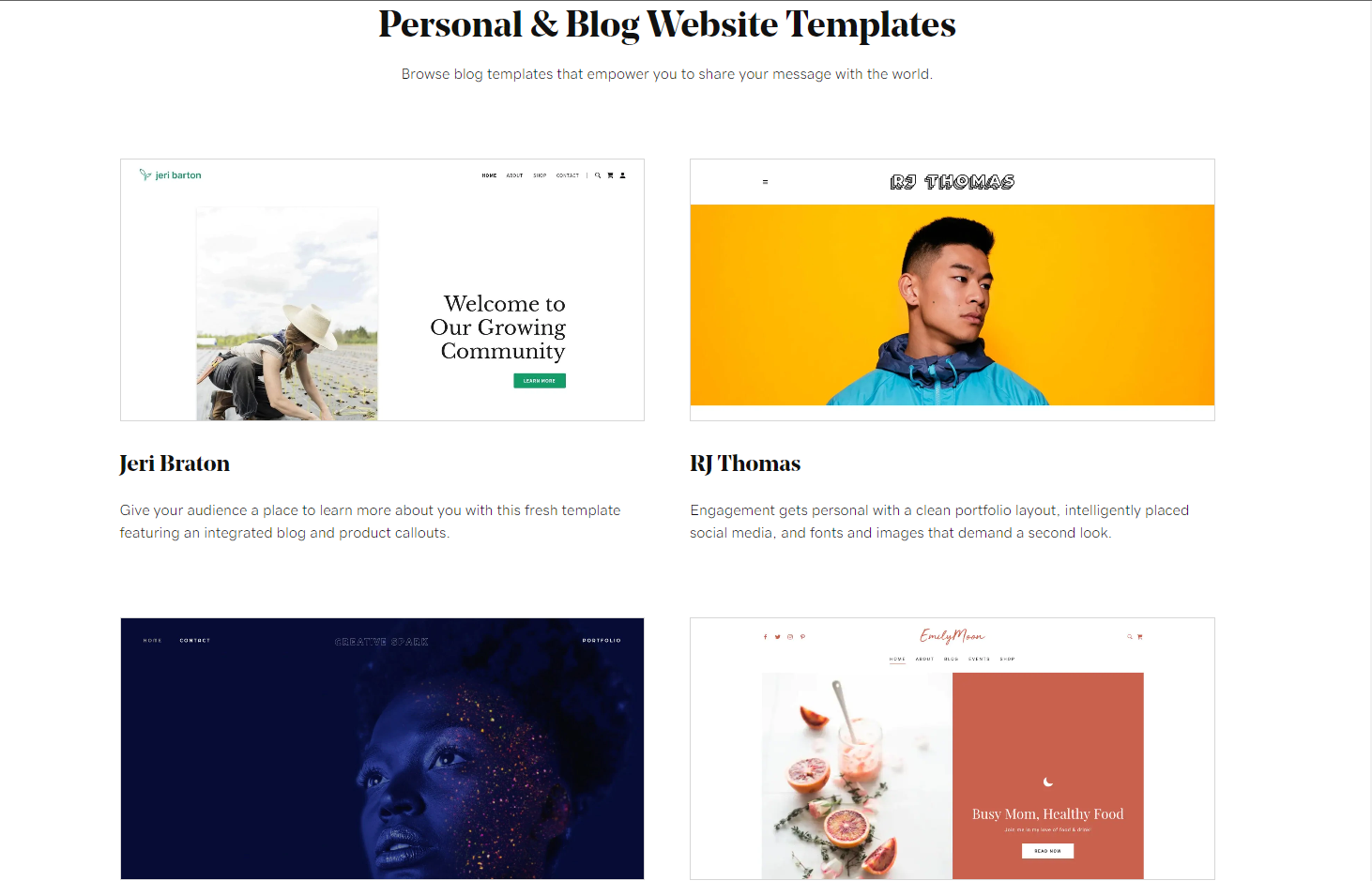 Like Wix, GoDaddy's website builder comes with blogging functionality. You can easily post new content on your blog to build authority, engage visitors, and sell your products or services.
The affordability of GoDaddy's web hosting plans makes it a popular choice for a lot of bloggers. Each of its plans comes with lots of storage which means you won't have to worry about additional hosting fees if your blog contains a lot of photos and video content.
You will love GoDaddy's video embed feature which lets you add a video URL rather than having to embed video code in your post. This makes it a lot easier to create video posts for your blog.
Once you've created a blog post, you can publish it right away or schedule it for some time in the future. You can also set it so snippets of the post are automatically sent to your blog audience so that they will never miss an update.
Summary of GoDaddy's Blogging Tools:
Intuitive blog creation and optimization process
Wide range of personal and business blog templates
Huge library of free stock images and videos
Use "Categories" to create multiple blogs on your website
In-depth guides on how to create great blog posts
Automatically send blog post snippets to your audience
Winner: Wix
GoDaddy doesn't provide as many tools as Wix does to aid your blogging. For instance, Wix has an app store where you can find additional blogging tools to expand your blog's functionality to meet the needs of your audience. For this reason, Wix is the winner here as it offers a better blogging experience.
5. Search Engine Optimization Tools
Search engine optimization (SEO) is a crucial consideration when choosing a better website builder which is why this section of the Wix vs. GoDaddy comparison is rich in info.
The strength of your website's SEO will play a pivotal role in how high it ranks on Google and other search engines. The higher the rank, the more visible your website, blog, or eCommerce store will be, and the more customers will come your way.
With that in mind, let's take a look at the SEO features on each platform.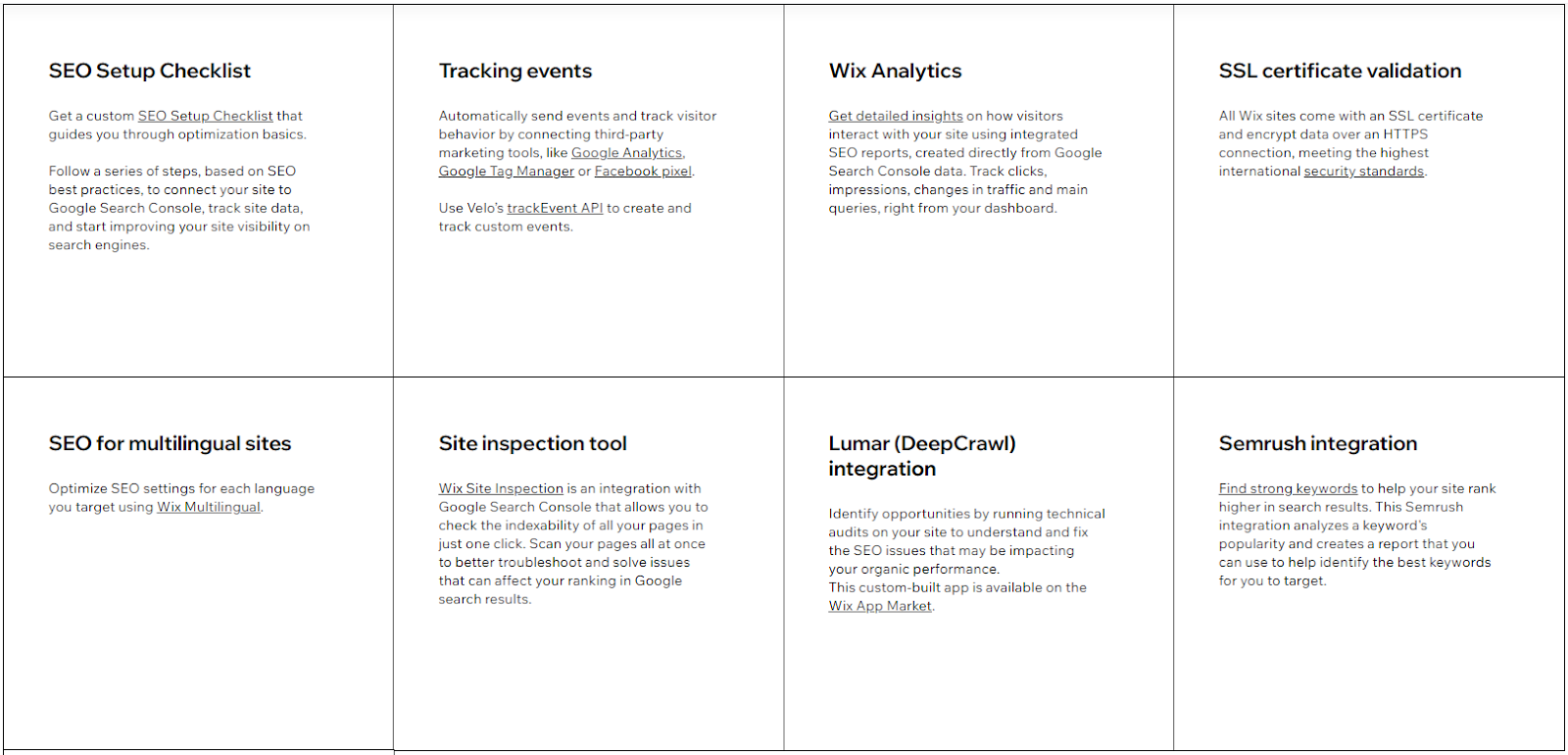 Wix has a suite of powerful SEO solutions built into each of its websites. You can seamlessly connect to industry-leading tools to market your website and grow your organic traffic the easy way.
Some of Wix's built-in tools for SEO include:
Robots.txt editor
Structured data markup
URL customization
Server-side rendering (SSR)
Custom meta-tags
Robots meta-tags
Canonical tags
Social sharing optimization
XML site map
Bulk 301 redirects
… and many more.
The absolute best thing about Wix SEO tools is that you don't even need to know much about any of these advanced features to make use of them. The intuitive platform helps you get set up with a simple SEO setup checklist to guide you through all the website optimization basics.
In addition to all this, you also get tools for tracking and analytics. This way, you can automatically check visitors' behavior by integrating third-party tools like Google Analytics, Facebook Pixel, etc.
You'll get detailed insights into the way visitors interact with your website and content. Track impressions and clicks, see changes in traffic and monitor everything in real-time right from your dashboard.
With all this information on hand, you'll be better equipped to make the right decisions to boost your SEO and grow your website.
Summary of Wix's SEO Features:
Easy SEO setup with a step-by-step checklist
Automatic image optimization for quality and search
Fully responsive, mobile-friendly website
Accelerated Mobile Pages (AMP) for faster loading on mobile devices
Google Business Profile integration from your Wix dashboard
SEO API for developers to customize client-side code
SEMRush integration to find high-ranking keywords for your website
Wix Multilingual SEO for websites with different languages
Submit a request for new SEO advancements you would like to see on Wix
Like Wix, GoDaddy offers a range of SEO features to help you improve your website's search visibility and make it easy for your target audience to find you online.
You get an easy-to-view ranking dashboard that lets you see at a glance how your website is doing overall.
You can use the built-in SEO tool on your website, pages, and images to ensure that each piece of content you publish is optimized fully. This intuitive tool walks you through the entire process of improving your on-site SEO, including adding relevant keywords to each page, updating images to include alt tags, and more.
If your business has a local presence, the SEO tool prompts you to list your business on Google and Yelp. You can complete the off-site SEO optimization from right within your dashboard.
Simply navigate to the "Marketing" drop-down menu, select "Social", and click the "Connect" button on the Google Business Profile card. Follow the rest of the prompts to claim your business listing and do the same for Yelp.
After that, you'll be prompted to connect your website to your social media accounts to further improve your online visibility.
The SEO tool takes you through the entire process of adding all relevant information about your website to help you rank higher on Google and other search engines.
Whatever you can do to get found by your target customer, GoDaddy will help you do it. This means you don't have to try and come up with the process yourself. Simply follow the prompts from the SEO tool and you'll get it all done one time.
As you can see, optimizing your website for SEO is easy with GoDaddy's intuitive SEO wizard. But, if you don't have the time or the inclination to do it yourself, you can always hire the platform's experts to optimize your website for you.
Summary of GoDaddy's SEO Features:
Built-in website optimizer
Intuitive SEO wizard for easy setup and settings configuration
Simplified page, image, and blog post optimization process
Done-for-you SEO optimization services
Easy-to-read ranking and reporting dashboard
Winner: Wix
Both Wix and GoDaddy offer robust SEO features built into their respective platforms. However, While GoDaddy's search optimization process is a lot simpler and more intuitive, Wix has a wider range of SEO features to help you rank your website quickly and easily.
No matter what plan you're on, you get site optimization to boost your search results. The SEO Wiz and additional SEO apps are particularly helpful for beginners. The Wix SEO dashboard lets you track your website's performance and integrate various tools and apps, including Site Booster And Google Analytics to give you even more actionable SEO insights.
6. Community and Support
There's nothing more frustrating than getting stuck during the website-building process and not being able to get the help you need.
That's why it's important to choose a website builder that offers reliable support and community features so you know you always have someone on hand should you need assistance.
Let's see how Wix and GoDaddy compare in the community and support departments.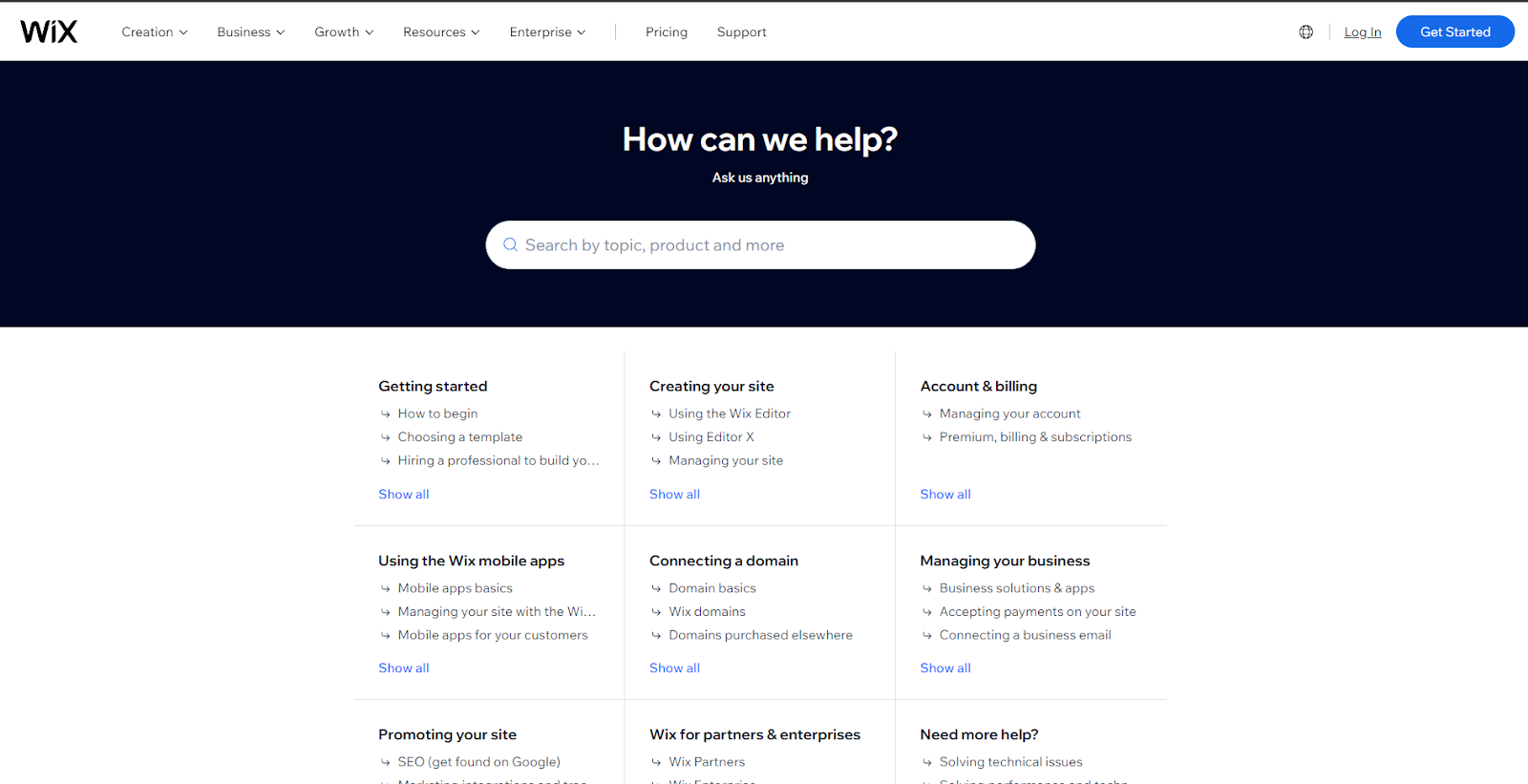 Wix has an online help center that offers a wealth of knowledge to address the most commonly asked questions and help you get the most from the platform.
You can think of this online resource as a sort of Wix-only search engine. When you type in a search query, you get a list of search results relevant to your search. These will include how-to guides, video tutorials, and other documentation with all the answers you need.
If you're someone who loves to figure things out on your own, you'll appreciate this well-stocked help center.
You can also get in touch with support via email or live chat. Subscribers on the VIP plan can skip the line and get 24/7 priority phone support.
You can get support in multiple languages, including English, Portuguese, and Spanish. Unlike GoDaddy, Wix support is only available on weekdays from 5 AM to 5 PM PT.
You can also reach the Wix support team via social media. The platform has an active community of users and here you'll be able to share ideas, get advice, and receive answers to any of your questions at any time.
A standout feature of Wix's support is the in-editor help feature. This on-page help tool comes in handy if you encounter a problem while building your site. You won't have to leave the page to look for assistance. Simply click on the question mark bubble and you'll get the answers you need while still on the page.
Summary of Wix's Community and Support Features:
Convenient in-editor help option
Multiple channels to contact support, including phone, email, and live chat
In-depth online documentation
Community-based information portal
Beginner tutorials for easy setup
Additional support via information bubbles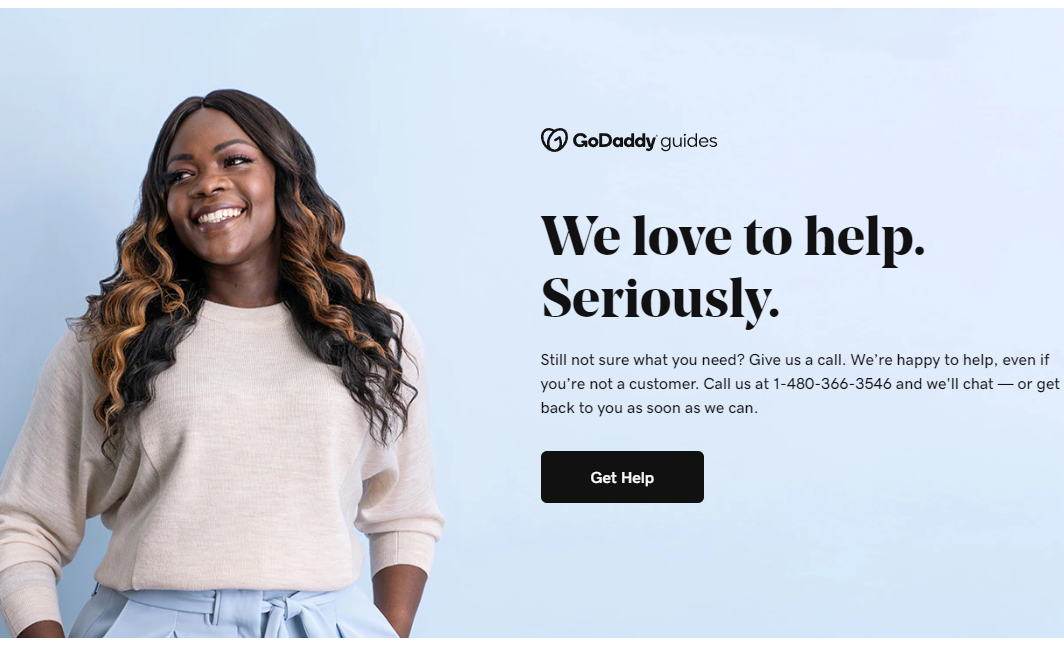 GoDaddy focuses on making the website building process as simple and free from web wizardry as possible. But, if you still need help, the support team is always on hand to assist.
You can get in touch with them in a number of ways, including the following:
Phone
Text
24/7 Live Chat
Help Center
How-to Videos
GoDaddy Blog
Whether you just want someone to help you reset your password or if you want a team to help you build your entire web presence, you'll get the help you need, when you need it.
There's also a massive community of users where you can ask questions, get advice, and connect with other like-minded GoDaddy users from all over.
Talk one-on-one with community leaders to get more insights on how to build a successful business. Join upcoming events, webinars, and meetups to learn tips and tricks on how to grow your business.
Summary of GoDaddy's Community and Support Features:
Various support channels, including phone, live chat, community forum, etc.
Comprehensive video tutorials and how-to guides
Standalone courses on website building
Weekly webinars to share tips and tricks for website building
Connect via social media and forum
Both site-building solutions are designed to make website building quick and easy and provide helpful support whenever it's needed.
But, GoDaddy is the winner here because the platform is excellent for beginners and offers superior customer service.
It comes with a beginner-friendly interface, a simple yet powerful editor, and 24/7 support via phone and live chat. The platform also has an unparalleled curation of self-help resources, including how-to guides, video tutorials, webinars, and more.
7. Pricing
Pricing is a huge concern among new users. Although it should never be the only consideration when choosing the best website builder, it's still a priority for most new users.
Fortunately, both website builders offer budget-friendly plans. Here's what you get.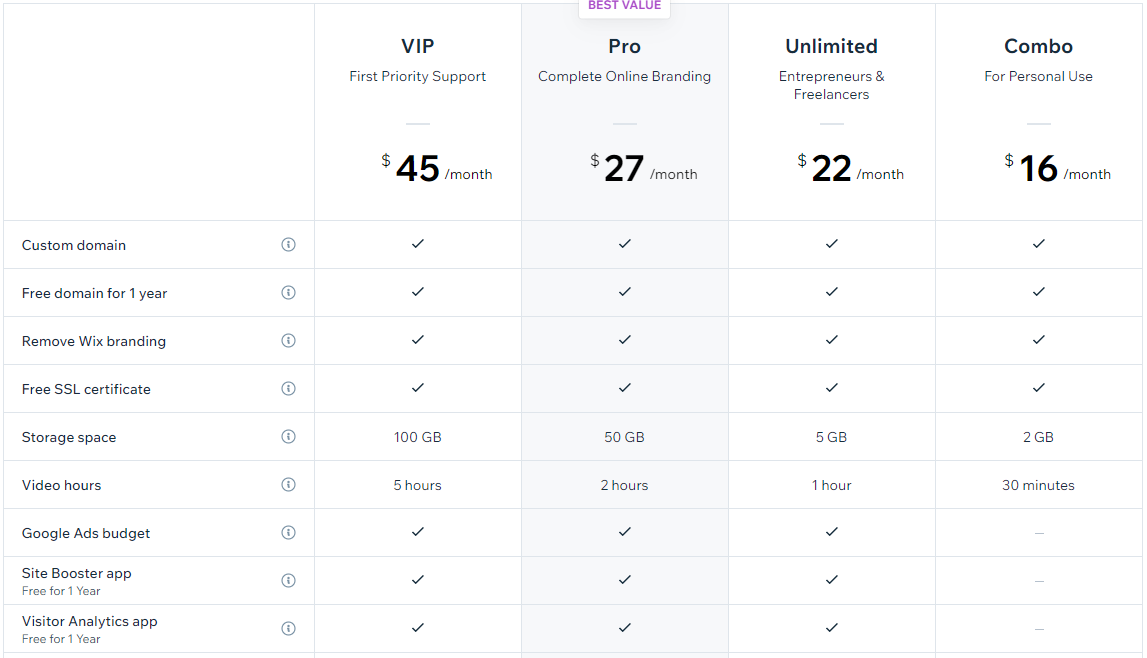 Wix offers a range of plans to suit different needs. There's no free plan, but you can sign up for a free trial. You'll have to put up with Wix ads, but it it's worth it to get access to the platform's core features.
Here's what each plan entails:
Combo Plan: $15/Month: This plan is ideal for personal use. It comes with a custom domain, a free SSL certificate, and 2GB of storage space and you can host up to 30 minutes of video.
Unlimited Plan: $22/Month: The Unlimited plan comes with everything in the Combo plan + 5GB of storage space, one hour of video, and a visitor analytics app. This plan is ideal for entrepreneurs and freelancers and comes with a Google Ads budget to help promote your business.
Pro Plan: $27/Month: The Pro plan is ideal for complete online branding. It comes with all the features in the Unlimited plan, as well as 50GB of storage space, two hours of video, an events calendar app, and over 40 different sizes of your logo ready to use on various social media channels.
VIP Plan: $45/Month: This plan has everything in the Pro plan, as well as 100GB storage space, 5 video hours, and priority customer care. If you value first-priority support, then this plan is ideal for you.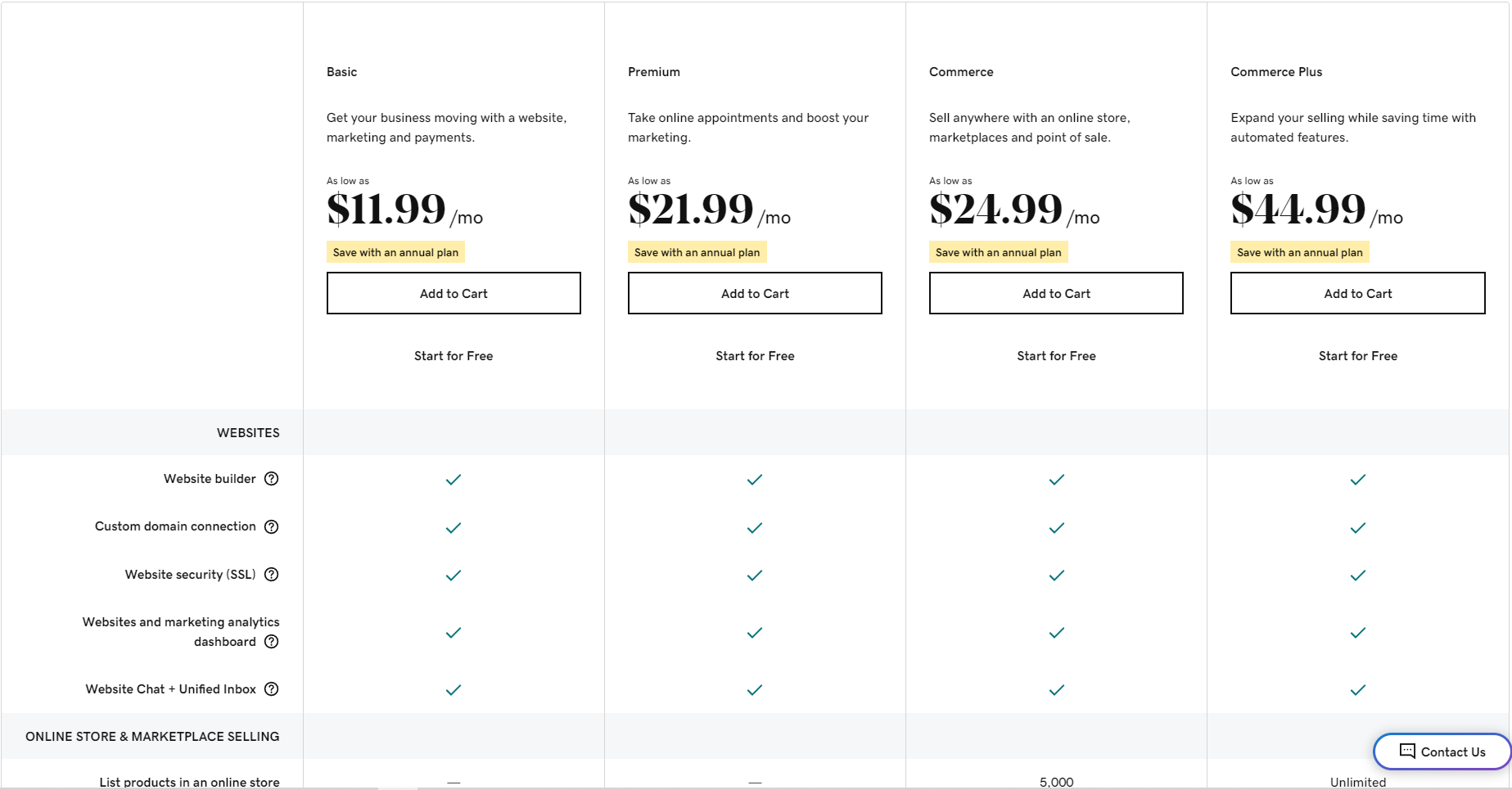 GoDaddy's plans include four pocket-friendly options that come with no strings attached. Unlike Wix, GoDaddy has a free plan that you can use for as long as you want.
Free Plan: $0/Month: This plan allows you to build a free, mobile-friendly website with built-in marketing features and 24/7 support. Keep your free website forever or upgrade to one of the premium plans to unlock more features.
Basic Plan: $11.99/Month: This plan has all the core features of the platform, including a website builder, custom domain connection, and website security (SSL). It also comes with a website and marketing analytics dashboard, built-in website chat, and a unified inbox that lets you view all your customer messages in one convenient place.
Premium Plan: $21.99/Month: This plan has all the features in the Basic plan + eCommerce features to list your products, take online appointments, accept payments, offer discounts, and more.
Commerce Plan: $24.99/Month: In addition to Premium features, you also get the ability to list up to 5,000 products in your online store. The Commerce plan also comes with marketplace and social selling features, gift cards, discounted shipping, and real-time shipping rates for both domestic and international shipping services.
Commerce Plus: $44.99/Month: This plan has all the features in the Commerce plan + automated tools to expand your selling and save time. You can list unlimited products in your store and sell up to 1,000 orders/month on social marketplaces. You also get automatic sales tax calculations and auto-populated tax forms.
Both site builders offer free trials so you can try them out without risking your money. However, unlike Wix, GoDaddy has a free forever plan which makes it ideal for new users who want to take their time building their website.
You only have to upgrade to a paid plan when you want to unlock more business-building features.
Final Thoughts
So, what's the consensus of this Wix vs. GoDaddy comparison article?
Both are heavy hitters in the website-building industry. They each have a lot to offer.
But although there are some similarities between the two, there are also a few clear-cut differences.
This means you'll find one a better bet for your business than the other depending on your needs and personal preferences.
Wix won most of the categories listed here. Its strength lies in its diverse range of built-in features, as well as the Wix App Marketplace where you can get third-party apps to add functionality to your site that you just can't get with GoDaddy.
However, it's important to note that while Wix may outperform GoDaddy in a lot of areas (such as flexibility, design customization, eCommerce, and marketing features), it still may not be the best option for someone who wants simplicity.
GoDaddy's Basic plan is rookie-friendly and provides a lot of bang for your buck. If you're building a small, simple site, then this no-code platform is a good choice. You won't have to pay for features you don't need and you can always upgrade to unlock more functionality as your site grows.
If you still aren't sure which platform is right for you, you may want to consider reading about other Wix Alternatives.
Other Comparisons You May Enjoy
GoDaddy Website Builder Comparisons