Choosing the right website builder is a crucial decision for any business owner looking to establish an online presence. In this comparison, we'll examine two popular options—Wix and Strikingly—to help you determine which platform best fits your needs.
Wix and Strikingly are both user-friendly website builders with drag-and-drop editors, making it easy for anyone to create a professional-looking site. However, there are some key differences when it comes to features, customization, performance, and pricing.
In this Wix vs Strikingly review, we'll compare the two solutions across several criteria to help you make an informed decision on which website builder is the best choice for launching your online presence and achieving your business goals. Let's dive in!
1. Understanding the Basics
Founded in 2006 by Avishai Abrahami, Nadav Abrahami, and Giora Kaplan in Israel.
One of the most popular website builders globally with over 200 million users as of 2021.
Used by over 5% of all websites on the internet.
Popular Facebook groups: Wix Lounge with over 13,000 members.
Founded in 2008 by David Chen, Steven Ye, and Tianhang Yu in China.
Growing in popularity with over 2 million websites built as of 2020.
Popular in Asia but expanding worldwide.
Active Facebook group with over 1,600 members.
Both Wix and Strikingly have established strong market positions as leading website builders. Wix is currently the more widely-used platform globally, but Strikingly is rapidly gaining users worldwide. Joining the Facebook communities is a great way to connect with other users of both platforms.
2. Ease of Use
The Wix website builder has a very intuitive drag-and-drop editor that makes it easy for beginners to create a website. The dashboard interface is clean and simple to navigate. Users can easily access all the main features from the left sidebar and use it to create unlimited free sites.
When you first open Wix, it provides an aesthetically pleasing welcome screen that prompts you to choose a template or start from scratch. No coding and designing skills are required. The template options are nicely organized by category like business, photography, online store, etc. Wix offers hundreds of professional templates for everything from a small business website to a complex website for a large corporation.
Once you select a template, you can fully customize it by dragging and dropping elements like images, text boxes, and buttons onto the page. Everything happens visually and can be edited in real time. You don't need any coding knowledge. The learning curve is quite gentle. Within an hour or two, most users can have a basic site up and running.
Overall, Wix has perfected the user experience for beginners. The editor is so intuitive that no major training is required. Wix also offers detailed help documentation and how-to videos for guidance. The interface is responsive so site building can happen on desktop or mobile seamlessly.
Strikingly also uses a simple drag-and-drop editor that is beginner-friendly. Their dashboard is organized into clear sections like Pages, Blog, and Store. You can easily navigate between these to build out your site.
When starting out, Strikingly asks you a few questions to customize your site's purpose and style. Then it provides curated template options tailored to your needs. The template designs are modern and attractive to audiences.
Like Wix, Strikingly lets you modify templates visually without coding. You can drag and arrange text boxes, add images, alter colors, etc. Strikingly has a smaller selection of elements compared to Wix but all the essential options. The learning curve is still quite manageable.
The user experience is smoother on desktop than on mobile. But Strikingly offers mobile editing and a responsive site. The documentation and tutorials are not as robust as Wix. But the intuitive interface means beginners can still grasp it quickly.
Winner: Wix
Strikingly vs Wix: Who wins for easiest site builder to use? Wix is the winner due to its wider range of templates, larger element selection, and smoother mobile experience for all websites created on the platform. The learning curve is gentlest on Wix. Beginners can get oriented quicker thanks to its perfected dashboard and abundant educational resources.
3. Design and Customization
Wix provides hundreds of professionally designed templates to choose from. The template options are organized by category, making it easy to find an ideal starting point. Users can browse templates for businesses, online stores, portfolios, blogs, events, and more.
Once you select a template, Wix enables extensive customization. You can change colors, fonts, and layouts and add your own images. Drag-and-drop is intuitive for moving elements around. For advanced users, Wix offers HTML and CSS editing. You can also add third-party code like JavaScript.
Wix templates are mobile-optimized for responsive design. You can preview the mobile experience and make adjustments as you build. The mobile editor also lets you customize your site through your mobile device.
Strikingly offers curated, modern templates based on the type of site you want to build. The template selection is more limited compared to Wix but the designs are sleek and attractive.
Customizing Strikingly templates is easy with drag-and-drop editing. You can adapt layouts, colors, fonts, and images visually without coding. However, advanced CSS editing is not possible. Design capabilities are more constrained compared to Wix.
Strikingly also optimizes its templates for mobiles and tablets. You can preview and edit your site across devices. But the mobile editing experience can sometimes be buggy.
Winner: Wix
Wix wins for design and customization thanks to its expansive template library with diverse options. Wix also enables deeper design flexibility with code editing and a wider range of customizable elements. Wix websites are not only modern and stylish, but the platform also offers mobile optimized websites straight out of the box for a smooth mobile experience.
4. Features and Functionality
Blogging Tools
Wix provides an integrated blogging platform called Wix Blog. It offers both free and paid plans to enable blogging capabilities for your site.
With Wix Blog, you can fully customize your blog design using the template options and drag-and-drop editor. Features include scheduled posts, SEO optimization, tagging, nested comments, and more.
Blog posts are easy to create and format with Wix's visual editor. You can include images, videos, polls, and other media seamlessly. Usage analytics give you insights into traffic and engagement.
Wix also offers a dedicated mobile app called Wix Blog for managing your blog on the go. You can write, edit, publish, and promote posts through your mobile device.
Overall, Wix provides a full-featured blogging solution deeply integrated with the website builder. This allows you to have a unified site and blog presence.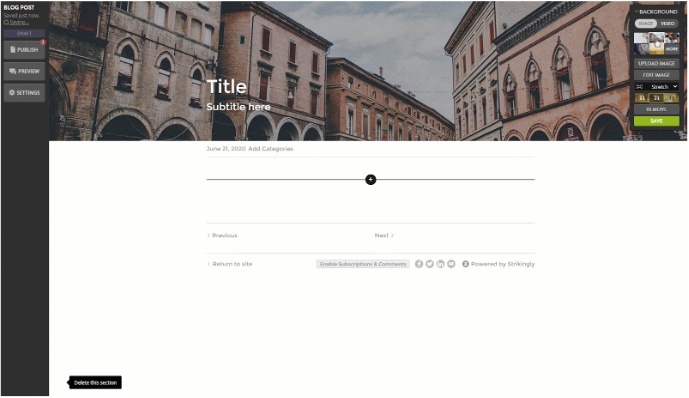 Strikingly provides basic blogging capabilities through its website builder. You can include a blog section in your site and publish posts.
The formatting options are more limited compared to Wix. There is no dedicated mobile app either. However, it is still simple to create blog posts on Strikingly through the site editor.
Strikingly's blogging features cater more to personal sites rather than professional blogs. The analytics and optimization capabilities are not as advanced.
But the blog feed can be displayed attractively on your site. And new posts will be indexed by search engines. For casual bloggers, Strikingly provides enough features to get started.
Winner: Wix
Wix wins for best blogging platform because it offers a full-featured solution optimized specifically for blogging. The integrated mobile app, customization options, and built-in analytics make it superior to Strikingly's more basic blogging capabilities.
E-commerce Capabilities
Wix offers robust e-commerce features through Wix Stores. It provides an online store builder along with features like:
Secure payment processing with Stripe or PayPal
Product management and inventory tracking
Coupon and discount capabilities
Automated tax calculations
Shipping management and rate quoting
Abandoned cart recovery
Sales and performance reports
With advanced features like gift cards and member accounts, Wix enables full-featured online stores from small shops to large marketplaces.
The Wix Stores feature integrates seamlessly with your Wix business websites. You can customize the design using templates and the drag-and-drop Wix editor. Adding new products and managing orders is straightforward. Whether you want to build one page websites or advanced e-commerce sites with thousands of products, Wix has responsive templates to create beautiful stores.
Strikingly provides basic e-commerce capabilities through its website builder. You can add a store section and create product listings.
However, Strikingly does not offer extensive store management features. There is no dedicated store builder. You are limited to Strikingly's built-in payment and shipping options.
Strikingly Stores cater more towards sellers with a handful of products rather than large inventories. You can take custom orders through Strikingly but managing and fulfilling them requires using third-party tools.
So for simple online retail, Strikingly provides enough capability to get started. But growth is constrained compared to Wix.
Winner: Wix
Wix is the clear winner for e-commerce features. Its dedicated store builder offers extensive management and customization capabilities tailored for online retail on any scale. With Strikingly, e-commerce feels like an afterthought and is constrained for growing businesses.
SEO Tools
Wix provides extensive built-in SEO tools to help optimize your site's discoverability and ranking.
Key features include:
XML Sitemap generator
Auto-generated meta descriptions
Alt-text tagging for images
301 redirects
Integrated analytics to track keyword ranking
Ability to customize page URLs
Optimization for voice search
Wix also offers Schema markup to enhance rich snippets and structured data. And the platform is fully indexed by search engines out of the box.
Overall, Wix makes it easy to set up proper on-page and technical SEO right from the dashboard. The recommendations and automation eliminate the guesswork for beginners.
Strikingly also offers some useful SEO tools directly through its editor. Features include:
Sitemap and robots.txt generation
Customizable meta tags and page titles
Image alt text tagging
Linking to social profiles for local SEO
Site analytics for tracking performance
However, Strikingly's settings are more limited compared to Wix when it comes to URL management, rich snippets, redirects, and more. There is less guidance built in for optimization best practices.
But Strikingly still handles technical SEO well and blogs enable keyword targeting. So you can cover SEO basics through the platform.
Winner: Wix
Wix wins for SEO capabilities due to its robust built-in tools that cover both technical and on-page optimization. Features like sitemaps and analytic integration make SEO easy for beginners. Strikingly still has SEO basics covered but lacks Wix's expansive capabilities and newbie-friendly guidance.
Integrations
Wix offers an extensive collection of third-party integrations through its App Market. With hundreds of apps to choose from, you can easily connect other tools and services to your Wix site.
Notable integrations include:
Payment processors like PayPal, Authorize.net
Email marketing tools like MailChimp, Constant Contact
Live chat services like Intercom, Drift
CRM software like HubSpot, Zoho
Productivity apps like Google Workspace, Dropbox
Social media apps like Facebook, Instagram
Wix apps integrate smoothly into your dashboard and sites. You can manage and activate integrations from one centralized location.
With such a vast marketplace, Wix makes it easy to expand your site's capabilities.
Strikingly has a smaller collection of third-party integrations available. But it still offers apps for key functions:
Email marketing services like MailChimp
Payment systems like PayPal and Stripe
Site analytics through Google Analytics
Social media apps like Twitter and Facebook
However, Strikingly does not have integrations for things like CRM, live chat, productivity suites etc. You have to rely on custom code for non-standard connections.
The app selection covers the basics but lacks diversity compared to Wix. Expanding capabilities through Strikingly alone is limited.
Winner: Wix
Wix wins for integrations thanks to the breadth of its App Marketplace. Wix allows seamless connections to hundreds of tools covering various business needs. Strikingly offers only basic integrations in comparison. For maximum expandability, Wix is superior.
Analytics and Reporting
Wix provides integrated analytics through the Wix Analytics dashboard. It offers in-depth reporting on:
Traffic volume and sources
Visitor engagement metrics
Top landing/exit pages
Conversion tracking
Sales performance
SEO data like keyword ranking
Trends over custom time ranges
The dashboard is well-designed and user-friendly. You can drill into reports for details or export the raw data.
For e-commerce sites, Wix provides specialized analytics on revenue, average order value, top products, and more.
The built-in analytics eliminate the need for third-party integration and make performance monitoring seamless.
Strikingly includes more basic analytics through Google Analytics integration. You can view reports on:
Site visits and geolocation
Traffic sources and medium
Page views and duration
Top landing pages
Acquisition channels
However, Strikingly lacks ecommerce-specific data and deeper engagement metrics compared to Wix. You cannot export report data either.
The Google Analytics integration covers site traffic and performance fundamentals. But standalone advanced analytics is missing.
Winner: Wix
Wix wins for its robust integrated analytics dashboard that provides both website and store owners actionable data. Key e-commerce metrics and customization make Wix superior to Strikingly's simpler Google Analytics reports for optimum data-driven insights.
5. Website Performance
Website Speed and Load Times
Wix sites are hosted on Wix's servers which are optimized for speed and uptime. All templates are mobile-friendly and out of the box for fast load times.
Wix also offers built-in performance analysis tools. You can check your site's page loading speed and recommendations to improve.
Features like image compression, cache settings, and HTML/CSS minification can enhance performance. Wix ADI even automatically optimizes site speed for you.
Average load time benchmarks for Wix sites are under 3 seconds for desktop and mobile. With the right optimizations, Wix sites can achieve excellent speeds.
Strikingly is also hosted on its own infrastructure designed for speed and uptime. Templates are mobile-responsive to aid loading.
However, Strikingly does not have the same built-in speed testing or optimization features that Wix offers. You are limited to third-party audits for analysis and improvements.
Reported average load times for Strikingly sites range from 1-2 seconds. So out-of-the-box performance is still decent but more constrained compared to Wix.
Winner: Wix
Wix wins for website speed and load times. With guided performance analysis and built-in optimization capabilities, Wix makes it easy to achieve faster page loads for desktop and mobile. Strikingly relies more on its base infrastructure without extensive speed controls.
Website Reliability and Uptime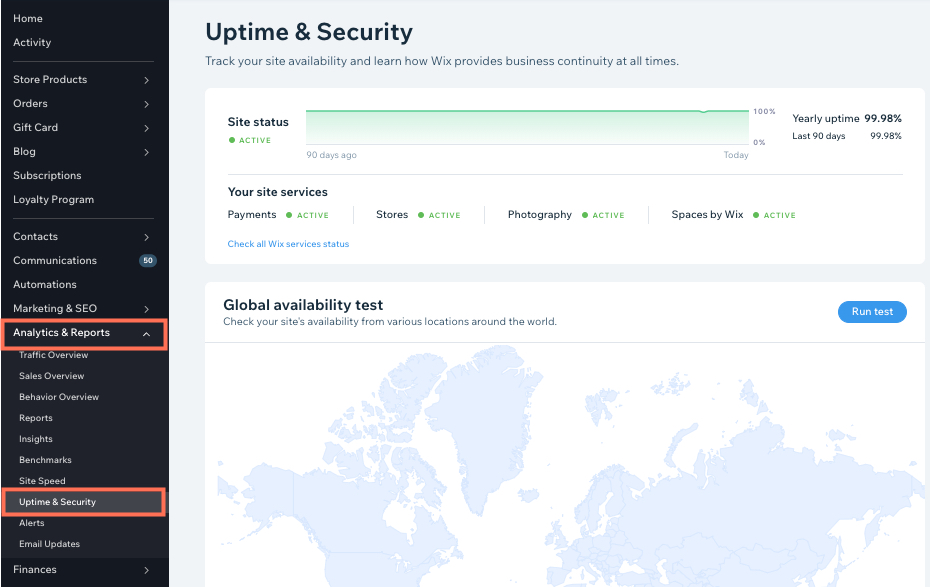 Wix hosts sites on its own cloud infrastructure and provides an uptime SLA of 99.98% for all accounts. Their data centers feature backup power, redundancy, and security measures to maximize reliability.
In the event of any downtime, Wix provides status updates and support. Historical uptime statistics typically meet or exceed the 99.98% SLA guarantee.
For premium accounts, Wix offers a dedicated IP address to prevent shared hosting issues. Caching also ensures availability if hosting servers go down temporarily.
Overall, Wix sites have excellent uptime and stability due to the company's enterprise-grade hosting infrastructure and safeguards.
Strikingly also promises 99.9% uptime for sites hosted on its platform. Their infrastructure runs across multiple availability zones to reduce downtime risks.
However, Strikingly does not offer a status page or updates during any outages. There are occasional reports of sites going down for maintenance without notice.
Uptime monitoring suggests most Strikingly sites meet the 99.9% SLA but fall short of the "five 9s" reliability benchmark. The lack of transparency is a downside.
But for most small sites, Strikingly still provides adequate uptime through redundancy and scaling capabilities.
Winner: Wix
Wix edges out Strikingly when it comes to uptime and reliability. A higher SLA, dedicated IP addresses, and transparent status communication give Wix the advantage for mission-critical sites. But Strikingly still offers sufficient baseline uptime for smaller sites.
6. Customer Support and Community
Wix provides 24/7 customer support via live chat, email, and phone. They also offer an extensive knowledge base with articles, tutorials, and webinars.
The Wix Forum enables community support and discussion as well. Active Facebook groups like Wix Lounge allow further peer-to-peer help.
Response times for support are typically prompt across channels. Agents are knowledgeable in helping troubleshoot site issues.
Wix also provides dedicated account management and onboarding assistance for premium subscribers needing personalized guidance.
Overall, Wix's stellar customer support ecosystem offers multiple avenues to get help through official and community channels.
Strikingly provides customer support by email and in-app messaging. Their help center contains tutorials and FAQs on working with the platform.
However, Strikingly does not offer phone or live chat support. There is no official user forum either. Their Facebook group has modest activity.
Support response times are inconsistent, with some users reporting long waits. Documentation breadth and quality are not on par with Wix's.
The lack of live communication channels is a weakness, but Strikingly still provides email-based assistance. Relying on the user community helps fill gaps.
Winner: Wix
Wix wins for their comprehensive customer support across live chat, phone, email, and an extensive knowledge base. Active community channels supplement the official options. Strikingly's email-only assistance and weaker community make it harder to get timely answers.
7. Pricing
Wix offers both free and paid plans:
Free: Basic site with ads, 500MB storage, 1GB bandwidth
Combo: $16/month: Removes ads, 3GB storage, unlimited bandwidth.
Unlimited: $22/month with 10GB storage.
Pro: $27/month: Full features, unlimited storage, and priority support. $39/month.
VIP: $45/month: First priority support and custom solutions for large businesses.
Overall, Wix is one of the most affordable premium website builders but charges extra for priority support and features.
Strikingly provides free and paid options:
Limited: $8/month: 5GB storage, custom domain name
Pro: $16/month: Removes ads, 20GB storage.
VIP: $49/month: More advanced features to scale and grow your business.
Strikingly charges add-ons for priority customer service, e-commerce, and other premium capabilities.
Its plans are cheaper than Wix's for core features. But the free option is more limited and add-ons increase the cost.
Winner: Tie
Wix provides better value for money at the higher tiers with unlimited features. But Strikingly is more affordable for basic sites needing just core functionality. At the free level, Wix has more capability while Strikingly offers greater scalability to paid plans for growing sites. Both offer solid bang for the buck across the spectrum.
8. Reviews and Reputation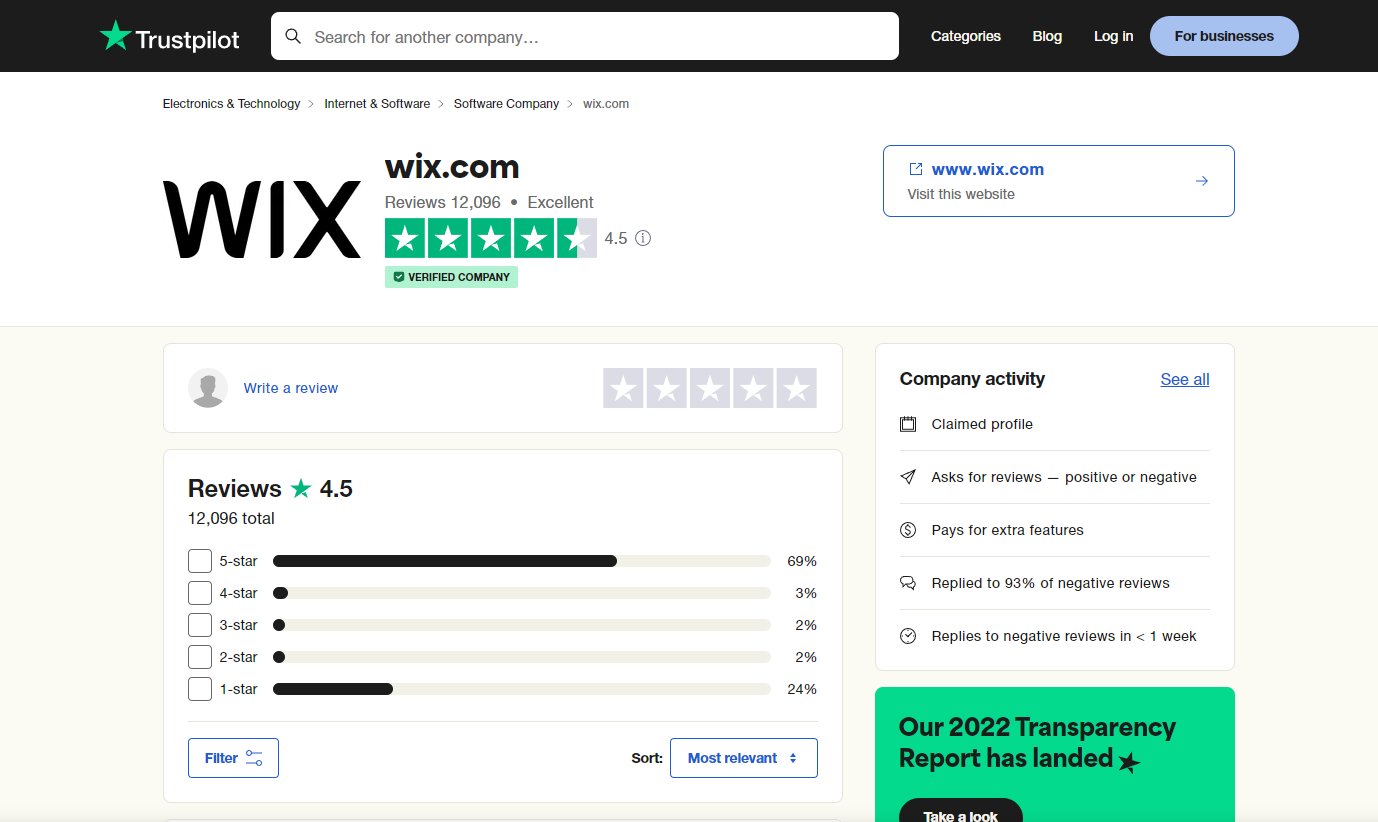 Wix earns strong reviews for its user-friendly drag-and-drop site builder and extensive template library. Users praise the intuitive editor and flexibility for customization.
Many reviews highlight Wix's seamless e-commerce features as a standout for online stores. Strong uptime and speed also get positive mentions.
Negative feedback focuses on the learning curve for advanced site-building and the limitations of the free plan. Some users find the pricing expense for add-ons.
But most agree Wix is one of the best overall website builders, especially for beginners thanks to usability and available features.
Strikingly garners positive reviews for its modern, mobile-optimized template designs. The intuitive editor makes it easy for novices to quickly build a site.
Users note Strikingly works well for personal sites and small business pages. Strong load times and reliability are also highlights.
However, some users feel Strikingly lacks more advanced functionality compared to competitors. Integration and customization options are limited.
Still, Strikingly wins praise as an affordable starting point for launching a basic responsive site. Ease of use is a key advantage.
Winner: Wix
Wix emerges as the winner for its stellar reviews highlighting usability, customization range, and e-commerce power. More advanced users may outgrow Strikingly's simplicity, while Wix caters to users at any skill level. But for basic sites, Strikingly also impresses with its reviews.
9. FAQ's
What is the learning curve like for beginners? Wix has an easy drag-and-drop editor and extensive resources to help beginners quickly build a site without web development skills. The learning curve is gentle.
Does Wix offer free hosting? Yes, Wix provides free hosting on their platform. You can create a free site with ads or upgrade to ad-free hosting.
Can I use my own domain on Wix? Yes, Wix allows you to connect your own custom domain. Domain registration and SSL certificates are also available.
Does Wix work with Macs? Yes, Wix has a cross-platform editor that works equally well on Mac and Windows computers.
Is Wix good for e-commerce? Yes, Wix Stores provides robust e-commerce features to create full-featured online stores and shopping carts.
Is Strikingly beginner-friendly? Yes, Strikingly has an intuitive drag-and-drop editor that makes it easy for beginners to create a site. No coding skills are needed.
What are Strikingly's template options? Strikingly provides professionally designed templates across categories like business, portfolio, restaurant, and online store.
Can I upgrade to a custom domain? Strikingly allows you to connect and mask your sites with a custom domain for a fee.
Is Strikingly compliant with GDPR? Yes, Strikingly meets all GDPR regulations around data privacy and protection.
Does Strikingly integrate with email marketing tools? Yes, Strikingly offers integrations with email marketing platforms like MailChimp, Constant Contact, and more.
Final Thoughts
Choose Wix if…
Wix is the best choice if you want an all-in-one website builder with extensive features and customization options. It's great for beginners thanks to the intuitive drag-and-drop editor yet also caters to advanced users. Wix is ideal for e-commerce sites or blogs needing maximum capability and scalability. The reliable hosting infrastructure also makes it suitable for mission-critical sites.
Learn more about Wix by reading my Wix review.
Also, I recommend checking out some of my Wix comparisons to see how it performs against other site builders:
Strikingly is ideal if you need a simple, affordable website builder for launching a personal site or basic online presence quickly. The modern templates and easy editor allow anyone to create a mobile-friendly site without web skills. While capabilities are more limited than Wix, Strikingly covers the basics well for bootstrapped startups or small projects.
You may also want to take a look at my Strikingly review to expand your knowledge of this site builder.
Alternatively, check out how it compares against other site builders:
Selecting the best website builder for your needs is a crucial business decision. Take the time to evaluate your specific requirements, budget, and goals. We hope this detailed comparison provides useful insights to help you determine if Wix or Strikingly is the right choice. Please leave any questions in the comments below – we're happy to help guide you further!