When it comes to choosing the right website builder for your business, Builderall and Wix are two of the most popular options on the market today. With so many website builders available, it can be challenging to determine which platform best fits your business needs and goals.
The website builder you choose impacts your ability to create an effective online presence, sell products or services, engage with customers, and analyze performance. Therefore, it's crucial to thoroughly compare the key features, functionality, ease of use, and pricing of platforms like Builderall and Wix.
In this comprehensive Builderall vs Wix comparison guide, we evaluate how Builderall and Wix stack up across all the important criteria to help you make an informed decision on which site builder is best for your online business.
1. Understanding the Basics
Builderall was founded in 2011 by Erick Salgado in Brazil. It has grown to become one of the most widely-used website and marketing platforms globally, with over 1.5 million users as of 2022. Wix launched in 2006 and was founded by Avishai Abrahami, Nadav Abrahami, and Giora Kaplan in Israel. With over 260 million registered users, Wix is currently the leading website builder worldwide.
While Wix holds the top market share overall, Builderall occupies a strong position in the all-in-one DIY website builder and marketing platform space. It offers users tools for building websites, email marketing, online courses, and more.
Both platforms have active Facebook communities where users ask questions and engage with other users. Check out the Official Builderall Facebook Group with over 56.8K members and the Wix Lounge with over 4.6 million followers.
By understanding the founders' visions and each platform's market landscape, entrepreneurs can better evaluate how Builderall and Wix align with their specific business goals and target audience. While Wix leads in the breadth of users, Builderall competes well as a multifaceted DIY platform.
2. Ease of Use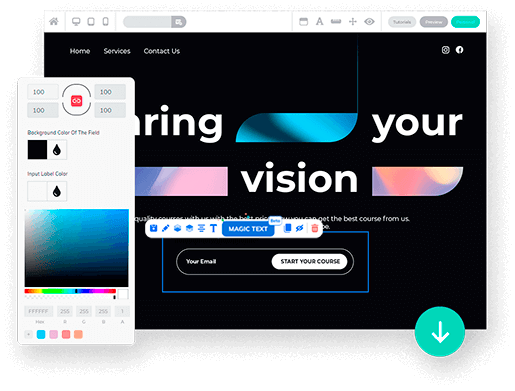 Builderall features an intuitive drag-and-drop editor for building websites. The interface is clean and well-organized into different sections like Pages, Design, Apps, and Settings. The design studio makes it easy for beginners to find their way around. Everything is visual and widget-driven so users don't need coding skills to build professional sites.
The learning curve is fairly low. New users can comfortably create sites by dragging elements onto the canvas, customizing designs, and inserting apps. Builderall also has a dedicated support center with helpful tutorials and documentation for guidance. While there may be a slight initial learning curve to understand the platform's capabilities, Builderall simplifies website creation overall.
The user experience is seamless. Pages load quickly in the editor and changes are saved automatically. The responsive mobile editor makes it fast and easy to optimize sites for mobile. Overall, Builderall's usability and UX enable users to efficiently build and manage web projects.
Wix also utilizes a highly intuitive drag-and-drop editor. The clean interface and thoughtful layout streamline site-building for novices and experts alike. Everything is adjustable in a few clicks. Users can simply drag elements right onto the canvas and customize them visually.
Given its easy-to-use editor and abundance of templates, the learning curve for Wix is very minimal. Users can have professional-looking sites up and running in minutes, even without prior experience. Wix also offers a wealth of support articles and an active user forum to help overcome any hurdles.
The user experience with Wix is seamless, with auto-save functionality and fast page loading speeds within the editor. The mobile and tablet editors also make site design on mobile a breeze. Overall, Wix provides an incredibly intuitive, user-friendly experience.
Winner: Tie
While both Builderall and Wix are highly user-friendly platforms that minimize the learning curve, Wix edges out Builderall when it comes to simplicity specifically for complete beginners. However, Builderall still offers an excellent user experience and has the advantage of better UX for managing multifaceted web projects beyond just website building. For most users' needs, both platforms offer exceptional ease of use.
3. Design and Customization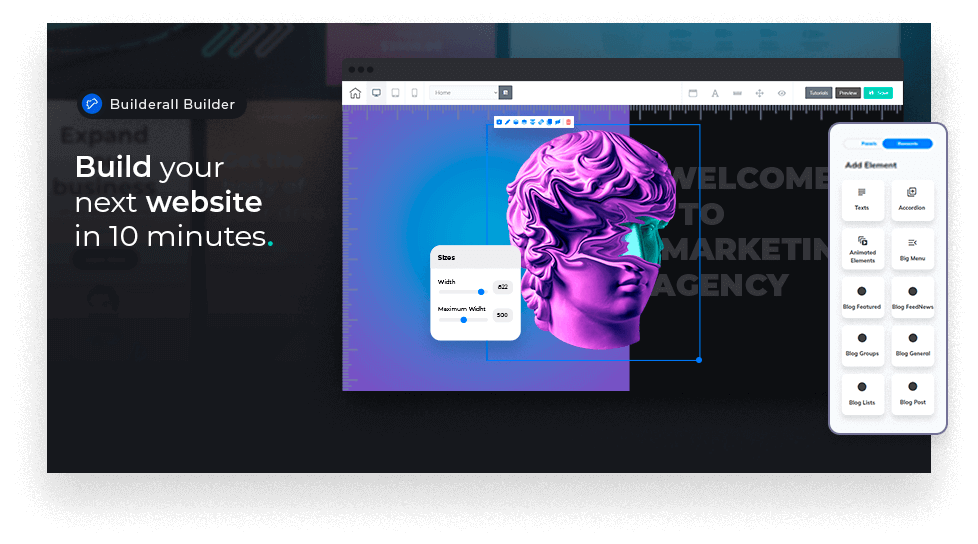 Builderall provides users with hundreds of professionally designed templates to choose from for a starting point. The templates are modern and responsive, catering to blogs, online stores, portfolios, and more. You'll even find landing page templates that you can easily customize by changing colors, fonts, layouts, and elements within these templates to match your brand. You can do this using the simple Builderall drag and drop builder.
For deeper customization of website and landing pages, Builderall allows CSS editing so developers can tweak site design and behavior. Users can also upload custom code or scripts to enable advanced functions. The flexible drag & drop builder makes it simple to rearrange site structure on the fly.
In addition to making it easy to build your very own website with no coding knowledge, Builderall also comes with a built-in sales funnel builder. You'll be able to quickly build complex sales funnels using the built-in sales funnel templates.
Builderall sites are optimized for mobile out of the box, making them ideal for your internet business. The responsive editor makes it easy to preview and adjust your site across all devices. You can also design pop-ups and other conversion tools for mobile visitors. Overall, strong customization options and mobile optimization empower you to achieve nearly any design aesthetic.
With over 500 designer-made templates, Wix gives users abundant beautiful starting points. Wix templates are mobile-ready and cover a diverse range of categories, making it easy to find a design suited to your brand. You can customize colors, fonts, images, and layouts right in the editor.
Wix also has an AI-powered tool, Wix artificial design intelligence (or Wix ADI) which builds a fully functional website for you in minutes. This is a huge advantage for users without the technical knowledge to build web apps.
For deeper design control, the Wix Editor offers CSS editing. Developers can add custom code and take full control over site design and behavior. Non-developers can also tweak CSS with the built-in CSS. There are also 3rd party apps for advanced design capabilities.
Wix websites have mobile friendly pages, and the Mobile Editor enables you to further optimize sites for mobile in real time. You can adjust layouts, fonts, colors, and more to tailor pages for mobile. There are also many mobile-specific design elements like toggle menus available. Wix makes mobile design seamless.
Winner: Wix
While both platforms offer ample templates and customization capabilities, Wix pulls ahead when it comes to design flexibility. The enormous template library provides more diverse starting points. Wix also makes advanced design incredibly intuitive even for non-developers through tools like the CSS Editor. The Builderall funnel club has a lot to offer, but Wix is best for those seeking maximum design control with minimal effort.
4. Features and Functionality
Blogging Tools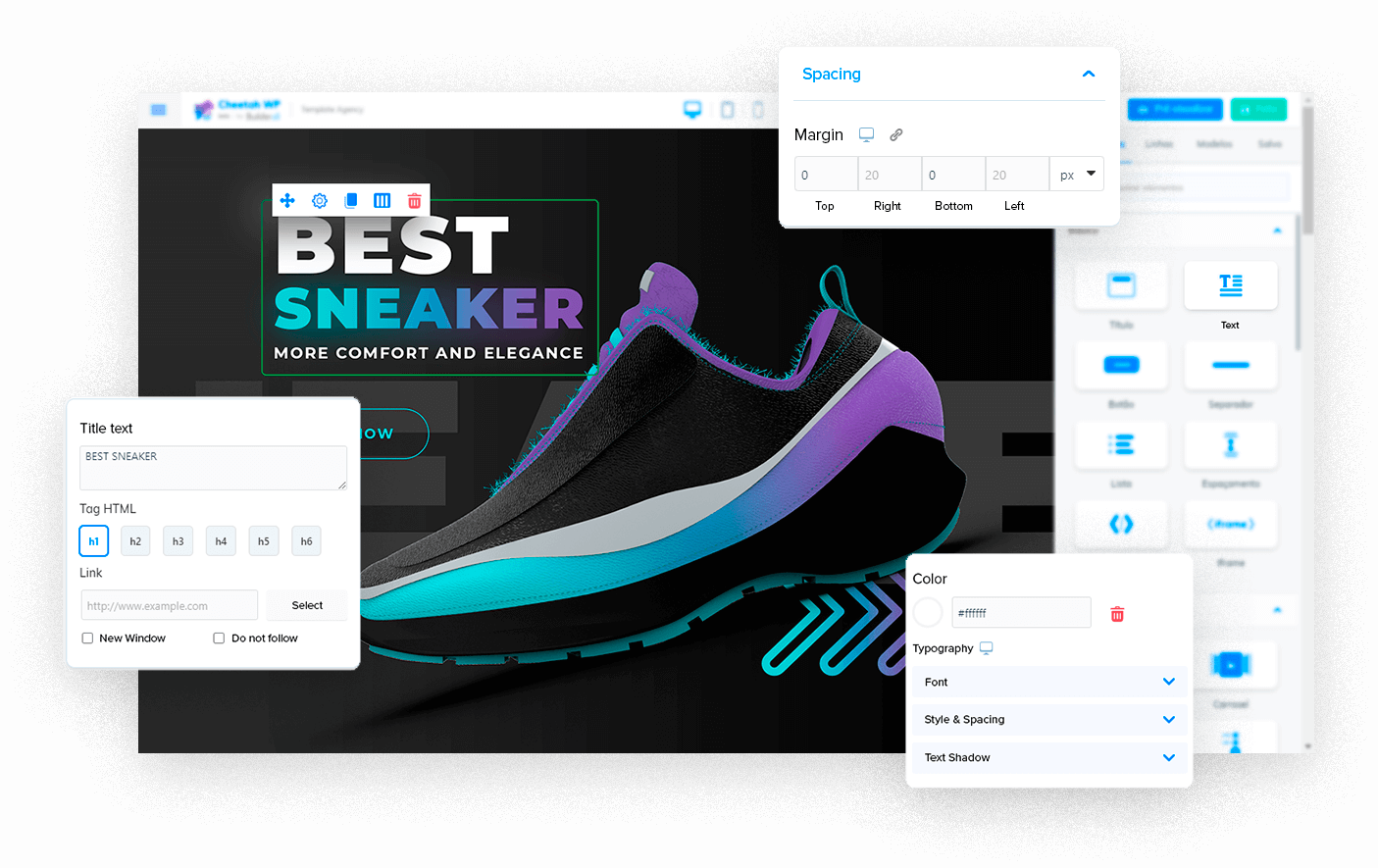 The Builderall website builder includes an integrated blogging app called BlogE. It provides a straightforward editor to create blog posts complete with formatting options, SEO settings, scheduling, and more. You can incorporate media seamlessly by uploading images and videos right into posts. BlogE also enables you to add tags, categories, and comments and optimize posts for SEO.
The blogging app allows you to create as many blogs as you need for each website. It's easy to customize the design of your blog pages using Builderall's drag-and-drop editor to ensure that your blog appeals to your targeted audience. You can showcase blogs prominently or tuck them away as part of your broader site architecture.
Overall, BlogE gives you a capable blogging system without needing different tools or third-party integrations. While it lacks some advanced features of dedicated blogging platforms, it provides an efficient built-in blogging solution.
Wix provides an integrated blogging platform called Wix Blog that makes it easy for any user to start and manage a blog. It has more features compared to Builderall. You can create blog posts using the intuitive editor complete with rich formatting options. Images, videos, links and more can be added seamlessly to engage readers.
The Wix Blog platform enables you to create multiple blogs if needed. You can even create a membership site to control access to your blog content. You can customize the design and layout of your blog pages using templates, colors, fonts, and editing the HTML/CSS. Integrated SEO and community engagement tools like comments and social sharing buttons also help grow your readership.
With Wix Blog, site owners don't need external tools to start publishing content. While it lacks some sophistication compared to standalone blogging platforms, it gives Wix users an excellent integrated blogging experience and the ability to add advanced tools (e.g. a video background for your blog page) from the Wix Marketplace.
Winner: Wix
Both Builderall and Wix have capable built-in blogging features and many of the same tools that allow you to create blog content without third-party platforms. However, Wix pulls ahead with its user-friendly Wix Blog that makes it a bit easier for beginners to start and customize a professional-looking blog to help you attract more customers. The breadth of design options gives Wix the win for best-integrated blogging tools.
E-commerce Capabilities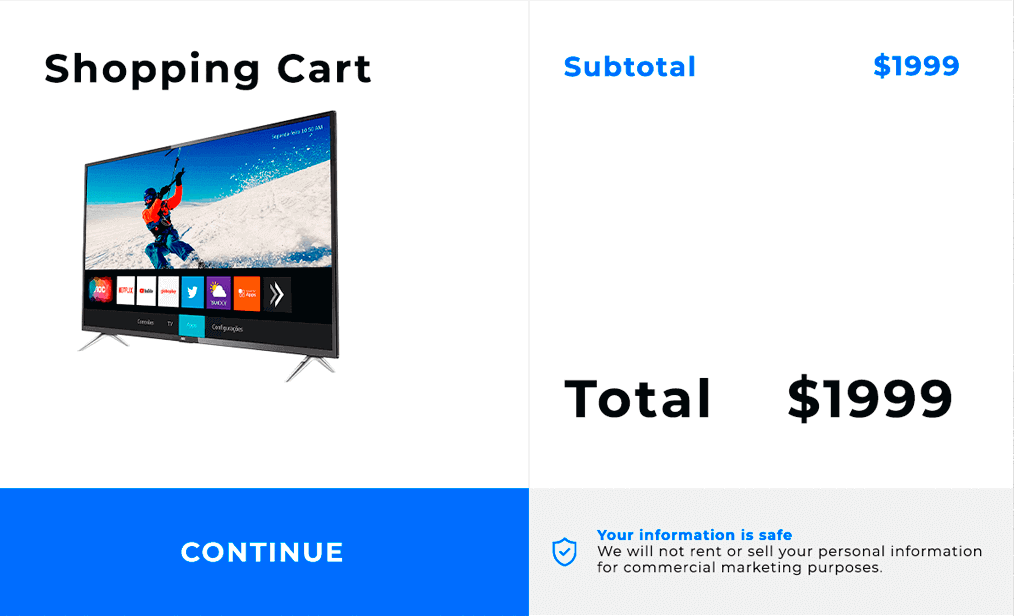 The Builderall builder provides an integrated e-commerce solution called ChecEcommerce. It makes it easy to create an online store and start selling products right from your Builderall website.
Chec Ecommerce enables you to build and customize online store pages using the drag-and-drop editor. Add enticing product galleries, promotions, payment options, and more to optimize the shopping experience. All of your store data syncs seamlessly across devices.
The platform supports secure payment processing integrations with Stripe, PayPal, and local providers. It also includes tools for managing shipping, tax, inventory, and order management. While Chec lacks some advanced functionality compared to standalone e-commerce platforms, it provides a capable storefront system.
Wix also offers an integrated e-commerce solution through Wix Stores. It provides a customizable online store builder so you can easily add a store to any Wix site.
With Wix Stores, you can create shop pages showcasing your products attractively using the built-in design tools. Display compelling product galleries, promotions, and order processing options to drive sales. Mobile optimization ensures a seamless experience across devices.
For collecting payments, Wix integrates with Stripe, PayPal, Square, and over 100 local payment providers globally. It also provides tools for managing shipping, taxes, inventory, reporting, and more. Overall, Wix Stores equips you with a robust built-in e-commerce experience.
Winner: Wix
Both Builderall and Wix have integrated store builders so you can create online shops without needing third-party e-commerce platforms. However, Wix pulls ahead with a more full-featured and customizable e-commerce solution through Wix Stores. From polished store designs to expansive payment and business management features, Wix offers a more advanced integrated shopping experience.
SEO Tools
Builderall includes a range of built-in SEO tools to help optimize your site and content. The platform makes it easy to create SEO-friendly page URLs and input keyword-rich titles and meta descriptions.
The integrated blog app BlogE also provides SEO options directly within the editor. You can target keywords, adjust titles and metadata, and add ALT text to images right as you create posts.
Builderall allows you to integrate Google Analytics to monitor and analyze site traffic and performance. While it lacks more advanced SEO capabilities like sitemaps or Google Search Console integration, Builderall covers the SEO basics relatively well.
Wix also provides website owners with SEO capabilities to improve search visibility. When creating and editing pages, you can optimize page URLs, customize titles and meta descriptions, and add ALT text to boost SEO.
For blog posts, the integrated Wix Blog platform enables easy SEO optimization. Target keywords in content, craft SEO-friendly post URLs, customize titles and meta data, and more.
Wix also makes it easy to connect to Google Analytics and even integrates directly with Google Search Console. Site owners can submit XML sitemaps directly within the Wix dashboard. With robust built-in tools, Wix enables comprehensive site optimization and analysis.
Winner: Wix
Both Builderall and Wix are powerful online marketing platforms that allow you to optimize pages and content for search engines with their built-in editor settings and options. However, Wix pulls ahead with its more advanced integrated SEO tools like Google Search Console connectivity and XML sitemap generation. Wix provides site owners with a deeper set of SEO capabilities to maximize search visibility for their business online.
Integrations
Builderall provides native integration with external apps including Dropbox, Google Drive, Outlook, and Calendly. This allows you to easily connect your Builderall website and tools with these popular apps.
For email marketing, Builderall integrates directly with the free email marketing platform, MailChimp, as well as platforms like ConvertKit, GetResponse, ActiveCampaign, and more. It also integrates natively with webinar software like WebinarJam and EverWebinar. You can run unlimited email campaigns, and you can even add tools to follow up with your subscribers from your dashboard.
There are also native integrations available with other Builderall products like Chec e-commerce, Actionetics CRM, and Builderall Chatbot which you can add to your website in just a few clicks. This makes it seamless to leverage multiple Builderall tools together.
While Builderall doesn't support Zapier to connect additional apps, its portfolio of native integrations covers some of the most important use cases like email, webinars, and e-commerce.
Wix offers native integration with an enormous ecosystem of applications – over 500 at last count. This makes it easy to connect your Wix site to popular software like Salesforce, MailChimp, HubSpot, Stripe, and many more.
Wix also supports Zapier, allowing you to integrate thousands of additional apps that don't offer native Wix integration. With Zapier, connecting Wix with tools like Slack, Trello, Asana, and other software is simple.
Between native app integrations and Zapier support, Wix sites can be connected to virtually any application. This flexibility and breadth of integrations is a major strong suit of the Wix platform.
Winner: Wix
Both Builderall and Wix provide native integration capabilities to connect your website with other apps and services. However, features compared in this guide show that Wix stands out for its native integration with over 500 applications, dwarfing Builderall's more limited selection. Wix's partnership with Zapier also opens up thousands more integration possibilities. For the broadest selection of integrations, Wix is the winner.
Analytics and Reporting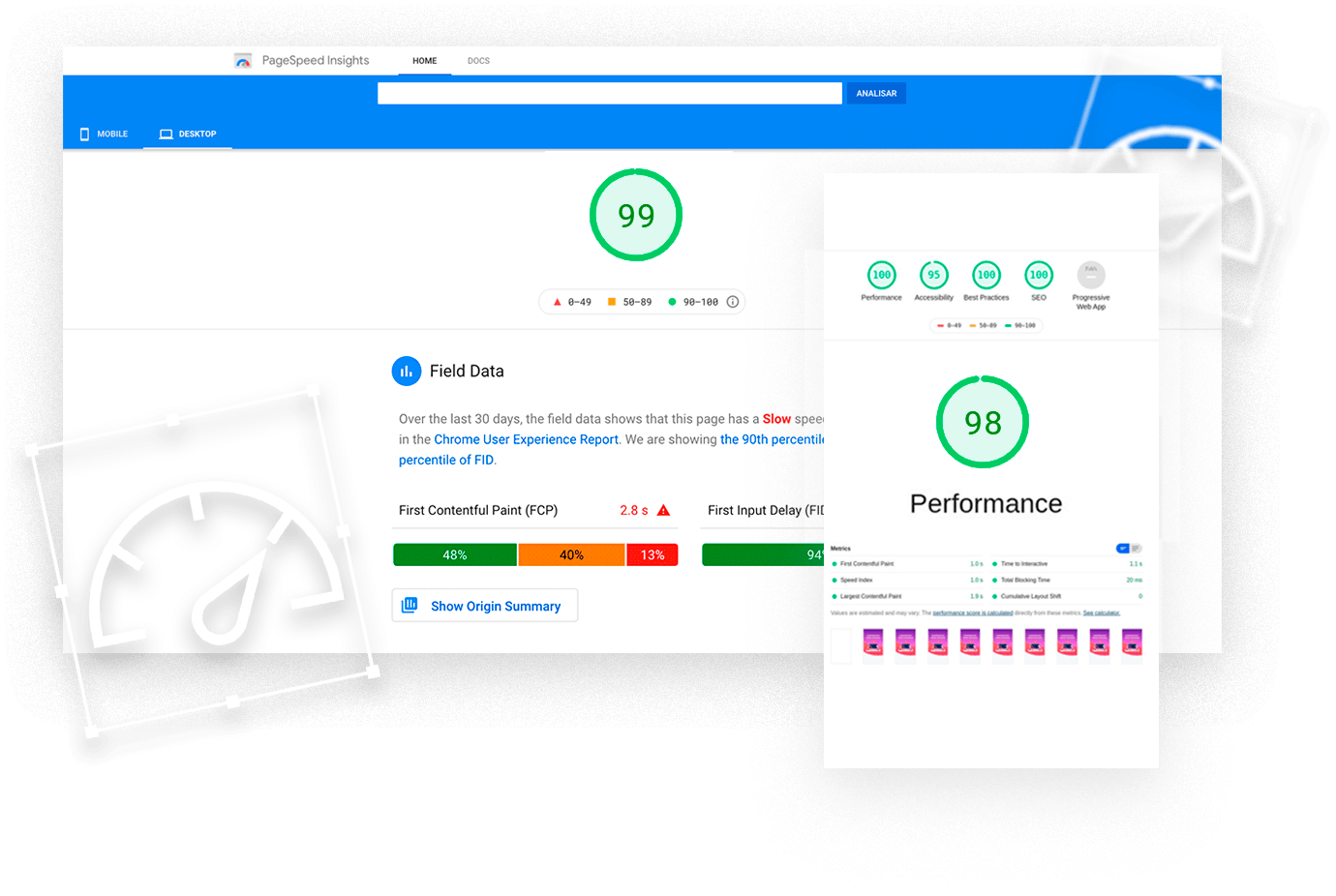 Builderall provides integrated analytics through its Builderall Statistics app. This enables users to view key website metrics like visitors, page views, bounce rates, traffic sources, and more. The reporting dashboard offers insights into your website's performance and audience behavior.
For deeper analysis, Builderall allows you to easily integrate Google Analytics by pasting your tracking code. You can then leverage Google's robust analytics capabilities directly from your Builderall dashboard.
Email marketing campaigns sent through Builderall also include open and click-through rates to gauge engagement. While reporting is fairly basic natively, Google Analytics integration bolsters Builderall's analytics.
Wix comes equipped with powerful built-in analytics through the Wix Analytics dashboard. It provides insights into website traffic including visits, unique visitors, page views, bounce rates, location, referral sources, and more.
Data can be filtered by date ranges and specific site pages to dig into performance. There are also visual reports like heatmaps to understand user on-page behavior. For deeper analysis, Google Analytics can be integrated as well.
Wix also provides reports on blog traffic and engagement along with email campaign metrics like open, click-through, and unsubscribe rates. With its detailed native analytics, Wix enables comprehensive insight into your site and content.
Winner: Wix
Builderall and Wix both provide built-in analytics dashboards to help site owners track performance and visitor behavior. However, Wix pulls ahead with its robust native reporting that offers more insightful website traffic and engagement data without needing Google Analytics integration. For powerful on-platform analytics, Wix is the winner.
5. Website Performance
Website Speed and Load Times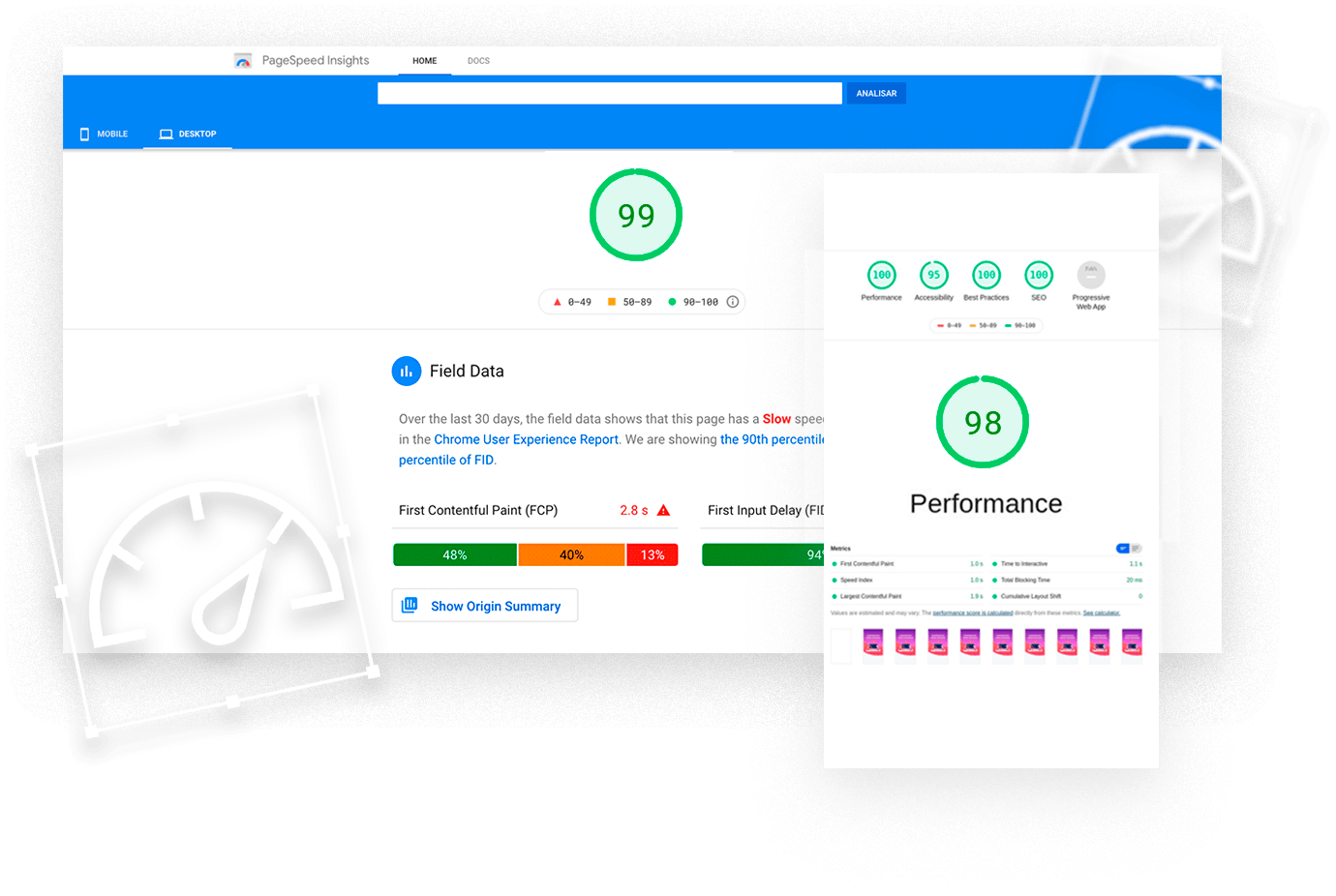 Builderall websites leverage optimized servers and content delivery networks to enable fast page loading speeds. Simple sites load very quickly, often under 1 second according to independent speed tests. More complex pages with ample media may take 2-3 seconds.
To help improve performance, Builderall automatically optimizes images. Lazy loading functionality only loads assets and media as needed, accelerating load times. The platform also minimizes external requests and unnecessary code to streamline delivery.
Builderall sites score well on speed tests like Google PageSpeed and Pingdom, often receiving grades in the 90s. Speed will depend partially on your site design, but the platform itself delivers high performance.
Wix also uses content delivery networks to enable swift delivery of site content globally. Average load speeds are less than 3 seconds for the majority of sites according to independent testing. Minimalist sites can load in under 1 second in some cases.
Wix automatically optimizes images and media files upon upload. Lazy loading functionality also improves speed by only loading assets as visitors scroll. Code is compressed to minimize file size for faster delivery as well.
Sites built on Wix typically earn excellent speed test scores in the 90+ range on PageSpeed or Pingdom's tools. As with Builderall, your site design impacts speed, but Wix's infrastructure optimizes performance.
Winner: Tie
Both Builderall and Wix leverage performance optimization features like lazy loading, image compression, and CDNs to provide fast website speeds. Independent testing indicates average load times of 1-3 seconds are typical for both platforms. After reviewing multiple speed tests, Builderall and Wix are tied when it comes to swift page load times.
Website Reliability and Uptime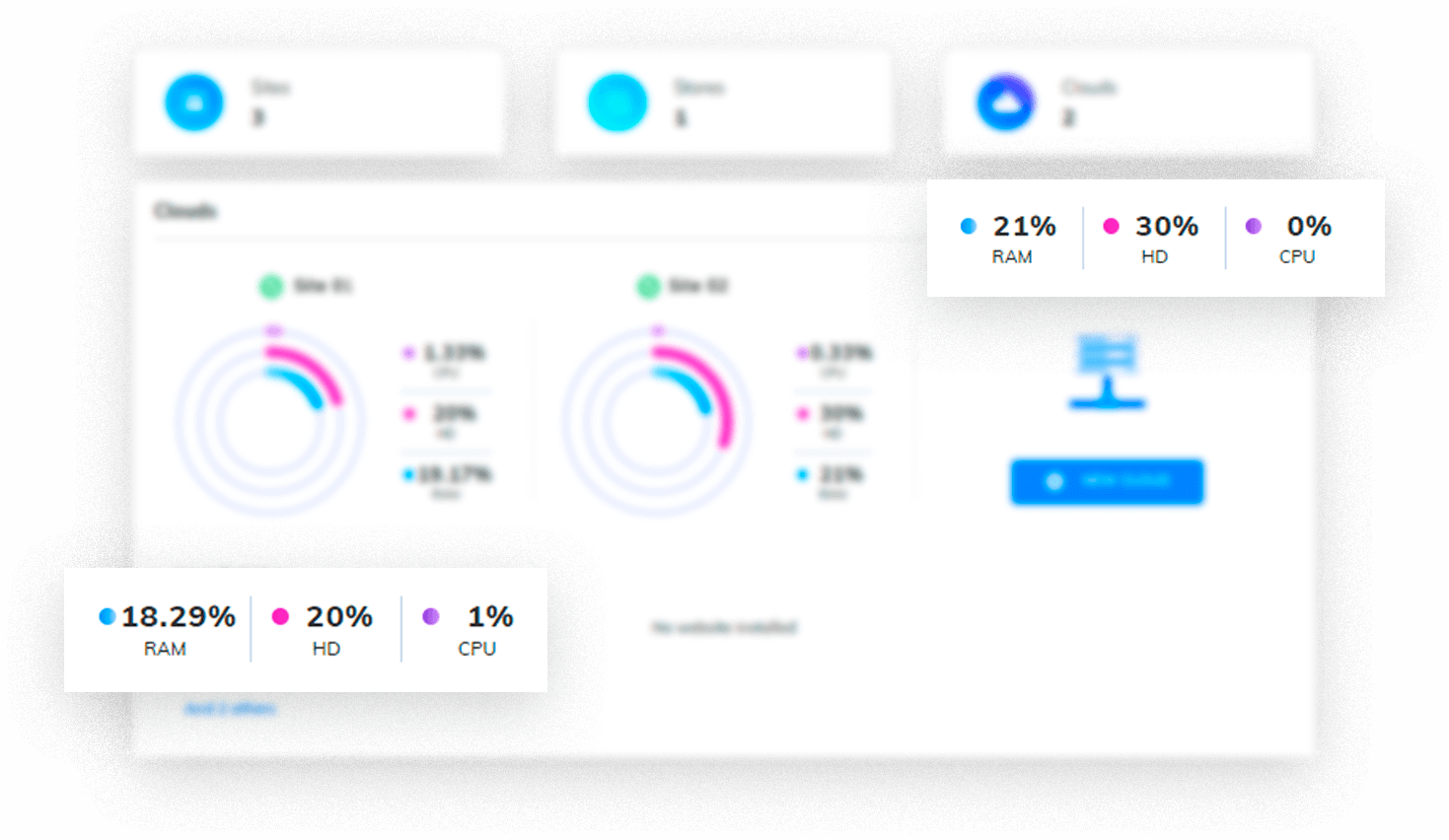 Builderall provides excellent website reliability and uptime. The platform runs on a fault-tolerant architecture across multiple availability zones to minimize downtime risks. This distributed infrastructure prevents single points of failure.
According to historic monitoring by independent third parties, Builderall maintains an outstanding uptime record of over 99.9% uptime per month. The development team actively monitors systems and aims to provide continuous availability.
In the unlikely event of any downtime, Builderall promptly communicates status updates and resolutions to users via its Twitter account and email. Overall, Builderall delivers exceptional reliability.
Like Builderall, Wix also utilizes a distributed computing infrastructure across multiple geographic regions to maximize website availability. This ensures continued operations even if one region experiences any issues.
Based on extensive uptime monitoring, Wix sustains exceptional reliability metrics of over 99.9% uptime consistently. The platform rarely experiences any outages thanks to its stable and fault-tolerant architecture.
If any downtime does occur, Wix has an automated monitoring system that quickly detects and resolves incidents. Wix proactively updates users about system issues and resolutions via its Twitter, Facebook, and real-time status site.
Winner: Tie
Both Builderall and Wix leverage robust infrastructure designs and real-time monitoring to ensure outstanding website reliability for users. Uptime statistics for each platform exceed 99.9% per month according to independent tracking over multiple years. Neither platform clearly outperforms the other when it comes to delivering continuous website availability. For reliability and uptime, this comparison is a tie.
6. Customer Support and Community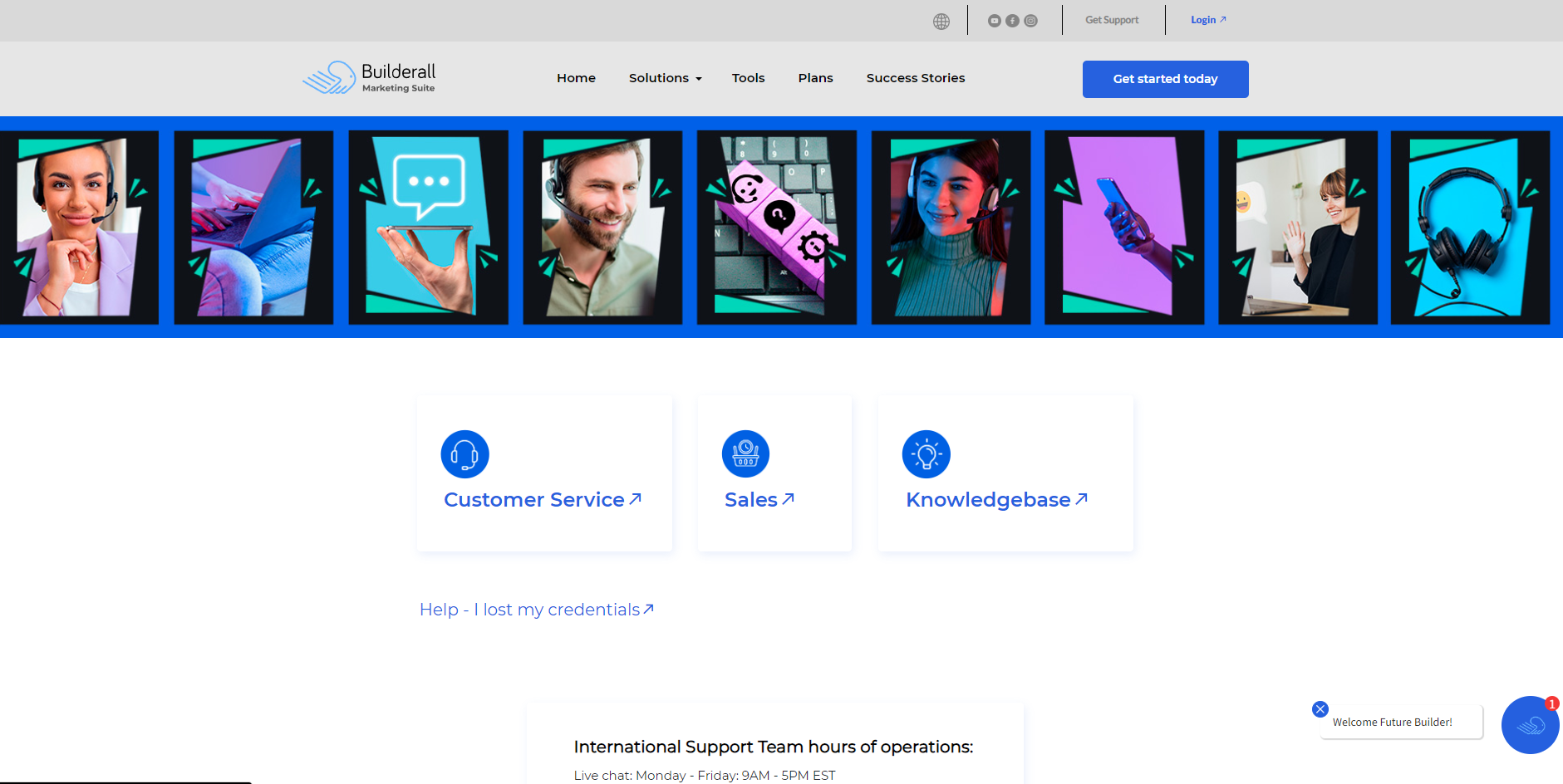 Builderall provides customer support through email tickets, live chat, and phone. Support is available 24/7 to ensure quick responses any time an issue arises. Average ticket resolution times are under 12 hours.
The platform also offers an extensive collection of guides, documentation, tutorials, and videos in the Builderall University. This makes it easy to self-serve answers to common questions.
For connecting with other users, Builderall maintains an active Facebook community group. The Builderall Community is a helpful place to get insights from fellow users.
While support response times can occasionally be slow, Builderall provides multiple support channels supplemented by helpful self-help resources.
Wix offers customer support through email, live chat, and phone support. The Wix support center is staffed by experts 24/7 for prompt assistance. Average response times are under 30 minutes in most cases.
Extensive documentation, how-to guides, and tutorials are available in Wix's Help Center. Wix also has an active user forum where community members help each other with questions.
For connecting with other Wix site owners, the Wix Lounge Facebook group has over 50,000 members. This community enables users to learn, get inspiration, and share knowledge.
With reliable 24/7 support complemented by robust self-help options, Wix provides top-notch customer assistance.
Winner: Wix
Both Builderall and Wix offer email, chat, and phone support in addition to comprehensive self-service resources. However, Wix edges out Builderall when it comes to superior response times for support tickets and the breadth of help available through detailed documentation and an active user forum. For well-rounded customer assistance, Wix is the winner.
7. Pricing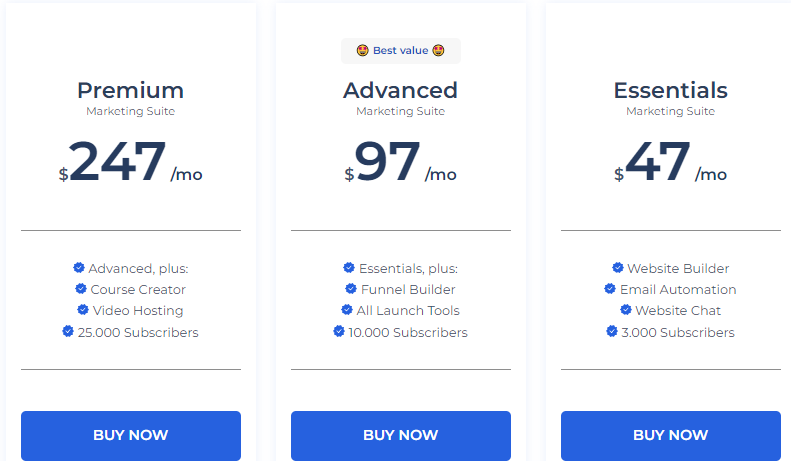 Builderall offers 3 payment tiers:
Builderall Essentials: $47/month
Builderall Advanced: $47/month
Builderall Premium: $247/month
Each plan builds on the features of the previous tier and adds access to additional tools. Even the lowest tier provides a wide selection of apps for building websites, email marketing, chatbots, online courses, and more.
One Builderall account can be used to create unlimited websites. All plans are billed monthly but offer better rates for annual payments. Overall, Builderall provides excellent value across all tiers.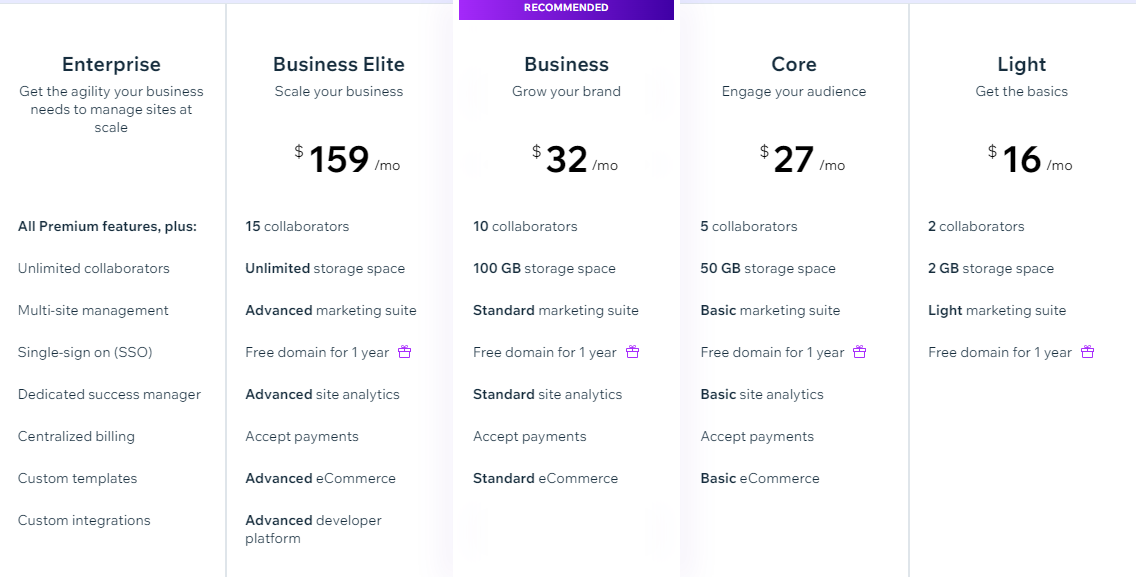 Wix has different plans to offer, including a free website builder with ad support and up to 3GB of storage. Paid plans start at $16/month for 10GB storage and a free domain.
The $27 Core plan allows you to add a custom domain and use the platform's free stock images. The $32 Business plan adds e-commerce features like shopping carts, contact forms, business VIP features, and 100GB disk space and bandwidth. It's the perfect plan to grow your business.
There's also a Business Elite plan for $159/month. This allows for unlimited storage space and comes with advanced ecommerce functionality.
You can build a free website on Wix and host multiple sites. But for this, you'll need separate Wix accounts. Wix provides quality plans from free to unlimited capabilities. Monthly and annual discounts are available on paid tiers.
The Builderall platform edges out Wix when it comes to pricing for a few key reasons. Firstly, Builderall's features scale better across pricing tiers. Secondly, you can host unlimited websites on a single Builderall account, whereas Wix requires separate accounts for each site. Finally, Builderall offers better discounts for annual plans. For overall pricing and value, Builderall emerges as the winner for creating websites.
8. Reviews and Reputation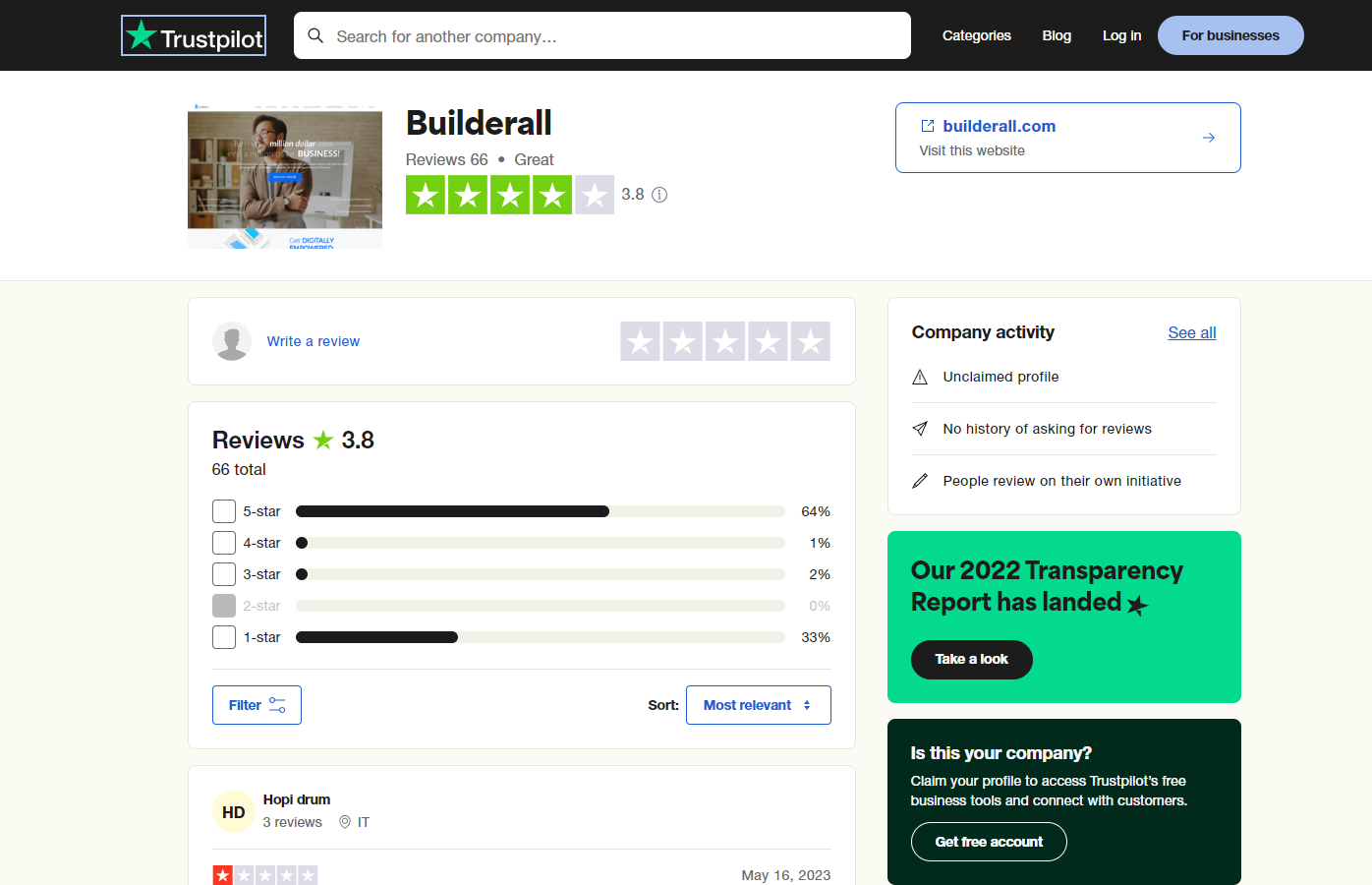 Builderall earns positive reviews for its all-in-one functionality covering website building, email marketing, payment processing, and more. Users highlight the platform's ease of use, templates, integrations, and responsive support.
The drag-and-drop editor receives praise for efficient site-building. Reviewers also appreciate the affordable pricing across various capability tiers. Areas for improvement include slower page load speeds compared to competitors.
Overall sentiment skews positive, with 64% leaving 5-star reviews on Trustpilot. Builderall is regarded well for the value it provides as a unified marketing and web creation platform.
Wix garners outstanding reviews for its incredibly intuitive drag-and-drop website builder. Users consistently praise the polished templates, extensive customization capabilities, and SEO optimization features.
Reviewers highlight that e-commerce functionality, mobile optimization, loading speed, and reliable uptime as top benefits. Some downsides mentioned include the need for separate accounts for multiple sites and limitations with certain integrated apps.
Across platforms like Trustpilot, G2Crowd, Capterra, and TrustRadius, the majority of Wix users leave 5-star reviews reflecting positive experiences overall. Wix is regarded as a top-rated, user-friendly website builder.
Winner: Wix
Both Builderall and Wix receive largely positive feedback from users for powering website creation and online marketing functions through integrated platforms. However, Wix emerges with a slight edge for its stellar ratings focused on its seamless, flexible website builder specifically. With outstanding reviews for its core website-building capabilities, Wix wins this category.
9. FAQ's
Does Builderall offer a free plan?No, the lowest tier is the Digital Marketing plan at $29/month. However, it includes a wide range of features.
Is there a transaction fee for online sales?No, Builderall does not charge any transaction fees on top of your payment processor fees.
Can I make changes to my website on my phone?Yes, Builderall offers a responsive mobile site editor to manage your site on the go.
Does Builderall limit bandwidth or storage?No, even on the lowest tier Builderall does not impose bandwidth or storage limits.
Does Builderall offer split testing?No, split testing capabilities are not natively included but can be added through third-party integrations.
Does Wix have a free plan?Yes, Wix offers an ad-supported free plan with unlimited pages and bandwidth.
Can I connect a custom domain?Yes, all paid Wix plans allow you to connect a custom domain you purchase.
Is there a limit on bandwidth or storage?Paid plans offer unlimited bandwidth. File storage ranges from 3GB to unlimited depending on the plan.
Does Wix offer email marketing features?Yes, Wix provides integrated email marketing including a signup form builder, templates, automation, and analytics.
Can I use Wix for client sites?The number of sites depends on the plan. Free and Premium allow just one site. Unlimited supports unlimited sites.
Final Thoughts
When choosing the best website builder, Builderall is a great choice for entrepreneurs who want an all-in-one platform to create websites along with tools for email marketing, membership sites, webinars, online courses, and e-commerce. With its combination of website builder, digital marketing features, and affordable pricing, Builderall is ideal for small businesses on a budget looking to establish their online presence through an integrated platform. If you need to build a business website and leverage built-in tools for online marketing and commerce, Builderall is a strong solution to consider to build an manage your entire business.
Choose Wix If…
Wix stands out as a superb choice for anyone prioritizing an incredibly easy yet customizable website builder. With its drag-and-drop editor, designer templates, and flexibility, Wix excels at website creation for beginners and experts alike. Freelancers, agencies, artists, and entrepreneurs needing a reliable, high-performance website with robust design capabilities would do well to consider Wix. While Wix focuses specifically on websites rather than a full marketing suite, it is hard to beat for sheer website-building simplicity.
If you'd like to learn more about this website builder, check out my Wix review for more info.
Alternatively, you can also take a look at some other comparisons I've done:
Picking the right platform is crucial in order to build the perfect website and create the optimal online presence for your business and brand. Please feel free to ask any questions in the comments if you need help deciding between Builderall and Wix for your specific use case. I'm happy to provide additional guidance to ensure you choose the best solution!